I'm so excited to share my PIPSTICKS review with you! Well, not me, technically – our 3-year-old daughter, Scarlett.
About two months ago, we were scrolling through Pinterest one day and discovered something new. There were these amazing stickers that I had never seen before. I'm not talking about your run-of-the-mill, cheap-o $1 stickers you find at the Bargin Bin at Target.
I'm talking about giant puffy stickers.
Sparkle Stickers.
Mermaid Stickers.
Even scratch and sniff stickers.
Yes, that's right…scratch and sniff.
So of course, I had to look into it! And that's where I found PIPSTICKS Sticker Subscription.
I was immediately intrigued, so we put together our first order. We ordered the KIDS Pack which is $17.95/month for 15 Sheets of sticks.
I know that sounds like a lot for stickers but let me tell you…
You are getting your money's worth!
These are all incredibly high-quality stickers you won't find anywhere else.
Top Pick
Pipsticks Review
Monthly Awesomeness Delivered To Your Door.
A great way to keep your kid occupied for multiple hours. Sure, it sounds expensive, but we've spent a lot more and got a lot less.
Pipsticks In Action
Pipstick Review: The Different clubs
There are two options for Pipsticks: the Pipsticks Kids Club and the Pipsticks Pro Club.
The Pipsticks Kids Club
Here's what Pipsticks has to say about their Kids Club
The Pipsticks Kids Club is for children aged 3+. Each sticker pack is kid-friendly (so kids can use them on their own!), with stickers that are appropriate for tiny fingers and themes meant to encourage creativity. Our kids' sticker package includes collectible puffy Pipstickers, scratch 'n sniff Pipstickers, and interactive sticker sheets (fish, snow globes!) that will spark their imaginations. 
This is a monthly sticker subscription we tested with our 3-year-old.
She loves it. More on that in just a second…
The Pipsticks Pro Club
Here's what they have to say about their Pro Club
Stickers are for everyone, not just youngsters! Sticker collecting is more sophisticated now thanks to the Pipsticks Pro Club, which provides grown-up sticker collectors with as well as tweens and teens. The colors in each collection are intended to be used together in your diary, planner, or crafting project. With fantastic fine details, glitter, foil and more!
This the perfect for all the sticker lovers out there.
In general, these are a little less "kiddie" – and has some stuff that a 3-year-old might not understand. Nothing inappropriate, but our toddler has no idea what a cassete tape is, for example!
Different Monthly Sticker Subscription Options
Both the Kids Club and Pro Club offer two different sticker subscription options.
$17.95/month: 15 sheets of Pipstickers (worth $50+)
and
$11.95/month: 7 sheets of Pipstickers (worth $25+)
And it's not just stickers that you get.
What else comes in the Kids Club Subscription?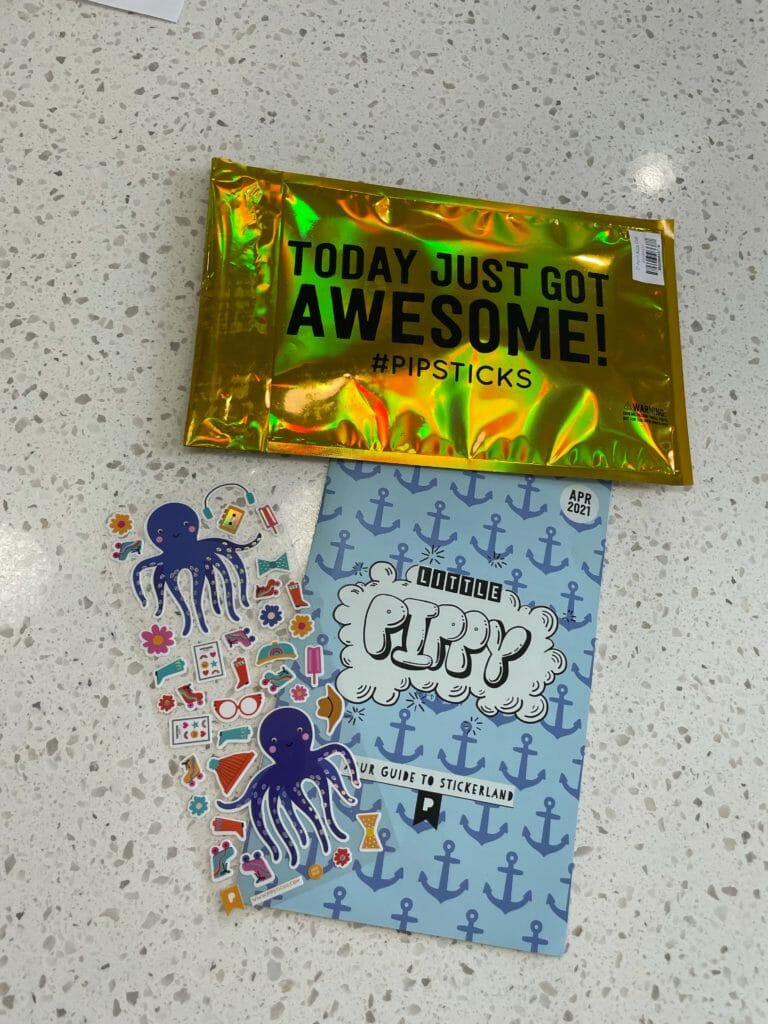 Each Kid's Club Sticker Subscription comes with bonuses (beyond awesome stickers) like:
Collectabile puffy sticker
Scratch n' sniff sticker
Activity booklet
Postcard
Storage pouch
Here are some of the fun stickers that came with our first month – Classic Pack. We haven't tested out the Petite Pack yet.
What else comes in the Pro Club Subscription
You won't feel left out in the Pro Club Scubscrpiton, either. This monthly subscription (besides colorful stickers) also comes with:
Zine for sticker lovers
Paper goodies
Storage pouch
Pretty cool, isn't it? This would be perfect for any aged sticker lover – or maybe someone who likes to scrapbook or obsessively journal. That would be a great use for pipsticks stickers.
Is this just a subscription for sticker lovers?
Well, of course, it is, but their online store allows you to buy items a-la-carte, too.
Of course, the subscription for lipstick stickers is the best value (and you get free shipping on the subscription – it costs a nominal fee for a-la-carte items) – but sometimes you don't want to buy more subscription boxes, we get it.
However, we'd strongly suggest you check out this perfect subscription.
Pipsticks Review: The Toughest Critic
Seriously, just look at the look on my daughter's face.
She loves these high-quality stickers. I'm not lying, she spent 2 hours playing with this pack of new stickers. And we still had a lot of leftovers to keep in our sticker bin.
From a parent's point of view
We had no idea our kiddo would be so super excited about Pipsticks. They are just stickers… how awesome can they really be?
But we've spend a lot more than $20 for less than 2 hours of entertainment and I know the other parents reading this have, too.
We absolutely love pipsticks.
Another great gift idea
If you are searching for a kid who has everything (check our gift guide for the kid who has everything), this is another great gift idea. They will literally get a new sticker pack delivered each month. And seriously, what kid doesn't love to get snail mail?
I know my kids do. It's a great way for them to practice their creativity and not be in front of a screen.
Seriously, check out Pipsticks, you won't regret it!
It's great to get because you never know when you'll be stuck at home due to weather or being sick, especially during the winter!
An awesome idea!
Get Pipsticks Delivered Every Month
Fun designs
Incredibly high quality
Extra bonuses
Hours of entertainment for your kids
Let us know if you have questions or comments about our Pipsticks Sticker Review!