The Revtown Tech Jean: I first saw this new Revtown Tech jean and thought to myself, "This looks an awful lot like the lululemon tech canvas pants…I wonder how they compare?" Well, you don't have to worry! I got my hands on a pair of the brand-spankin' new Revtown Jeans to give you our honest Revtown Tech Jean Review!
Meet the Revtown Tech
A Lululemon Tech Canvas Clone
Affordably priced
Easy to wear
Low-maintenance
Comfortable!
The best of jeans and tech pants.
Seeing the Tech Jean in Action
What is Revtown?
First, things first, what is Revtown? If your Facebook feed looks anything like mine, you've see ad after ad about Revtown, like this one:
Here's what they say on their website:
After 20 years of designing technical athletic and training apparel, our founders headed off to Milan, Italy where they combined the science of performance fabrics with the art of high fashion. In mixing these two worlds they created The Holy Grail of Jeans.
But did they? I'll do a full review on the regular Revtown Jean shortly (and how they compare to other brands we've reviewed like Duer and Perfect Jean – see our Duer Review and Perfect Jean review)
Honestly, Revtown fits – even in price – in-between Duer Jeans and the Perfect Jean. Most of their jeans run about $79 – $89. Not a bad price if the quality is any good.
We're not talking about old-fashioned jeans, are we?
But we're not here to talk about regular, boring old-fashioned jeans, are we? No way, Jose. We're here to talk about Tech Jeans. Tech jeans laugh at regular jeans and say things like "OK, Boomer."
That's not super nice, but these are jeans in the same way that frozen yogurt is kinda like ice cream. They both kinda, sorta look the same – but they are different. They are both delicious, yes, but they are very different.
How are these jeans different?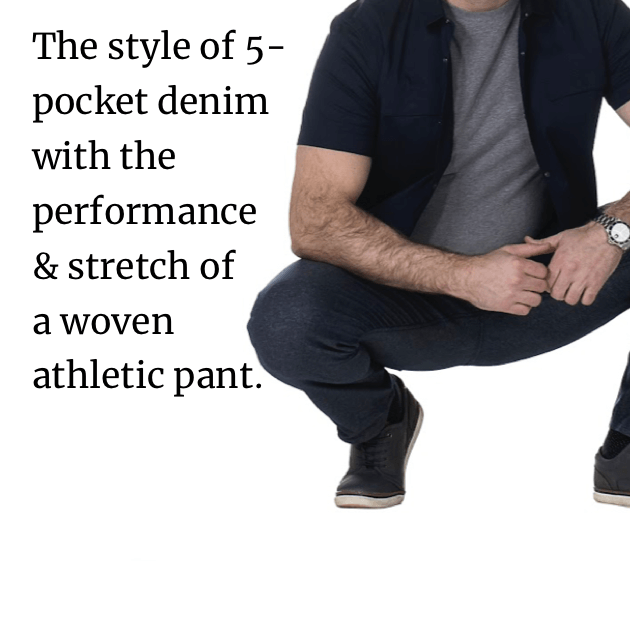 Well, Revtown said their Tech Jean has the style of 5-pocket denim, with the performance and stretch of a woven athletic pant. And they are right.
These pants, at least at a distance, look like jeans.
How much do these really look like jeans?
At a distance, they look more like jeans than they do close up. Take a look at the Revtown Tech Jeans compared to a pair of Mugsy Jeans (full review of Mugsy Jeans coming soon, they do some witch craft to get their jeans so stink' soft).
You can see that the Tech Jeans from Revtown are made of something a little bit different. Look a little closer and you can see how different they really are – even down to a stiching level.
No one will know that you are actually not wearing real jeans unless they look really closely.
Hold up – what are "real" jeans, anyway.
I talked a lot about this in the lululemon tech canvas review, but most purists think that jeans can only be cotton – and possibly a little more stretch. There are such a thing as purists when it comes to a pair of jeans and they are pretty crazy about "pure" pairs of jeans. Trust us. You don't want to go there.
What's the deal with the fabric?
This is where things get super interesting – at least to me. But I'm a nerd and write these reviews at night after the kids go to bed – so my bar is set pretty low.
Anyway, the fabric on this "jean" is 52% cotton / 42% polyester / 6% elastane. Let's break that down a little more:
52% Cotton – once again, these are not the pair of jeans for the denim purist – only half cotton?!? Seriously, though, cotton is comfortable, soft and breathes.
42% Polyester – polyester can be a lot of different things in different applications (it's not the standard Saturday Night Fever suit. Polyester is breathable, can be moisture-wicking, and also stretchy.
6% Elastane – This is the stretchy stuff. Spandex is a patented type of Elastane. This is what gives the Tech Jeans the massive stretch.
How does it compare to something like Duer Jeans?
To put it into perspective, Duer Jeans – like this pair, are 70% Cotton / 28% Coolmax® All Season Polyester / 2% LYCRA® Spandex.
They are a lot more cotton than a pair of Revtown Tech Jeans, but feature a slightly different Polyester and Spandex/Elastane.
Revtown Tech Jean vs. Lululemon Tech Canvas: Where things get interesting
Yes, yes, yes. This is exactly the point I started with: how do the Tech Jeans compare with one of our favorite jean alternatives, the lululemon Tech Canvas Jeans?
Let me be 100% honest: when I opened the box on this pair of Revtown Jeans, I thought they were lululemon tech canvas pants. I really did. These pants are so incredibly close to each other that I literally thought they were exactly the same pair of pants.
I mean, look how similar they are:
Seriously… how close do these two look like eachother?!
They are super similar in so many different ways.
52% cotton / 42% polyester / 6% elastane
5 Pocket Design
No Gusset (What's a gusset?)
No seam on the back leg
No reflective cuff
No back zipper pocket
More "jean-like" hardware
Minimal branding
Price: $89 (retail)
49% cotton / 45% polyester / 6% elastane
5 Pocket Design
Gusset
Seam on the back leg
Reflective cuff
Zipper Back Pocket
More yoga-inspired hardware
Minimal Branding
Price: $128 (retail) On sale here for $58
What differences are a big deal?
The material and features are basically the same. Let's be honest.
However, the biggest deal, by far (and at least to me) is the same in the back leg.
In all lululemon ABC pants, there is an odd seam right behind knee on each leg. Here it is, super clear, on the back of the ABC Tech Canvas Jeans.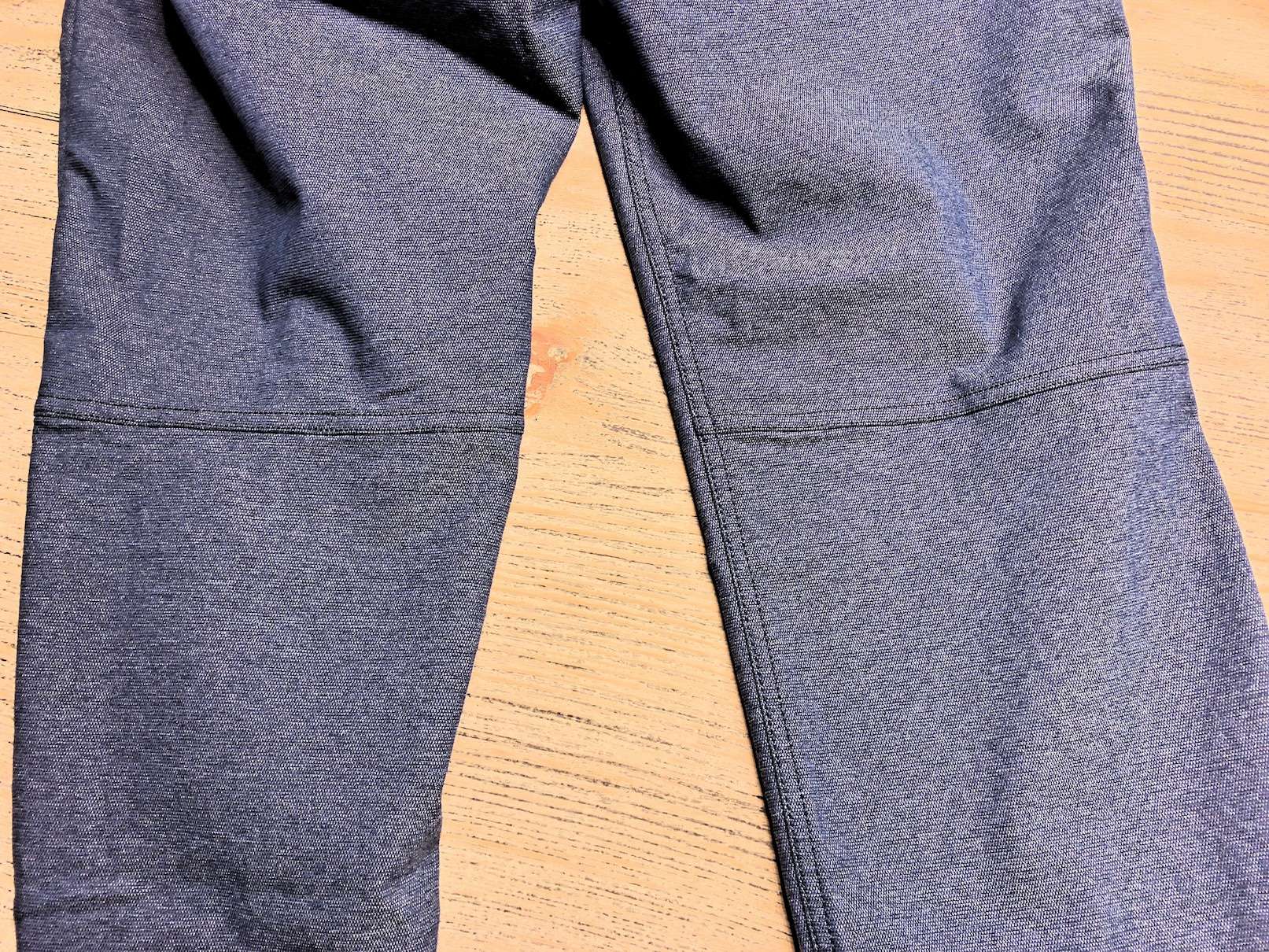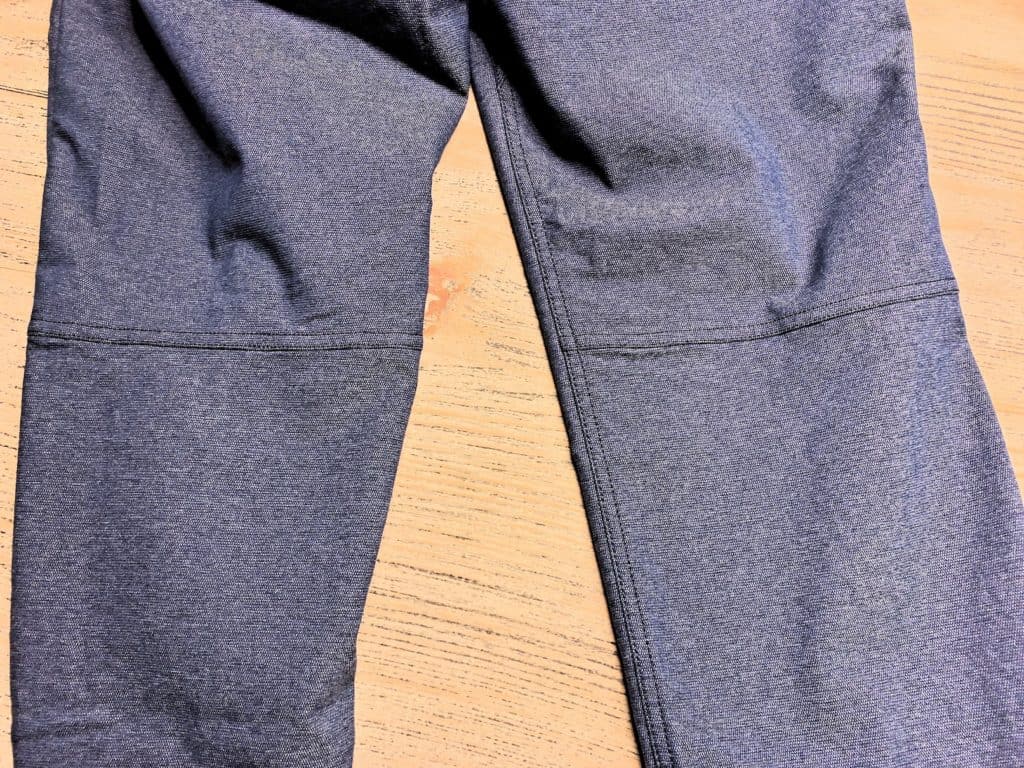 The seam is super obvious if you are looking for it. However, it is a really nice spot – behind the knee cap. This area of the leg hides the seam really well.
No one from lululemon has been able to confirm (or deny this), but I believe the reason the seam is there is to keep the shape over time and not let the back of the pants "sag."
The gusset would have been a nice addition to the Revtown Tech Jeans – but it's not a deal killer. I never use the back zipper pocket, so I don't even notice.
Revtown Tech Jean Review: the final verdict
Overall, I really liked the Revtown Tech Jean. However, it is too similar to the lululemon Tech Canvas pants to own both, franky, especially if they are in the same color.
I did like Revtown's slightly darker color better than the tech canvas's lighter color.
At $79 retail, the Revtown Tech Jean is a better deal than the almost identical ABC Tech Canvas Pants, which retail for $128.
However, at the time of publication, the lulu tech canvas pants were on sale for $59 here.
In short, I'd go for whatever one that you can get cheaper. I doubt the lululemon pants will stay that price, or in stock for much longer.
These two pair of "jeans" are almost identical. You can't go wrong with either pair. As long as you know you aren't getting a pair of hardcore, purist jeans – the Revtown Tech Jean straddle (no pun intended) the best of active pants with the look and comfort of jeans.
Did you have any questions or comments about our Revtown Tech Jean Review? Let s know in the comments below!