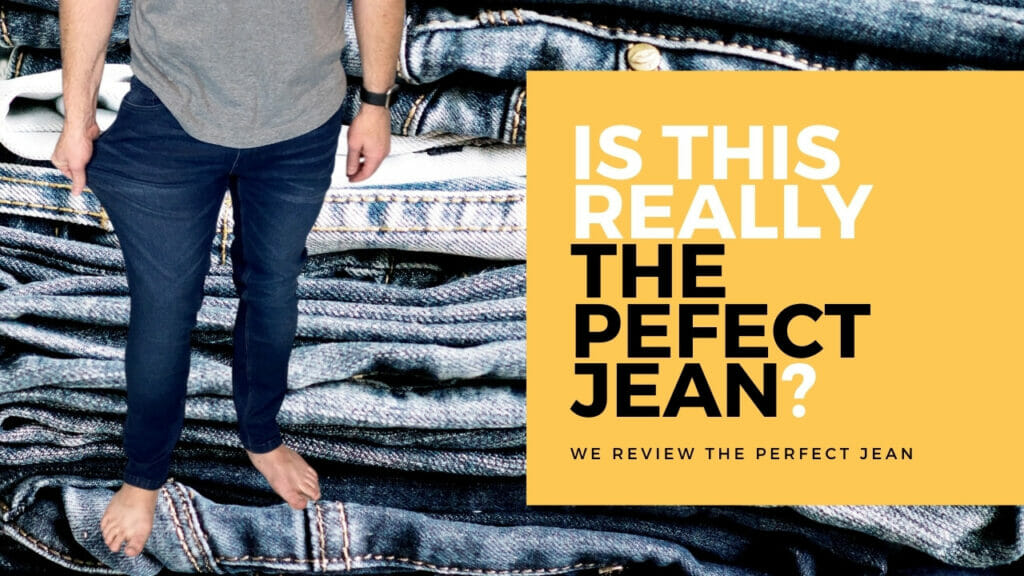 The "perfect" jean is subjective. Jeans tend to be one of the most personal items most men own. We're picky. We find a pair and we stick with them. So can the Perfect Jean live up to the name? Read our honest the Perfect Jean Review (AKA Perfect Jean NYC Review).
Our #1 Value Jean Pick
The Perfect Jeans Review: these jeans are incredibly comfortable, very stretchy – but the thing we love the most is the price. If you are like anything like me, you wear your more expensive clothes less. The Perfect Jeans are the perfect blend of nice and not so expensive you never want to wear them.
These jeans don't look cheap – by any stretch (no pun intended) of the imagination. They are finally a reasonably priced stretch jean you can wear all day.
They aren't too thin and they aren't too thick. Honestly, these are the first jeans I reach for in my closet.
Updated Feb 2022 with our thoughts on the Athletic Fit Perfect Jean. Also, check out the new Perfect Jean Perfect Tee Review.
👍🏻What We Love
👎🏻What We Don't Love
– Super soft.
– Incredibly flexible.
– Simple washes.
– Minimal branding.
– The epic price!
– Runs a little large (size down)
– Narrow leg opening in slim fit
– No gusset
Why should you trust us?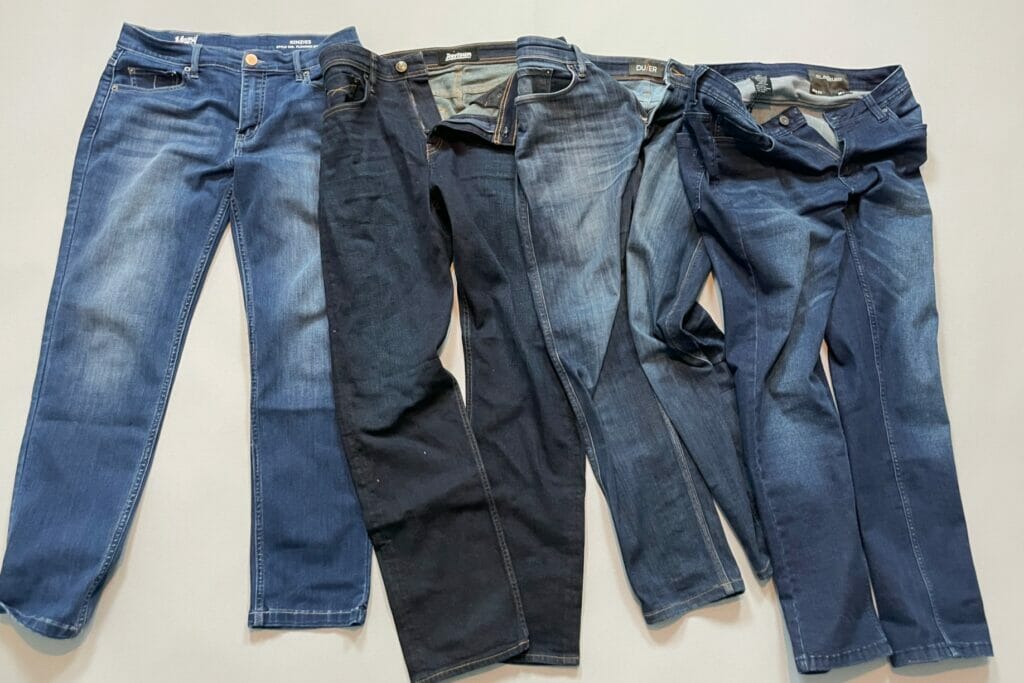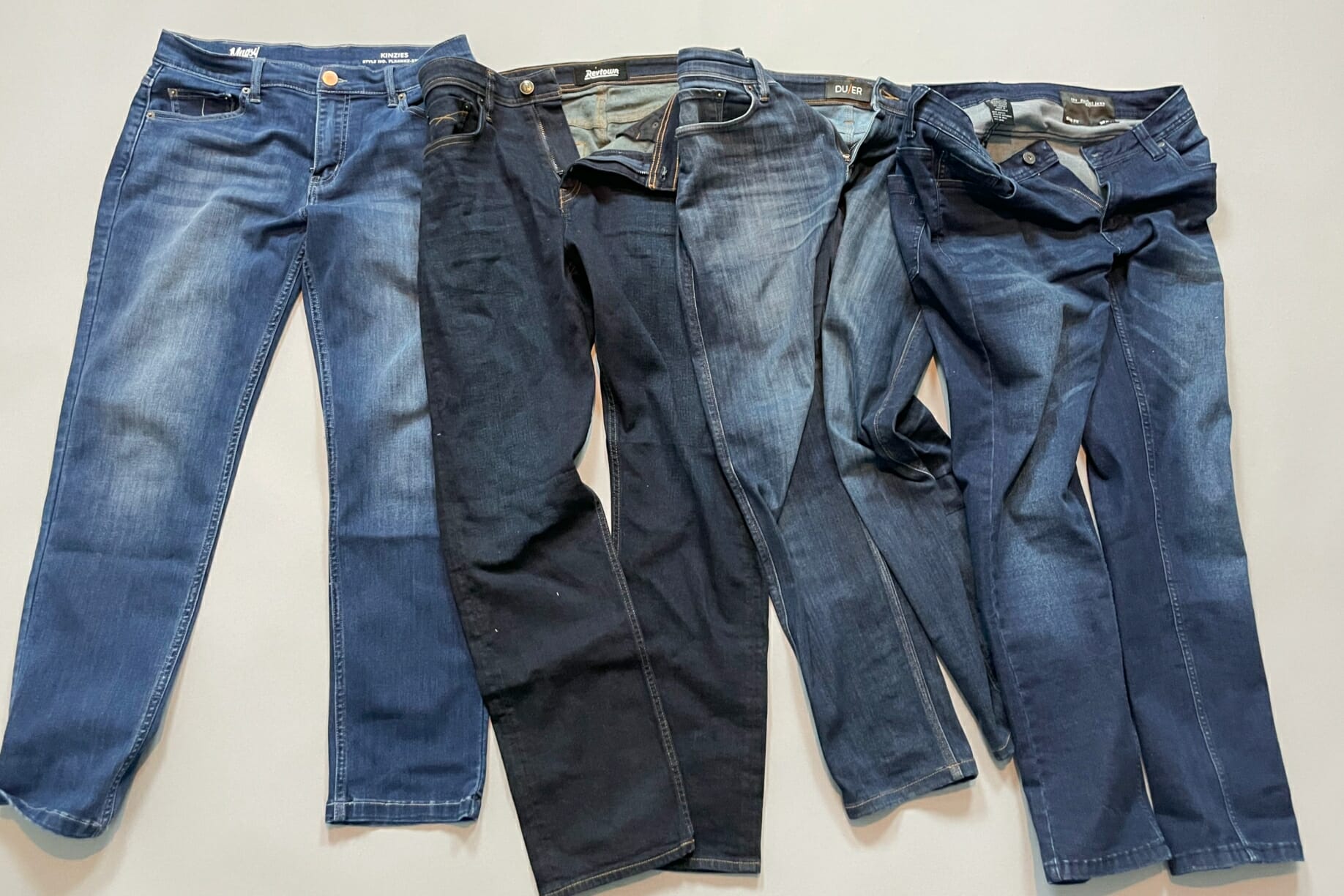 We've tried dozens of jean brands to find the very best – from expensive brands like Mott and Bow to high-performance brands like Duer (read our full Duer Jeans Review). We'll shoot it to you straight. Check out our full guide to the best mens jeans, too.
the Perfect Jeans Review: what's the big idea?
The Perfect Jeans claim to offer extremely high-quality Jean – that normally costs $200+ at a much cheaper price ($80 – but use our perfect Jeans promo code and save even more!).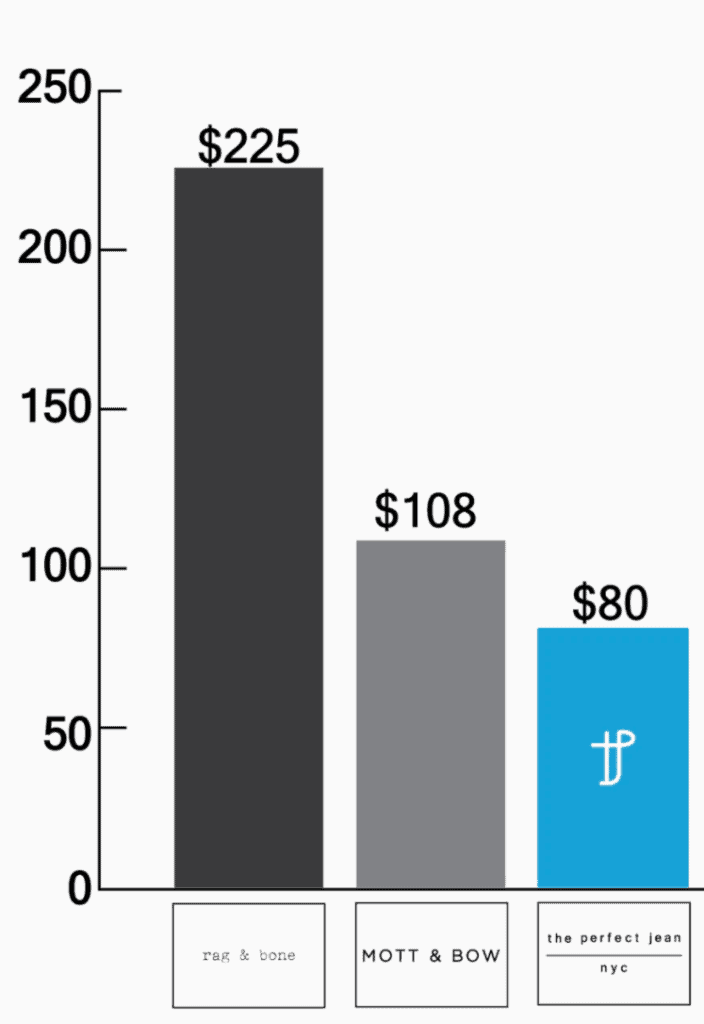 They also claim that their Jeans are incredibly soft, super stretchy and durable.
The Perfect Jean NYC also says to F#%K YOUR KHAKIS – which is plastered all over the website and packaging.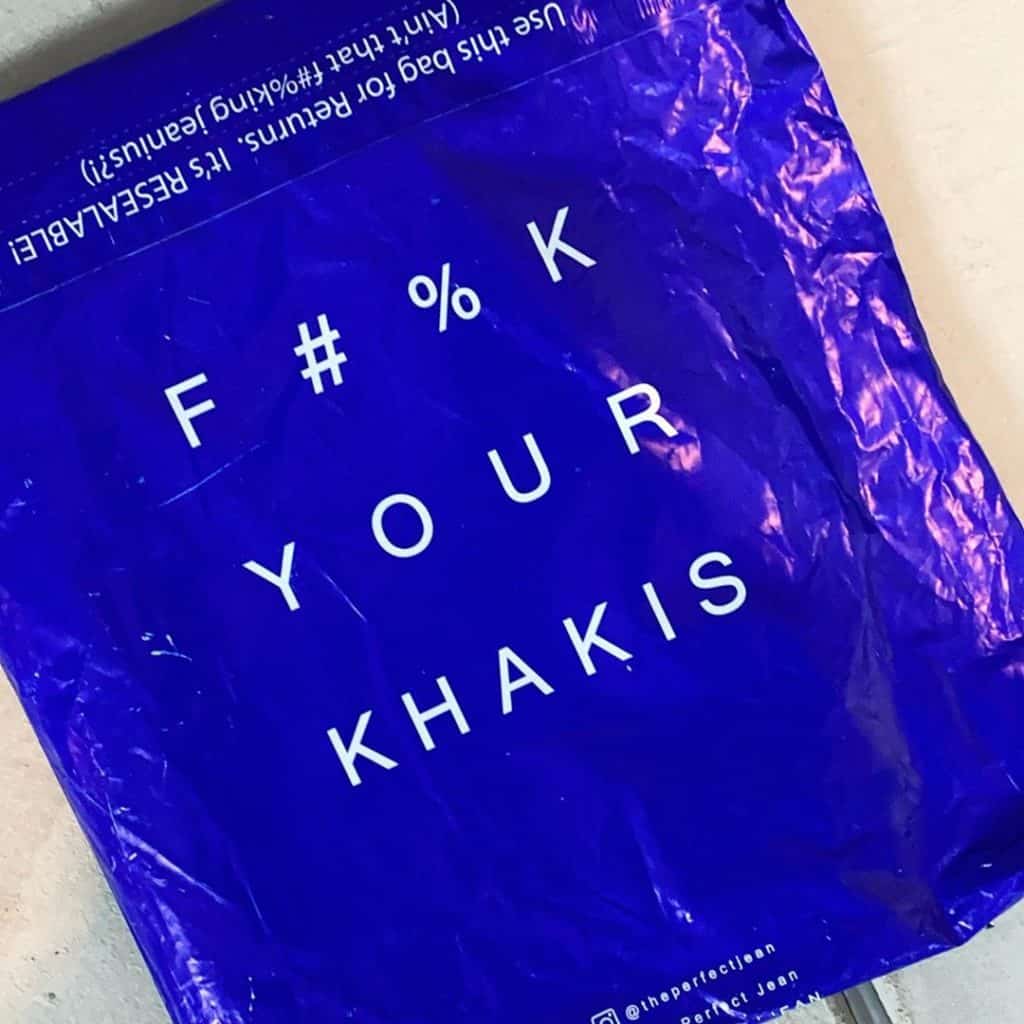 We also loved this hang tag that came with the Perfect Jean:
Let's dive into our review to see if the Perfect Jean stands up to the claims.
Perfect Jean Review: The look
Unless you are buying super expensive jeans, like Sevens back in the day, I really hate it when you can look at the pockets on a pair of jeans and tell exactly what brand of jeans they are.
That's one of the great things about the Perfect Jean: they look expensive, but you can't tell what brand they are. There is a very subtle logo on the back-right pocket. It's not very noticeable on the darker blue color of jeans.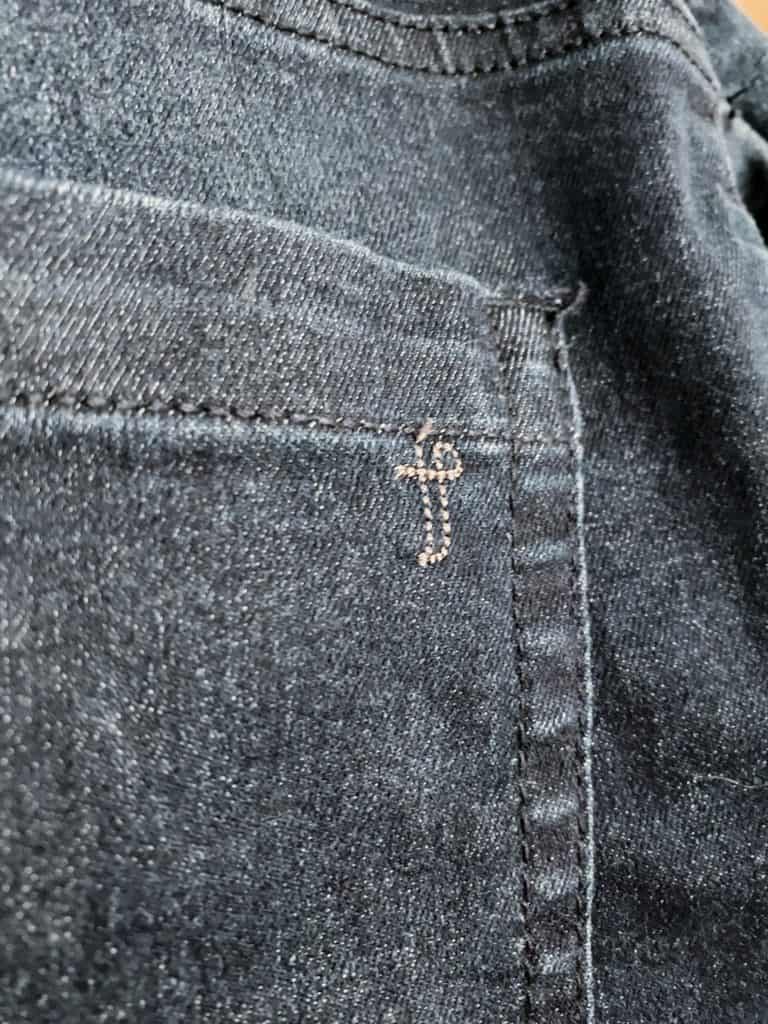 As the old saying goes, "You don't need a sign on the Effiel tower."
Perfect Jeans come in 4 basic washes. And I really like how simple they are:
Black (they call it Bandit): The classic-looking black dyed jean. No "whiskering" on the front – just solid black color.
Dark Blue (they call it Knight): This is the wash color I tested out. I like jeans that are darker, but not too dark. This is a good compromise. There is some subtle whiskering in the front and some intentional fading on the knees. Nothing is out too far out there and is pretty subtle (and that's a good thing).
Medium Blue (they call it Admiral): Just a slightly less dark version of Dark Blue/Knight – the pictures online just make it look like it's a slightly more faded blue.
Light Indigo (they call it Joker): Light indigo color is closer to the more classic, acid-wash light denim pair of jeans. It definitely takes a certain kind of person to pull these off and it's not me!
Perfect Jean Review: The fit
Men (and women) are super particular about how jeans fit, I get it – and I am, too. Here's the biggest tip I can give you with the Perfect Jean: SIZE DOWN ⬇️ in the waist. Because the Perfect jean material is so incredibly stretchy, you probably won't wear the exact size that you typically wear. I typically wear a size 32 waist and size 30 inseam (I know, I've got short legs).
My experience with fit
In The Perfect Jean, I originally got the same size (32 x 30) and the size 32 was WAAY too big. Because of the stretch, I sized down to the size 30 waist and they fit great. These are the size 32 waist: you can see how much stretch there really is:
Don't worry: you won't feel like you're being compressed when wearing something that stretches, that is not the way the Perfect Jean makes you feel. I don't know how to explain it, but it doesn't feel like the waist is constricting you, it just gets larger to fit you better.
The fact these are stretchy jeans does not mean they look like leggings. They look exactly like regular jeans.
Do they lose stretch?
As with most clothes with a lot of stretch, they CAN lose their stretch over time. The Perfect Jean website even says so:
Like all premium denim, our jean will increase about ½ a size through wearing and then return to original form when washed. Try to wash in COLD water and dry on LOW heat.
So, it's even more important to size down with the Perfect Jean. If you get the Athletic Cut, you may even think about sizing 3 sizes down the waist. I have to wear the Perfect Jean with a belt – which I don't mind – but the stretch is still pretty incredible!
While the waist we recommend sizing down, the legend is true to actual size.
Leg Opening
I found the leg opening at the bottom of the jean to be a little small on the Slim Fit Jeans. However, I found the leg opening (and the area around the calf) to fit much better on the Athletic Fit over the slim fit.
Perfect Jean: The Different Fits – Skinny vs. Slim vs. Athletic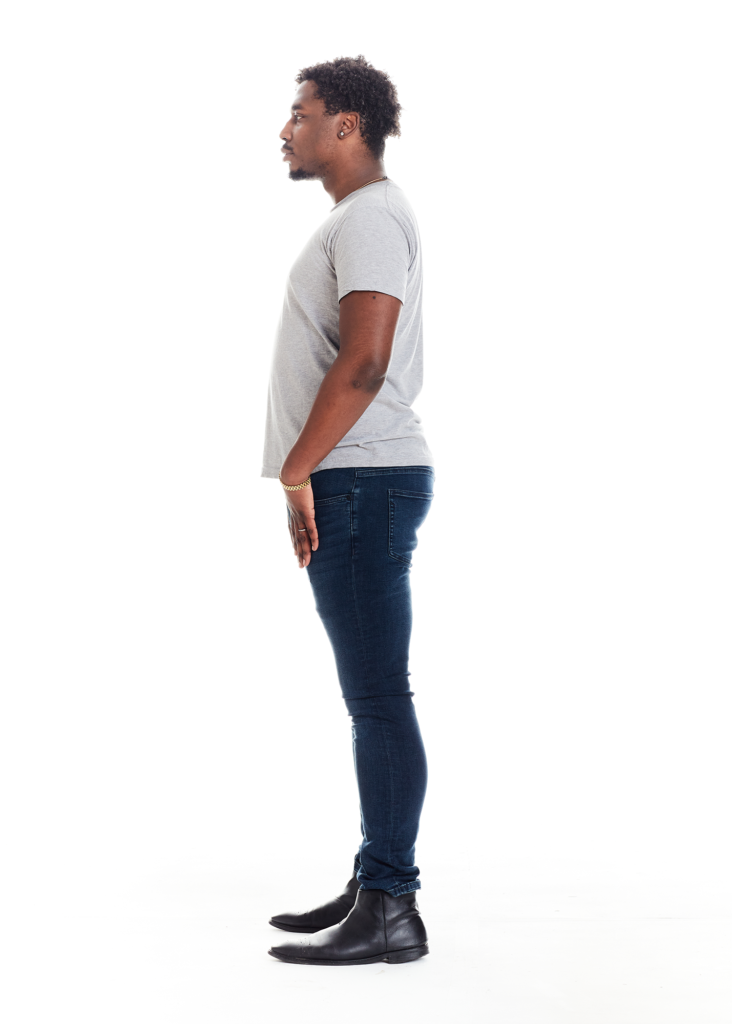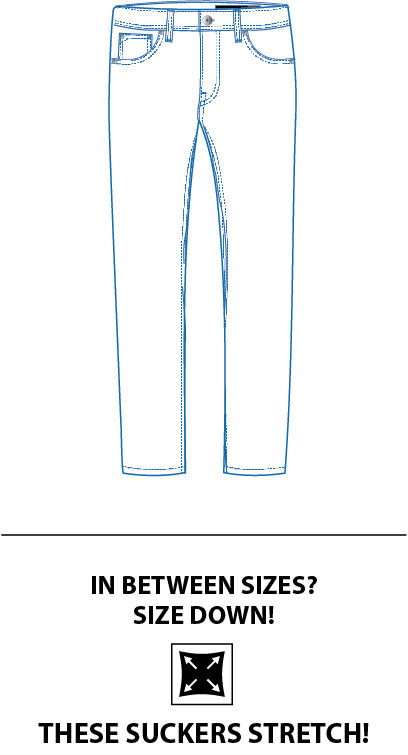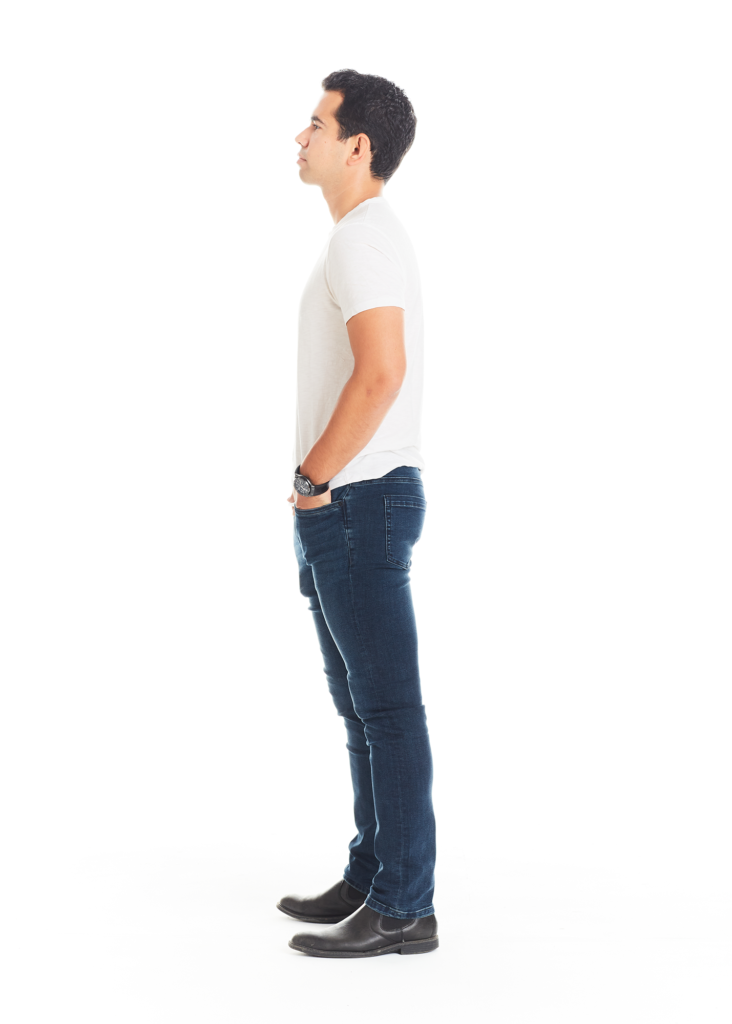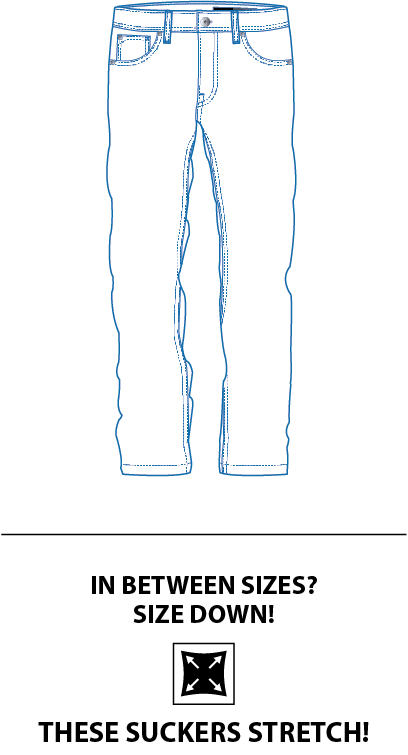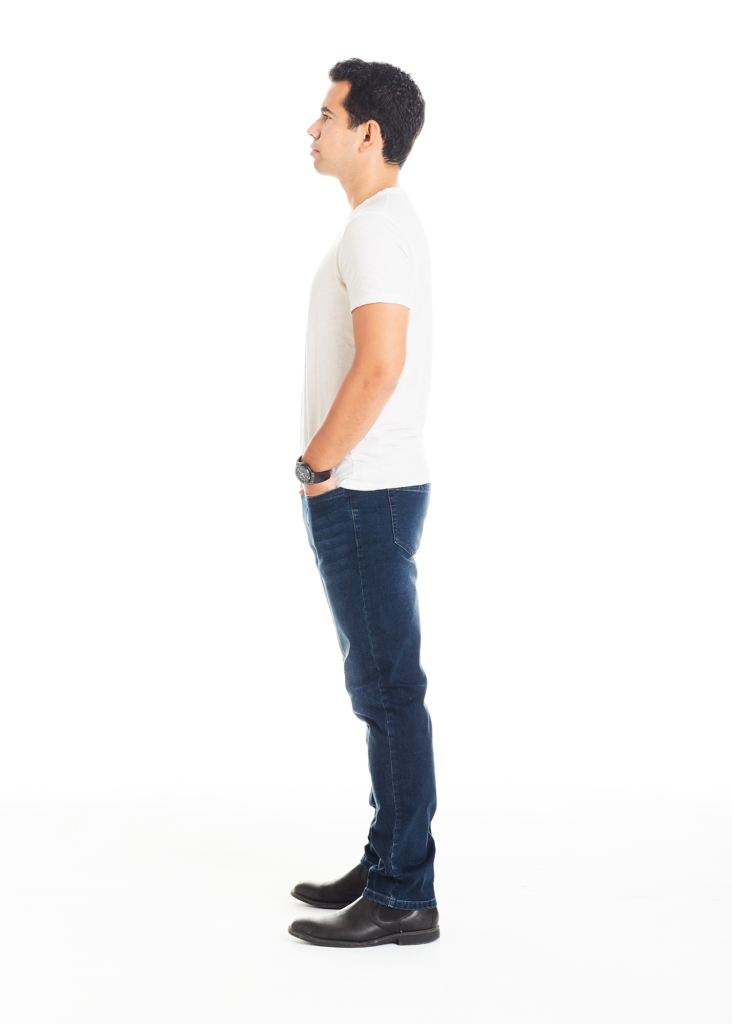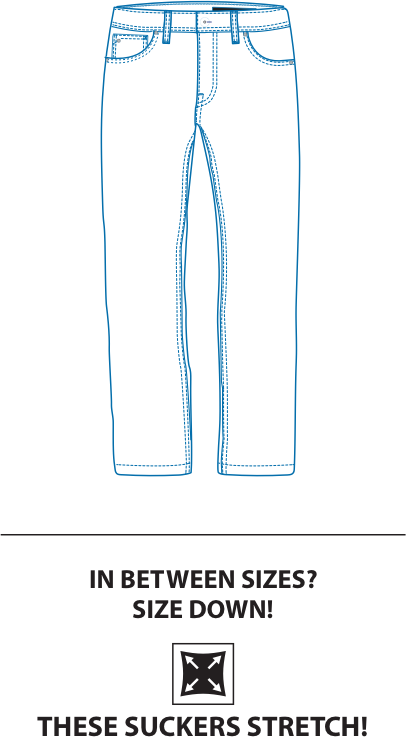 Let me just stop you for a second. If you have any sort of thighs or calves or booty, don't try to get the Skinny Fit.
You may even want to stay away from the Slim fit, which is what I wear in almost every other jeans style. But have no fear – Perfect Jeans has the perfect fit for you, no matter what fit you are looking for.
Skinny Jeans Fit
To be honest with you, I haven't officially reviewed the Skinny Fit – that's because I knew just looking at the website that they wouldn't be right for me. And that's ok!
Perfect Jean says the skinny jeans are "for skinny legged dudes who like em tight. If you think you've got skinny legs and like showing them off you'll enjoy our skinny."
These look like border-line leggings, they are so form-fitting:
Slim Fit Jeans
When did the first iteration of this Perfect Jean Review, I reviewed the Slim fit. It was slightly snug around my calves and thighs, but not that big of a deal.
However, during quarantine, I picked up an X3 Bar (full X3 Bar Review coming soon!) and I gained some muscle – especially in the calves and thighs. While the jeans weren't tighter around the waist – they were tighter in the thighs and calves.
Perfect Jeans says: "Our slim is a bit slimmer at the ankle than your average slim jean. We think other brands a little wide at the ankles. Dudes like to show some shoe nowadays."
Slim Fit Jeans vs. Athletic Fit Jeans in the Perfect Jeans NYC
I wouldn't consider myself to need something like Barbell Jeans (I'm not that swole, as the cool kids call it), but after doing X3 for a couple of months, I found my Perfect Jeans to be… well, not so perfect.
Especially around the calves. I got the chance to try the Athletic cut jeans and they fit much better!
Perfect Jeans Athletic Fit
The biggest difference in the sizing of the jeans is in the calf and the thighs. You can see it a little better in this photo: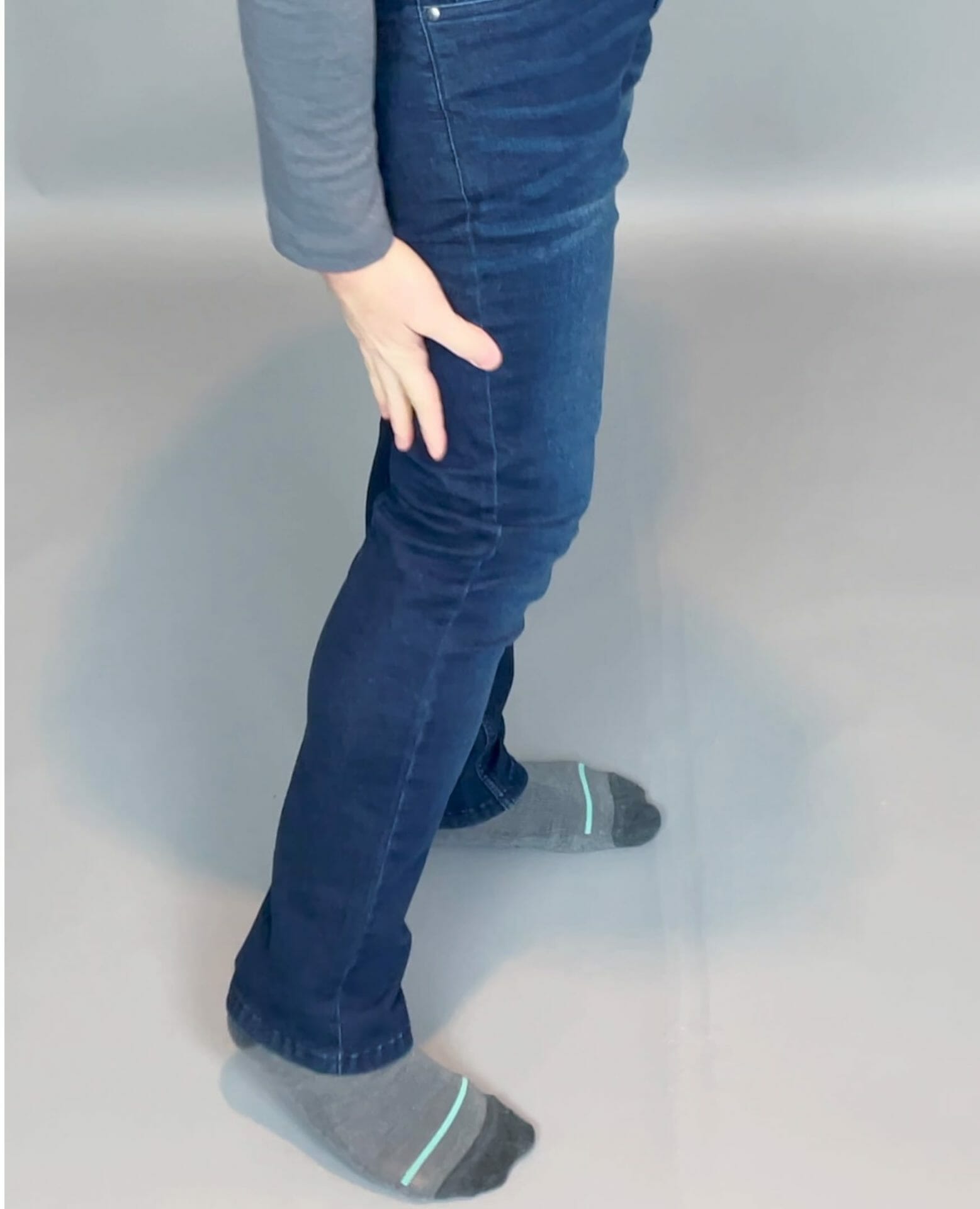 I don't have the world's largest calves or thighs, but any stretch (no pun intended) of the imagination. However, I've never had jeans that hug my calves, to the point where you can see the calves through the jeans until I tried the Slim Fit and I had started working out.
My choice: Athletic
The Athletic Fit in the Perfect Jean is my new choice, but don't be too turned off by the photos on the website.
The website photos make the jeans look much boxier than they really are. In reality, they are perfect fit you can comfortably wear all day.
In reality, I could continue to wear the Slim Fit jeans because of the stretch – which is incredible, however, I just don't like my calves feeling constrained. Odd, I know.
Perfect Jean Review: The stretch and comfort
I only gave one word for these in the comfort department: wow.
When you put the jeans on, they are instantly soft and the stretch is amazing! Doing a couple of air squats immediately proves just how stretchy the jeans are.
Are they really denim?
"Pure" denim is 100% cotton, which the Perfect Jean is not. That's actually preferable to me!
The Perfect Jeans are made of: 64.5% Cotton; 30% Polyester; 3.5% Viscose; 2% Spandex
You may have not heard of Vicose before, but it's basically artificial silk. The cotton plus combo is what makes the Perfect Jeans, well, more perfect.
I'm not a denim purist, I'm a comfort purist!
The most similar brand you can compare the Perfect Jean to are Duer Jeans (read our full Duer Review). Duer Jeans are made of 70% Cotton, 28% Coolmax® All Season Polyester, 2% LYCRA® Spandex.
Perfect Jean Review: Do they bleed before washing?
This is actually a huge deal for me. I once went to the doctor's office for a random allergic reaction I had to some detergent. I also was wearing a new pair of jeans that did bleed.
The doctor freaked out that I had a rare Raynaud disease because my hands were blue!
I quickly realized that it was because I was wearing brand new jeans that DID BLEED before you washed them. I still was nervous about wearing light-colored shoes with those jeans.
However, I'm proud to report that Perfect Jean DOES NOT BLEED when you wear them. I even tested it out with white tissue paper to make sure.
How do they stand up over time?
The perfect Jean is incredibly well made. I've now owned the Perfect Jeans for about 2 years now and I've had no problems.
I don't wash my jeans super often (only when they smell or get dirty), which. is the key to any pair of jeans lasting a long time.
The one thing I do wish the Perfect Jean had was a gusset (read more about what is a gusset). It helps the jeans last longer and better stretch.
These bad boys last and are extremely comfortable.
Other Perfect Jean Products: Jorts and more!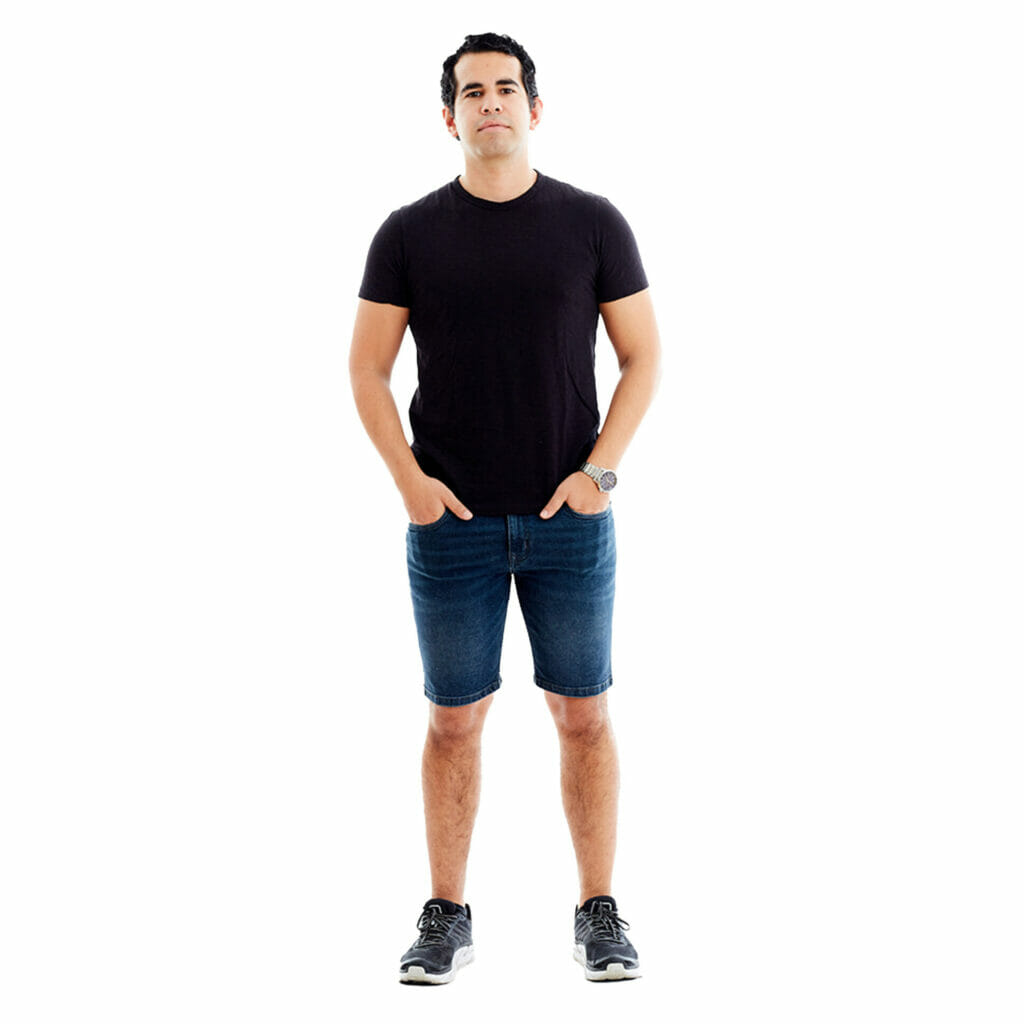 Know what a Jort is? It's a jean short. That's not me in the photo above, but I won't be giving these jorts top reviews. But it's not because they are great, but jorts are just not awesome, in my book.
I have tried the perfect jorts, but I promise you don't want to see me wear them. They aren't flattering on me (even though their clothes are made for imperfect men), these don't look good on anyone, at least my opinion.
The Perfect Jean Perfect Tee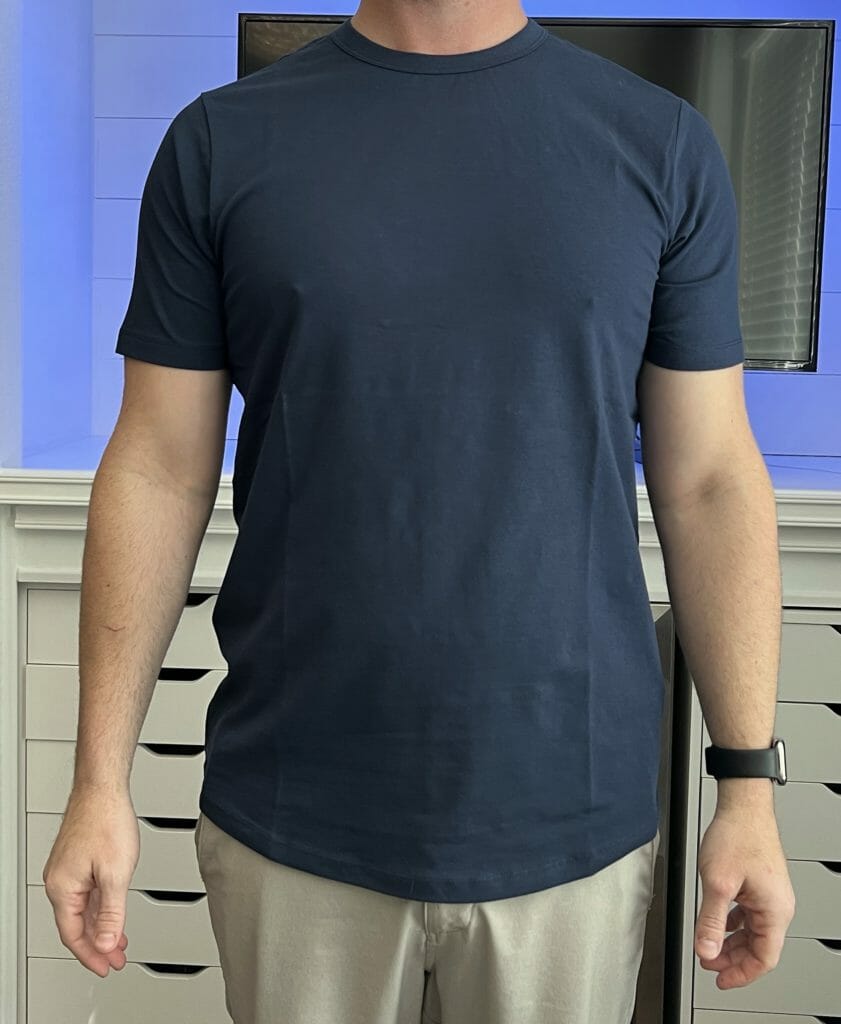 I've also tried the Perfect Tee, which is pretty good. It's not my favorite tee (see our Buck Mason Tee Review for my go-to tee) – it's above average and a fair price.
Perfect Jean Review: The final verdict
I haven't touched on the most impressive part of the Jeans: the price! They retail for only $80. You can save even more by using our perfect jean promo code WETRIED25. With the promo code, it makes the price only $60, and you simply can't beat it.
Our #1 Value Jean Pick
These jeans, honestly hold their own against jeans that are more than twice the price (I'm looking at you, Duer – be sure to also check out our Duer Review).
They also have great customer service and helped get my sizing right. Just make sure to size down at least 1, if not 2 sizes on your waist (and maybe even 3 if you are buying the Athletic Fit) and you won't regret it.
Even if you get the wrong size, they have free returns and great customer service. If you are on the fence, order several sizes and take advantage of their free returns and free shipping.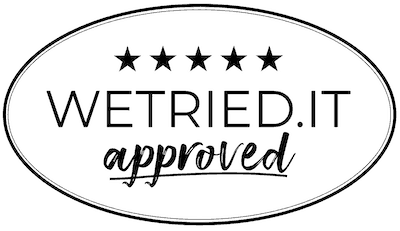 The jeans are simply comfortable, look great, don't bleed and best of all: are only $60 with our promo code WETRIEDIT25!
Have any questions or comments about our Perfect Jean Review? Let us know in the comments below!