The time has come. The day of reckoning is upon us: the Twillory Review. I've been wanting to try Twillory for many years now, but haven't had a great excuse to try one of these so-called non iron shirts. I love Mizzen + Main Dress shirts – but how does Twillory compare?

In this Twillory Review, I will tell you what's good about Twillory shirts, what's not so great and if they are worth the price.
We'll talk about all the features and benefits of these dress shirts – from the UNTUCK(ABLE) line to the more "normal" (aka business casual, aka Performance) shirt line.
There are many new brands that boast they have performance qualities, but where does Twillory stand against brands like Mizzen + Main and Ministry of Supply? Keep reading our honest Twillory Review to find out where this brand fits.
About the Twillory Brand
Twillory says that "Clothes maintain the man – not the other way around."
I like that. It has a nice ring to it. And it's pretty much exactly what Twillory stands for: high-quality, performance dress clothes that look good and actually have performance built-in (but don't look like you're wearing an Under Armour shirt).
The performance line of clothing has become super popular in recent years. It's where athleisure meets a business casual vibe that has allowed brands like Mizzen + Main, Bluffworks, and Ministry of Supply to take off.
It's all about making athleisure-looking clothes that look more like something from J.Crew than lululemon.
Twillory offers menswear from dress shirts to performance pants to a new athleisure line
But where does Twillory fit in the picture?
First, let's talk about price.
Most Twillory button-up dress shirts run about $99/each, at full price. However, their website is full of great deals and value where you can save and get 4 or more for $55 each. That puts them on the lower end of the price scale when you compare it to Mizzen + Main, Ministry of Supply, and Bluffworks.
Of course, you can always get a Kirkland Signature (AKA Costco Brand for $20) if you are really pinching pennies.
I'll dive more into performance here in just a second, but I'd say that Twillory shirts are lower in the performance section, too. See the two pictures below. The one of the left is a Twillory Dress Shirt – fresh out of the package. You can tell it's wrinkled.
Pretty badly. On the right is a Mizzen + Main shirt, which was crumpled up and not hung up. You really can't tell – can you?
Top Pick
Don't want wrinkles?
Check out Mizzen + Main
If you are trying to avoid wrinkles like the plague, then check out Mizzen + Main. Their shirts are more expensive, but easily pay for themselves when you look a how much dry cleaning costs.
Non-Iron: What Twillory brags about
Why do you even need to iron a shirt? I once had a girlfriend that pointed out every time anything I wore needed to be ironed. It turns out that I needed to iron almost everything I wore (except jeans) because they were wrinkled all the time.

So, needless to say, I became super self-consious about it. Now, I hate to wear wrinkled clothes. But honestly, I want a shirt that doesn't need ironing because it should just go out of the dryer ready-to-go! Right? Who's with me?
When I first tried Mizzen + Main several years ago, I was shocked at two things:
I didn't need to dry clean shirt – which, in and of itself, saves a ton of money.
Once you hung it dry – the shirt didn't look like it needed ironing at all.
It was amazing.
Mizzen and Main set the standard. So, how wrinkly are Twillory Shirts?
It turns out pretty darn wrinkly. I was shocked. I don't know how Twillory can call these shirts "non iron." Not at all. I'd call these non non iron (if that's even such a thing).
Why does Twillory say to warm iron something that doesn't need to be ironed?
I don't expect shirts to be perfect right out of the bag, but I wouldn't even wear this Twillory shirt out when I was 14 and didn't know any better. Granted, it's not as bad as some of the "non iron" shirts from Banana Republic or J Crew that I've tried before, but I guess Mizzen + Main Shirts are just magic.
Also check out how Twillory Compares in our Best Performance Dress Shirt roundup.
Twillory Styles: How do the shirts look?
Overall, I really liked the over style of the Twillory Shirts. I tried the classic "Performance Dress Shirt: Closer Style" and it looked like a high-quality business-casual style that fits well with some of the other great shirts in my closet.
Sure, Twillory has some gimmicky styles, where the buttons glow in the dark, but even if you wear these in the day, no one would know that they are glow-in-the-dark.
In general, I really liked the styles of Twillory. They had a good range of subtle and not-so-subtle designs.
I also like that Twillory had some unique cuffs (think Cameron from Modern Family). But they also just had some simple contrast cuffs, which I thought was a nice touch, too.
Some of the sleeve cuffs also had a skull print on them. When I was 22 and working in advertising, I might be brave enough to wear skulls on my sleeve cuffs, but no anymore. No skulls for me these days.
That would probably lead to my son or daughter asking my, "Why are there night-night guys on your shirt?!"
UNTUCK(ABLE) Twillory Dress Shirts – Let's talk about this line
I'm not a super tall guy, but any stretch of the imagination. I'm 5-9 but have fairly short legs (I typically wear a 30 inch inseam in pants) and a longer torso.
All I have to say is that it would be embarrassing for me to wear an UNTUCK(ABLE) shirt in public. If I moved my hands past a 45-degree angle, you'd be seeing some of my belly button. Ain't nobody got time for that.
I guess that's why I've never understood brands like Untuckit – sure, they make some decent-looking clothes. However, I don't feel like my shirts are so incredibly long that I can't wear them untucked.
I do remember the super long dress shirts as you'd wear to church, those you couldn't wear untucked. However, with most modern dress shirt lines, I don't have a problem with wearing them untucked at all.
The lesson is this, boys: if you have a short torso (or maybe an average-sized Torso) the UNTUCKABLE line may be for you. If you've got a longer torso, you probably don't want to be showing off your belly button. Stay away from the Untuckable line from Twillory.
Twillory Dress Shirts: Let's talk about the fabric
Who likes Cotton as a fabric? Well, if you do – you will love Twillory's Dress Shirts.
They feature substantially more cotton than brands like Mizzen + Main.
For example, Mizzen + Main's main dress shirt fabric is made of: Polyester 85%, Spandex 15%
Notice any cotton in there? Me neither.
Twillory Fabric: Lots of cotton

Twillory's Performance Shirt that I tried (and most of their Performance Shirts) are made with… wait or it: 58% Cotton, 19% Coolmax, 18% Nylon and 5% Spandex.
That's a lot of cotton fabric. To put it into perspective, this J. Crew Dress shirt is 100% cotton. There's nothing wrong with cotton at all. However, cotton does wrinkle and it does wrinkle VERY easily.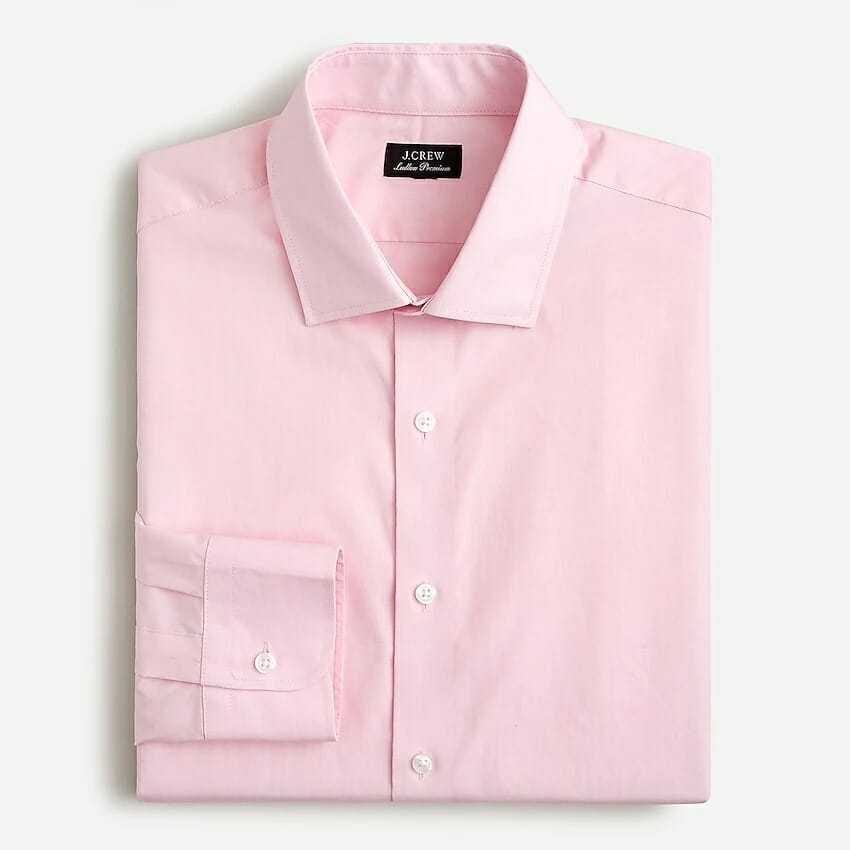 If you were to look at this shirt the wrong way, it would wrinkle. I even remember, when I lived in Texas, I could easily get wrinkles wearing a seatbelt because of the sweat. EW!
You can also treat cotton with special chemicals to make them non iron shirts or at least wrinkle resistant. More on that in just a second.
What is Coolmax?
Coolmax is a name for a series of polyester fabrics developed by The Lycra Company.
Coolmax fabric is marketed as "moisture-wicking" and "breathable". This means that Coolmax absorbs little fluid and dries quickly (as compared to absorbent fabrics like cotton).
A quick side note that I had no idea about: Like other polyester fabrics, Coolmax is flammable and has a relatively low melting point (~255 °C), giving clothes made from it a tendency to melt and fuse to the wearer's body and skin when exposed to high heat.
This has led to Coolmax and other polyesters (along with acrylic and rayon) being restricted or banned in certain high-fire-risk professions, such as firefighting and front-line combat.

I'd worry about wearing these in a restaurant, too. Just an FYI.
Safecotton: what's that all about?
It's all cotton safe? That's what you would think, right.
Well, some of Twillory's dress shirts contain SAFECOTTON, which is the industry's first formaldehyde-free SafeCotton. I didn't know this until diving into this Twillory Review, but most "non iron" or "wrinkle resistant" shirts are treated with formaldehyde to stop the shirts from getting wrinkles. When you think about formaldehyde it's a scary thought.
Formaldehyde works by changing the molecular structure of proteins in your clothes, which prevents them from creasing or wrinkles. This is great for your clothes, but it's not so good for you. Formaldehyde has been linked to a number of health effects such as asthma and cancer on top of being an irritant.
The introduction of Twillory's SafeCotton is a big step in the fashion industry's push towards eco-friendly clothing. The fabric, which it claims to be 100% formaldehyde-free and non-ironed has been undergoing extensive research for two years before its release this year.
"We refused to sell toxic shirts, but demand from our customers for non-iron was so overwhelming we had to find better way," said CEO and founder Asher Weinberger on Twillory's new line of SAFE COTTON.
This further increases the ability to market as non iron shirts. However, these are not non iron shirts – we really think that you'd have to iron them to get them looking anywhere close to some of the other Performace dress shirts.
The Twillory Stretch Review
Twillory claims their shirts have four way stretch material. I don't have any reason to doubt them, but the truth is that cotton is not as stretchy as some other fabrics. The stretch on their shirt fabric isn't amazing or mind-blowing, but it isn't on par with other performance fabrics.
I, frankly don't need my dress shirts to have incredible four way stretch – I just need them to be comfortable. And the Twillory Shirts were comfortable.
Twillory Shirts Review: The Fit
Twillory claims to have a tailored fit. And I actually have to agree. They have tons of options to get exactly the fit for each shirt that you want.
Take, for example, the Closer Performance Dress Shirt. There are three fits: Extra Trim, Tailored and Traditional Fit. Let me break down the fit a little more.
The different fits
Extra Trim: If you are the kinda guy with a V-Shaped Body, check out the Extra Trim. Also appropriate if you shop at places like State and Liberty (full State and Liberty Review coming soon).
Tailored: This should basically be called the, "I have kids but haven't let myself go size."
Traditional Fit: This could, in the same vein, be called, "I have kids and I've given up size."
Hopefully that helps you decide.
The same performance dress Twillory shirt also comes in the standard neck (14.5 – 18) sizes.
On top of that, you can also choose the length of the sleeve. Twillory Shirts offer 32-33 through 36-37.
All three of these combinations (Trim Fit/Tailored Fit/Traditional Fit + Neck + Sleeve Length) allow for a near-perfect fit no matter what body type or body shape you have. Which is a welcome change from many other 5-sizes-fits-all approach.
Once again: be careful of the length of the shirt if you get an untuckable version. If you have a longer torso, you might not have a length to cover your belly button.
Another Cool Feature of each Twillory Shirt
Besides some of the other interesting performance features of the Twillory Shirt, the shirts have some pretty awesome collar stays that are included with each shirt. These collar stays are made from Brushed Nickel – and they are just cool. You don't buy shirts JUST for the collar stays, but they are pretty cool and a nice touch. They are also surprisingly heavy.
In the words of Forest Gump, "That's all I've got to say about that."
In case you are wondering, some of the shirts have a button-down collar, but not all of them. I personally like shirts that have a button down collar on the inside (you don't see the button on the outside collar). But Twillory has all types of different collar styles.
The Twillory Branding
While some of the Twillory Athleisure clothes, like the polo and henley, have larger-than-I'd like branding on their clothes, the dress shirts have some very subtle branding – typically stitched in the fabric on bottom part of the shirt.
You really don't see the branding because it's on the behind piece of fabric with the buttons. So, there's nothing to worry about their.
The Polos have a rather large "T" on the arm. The Twillory Henleys, which I REALLY liked, on the back – in a reflective print on the fabric.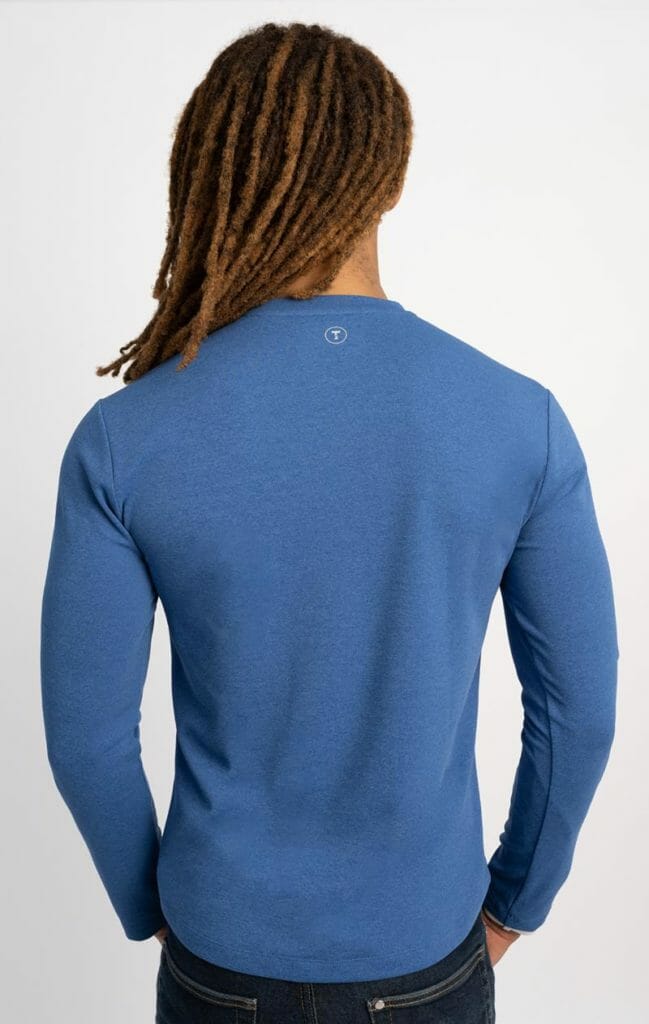 Read our full Twillory Henley Review to learn more about one of my favorite products!
Are Twillory dress shirts any good?
Whew, this is a super tough review to give you.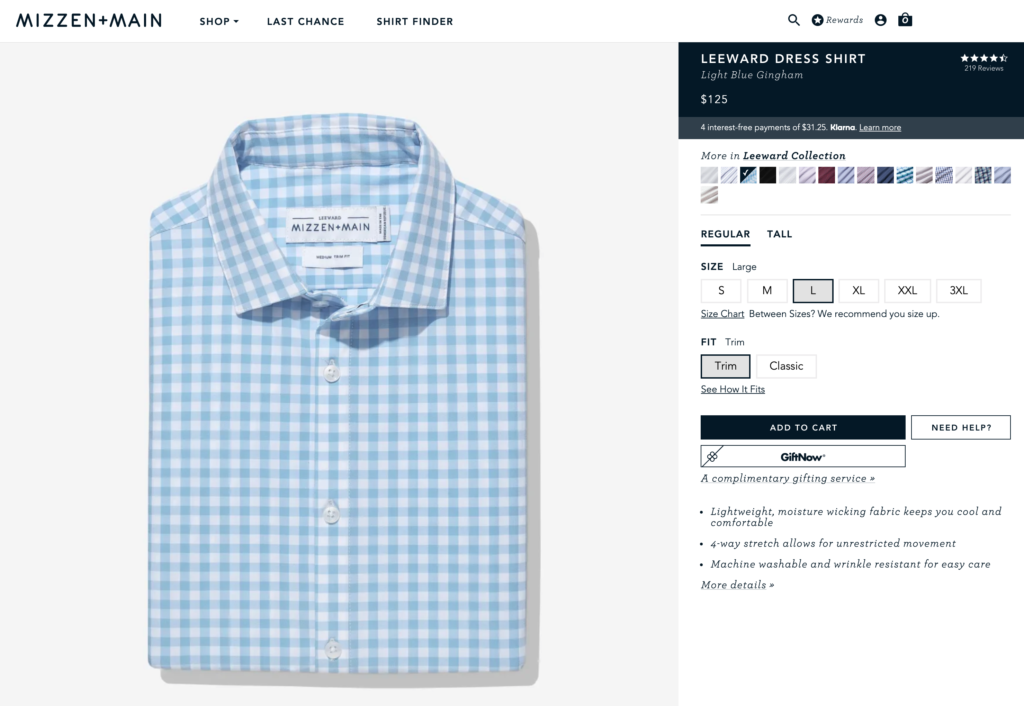 While Mizzen + Main's Performance Shirt runs about $125 retail, you CAN get a Twillory shirt for $55 if you buy 4 or more. That's basically like asking me, "Are Mizzen + Main Shirts worth 2.5x more than Twillory?"
Is Twillory Worth it?
I've always promised to give you my honest reviews – even though Twillory gave me their shirts for free.
The answer is actually really easy for me: yes. If you care about wrinkles at all, I'd stay away from the Twillory Performance Shirts.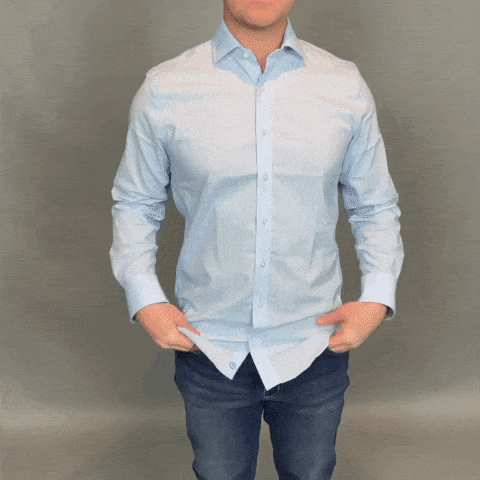 I live a busy life. I don't have time to worry if my clothes have wrinkles or need to be ironed. I want the best clothes that require the least amount of work.
Take, for example, when I travel. I'm super busy. Typically in meetings for 12+ hours a day. Do I want to second-guess if my shirt is wrinkled or not? Or worry about if my non iron shirt really should be ironed at all? Or what would happen if I melted my shirt? Or what if the iron didn't work at all?
Those are all things I can't risk. I would rather have 1 Mizzen + Main shirt than 2.5 Twillory shirts.
The right way to think about Twillory Value
However, if your budget doesn't allow that, I'd still recommend a Mizzen + Main shirt. Want to know why?
You can only get a Twillory shirt for $55 if you buy 4 or more Twillory Dress Shirts. That means you'd have to spend $220 in shirts to get them for that price. You could easily get a Mizzen + Main Dress shirt (plus something else either in final sale or another item) and I'd still recommend getting 2 Mizzen + Main items over 1 Twillory performance shirt.
I really don't think these can be classified as "non iron," and frankly, that's the entire reason that I buy more expensive clothes.
The cost of dry cleaning
Dry cleaning is also super expensive. It costs about $4 to get a dress shirt dry cleaned and pressed- every single time. Even if you are thinking about getting Twillory for $55 (and buying 4) – you only have to get the shirt dry-cleaned 18 times for it to pay for itself. While 18 times sounds like a lot – if you wore the shirt every week and needed it cleaned – that time flies pretty quickly.
Also, an aside, most clothes that say they are dry clean only CAN be cleaned at home with the right detergent. See our Laundress Review + Laundress Promo Code for more information.
Life's too short to be uncomfortable and worried about wrinkles. So, even if it costs a bit more money – look at another dress shirt brand like Mizzen + Main or Bluffworks and find a shirt that you don't need to iron.
What Twillory clothes I loved
I did have the chance to try out the Twillory Athlesiure Henley and I definitely recommend the Twillory Henly. The fabric is perfect and the fit is awesome.
The logo is a little bit large on the back, but I never see it. Ha!
Twillory Review: The final verdict
I really like the idea that Twillory stands behind. They are trying to create comfortable clothes that perform (and don't have wrinkles) but it's tough. I wanted to like Twillory, I really did.
The Good
Can be purchased for $55 (when buying 4+)
A different option over other brands like Mizzen + Main.
More styles + fits that other brands.
Their athleisure line is great, too!
The Bad
Not nearly as wrinkle resistant as other brands in the category.
UNTUCKABLE line is not for people with long torsos.
Expensive if only buying 1 or 2.
I remember that I hated the first Mizzen + Main Shirts that I tried (read more about that in our Mizzen + Main Review). They struggled, too. I would keep an eye on Twillory – they will continue to improve the material their clothes are made with and have already made great strides with new technology like Safe Cotton. Also, be sure to see our full roundup of the best performance dress shirts.
Was this review helpful? Let us know in the comments below.