;tldr Duer Jean Review

The ultimate jeans. Flexible, comfortable and just the right weight.

His Duer Jeans Review

My favorite pair of jean. Enough said.

Her Duer Jean Review

They look like real jeans! That's all you need to know.
September 2019 Update: I've been rocking Duer Jeans for about a year now. They are one of my two go-to pair of jeans when traveling (the other, Bluffworks, is coming as a review shortly!). Everything in this review still holds up. The jeans look almost as good as brand new and haven't lost the stretch like some garmets can. I love Duer Jeans and you really shouldn't wait to buy Duer Jeans. 
My only concern was that they wouldn't last long. They've stood the test of time. So much so that I've also bought some of their No Sweat Slim Pants, too. The Khakis is a great hipster version of the classic Khakis your dad wore. They also look great in dark blue.
On to our full Duer Jean Review...
Duer Jeans: The Perfect Pair of Jeans?
I was simply on the search for the perfect jeans. Not too much to ask, right? Here's how I reviewed the Duer Jeans. Did they match all the following criteria?
What Makes Duer Jeans Different? Stretch!
The first thing that makes Duer Jeans different is the fabric. Their flagship product, the performance denim, uses what they call L2X Fabric. It is:
70% Cotton
28% "CoolMax" (which is proprietary version of Polyester)
2% Lycra
What does all of that mean? It means that 30% of the fabric in the jeans has some form of stretch. Obviously, Lycra is very stretchy. There is more stretch in the CoolMax. Cotton used in jeans is not very flexible. This makes Duer Jeans VERY, VERY Flexible. They aren't so stretchy that they look like tights, however (which is a very good thing!)
Duer Jeans Review: How thick are the jeans?
Sometimes new, non-traditional jean brands are either too thin or not thick enough. I found Duer Jeans to be the perfect thickness. The CoolMax fabric also helps keep you cool in the summer and warm in the winter.
Duer Jeans Review: Comfort
Quite simply: my Duer Jeans are the most comfortable Jeans I own. The flexibility and breathability make them my go-to pants (they are slightly thicker than the Lululemon ABC Pants, which I also love - read our full Lululemon ABC Pants Review).
One of the reasons that Duer Jeans are so comfortable is the Gusset in the jeans (outlined below - also see What is a Gusset and why is it awesome?). You'll see it's the triangle-shaped area of extra flexible fabric below the crotch. Before we did the Lululemon ABC Pants Review, we had no idea what a Gusset was. It turns out it helps with flexibility of the pants and also helps with durability (there is less strain put on the crotch-area fabric).
---
Duer Jeans Review: Style + Fit
I typically wear a size 32 waist in almost every pair of pants. I found the Duer Jeans to run true to size. The stretch is a little forgiving and allows for you to have :::cough::: variation in waist size and they still will be comfortable.
Duer comes in a wide-variety of styles, so there is mostly likely a style that matches the style you typically wear. I bought a fairly traditional style, slim cut. I wear them with either my Allbirds or Cole Haan ZeroGrands. You can see in the animated GIF below:
---
What else should I know about Duer Jeans?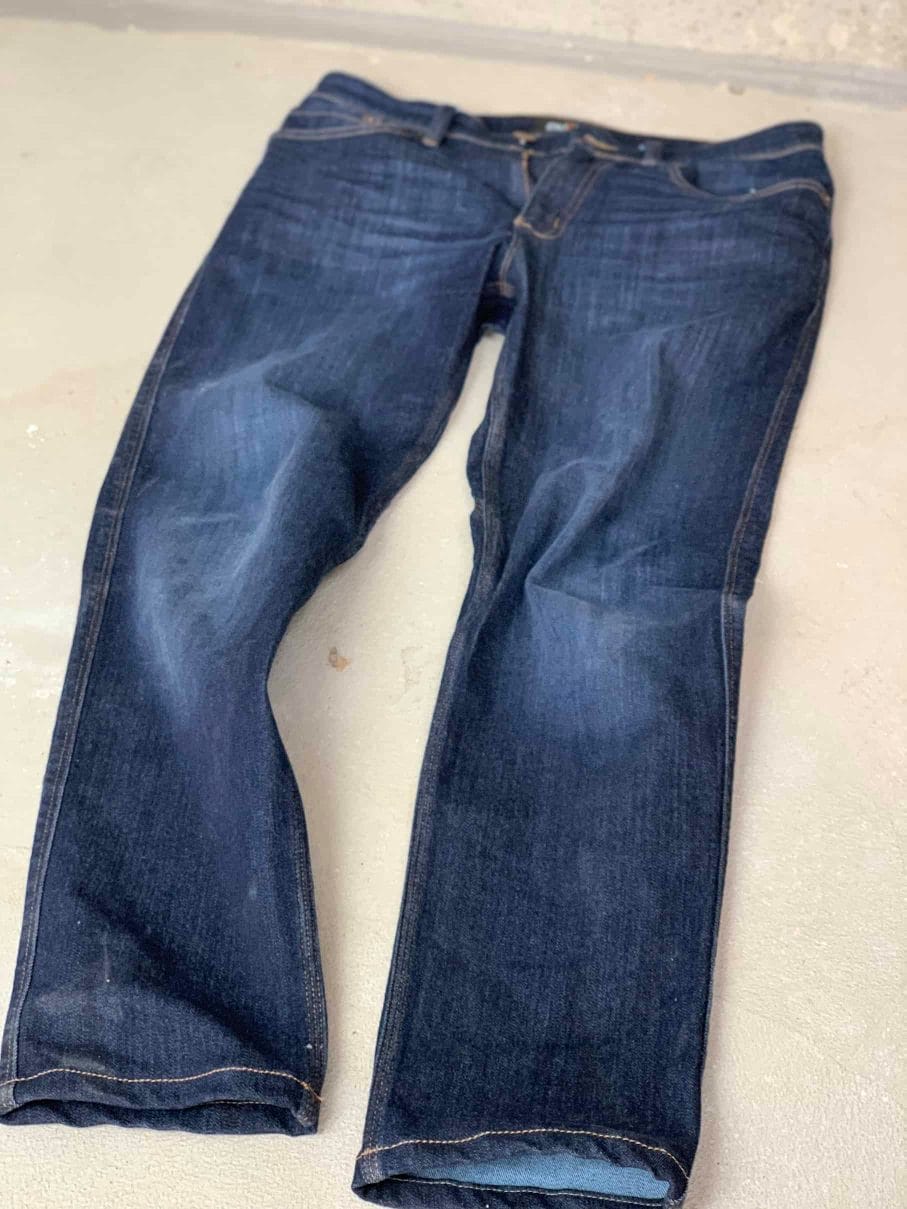 The one thing we haven't talked about yet is bleeding. A lot of the new jeans that I've tried (especially the Mizzen + Main Jeans) bleed a lot! What do I mean? Look at this photo of my hand:
Most new jeans, especially dark ones, leave your hands looking blue (and wondering if you have Raynaud's Disease - what usually causes unexplained blue hands). It must be a unique way that Duer makes their Jeans, but they do not bleed.
Are Duer Jeans Worth it?
The Too Long Didn't Read?
Duer Jeans really do live up to the hype. They are comfortable, look good and are durable.
Are there any negatives? The only negative we found was that sometimes, with the stretch, the pants can ride up around the bottom of the leg when you sit down. You may have pull them down a bit.
But that's really not a big deal. We wholeheartedly recommend Duer Jeans. If you want to try out a pair of Duer Jeans, make sure to use our Duer Jeans Promo Code!
Have any questions or comments about our Duer Jean Review? Let us know in the comments below!