Skylight Calendar Review: Skylight is a digital frame that you can use to manage your busy family schedule. Skylight integrates with Google Calendars so you always know what is coming up. Skylight also allows you to display shopping lists, photos, and more!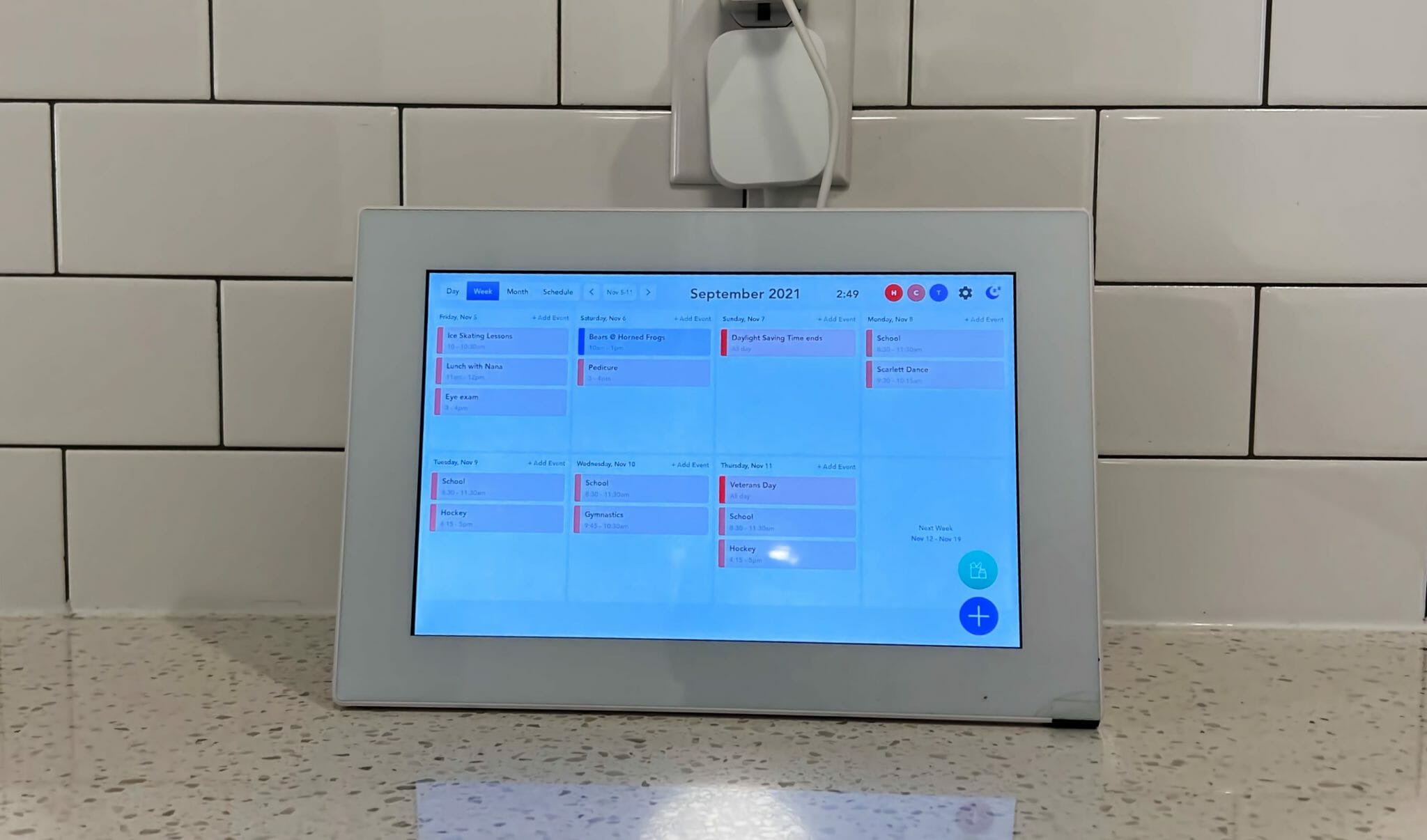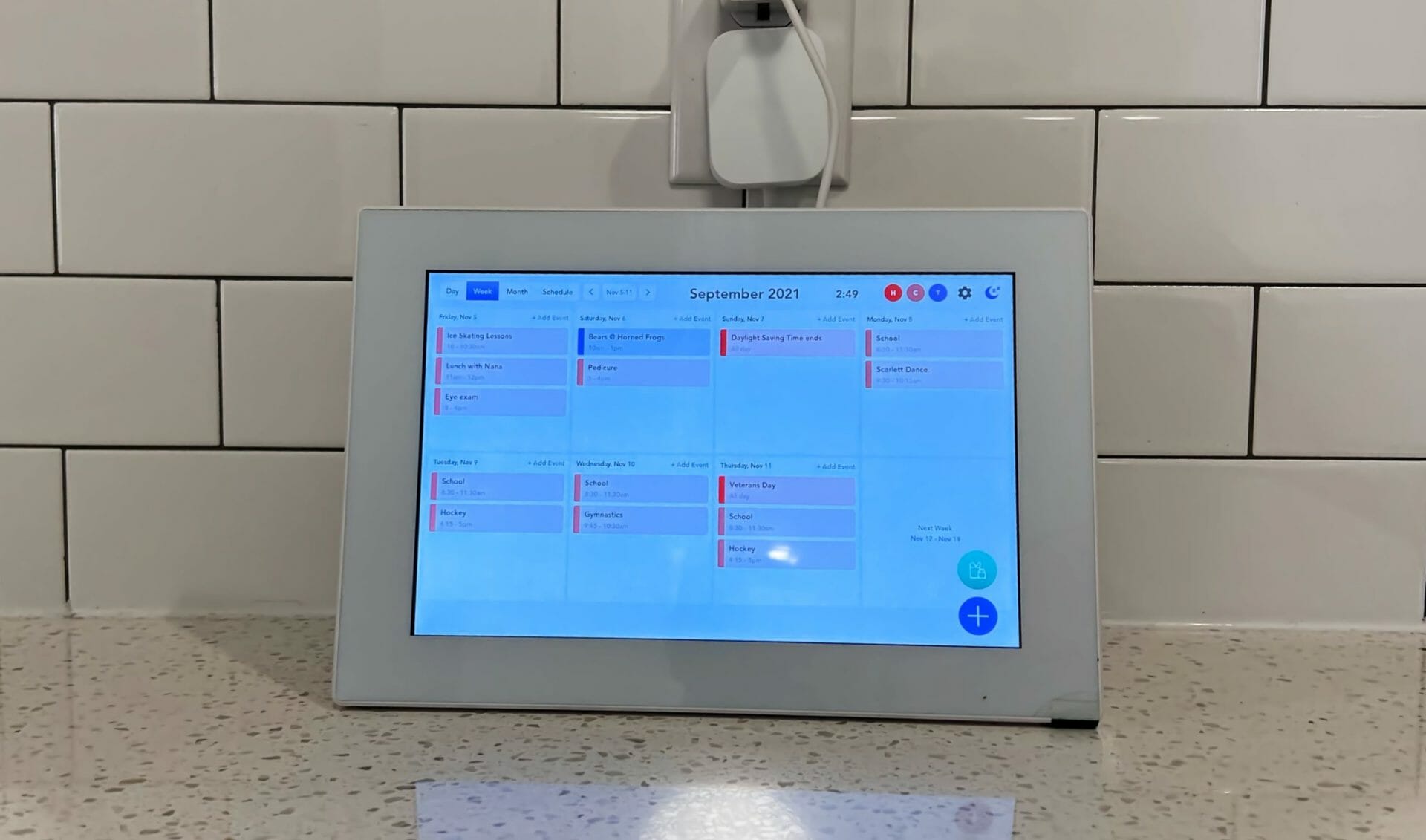 Skylight has the capability of syncing with other calendars like Outlook or Apple Calendar. If you are looking for something to help manage your busy family schedule, then Skylight might be just the solution for you!
Top Pick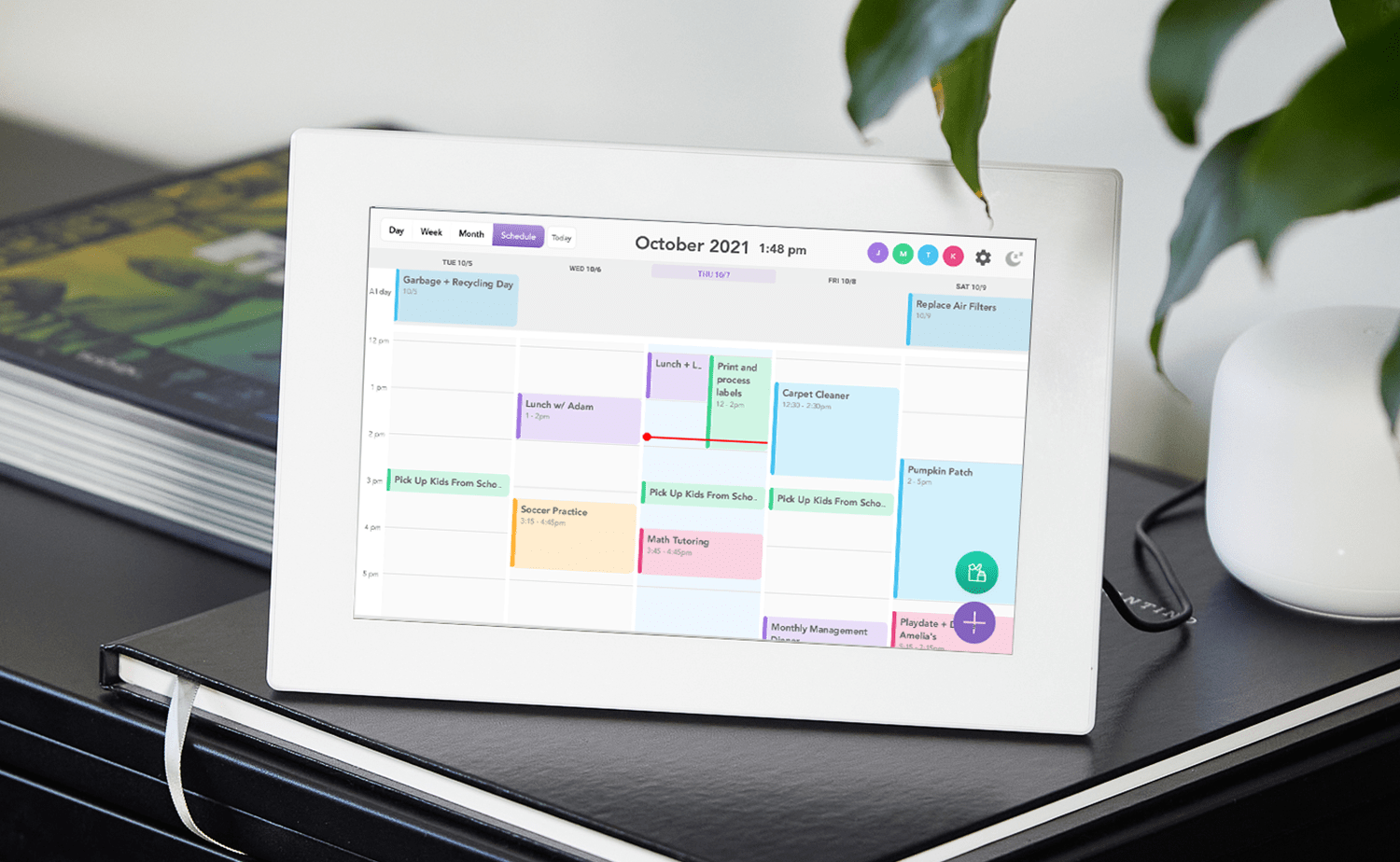 Skylight Digital Calendar Frame
Syncs with Google Calendar, Outlook and more
Have a busy family? Or just a busy schedule? Then you need to check out the Skylight Frame Calendar, from the makers of the Skylight Digital Picture Frame.

It auto-magically syncs with your calendars and shares your calendar on a beautiful touch screen.
Skylight Calendar: Everything you need to know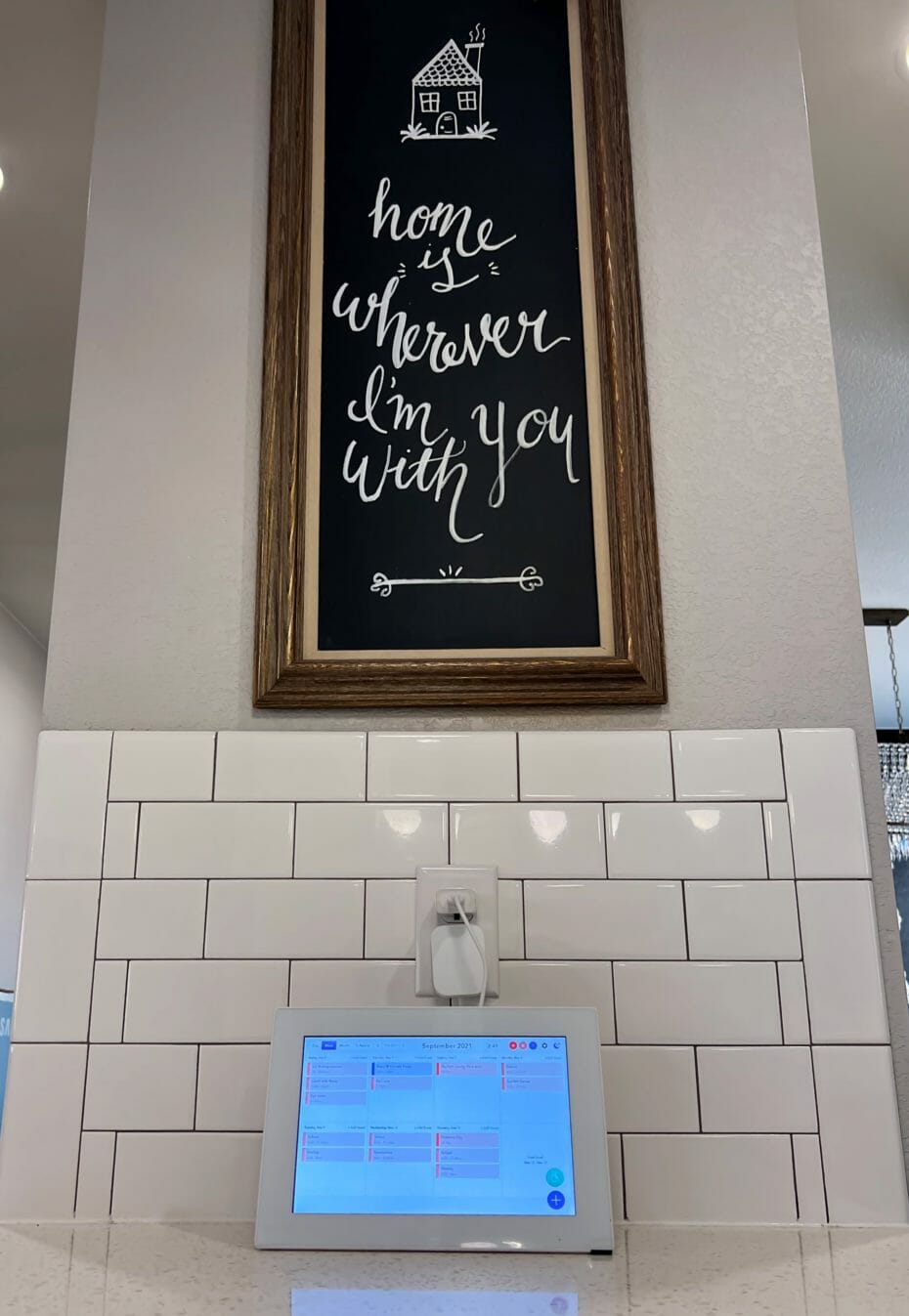 We fell in love with Skylight when we gave our parents the Skylight Digital Photo Frame to use in their homes. We love to send pictures of their grandkids. They love to get the photos.
Be sure to read our full Skylight Frame Review to read more.
Quick Skylight Digital Photo Frame Review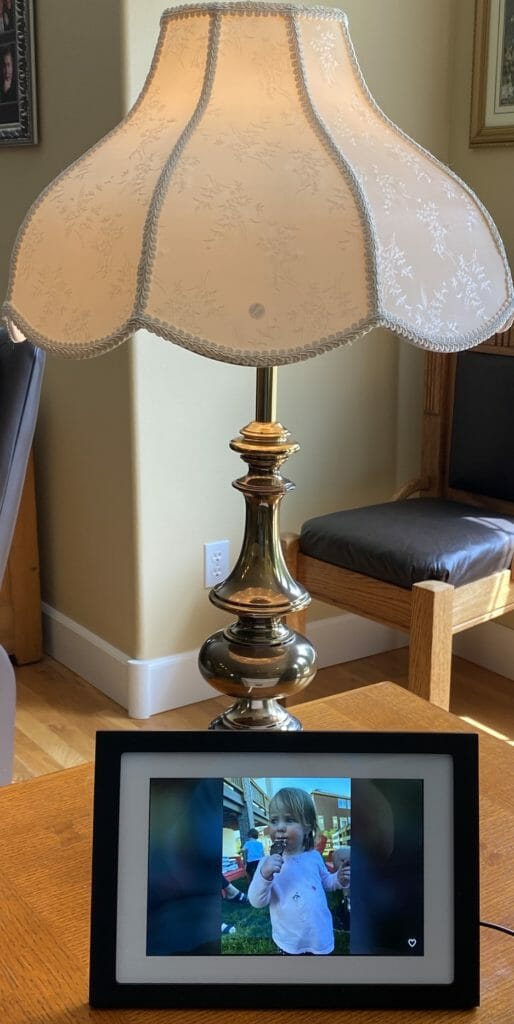 The Skylight Frame is essentially an upgraded version of the Skylight Photo Frame. The photo frame is a great way to share photos with your family – extended or in your own home.
Many photo frames get outdated quickly and are hard to update (with a memory card or plugging it in). The Skylight frame is really easy to use and update photos via Wifi – using an email address or their smartphone application.
Our only dig on the photo frame is that it doesn't update automatically with your own photos (like Google Photos does with their Google Nest Home smart display). However, it is still easy to use.
You can simply upload photos via their easy-to-use smartphone application or by using a special email address you create during setup process.
It makes a great gift for grandparents!
The Skylight Frame Calendar: What you need to know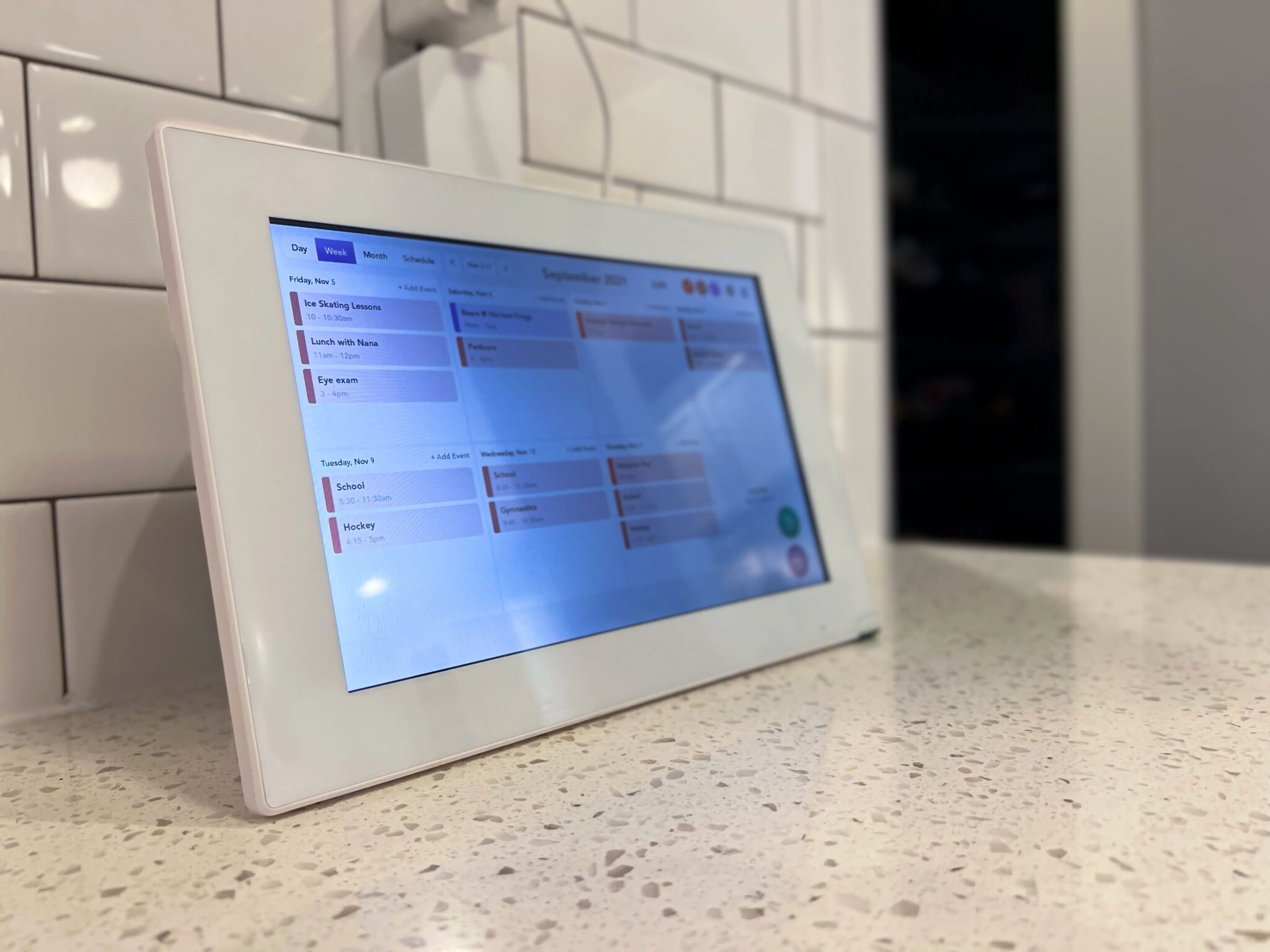 The Calendar Skylight is a simple, straightforward, touchscreen tablet. From the front, you don't even see any buttons (they are hidden behind the screen).
But the whole screen is a touchscreen.
While you will never confuse the resolution or touchscreen with an iPad, the Skylight Frame with Calendar is more than adequate to use to display a calendar or even photos.
You can also use Skylight to display your shopping list or other notes! Skylight even allows you to share calendars with family members – perfect if you want one calendar that is accessible by multiple people.
Skylight Frame with Calendar: Set Up
The Skylight Frame Calendar sets up in just a couple of minutes.
Customer Support: Awesome, if you need them
I actually first got a unit that was dead on arrival. No worries, I reached out to their support team and they got right back to me within an hour or so.
They immediately sent me a new Calendar Frame to replace the first one.
Their customer support is top-notch.
5 easy steps to set up
It's really easy to set up. Simply follow the easy instructions:
Plug in the Skylight Calendar
Connect to Wifi – using the touch screen to select your network and enter your password
Download the Skylight app on your smartphone
Once you download the app and create an account, Skylight provides you with a unique email address
Add the email address to any calendars (or calendar invites) to show on your Skylight Calendar.
That's it! Setup is easy.
All about the Calendars
Calendars, even your favorite calendar app, can be frustrating. It seems like calendar technology is a bit antiquated.
The good news is that the Skylight Calendar makes it REALLY easy to use whatever calendar you want to sync with the frame.
The easiest way to sync your calendar with Skylight
The best way to sync your calendar is through the Skylight App or Skylight website. If you want the sync a whole calendar, which we recommend, simply enter the email address associated with the Google Calendar you want to sync and Skylight will walk you through all the steps.
The other way to sync any event is to simply add your unique Skylight email address to the calendar events you want to show up on the display.
For our family, we set up a unique calendar on Gmail JUST for our family Skylight Calendar. We created recurring events for school, dance classes, and hockey. We also put reminders for special days, like when the kids have to bring snacks.
A bonus tip: subscribe to other calendars
We love TCU Football, the good news is that Google also has special calendars for professional sports teams and even national holidays.
We subscribe to the TCU Football Calendar, which is awesome because college football games change times all the time (based upon TV times) and the calendar automatically updates.
That's great because Mrs. We Tried It doesn't care to ask when the games are happening – but she can look on the calendar. Even better, I don't have to keep looking up the times to find when the games are.
For busy families, auto-updating schedules are even better. Some schools even have public calendars.
Skylight: Works with all calendars
We're big Google fans in our home, but it doesn't matter if you use Outlook, Apple Calendar, Yahoo Calendars or something different – the Skylight Digital Calendar works with whatever you use.
They've made it incredibly easy to manage individual events or a whole calendar.
Other great features
The Skylight Calendar doesn't just show your calendar events. It also has some other great features, including the ability to send photos directly to the device.
Grocery list – yes, on a calendar!
Grocery lists are simple to update on Skylight.
To add an item to a grocery list, tap the grocery icon in the bottom right corner of Skylight. Type in the item you want to add and click "Add."
You can also edit or remove items by clicking on them. When you're done adding items, click "Save" at the top of your list and return to Skylight's main menu screen.
Displaying Family Photos
With Skylight Calendar, you have the option to display photos in slideshow format when you are not currently viewing your schedule. To activate this feature, please follow the steps below.
Select the settings icon in the upper-right corner of your Skylight Calendar home screen. From the drop-down, choose Settings.
Find the option for Photo Screensaver, and toggle on "On".
Select whether you want to show your photos in Chronological order or Shuffle them. Under 'Turn Screensaver on after (in minutes)', indicate your preference of timeframe for when your photo screensaver activates (you can choose any number between 1 and 10).
Cheers! You've activated the photo screensaver function for your Skylight Calendar. Simply tap your Skylight Calendar screen at any time to exit the slideshow.
Skylight Calendar Review Frame: Final Thoughts
Pros
Easy to use for any family
Integrates with the calendars you already use
Looks great
Super simply
Cons
Not the best touch screen (but you don't need to use it that much)
Doesn't automatically update photos
If you just want to stay on top of the schedule for yourself (or your family), then check out the Skylight Calendar. It's easy to use, easy to showcase your calendar on a tablet and blends into any home.
From doctor appointments to soccer practice, the Skylight Calendar Frame is the perfect addition to your family's schedule. We have ours on the kitchen counter (an Amazon Alexa is actually right behind the Skylight Calendar Frame) and it's perfect to stay on top of everything for every family member.
You'll want to put the frame in a central location to make sure your family knows exactly what's happening that day.
The Skylight Calendar app is a unique and convenient way to see your calendar events at a glance. Skylight makes it REALLY easy for you to sync any calendar or event with Skylight. The Skylight App or Skylight website are the best way to sync your calendar. Skylight also has some awesome features like grocery lists, displaying photos, and more!