Most people cook steak in an oven, grill, or on the stovetop. But have you ever thought about cooking it in a pizza oven? It turns out that this is one of the best ways to cook a steak and we're going to show you how!
Why are we trying to cook a steak in a pizza oven in the first place?
We first tried the Ooni Pizza Oven a couple of months ago to make the PERFECT homemade pizza (read our full Ooni Pizza Oven Review). And it was amazing. It seriously still makes our mouth water just thinking about it.
The pizza was perfect. It was crispy on the outside and chewy on the inside. The cook time was less than a minute and it tasted like an authentic Italian wood-fired pizza!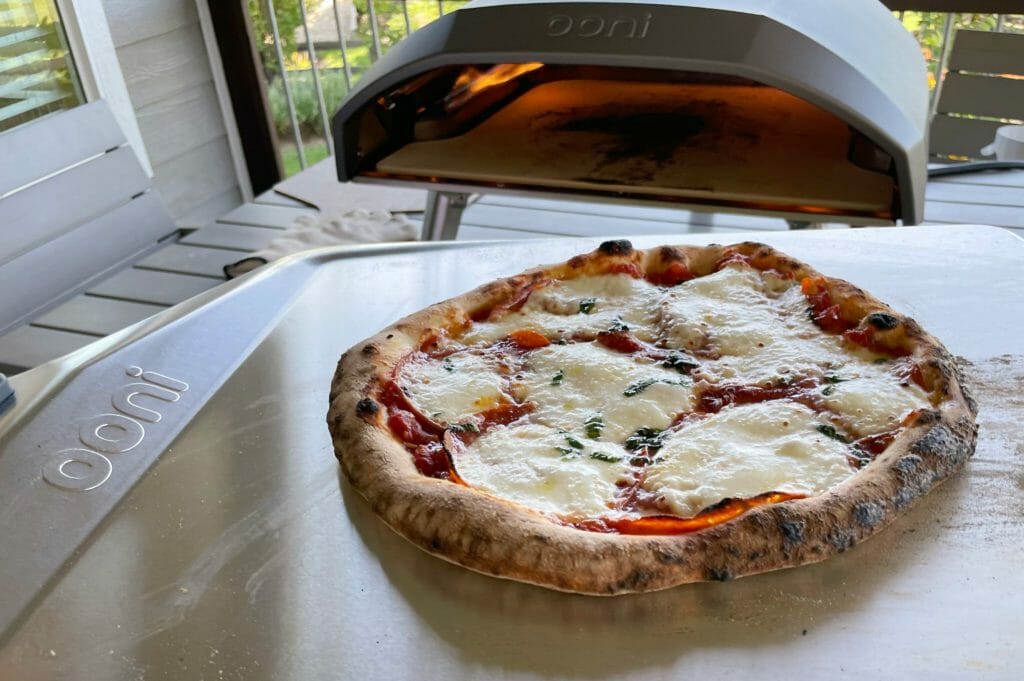 We were hooked, but then we had another thought… what if this oven could cook more than just pizza? We tried cooking steaks in our Ooni Pizza Oven with some cheap-o steaks (nothing fancy, just two steaks) from the supermarket and were incredibly surprised, in the best way possible.
Then we came across Snake River Farms Steaks and our mind almost exploded – what would these taste like if we took a stab to cook these steaks in a pizza oven! Whoa!
A quick overview of Snake River Farms Steaks
Snake River Farms is a company that produces only the highest quality beef and they literally created a new breed of cattle to get to this level.
Their steaks are a grade ABOVE USDA Prime, and not only 1 grade above USDA Prime, but they also have 2 grades above USDA Prime. Yes, you read that correctly.
American Wagyu beef is a combination of the intramuscular marbling of purebred Japanese Wagyu and intense meaty flavor from traditional American cattle. They are obsessed with the genetics in their steaks to get the best qualities from both worlds! Seriously, they are the best steaks we've found that are delivered right to your door.
Read our full Snake River Farms Review for more information.
How to cook the perfect steak in your Pizza Oven
We were incredibly shocked at how easy it was to cook a steak in pizza oven. It was way easier than we could have imagined.
Here's what you need:
A pizza oven (we recommend the Ooni Pizza Ovens)
Steak (obviously, and Snake River Farms is the best we've ever tried!)
A seasoned cast iron skillet
Salt
Pepper
Vegetable oil (olive oil can do in a pinch, but not recommended)
Seasoning of your choice (we recommend this butter flavor, but Snake River Farms also has another great option, but your favorite steak rub is what should go on the steak!)
An additional pan to hold the cast iron skillet on
Oven Glove – this is going to get hot!
None of these are out of the ordinary, except for the Pizza Oven, of course.
The cook time for a steak in the pizza oven is less than 3 minutes.
1. Get the best steak possible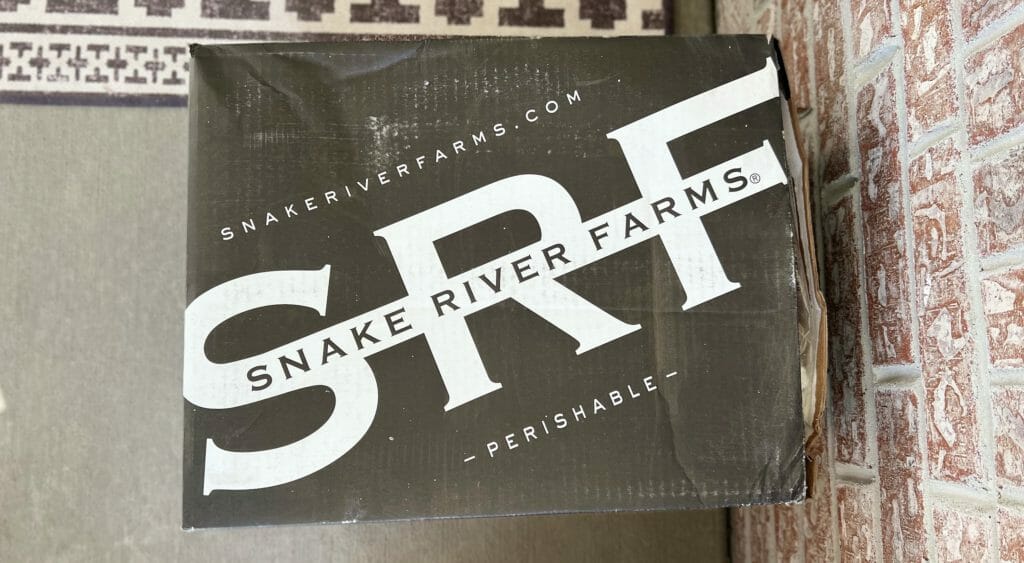 Seriously, it's Snake River Farms, no question about it. just get it, check out our Snake River Farms Review and you will die a happy person.
2. Oven and Cast Iron Skillet Prep
Turn on your Ooni pizza oven. On the stoneware baking board inside, aim for 932°F (500°C). Using the Ooni Infrared Thermometer (which is what we use!), you may quickly and simply check the temperature of your oven. The extreme heat temperature is required to produce a fantastic steak. Why? It stimulates chemical reactions that cause fat and sugar caramelization, resulting in a rich and delicious cut.
Put the seasoned cast iron skillet in the Ooni Oven for 10 minutes to bring the temperature up and make a hot pan.
3. Steak Prep for Pizza Oven
This is where it does get a little more complicated to make the delicious steak for you.
Bring the steaks to room temperature. In the case of Snake River Farms, these steaks come frozen. We simply put them in the refrigerator the night before and took them out of the refrigerator about an hour before cooking. That seemed to do the trick.
Put salt and pepper on the steak – load them up with salt – this helps make for a better steak. Sea Salt, really course salt is better here.
Brush vegetable oil on the steak (olive oil tends to make the steak burn)
Put on your favorite steak rub or steak seasoning. We used the butter seasoning from Costco, but Snake River Farms also makes a great seasoning, too. Season Steaks to your liking.
Put Salt, Pepper, Vegetable Oil, Steak Seasoning (in that order) on both sides of the steak for a consistent taste
4. Time to cook a steak in pizza oven!
Once you've prepped the oven, cast iron skillet and steak, it's time to put the steaks on the skillet.
We recommend placing a pan upside down to rest the skillet on when you remove the steaks.
The second you put the steaks on they will start to smoke and get cooked.
To get the perfect medium or medium rare steak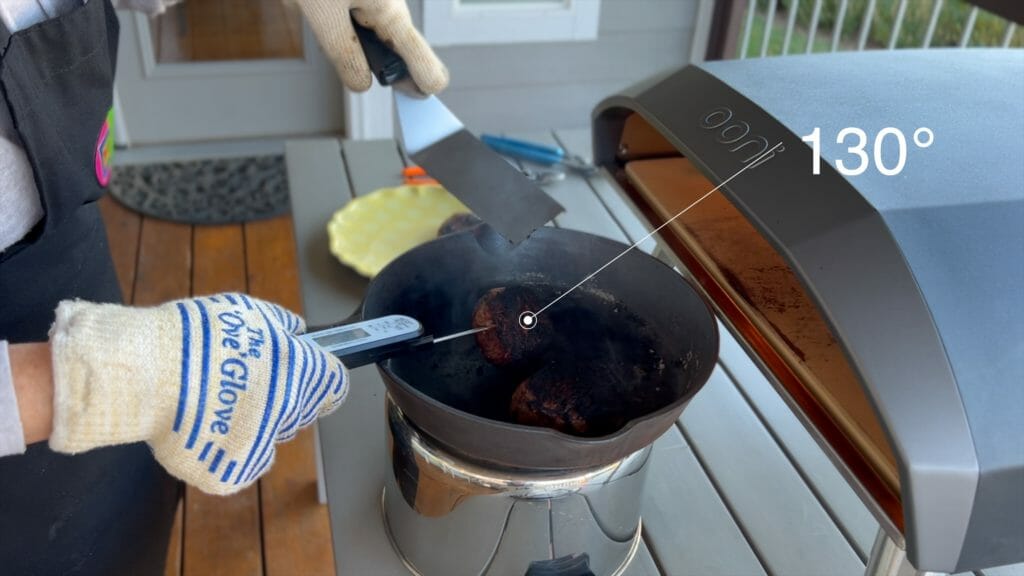 Put all the steaks (in our first test, we did three per skillet) in the skillet and cook for 90 seconds on each side. About every 30 seconds rotate the steaks on the skillet, so they are evenly cooked on each side.
If you are cooking 1 steak, you can simply leave in the oven for 90 seconds without rotating it – on each side – but flipping the steak so that it is evenly cooked.
5. Use a meat thermometer to test done-ness in pizza ovens
A meat thermometer is the best way to test how the steak's doneness (it doesn't matter if it's a ribeye steak or a filet or something different).
The next step is to check the core temperature inside your steak. For rare, aim for 110°F. For medium rare, aim for 120°F. You can use increments of 10°F for increasing levels of doneness.
Resting the steak will cause the steak to cook more in it's own juices, raising about 5 degrees after resting for 10 minutes. Resting allows the steak to cook more and bring the steak to your desired doneness.
So, if you want a medium-cooked steak, if you check the temperature and it is 125 degrees Fahrenheit, it will probably rise to about 130 degrees with 10 minutes of resting.
It's important to let your meat rest and remove steaks when they are about 5 degrees away from the optimal temperature.
6. Cutting it up and butter – the last step
Finally, serve the steak. To ensure full flavor with each bite, let the meat rest for a couple of minutes after adding the butter. Finally, slice against the grain and serve on a room temperature plate to enjoy.
Seriously, that's all you have to do to enjoy amazing meat from your wood fired oven in just over two minutes.
Bonus: add some garlic to the Sirloin or Ribeye you are cooking.
Tips: Don't make our mistake
Seriously, trust this process. Preheat your cast iron skillet. Make sure that it is seasoned. Put your vegetable oil on the steak and DO NOT add it to the pan.
We tried to grill a steak with our pan and thought that the pan wasn't oiled enough. We weren't worried about a golden brown sear, we were worried that we weren't going to be able to remove the steak at all.
So, we added more vegetable oil. It didn't increase the sear on the steak, it made it heavily charred. Just don't do this.
Just keep it simple: salt and pepper, vegetable oil and steal seasoning. In that order!
A note about our grill and a wood fired pizza oven
We did not use a wood fired grill. We used a propane powered grill. That allows us to control the temperature better than a brick oven or wood fired oven or anything else.
We recommend this – and getting the preheat temperature right. That's tougher with a wood fired pizza oven, we get that. That's why we recommend gas powered pizza ovens over a wood fired pizza oven all the time. Pizza ovens can be a bit unpredictable and we hope to give you more reviews of other pizza ovens in the future!
Steak + Pizza Oven Recipes
Any questions? a room temperature plate with melted butter before serving; this will make sure all flavors are maximized. Enjoy!
Let us know if you have any questions or concerns below!
If you cook steak in your pizza oven, it's important to follow the steps outlined above. For best results, cook two steaks per skillet and flip them every 30 seconds. You'll know that they're done when they reach medium or medium-rare doneness (120 degrees Fahrenheit for rare). If you want a more well-done steak, cook until 130 degrees Fahrenheit with 10 minutes of resting time before cutting into bite size pieces. Finally, let the meat rest on