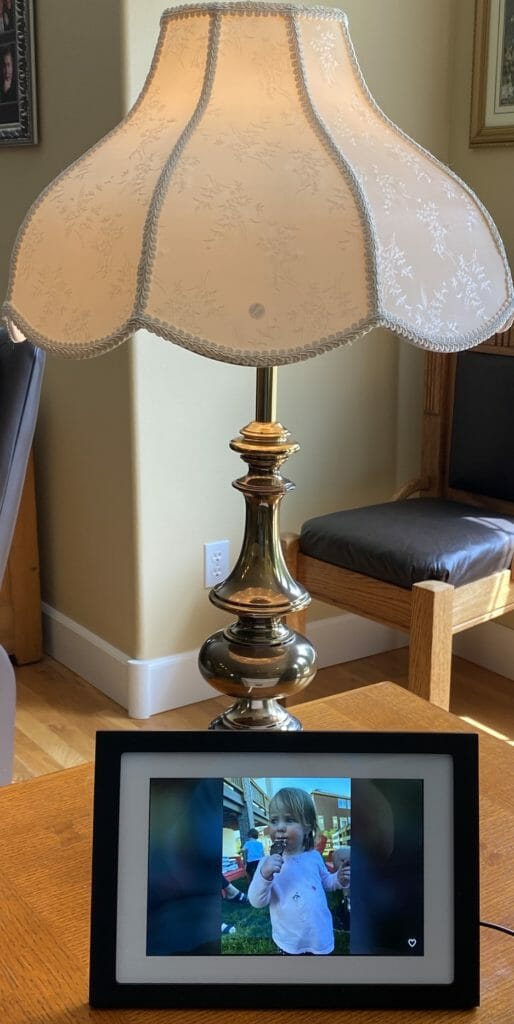 Looking for a digital picture frame that is easy to use? Look no further than the Skylight Frame. Read our honest Skylight Frame Review to see if it is the best digital picture frame.
👍🏻What We Love About Skylight
👎🏻What We Don't Love About Skylight
– Very easy to set up
– Easy to give as a gift
– Touch screen is a awesome
– Very easy to send photos
– We wish it had better integration with Google Photos or Apple Photos
Skylight Frame Review: What is the skylight?
The Skylight digital frame is a WiFi-enabled picture frame, like the digital picture frames that have been around for decades. But the Skylight frame is different in a couple very key ways. Let's continue our Skylight Frame Review to explain how it's different.
The Skylight frame rotates through pictures and videos that you send to an email address.
Skylight Frame Review: How is the skylight frame better? 
The Skylight frame is better in two key areas:
Ease of use
WiFi Enabled
These actually go hand in hand – the WiFi allows the picture frame to be easier to use.
How is the Skylight frame to use? If you can email a photo – you can update the digital frame. It's that easy.
That's been our biggest complaint about digital picture frames in the past – you either had to use a memory card or be near the frame to update. This allows anyone (with your permission – more on that in just a second!) to update photos to the frame.
The frame is actually a touchscreen which allows for super easy set up – as long as you can remember your password for your WiFi.
Skylight Frame Review: How to set up the Skylight Frame
Setting up the Skylight Frame is super easy thanks to the touch screen.
All you have to do is connect your Skylight Frame to your WiFi and add it to your Skylight account. Creating the Skylight account took the longest of all of this – and even that was easy as signing up for an account on any other website. You then just enter the activation code shown on the Skylight Frame.
The website takes your through all the steps super quickly. Then, you can create a unique email address (something like [email protected] – not our email address for this, just an example!) and seconds after you email a photo, it shows up on the frame. Pretty cool!
There's even an option to allow all photos from any email address (not recommended) to be shown on the frame or just email addresses you approve. We recommend the latter – for obvious reasons.
There is also a great smartphone app that allows you to upload photos (this works the best for uploading multiple photos at once). If you've paid for Skylight for Skylight Plus – it allows for captions and videos uploads.
Should I buy Skylight Plus?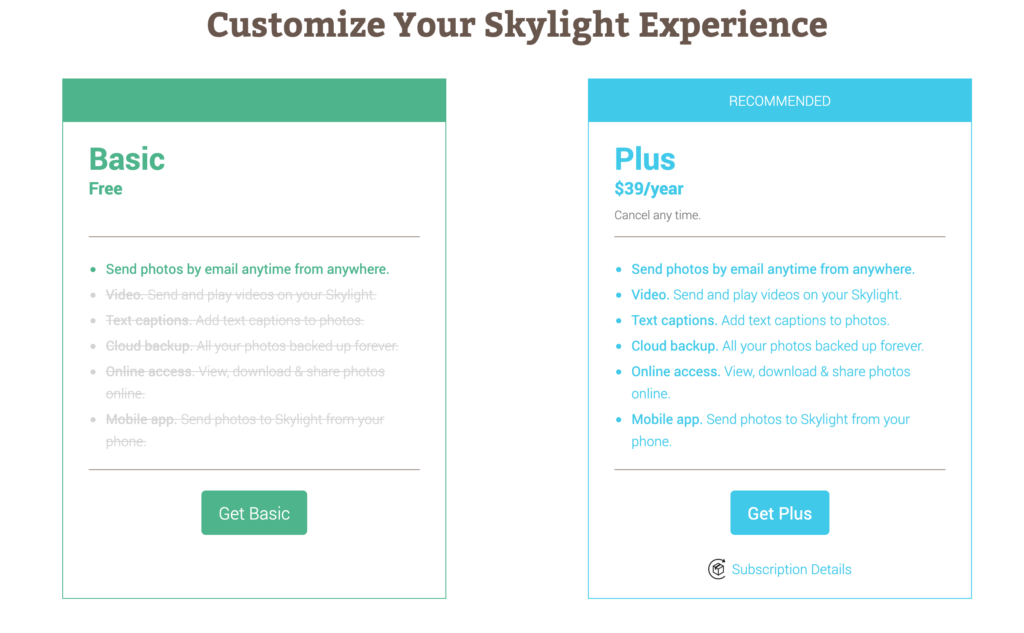 Skylight plus is the recurring paid offering from Skylight. It's only $39 a year (only $3.25 a month, if you do the math) and NOT REQUIRED to use Skylight. Should you buy it: it depends. First, you have to know what it includes. Skylight plus includes that Skylight Free Does NOT:
Ability to upload videos
Add captions to photos
Cloud backup: all photos are backed up online forever
Mobile app
The only thing that might make it worth it is the Mobile App for us. We don't typically upload videos or captions to the Skylight frame, however, we do use the mobile app on a regular basis.
It would be nice to be able to pay monthly (vs yearly), but it's not a deal killer. You can also email your photos for free all the time.
What don't we love about the Skylight frame?
The Skylight frame is a great digital picture frame (we'd even say it's the best digital picture frame!) but it straddles the fine line between offering too many features and not enough. At home, we use the Google Nest Home for our home Picture frame. That's because it integrates with Google Photos and automatically pulls in the best photos from our automatic backups from our iPhone (yes, that's possible).
Google simply has a better Artificial Intelligence (AI) to pick the best photos. However, there is something really cool about selecting WHAT photos you upload to the Skylight Frame.
We wish there was a way to set up better integration between Google Photos (or even Apple Photos), to sync even better but overall, the set up one easy to use and works really well.
What else should you know in our Skylight Frame Review?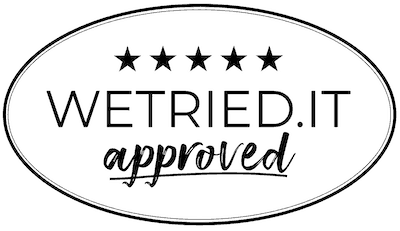 Overall, the Skylink frame is an outstanding digital picture frame. It's easy to set up and the touch screen makes it even easier to use and set up.
We, personally, gave it to my mom for Mother's Day and she loves it (see other gifts for the women in your life that has everything). We're able to send her photos of the grandkids (and even let my brothers send photos to send to the frame, too. 
We'd recommend the Skylight Frame for a gift (parents, grandparents or even a spouse to have in their office). However, we'd recommend something like the Google Nest Home for your home.
The Skylight Digital Picture frame is the best digital picture frame for a gift, for sure. It's even safe for non-technical parents and grandparents. It's also a great way to share photos to people without having to log onto social media or look at your phone. That's our favorite part – all the photos without having to stare at your phone.
Here's where we've found the best deal on the Skylight Frame. Have any questions or comments about our Skylight Frame Review? Please leave them in the comments below.