Amazon Halo Band Review: with so many fitness trackers like Fitbit and the Apple Watch, why does Amazon feel like they need a fitness tracker? And more importantly: is the Amazon Halo any good? Who is the Amazon Halo Band for?
Read our Halo Band Review before you buy the Halo for yourself or someone on your Christmas list.
Also, be sure to see our best Gifts for the 30-Something Guy who has everything and our best Early Black Friday Deals.
Halo Band Review: What is it?
The Amazon Halo looks incredibly similar to the classic Fitbit. It is about the same size as the classic Fitbit but comes with a fabric band instead of a rubber/plastic type material. You can currently buy the Amazon Halo in three sizes: small, medium and large. It comes in 3 colors: black, white and pink. Oh, sorry, it comes in Black Onyx, Blush + Rose and Winter + Silver in Amazon marketing speak.
There is only one button on the device and no digital readout. It does have one color-changing LED but that's it. It comes with a unique charger, which we'll discuss in more detail in our Halo Band Review.
You can also buy different bands in additional colors and in "sport" band comparable to the Apple Watch Sport Band.
While the Amazon Page doesn't mention anything about an accelerometer or temperature sensor, this Verge preview does. I could not find anywhere in the Amazon Halo App to get a temperature readout. But, it has to use the accelerometer to measure steps.
Halo: why Amazon says the world needs another fitness tracker
There are a couple of things that Amazon says that makes the Amazon Halo different. We'll dive into these in more detail.
Clinically Proven Advice
Amazon says the Amazon Halo has the "Science-backed tools to improve how you sleep, move, sound and feel. They place a lot of emphasis on different experiments you can take in the iPhone/Android App that help see how these experiments improve your health — or not.
Another interesting addition: they have partnered with Weight Watchers, excuse me WW, to sync information. I don't use weight watchers, but it's interesting.
Measuring and Tracking Body Fat
This is actually what made me most curious about the Amazon Halo Band. By using your phone's camera, the application takes a 3D image of your body and conducts a scan.
The ability to understand your tone of voice
This was the other feature that made me super curious. Besides the typical heart-rate tracker, the Amazon Halo has a microphone built into the band (actually 2 microphones, to be precise). This uploads data to your smartphone and monitors your tone of voice.
Amazon Halo Review: Initial Impressions + First things to know
I am an Apple Watch user — I have been since generation 1, actually. I love the Apple Watch and wear it every day and to sleep. How do I keep it charged? Simple: I charge when I get ready in the morning and when I wind down at night. It's rarely at 100% charged, but that's ok — it lasts pretty well giving it a couple of charges in a day.
Amazon Halo: Battery Life
Amazon says that the Halo Band will last up to 7 days with tone detection disabled. I really struggled to keep the Halo Charged. Here's why: the Halo Band has a super awkward charger. You have to get the charger on just right in order for it to charge.
I really struggled the first couple of days just getting it to be charged enough for use. Quick pro-tip: you know the Amazon Halo is charging when the light on the side blinks red. It can be really tricky to get the charger lined up perfectly.
I only mention this because I actually don't know yet how long the Halo will last on a full charge because I haven't had a chance to fully charge it. Yes, it's that sensitive.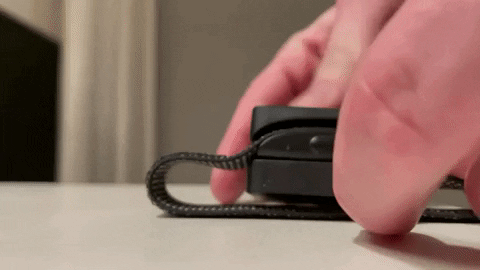 Amazon Halo: The overall look
This simply looks like a fabric band. The woven fabric looks very similar to the Apple Sport Loop Bands, nothing out of the ordinary.
I did wear both my Apple Watch AND the Amazon Halo simultaneously, I looked pretty cool. 🙂
Other than that, the band is very nondescript. It has no digital read out and doesn't make any noise. Almost everything is done on your phone. If it does get disconnected via Bluetooth, you can double-click the only button on the band to get the band to reconnect.
Amazon Halo: How to Set Up
Amazon has really improved their overall user experience with products like the Amazon Halo, I'm sure because they face such steep pressure from companies like Apple and Google. The interface and design of the set up experience was the best for any Amazon product I've tested. I've tested the Amazon Echo (in all shapes and sizes) and even some of their more obscure products, like the Amazon Echo Auto.
Amazon has adopted a cool overall sophisticated illustration character design for the Amazon Halo, with custom and well-made illustrations. The setup via my iPhone was actually enjoyable and incredibly easy. All you need to do is download the application (yes, the Halo has its very own application) and follow the in-screen instructions.
Halo Band Setup Screen Shots
Halo Band Review: Testing the unique features
There are three features that really make the Halo Band unique, as we mentioned above: the clinically proven advice, the body scanner and the tone of voice. Here's more in-depth information on each feature.
Testing the clinically proven advice
I've heard nothing but great things about weight watchers (now called ww). It's worked for millions of people, including Oprah, and the science behind weight watchers is solid. I don't use weight watchers, but I think it's very cool that it integrates with the Halo Band. The Halo Band would be a great product to try if you were using weight watchers.
What I was most curious about in terms of the clinically proven advice was the experiments. In the Halo App, there is a tab called "Lab." In this tab there are all kinds of experiments you can "enroll" in (just joining a program, basically) around Activity, Sleep, Nutrition, Mindfulness and Tone. There are experiments around all sorts of interesting things: trying meditation before sleeping (via headspace) to limiting wake-ups with a pet free bedroom (yes, that's a real one) to a 2-minute workout to start your day.
In one ad or video, I saw an experiment about snoring (which it could track via the microphone), but I couldn't find that experiment in the app.
Testing the Tracking and Measuring Body Fat
This is what made me REALLY want to test the Halo Band. The interesting thing is that it doesn't require the Halo Band at all. It just uses the App on your phone (and the camera) to scan your body.
All I have to say is: WHOA! This was a really eye-opening feature. This takes an INCREDIBLY realistic 3D scan at your body. It takes a lot to impress me, technologically, and this blew me out of the water. I will spare you the photos of me in my underwear, but the photos on the website are about the same quality of my 3D body scan.
The thing I really like about the measuring body fat is that it gives you a better picture of what your actual health looks like. I tend to be higher on the BMI Scale because of muscle (I know, that's what every guy says, right?) but a Body Fat Percentage is a much better indicator of health than BMI.
I don't know how accurate the Body Fat Percentage is — but I think it probably serves as a good baseline to know if you are going up or down. The Halo App recommends that you scan yourself every two weeks for an accurate measurement.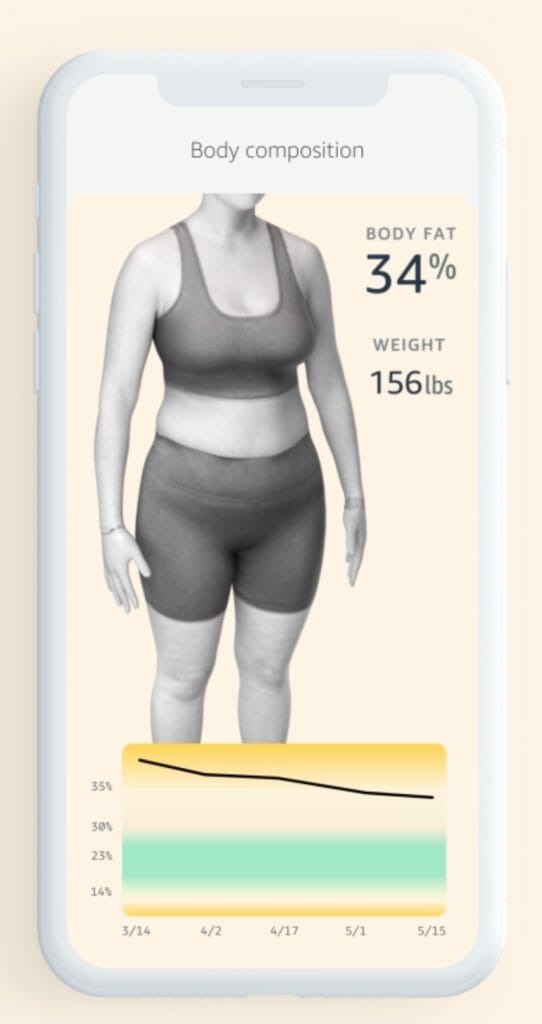 Testing the Tone Analysis
This was another fascinating feature I wasn't sure what to expect. The Halo Band give you three options for capturing your tone:
Turn it off completely.
Less Tone Analysis: 2 Days Average Battery Life
More Tone Analysis: 1 Day Average Battery Life
I chose to do less tone analysis and found a couple of interesting things:
Overall, I didn't talk that much during the day.
When talking to my co-worker, I was very inquisitive.
The Halo Band, obviously, doesn't know when I'm reading a story to the kids or acting — so I had some really odd readings when I was interacting with the kids. I'm sure their analysis was confused – or thinks I'm instantly bi-polar.
The Halo App has a feature where you can test your tone in real time, especially if you want to test a speech or just see how it works. Here's a quick video of me testing different tones to show you how it reacts in real time. Fascinating.
Amazon Halo Band Review: privacy
Amazon highlight privacy a lot in the product page for the Amazon Halo.
I find this a little ironic because people are willing to put an always listening device in their home (and multiples of them), without so many privacy disclaimers.
I, personally, think Amazon wants to keep your personally-identifiable information private. Any giant privacy leak would be terrible for their stock price. I do more worry about syncing health information to lesser-known and lesser/funded startups.
But Amazon claims they will never use personally-identifiable information or sell it. I would be surprised to if they use the information in aggregate for other purposes, however.
Halo Band Review: Testing the Activity Tracker
I use the X3 Bar to get my heart rate pumping and decided to test the Apple Watch vs. the Halo Band. I was really surprised at how different the readings were.
Pro Tip: On the Apple Watch, if you have a Series 4 or above, you can hold your fingertip on the crown with the heart rate app open and it will provide you with a more accurate heart rate.
I figured that the optical sensor on the Halo Band would provide me with a fairly accurate reading but it was considerably lower on the Apple Watch. I would venture to say the Apple Watch, with the fingertip on the crown is a more accurate measure.
Is the Halo Band Waterproof?
Amazon says that the Halo Band is "swim proof." It can get wet and you can swim with the Halo Band. However, Amazon warns heavily that the Halo Band needs to be dry in order to charge.
Halo Band Review: What we like and who we think this is for
To be honest, I was more curious than anything else about the new Halo Band. I'm sure others were, too. That's why I decided to apply for Amazon's early access program to try this brand-new product. At the time of writing this post (and we'll update it over time), the product is only available for those in the early access program for $65 and will retail for $99.
Currently, the app comes with 6 months of the service, which will be $3.99 a month to unlock the more advanced features (body scan, tone analysis and experiments). That isn't much at all and I'm sure all of that takes some massive server power.
We really like the unique features of the band, but I'm sure it's not enough to make converts out of Apple Watch wearers, like myself.
I picture this as a great device for people that are slightly older (no offense, Mom + Dad), that are enrolled in a program like weight watchers. I actually think that is Amazon's Target Market for this. People that have a little bit of a health-nut bug in them but aren't technologically advanced and don't want another screen on their wrist. I get it.
For those folks, this is a great choice.
Halo Band vs. Fitbit
What about the Fitbit? I think the Halo Band is fairly close to the new Fitbit Inspire: a simple, straight-forward tracker that provides 10 days of battery life.
The Fitbit Inspire (and all other Fitbits, for that matter) have at least a small screen on them. So, if that's important to you, take a look at the Fitbit Inspire or the Fitbit Charge.
Also, important to note: Fitbit now offers a premium membership, not all that different from what Amazon is trying to do with the Halo Band.
Halo Band Review: The Final Verdict
If you want any sort of notifications from your fitness tracker, this is a pass. My Apple Watch saves me from needing my phone and can actually do many of the things that my phone can do, too.
But Amazon Halo Band isn't for someone that goes on 12 mile bike rides or does Crossfit or needs to answer a phone call while jumping in a trampoline park. This simply wasn't designed for a 30-something with 2 kids. It's designed for the parent of a 30-something with two kids. And that's OK.
In many ways, the Amazon Halo Band is the anti-Apple watch.
In many ways, the Amazon Halo Band is the anti-Apple Watch.
They intentionally didn't put a screen on the Halo Band. They intentionally didn't allow it to have notifications. But they just didn't make it a "dumb" tracker — they made it into a lot more with a couple of unique features — that are mostly processed on your phone. That made the band really affordable, and frankly, less likely to break.
It's actually promising that most of the unique features don't need the band. It would be great to be use the Body Fat as an application by itself.
I would love to see tone analysis integrated into Zoom or as a standalone iPhone app.
That's just software. And I really like the software.
I just don't care for the actual hardware.
Amazon Halo Band Review: Overview
Bottom line:
Great for the person that doesn't need notifications or advanced functionality. Not for the power-user or Apple Watch user.
His Review:
Super interesting new technology, but not for me. I can't wait for the software to be used in more places.
Style
Pretty non-descript, which is good!
Value
A good value for the right person, especially at the introductory rate of only $65.