If you're a dude, you've probably heard of Lululemon's famous ABC Pants. If you haven't read our Lululemon ABC Pants Review and check them out in our Men's Best Clothing Guide. But lululemon warpstreme fabric is the magic that makes the ABC Pants the ABC Pants.
(Lululemon also makes one pair of pants for women with warpstreme, in full transparency, but the fabric is mostly in their men's clothes)
warpstreme fabric: what is it?
This is what lululemon has to say about warpstreme fabric:
Warpstreme™ fabric combines Lycra® fibre and sweat-wicking yarns. This much technology in everyday gear may seem excessive. Wait until you try it.

lululemon
That isn't super helpful, is it? Well, I found a video with more information about their warpstreme fabric. Here's what it says:
A light, durable, and commute friendly fabric designed for everyday wear. We partnered with a mill in Japan to create warp-knit construction, which gives amazing stretch and recovery without the added weight. Super-micro polyester and modified polyester yarns are knit in a zig-zag pattern that reduces the risk of runs and gives the fabric an effortless drape. It has the everyday look but still offers performance qualities like quick-dry and stretch so you'll feel comfortable as you move through your day.
That gives a bit more information, right?
Well, warpstreme fabric is 100% polyester. We'll do a full post on the differences in fabric sometime here in the future because it's fascinating — at least to me. Polyester is a petroleum-derived fabric (basically a plastic), but there have been a ton of advances in polyester, like the "super-micro polyester" in the warpstreme fabric.
Interesting that the ad for warpstreme fabric say they are lycra, but the pants say they are made of polyester. Which one is it? Here's the best explanation I found:
The Dupont Company registered Lycra as a brand name for a spandex fiber thread. Lycra is a sub-category or a more specific kind of Spandex. Lycra is a type of synthetic fabric that is very elastic. It is made from a combination of polyester and polyurethane (a flexible plastic material).
So, I guess Lycra can be polyester? That's not the important thing – the important thing to know is that warpstreme doesn't feel like a polyester suit, in fact, it's one of the things lululemon obsessed about.
Lululemon says that all of their products have the "Science of Feel." What does that mean?
We combine technical fabrics with unique construction techniques and technologies, for however you want to feel today.
Is warpstreme fabric the only thing that makes ABC Pants awesome?
The fabric is pretty amazing, I will give lululemon that. But there are a couple of other features of the lululemon ABC Pants that make it awesome.
Warpstreme + gussets
We've talked a lot about gussets before in this post: what is a gusset? I would see it advertised in products and had no idea what it even meant. But the gusset design helps make the ABC pants last longer AND be more flexible.
Warpstreme + ABC Technology
This is what lululemon says about the technology:
Our ABC™ (Anti-Ball-Crushing) technology uses an ergonomic gusset to remove tension from the crotch of our pants so you can move in comfort
Simply put: they are designed to give you some extra room and feel more comfortable. There's actually nothing magical about the "engineering," it's just a really well-designed pair of pants (and shorts).
Warpstreme: We Test the Claims:
It's a little hard to test the claims because they are in so many places on their website and hard to find. But here are the most common ones we've seen.
Keeps the shape throughout the day: Check!
Wrinkle Resistant: Check! It's not perfect, but close.
Has an everyday look: Very close, the only big exception is the line on the back of the legs, which we'll dive into in a moment.
Comfortable: Yes and yes!
Sweat Wicking: YES! Polyester is naturally moisture wicking and provides a lot of stretch. It's no surprise that lululemon used this for their all day comfort pants.
What is warpstreme fabric most like?
That's a fantastic question. Because it is a big different from any other fabric that is in your closet. Here's the best way I can describe it:
Take your lightest pair of khakis (cotton)
Make them super stretchy
More wrinkle resistant
Give them a very slight sheen
Make them more breathable
Make them quick-drying
You have pretty close to what warpstreme fabric really feels like.
Here are some up-close photos of the fabric in some typical indoor lighting. I've also compared it to some other pants below.
The pants that look the closest to the ABC Pants Warpstreme Fabric is actually the Mizzen + Main Barron Chinos. You can read more about Mizzen + Main in our Mizzen + Main review and read our Mizzen + Main Chino Review.
How do you wash warpstreme fabric
Washing warpstreme fabric is super simple. Here are a couple of quick tips:
Wash with a gentle detergent. We use Frey (for men's clothing) or The Laundress.
Be careful about putting any sort of gel on anything you think is a stain for a long period of time. We use the Oxiclean Gel on stubborn stains, but you can't let it sit on the light-colored warpstreme fabric, or else you will have to wash it over and over again to get it out.
Simply hang dry. Don't dry in the dryer. That's it.
They are effortless to clean and typically wash easily.
How dressy does warpstreme look?
I covered this in my ABC Pants review, but you can dress up ABC Pants pretty well. I wouldn't try and pair them with a blazer or anything, but anywhere a nice dress shirt and dress shoes would work is probably an OK fit.
Think more chino-style than suit pant style. ABC Pants are a slight step up from jeans.
However, my one pet peeve about ABC Pants is the line on the back on the leg. It's not noticeable when you are moving, but it is the one thing that lets you know that someone is wearing ABC Pants. But hey, it's a great chance to strike up a conversation, right? 🙂
Let's talk about pockets
Having so much technology and four way stretch makes it easy to forget simple things like pockets. Even the slim fit pants have great pickets that are incredible functional.
You'll even find a pocket or two that are hidden and have a zipper.
Why is there a seam on the back of ABC Pants?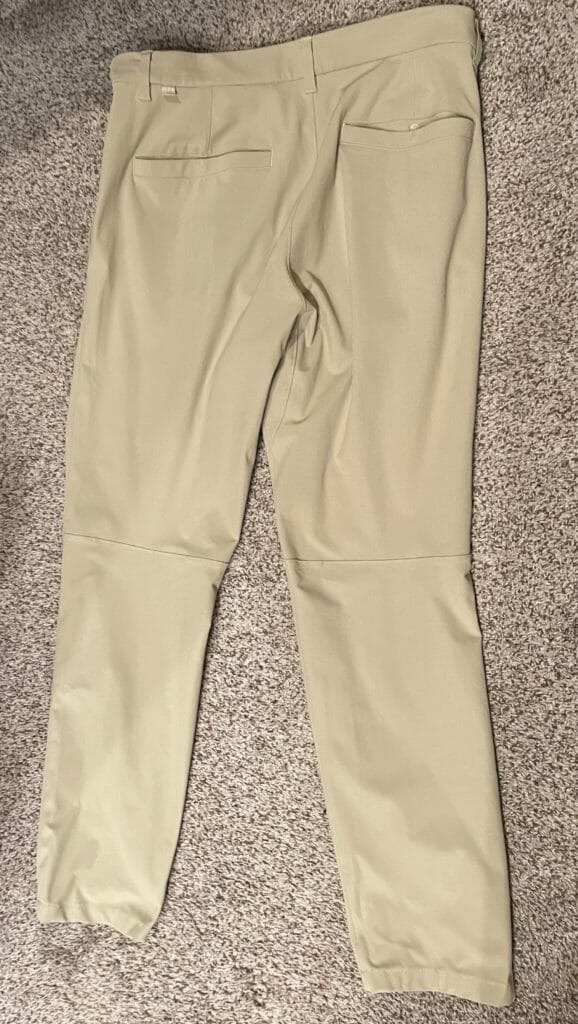 I don't have confirmation on this, so don't take it as gospel: I believe the seam is behind the leg because it has to be to keep the shape and not collapse. It's the only reason I can think of. Also, with any stretchy fabric, you don't want it to sag over time — so that might be another reason that it's there. They didn't put it on every pair of ABC Pants because they couldn't find the fabric. There had to be a reason… right?
I think the biggest reason is shape retention. If you didn't have the seam behind the knee, you would lose some of the shape retention that makes this the ideal travel companion.
They've kept the seam behind the knees in even their slim warpstreme pants to maintain the technical performance and all day comfort.
Warpstreme vs. Utilitech – What's the difference?
Think of Utilitech as the thicker (and therefore warmer), less flexible, abrasion resistant cousin to warpstreme fabric.
We recently did a full Utilitech ABC Pant Review so you can learn more.
What else do I need to know about warpstreme fabric?
I love warpstreme fabric, personally. It provides all the greatness of cotton with extra flexibility and quick-drying AND wrinkle resistant — and you've got a great combo.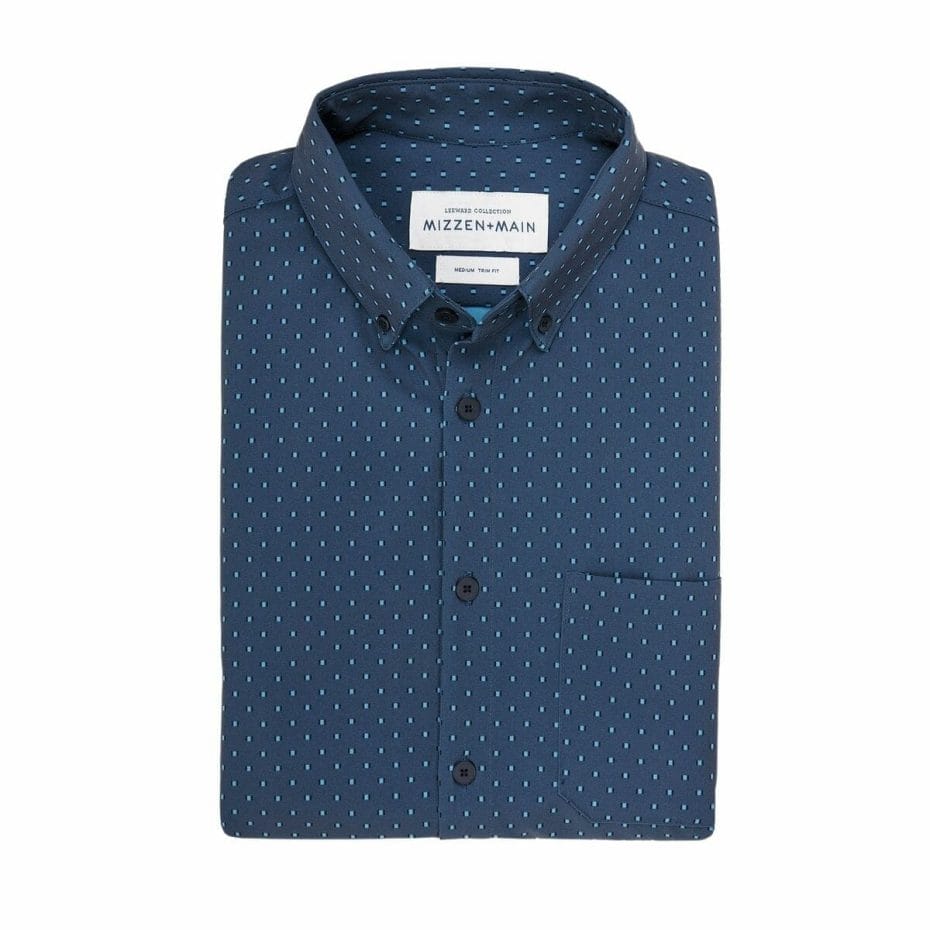 One other quick note: DO NOT IRON ABC Pants or any other polyester clothing. They will burn! I had a friend that did this with his Mizzen + Main shirt and quickly ruined it. If they are wrinkled, simply splash a little water on them and move around.
The heat of your body + the movement will release the wrinkles.
The only downside to Warpstreme
The only downside is the price. ABC Pants can run around $100, but sometimes you can find a cheaper price here.
The bottom line, love lululemon ABC Pants. Read our full lululemon ABC Pants Review to learn more and find out about ABC Pants sizing, fit and a lot more! Find more jean alternatives in our mega pants review. You can also read about the ABC Pants Jeans.
What is warpstreme made of?

It is 100% polyester. It's not the same polyester of the past – it's a custom-designed fabric created just for lululemon ABC Pants.