Haoqi EBike Review: We had the chance to give Haqi eBikes a spin with their brand new Antelope – a dual battery, high-range cargo eBike. What did we think? Keep reading our Haoqi Review to find out more!
This electric bike most unique feature is the dual battery design. Does that make it worth the price? Keep reading out the full review to find out more!
Haoqi Antelope eBike: The quick review
The most insane, dual-battery eBike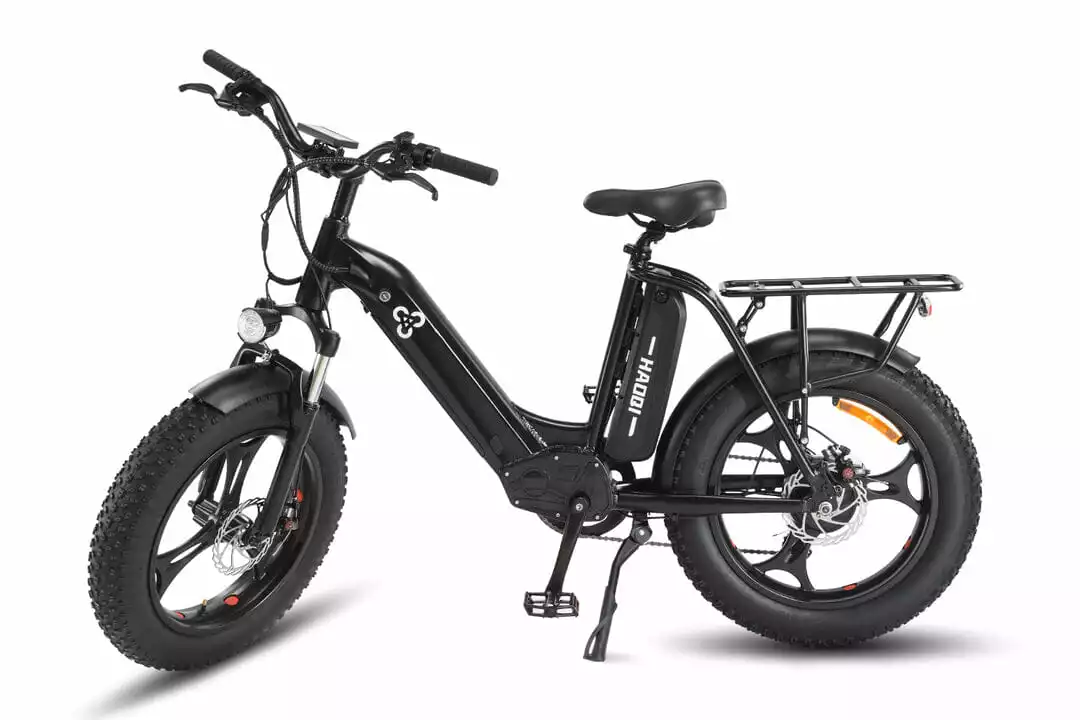 If you are in the need for, not speed, but range, check out the Haoqi Antelope. Their dual battery design offer up to a 120 Mile Range. Yes, you read that correctly. You ride from New York City to Philadelphia, Pennsylvania on a single charge.
I wouldn't recommend it unless the weather was awesome – but it's possible with the electric bike.
As mentioned, this eBike is all about range. If you need to go a long distance, I need a great e-bike to keep up with you, then you need to check out the Antelope eBike.
For reference, you say the haoqi brand like this: "HEY-KEY" just in case you were wondering how to pronounce the haoqi e bike brand.
Wait a second… why would you need a dual battery eBike?
One word: range.
Most eBikes have a range of about 40 miles (read our RadRover 6 Review and RadRover 6 Youtube Review for an example) but the Antelope has a 100+ mile range. That's unheard of in the eBike world.
The Basics of this eBike
This ebike has all the basics that you'd expect, in addition to some extras:
500W Bafang Motor – Rear Hub Motor
2 Batteries with a Range of up to 120 Miles
Comes as a Class 2 eBike (what's are the different eBike Classifications) but can easily be unlocked to be a Class 3 eBike with a Top Speed of 30 MPH going through the settings
You can easily attach a front and rear basket
Available in Black and Silver
LCD Display
Rear Light – Tail Light included
Front Light Headlight
Four Inch Fat Tires
e Bike Full Fenders: includes Front and rear fenders as free accessories
Mechanical Disc Brakes
Haoqi Review: The Good Stuff
There's a lot of like about this eBike. Let's talk about the good.
The Form
In many ways, this eBike reminds us of the Himiway Escape (read our Himiway Escape Review). But it is much, much better in one very important way: the adjustable seat.
As we'll talk about shortly, another added bonus of the design is that only 1 battery is visible. So, it doesn't look like it's overkill.
While the Escape is more of a moped, the Antelope can be much more like an actual eBike. I know that seems like a small thing – but you really need to be able to adjust the seat to ride it like a bike.
The looks
This bike looks awesome. In face, I got a ton of looks on the trails by others riding their bikes.
The bike is big and bold, but they designed it to not look bulky. Even though it has two batteries, the fact they "hid" on the batteries in the front frame – you only can really see the battery on the back, which gives the bike an overall sleeker look
The bike also comes in a classy black or grey/silver color. I really like the overall look of this bike, in general.
The built-in battery really makes a HUGE difference. Obviously, it ads some weight to the bike, but you can't see it – and even more importantly, you don't feel it when riding the Haoqi Antelope.
The wheels are also a nice touch. I've never seen wheels like this before, but they look slightly difference that other electric bikes we've tested.
Built in rear rack
The rear rack comes included with the Haoqi Antelope. Even better news: it is pre-installed on the eBike. If you've ever installed a rear rack before, you know that they can be a bit tricky.
It's great that it's included – but even better it's already installed.
Super smooth ride
In short, this electric bike is incredibly smooth and fun to ride.
That road was the roughest that I've ever been on – with an eBike. While it wasn't enjoyable by any stretch of the imagination, the Antelope handled it super well!
Easy to assemble… mostly…
Part of the fun part about testing eBikes is you get to test out some of these bikes early. Which is awesome. However, what that means, sometimes, is that you get a bike with incorrect instructions.
In this case, the instructions were not correct for assembling the eBike – just on the front wheel. More on that in just a second…
Adequate Rear Hub Motor
The Antelope includes a 500w Bafang motor. This works well and I had no problems with the overall getup and go.
Mechanical DiSC Brakes
I found the mechanical disc brakes to be perfectly suited for the size and speed of the Haoqi Antelope. They didn't require a lot of adjustment and helped stop the bike perfect – exactly what you would want.
Unique LCD Display
While this looks like most other LCD Displays we've seen. This one comes with a cool, unique feature: the temperature!!!
I know that may seem like a really small thing, but it was a very cool little added feature.
The temperature was actually fairly accurate once I removed the bike from my garage. That's pretty darn cool!
2 Chargers
I know, another really small thing, but the Antelope comes with 2 chargers, one for each battery.
Batteries can take several hours to charge, so I'm glad Haoqi provided 2 chargers for their fat tire electric bicycles. Pretty darn cool!
The Price
This eBike retails for $2,099, but is on sale right now for $1,899.
The battery is the most expensive part of almost any electric bike. So, the fact that you get 2 batteries for a price cheaper than a RadRover 6 is simply incredible!
currently, Haoqi is having a special offer: get both front and rear fenders AND the rear rack included at no additional charge.
Haoqi eBike Review: Flaws, but not deal killers
While the Antelope is a great eBike, it does have some small flaws, one of which is already fixed – which is exactly what you want to happen with an electric bike company: listening to their customers.
Assembly Issues – now FIXED!
The early version of the Antelope had a small error in the instructions.
It showed the bike with a Quick Release Skewer for the front axel. It has a more traditional axle for the front wheel.
Not a giant deal, but I had a good bit of trouble getting it on just right. The key is getting the wheel centered on the fork, then tightening. You simply have to be a little more careful with the front disc brake.
Here is how I have my bike attached:
I checked with Haoqi to make sure this was OK and they said it was.
However, do not take my word for it – always get a local bike mechanic to take a once-over on your bikes after you install them. I'm not a bike mechanic. This is for informational purposes only and does not constitute mechanical advice.
The Weight + 500w Motor
To be 100% honest here, this is super nit picky. However, I do wish the Antelope came with a slightly more powerful motor than the 500w motor.
There's nothing wrong with the motor at all, but the eBike I rode RIGHT BEFORE this one was the Snapcycle S1 – it's about half the weight AND include 50% more wattage.
the S1 has a 750w High Speed Brushless motor that handles steep hills even better
Granted, the S1 Bike doesn't have the range of the Antelope and you probably would never notice the difference in wattage and overall power if you haven't tried a bunch of other eBikes (read about our Best Fat Tire eBikes).
But, as I mentioned, if you don't ride a lot of other electric bikes with pedal assist, you probably wouldn't notice.
Charge Level on both batteries
While we love the extra features on the LCD Display, one small gripe is that you can't see the individual battery levels on the display. So, if one battery is full and the other is empty, the display would (presumably) display a half-full battery.
We haven't tested this enough to say if this is a big deal or not – but I did find it interesting.
Pedal Assist: Fairly aggressive
We found the pedal assist levels to be fairly aggressive, especially in higher levels of pedal assist. This bike isn't subtle in anything it does, and the pedal-assist levels are no different.
The good news is that this e bike not only accelerates quickly with pedal assist but it also brakes pretty quickly, too. That's helpful when getting up to 30 MPH very quickly.
Hoaqi eBike Review: Final thoughts
The most insane, dual-battery eBike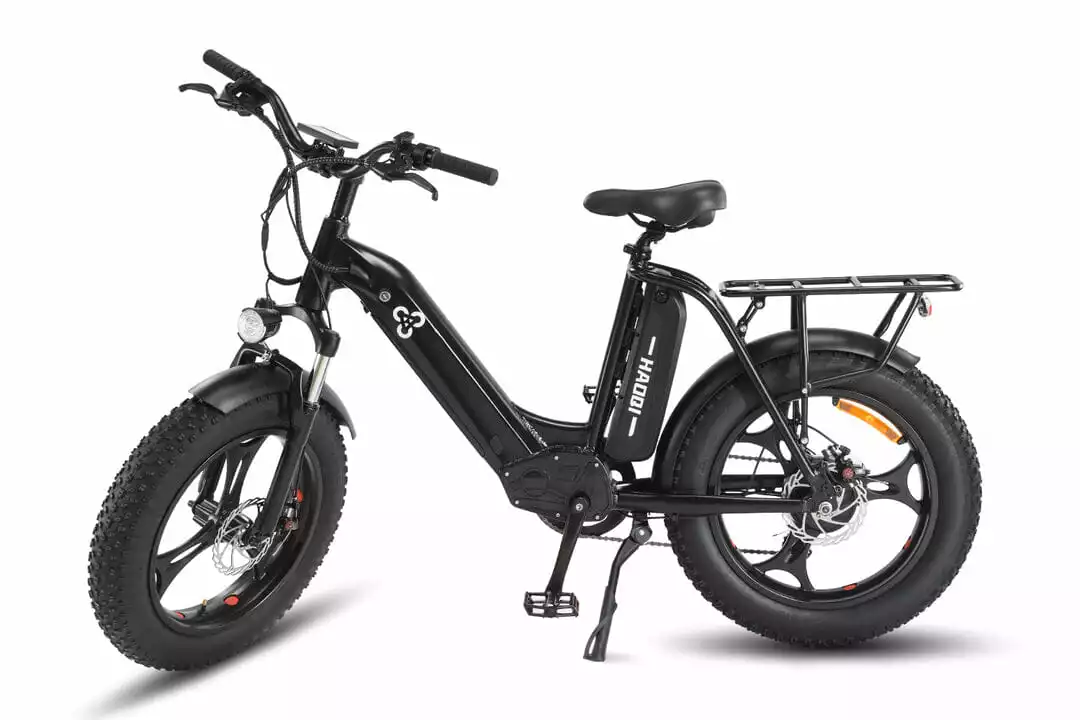 The Haoqi Antelope is perfect for the person that really cares about range. If you want to go long distances (or don't have access to a charger), this eBike could be great for you.
Simply give yourself a little bit of extra time when it comes to putting it together, but that's our biggest gripe (which isn't big). We also wouldn't recommend this for someone that doesn't feel comfortable with such a large bike.
Haoqi officially recommends this bike for riders 5′ 1" to 6′ 8" – but my wife, at 5′ 2″ would be a little short for this bike. She's also pretty small and would struggle to move a large bike like this.
Where are Haoqi bikes made?
Haoqi has offices in both the US and China. I believe the Haoqi bikes are made in China and shipped from the US.
What is the range of Haoqi eBikes?
There are many factors that determine the range of Haoqi eBikes. We tested the antelope fat tire eBike. It has a range of about 90 – 120 miles, depending upon how you ride the eBike. However, the antelope also has two batteries.
Other bikes from Haoqi, like the Black Leopard, have only 1 battery and don't have as much range. It all depends on what you are looking for and the overall power desired.