Himiway Escape Review: The Himiway Escape is called a "moped style electric bike." But what is it REALLY? Keep reading our honest review to find out more.
The bike weighs almost 100 pounds and features a suspension on both the front and back wheels for offroading. It also has tons of power so you don't have any trouble getting up hills. This electric bike could be perfect for you if you want a fast and powerful product that will get you where you need to go in no time at all!
However, the Escape is not without its flaws. Nothing can be perfect, right? Keep on reading our honest Himiway Escape Review to find out what the flaws are and if you can overcome them.
Meet the Himiway Escape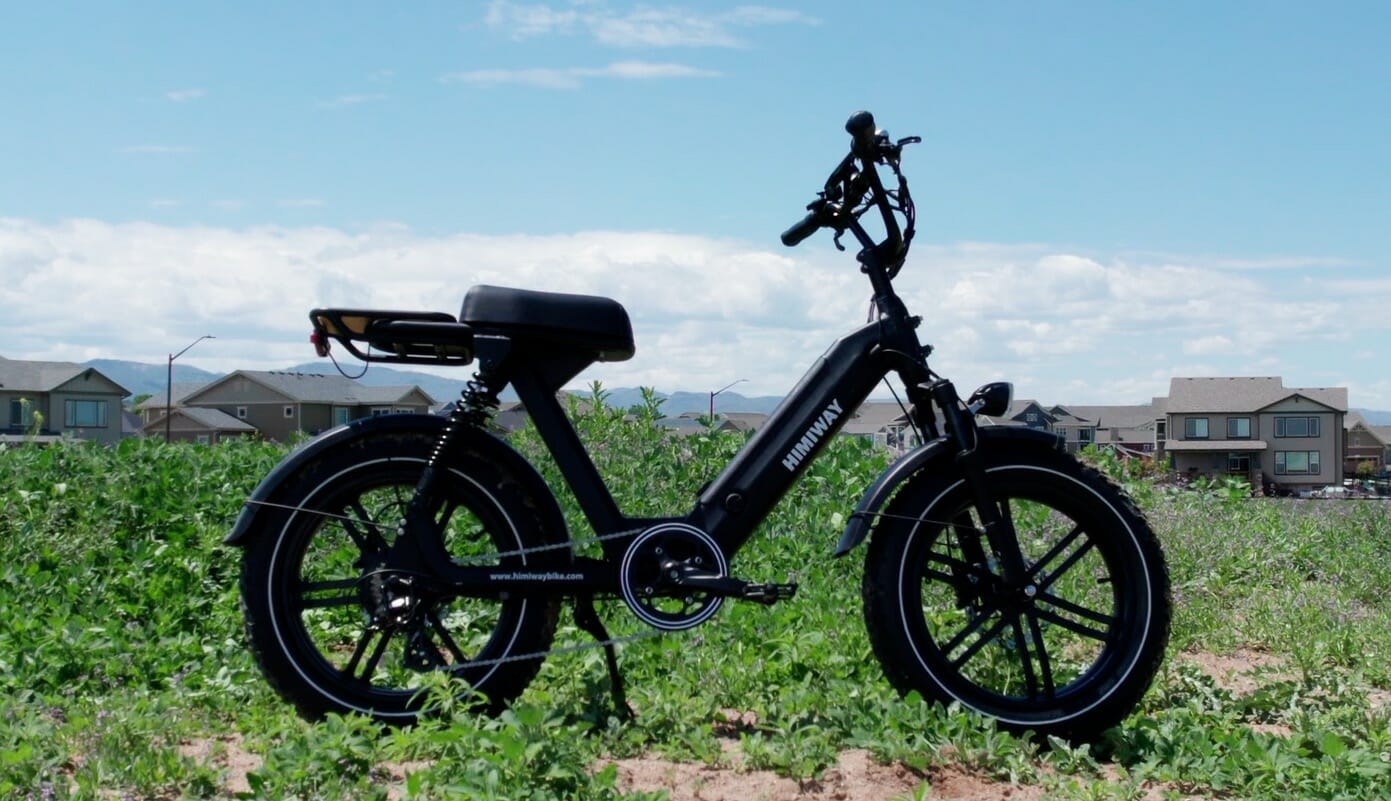 The Moped Style eBike
$1,699 – Save more with our Promo Code: WETRIEDIT
Includes free rear rack + full fenders
750W Motor
45+ Mile Range
92 Pounds
Meet the Himiway Escape – A "Moped Style Electric Bike"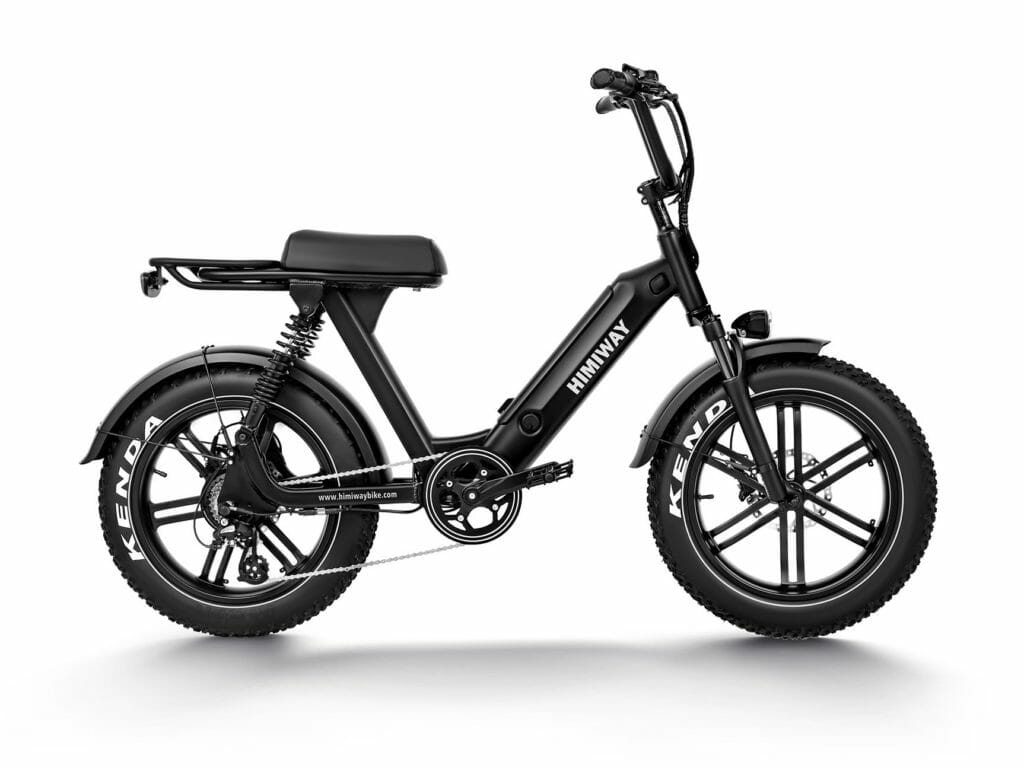 I can't get enough of electric bikes! I first realized the appeal when we reviewed the RadRover 5 and loved it, so naturally, I was excited to test out a new design. (read our full RadRover 5 Review and also loved the KBO Breeze), so when we had the chance to test the Himiway Escape, we jumped on it. This a unique eBike in many ways, which we'll dive deeper into in our Escape Review.
The Himiway Escape is an electric bike that can be used as a moped or mountain bike. That's why it's been called a "moped style" eBike, because the design has features of both styles and can switch between them with ease. It weighs almost 100 pounds, but it's worth the weight to have all.
Curious how this eBike stands up to other fat tire ebikes? Check out our ultimate guide to the best fat tire ebikes.
Himiway Escape Video Review

eBikes: What I'm looking for
As I mentioned in my RadRover 5 Review and KBO Breeze Review, I didn't really have a practical need for an eBike. I just live in one of the most bike-friendly cities, Fort Collins, Colorado.
Fort Collins is the perfect place for any bike enthusiast – or even the casual rider. The town has a famous beer called Fat Tire which was created by its founder in honor of his love affair with bicycles, and there are endless trails to explore here; Fort Collins also experiences sunshine 300 days out of the year! Even if it's cold outside, you'll never have trouble finding sun thanks to this little slice of Colorado.
How I use my eBike
If you're like me and looking for a way to get outside on nice days without going overboard, then an electric bicycle, like this one, might be right up your alley.
I've been using mine recently because the weather has finally turned nice and it's great not having to worry about traffic or parking in downtown areas anymore! Plus, there are so many paths here that were inaccessible before due to hills, but now with my bike they have become much more accessible as well.
What is Himiway?
Himiway is a newer direct-to-consumer eBike brand.
Mike, the founder of Himiway eBikes, felt like a tough guy when he tried his bike for the very first time. He wanted to be just as adventurous and rugged at heart as Ernest Hemingway while providing chances to everyone- especially elders that experience power assistance in their lives because they often struggle with rough terrain on foot.
Why Direct-to-Consumer?
Like other direct-to-consumer brands, Himiway cuts out the middle man and ships the bike directly to the consumer. That means there is no need to go through a bike shop, and the customer gets their eBike at a much lower price.
Himiway Escape Review: What is the Escape eBike?
The Himiway Escape Electric Bike is an incredible bike that can be used as a moped or mountain bike. It has suspension on both the front and back wheels for offroading, and it has tons of power so you don't have any trouble getting up hills.
The Himiway Escape is technically a Class 2 eBike (read all about the different classes of eBikes – the way that it ships to you.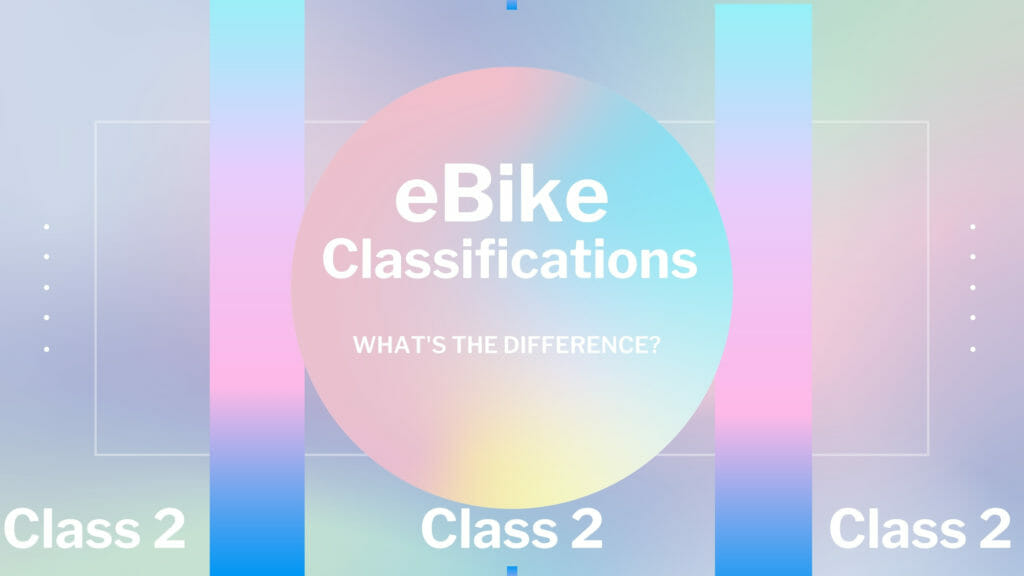 A Class 2 eBike is an eBike that has a throttle AND pedal assist and can go up to a max speed of 20 MPH while using the motor. This is crucial because most Class 2 eBikes and operate in the same places that non-electric eBike can operate in. But please check your local laws first.
Can technically reach 28+ MPH Maximum Speed
Through a software unlock that is posted on the Himiway Website, you can unlock more power and increase the maximum speed from 20 MPH to 28 MPH. The instructions are fairly easy to follow and give the Escape an added boost and increase the overall maximum speed.
I thought going 20 MPH was fast – but 28 MPH as a Max Speed is plenty for me!
The integrated Samsung lithium ion battery
You almost wouldn't know that the Escape features a removable Samsung lithium-ion battery. Reliable batteries are one of the most important components found in an electric bike. Himiway uses 48V 14Ah Samsung lithium ion batteries to ensure a long life span and excellent performance.
Integrated… but removable battery!
I love that this eBike features a semi-integrated battery. You can remove it, but it looks like it's built into the bike.
That's even better when you leave in climates like Colorado – where the weather can get cold… and hot. Sometimes in the same day. We try and store our batteries inside when we know there are going to be extreme temperatures.
Himiway claims the range can be up to 45+ miles per charge. This, obviously, decreases based upon a variety of factors (if you've unlocked extra power, the level of pedal assist, and much more).
Overall, this electric bike has a more than adequate battery capacity and we were not disappointed by the range at all. The Battery Capacity was not noticeable – which is a good thing when it comes to bikes!
This electric bike also comes with a smart charger controller to make sure it doesn't overcharge the battery.
Pedal Assist: What is it like?
The Pedal Assist in the Himiway Escape is, in a word: aggressive. Once again, this eBike wasn't designed to appeal to the home-makers of the world (nothing offensive about being a home-maker), this is just an aggressive eBike.
It looks aggressive. It acts aggressively. That's OK – just know what you are getting yourself into.
Seriously: it's nuts
My wife, one day, while riding the Escape, joked that she made it all the way from the pool to our home (about .2 miles) by only pedaling twice.
You'll feel the power at about a 1/8th of a turn – and pretty instantly and even at Level 1.
Once again, that's OK, as long as you are expecting it.
The Motor: hold on to your butts!
The Motor in the Himiway Escape an incredibly powerful 750w brushless gear hub motor (meaning the motor is in the back tire). It felt more powerful than my RadRover 5 eBike in terms of acceleration and speed, even though the Himiway Escape is about 20 pounds heavier.
Somehow, the Escape felt more powerful than the RadRover 5, even though the specs on both bikes are the same (same motor power output, same bike battery capacity, etc). That's really interesting to me.
The Throttle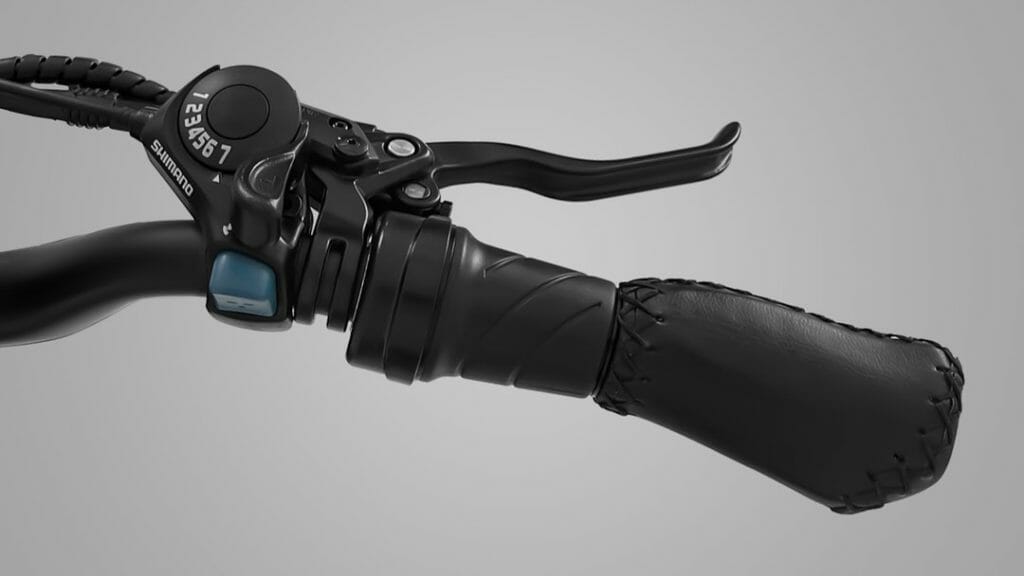 Like most electric bikes, this one has a throttle, in addition, to pedal assist. What does the throttle look like? You actually can't see the throttle at all. It's a half twist throttle that is built into the right handle bar.
To activate it, simply give the half twist throttle a… half twist.
You don't even need to get it a full half twist to get going. Even the slightest twist will get the bike going… and we mean really going. The 750w brushless gear hub motor just takes off.
Dual Suspension: a game-changer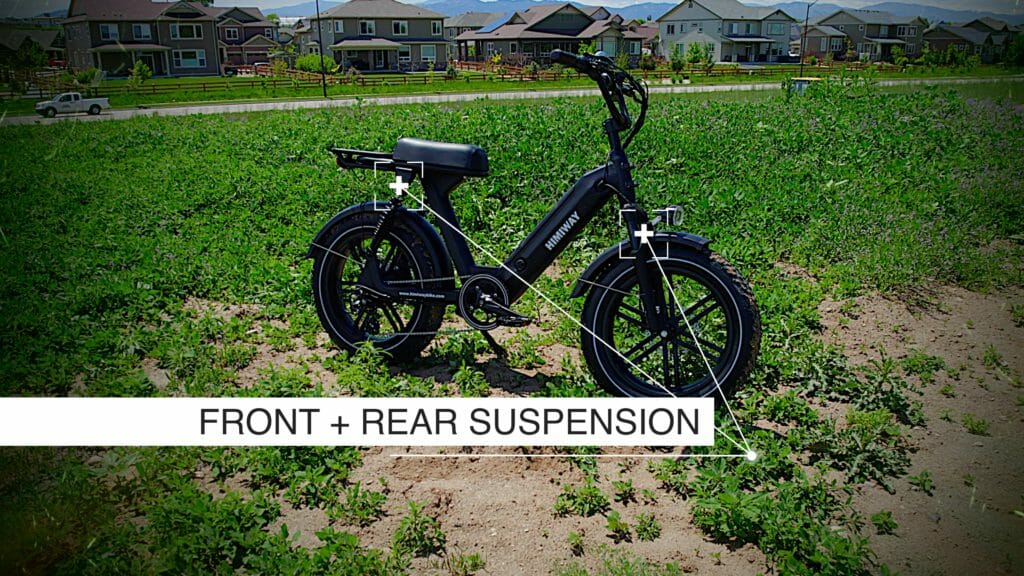 The mechanic that I talked to after assembling my electric bike told me that our single suspension system is overkill for an eBike. The mechanic mentioned that the double suspension system was even more overkill.
He said that the fat tires really were responsible for most of the smoother ride on these eBikes – the brands featuring suspension electric bikes just were more for show or to sell another feature.
I, personally, didn't notice a huge difference in day-to-day driving on paved paths. However, I didn't notice a huge difference using the dual suspension system when going over large objects like curbs, etc.
The front suspension features a suspension hydraulic lockout (meaning you can essentially turn it off) but the back suspension is not adjustable at all.
The dual suspension simply means that you're going to get a much smoother rider overall.
Extra Features of the Escape eBike
The Escape electric bike has some other really great features that are not available in other eBikes – at least without paying extra for them
It features an integrated brake light. This brake light automatically lights up brighter when you use the brakes handles. This helps you be seen.
The Escape electric bike also has a USB charging port to power your phone, GPS or any other device that charges via USB. This is great for long rides when you need to use the GPS on your phone – most bike batteries are not able to recharge phones because they're just too small.
This eBike does come with some lights (front and back) but it doesn't come with an integrated headlight which can be helpful in riding at nighttime.
It comes with a bell! I guess this one should have been obvious but really only about half of these bikes do actually include bells… which seems weird now that I think about it. The bell was particularly loud so we like that!
The Himiway Escape comes with mechanical disc brakes (not hydraulic disc brakes) which may make squeaking noises if the bike hasn't had time to "wear in" its breaks. However, this sound won't last forever and should stop within 10-15 miles of use.
Himiway Escape eBike Review: How does it compare to other eBikes?
I've had the chance to review a handful of electric bicycles, but I feel like it's a good sample to pull from.
I think it's the fairest to compare the Himiway Escape to the RadRover 5 – and I'll do a full RadRover 5 vs. Himiway Escape Review shortly!
The Himiway Escape is a lot more like a moped than an electric bike. But I'll talk about that here in just a second.
It's incredibly powerful, fun to ride, provides a smooth ride and holds its own compared to other eBikes – but it's really in a different category.
Himiway Escape Review: Who it is designed for
The Himiway Escape is designed for the person that isn't a serious cyclist. I know this might sound crazy – who would by an eBike that isn't a serious cyclist?
In short, me! I love eBikes, but I don't care for the more "cycling." It's a great moped that meets Mountain Bike!
It's great for running errands (and they even have a really cool front rack you can get for the bike) and just getting outside on a nice day.
It's for the casual biker OR the person that simply doesn't care to pedal a lot. In pedal assist level 5 and gear 7 – you won't be doing much work at all. The bike will just do it for you.
Can I put together the Escape eBike by myself?
Yes, you can put the eBike together. However, I recommend that everyone have a bike mechanic come and look at your bike to make sure you put it together correctly.
Install Video Instructions for the Himiway Escape
The awesome install video from Himiway has to show you how to put together your Himiway Escape!
I recommend having it on your iPad or iPhone and just follow it along step-by-step, pausing the instructions on how to put together your Himiway Escape at each step.
A quick note on mechanical disc brakes
Mechanical disc brakes can be SUPER tricky. In some of the other eBikes we've put together, I've had a ton of issues getting them installed correctly the first time.
Surprisingly, Escape was incredibly easy to install. Just make sure you have a friend around to help you line it all up – it can be a bit tricky.
Also: mechanical disc brakes also take some time to "wear in." This means that they will take a bit of time to not be super loud when braking.
Let's talk about the elephant in the room: the (un)adjustable seat
Simply put – there is only a couple of things that would give me pause before purchasing the Himiway Escape. Because this is a moped-style electric bike – do you know what mopeds don't have? Pedals.
Yes, there are no mopeds with pedals. They simply have a rest for your feet. Do you want to know what else most mopeds don't have? Adjustable seats.
I know it sounds like I'm nitpicking here, but when you're going to be sitting on a bike for two hours – that's not something to shrug off.
However: the seat is really comfortable! The bike also has an easy-to-use kickstand and all of the parts are well made.
Adjustable bike seats were invented to help make bikes fit the rider better – and more importantly – have proper leg extension when pedaling.
How should a bike fit? The seat adjustment
With your foot at the bottom of the pedal stroke, you should see a slight bend in the leg reaching about 80-90% full extension. This is true for road bikes and mountain or hybrid bikes.
In other words, your foot should be almost straight at the bottom of the turn of the pedals.
The seat issue… or a non-issue?
My dad is 6'2″ and rode the Himiway Escape without any issues at all. Why is that? The pedal assist was just so incredible and he could use the throttle without pedaling at all.
It comes down to this: if you are a serious cyclist – then the Escape is probably NOT for you. However, if you are just looking to take some casual rides, this moped-style eBike could be a great fit for you!
Himiway Escape Review: the final verdict
The Final Verdict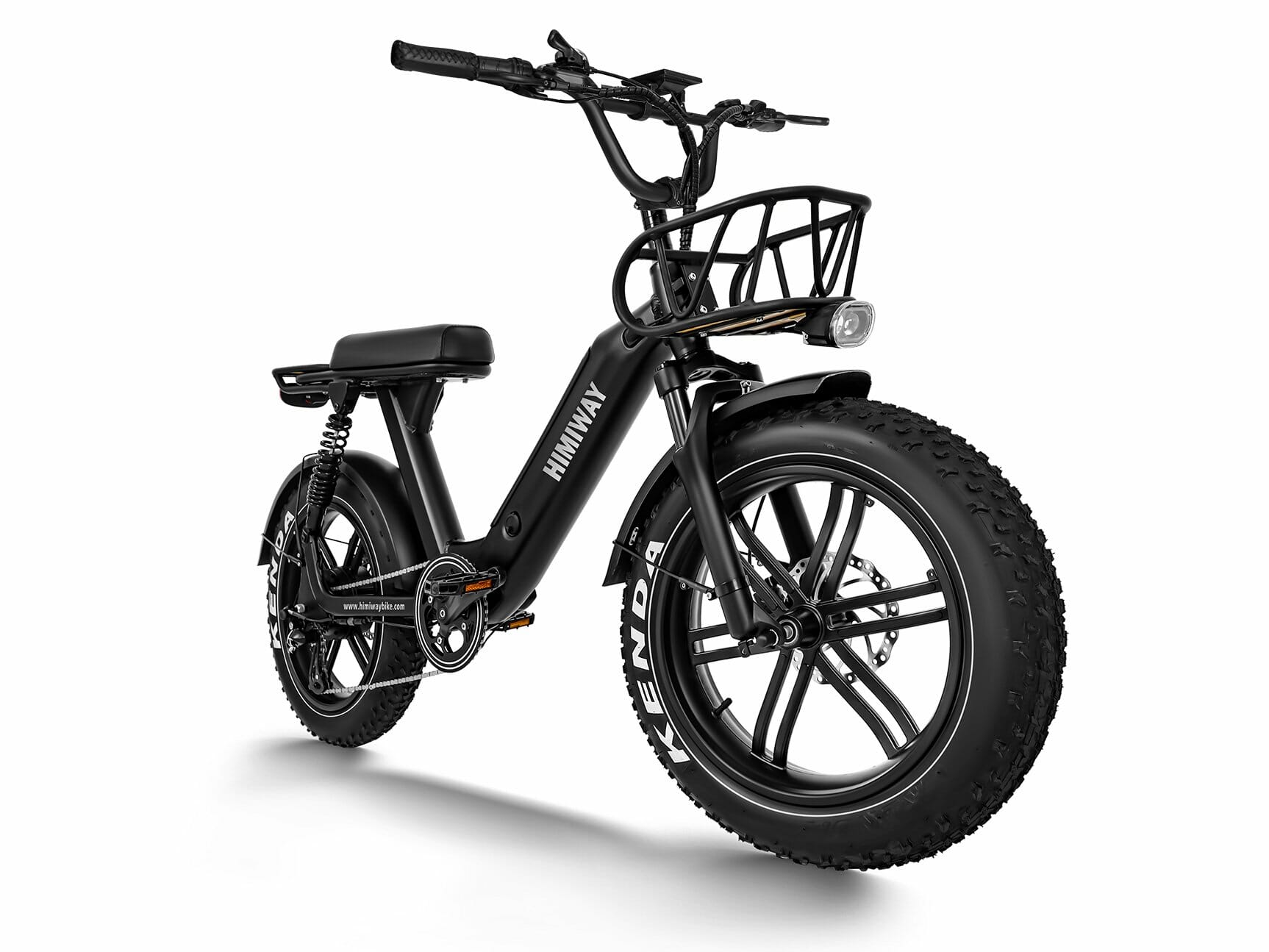 The Good
Super fun to ride
Dual suspension
Integrated AND removable battery
Easy to ride
Fast
Powerful
The Bad
Non-adjustable seat
Might be too aggressive for timid riders
Not for hardcore cyclists
This bike isn't for everyone – and that is 100% OK. If you are needing to carry your bike or move it around often, this might be the right electric bike for you.
The Himiway Escape is a moped-style electric bike that provides assistance while you are pedaling, which makes it perfect for those who want to get outside and ride but don't want to do all the work. With limited seat adjustability, this bike might not be the best match for infrequent cyclists or people on the smaller (or larger) side of height.
The Himiway Escape is an incredible moped that meets Mountain Bike. It's incredibly capable, fast and even boosts a double suspension (front and back wheels) for offroading. However, it has one small flaw: the seat isn't adjustable. Everything else about this e-bike is great. If you can overlook this one flaw, it might be the right electric bike for you.
What are your thoughts on our Himiway Escape Review review? What would you change or add? Comment below!