Laguna Beach Textile Company Review: Is it just another marketing gimmick? Or have they actually created the ultimate beach blanket that will become your new favorite piece of beach gear?
You've been searching for the perfect beach towel and blanket to take with you on your next vacation. But all of the towels and blankets you've found are either too thin or too thick, not soft enough, or just don't feel right in general. Even worse, you don't have a great picnic blanket and you have to take one of the blankets you use every day on your next beach adventure.
Top Pick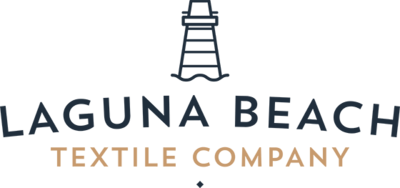 Meet The Laguna Beach Textile Company
Bringing classic California beach quality to every home.
From their signature beach towel to the awesome picnic blanket. Their high quality textiles make this an easy product to review! Find out what we loved about this company and much more!
That's exactly the situation I was just in. I recently realized I needed more outdoor blanket options. We went to watch the fireworks on the 4th of July and I had brought a bunch of indoor blankets.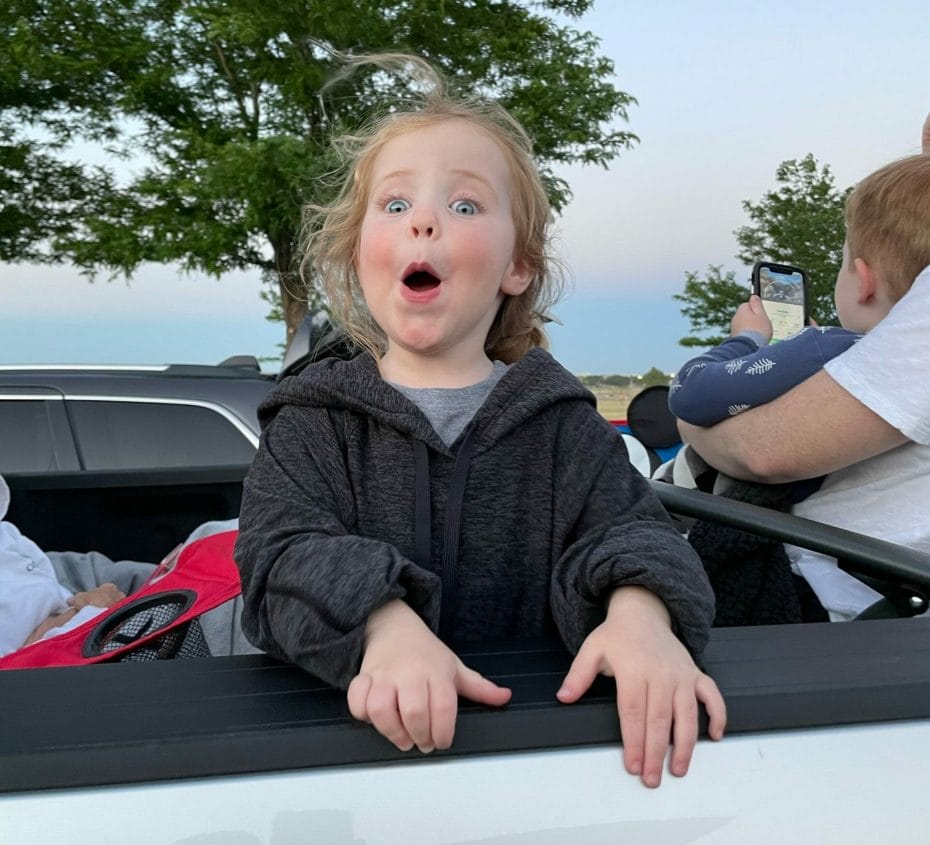 The next day, I realized they all needed to be washed and even then they didn't really wash up as much as I would have liked to continue using them inside. 
This sent me down an internet rabbit hole to find the perfect outdoor blanket solution. Enter Laguna Beach Textile Company and their Picnic Blanket.
What is The Laguna Beach Textile Company?
The Laguna Beach Textile Company was created by a former cabana boy. Who knows more about towels than a cabana boy, right?
He spent a lot of time working with beach towels and blankets and saw a need to bring classic California beach style products to people at affordable prices.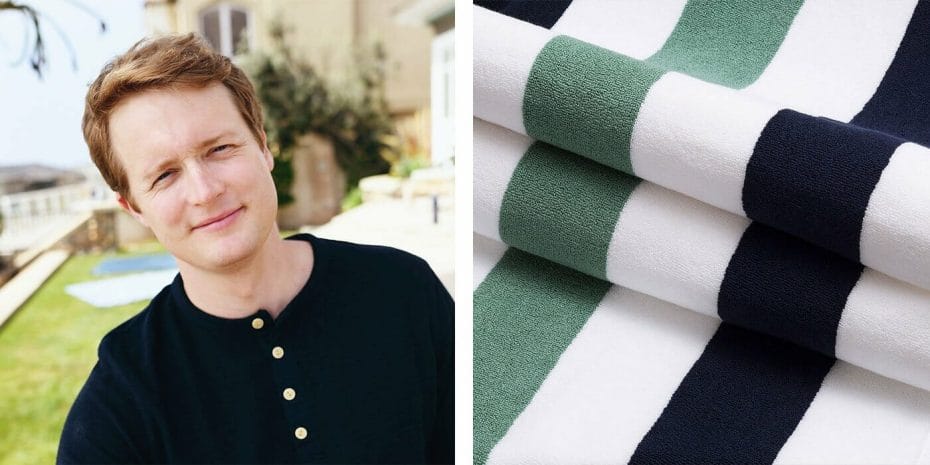 Founder Danny grew up as a pool boy at a luxury Laguna Beach resort, where he became very familiar with the beach towels. Years later on his mission to find one for himself, it was either hotel quality but outrageously expensive or low-quality paper thin ones.
In 2015, Danny started the company and aimed to bring classic California beach style and quality to every home along with premium Resort Quality products that are affordable!
Laguna Gives Back
Every year, Laguna Beach Textile Company (LBTC) donates a portion of its profits to the Rainforest Trust and Pacific Marine Mammal Center. They also donate excess and returned products to local Southern California animal shelters for those in need. This blanket would look great in every home and beach. It matched our style and is clearly one of the best luxury beach towels.
Laguna Beach Textile Co: What they are known for
The first thing this company is made for is the whole reason they started: the Cabana Towels.
Cabana Towels: Classic California Beach Style (or the pool)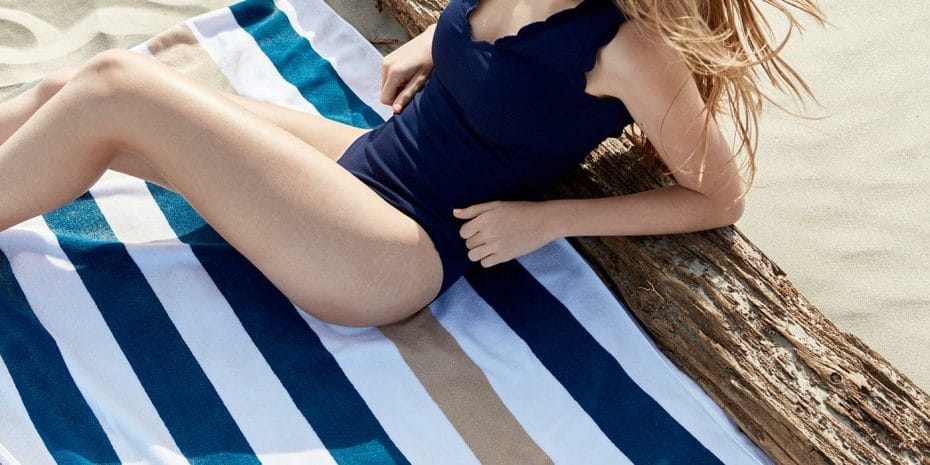 The next time you go to the beach, don't forget your towel.
LGTC's classic Cabana towels come from the belief that luxury towels shouldn't have to come at luxury prices. They use a super-fine thread and four times the amount of thread in each towel compared to any standard beach or pool towel available today which makes it much thicker than other options on our market with 4x more durability and absorbency while also able for easy drying due to high quality threads!
Why is this beach towel different?
With its signature party stripe pattern (which comes in many colors) these bring something extra when going out for some fun this summer.
There are three main collections of the Cabana Towels: the Classic Cabana Collection, the Solana Cabana, and the Sea Glass Cabana.
They retail for $39 or $42 (for the bright Solana Cabana Towels).
You can spend a lot more on towels, trust us. Read our Onsen Towel Review to find out more.
A Modern Beach Towel Classic with a twist: Turkish Towel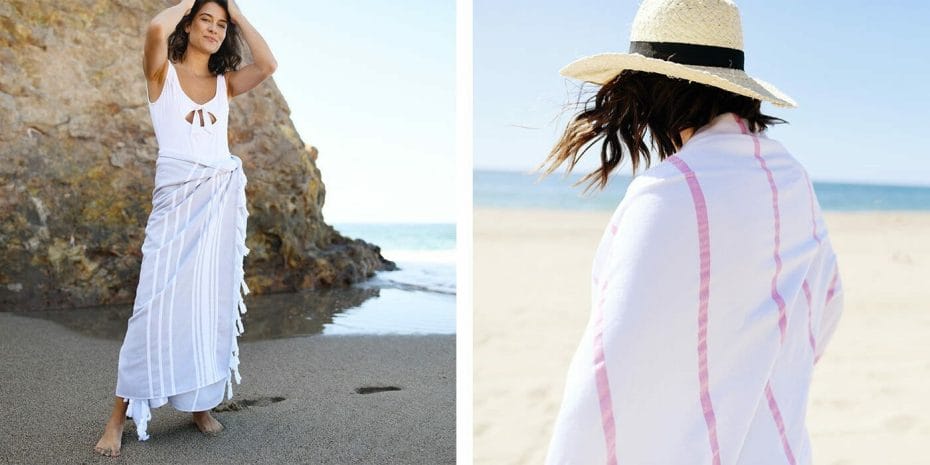 I love the Turkish towels from this brand. They are so soft and absorbent—the best of both worlds! The company went to great lengths to ensure these met their high standards, they really wanted a different kind of product.
What makes this towel so different?
The Turkish Towel has thicker cotton which is stronger than what I've seen before on similar products, with 400 GSM (grams per square inch) threads making it very durable but still lightweight enough that you can pack them easily in your luggage when traveling.
Last, but not least, their blankets!
LBTC also has some amazing blankets. From their Mexican Blanket, to Yoga mats, to our favorite: the picnic blanket.
The Ever-Versatile Mexican Blanket
LBTC's love for Mexican blankets goes all the way back to 2018. Their woven collection was born in Tlaxcala, Mexico—a region known for crafting these unique weaves and fabrics since centuries ago.
The combination of durable yet soft materials makes it perfect as a beach lounger or picnic blanket but can also serve other purposes like yoga mats and bonfire wraps!
While this isn't our style at all, some people really like this style of a blanket. But for $35, they can be a great deal.
The Mexican blanket is versatile, but we really wanted to check out the picnic blanket.
The Main Reason We Check out LBTC: The Picnic Blanket
Isn't this just a regular blanket? No way, Jose (sorry, still stuck on the Mexican blanket).
This blanket has a bunch of features, you wouldn't expect.
Laguna Beach Textile Company's Picnic Blanket:
The top layer is soft fleece and the bottom layer is waterproof fabric, so it makes for the perfect blanket for sitting on the beach or grass. 
It comes in a stuff sack for easy transporting and storage.
It is large- 72" x 57"- just big enough for your family or group to all fit!
What we don't love about Laguna Beach Textile Company's Picnic Blanket:
It is a little larger than other similar blankets I have seen.  This can make it a little more cumbersome to carry, especially in addition to other items, but it does make it a nice size for a group of people to use. 
Who is this picnic blanket for?
The Laguna Beach Textile Company Picnic Blanket is the perfect thing for outdoor blanket use- this picnic blanket is perfect for sitting on grass, sand or even snuggling up in if the weather gets colder.  You can pop it in the washing machine after using it and have it ready for your next adventure!
Laguna Beach Textile Company's Picnic Blanket Review: The Final Verdict.
Top Pick
Don't miss this awesome blanket
And other beach-inspired products
Say Hello to one of our new favorite brands. This premium textile brand is simply awesome. You can't go wrong with any of their products.
If you are looking for the perfect outdoor blanket- look no further than the Laguna Beach Textile Company's Picnic Blanket.  We are in love with the adorable black gingham print and the functionality cannot be beaten! 
The Laguna Beach Textile Company's Picnic Blanket is the perfect thing for outdoor blanket use- this picnic blanket is perfect for sitting on grass, sand or even snuggling up in if the weather gets colder.
Even better, you can pop it in the washing machine after using it and have it ready for your next adventure! The black gingham print makes you feel like a stylish picnic goer while still getting all of the benefits that come with any other high-quality outdoor throw (waterproof fabric on one side, soft fleece on top).  Whether you're looking to lounge during sunset at Cabo San Lucas or watching fireworks from Central Park, give yourself some extra cushioning and protection with LBTC's Picnic Blankets.