Ooni Pizza Oven Review: Ooni has earned a reputation for making high-quality outdoor cooking equipment designed specifically for stone baking. The Ooni Koda 16 achieves perfect cooking temperatures of up to 950 degrees Fahrenheit which means that your pizza can be cooked in 60 seconds! This Ooni Pizza Oven is absolutely wonderful!
Our Top Pick
Ooni Pizza Oven
The Koda Oven from Ooni creates the perfect pizza in only 60 seconds. On top of that, it makes delicious steaks and much more!
Check Availability
We might earn a commission if you make a purchase, at no additional cost to you.
The Ooni Koda 16 Ooni pizza oven is an excellent product. It has a showstopping design with the convenience of cooking with gas, the Ooni Koda 16 boasts a wide opening, large cordierite stone baking board and innovative L-shaped flame. Like all Ooni pizza ovens, Ooni Koda 16 reaches up to 950°F (500°C) – the blazing heat needed for cooking stone-baked perfect pizzas in 60 seconds. We love this awesome pizza oven!
Video Review of Koda Oven
Ooni Pizza Oven Review: Why we wanted to try an outdoor pizza oven
My mother-in-law has always wanted a high-powered pizza oven, so we got our hands on the Ooni Koda 16 to put it to the test.
Just a quick aside, the Tovala Oven is more our style – but if you love to cook and love cooking gadgets, then you really need to check out the Ooni Pizza Ovens. I had no idea what they were until my MIL told me about them.
While it only takes 60 seconds to cook a pizza, it isn't the super quick Tovala Oven convenience – and that's OK!
What we tried: The Ooni Koda 16 Gas Powered Oven
We seriously couldn't get over how beautiful this oven is. It looks like a piece of art, it is so sleek. But it's solely good looks. It's packed with features
Features of this pizza oven:
Gas fuelled for the ultimate ease and control
Reaches 950°F (500°C) in 20 minutes for stone-baked fresh pizza in just 60 seconds.
Cook baked fresh pizza on the ooni baking stone in just 60 seconds.
Extra-large cooking area for 16" pizzas, meat joints, breads and more!
Innovative L-shaped flame for one-turn cooking
We'll dive more these features in our review of one of the best backyard pizza ovens, but let's first talk about assembly.
Assemble: So easy, I couldn't believe it
I just assumed assembly would be like an IKEA project – overly complicated with a ton of steps. But there are really only four steps to put together this outdoor pizza oven.
Take the oven out of the box
Fold out the 3 legs
Insert the pizza stone (fits perfectly in the oven)
Attach to a propane tank.
That's literally all there is to assembly. Ooni even breaks down the instructions into four simple steps with photos for each step – you can't get any easier than that! Pizza lovers rejoice!
Making Pizza with the Ooni Oven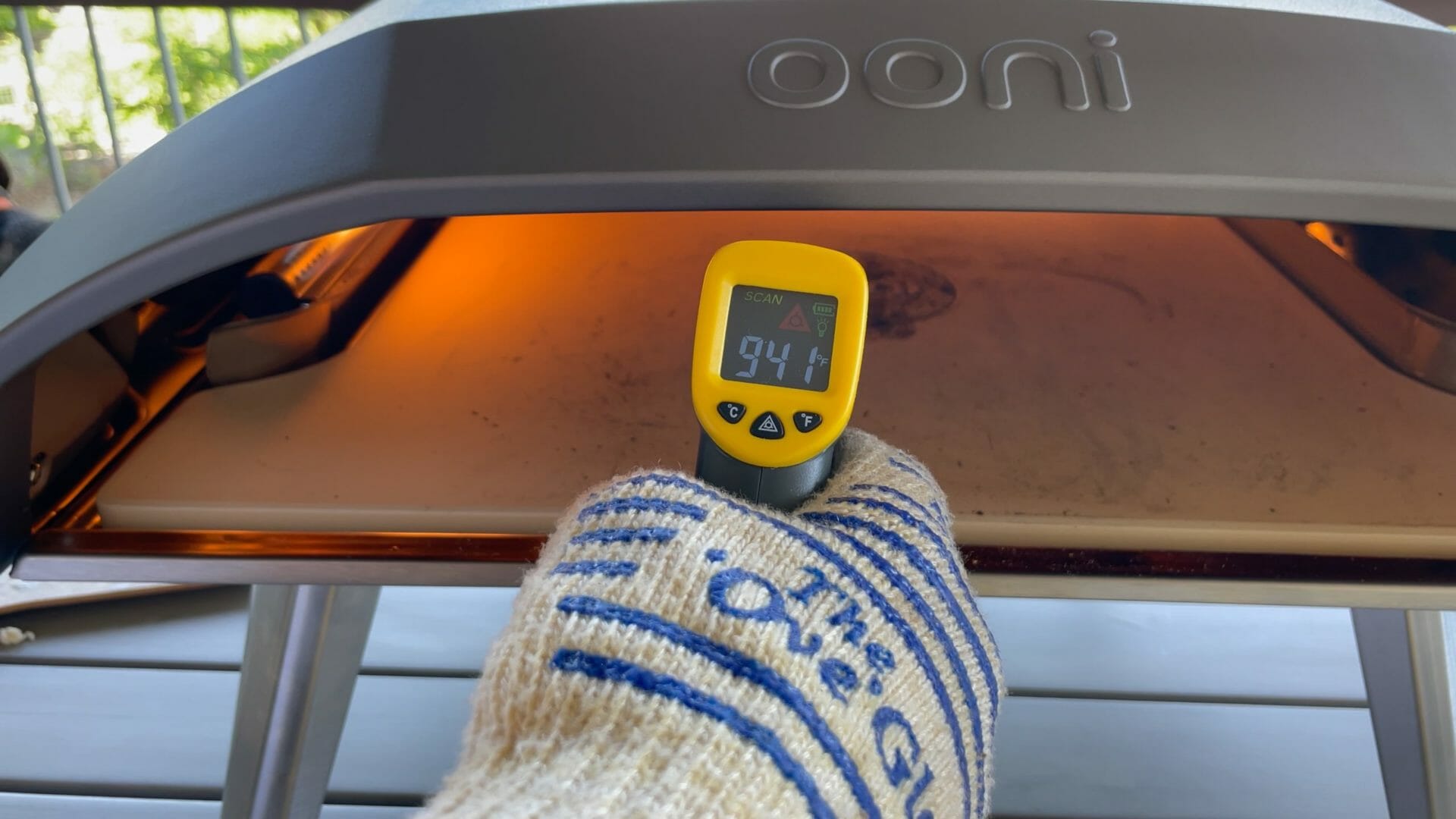 Making Pizza with the Ooni Koda Oven is super simple.
Pre-heat the oven for about 20 minutes on high
The oven will reach about 900 degrees
Insert the pizza in the oven
After 30 seconds, turn the pizza clockwise 90 degrees
Cook for an additional 30 seconds
Take out and enjoy
Once again, I was incredibly surprised at how easy this Ooni Oven was to use. I assumed it would be complicated and time-consuming – like most things that you buy for your kitchen.
Pizza Oven Taste Test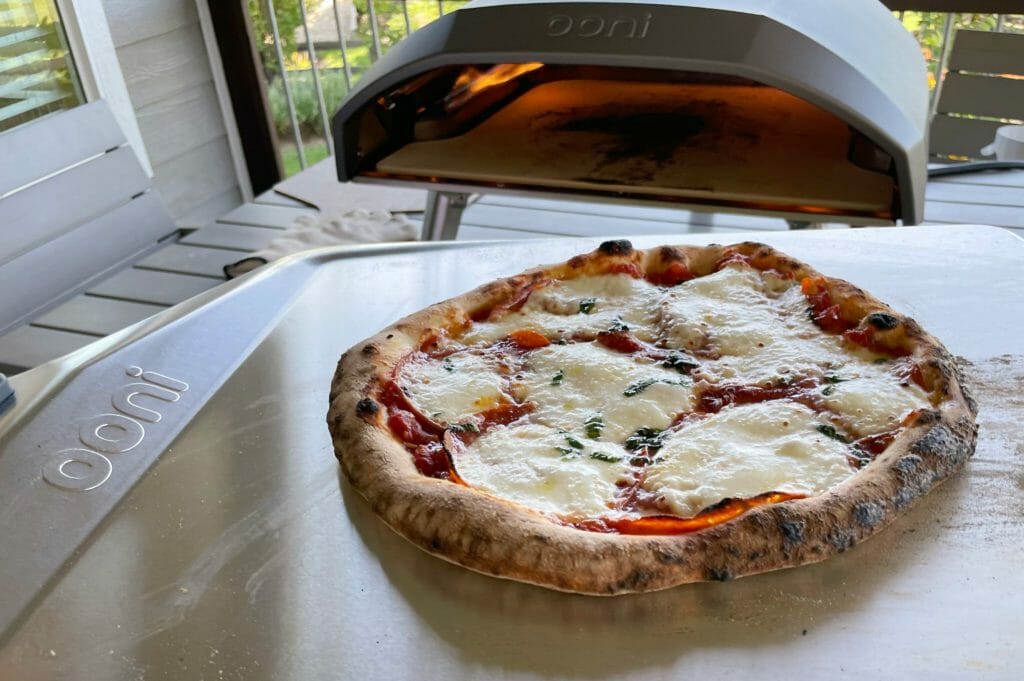 This sounds like marketing spin, but the Ooni Pizza Ovens really do taste like a super-hot wood fired pizza, like you'd have in a high-end restaurant – but you can make it in 60 seconds.
The ultra-hot temperatures, allows the pizza to be crispy on the outside and chewy on the inside. That means that the Ooni Oven sucks that moisture out of the crust and leaves it crispy, not soggy like at a lower temperature oven.
It's seriously the best pizza I've ever made at home.
Even our super picky eater, Teddy, approved. He said he gave this 100 thumbs up!
Making Pizza Dough for this portable pizza oven
For our first attempt to make a Pizza – we followed all of the instructions directly from Ooni.
Pizza Dough Recipe
What do flour, salt, water, and yeast have in common? They're all used to make the ideal base for any great Italian pizza – an excellent pizza dough recipe!
In fact, they are the essential ingredients for Ooni Oven Pizza Dough Recipe.
We simply followed the exact instructions on the Ooni website and it made a great crust.
Pizza Sauce Recipe
Their simple, no-nonsense Traditional Pizza Sauce Recipe is the ideal accompaniment for piling on your favorite toppings.
It was really good – we were pleasantly surprised.
The second-best way to make a pizza (almost) from scratch
Of course, since this was our first time using the Ooni Portable Pizza Oven, we wanted to do everything by the book – nothing store-bought – just the search for the best wood fired pizza oven results.
However, if you want an MUCH easier way to make the Pizza, simply head to Trader Joe's and get their refrigerated Pizza dough and Pizza Sauce.
It's close enough to the real thing – but will make the whole process exponentially easier!
What's included with the Ooni Koda 16?
The Ooni Koda comes with a couple of standard accessories:
Ooni Koda 16 pizza oven body with folding legs
Cordierite stone baking board
Gas regulator and hose to connect to your propane tank
Extendable match holder
Are Ooni Pizza Ovens any good?
We think Ooni Pizza Ovens are incredibly well made and have just the right number of features. We were super impressed with how easy this Pizza Oven was to assemble and get started cooking right away.
Other Portable Pizza Ovens from Ooni
The Koda isn't the only portable pizza oven made by Ooni. Here are the other pizza ovens they have to offer.
The Karu
We first had our eyes on the Ooni Karu 16 Multi-Fuel Pizza Oven – yes, you read that correctly, it is a multi fuel pizza oven.
Sadly, as of the time of writing this, it's on a 12 – 14 week backorder. It's got a couple of really cool features:
For added versatility in the kitchen, there are a variety of fuel choices to choose from.
The Ooni Karu 16 Gas Burner (also available separately) adds gas to the mix, allowing you to cook with wood or charcoal straight out of the box.
Reaches 950°F (500°C) in just 15 minutes – yes, 15 minutes!
The new oven door design, which incorporates ViewFlameTM technology to improve visibility, has a hinged design.
Internal oven temperature is shown on a mounted digital thermometer.
That's pretty darn cool. Plus it looks amazing!
With Ooni's patented ViewFlame technology, the Ooni Karu 16 Multi-Fuel Pizza Oven provides an excellent way for you to cook your favorite foods outside with gas or wood logs. Plus it looks amazing!
Ooni Fyra 12 Wood Pellet Pizza Oven
What does the Frya add to the mix? It is a Wood Pellet Pizza oven. Ooni Fyra 12 streamlines wood-fired cooking for a no-nonsense live fire experience and intense flavors. 
Ooni Fyra 12 streamlines wood-fired cooking for a no-nonsense live fire experience and intense flavors. Ooni is the proud successor of Ooni 3, the world's first portable pizza oven fuelled by wood pellets. It reaches temperatures up to 950°F (500°C) in just 15 minutes, cooking authentic stone-baked pizza in 60 seconds or less!
Perfect for making delicious pizzas anywhere you go thanks to its lightweight design (just 22lbs).
Ooni Pro 16 Multi-Fuel Pizza Oven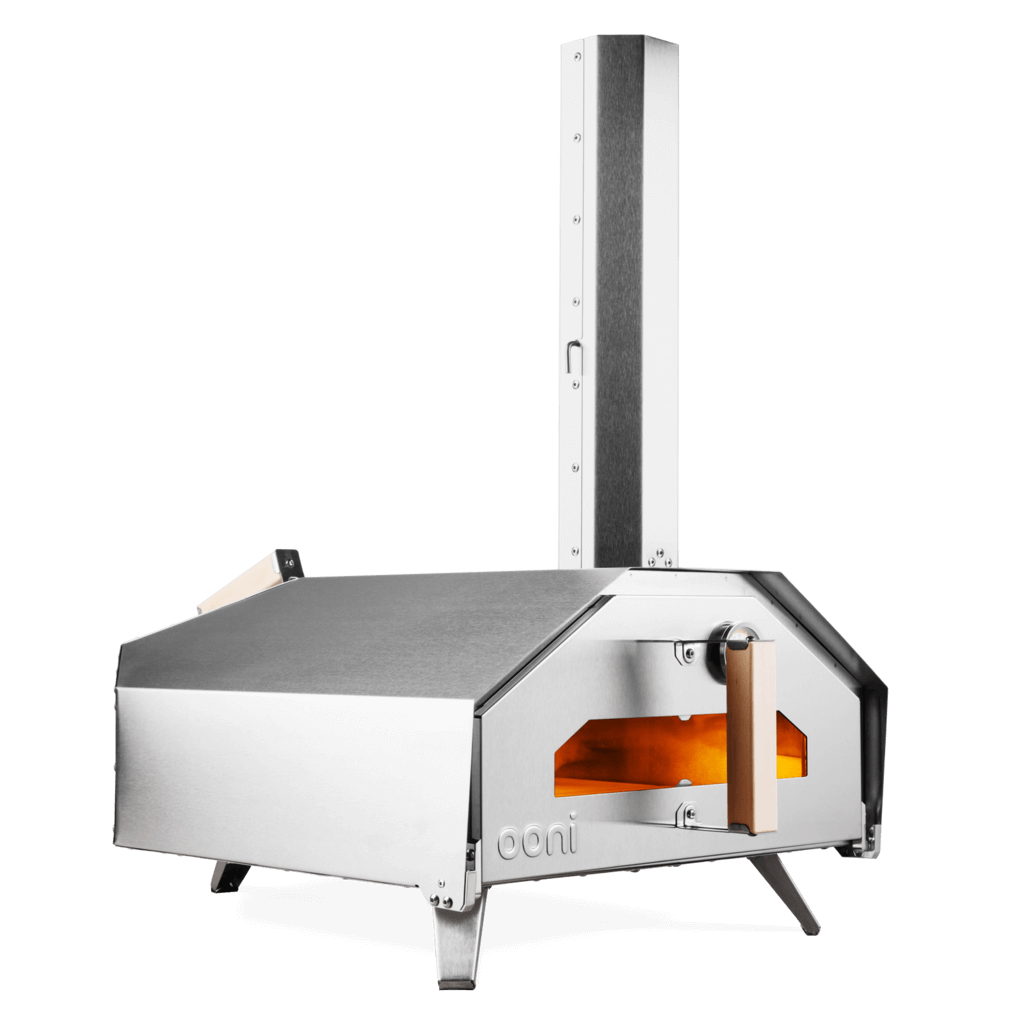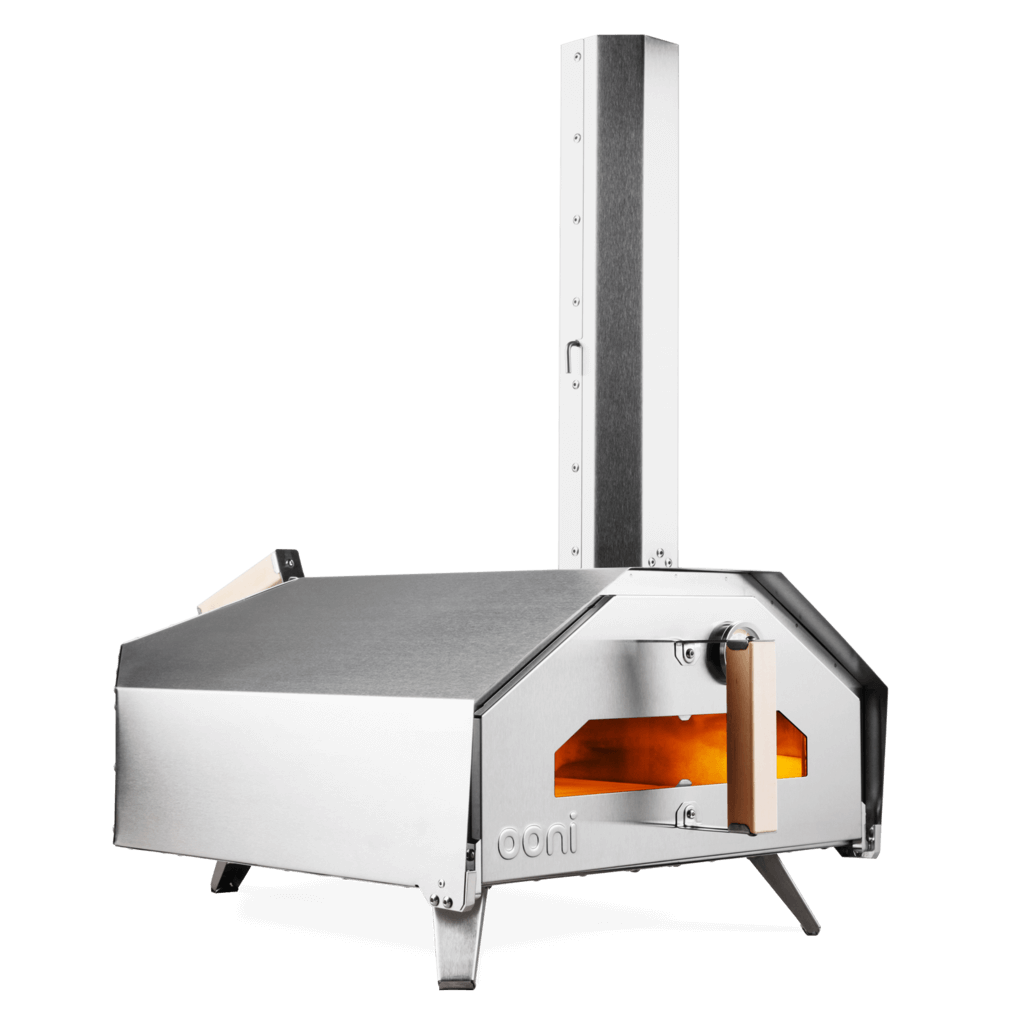 If you're serious about your pizza, check out the Ooni Pro.
The Ooni Pro 16 can bake and grill up to 950°F, allowing you to cook almost anything. Not only that but with its dual air flow control system it allows for a broad oven opening and spacious cooking stone which gives the perfect space for baking pizzas in just 60 seconds! 
Phenomenal large pizzas, roasted joints of meat, seared vegetables or even fresh bread – whatever you're cooking achieve the exceptional with an outdoor gas stove from Ooni & reach temperatures up to 950 degrees Fahrenheit using their patented technology Dual Air Flow Control System.
Which Ooni pizza oven is the best?
It depends. For propane only, we'd recommend the Ooni Koda. If you want to play with different fuel types (and can wait for it to get back in stock) check out the Karu. If you are really serious about your pizza cooking, Ooni Pro is the one for you.
Rank
Picture
Name
Rating
Shops
#1

Ooni Koda

Gas-powered only
Great blend of features, price and portability

$499

#2

Ooni Karu

Very versatile
Accepts 3 different types of fuel
Also more expensive

$799

#3

Ooni Frya

Only accepts pellets
Smallest on the list
Least expensive

$299
Our Favorite Ooni Pizza Oven
The Ooni Koda 16 is our favorite Ooni outdoor pizza oven! With an innovative L-shaped flame design it provides excellent heat distribution and even more power to get your pizzas mouthwateringly incredible in just 60 seconds.
What's not to love? A powerful gas oven with a great price tag, brilliant sleek design and amazing Ooni customer service.
I hope that Ooni will become a staple in backyard cooking and there is no doubt that Ooni has already obtained cult status with their Ooni pizza ovens – they're perfect for those summer BBQ's and parties where you want to serve up some delicious pizzas!
What else can the Ooni Ovens make?
Can you cook a steak with an Ooni Pizza Oven?
Of course, you can make a steak with an Ooni Pizza Oven! Check out this quick guide to cooking the best steak we've ever cooked at home:
Ooni Ovens can make pizza, grilled meats, roast meats even other food like wings. Ooni Ovens are built to be extremely versatile, so don't hesitate to try out Ooni Oven recipes other than pizza.
That brings us to accessories.
How to get ooni pizza oven hot
How to make an Ooni Pizza Oven Hot? It's actually pretty easy. Make sure your oven has been lit for at least 30 minutes. Check that the overn has reached the ideal temperature (752°F/400°C) with an Ooni Infrared Thermometer.
So if you're wondering how to get ooni pizza oven hot, now you know. Just let it sit for about 30 minutes and check it with the Infrared Thermometer.
If you're using the ooni pizza oven for the first time, this can be tough to wait, but it's worth it!
Ooni Pizza Review: The Must Have accessories
With Ooni Ovens you may find that you need special accessories to enjoy their full functionality. There are several different types of accessories that are must have!
Must-Have Accessories for Cooking Pizza
No matter what, you must get a couple of key accessories.
Bamboo Pizza Peel
The first is the Ooni 14″ Bamboo Pizza Peel & Serving Board. It's great for pizzas up to 16 inches wide and has a moisture-resistant surface that prevents pizza dough from sticking, so you can launch your delicious crusts with ease! You'll also love how it acts as a serving board after use – perfect if you're hosting friends over for an evening of fun in the kitchen.
Ooni Stainless Steel Pizza Peel
The next item for our Ooni oven is the Ooni 16″ Pizza Peel. This lightweight, all-purpose peel can launch and retrieve massive pizzas with ease! The completely even surface makes this an ideal tool to use in any situation – whether it's prepping ingredients or sliding them into your cooker.
Infrared Thermometer
The Ooni Infrared Thermometer with laser pointer allows you to accurately measure the surface temperature of your pizza oven instantly. This is helpful for making sure that the base will be cooked perfectly when it's time to cook dinner.
Other Fun Accessories
Want to cook a steak with your Pizza Oven? This pan is a Sizzler and Griddle all in one. It's the Ooni Grizzler! So, what does this mean? The first bite will be with your eye because of its sizzling meat-searing capabilities. But don't worry about being limited to just seared meats – it can also grill veggies too!
And not only that, but you'll have easy loading into any oven since there are custom handles made specifically for this purpose! Plus when you're done cooking dinner (or breakfast), serving couldn't get much easier thanks to the sustainable wood board provided.
They also have other accessories like covers and a fun pizza topping station.
Other ways to use an Ooni Oven
This would be great at a tailgate option, especially paired with something like the Pizza topping station. It's really not much more of a hassle to bring over a grill – and your tailgate would be sure to stand out!
Who wouldn't want one of these portable Pizza Ovens at their tailgate?! Just go to Trader Joe's, stock up on some Pizza Dough, Pizza Sauce and a bunch of different toppings and everyone could make their pizza exactly the way they want it in one of these pizza ovens.
Even better? It's ready in 60 seconds. No waiting minutes for a hot dog or burger. Pretty cool, huh?
You could also bring this camping. Although, it would be a bit much to bring all the ingredients to make a pizza.
Ooni Oven Review: Is Ooni Koda worth it?
We have to say, 100% yes. From Ooni Ovens to Ooni Oven accessories, these ovens are a must-have for any household who enjoys a delicious backyard homemade pizza.
Top Pick
The amazing Koda Pizza Oven
The best way to cook pizzas (and more!)
This oven is simply amazing. It's the perfect blend of features and price. Get this awesome backyard oven to make perfect delicious pizzas in 60 seconds.
With Ooni Ovens, the possibilities are endless. Ooni Oven recipes come up with some pretty unique ideas so we'd recommend you start browsing around their website when you get an Ooni Oven of your own! They have quite a few cookbooks you can buy to check out all the different things you could make in your new oven.
You can get the Ooni Koda Pizza Oven directly from their website. It ships quickly and sets up even quicker!
Other Frequently Asked Questions
Can I use an Ooni oven indoors?
No. And you wouldn't want to. 900 Degrees puts off a ton of heat! Ooni Ovens are made for outdoor use only.
How long do Ooni ovens take to heat up?
Ooni Ovens take about 15-20 minutes to heat up to the 900 Degree Temperature recommended. Be sure to get an Infared Sensor to make sure your Outdoor Pizza Oven is the exact right temperature.
Is the Ooni insulated?
The Ooni Koda is made with a durable, insulated, powder-coated carbon steel shell.
Are the Ooni Ovens Hot to touch?
Yes, even though Ooni's pizza ovens are insulated, they are still incredibly hot. If you tap one, it will not burn you. However, if you placed your hand on the stove for more than just a tap – it would burn your hand.
Does the Ooni Koda Outdoor Pizza Oven come with a gas attachment?
Yes, it does. It's a great way to cook pizza – or even combine with a cast iron skillet.
Can you use a cast iron skillet with the Ooni Wood Fired Pizza Oven?
You sure can! Even if you are just a pizza lover, we recommend that you try something different, like a steak!
Can the Ooni Oven Cook other foods besides just Cook pizza?
Yes! The Ooni can cook tons of other items with the home oven. The high heat can be used for a variety of other foods. Experiment with the high heat and unique cooking surface.
How hot does an Ooni pizza oven get?
The Ooni Pizza oven heats to 900 degrees in about 15 – 20 minutes.
What is the best temperature for Ooni pizza?
The best temperature of your Ooni oven to cook pizza is 900 degrees. It will only take about 60 seconds to cook your pizza at that temperature.