LARQ Bottle Review: Why would you even need a "smart" water bottle. There's a good reason: You know the smell when you open a water bottle that has been sitting around for too long? It's not just gross, it turns out it can also be dangerous.
Meet LARQ: Self-cleaning water bottle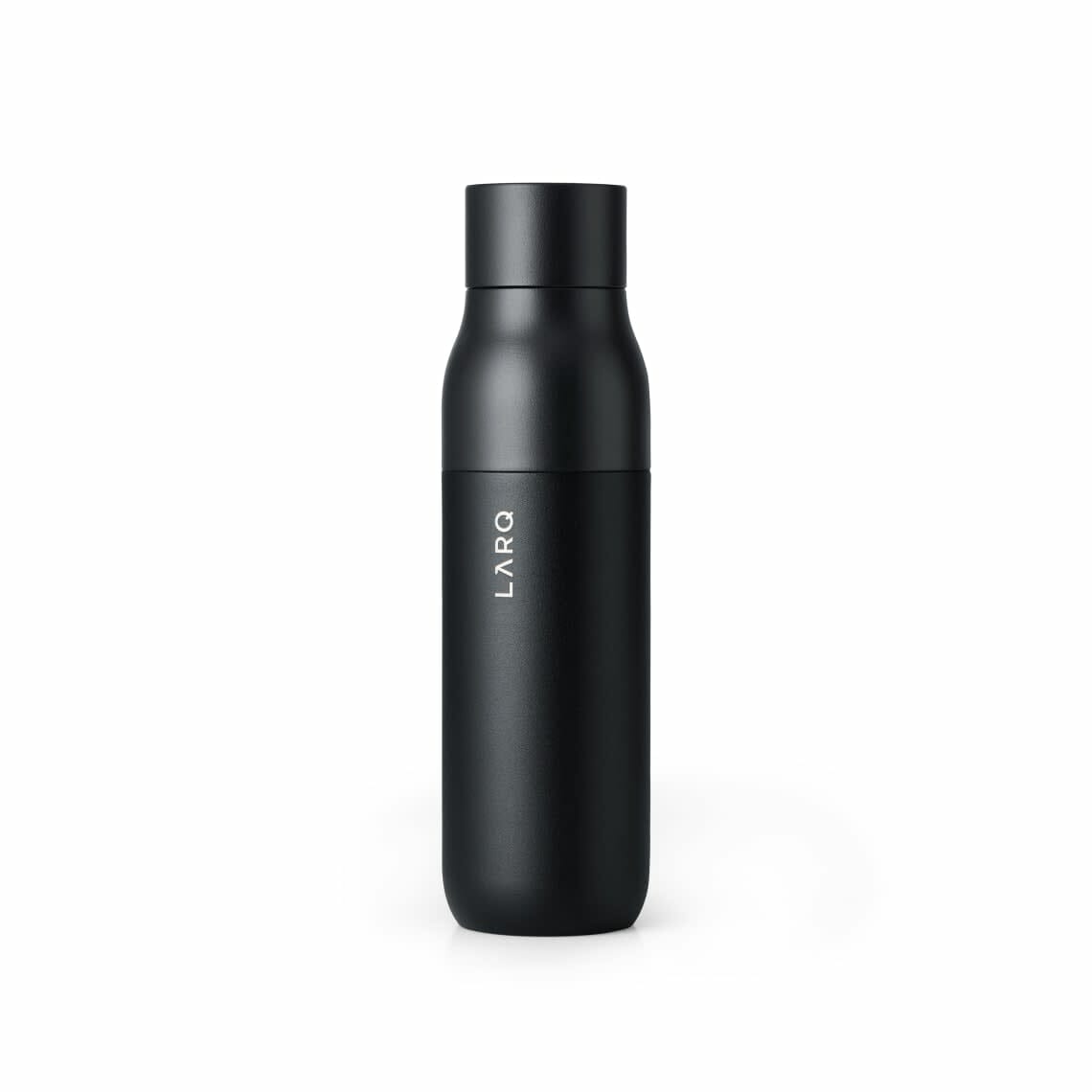 Cleans water AND the bottle
Beautiful design
Lasts 1 month on a charge
Automatically cleans your water bottle every 2 hours
Never deal with musty-smelling water bottles again!
Don't ever buy bottled water again, either.
We all want to drink more water, but we don't like the idea of having to scrub water bottles every week because they get smelly and gross. And even after the cleaning… do you really know how clean they actually are?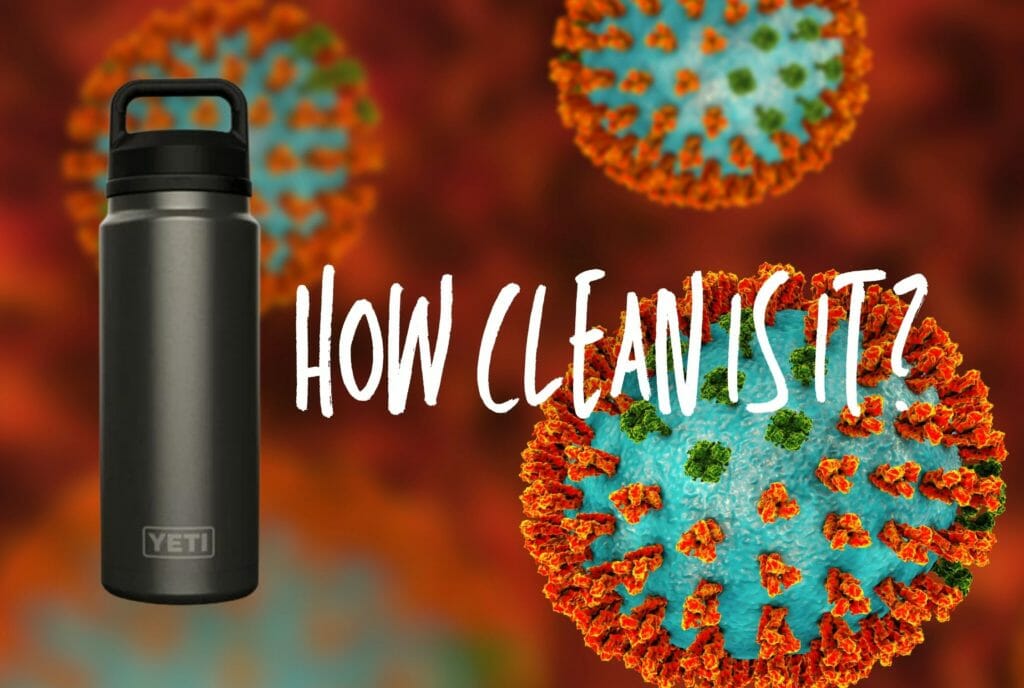 That's where the LARQ Water Bottle comes in. The LARQ Water Bottle is self-cleaning with a powerful UV light that neutralizes up to 99.9999% of harmful odor-causing bacteria. Their award-winning technology will keep your drinks tasting fresh and clean for weeks at a time without any effort from you! No more musty smells from old plastic bottles with the stainless steel LARQ Water Bottle!
LARQ Bottle Review and LARQ Unboxing Video
LARQ Bottle Review – What is it?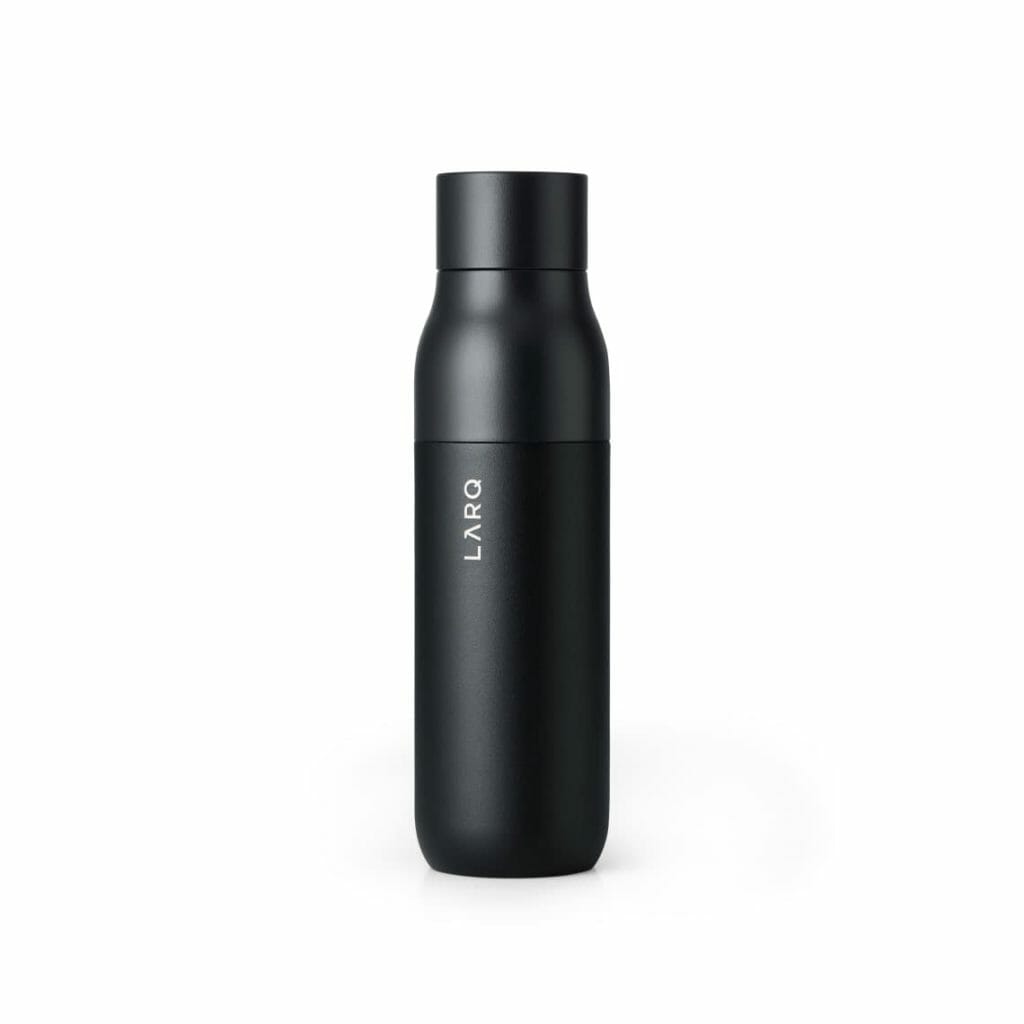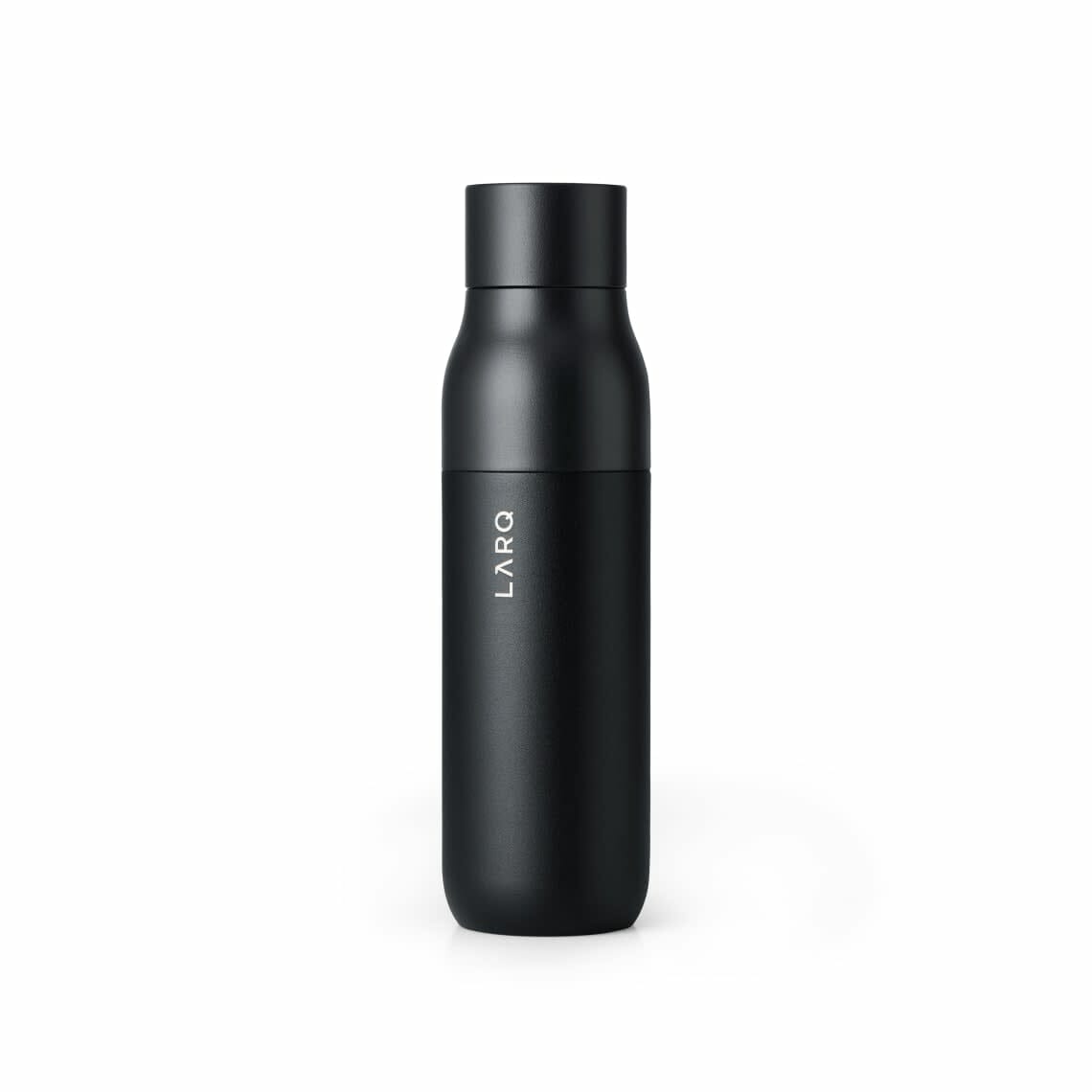 On the surface, the LARQ Water Bottle looks like a normal water bottle. In our case, we chose the Obsidian Black LARQ Bottle PureVis™ for our LARQ Review.
To be honest, we love the way this bottle looks, even without the fancy technology. This LARQ Water Bottle is just plain sexy.
On top of that, the double-wall vacuum insulation keeps your water cold for 24 hours and hot for 12 hours.
I actually came across this amazing technology years ago when LARQ launched a Kickstarter. For some reason, I never backed it, but I always kept an eye on this crazy start-up that claimed to kill bio-contaminants, odor-causing bacteria, and viruses with UV light.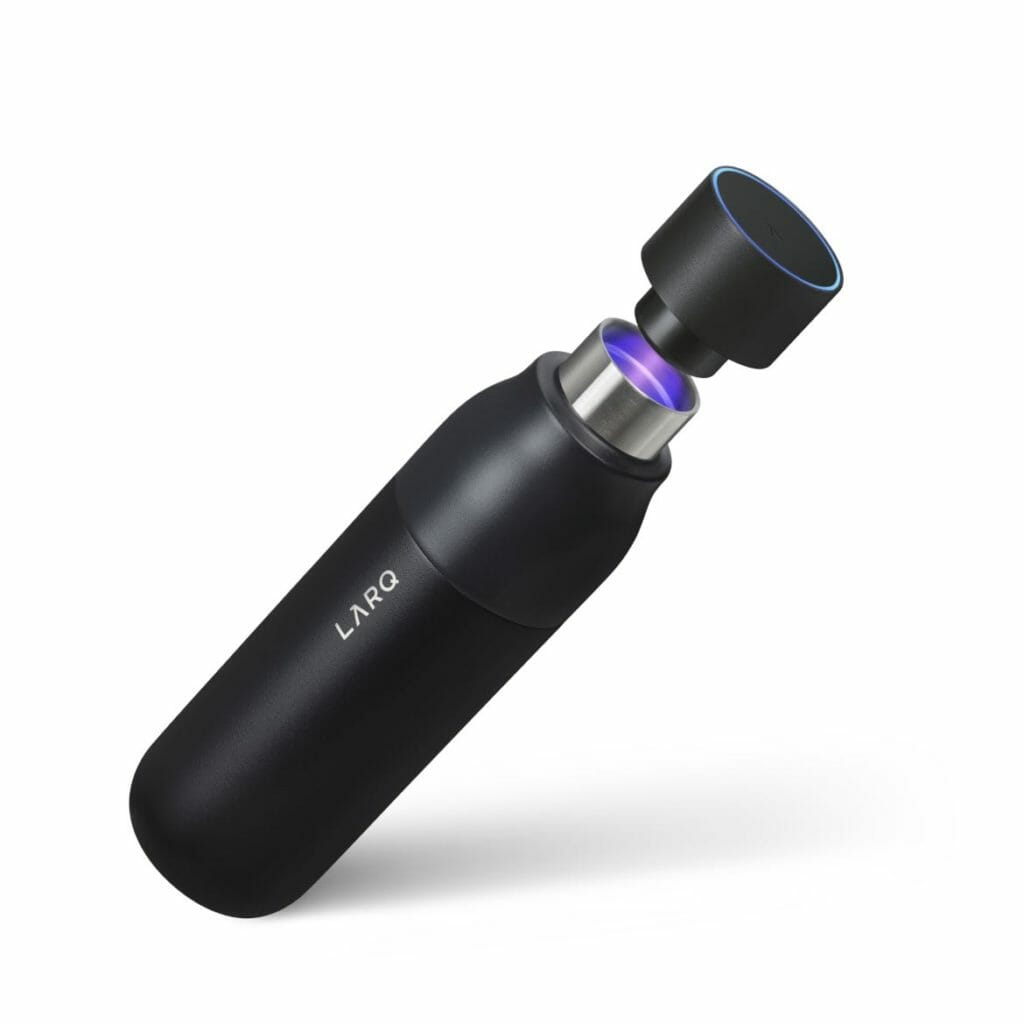 While the bottle is pure beauty, there's no way we'd pay $95 for a regular water bottle – the features of and peace of mind the LARQ Bottles have, may make the price worth it for you.
But a closer examination of the cap reveals that this is no ordinary Water Bottle at all. Look closer and you'll see the LARQ's top cap as a small LED light and USB Charging Port. That's not what you typically see in a water bottle, is it?
Drink from a clean water bottle, every single day with the power of UV C Light
The best part about LARQ is you get a clean bottle every day. That's because the top cap's LED light kills 99.9999% of harmful bacterial automatically. Yes, you read that correctly.
Every 2 hours, the LARQ Bottle does a 60-second quick cleaning of the water bottle. This is good a continually cleaning the bottle and the water on a regular basis.
That's it. That's all you have to do for it to work.
LARQ Bottle Adventure Mode: Die Viruses, Die!
LARQ's Patented PureVis™ UV-C LED Eradicates up to 99.9999% of bacteria and 99.99% of viruses in adventure mode.
What is Adventure Mode? We never thought you'd ask!
In Adventure Mode, the LARQ Bottle PureVis delivers a higher dose UVC Light to purify water.
Activate this 3-minute cycle by double-tapping the button on the cap. It's smart to use this mode if you need to purify your drinking water because there is uncertainty about purity or also feel safer when using it even though the quality of your water is still good.
How does the LARQ Water Bottle Work?
LARQ uses a 280 nanometer UV light inside the cap of the bottle. This LED light is ideal to eradicate germs.
That's because it triggers a photochemical reaction that destroys the germs' DNA. UV-C light is widely used today in hospitals to sterilize patient room surfaces. When UV light is absorbed by germs, it breaks the DNA's chemical bonds and kills the bacteria or virus.
That's pretty much how the sun works, too. It's like harnessing the power of the sun to create a self cleaning water bottle. That's REALLY cool.
Don't worry – you don't need to be using the LARQ Water Bottle in Tijuana, Mexico, only. It also works with just tap water or even filtered water from the fridge.
In either case, you get the power of the UV Light to not only kill bacterial in the water – but you get a perfectly clean water bottle every day. Automatically.
How to operate the LARQ Bottle
Operating the LARQ Water Bottle is pretty simple, but here are a few pointers:
First steps when getting your LARQ Water Bottle
When you first get the LARQ Water Bottle, you need to press and hold the, "A" button for five seconds to unlock the bottle for the first time. This is pretty simple as the whole top of the water bottle is basically the "A" button. After holding it for 5 seconds a color light will flash telling you it's unlocked and ready for purifying action.
Tip: the light will show up around the top ring of the water bottle, kinda like an Alexa. I was expecting it to be at the bottom of the
Charging your LARQ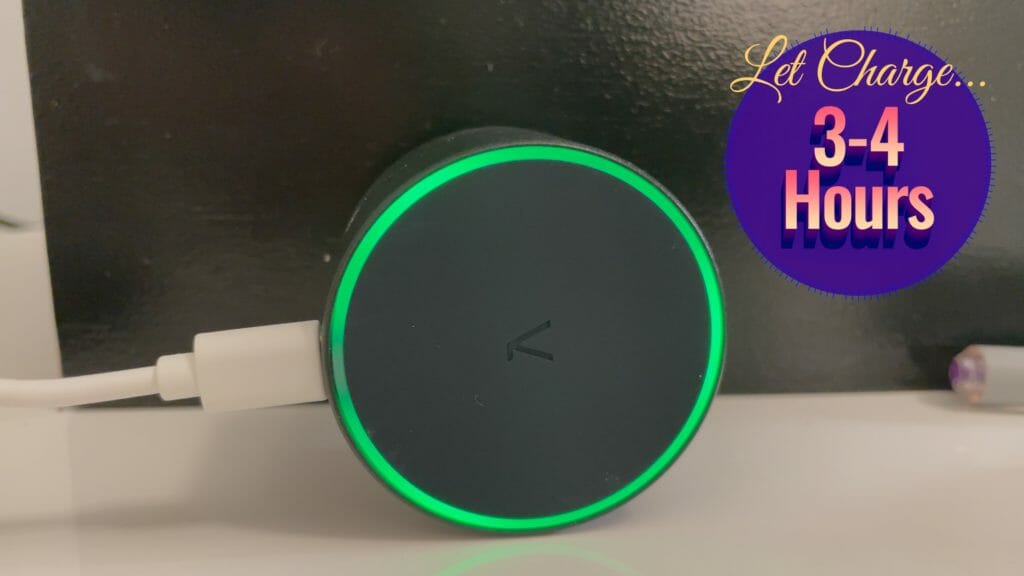 I can safely tell you I am the only person I know that has ever charged up a water bottle lid. It took me a second to find the small USB cord on the top of the lid, but it's there.
Simply use the supplied cord and plug it into something like USB iPhone Charger.
LARQ says that it takes about 3-4 hours to charge. When it is charging, it will have a cool, pulsing green light. I simply let the lid charge overnight and it was fully charged the next day.
The First Time using LARQ
Using the LARQ is pretty straightforward. But I've got a couple of quick tips for you, too.
How much to fill up the LARQ?
Don't overfill the LARQ Water Bottle past the color of the bottle as shown above. Otherwise, you'll make a little mess when the lid goes into the top.
How to Run Normal Mode
Simply press the big button on top of the water bottle 1 time to start normal mode. This will take 60 seconds to run and clean the water. This will also start the bottle to clean for 60 seconds every two hours. Automatically!
What if you don't leave the cap on? No worries, the cap is smart enough to know when it's on. It also won't let you run the UVC Light when the cap is off, so you don't damage your eyes! Pretty stinkin' smart!
How to Run Adventure Mode
I can see myself using this when traveling to Mexico, or really anywhere that I'm not sure of the water
Running Adventure Mode is super simple, too – all you do is double click the top "A" button and it runs Adventure Mode for you.
The directions say, "while you wait, give your bottle a gentle shake and do your best water dance to spread the purifying UV light evenly and voila! Enjoy pure water from a clean bottle."
Adventure mode takes three minutes.
I believe this works, but…
I believe what LARQ says (and they also have their studies published on the website), but…
I also want to just point out real quick that there are all sorts of disclosures in here about:
Not electrocuting yourself
Making sure you use this bottle the right way
Making sure you use the cap on the LARQ bottle
You understand that you're using this product at your own risk
Your volunteer using it with the full knowledge that you are at inherit or associated risk in doing so
All that sort of legal mumbo jump
I just wanted to point this out, because I believe this works.
I don't have a bio lab here to test and prove that it works, but I believe this is a classic case of CYA.
Who is the LARQ Water Bottle For?
The LARQ Bottle is perfect for the person who never cleans their water bottle out. And that's actually not the worst thing – that probably means they are too busy using their water bottle to actually clean it. That is REALLY who the LARQ Water bottle is made for the most.
The Adventure Dad
This would be a great gift for Dad for Father's Day, especially if he's the kind of person that likes to go out and adventure. This would be perfect for getting water from a stream or something or something that you don't 100% trust.
At the office
If you're at the office (or even school) and you simply don't have a way to clean your water bottles very often, this would be a great way to utilize something like the LARQ Bottle.
Who is the LARQ Bottle NOT for?
This is an interesting one. But the LARQ Water Bottle is probably not for the person that fills their water bottle with anything other than water and ice.
Why?
As someone that frequently puts some MIO or flavoring in their water, I reached directly out to LARQ about this. They said there was no problem putting something else in the water bottle, BUT you'd have to clean the water bottle like a normal water bottle to get anything that wasn't water cleaned out of the bottle.
That's kinda a bummer, but I get it.
LARQ vs Cirkul Water Bottles
About the same time I got the LARQ Bottle, I also got a Cirkul Bottle (full review coming soon!). But I really liked it for a similar, but different reason.
The Cirkul Bottle has water that also stays water. The flavor is built into the "sipper" and never touches the water. That means there is a lot lower of a chance to get the water getting the bottle all "yucky" (technical term, I know).
LARQ Gives Back
Another thing we love about many new brands these days is how much they give back. LARQ pledged to give 1% back to the planet to bring safe drinking water to billions. We love that.
LARQ Water Bottle Review – What about battery life?
The LARQ Water Bottle (well, technically just the cap is all that needs a charge, and the part needed to kill bacteria) charges in about 3-4 hours. LARQ claims that the bottle will clean in regular mode for about a month without recharging.
That's pretty impressive. I'll update this LARQ Bottle Review with my real-world test, but I've only had the LARQ bottle for a couple of weeks with no sign of letting up on the battery life.
LARQ Review: What else should I know?
LARQ comes in a variety of colors from the Obsidian Black that we tried to Granite White to Seaside Mint. There are two main models of the LARQ Water Bottle:
LARQ Bottle PureVis™ – Comes in 25 oz ($118) or 17 oz ($95) sizes. Keeps cold beverages cold for 24 hours and hot beverages hot for 12 hours.
LARQ Bottle Movement PureVis™ – Same UV technology but not insulated. $98 for the 32 oz Version. $78 for the 24 oz version.
They also have a LARQ Water Pitcher – We have not tested this product, however, it looks interesting!
LARQ Water Bottle Review – The Final Verdict
The LARQ Water Bottles are simply amazing. In fact, we can only find two things wrong with them:
The Price – these would be the most expensive water bottles we own.
You can't use it with Mio and other liquids and get the same advantages as just water.
However, these aren't deal killers for us. I would bet that me and my wife have gotten sick from not cleaning our water bottle enough. Having a water bottle with a built-in cleaning cycle is simply amazing.
LARQ Self-Cleaning Water Bottle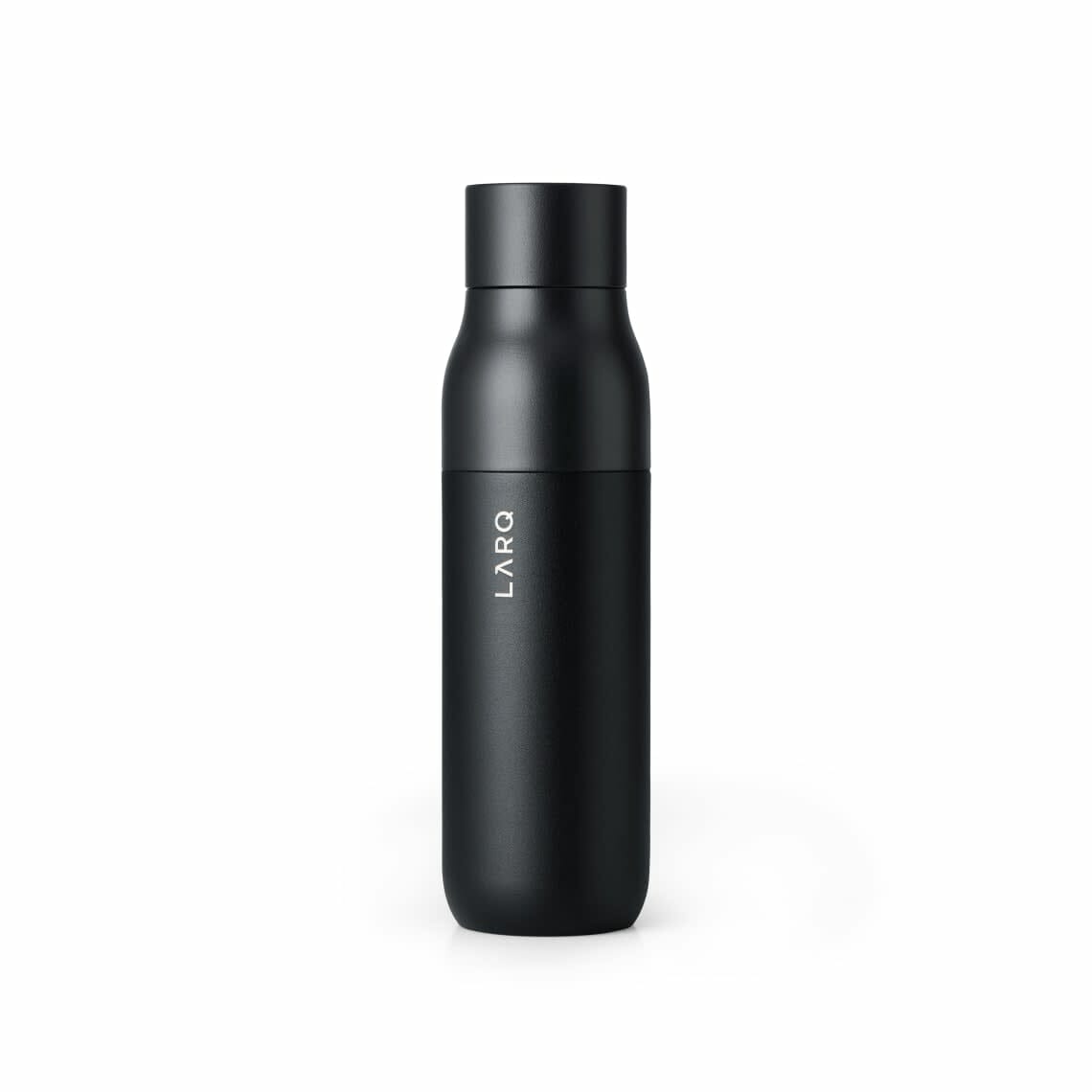 The Good
Great technology
Easy to use
Automatically cleans your water bottle AND water
Battery lasts 1 month
The Bad
Can't use with liquids besides water (and get the bottle cleaning)
A bit pricey
On top of that – these water bottle are really no heavier than other similar water bottles, which is a huge feat of engineering. Our LARQ bottle also doesn't look like a technical masterpiece, which is a good thing. We don't want our water bottles to scream, "look at me!"
If you are looking for the perfect water bottle for your hydro hommie, as the cool kids call it on Reddit, then look no further than the LARQ Water Bottle. It's an amazing product that wasn't even possible a few years ago.
Do you have any questions or comments about our LARQ Bottle Review? Then let us know in the comments below. We'd love to hear what you think!