KBO Hurricane Review: The KBO Hurricane electric bike is a light and stealthy electric that leads with its weight. At 36 pounds, it's less than half the weight of other models – but does this make for an inferior product? We take a closer look in our honest review of the electric bicycle below.
We love our eBikes here at We Tried It! We got hooked on electric bikes with the RadRover 5 (read our full RadRover 5 Review and also loved the KBO Breeze), so when we had the chance to test the KBO Hurricane, we jumped on it. This a unique eBike in many ways, which we'll dive deeper in our Hurricane Review.
KBO Hurricane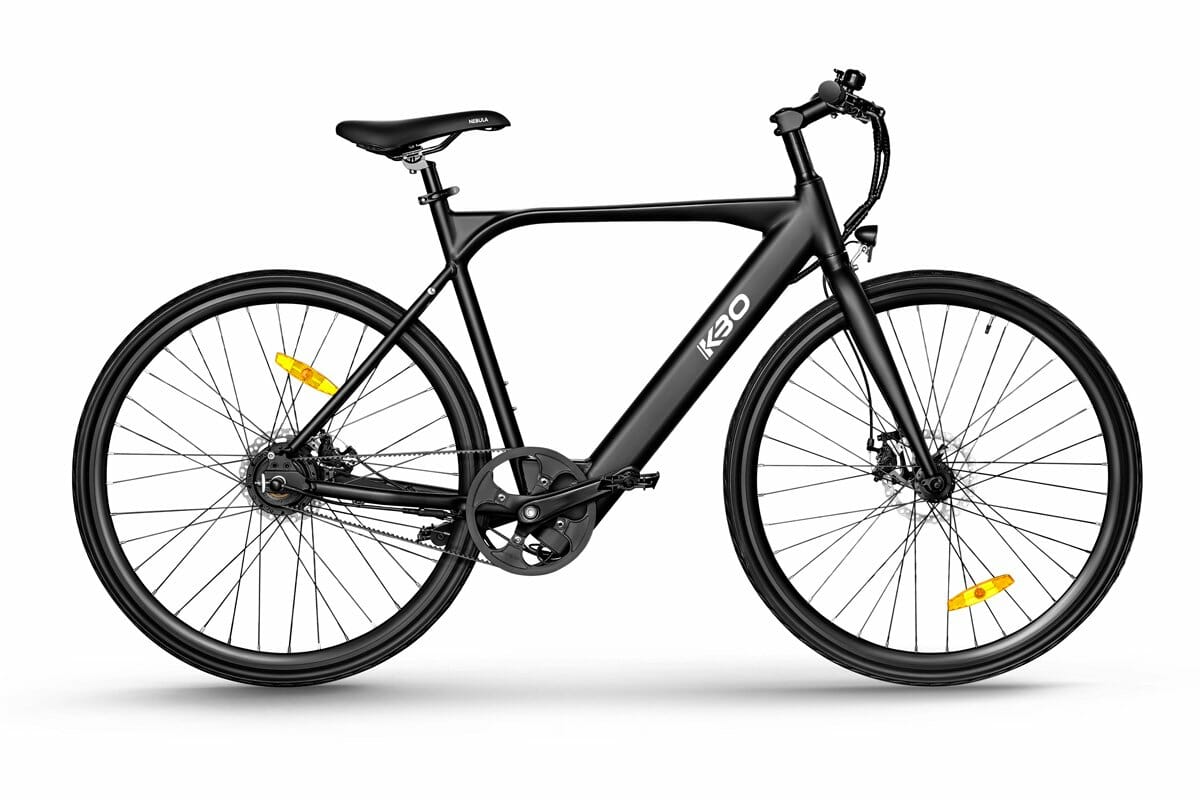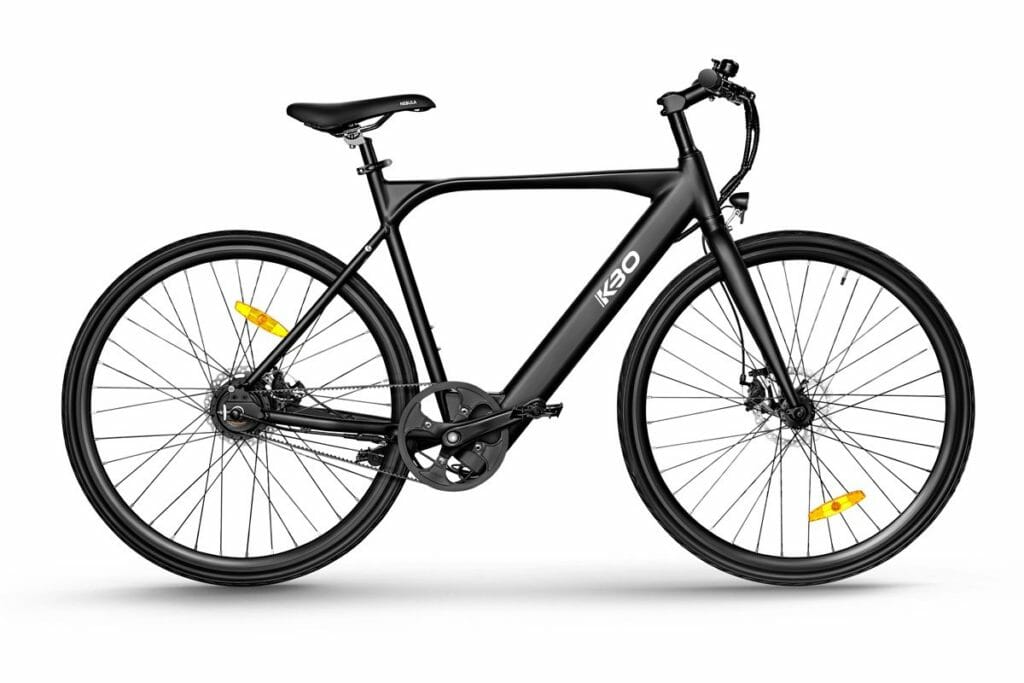 Specifications
$1,099
In stock now
Only 36 Pounds

Range: about 40 miles

Top Assisted Speed: 20 MPH
250W Motor
Single-speed belt drive
This is a very different eBike from the ones we've tested. This is more of a street bike with some electrical components.
KBO Hurricane Electric Bike: The Full Review
Since reviewing this electric bike, we now recommend the Aventon Soltera over the Hurricane. Read our full Aventon Soltera Review.
For an eBike with more features (and more expensive, too), read our Charge City eBike Review.
eBikes: What I'm looking for
As I mentioned in my RadRover 5 Review and KBO Breeze Review, I didn't really have a practical need for an eBike. I just live in one of the most bike-friendly cities, Fort Collins, Colorado.
Fort Collins is the perfect place for any bike enthusiast – or even the casual rider.
The town has a famous beer called Fat Tire which was created by its founder in honor of his love affair with bicycles. There are endless trails to explore and Fort Collins also experiences sunshine 300 days out of the year. Even if it's cold outside, you'll never have trouble finding sun thanks to this little Colorado slice.
How I use my eBike
I'm not a hardcore rider by any definition. I simply like to get outside on nice days and explore one of the local paths or go run some errands.
What is KBO Bikes?
KBO is a newer direct-to-consumer eBike brand. Much like Rad Power Bikes, they cut out the middle man by shipping the bike directly to you and offer three models: KBO Breeze, KBO Step Thru Breeze and Hurricane.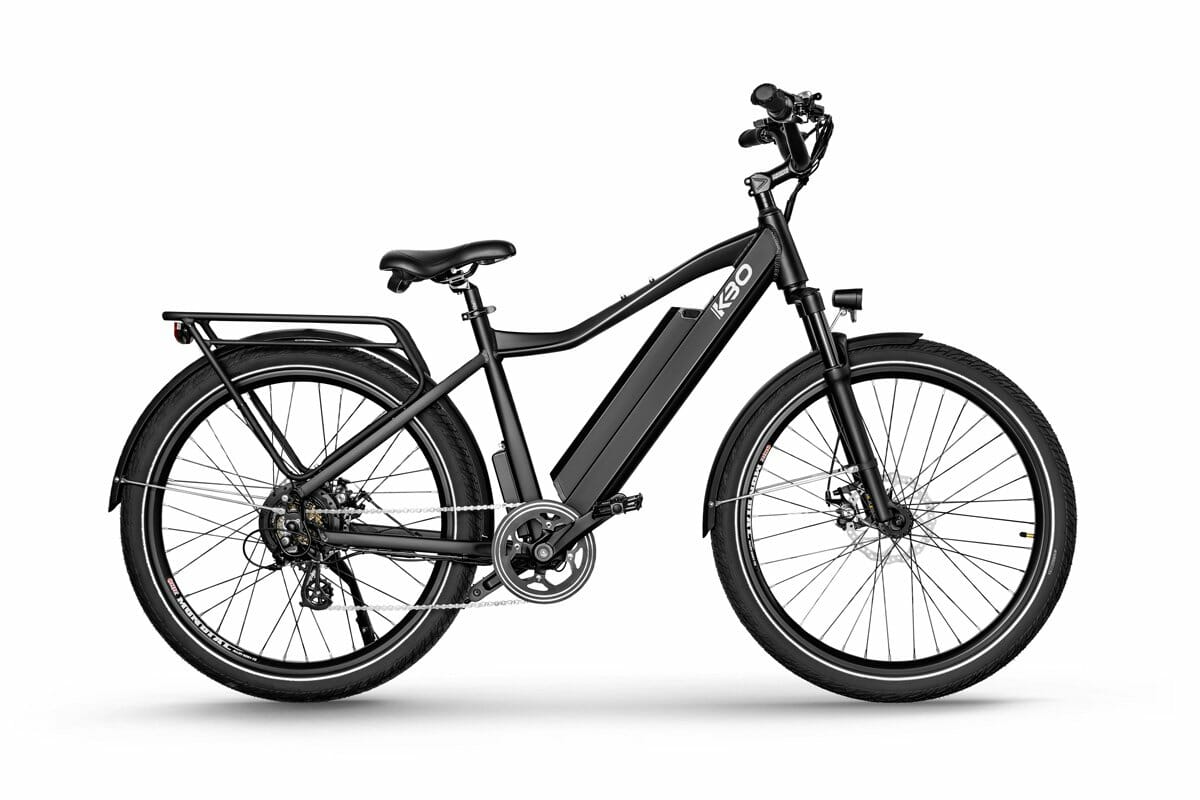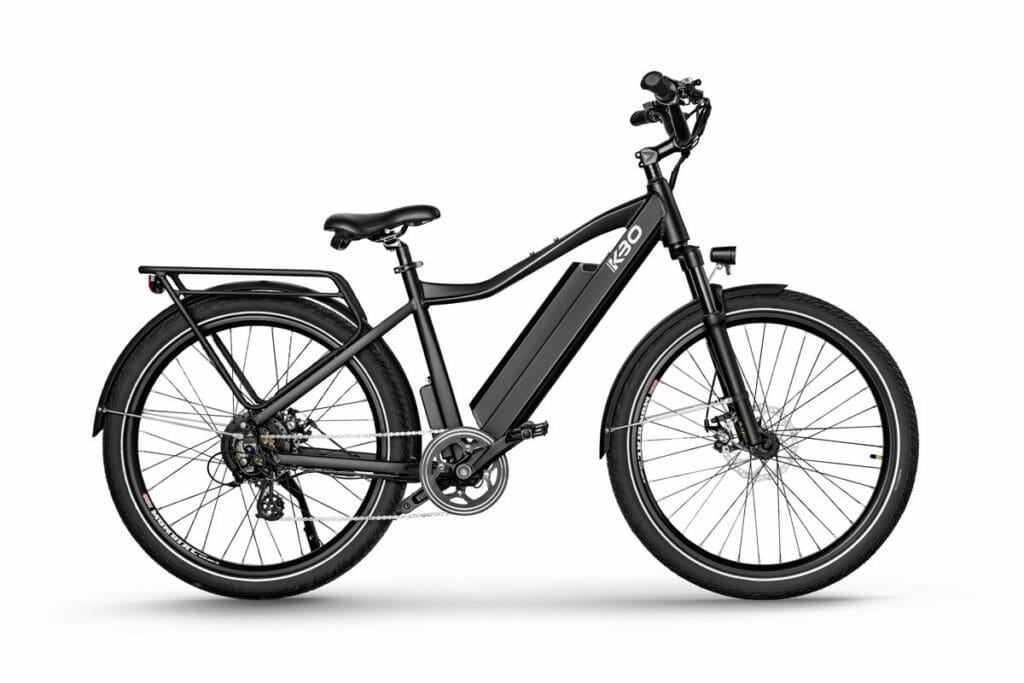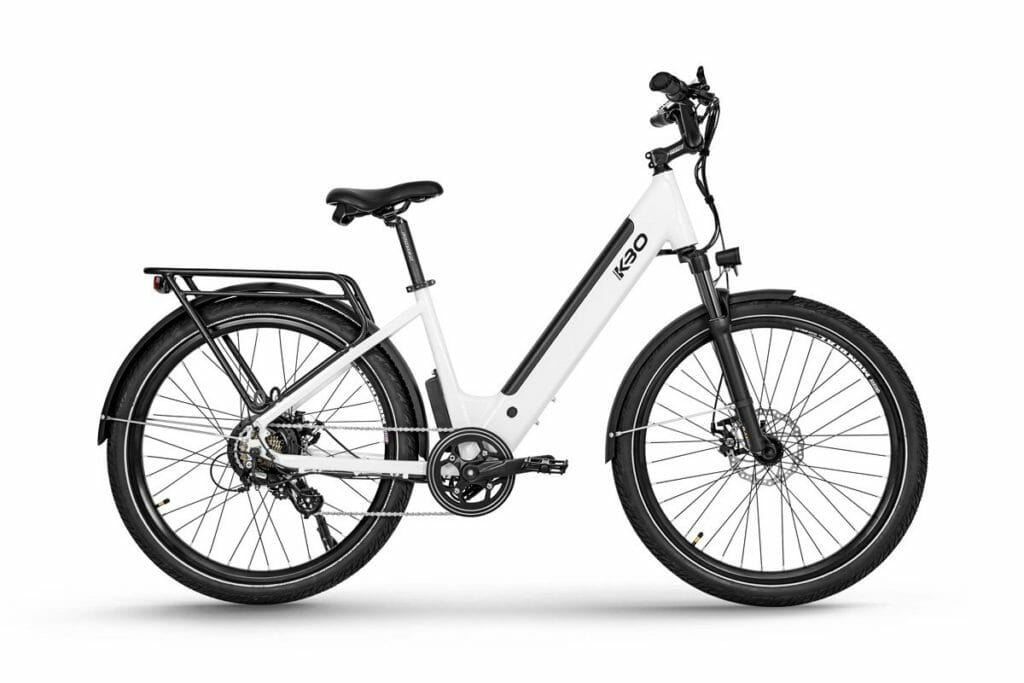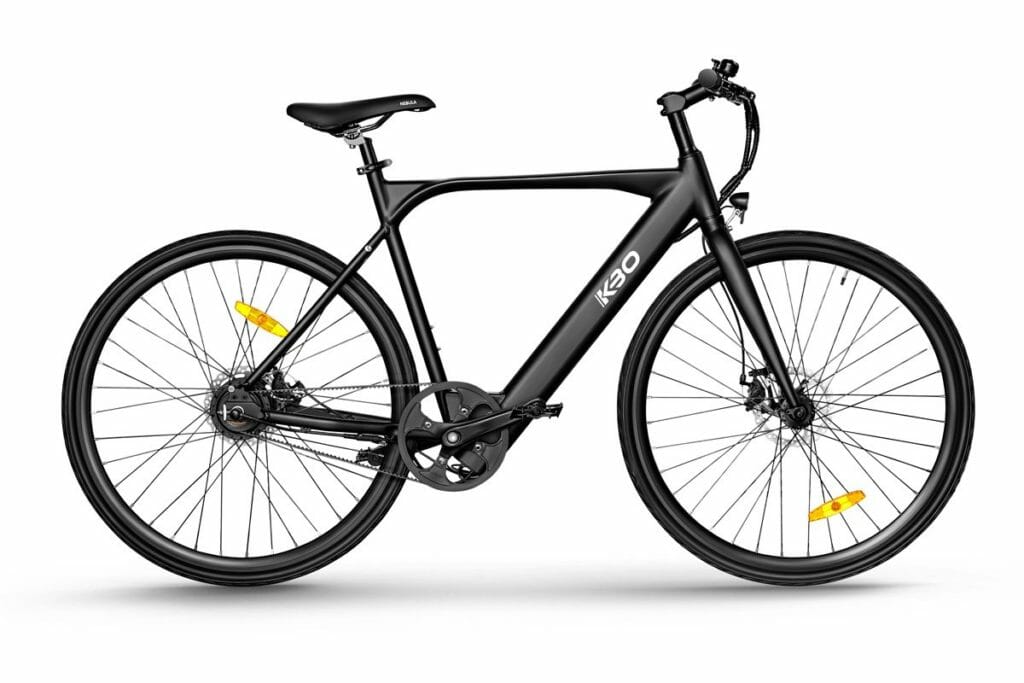 KBO Hurricane Review: What is the KBO Hurricane eBike?
The KBO Hurricane is technically a Class 1 eBike (read all about the different classes of eBikes – but the short story is that most Class 1 eBikes can be ridden on the same trails/areas as traditional bikes) that retails for $1,099. For reference, both the RadRover 5 and KBO Breeze are Class 2 eBikes, since they have a throttle.
While $1,099 price isn't super cheap – it is about $500 less than the next step up in the KBO line, the KBO Breeze.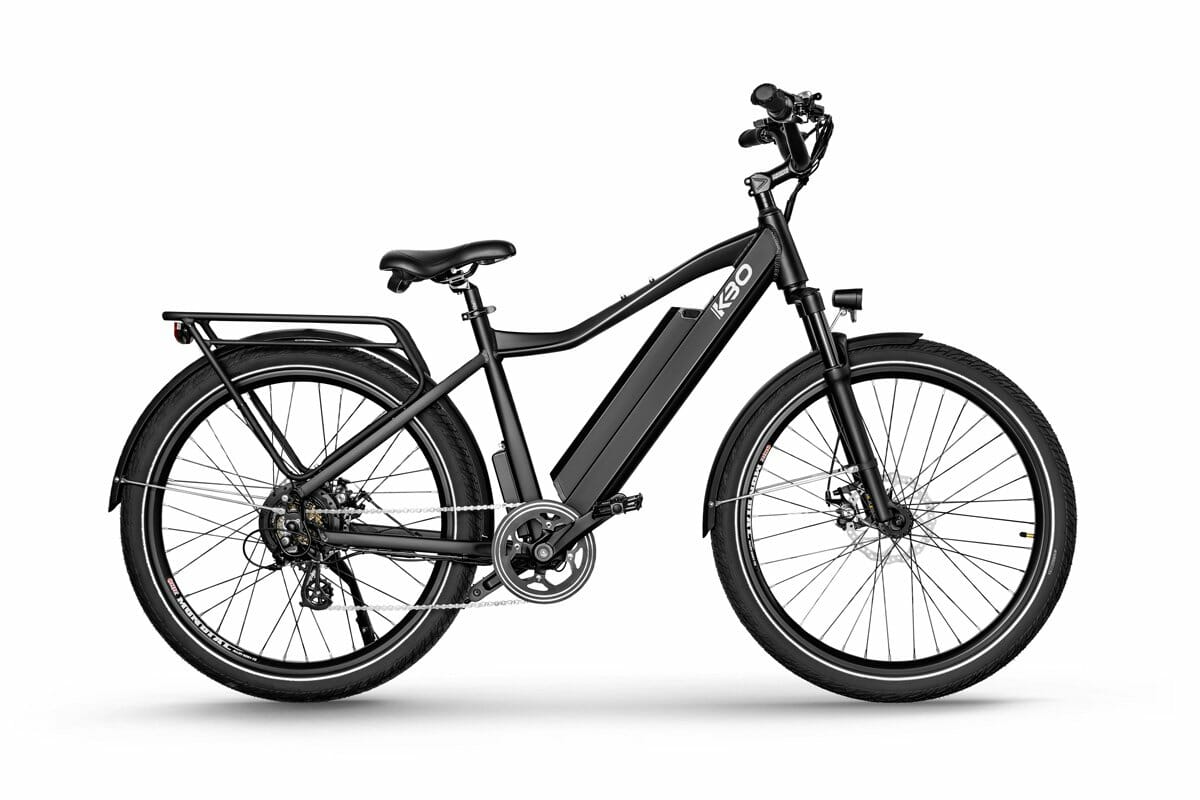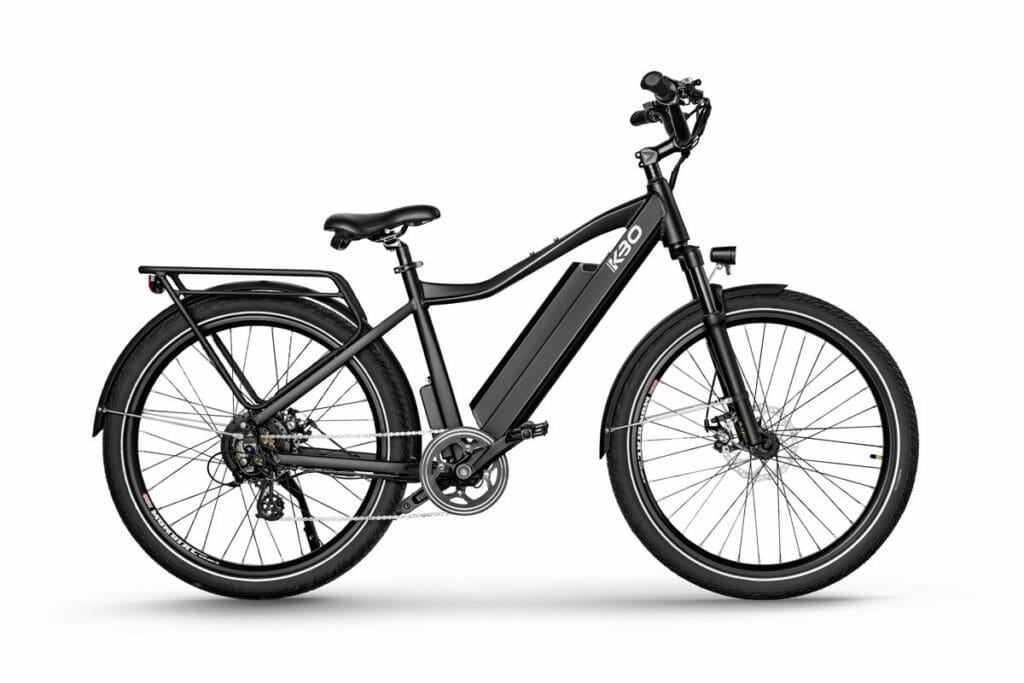 The KBO Breeze is a road-sized tire electric bike (I'm talking super skinny tires) with an aluminum frame and mechanical disc brakes. It offers only pedal assist (level 0 – 3). There is not throttle on this eBike.
Let's talk how lightweight it is, first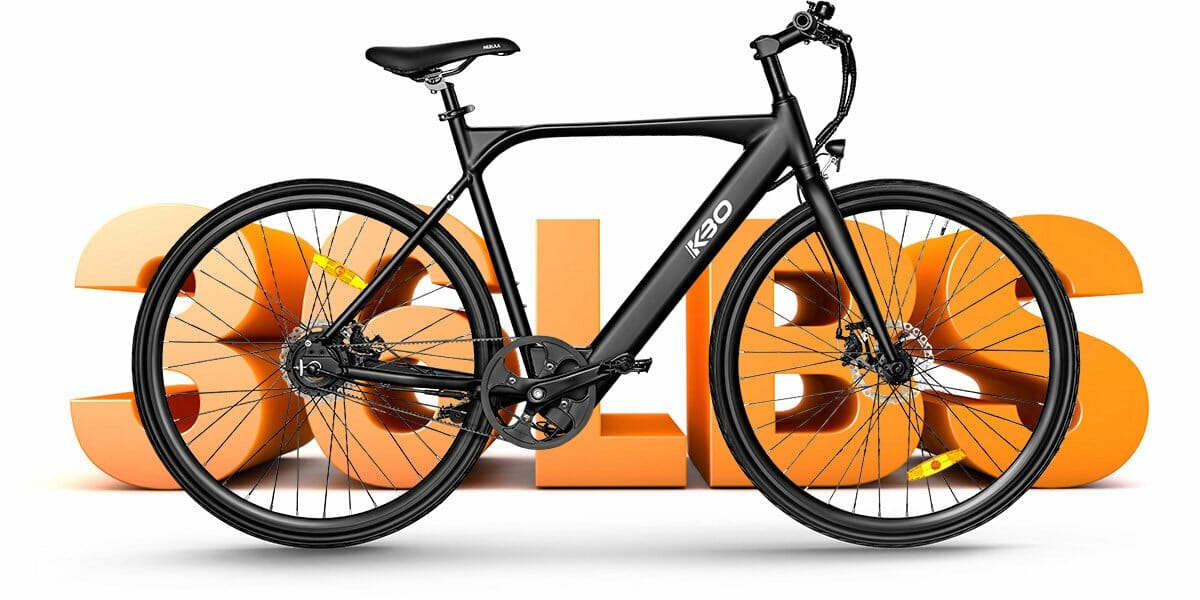 As I mentioned in my RadRover 5 Review, I almost threw out my back taking the RadRover out of the box. It's a super heavy eBike.
When I got the KBO Hurricane, I was immediately impressed by how lightweight it actually was. I had no problems picking up the electric bike and moving it around. It's not only lightweight, it's also much smaller than the RadRover 5 or KBO Breeze.
If you didn't know better, you wouldn't know that it was an electric bike at all.
Lightweight and Stealth: The integrated battery
In the photo above, the KBO Hurricane's batter is integrated into the frame – where the KBO Logo is. This is one way that the electric bike maintains the light weight – the batter is not removable. This is not the biggest deal, but obviously makes the bike harder to maintain in the long-run.
I'd also be a little more careful about how – and where – you store the KBO Hurricane. Batteries do no last as long in extreme heat or cold.
Lightweight: the belt drive
I honestly didn't know much about belt drives before getting the KBO Hurricane. It turns out belt drives have many pros (and cons) compared to their chain drive relatives.
The biggest thing you need to know about the Belt Drive in the KBO Hurricane is that it only has 1 gear. It's not a fixie bike, but it only has 1 gear. You can't change gears to go up a hill and make it easier or go up a gear to go faster – there is only 1 gear.
The pro is that this is super simple and relatively maintenance free. But the con is obviously that you can't change gears when peddaling.
How changing gears changes how you ride
The belt drive and single gear really change how you have to ride the KBO Hurricane. It's harder to go up hills (but it DOES still have pedal assist) and I found it harder to start (more on that in just a second).
However, if you are riding on relatively flat roads, this isn't that big of an issue. However, hills will be much more difficult.
Lightweight: no throttle
Another way the KBO Hurricane is a "stealth" eBike is that it does NOT have a throttle.
I actually didn't know this when getting the Hurricane, but it makes sense. It's tough to be a "stealth" road bike when you aren't even pedaling.
With the heavier weight of the RadRover 5 and KBO Breeze, I had no idea how much I actually used the throttle to start. I, instinctively, went to pull the throttle several times to get started and realized it wasn't there.
It's not all bad
Once again, the KBO Hurricane is only 36 pounds! I'm just trying to outline the sacrifices that KBO made to make this eBike weigh only 36 pounds and only $1,099!
I had some friends, who had never been on an electric bike before and they LOVED it! So, I'm just trying to put it all out there so you can make an informed decision.
Pedal Assist, what is it like?
I don't know if it's because of a different belt drive, or what, but the pedal assist – even at level 3 was less sensitive than the KBO Breeze. You could physically feel when the Pedal Assist "kicked in" to help you pedal, even at lower levels.
The Pedal Assist in the KBO Hurricane is much more subtle and take a couple of MPH to really get going. It feels like the pedal assist to go from about 4 – 15 MPH is stronger in this bike vs. the pedal assist in something like the KBO Breeze is much stronger from 0 – 8 MPG.
The Motor
The Motor in the KBO Hurricane is also much less powerful – at 250 watts – compared to the 750 watt motor of the KBO Breeze.
But the bike is also a lot lighter, which makes it not NEED as much power.
Top Speed
I was able to get this electric bike going 20 MPH on a flat surface at pedal assist level 3. It wasn't the easiest – but it's possible.
Gravity and physics will not limit you from going any faster – you can always pedal (or find a steep hill) to make the electric bike go over the assisted limit of 20 MPH.
Range + Battery
The Hurricane features a hidden (aka integrated) 36V, 9.6Ah Lithium-ion Battery With Panasonic Cells.
I haven't been able to take any of my batties down to zero yet (I'm not going on super long bike rides), but this is a more than capable battery.
KBO says this battery will give you 18 – to 53 miles of riding on 1 charge. This will, of course, all depend on pedal assist level, terrain (hilly or flat), wind, weight on the bike, etc. However, the range is technically is only limited to how much you want to pedal.
I would much rather ride and pedal this eBike with a dead battery than I would the RadRover 5! That's for sure.
Other Great Features of the KBO Hurricane
Currently, when you buy the KBO Hurricane, it comes with a free kickstand, water bottle holder, and fenders.
However, I wouldn't recommend installing the fenders unless you 100% need to. It requires removing the rear tire (and the motor) to add it. I skipped this, as you can see in my photos.
I got a previous package of the KBO Hurricane, that didn't include a kickstand, which drove me crazy. I'm super excited that the Hurricane now comes with a kickstand. It was such a pain to assemble without a kickstand!
KBO Hurricane eBike Review: How does it compare to other eBikes?
I've only had the chance to review a handful of electric bicycles, but I feel like it's a good sample to pull from.
I think it's the fairest to compare the KBO Hurricane to the KBO Breeze. I really liked the KBO Breeze, but it's a completely different type of electric bike.
Simply put: I liked the KBO Breeze more. Let me explain a bit more about who the KBO Hurricane is for.
KBO Hurricane Review: Who is it for
The KBO Hurricane isn't for me. That doesn't make it a bad eBike, though.
If you are someone that needs to move your eBike around a lot (like up to your apartment or work) or just wants something less complicated, the KBO Hurricane could be for you.
The KBO Hurricane might be right for you if…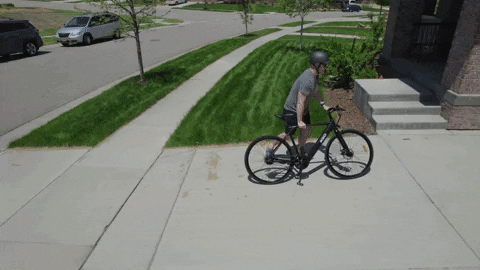 You have to move your bike up and down stairs – or just around – a lot. This could be up to your apartment/condo or to work.
You ride on flat surfaces a lot.
You don't need a throttle.
You don't need to go off-roading.
You want a little extra help getting to where you are going.
Don't mind a little extra effort to get going
Don't buy the KBO Hurricane if…
You need to carry a bunch of stuff with you – probably a backpack is all your could bring with you.
You need to go up and down hills a lot
You want the absolute best eBike and are willing to pay for it
Don't need something lightweight and small
I'm spoiled.
I'll admit it. I started with a top-of-the-line RadRover 5 and was spoiled. It is a more premium electric bike – costing almost $700 more. It's also much heavier.
I was taken back by no throttle and no gears. But I let some of my friends ride the KBO Hurricane, who had never been on an eBike before and they loved the experience.
If you've never been on an eBike before, this will still be a fun experience if your expectations aren't that it's like bigger, more powerful (and heavier… and more expensive) eBikes.
How will you use your bike?
It all comes down to how you are going to use your bike. If you need your electric bike to be super lightweight, go with something like the KBO Hurricane. If you need to carry a bunch of kids and groceries, look at something like the Rad Power Bikes Rad Wagon.
If you want to go on some light trails, check out the KBO Breeze. If you want to go mountain biking, check out the RadRover 5.
The KBO Hurricane is a classic, no-frills road bike. It's not pretending to be something that it's not and you shouldn't set the expectation that it's something that it's not.
Can I put together a KBO eBike by myself?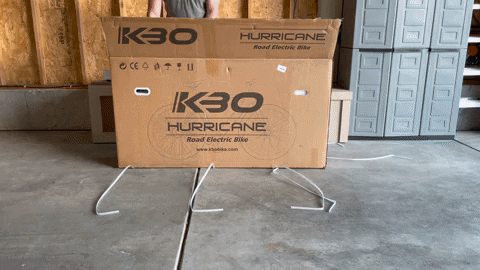 Yes, you can put the eBike together. However, I recommend that everyone have a bike mechanic come and look at your bike to make sure you put it together correctly.
A quick note on mechanical disc brakes
Mechanical disc brakes can be SUPER tricky. I, for some reason, had really bad luck with the Disc brakes on this bike. The bike mechanic that looked at them was able to quickly fix these, but said that it is super common to have issues with mechanical disc brakes aligning – especially if you don't do it a lot.
I watched every video on Youtube and still wasn't able to get them to work. Just save yourself the time and heartache and get a profession to look at them.
Also: mechanical disc brakes also take some time to "wear in." This means that they will take a bit of time to not be super loud when braking.
A Cool little tool that comes with the Hurricane
The KBO Hurricane (and the KBO Breeze) come with this little cool multi-tool, which comes in handy. I'd still recommend getting an Allen Wrench (that I put in my top electric bike accessories) for putting it together, but KBO provides all the tools you need to put this bike together.
KBO Hurricane Review: the final verdict
This bike isn't for everyone – and that is 100% OK. If you are needing to carry your bike or move it around often, this might be the right electric bike for you.
This is a fairly good deal on an electric bike. It obviously has less features, but also costs lest and is much lighter,
Not incredibly versatile. This bike is good for flat roads mostly.
This bike is LIGHT…and fairly small. I've only tried one other eBike that was smaller – but it was a joke. This is a super lightweight eBike that doesn't feel like an eBike
I love how this bike doesn't even look like an eBike. It just looks like an awesome street bike.
Because this bike is so lightweight, I wouldn't worry about running out of juice – it's not hard to pedal.
This is probably where I was most disappointed. I just expected more pedal-assist "oomph" than I got. However, the 250w Motor is much smaller (and lighter and less expensive).
If you need an eBike that you can easily carry up and downstairs, check out the KBO Breeze. If you don't need to move your eBike a lot, then check out another eBike.
KBO Hurricane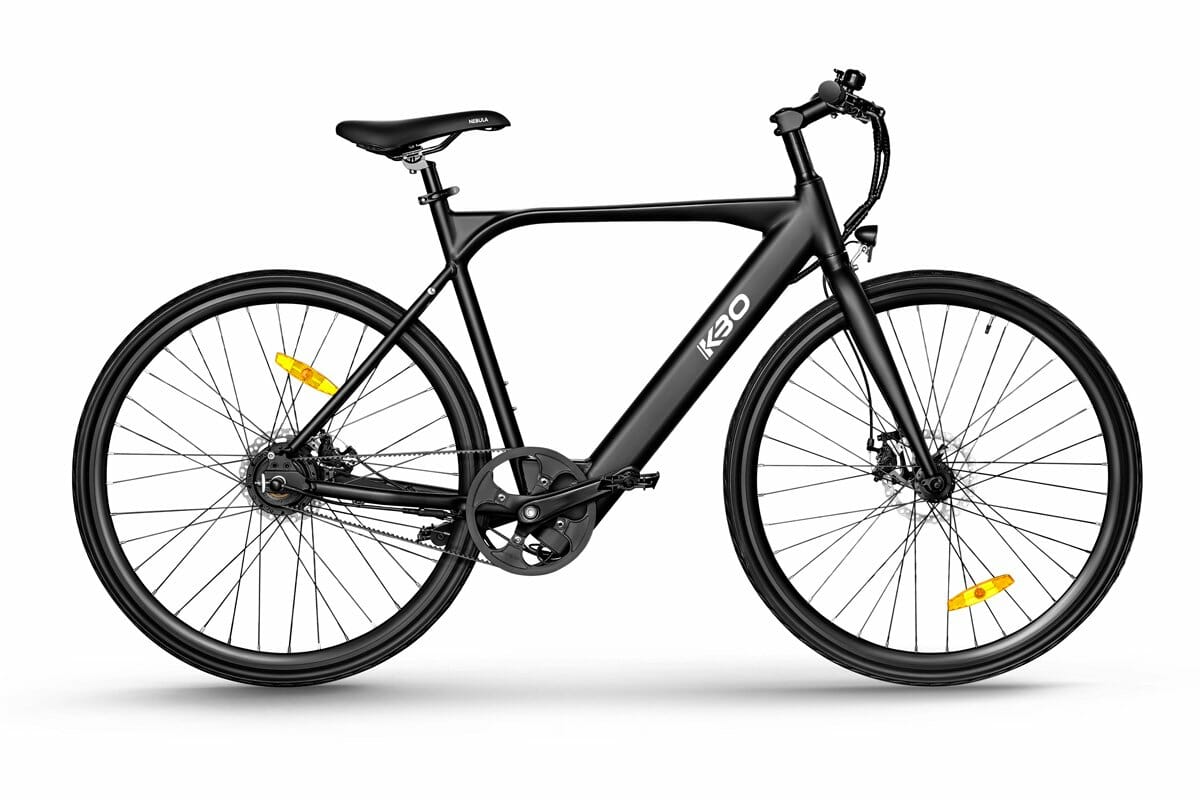 Pros
In stock right now
Much cheaper than other ebikes
SUPER DUPER light weight
Easy to move around
Non-descript
Cons
Less power
No throttle
No removable battery
No on-bike storage

No gearts
Perfect for the urban commuter who doesn't need a ton of power, but needs an eBike to transport easily.
How fast does the KBO Hurricane go?
The KBO Hurricane goes up to 20 MPH assisted. However, physics won't stop you from going any faster. The motor stops working at 20 MPH, so you'll have to pedal yourself or find a steep hill if you want to go faster. The KBO Hurricane DOES NOT brake if you go over 20 MPH, but the motor will stop assisting you.
How much does a KBO Hurricane weigh?
36 pounds is the official weight of the KBO Hurricane without any added accessories.
Does the KBO Hurricane have a throttle?
No, the KBO Hurricane does not have a throttle.
KBO Breeze eBike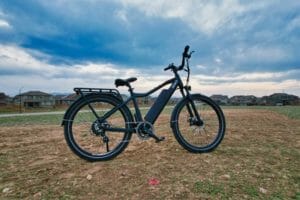 The KBO Breeze is a great value for an eBike. It has a ton of great features, comes at a great price point, and is in stock right now. In this KBO Breeze review, we'll dive into some of the small shortcomings and compare it to other electric bikes.
Product Brand: KBO
Product Currency: USD
Product Price: 1499
Product In-Stock: InStock