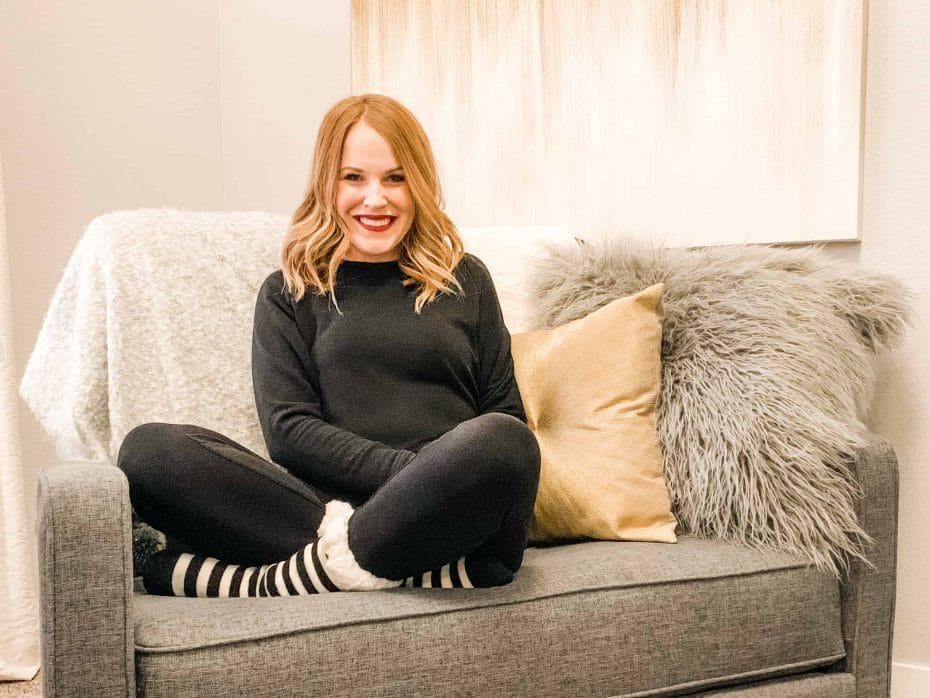 Lou and Grey: What you need to know
Lou & Grey is a new clothing brand that has been everywhere lately, you've probably even seen some other Lou and Grey Reviews. They believe in making crazy soft clothing (and when I say crazy soft, I mean it – like jumping on a cloud soft) so you can be stylish and comfortable- now that sounds like my kind of clothing!
Making more than just clothing
They also partner with female-founded brands that have sustainable practices and work to empower women in their global supply chain. I say yes to all of this- now let's check out the clothing!

I love how many women they support in different factories all over the world. That's an incredible thing. Sure, I like comfortable clothing (who doesn't), but isn't it amazing that you can also support these women, too?
Are they just sweatshirts and sweatpants?
I tried Lou & Grey's Signaturesoft Collection with the Signaturesoft Plush Upstate Sweatshirt and the Signaturesoft Plush Upstate Sweatpants (trust me, to call them sweatpants and sweatshirts are a disgrace!).
You don't need to look any further than Lou and Grey's website (now part of LOFT) as to why I chose the Signaturesoft collection!

Lou & Grey Review: What I LOVE
Their ethical practices, empowering women and looking at their entire supply chain! Beyond just fashion and comfort, we love to support brands like Lou Grey doing more!
Their focus on SOFT clothing- the sweatshirt and sweatpants I purchased are so soft and I know they will be some of the first things I reach for after laundry day! I put them on right after I wash them.
Their Signaturesoft collection is loungewear that you could wear out in a pinch. Some of the pieces look super sharp-from jumpsuits to dresses!
They have a broad range of clothes, but have I mentioned yet how soft they are?!
What we don't love about Lou & Grey
Items are a little pricey for loungewear. Typically sustainably and ethically sourced clothing is more pricey because cutting those corners saves money.
Ordering things online is sometimes challenging due to sizing, but they do have a few stores in the US. 
Granted, I'm not going to win any style awards for these clothes – but they sure are comfortable!
Who is this product for?
I think the Signaturesoft collection would be great for anyone looking to be comfortable while they relax at home. It's not to wear at on the red carpet or fancy affairs – and that's ok!
Whether you just got off work and want to take off your work clothes to watch Netflix on the couch or you are crawling around on the floor with your kids – I think you will feel comfortable in the Signaturesoft collection.
They also have so many other items that are much dressier and look fantastic for work or date night. I think the thing that makes this brand special though is soft loungewear. 
Review of the Lou + Grey items I purchased:
Item 1: Lou & Grey Signaturesoft Plush Upstate Sweatpants (Size XXS, size down)
These are some of the softest pants I own and I like my stretchy pants haha! They are high quality and the fabric is soft like butter. I sized down one based on other reviews and I think they fit well. If you are someone who likes wearing really loose loungewear I think you could buy your typical size. 
I even found the Lou + Grey Sweatpants on sale here.
Item 2: Lou & Grey Signaturesoft Plush Upstate Sweatshirt (Size XXS, size down)
This is a very soft sweatshirt and the crew neck makes it easier to wear if you are sleeping or laying on the couch! This is roomy enough that you can layer a tee underneath. I sized down one, but depending on your preference you could order true to size for a relaxed fit. 
Lou + Grey: How to style
I would wear the Lou & Grey Signaturesoft Plush Upstate Sweatshirt and the Signaturesoft Plush Upstate Sweatshirt as a set. Throw on a pair of fuzzy socks and binge your favorite show – now that's a good Friday night!
I know that I'm reading a book here, but you know it's my go-to clothes for watching Bridgerton. Isn't it the same for you!?
Even Loft recommends buying as a set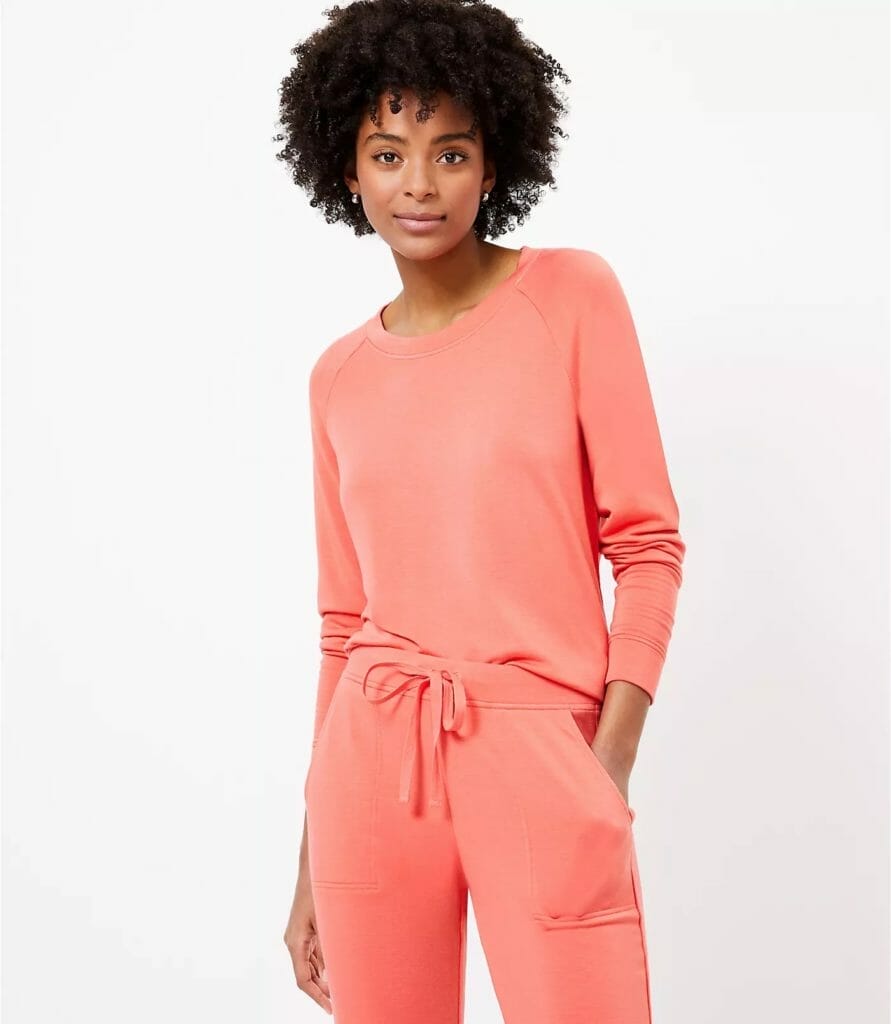 As I mentioned, you're not going to win any style or fashion awards with Lou Grey clothes, but you will be incredibly comfortable with the relaxed fit. Fashion isn't the game here. Comfort is.
Lou and Grey's website recommends you dress these into pairs, just like I do. It's a great an easy way to shop, on top of that. Seriously, who wants to shop for matching sets when they do all of the hard work for you?
Not me! I just love that Lou Grey does all the hard work for me and allows me to do what I do best – relax after a hard day with the kids.
Lou + Grey: What we didn't like
To be honest, sometimes there is low stock in some of the items and we hate that. We'd love every item to be available all of the time. Wouldn't that just be perfect?
How to size!
I know why Lou & Grey does it, but their styles don't run true to size. It is frustrating that they don't run true to size. I recommend that you size down on everything you buy from Lou + Grey. While it's tough not being able to try them on in store, I get it, they don't run true to size.
Basically, size down on everything you buy from Lou Grey. Even the waist was too large.
The good news is that you can easily return and exchange items on the site.
Lou and Grey Review: Alternatives
Alternatives for this are tough because you can buy sweatsuits for so cheap! Wear them long enough and they will be the softest thing you own- haha! This set is super soft the second you receive it and I love their mission. I think it would also make a great gift for the homebody.
Another great alternative is the Outdoor Voice Cloudknit. Read our Cloudknit review.
Lou & Grey Review: The Final Verdict.
All in all, I am loving my new sweatsuit! I love the matching pieces, the super soft fabric, the quality of the pieces and I feel good supporting businesses who try to do good in the world. I would definitely encourage you to try their Signaturesoft collection for yourself or gift it to a friend. I can't wait to try some of their other styles!
Here's where we've found the best deal on Lou and Grey.
Have any question or comments in your search for the most comfy clothes? Let us know in the comments below!