Fabletics is the new name for a clothing line that has been around since 2013. This brand was founded by Kate Hudson and it's one of the newest direct-to-consumer athleisure brands to pop up.
You may have seen Kevin Hart advertising fabletics (or even Kate Hudson) or seen their countless online ads, but what does this brand really offer? What are the pros and cons? We'll tell you everything you need to know about Fabletics in our fabletics review.
A great athleisure brand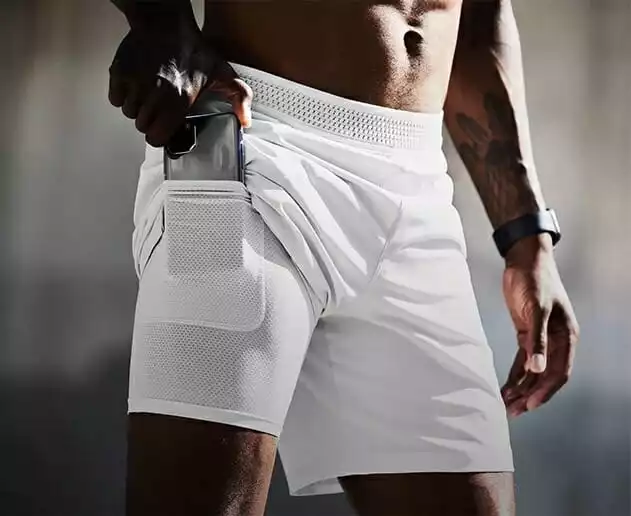 Fabletics
Pros:
Affordable prices

Super comfortable clothes

45 return policy

Innovative fabrics

Clean designs
Cons:
Confusing membership process

Wide range of prices

Some styles a bit "out there"

Some inconsistent sizing
Shop Men
Shop Women
We might earn a commission if you make a purchase, at no additional cost to you.
What is Fabletics?
Fabletics is a men's and woman's activewear brand launched by TechStyle Fashion Group in 2013, introduced Fabletics Men in 2020, a new activewear label with a singular mission to "cater to guys that the older performance brands have left behind."
Fabletics Men aims to succeed by "obsessively focusing" on four bedrock areas: fit, function, feel, and style. 
Kevin Hart partnered with Fabletics to launch the brand and has served as a spokesperson ever since. You've probably seen him in their TV and social media ads.
TechStyle Fashion Group: Who are they and what do they do?
TechStyle Fashion Group is an American fashion company that owns and operates the brands SAVAGE X FENTY (LINGERIE BY RIHANNA), JustFab, ShoeDazzle, and more.
The group launched the direct-to-consumer athleisure brand Fabletics in 2013, with the help of Kate Hudson. Since then, it's expanded to include good quality men's clothing, too.
Fabletics Review: What's the big idea?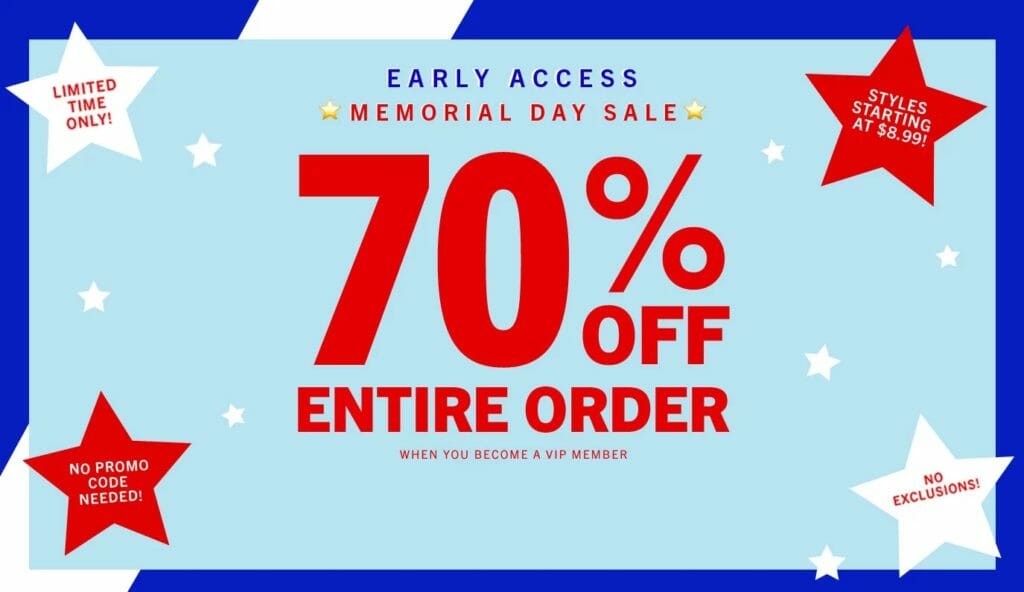 Fabletics has some great quality clothes (some we like and some we don't, which we'll dive into deeper here shortly).
The main difference between Fabletics and some other athleisure brands you may have seen is the VIP Program. You will see the second you visit the website, they will be trying to get you to join their VIP Membership.
Of course, you can buy the items from Fabletics at a fairly normal, slightly expensive price. However, Fabletics will try and convince you to join their membership program.
Even if you have no intention of keeping the membership program, it still makes sense to sign up. Here's why:
Fabletics VIP Membership Program: The Details
First of all, Fabletics has amazing deals to get you to sign up (and it's important to now that you ARE signing up for the Fabletics VIP Progam when you "sign up."
For example, right now, they are offering 2 pairs of shorts for $24 + 40% off sitewide when you sign up right now.
That's a crazy deal: $12 for a pair of shorts!? Yes, please!
Fabletics VIP Program: We test the claims
The details of the program are really simple. There's no need to get your glasses out for the fine print.
The Claim
On the 6th of each month, you'll be charged $49.95 for a Member Credit, which can be redeemed for any 2-piece outfit or item up to $80, online or in-store.
The Reality
✅ This actually works exactly as advertised.
The Claim
Don't want a credit this month? Visit the site between the 1st and 5th of the month, click "Skip the Month", and you won't be charged.
The Reality
✅ I simply have a reminder set (hint: use followupthen.com) on the 2nd of every month to remind me to skip the month. I've never had a problem.
The Claim
Any unused credits expire after 12 months. (Don't worry, we'll remind you!)
The Reality
✅ I had some credits about to expire and I got a friendly reminder several months in advance!
The Claim
You get great deals on clothes and member-only pricing.
The Reality
✅ This is 100% true. I get emails all the time about exclusive, member-only deals that are going on. Some of them are great.
They also claim to make it super easy to cancel your membership. The best news? You don't have to jump on a phone call! You can cancel your membership via chat on their website… (with a member services team rep) even better!
Fabletics Membership Review: The final verdict
If you want to try out Fabletics and not spend a bunch of money, the Membership program is a great way to test it out – especially since you can get 2 pairs of shorts for only $24 – that's incredible!
Don't worry, it's easy to skip (just set a reminder) and you can cancel at any time via chat with a member services team representative.
Trust me: I hate membership programs just as much as you do, but this one is pretty painless to pause and cancel.
I like to have 1-2 membership credits just in case I see something that I really want, I don't want to have to wait an additional month to wait for another credit and risk it being out of stock.
I also don't want to pay full price (which I'd have to without a credit to use).
Membership Credits: Be careful how you use them
Both of these cost 1 Member Credit – which would you rather have? The Fabletics VIP Program works on credits, but not all VIP Membership credits are created equal in the fabletics collection. As a Fabletics VIP Member, you can spend your VIP perks really well, or really poorly…
You can game the system a little bit here because all of the items are 1 membership credit, but items on the Fabletics site range in price from $70 – $7, just use your credits wisely and use them within the year, or else they would expire! This is overall a pretty wonderful experience that Fabletics offers.
Fabletics Review: The Clothes + What we tried
We had the chance to try a couple of items from Fabletics, but we were most interested in their shorts – so that's what we tried first.
Are Fabletics Shorts any good?
Fabletics shorts are a pretty good option, especially is you sign up with one of their specials offers and get 2 pairs for $24. They have a wide variety of pairs with different functions.
We probably wouldn't pay retail price (or "full price") for them, but they are a great overall deal if you get them in one of their specials.
A good general rule of thumb for Fabletics is this:
Fabletics Men's Shorts: What we were most interested in
Since we first got the great 2 pairs of Fabletics Mens Shorts for only $24, we put them to the test, first.
Fabletics Review: Courtside Short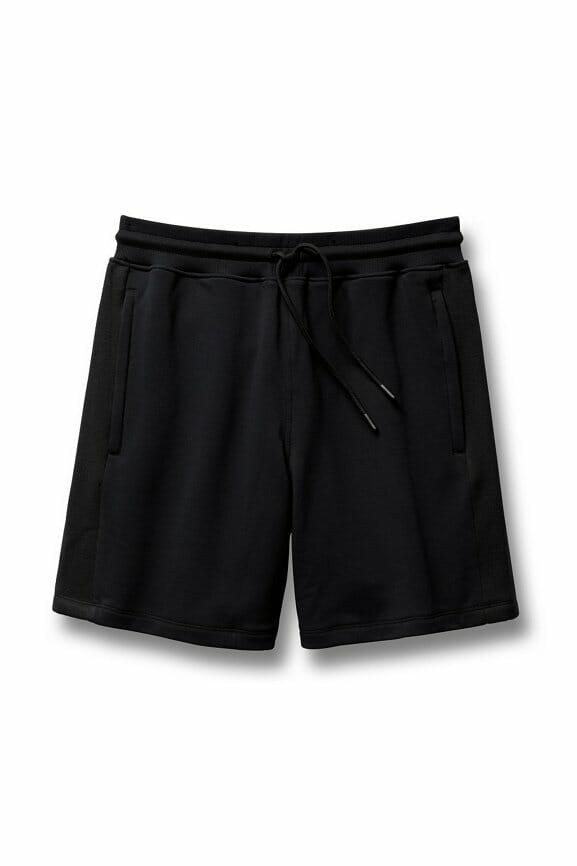 These shorts were a close runner-up in our best Work From Home Shorts Review. Fabletics says the Courtside Short is: World-class French Terry, functional style lines, and a signature silhouette work together to create the perfect laidback short. Easygoing and made to live in, these relaxed fit shorts have a 7" inseam and zip pockets.
What does that all mean? It means that the Courtside Short is perfect for lounging around the house. I don't really think the name fits the product here, this is really for working from home or just lounging around the house.
This is also an area where you can game the Fabletics VIP Membership a bit: the shorts are $49.99, or 1 membership credit. We would never pay $49.99 for these (and another reason to use the current membership deal of 2 shorts for $24).
As of writing this, Fabletics has another deal going on right now where you can get the Courtside Short and a sleeveless t-shirt for $59.99 (or one membership credit). You get the idea. You can usually get a pair for the same membership credit.
The Courtside Shorts also have nice, zippered pockets, which are super convenient for keys and cell phones (see our Public Rec Shorts Review).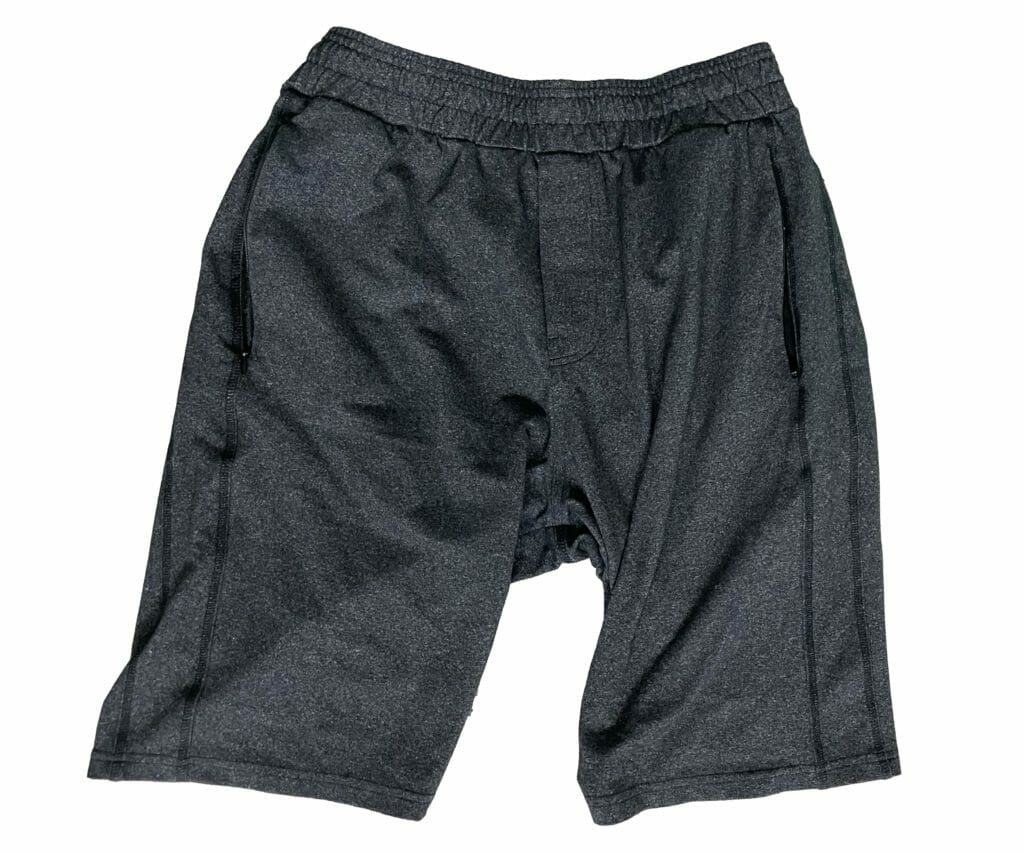 Overall: the Courtside Shorts are well-made and very comfortable. They do have a piece of slightly different fabric on the sides of the short that aren't as noticeable in the pictures on the website but is more noticeable in person.
That's not a deal-breaker by any means. You simply don't want to be surprised. They are a no-brainer at $12, but a bit of a stretch (no pun intended) at $49.99.
What others say about the Courtside Short
Don't just take our word for the Courtside Short Review. Here's what others are saying about the Courtside Short*:
Fabletics Review: Franchise Short
Fabletics says the Franchise Short is "Our bestselling short is made from our most durable fabric that's coated with sweat-wicking and anti-stink tech. Its multiple pockets (including bounce-free hidden storage for your phone) make this a top performing utility short."
This is a true workout short that is comparable to something like the Myles Momentum Short.
It looks – and feels – like a workout short.
It has a nice, zipper pocket in the back, perfect for a cell phone. There are also several different varieties:
Lined or unlined (I, personally, prefer unlined)
7-inch inseam or 9-inch inseam (I typically wear the 9 inch inseam)
Several different colors
Overall, this was a great, high-quality workout short.
The only thing we didn't like: the waistband felt a little tighter than other workout shorts we've tested.
Yet another example of how you could game the VIP Membership System here. The short is $44.99, or 1 membership credit. However, you can also get a 2-pack for $74.99, or 1 membership credit. Obviously, the latter is the better option – even if you only are thinking about getting 1. The price is still the same!
If you're the athletic type, check out what to wear under board shorts, while you're at it!
What others are saying about the Franchise Short
Don't just take our word for it on the Franchise Short Review. Here's what others say*
Fabletics also has the Fabletics Foundation Short, but which we just got our hands on the upgraded version.
Fabletics Foundation Short: Quick review
The Foundation Short II is full of features like:
Shorts Inseam – 7in
4-Way Stretch
Anti-Static
Anti-Stink
Hidden Pockets
No-Roll Waistband
Sweat Wicking
It's designed to be the ultimate in workout clothes and take you wherever you need to go, to be the first piece of workout gear you reach for in every workout routine.
While I still love the Myles Every Day Short (read our Myles Review), this short can be found from Fabletics offers for much cheaper – even with store credit.
These shorts are a reasonable price for VIP members, but another item you can get at great prices – just don't pay full retail (which VIP Members never do).
Fabletics Review: Mogul Vest
Mizzen + Main made me a vest guy (read my Mizzen + Main Vest Review). So, I thought I'd test out another Vest.
Once again, when you sign up for Fabletics VIP Membership, you get 40% off the whole site on your first order (a great tactic on their behalf to get you in more of their gear!). I honestly didn't need any other clothes, but I decided to give the Mogul Vest a short.
It was originally $44.99, but was 40% off ($27). I felt this was a good value.
While the Mizzen + Main Vest is fairly "dressy" – this vest is much more casual and athletic-focused.
Nothing wrong with that at all, just a different type of vest. It has a bright orange liner which gives it's a subtle (but only because it's the inside of the vest) pop. You only see the orange when the vest isn't zipped up the whole way.
Otherwise, it was nice, comfortable and provided just the right amount of warmth.
Other Reviews of the Mogul Vest
Here's what some others are saying about the Fabletics Mogul Vest:
I have no idea why the reviews I randomly came across were from Ryan, Bryan and Brian. Must be part of the typical demographic for Fabletics!
Fabletics Pants Review
We just got the Brand new Fabletics Only Pant in the mail and we'll post our fully Only Pant Review shortly!
But here:s what you need to know:
They are similar to ABC Pants (read our ABC Pants Review)
The quick review: these pants are super lightweight and breathable. They also look great!
We were able to use one of our VIP Member credits to purchase (so about $40), and we're incredibly pleased with the purchase!
Fabletics: What you need to know
Fabletics is a unique athleisure brand that has a different kind of business model. It's funny how, it seems like, every clothing brand needs to have their "own thing."
What sets fabletics apart is that they have a membership program.
A great athleisure brand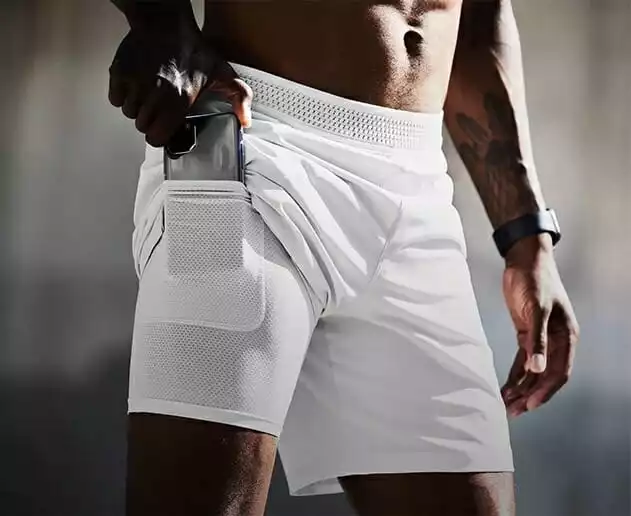 Fabletics
Pros:
Affordable prices

Super comfortable clothes

45 return policy

Innovative fabrics

Clean designs
Cons:
Confusing membership process

Wide range of prices

Some styles a bit "out there"

Some inconsistent sizing
Shop Men
Shop Women
We might earn a commission if you make a purchase, at no additional cost to you.
It's called the VIP Membership Program and it offers certain perks to their members for $49.95/month
1 Membership Credit redeemable for any clothing on their website
20% – 40% off retail prices on all purchases
Free shipping on every order over $49
Exclusive deals, discounts and promotions (both online AND offline)
Access to the Fabletics Fit App – personalized workouts on the go
If you are at all interested in the clothes, start with the 2 shorts for $24 offer and give the clothes a try. You'll have 45 days to put them to a "sweat test" and see if they are right for you. Get started by selecting your two shorts for $24 here!
Also, looking for a better ABC Pant Alternative? Our guide to ABC Pants and the best ABC Pant Alternatives is a good place to start! Also, check out our guide to lululemon swim trunks.
*Reviews re-written for uniqueness.