Perfect Jean Khakis Review: TL;DR
The perfect jean NYC is one of our best values, but what about the new perfect jean khakis? It turns out they are pretty darn good, too.
Hey, hey, hey, it's not every day you see something that stops you mid-scroll and makes you wonder, "What in the name of hybrid fashion is this?" Enter the "Perfect Jean Khakis." Yep, you heard that right.
It's like someone at a design meeting said, "Why choose between jeans and khakis when you can have both?" and then dropped the mic. I mean, could this be the ultimate Reese's Peanut Butter Cup of pants, combining two beloved classics into one mind-blowing creation?
Khakis... really?!
Perfect Jean Khakis
From the company that said, "F#%K Your Khakis" comes... Khakis?!
Yup. It turns out they are awesome, too.
Buy Now
We might earn a commission if you make a purchase, at no additional cost to you.
Now, I know what you're thinking. Jeans are the dependable friend that helps you move furniture and accompanies you to dive bars, while khakis are that preppy buddy you invite to Sunday brunch. Can these two really co-exist in a single pair of pants?
Well, we ordered a pair to find out. Are these khakis about to change our lives, or are they the mullet of the fashion world—confused and not sure where they belong?
First Impressions: When the Packaging Speaks Volumes
Let's cut to the chase. When these "Perfect Jean Khakis" landed on my doorstep, the experience was a bit of a mixed bag (pun intended). The larger shipping bag was pretty standard—none of that "F#%K YOUR KHAKIS" branding that the company usually flaunts. A toned-down approach? Maybe they're aiming for a wider audience, who knows?
However, once we got past that outer layer, things got interesting. The smaller bag housing the khakis proudly displayed the cheeky "F#%K YOUR KHAKIS" slogan. It's like they couldn't fully let go of their rebellious roots, and honestly, it's a bit amusing. It's as if they're saying, "We're sort of formal but still got that edge." .
..or they just haven't got new product bags. 🤷‍♂️
As for the pants themselves, they look good right out of the bag—no unnecessary frills, but a quality feel to them. The color is a nice blend between classic khaki and laid-back denim. We'll dub it 'Sophisticated Casual.'
Overall, the first impression left me both curious and optimistic. The pants seem to straddle the line between casual and formal quite well, just like their branding. Time to slip these on and find out.
The Fit: Super Stretch
Alright, so here's where things get real. I slip into the "Perfect Jean Khakis," and it's déjà vu. These khakis are eerily similar to the brand's flagship "Perfect Jean," which, if you've worn those before, is a pretty good sign. The stretch is there, folks, and it's not just a casual stretch; we're talking yoga-instructor levels of flexibility.
Sizing: A Plot Twist You Didn't See Coming
But let's chat about sizing because that's where the plot thickens. Usually, I'm a solid 32 waist and 30 length in other brands. With these, though? A 30 waist fits like a dream. That's right, two sizes smaller! Sounds crazy, I know. But the stretch in these pants forgives all sorts of indulgences—like that extra slice of pizza or the skipped day at the gym.
If you're feeling skeptical or unsure, fear not. Perfect Jean offers a killer return policy, which is basically like a safety net for your fashion choices. Ordered the wrong size? No biggie, they've got you covered.
So, when it comes to fit, these khakis are just like their jean counterparts—stretchy, comfortable, but run a bit larger than you'd expect. It's not a bait-and-switch; it's more like a pleasant surprise you didn't know you needed.
So we've got the fit down, but what about everything else? Are these just comfy pants, or do they bring more to the table? Keep reading to find out.
Material & Craftsmanship: The Recipe for Comfort or Disaster?
Let's talk composition, shall we? These aren't your ordinary, run-of-the-mill khakis. The Perfect Jean Khakis are made of 78% cotton, 20% polyester, and 2% spandex. So what does this magical blend mean for you? Well, it's like a delicious cocktail that's three parts comfort, two parts durability, and a splash of stretch.
A Blend to Remember
The cotton gives it that soft, "I could sleep in these" feel, while the polyester adds a layer of durability that says, "Go ahead, live a little!" Finally, the 2% spandex gives it that stretch we've been raving about. It's like the pants got their bachelor's in comfort, but minored in flexibility.
Stitch Perfect or Loose Threads?
But what about craftsmanship? Is this a pair of pants that will survive both the test of time and the washing machine? From what I can tell, it's a resounding yes. The stitching is on point—solid enough to make it through a random burst of lunges or leaps. No golden threads or artisanal embroidery, but also no loose ends threatening to unravel my social life.
In a nutshell, the Perfect Jean Khakis are a lot like a good friendship—soft and comforting, thanks to the cotton, but durable and flexible, thanks to the polyester and spandex. It's a blend that doesn't just talk the talk; it walks the walk. So, now that we've covered the basics, what about the little extras that can make or break the deal? Keep on reading to find out.
The "Dance Test"
Okay, so I did a little jig, popped a squat, and even threw in some high kicks for good measure. The verdict? These pants hold their own. No rips, no popping buttons, and most importantly, no loss of dignity.
In the pockets department, we've got your standard setup—no hidden compartments or built-in fanny packs. But they're deep enough for your phone, keys, and the seven random receipts you'll forget to throw away.
So what have we learned? The "Perfect Jean Khakis" seem to be more than just a pretty face—they're like that kid in school who was good at both sports and academics. Annoyingly perfect? Maybe. Worth having around?
Conclusion: To Khaki or Not to Khaki, That is the Question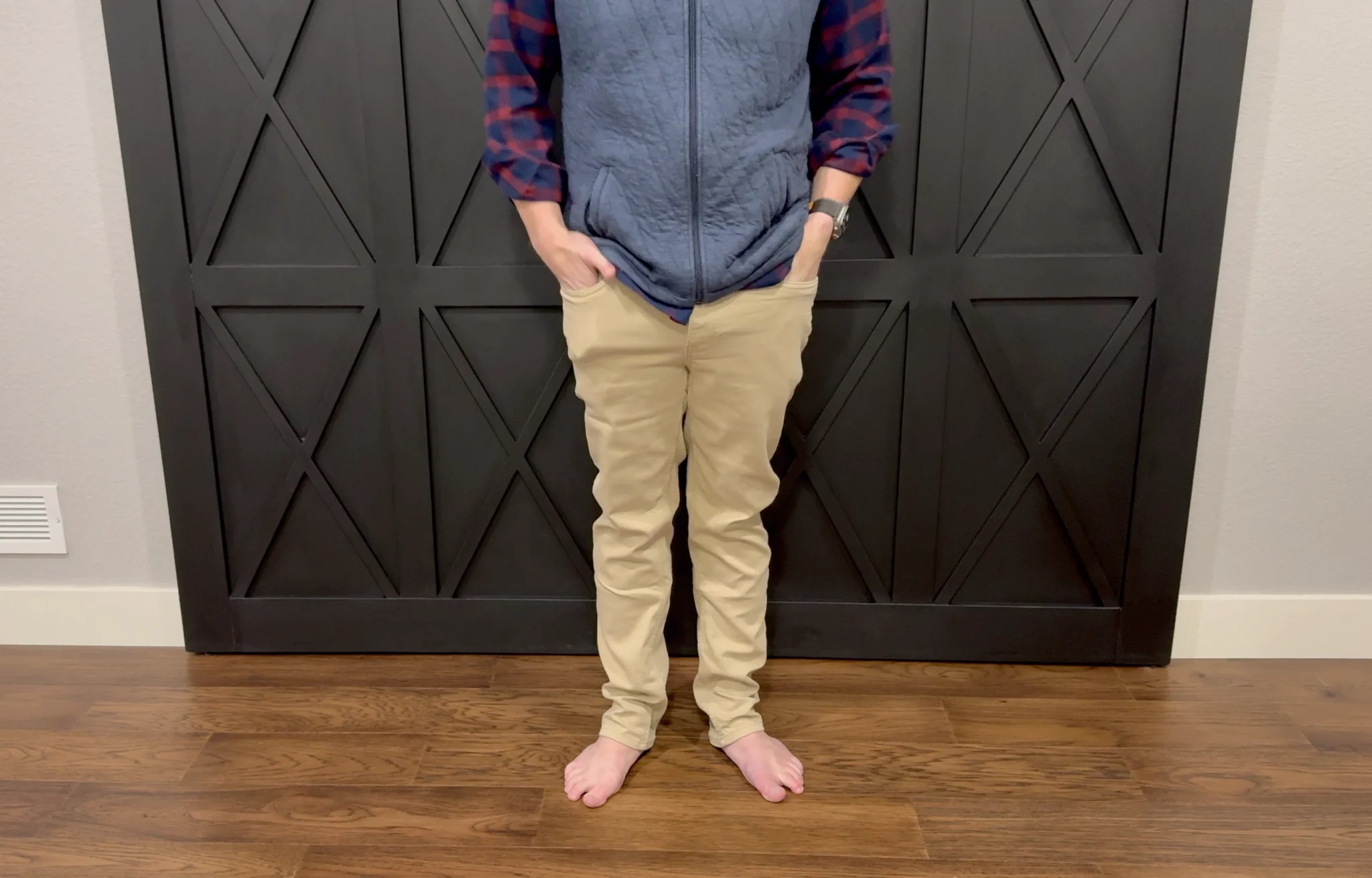 Alright, folks, we've poked, prodded, and practically lived in these "Perfect Jean Khakis." We've assessed their fit, felt up their fabric, and put them through the social media wringer. So what's the final verdict?
The Price Tag: A Fair Trade
Khakis... really?!
Perfect Jean Khakis
From the company that said, "F#%K Your Khakis" comes... Khakis?!
Yup. It turns out they are awesome, too.
Buy Now
We might earn a commission if you make a purchase, at no additional cost to you.
Now, what about the cost? These bad boys come in at $89.99. Look, they're not dirt-cheap, but they're not outrageously expensive either. It's a pretty fair price for what you're getting—a pair of pants that are likely to outlast cheaper options, both in style and durability.
And let's be honest, who among us hasn't been hesitant to wear something pricey out of fear of ruining it? With these khakis, that fear pretty much evaporates. They're priced just right—high enough to ensure quality, but not so high that you'll have a minor panic attack if you spill your morning coffee on them.
A Straightforward Verdict
So, should you buy the Perfect Jean Khakis? Absolutely. They fit well, they're super comfortable, and they're made to last. And at $89.99, they offer great value for the money. They're the kind of pants you'll feel good wearing and won't feel bad living in.
And that's it, folks. The Perfect Jean Khakis are a solid buy, and they've got the "We Tried It" stamp of approval. Would I recommend them? Absolutely. They're a reliable, comfy, and reasonably priced addition to any wardrobe.