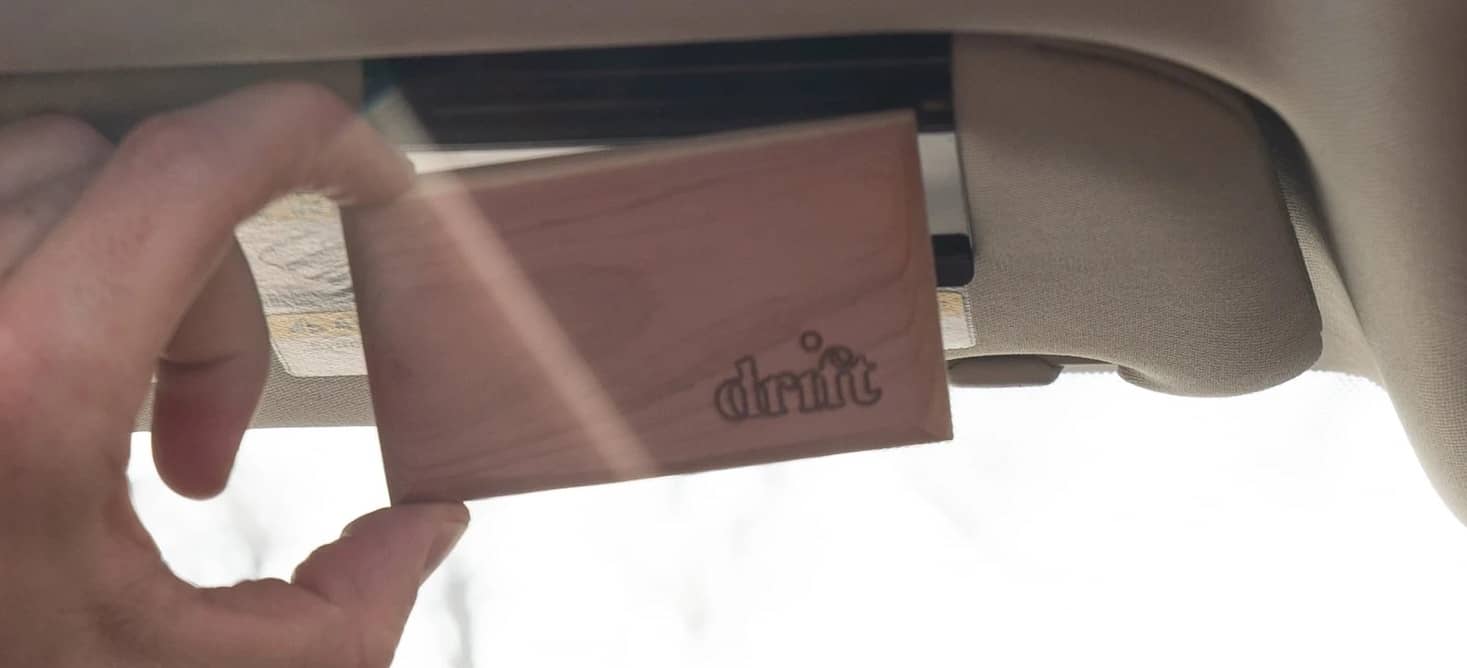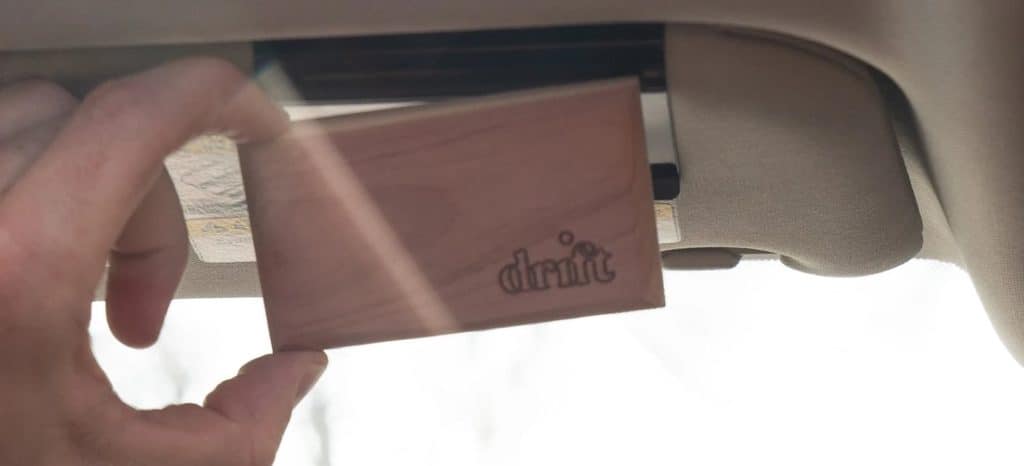 Have you heard of the new Drift Air Freshener? We've been using this awesome air freshener in our car for the past several months and we love it! Read on to get our exclusive Drift Promo Code and read our full Drift Review!
Can't wait? Get our Drift Promo code by clicking the button below and save $$!
Drift Review: What is the Drift Air Freshener?
Drift is a really cool monthly air freshener for your car. For only $8/month you get a monthly scent sent to you. We, personally use the Wood version (see photo below for the clip on your sun visor) but they also have a Room Spray and Car Vent version (named "Rove").
You simply slide drift into the holder on your visor and your call smells amazing!
Every month you get an email asking you if you want the scent of the month – or if you want to switch it for a different scent or pause/skip it.
It's really pretty easy!
Drift Review: What about the scents?
As we've talked about time and time again, Scents are a very personal thing (see our Pura Review, for example). Some people love some scents while other people hate the same one.
It's tough to describe a scent. We get it.
But we've had Drift for several months now and there's only been 1 scent we didn't 100% love. We typically have the "scent of the month" sent to us just for some variety.
Even better: they offer free shipping by ordering directly on their website.
What we get every month
However, if a particular scent of the month doesn't sound good – you can always switch it for another scent that you've probably had before.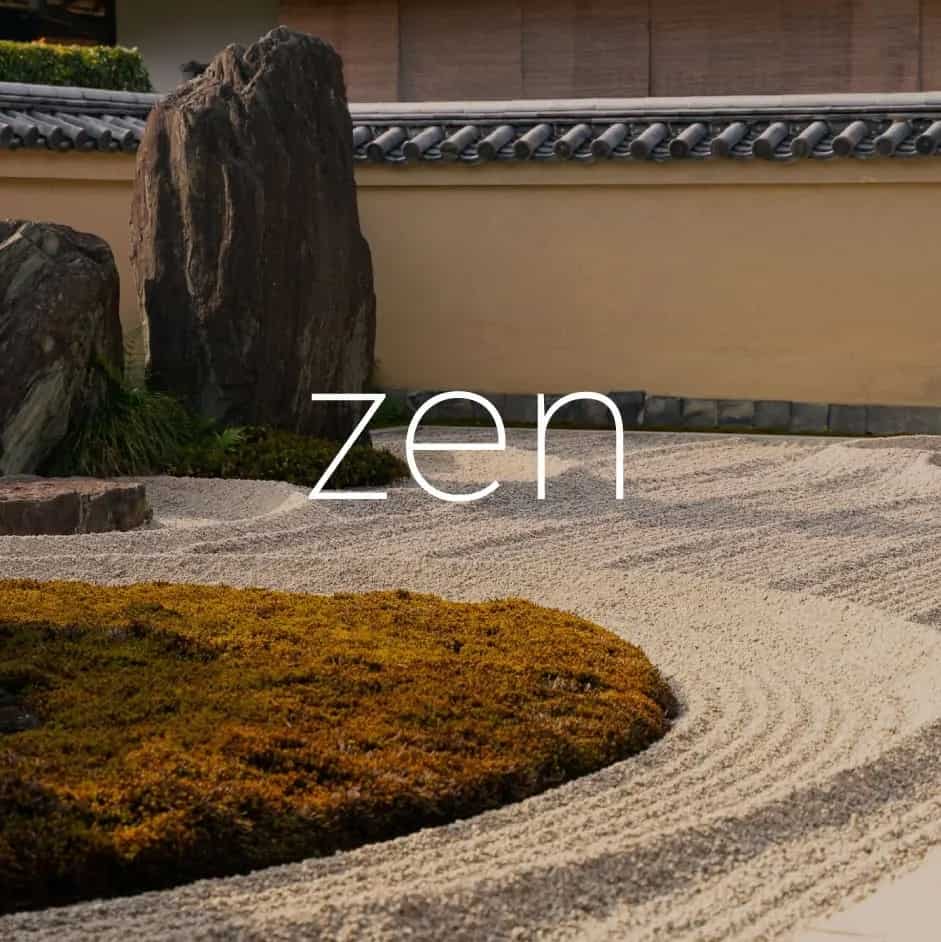 For example, this month's Scent of the Month is "Zen": a scent inspired by japanese zen philosophy which emphasizes simplicity, tranquility and ease of mind. with fresh notes of hinoki cypress, calming lavender and eucalyptus and rejuvenating citrus and blossoms, this one will keep you cool in any rush hour. in zen, experiencing the original nature of mind is experiencing an awakening. so sit down, relax, breathe in, and get zen.
scent profile:
hinoki cypress, patchouli, clove, lavender, eucalyptus, orange blossom & jasmine
What most of the Drift Air Freshener Scents are like
The fragrances are more on the "clean," "masculine" and "earthy" side. You won't find many fragrances that are flowery or perfumey, which we don't care for.
It would be nice is some of the Drift fragrances has some citrus smells. But that's the great thing about Drift – they are always coming out with new scents!
Drift Review: Does it make your car smell good?
We've got 2 kiddos and a large SUV. So, making our car smell good is not the easiest task in the world. However, the Drift is up for the challenge.
Mrs. We Tried It typically is the one that changes our the Drift and Mr. We Tried It typically notices it the second he gets in the car. It make the car always smell fresh.
Drift Air Freshener: The Style
I know this is a silly thing to call out, but I hate the way other fresheners look in your car. Seriously, how tacky does this Febreze Freshener look? Especially in a really nice car.
I've always hated the ways those look and in our Land Rover, it just doesn't go.
Plus – everyone can see the freshener just hanging out in the open. It's a no go for us.
The design of the Drift Air Freshener works perfectly – just clip it on your sun visor and you won't see the Drift Air Freshener. And even if you do see the air freshener, it doesn't look tacky.
The Rove
Drift does have an Drift air freshener that does go on your vent, however, we prefer the one that clips on your visor.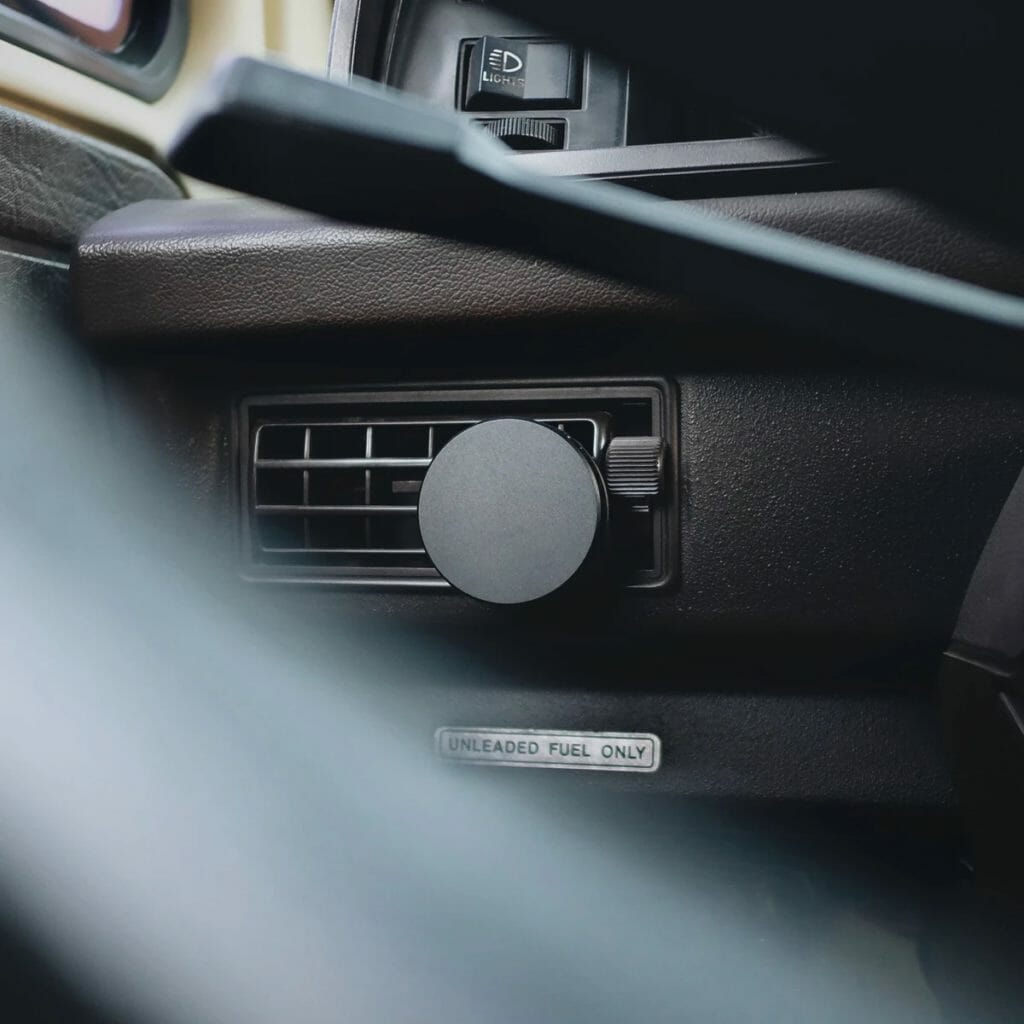 The same great scents that make Drift on of the best air fresheners on the market are also available in the Rove.
A bonus Drift function
Back when we were not driving our car as much, earlier in the year with stay-at-home orders, we actually moved the Drift air freshener to our garbage can. It really helped with the smell!
Since then, we've moved it back to it's rightful place – in the car.
Drift Review: The Final Verdict
It's hard to write much more about Drift: it's a great $8/month service (no extra shipping cost) that helps your car smell even better. If you want to save even more and get your first month for $4 – then use our special Drift Promo Code to save more.
Drift Promo Code: How to save $$
Drift Air Freshener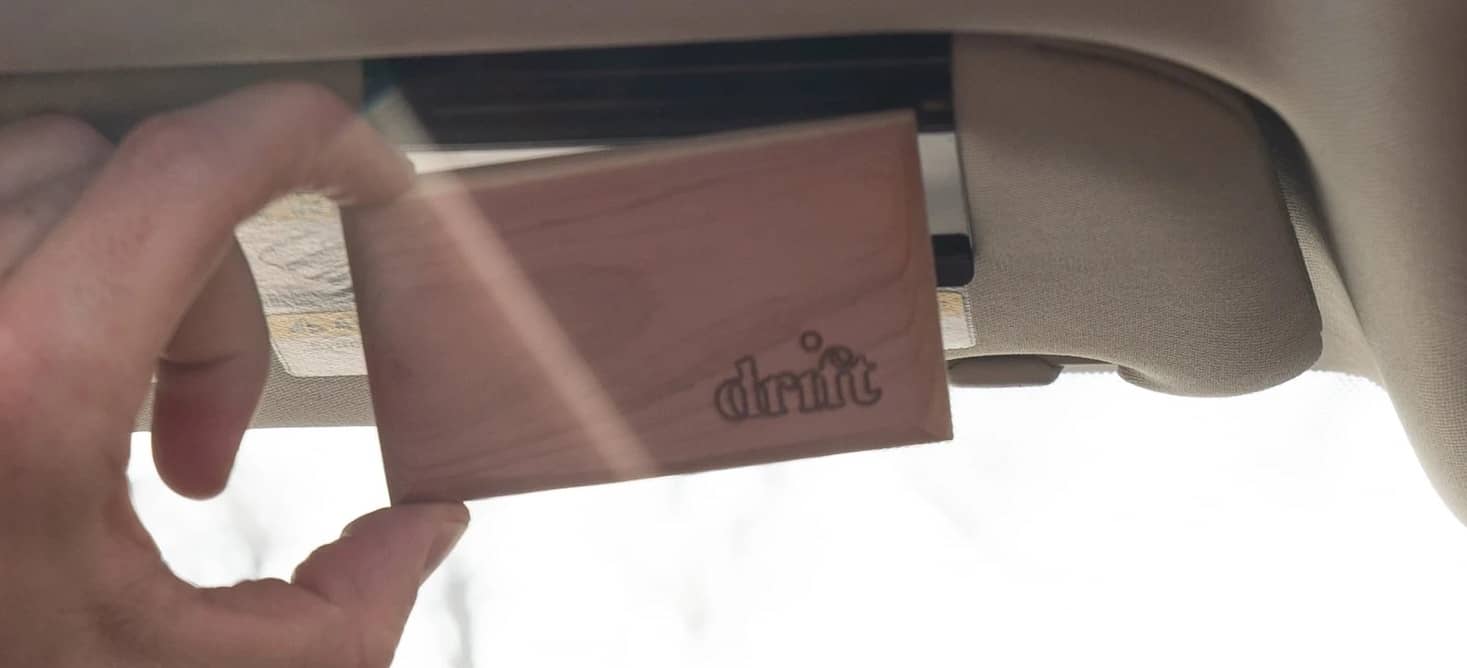 The best air freshener for your car.
Great scents.
Easy install.
Affordable price.
Doesn't go on your vent.
Auto-sends you new scents.
You don't even need a special Drift Promo Code, just use this link and it will give you $$ off at Drift!
Let us know if you have any questions or comments about Drift! We hope you enjoyed our honest Drift Review + Drift Promo Code!
Want to save money on our favorite indoor diffuser? Use our Pura Promo Code, check out our Pura Review, and the very best Pura Scents.