If you're looking for a high-quality eBike but don't want to spend a fortune, the Ride1Up Core 5 is the perfect option. With a price tag of only $1,195, this eBike is packed with features that are usually found on bikes that cost much more. The Ride1Up Core 5 is perfect for anyone who wants to save money on gas and enjoy a fun, eco-friendly ride.
Of course, for less than $1,200, they had to make some sacrifices. What are they? Keep reading to find out!
An incredible value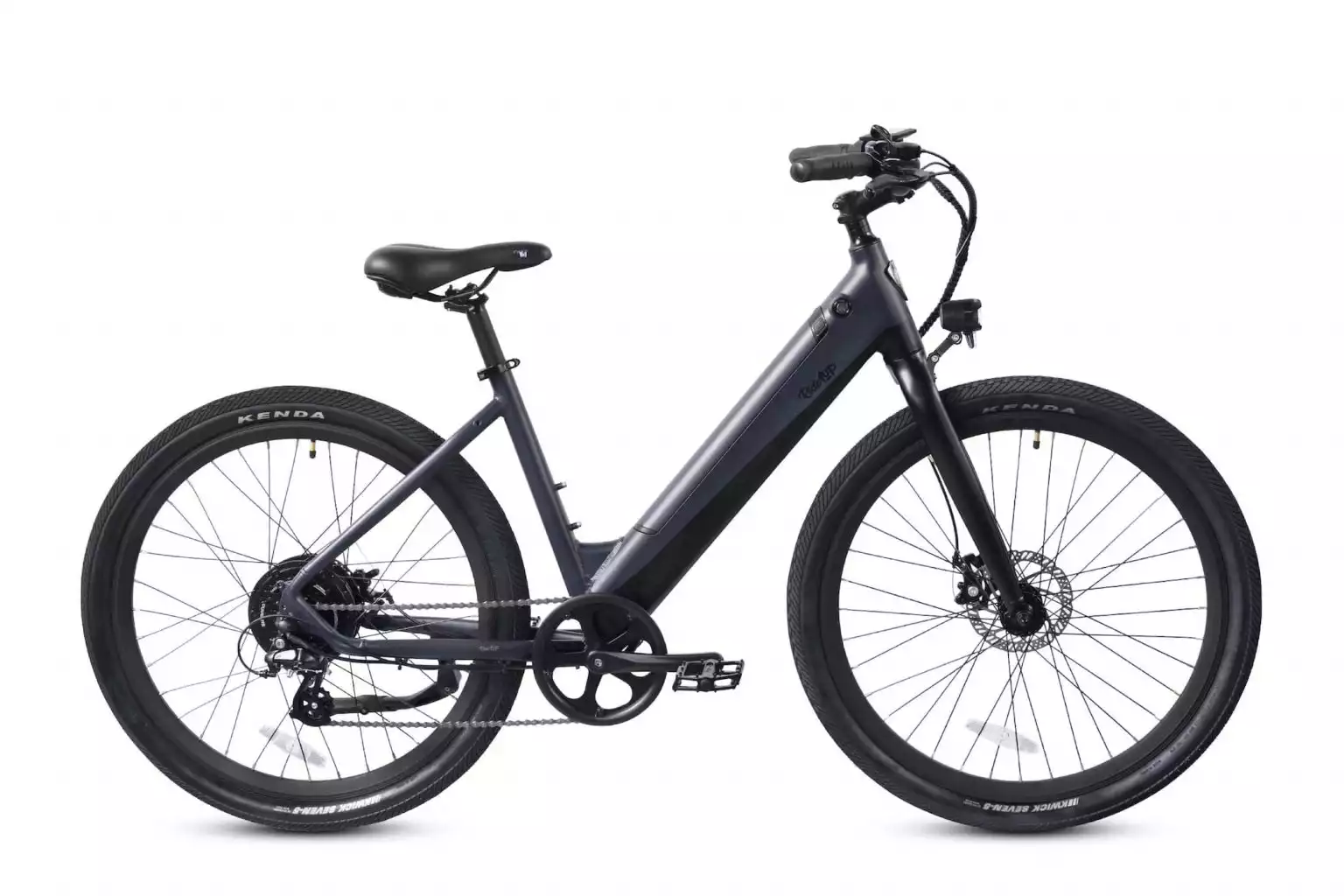 RIde1Up Core-5 eBike
A surprisingly great value! For under $1,200, you can get a great starter eBike from Ride1Up - a great eBike brand.
Buy Now
We might earn a commission if you make a purchase, at no additional cost to you.
Ride1Up Core 5: The Quick Review
The Ride1Up Core 5 is a great electric bike. It's powerful, efficient, and has all the features you could want in an ebike for under $1200. It's easily one of the best ebikes on the market for the price and would be a great purchase for your first electric bike.
The bike probably isn't for you if you are a serious baker already, or you are looking to haul a lot of equipment or go off-road in. But for running errands and riding on the weekends, this bike is great!
Meet the Core 5 Electric Bike: What's the big idea?
The first thing you'll notice about the Ride1Up Core 5 is that it's a very simple bike. It doesn't have any fancy bells and whistles; it's just a basic, no-frills eBike. But don't let its simplicity fool you – this bike is built to last. It's made with high-quality components that are designed to withstand years of use.
I'll dive deep into all the components of the electric bike, but first – how did Ride1Up do it?
How did Ride1Up Make this E-Bike?
Their mission is simple: get more people on e-bikes. They believe that electric bikes are the future of transportation and that they should be accessible to everyone, not just the wealthy.
To make this happen, Ride1Up has focused on two things: quality and value.
They don't have the cheapest ebikes around, but within each bike's category, you will not find another ebike with better quality components for the price. They outfit their bikes with same name-brand components that will yield the most out of your hard-earned dollars and have the capability of lasting a lifetime without the steep price tag.
The Specifications – The Standard Features
The Ride1Up Core 5 has some pretty standard features found on other e-bike models. Let's quickly highlight those before we dive into what makes this e-Bike unique.
750W Rear Hub Motor
The rear hub motor is pretty standard but what's not standard is the overall power. The Core 5 has a max output of 750 watts which is plenty for most people. If you live in a hilly area, you'll appreciate the extra power when climbing.
60NM Torque
The 60NM torque is again on the higher end. Most ebikes have between 50 and 90NM of torque. Torque is one of those things that the The extra torque will come in handy when carrying cargo or climbing hills.
7-Speed Shimano Tourney Gear Set
The Core 5 comes with a 7-speed Shimano Tourney gear set. This is an entry-level group set but it's more than adequate for most people. It offers a wide range of gears so you can find the perfect cadence for any situation.
LCD Display
The display is a basic LCD display that shows your speed, battery level, and assist level. It's easy to use and understand.
There are no frills here, it's just easy to use.
Range: 25 – 45 Miles
The range is a pretty standard 25 – 45 miles of battery life (or battery range). Of course, this all depends on how much throttle, pedal assist and the other conditions (terrain, rider weight, etc). But for the average rider, you can expect to get around 35 miles on a single charge.
I've found that the best way to maximize range is to use the pedal assist most of the time and only use the throttle when you need a boost.
Of course, the range is technically unlimited – as long as you don't mind using your legs. But the battery life and motor will only help for about 35 miles or so.
The battery is 48V12.8ah Reention Eel Pro LG Cells, with a Smart battery management system.
5 Levels of Pedal Assist
The Ride1Up Core 5 also features 5 customizable levels of pedal assist.
We found the pedal assist to be perfectly tuned on the Ride1Up Core 5 – one of the best compared to other electric bikes we've reviewed.
Mechanical Disc Brakes
The Core 5 has Tektro 160mm Mechanical Disc, w/ Electric Cut Off Sensor. This is a pretty standard brake set up and it works well. The brakes are plenty powerful and will stop you quickly when needed.
One thing to keep in mind with disc brakes is they make some squeal the first 20 or so miles you ride them, so just be aware of that.
The Electric Cut off Sensor is pretty standard, too. This turns off any power to the motor when you pull the brakes. This is a safety feature that's found on all the ebikes we've tested.
Now that we've covered the basics, let's take a closer look at what makes the Core 5 special.
Unique Features
Those are the basic features, the things you'd expect from an electric bike. What were we surprised by?
The Price
The price of this bike is just unheard-of. For $1,195 you can't find a better deal than what's offered here! It has so many features at such an affordable cost that it will leave your jaw on the floor.
I was surprised this bike was so well-made and had so many quality components for the price. The overall value on it is just unheard of, especially considering it's a class 3 ebike!
A Class 3 eBike
A class 3 eBike has a top-assisted speed of 28MPH. This is as fast as you can go using pedal assist before the motor cuts out.
You can go faster by pedaling faster (or going down a hill), you just won't get the motor kicking in after you reach 28 MPH.
Also has a throttle
Ride1Up also says that the bike will only go 20 MPH with just the throttle. In our test, we got the bike to go slightly faster than 20 MPH with the throttle, but this may have been a calibration error.
The Core 5 has a throttle so you can get up to speed quickly without pedaling but you can also ride it like a regular bike if you don't want to use the throttle.
A throttle sounds like a nice-to-have, however, I recommend that everyone gets a throttle on their eBike. It's some times super helpful to start from a dead stop or cross a busy intersection.
Frame: 6061 Aluminum Alloy
The frame is made from 6061 aluminum alloy which is a high-quality material that's built to last.
Super Lightweight
The Core 5 is also lightweight which makes it easy to carry and maneuver. That may sound like a small deal, but this bike is really easy to move in tight spaces.
At only 49 Pounds, this bike isn't the lightest eBike we've tested, but it's on of the lighter eBikes. This makes a huge difference in many ways: from putting your bike away in the garage to maneuvering to hit crosswalk lights.
Integrated battery design
One of the first things your might notice about this bike is that it doesn't look like an electric bike. That's because the battery locks into the frame. This has the added bonus of not only looking great but being more secure and protected from the weather.
What we didn't love about the Ride1Up Core 5
I've said it once, I'll say it again: there is no such thing as the perfect eBike. However, there is the perfect eBike for you. Here are a couple of things we didn't care for.
Bent Hanger
As I mentioned in the video review, the bike arrived with a  bent derailleur hanger. I have no way of knowing if the hanger got bent in transit or a defect or something I did.
However, I reached out to Ride1Up and they sent me a new derailleur hanger right away.
I was still nervous about installing it, since it was by the motor. To be honest with you, I stalled before putting it on because I thought it would be a pain.
I was 100% wrong: it only took about 10 minutes and it was as good as new.
What the eBike Doesn't Include
The core five does not include some basic features found in other more expensive E-bikes. And frankly, that's how they save some money.
The eBike doesn't include a rear LED light. The bike previously didn't include an LED front light, but they've added that to the mix with a recent update (in addition to a new, more powerful battery).
The bike also doesn't include a rear rack or fenders. But here's why that's not a big deal: they are super affordable options if you want them.
The front and rear fenders are only $60 total (not a piece).
The rear rack is only $50. So, for $110, you can get both the rear rack and both fenders. That's a great deal.
No Hydraulic Disc Brakes
Of course, we would love there to be hydraulic disc brakes over the mechanical disc brakes in the Ride1Up Core – but we understand that would be a pretty steep price increase.
However, we did find the bike had adequate stopping power.
The LED Display
The LED display is pretty simple – and that's OK – but I wish it just had something more to it. It's pretty small, but can be seen in daylight pretty easily.
Thumb Throttle
This is a super picky thing, but I don't care for Thumb Throttles. I wish the Core 5 had a half twist throttle, like other eBikes, but this has the thumb throttle.
It's not a deal killer by any stretch of the imagination, but a small thing I didn't care for.
The Ride Experience
This is an area I was super surprised by: how smooth the ride was.
I expected a jerky ride, mostly because of the larger motor and lighter-weight bike. Once again, 49 Pounds and a 750W Motor could be a recipie for failure.
However, the finely-tuned cadence sensors (as opposed to torque sensors, which I'll write a full comparison on shortly) make this eBike a breeze.
Cadence sensors frequently use magnets in the crank arm circle to trigger power to the motor with every partial turn. This can lead to a jerky sensation that is fun, sure, but it gives you a bit of whiplash.
I was pleasantly surprised by how smooth the bike was. The lightweight frame and powerful motor made this super fun.
OK on gravel roads and easy dirt trails
The Core 5 does not have a front suspension or even fat tires (although the tires are a good width for a cruiser).
I took the bike down a gravel road and unpaved trail and the bike handled it like a charm.
Sure, it wasn't as smooth as a super offroader, but it's also about half the price of something like the RadRover 6 (read our RadRover 6 Review).
Easy to Assemble
The Ride1Up Core 5 was really easy to assemble. It comes with super easy to follow instructions and only takes about 20 minutes to put together.
Seasoned Service and Support
If you run into any problems, have no fear. Ride1Up has seasoned bike mechanics that offer technical support. And even better? They are super friendly.
1 Year Warranty
In my ultimate ebike guide, I discuss how important it is to get an eBike from a company that stands behind their product.
I love that Ride1Up offers a 1-year warranty to cover any manufacturing defects.
I've checked out Reddit and Facebook for complaints about the quality of Ride1Up and haven't found any.
Who is the Ride1Up Core 5 For?
This bike is the perfect, and I mean THE perfect, first electric bike for anyone to own.
It's low maintence, super easy to assemble and is a blast to ride. It doesn't include some of the most frustrating assembly items, like a front fender, but that's OK.
For $110 extra bucks, making this eBike only $1,305 – you still couldn't find an electric bike packed with this many features.
It's just a great deal overall.
Who is the Ride1Up Core 5 NOT For?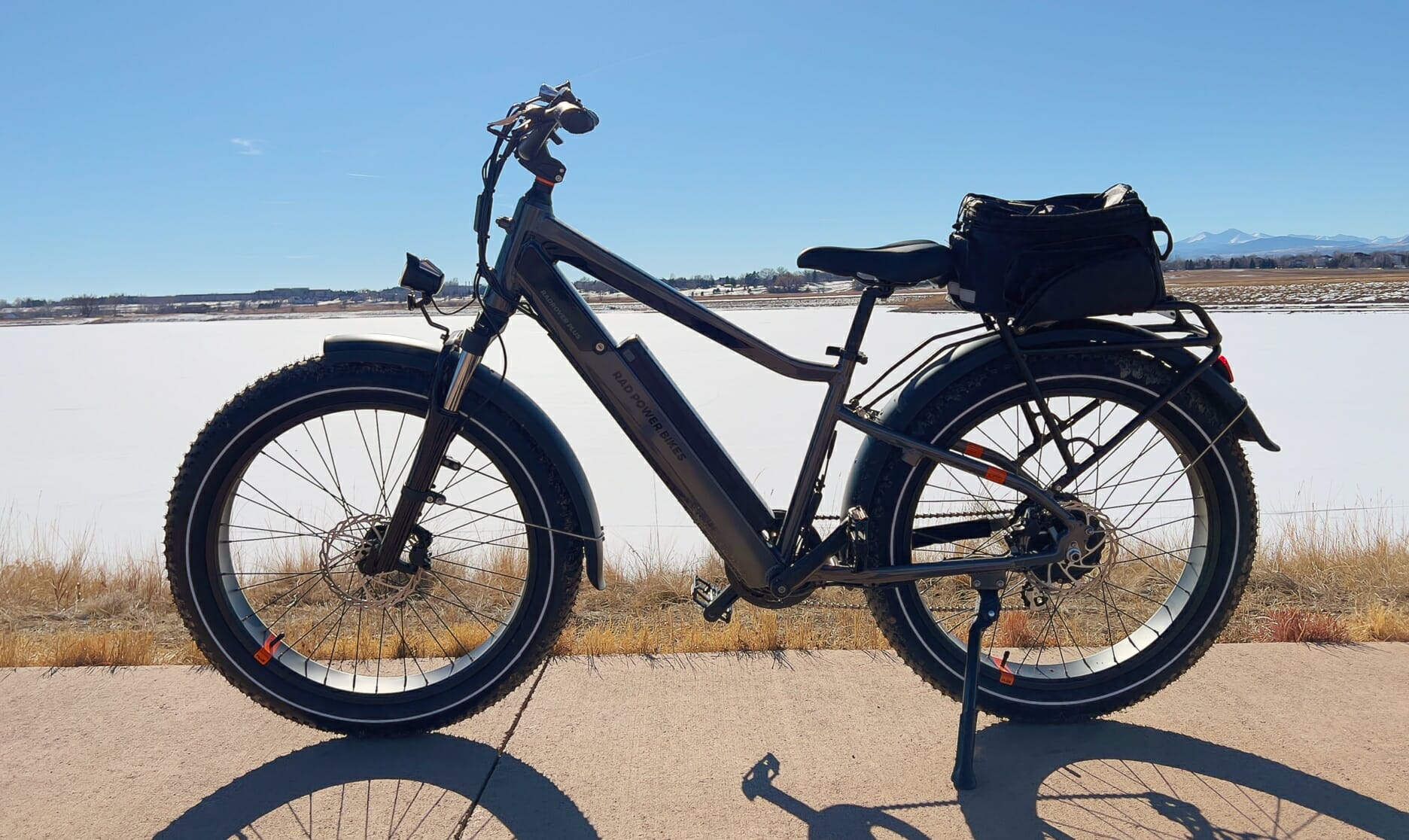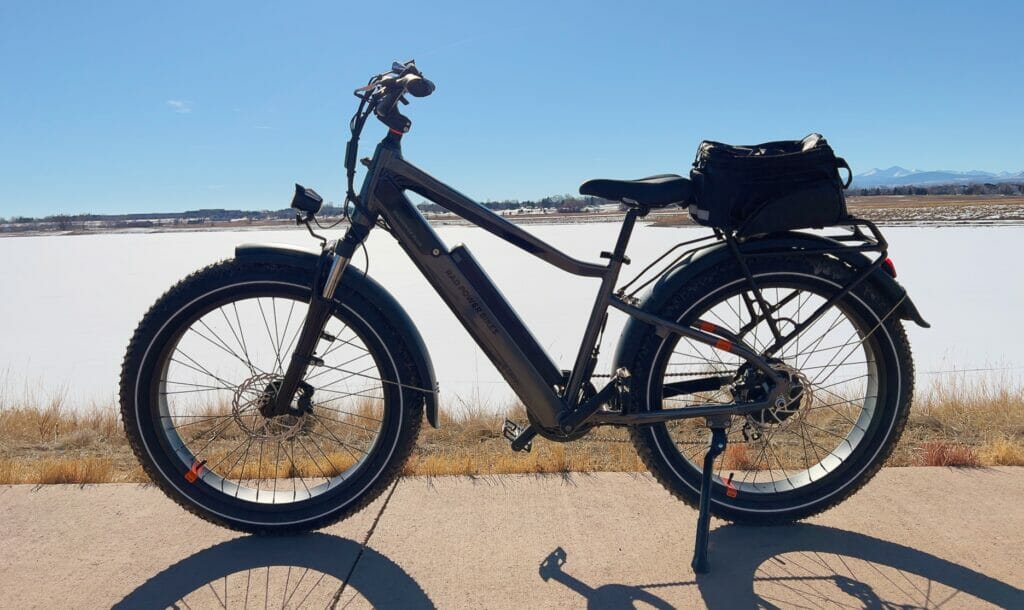 This bike isn't for the super serious rider. While there's nothing wrong with the components of this bike, it's also not top-of-the-line.
It's also not for someone that wants to take their bike seriously offroading. While this bike can handle some very light trails, get a real mountain bike if you want to battle rocks and rough terrain.
It's also not for someone who needs to haul a ton of gear or kids or other people with you. The max weight capacity is 300 pounds, according to their website, but that seems a bit generous.
Core 5 Review: The Pros
Excellent build quality
Beautiful design
Great components
Lots of unique features
Good customer service
The Price!
Core5 Review: The Cons
Doesn't include standard features found on other eBikes like fenders (but available for a fair price)
Thumb Throttle
No suspension
Ride1Up Core 5 Review: Final Verdict
An incredible value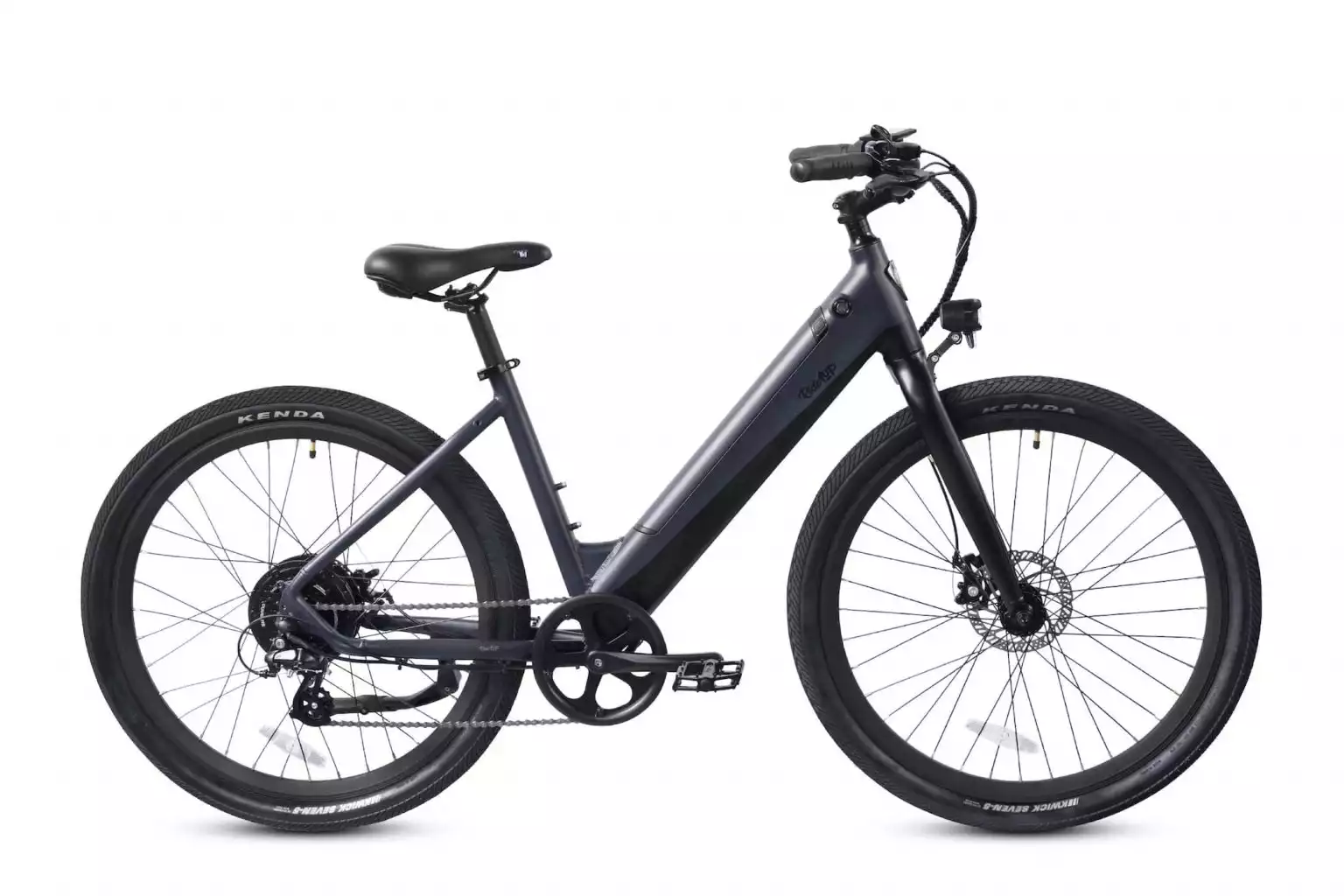 RIde1Up Core-5 eBike
A surprisingly great value! For under $1,200, you can get a great starter eBike from Ride1Up - a great eBike brand.
Buy Now
We might earn a commission if you make a purchase, at no additional cost to you.
In conclusion, the Ride1Up Core 5 is an excellent eBike for the money.
It's beautiful, has great build quality and components and is just a flat out fun bike to ride.
The only downsides are that it's not for serious mountain bikers and that it doesn't come with standard features like fenders. But for the low, low price of $1,305 – you really can't go wrong.
I highly recommend the Ride1Up Core 5 as a first eBike or an eBike for anyone on a budget. It's just great e-bike and a great price.