Buck Mason T-Shirt Review: We love Buck Mason (see our full Buck Mason Review). We first heard about Buck Mason from Shark Tank and loved the overall idea: classic men's staples that didn't require a whole lot of thinking. On top of that, they were made in the USA – even better.
The Buck Mason Tee Shirt has become one of my go-to shirts in my closet. Why? Let's dive into our full Buck Mason Tee Shirt Review to find out more.
Top T-Shirt Pick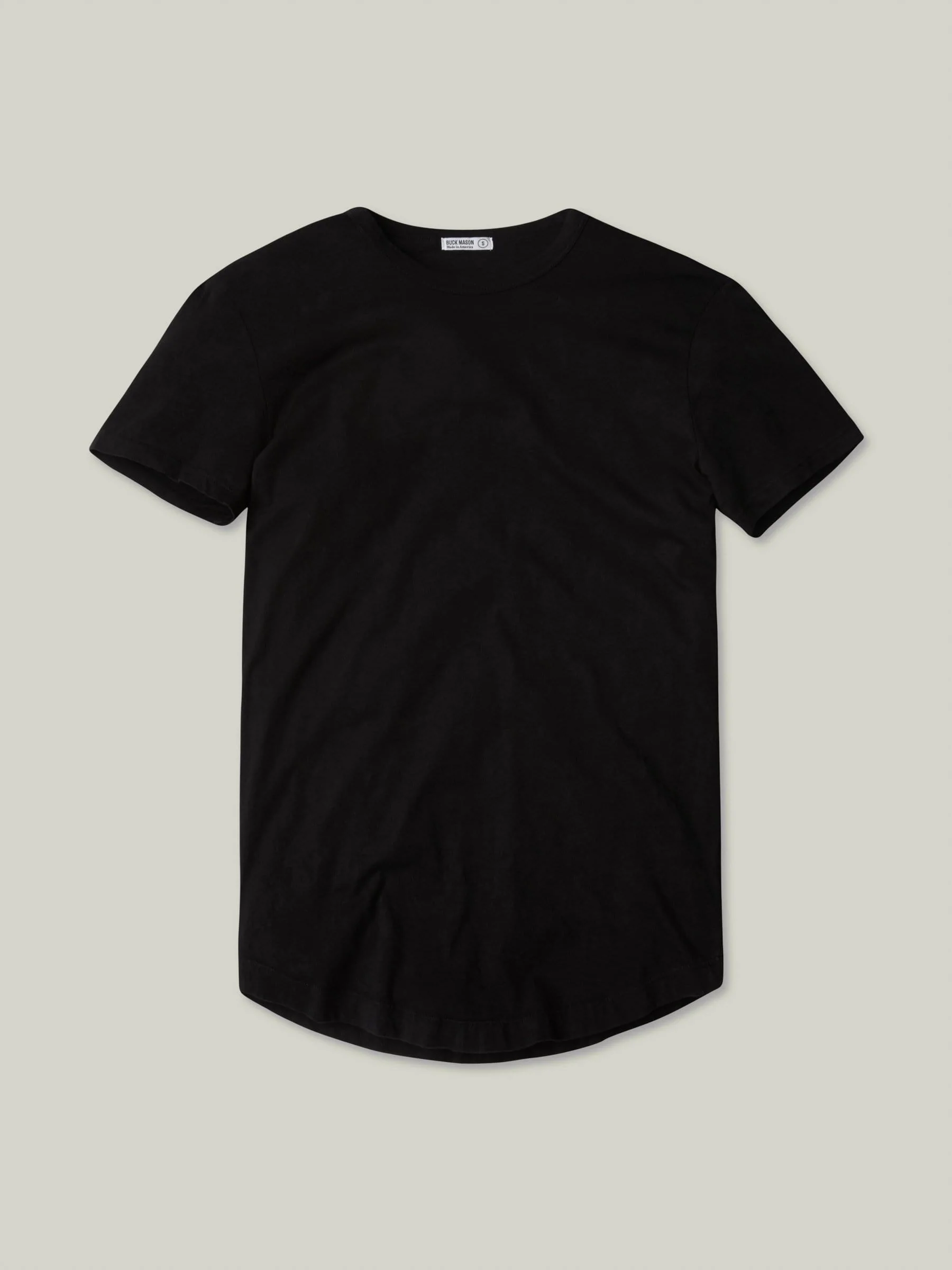 Buck Mason Tees
In most of our reviews, we're wearing a Buck Mason Tee. Why?brbrThey are well-made, simple, and incredibly comfortable.brbrThey might not be the cheapest, but they have lasted years - more than we can say for most of our t-shirts.
Buy Now
We might earn a commission if you make a purchase, at no additional cost to you.
"Hey, what T-Shirt are you wearing in your videos?"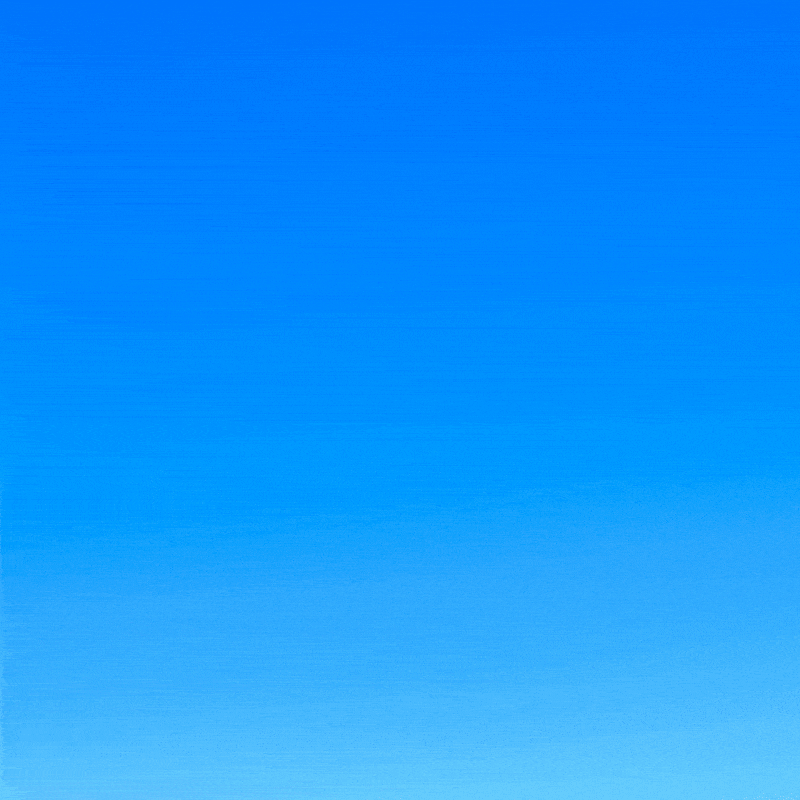 Now, we've had a couple of people comment on our videos and review before and asked, "Hey, what shirt is that you're wearing all the time?"
I'm usually wearing the Buck Mason Vintage Tri-Blend Tee. I wear it in a lot of videos because it's nice, easy, and comfortable.
It's decent looking – but not distracting. It's also really high quality. In my Fresh Clean Tees Review, I said they made a decent Buck Mason Tee alternative. It still is a good, cheaper option to Buck Mason.
This shouldn't surprise you, as Buck Mason is featured several times in our Best Men's Products Guide.
Keep reading our honest Buck Mason T-Shirt Review guide to find out why.
All about the Buck Mason brand
Buck Mason was founded in 2013 by Sasha Koehn and Erik Allen, who were neighbors in Venice, California. Many of their clothes are made in the USA, including many Buck Mason Tees (however, it doesn't look like the Buck Mason Tri-Blend Tee is not made in the US anymore).
Buck Mason Tees Review: What we tried – and loved
To be honest, we've tried almost EVERY single Buck Mason Shirt. Let's start with our most favorite Buck Mason Shirts and work our way down to the ones we don't like the most in our Buck Mason Tees review.
Our absolute favorite Buck Mason Tee: Anything tri-blend
Here's what Buck Mason says about their Tri-Blend Tees:
Inspired by vintage concert tees, our Tri-Blend is milled from a carefully honed blend of cotton, polyester and rayon to form an incredibly soft, durable fabric that won't shrink in the wash and keeps it's shape forever.
Anything Tri-Blend, especially the darker colors. The these shirts are the perfect blend of softness and looks. I really like the Tri-Blend Tees for a couple of different reasons:
The variation in color (black, speckled with white) looks nice.
It hides anything that may get on your shirt (dust, dog hair, etc.)
It's super soft and gets even softer over time.
It keeps its shape.
It doesn't shrink in the wash.
Buck Mason Tees Review – What Tri-Blend Colors to Avoid
Pro Tip: Don't buy the lighter color Buck Mason Tri-Blend Tees. The biggest reason is that chest hair can poke through, especially because it is so breathable – the fabric is a bit loosely woven, which makes it comfortable.
It's got a good, nice shape. Overall, it's our go-to tee.
Buck Mason used to make a Tri-Blend Henley and a Tri-Blend Long Sleeve, but they seem to not carry those styles as of the time of this writing.
Buck Mason T-Shirt Review: The Slub
Buck Mason Slub Tees are another one of Buck Mason's signature offerings. At first glance, the Buck Mason Slub Tees look like a "normal" t-shirt.
Well, if you look a little closer (or in the right light), you can see that the "slub" is very textured and not uniform.
It's really tough to capture how the Buck Mason Slub Looks in a photo, but you can see the "Slub" part in some of the lighter colors easier. The Slub in this photo is the variations in the color:
Can you see the slight variations in the color? That is the slub texture. It helps keep the shirt super soft and super breathable. On a warm summer day, I'm almost always wearing one of these.
Buck Mason also has a great overview on their website:
Another great feature: made in the USA!
Buck Mason T-Shirt Review: The Buck Mason Pima Review
If you like your t-shirts to look nice and clean: then check out the Buck Mason Pima T-Shirts.
The Black color is tough to tell the difference, but you can see how smooth the shirt is in the white version:
As you can see, the shirt is more "uniform" – in other words, there is less variation in the threading. That's because it is more tightly woven than the Slub Tee:
But, don't worry. The Buck Mason Pima Tee still has all the great features of the Slub Tee (I'll talk about the difference between the two shortly).
Buck Mason T-Shirts: What's the difference between Pima + Slub + Tri-Blend
Here's the best way I can describe the difference between Buck Mason Pima Tees, Buck Mason Slub Tees and Tri-Bend T-Shirts: Uniformity.
The Pima T-Shirt is VERY uniform. It looks exactly the same throughout the whole shirt. Slub has little bunches of fabrics and isn't super uniform. Vintage Tri-Blend is also a super random, but it's ok. It doesn't look like tie-die or anything crazy.
Here is what Buck Masons says about the difference between Slub and Pima:
Pima and Slub are the most similar, both being made of 100% cotton. A Slub is a build up of cotton along the fabric, resulting in the tiny horizontal stripes that you will notice throughout our slub fabric. There's a nice texture when it comes to slub fabrics that you can really feel. The thickness and loosely knitted nature of slub tee subtly varies throughout the shirt, allowing it to really drape over your body when you put it on.
Alternatively, there's Pima. Pima tees are more of a modern type of manufactured cotton. Pima tees have essentially eliminated slubs from appearing on the fabric. Instead of texture, you get a smooth hand feel. The fabric is wound tighter and more evenly compared to slubs, so these garments will hang off your body. Also, it's worth a mention that the colors available for Pima tees are arguably a bit more saturated than our Slub tees.
Buck Mason Tees: How to style
Buck Mason Tees are perfect to style when you want to be a little more elevated casual. Think James Dean. I, personally, wear my Buck Mason Tees usually with my lululemon tech canvas pants (read our lululemon tech canvas review), Myles Tour Pants (read our Myles Tour Pants Review) or even Duer Jeans (read our Duer Jeans Review) and Allbirds (read our Allbirds review). Here's a quick guide of how to style Buck Mason Tees.
Also, check out our best ABC Pant Alternatives.
Buck Mason T-Shirts: What we hated
To be honest with you: nothing.
These shirts, at about $25 – $35 dollars are not the cheapest shirts, I know. However, I've been rocking these shirts for a good 4+ years with no problems. One wash, that they no longer make, started to tear after about a year – however, I emailed them and said that I only washed it about 3-4 times (100% true) and they replaced it right away.
I'm OK with spending a little bit more and having a product that lasts a long time!
Besides, these aren't the crazy $60+ Goodlife tees I've seen around. I would never pay that for a t-shirt!
Buck Mason T-Shirt Review: Sizing
I wear a size medium in just about every single t-shirt and every single polo shirt that I own. I also wear a size medium in Buck Mason. They run true to size before and AFTER washing. They don't shrink, so no worries there.
The curved hemmed is a nice touch, especially for guys like me that have shorter legs and a longer torso. The curved hem is so subtle, I doubt you would even notice it.
Buck Mason T-Sirt Review: The Final Verdict
Simply put, the Buck Mason T-Shirts are the go-to in my closet. Sure, the price is a little more than I expected, but you can't beat the quality. As we mention in our full Buck Mason Review, there are some clothes that we don't like with Buck Mason, but overall – they are a great company that stands behind their product.
If you had to get 1 shirt, we'd recommend starting out with the Vintage Tri-Blend Tee. It's the cheapest of the bunch and is a good entrance to the brand!
Our favorite tees of all time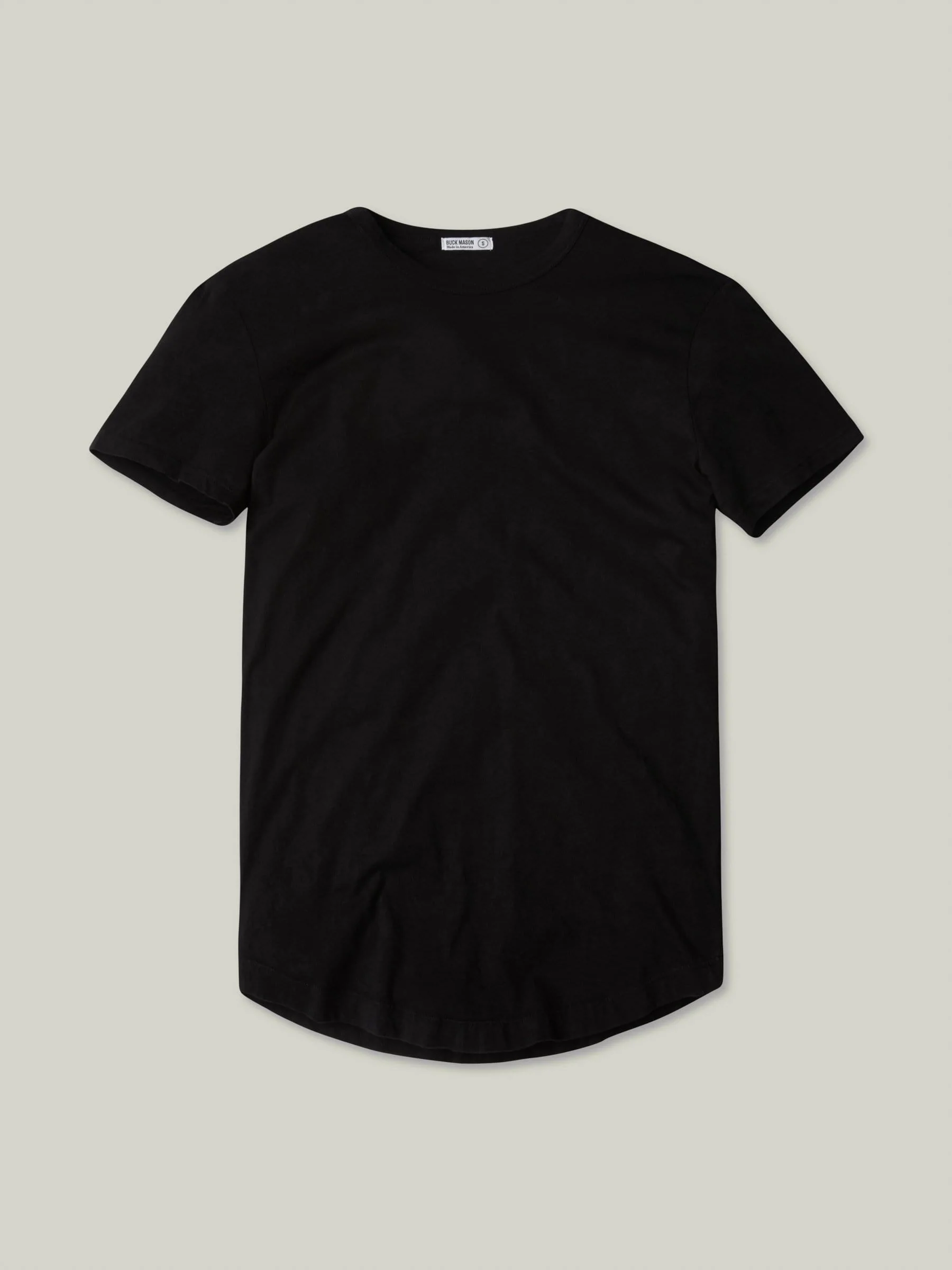 Buck Mason Tees
Great, high quality tees that stand the test of time, look great and are incredibly comfortable. What more do you want?
Check Availability
We might earn a commission if you make a purchase, at no additional cost to you.
Do you have any questions or comments about our Buck Mason T-Shirt Review? Let us know in the comments below!