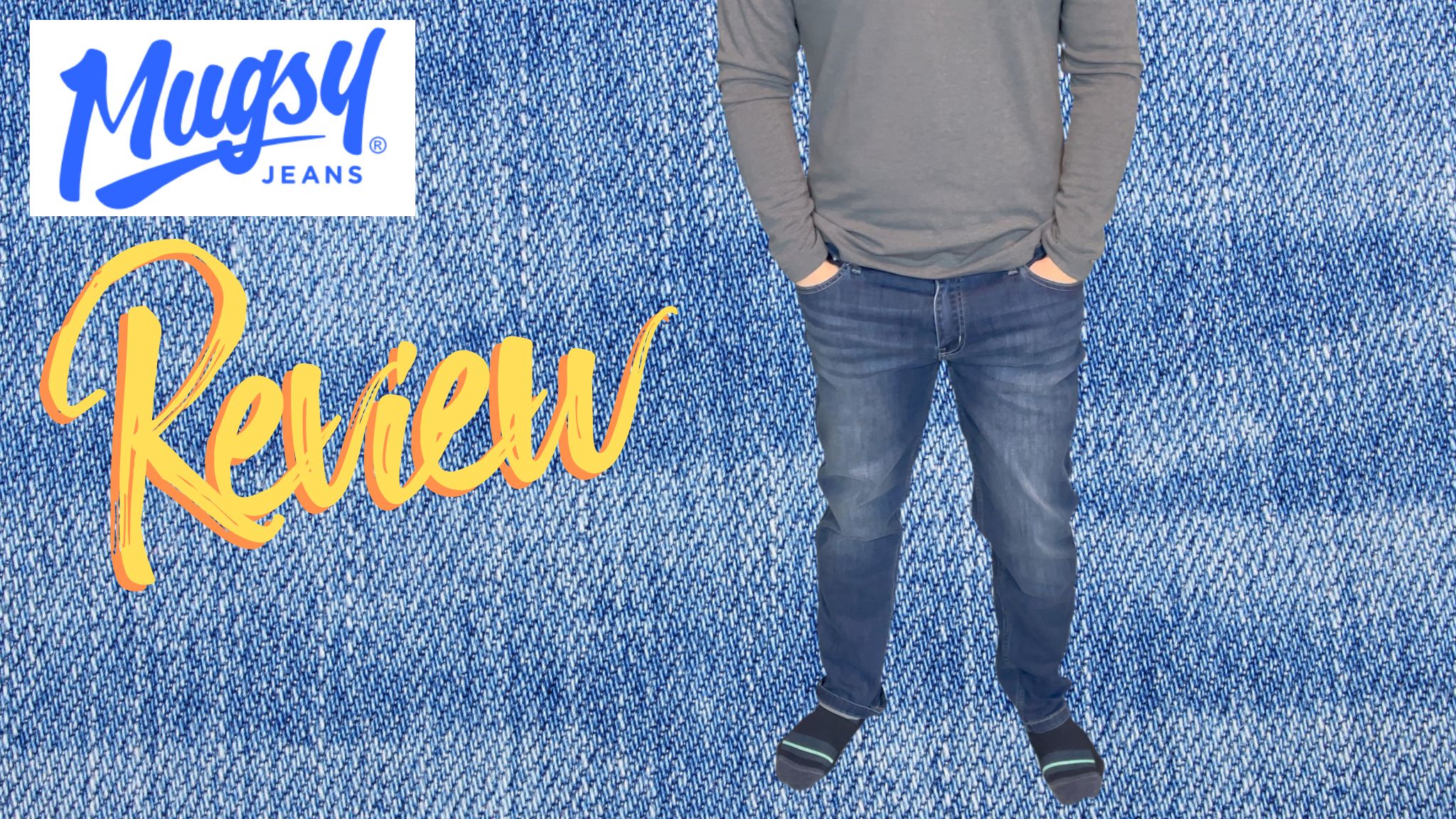 I'm not one for superlatives, but when it comes to Mugsy Jeans, I've got to hand it to them – these are the most comfortable jeans I've ever worn. Full of stretch and just feeling great on, they're available in a wide variety of fits, colors and styles.
If you're like me, you're always on the hunt for the perfect pair of jeans. You know, the ones that are comfortable, look good, and don't cost a fortune. Well, I'm happy to say that I've finally found them. Mugsy Jeans are the most comfortable men's jeans I've ever owned. They are made of stretchy, breathable fabric that feels great on. And they come in a wide variety of fits, colors and styles so you're sure to find a pair that's perfect for you.
The most comfortable jeans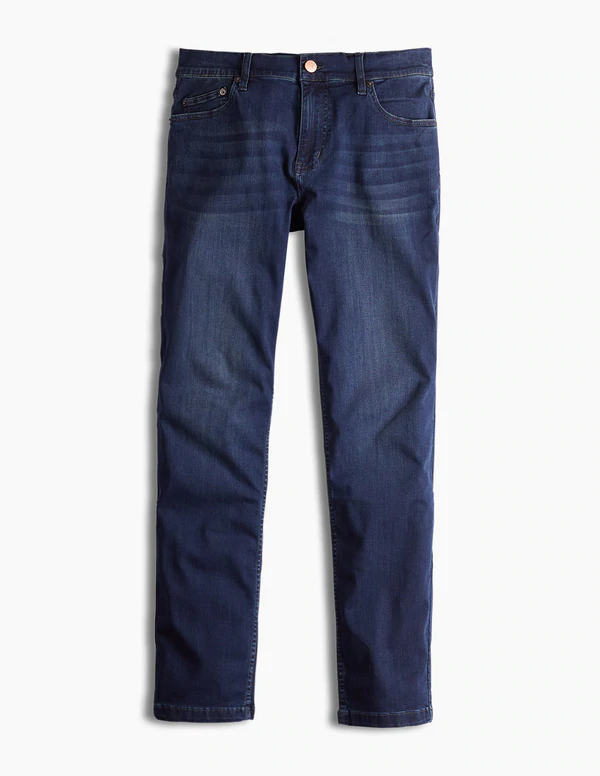 Mugsy Jeans
The most comfortable jeans we've ever tested. Seriously. You'll ask yourself, are these sweats or jeans? But they look 100% like jeans.
Buy Now
We might earn a commission if you make a purchase, at no additional cost to you.
Why Mugsy Jeans Are So Comfortable
What makes Mugsy Jeans so much more comfortable than other brands? It all comes down to the fabric. The proprietary Mugsy denim fabric is a blend of rayon and spandex, which makes it both soft and stretchy – giving the signature Mugsy Stretch they've come to be known for.. This means that the jeans move with you, instead of constricting you. And they don't get all bunched up or uncomfortable after a long day of wear.
Mugsy Jeans also have a bit of give in the waist, so you don't have to worry about them being too tight or too loose. They're just right.
It's actually one of my biggest pet peeves with jeans: the waist is rarely stretchy. Don't you hate it when you have to wiggle and squirm just to get your jeans on? With Mugsy Jeans, you can slip them right on with no hassle.
Why should you trust us?
We've tested hundreds of jeans to find the best – from premium names like Mott and Bow to high-performance types like Duer (our complete Duer Jeans Review). We'll tell you what you need to know straight. Take a look at our complete guide on the finest mens jeans as well.
What are we looking for?
As we mentioned in our Best Men's Jeans guide, there are 4 main things we look for with our jeans.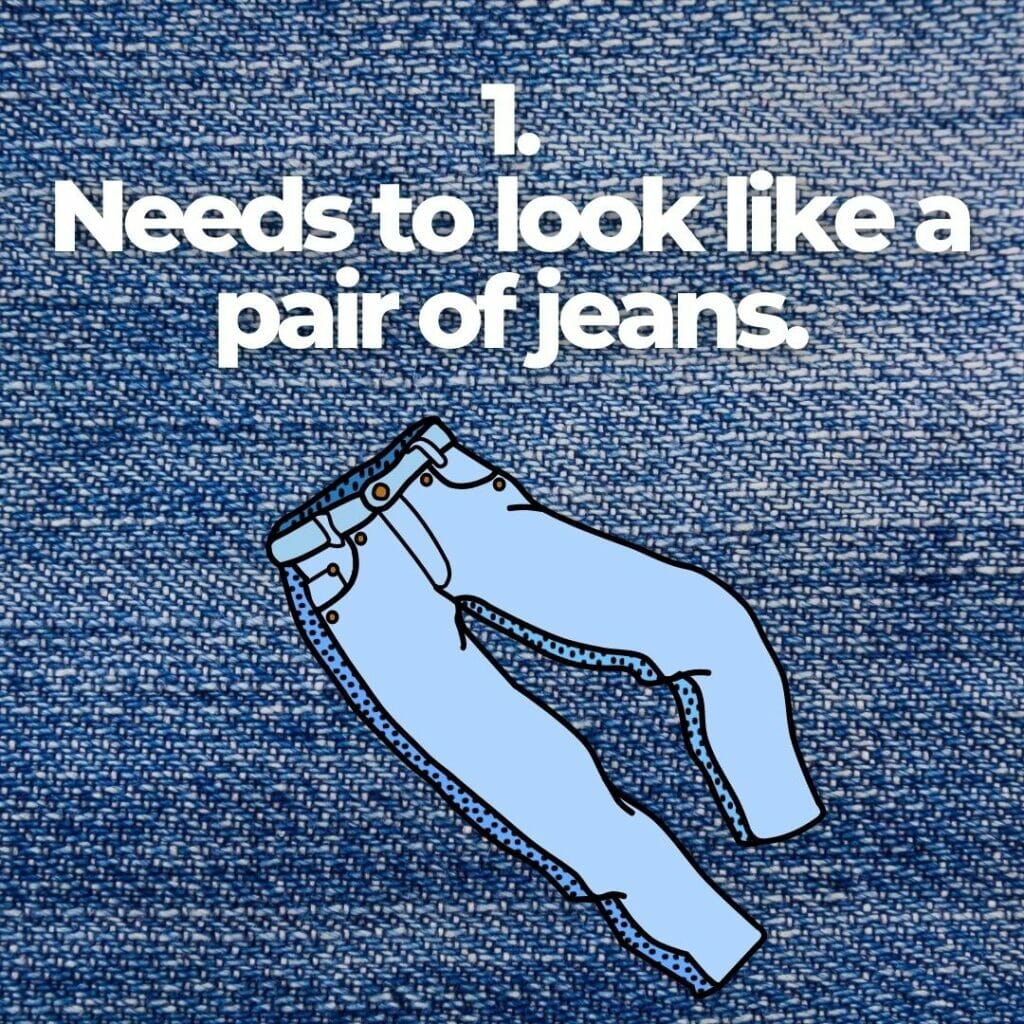 Mugsy Jeans Review: what's the big idea?
The founder of Mugsy Jeans had a realization, "After years of rocking straight-leg jeans, a coworker finally came clean and admitted my baggy jeans looked awful. I knew it was time to up my game, but all the slimmer jeans I tried were too tight and extremely uncomfortable! I've never been one to compromise, so I set out to fix the problem myself."
So, the Mugsy brand started out with a simple goal:
Supreme comfort
Clean & stylish fit
Room for the boys
They spend years working with industry experts and testing thousands of fabrics, they perfected the Mugsy line. Now guys can have total confidence in the way they look and feel.
Most of their jean styles are around $110 – not the most expensive jeans we've found, but also not the cheapest. Read our full guide to the best mens jeans guide to read more mens jean comparisons.
Mugsy Review: The look
Unless you're spending a fortune on jeans (and want everyone else to know you spent a fortune), like Sevens back in the day, I despise it when you can clearly see what brand of jeans they're from just by looking at their pockets.
That's one of the great things about Mugsy Jeans: they look expensive, but you can't tell what brand they are. The only branding you'll find is the tag in the belt loop. That's it.
We love clothes that have super minimal branding and Mugsy fits the bill perfectly.
Our Top Mugsy Pick
The style of Mugsy Denim is a bit more casual style than other jeans. Once again, nothing wrong with the casual style but just something to know getting into.
My experience with fit
To be honest, I still believe that Mugsy jeans are the most comfortable. 10/10 every single time.
They fit very true to size, if not a little big due to the super flexible fabric. I typically wear a size 32 waist, 30 length and they fit really close to perfect. They might be a bit loose, because of the stretch, but only by one or two inches.
However, I do wish the fit was about 5% less baggy. I've tried several fits and found them to be ever-so-slightly baggy and not as polished as other jeans I've worn. I know that seems like a super small thing and wouldn't stop me from getting this comfortable pair of jeans.
That's OK – that doesn't mean they still aren't one of my favorite brands but these are overall "less fancy" jeans than others I own.
Let's talk about all things stretch
I will say the Mugsy stretch is about as good – if not exactly the same – as other comparable jean brands.
For example, I feel like Perfect Jeans have slightly more stretch, but they are also overall not as loose to start out with. So, they need to be stretchier to allow them to appear tighter and STILL have some flex (for the modern man, obviously).
The Mugsy Denim really makes it feels like you're wearing sweatpants and not jeans. That's quite a feat and probably my favorite thing about these pants. You can wear them year round (and you'll want to, because let's be honest – who wouldn't want sweatpants disguised as jeans… that actually look like proper pants and not something you'd wear on the sofa).
Mugsy Jeans are made with supreme comfort in mind, and the stretch is one of the features that makes them so comfortable. The fabric is very flexible, which allows for a relaxed fit that still looks polished.
Do Mugsy Jeans lose stretch?
Mugsy claims their jeans do not lose stretch. Their website says, "We designed Mugsys to be warp and shrink resistant. Follow the wash instructions above and you'll be golden."
But there are three easy ways you can easy make sure your jeans last a long time and keep their stretch:
Machine wash inside out on cold
Hang dry (or tumble dry low)
Don't wash them after every single wear.
The last point is probably one of the most helpful. In fact, I only wash my jeans when they start to smell or I've spilled something on them.
The Mugsy Jeans Controversy: Are They Really Denim?
For centuries, jeans have been made from a sturdy cotton fabric known as denim. Denim is well-known for being tough and durable, which is why it's often the fabric of choice for blue-collar workers.
Lately, however, there has been some controversy surrounding jeans like Mugsy Jeans. These jeans are made from a blend of Cotton, Polyester, Rayon, and Spandex, and some people are wondering if they can really be considered "denim." Can they really be denim?
What Is Denim?
Denim is a sturdy cotton fabric that is typically dyed blue. One of the reasons denim is so popular is because it is very strong and durable. It's often used for work clothes because it can withstand a lot of wear and tear.
The Difference Between Denim and Mugsy Jeans Fabric
Mugsy Jeans are made from a blend of Cotton, Polyester, Rayon, and Spandex. This blend is significantly lighter than traditional denim.
So, Are Mugsy Jeans Really Denim?
While the fabric Mugsy uses is similar to denim, it's not actually 100% denim. Sure, it's really close and cotton is one of the main ingredients but Mugsy Jeans are more accurately described as "jeans-style pants." That said, Mugsy's jeans are still well-made and look great.
I'm not a denim purist, I'm a comfort purist!
To be 100% honest, only true denim purists (I'm looking at you Reddit: /r/rawdenim would even care – you won't have time to care, you'll be too busy being stylish and comfortable in your Mugsy Jeans).
The most similar brand you can compare the Mugsy Denium to are Duer Jeans (read our full Duer Review). Duer Jeans are made of 70% Cotton, 28% Coolmax® All Season Polyester, 2% LYCRA® Spandex. The fabric is very similar to the Mugsy and isn't techincally pure denim, either.
Mugsy Review: Do they bleed before washing?
This is a major relief for me. I once visited the doctor's office for an accidental allergy reaction to some detergent. My new jeans were also bleeding, which concerned the doctor. That's because the new jeans made my hands BLUE.
I quickly realized that it was because I was wearing brand new jeans that DID BLEED before you washed them. I still was nervous about wearing light-colored shoes with those jeans.
However, I'm happy to report that when you put Mugsy Jeans on, they DO NOT BLEED. I double-checked it with white tissue paper to be certain.
How do they stand up over time?
The Mugsy Denim is incredibly well made. I've now owned my Mugsy Jeans for about 2 years now and I've had no problems.
I don't wash my jeans super often (only when they smell or get dirty), which. is the key to any pair of jeans lasting a long time.
I just wish these jeans had a gusset (read: what is a gusset?). It improves the longevity and stretch of the pants. But have no fear, Mugsy jeans still last a long time, even without a gusset.
Other Mugsy Products: Shorts, Chinos, Shirts, Tees, and much more!
Mugsy makes all kinds of different clothes – from stretch chinos to shorts and even fall jackets.

Know what a Jort is? It's a jean short. That's not me in the photo above, but I won't be giving these jorts top reviews. But it's not because they are great, but jorts are just not awesome, in my book.
I have tried the perfect jorts, but I promise you don't want to see me wear them. They aren't flattering on me (even though their clothes are made for imperfect men), these don't look good on anyone, at least my opinion.
Mugsy Shopping Experience
I know buying jeans is a super personal experience for everyone and some people just hate buying them online.
However, Mugsy has free shipping and free returns, making it a no-brainer for me. I've purchased from them multiple times and have had nothing but great experiences.
The first time I ordered, the jeans were too loose and worried about them falling off without a belt, so I exchanged them for the next size down and they fit perfect.
I would recommend ordering two pairs – one the size you normally buy and the next size down (in the waist).
You can easily return the other pair to get the best jeans for you. You also can't buy Mugsy in stores, so their website is the only place to get these high-quality jeans.
How do Mugsy Jeans compare to other jeans?
There's a really good reason that Mugsy was a close runner up in our best jeans review.
Mugsy vs. Duer Jeans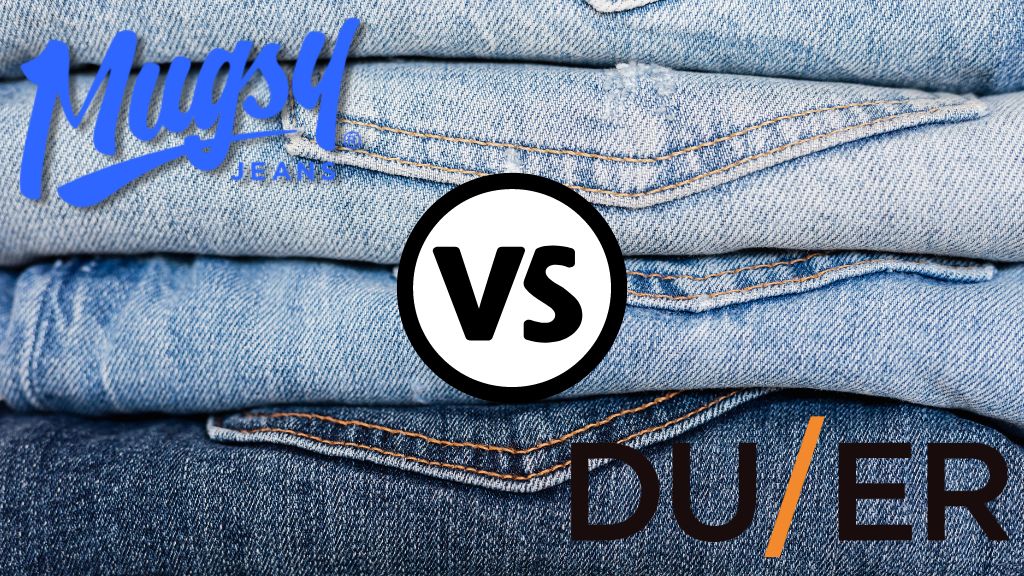 The main difference between Duer Jeans and Mugsy is comfort and performance. Mugsy is more comfortable but Duer has more features and longer lasting (mostly thanks to the Gusset).
Our Pick: Best Mens Jeans
Mugsy Review: The final verdict
We Tried It Approved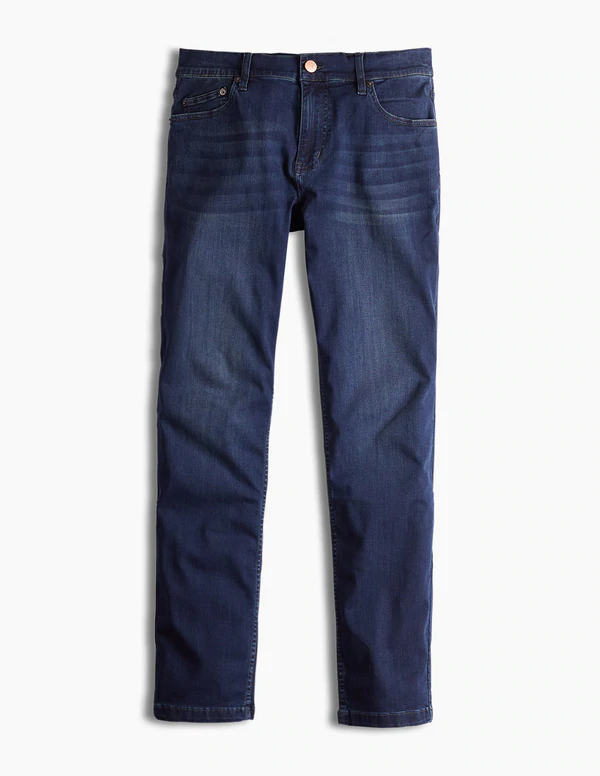 Mugsy Jeans
We love almost everything about Mugsy. They are simply the most comfortable jeans you'll ever own.
Buy Now
We might earn a commission if you make a purchase, at no additional cost to you.
If you're looking for THE MOST comfortable pair of jeans that you'll love to wear, Mugsy Jeans are the perfect choice. Made of a blend of cotton and other (stretchier) materials, these jeans will feel great against your skin and the first pair of jeans you'll reach for every day.
If you want jeans that feel like sweatpants but look like jeans, Mugsy Jeans are the way to go.
We're happy to give Mugsy Jeans the coveted We Tried It Seal of Approval, they are that comfortable. We love the modern take on the classic style of jeans.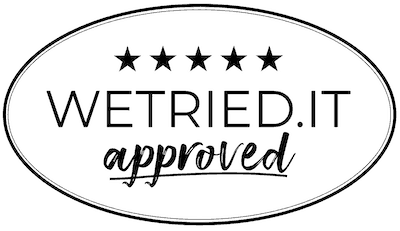 I highly recommend Mugsy jeans for anyone looking for a new pair of jeans. They're some of the most comfortable and stylish jeans I've ever owned.