We've spent hundreds of hours testing the Jarvis Standing Desk. Read what we found in our Jarvis Desk Review!
Fully Jarvis Standing Desk Review: we put the best-selling standing desk to the test. Like so many people working from home, you might be looking for a new home office desk that you can sit, stand or lean behind (yes, you read that correctly).
In this comprehensive review of the Fully desk, we'll explain what we love, what we don't love and everything you need to consider before buying the Jarvis Standing Desk.
Fully Standing Desk Review
Top Pick
Meet the Jarvis Standing Desk
The best-designed standing desk on the market.
If you are looking for an incredibly high-quality desk that will not only look good but will last you for years to come: look no further than the Jarvis Standing Desk.

There's a lot to love: it's incredibly sturdy, well made, and customizable to fit your every need. The Jarvis Desk is the best desk we've ever tried.
The Fully Desk is an incredibly well-designed standing desk that is best-selling for a reason. The desk doesn't try to be everything to everyone but instead focuses on customization. From color to materials, to cord concealers, you'd be hard-pressed to find an application that the Fully Jarvis Desk wouldn't be perfect for.
The only downside is that there are SO many choices, it's easy to be overwhelmed. But have no fear: Fully has great customer service and a ton of resources on their website, too.
You could save a couple of dollars and buy something some IKEA. However, you don't have to look any further than the Jarvis Reviews vs. IKEA Standing Desk Reviews to find out if there really is a difference.
As of the time of writing this, the Jarvis Desk had an average 4.8 Stars and the IKEA BEKANT had an average rating of about 3.2 Stars. The Jarvis desk is sturdier, better made, and has more customization features than any other desk we looked into.
What Is the Jarvis Standing Desk?
Jarvis Desk is a standing desk for use at home or in an office space. The desk comes in a wide variety of sizes, ranging from the smallest (30″ x 24″) to the largest (78″ x 30″).
All Jarvis Desks are adjustable to a standing height (even if you're super tall) to a rediciously low height.
Jarvis is made by Fully – a company that "makes and sells office furniture that is beautiful, well-built, and designed to create a healthy, supportive workplace where everyone can feel and do their best."
Their products are incredibly well thought-out and easy to use.
How high (and low) does the desk go?
The desk is an adjustable height desk. It comes standard with a motor-powered range of 30.1 inches to 49.3 inches. We upgraded to the 3-stage system, which allows the desk height to go from 25.6 inches to 51.1 inches.
Fully also offers a desk option that goes from 43.4 inches tall down to 23 inches low. I guess that's for people that want to sit on the floor at their desk, too.
The legs, AKA the desk frame are also available in a couple of different colors: white, black, silver, and alloy ($20 extra).
What about Desk Top Size for Standing Desks?
We went with the 60″ X 27″ version in white – because it's always better to have more desk space over less – if the space allows it.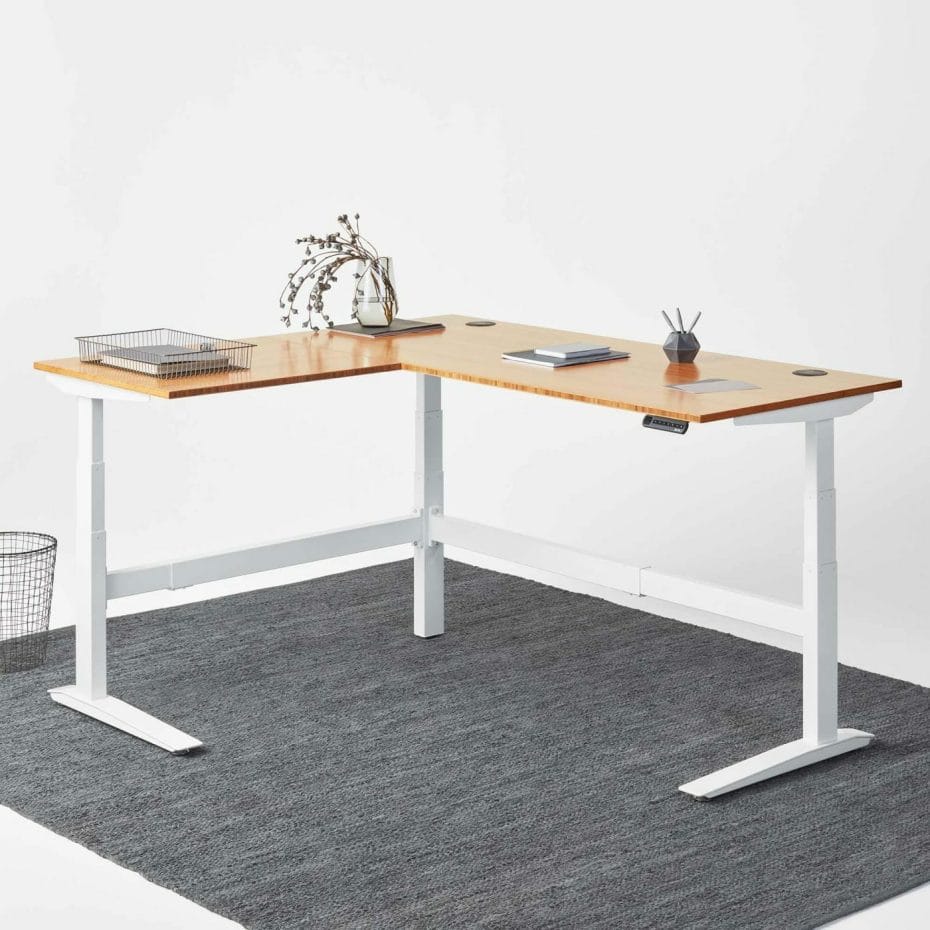 This standing desk is the answer for those who want to stand, sit or lean (I promise I'll explain shortly) when they work.
The desk's durable construction will last you years and it features an industry-leading lifting weight capacity of 350 lbs that quickly adjusts from a top height of 50″ to one low enough so you can take a seat on the floor. Pretty impressive for office furniture!
Desk Top Materials Options
The desk is also available with a wide variety of materials for the desk top. We chose the white laminate. You can also get black, oak, maple, stone, walnut or whiteboard (yes, you can draw and erase on the desk like a whiteboard – pretty cool!) in the laminate products.
The laminate desktop is waterproof and scratch-resistant. The inside material is a heavy-duty, high-density particleboard core 84% or more of pre-consumer recycled wood fiber.
However, Fully now offers different variations on the this desk that include the jarvis bamboo standing desk, the dark jarvis bamboo standing desk, designer ply (think contrasting top and exposed plywood edges, but still tough), EcoTop (earth-friendly powder-coated MDF desktop—durable and water-resistant), hardwood, and even reclaimed wood (these look beautiful).
One of the higest quality standing desks
Fully also backs their products with a 15-year warranty on all desk frame components, mechanical parts, motors, and electrical components and 5-year warranty on desktop surfaces, excluding normal wear and tear, and damage caused by improper assembly, disassembly, or repair.
You have to love a company that stands behind its products.
One of the reasons that the desk is so adored is because of the many, many options available.
Jarvis Desk: The customization options
The fully jarvis standing desk has many customization options:
Desk Size
Desk Shape (a couple L-Shaped Designs are also available)
Desk Height Range
Grommets – Different colors and even powered grommets
Options for the height adjustment controller
Power mangement
Wire Mangement
Different tops (ranging from a bamboo top to reclaimed wood)
Even options for monitor stands
Let's dive into how we use the Jarvis/Fully Desk and the options we selected, in addition to some other thinks you should think about before buying this desk.
How we use the Jarvis
This Jarvis Fully Desk is placed in what was previously a bedroom that we used for a play room. The office was previously at the front of the house. While this is super logical, it was really tough when we were using the office and on a Zoom video call and having to deal with a barking dog that barks at his own shadow. Anyone at the door meant I had to go on mute and calm a barking dog down (even if it was a delivery person dropping off a package).
With some recent home renovations we were doing, we decided to move the office to the back of the house – far away from the front door. My old office also french doors that my kids would use to make funny faces at me.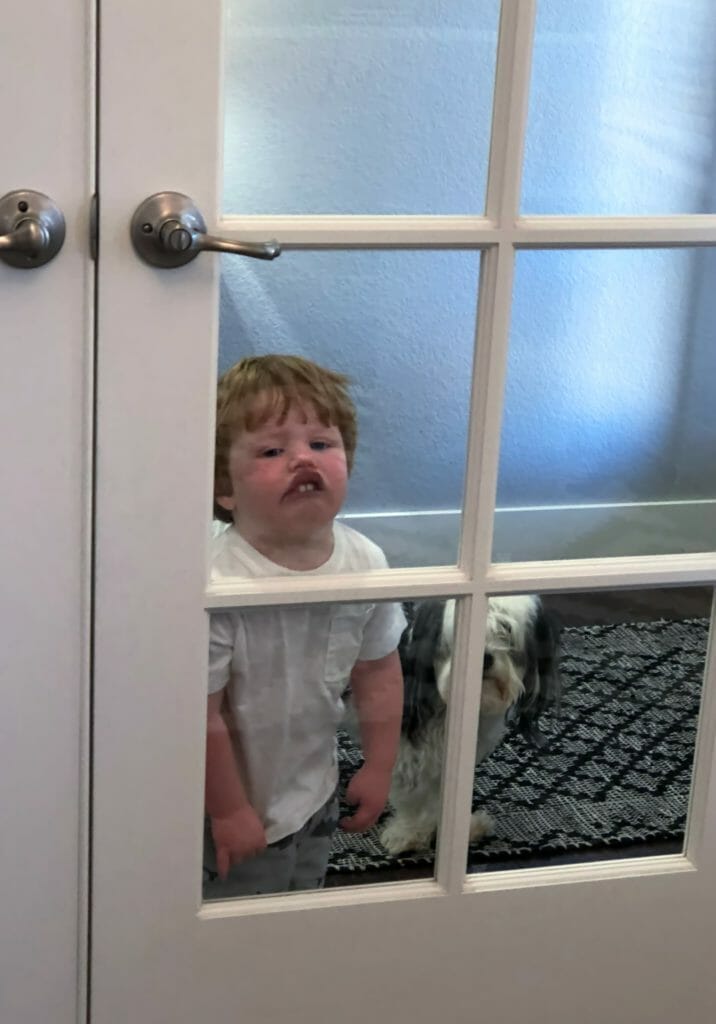 The guest bedroom was perfect because there is a bathroom, too. It used to be really hard for me to come out of the office to go to the bathroom, because, inevitably, the kids would come out and want attention.
And my kids are pretty cute (and nice), so that's always tough to resist.
I have the 60″ X 27″ version in white, with black legs, white grommets, the three-stage frame height and Up/Down toggle.
Nothing too fancy. Let's look at my full Jarvis Desk Set up.
My Current Jarvis Desk Set Up
Show (left to right):
Microphone (for podcast and video recording)
Hue Light Button – turns on a red light if I'm on a call
Philips Hue Go – to balance out the window light
Samsung Monitor
Under the desk and around
USB-C Hub
Surge Protector
Ruggable Rug (read our Ruggable Review)
Anti-Fatigue Mat
What I switched from
I actually had a Fully Luna Stool (I'll post my full review here shortly) for several months before getting my Fully Jarvis Desk – and I never used it. Here's why: I wasn't using a proper desk.
I had these beautiful CB2 "Kitchen Tables" as my desk. While it was beautiful, they never allowed me to be at the right angle (pun intended). Every ergonomics text you read will tell you that your arms should be at about a 90-degree angle when standing – at your elbow to the keyboard.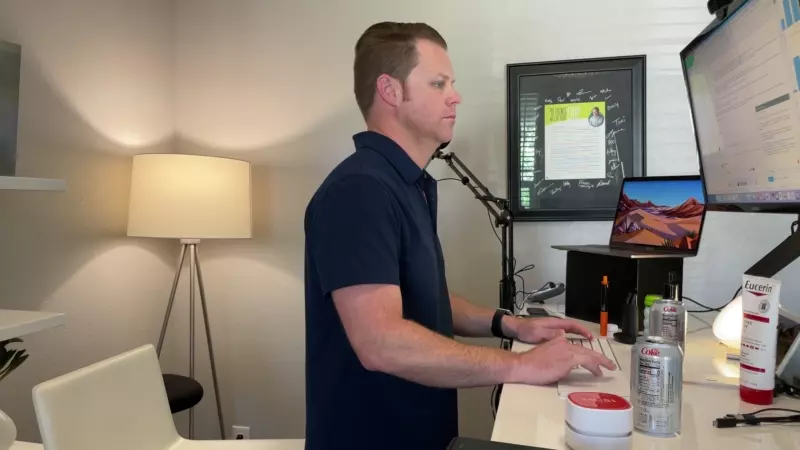 Your eyes should be below the top of the screen and you shouldn't have to move you head around a lot to see all parts of the screen.
The best part of the Fully Standing Desk is that is completely adjustable and completely electric standing desk.
That means with the touch of a button you can inch your desk up or down. It's really pretty incredible and a lot of fun.
Fully also offers a programmable handset (what the little thing is called that allows you to move the desk up and down). I didn't get that and don't think I'd need that.
That's because you always need to adjust your desk up or down depending upon if you are wearing shoes, leaning, sitting, etc.
Sit… stand… or lean?
OK, the moment you've all been waiting for. How do you lean with a standing desk?
I probably spend about 90% of my days standing at the Fully Jarvis Desk. I spend about 9% of the time at my desk leaning? What the heck does that mean? It means I use the Fully Luna Stool to lean on my booty on but still keep myself support upright with my legs.
It's the best of sitting and standing and is a nice break.
I find that sitting makes me to be a little lazy and I don't enjoy it as much anymore.
I spend about 1% of my time sitting. For that, I use the Fully Tic Toc Chair.
The Fully Tic Toc Chair (fully review coming soon) is billed as responding to your "body's natural posture, rhythm, and need for movement."
While many Fully customers have bought Tic Tocs for their Jarvis Desks, they seem to be equally appreciated as dining and living room chairs, sewing and guitar-playing stools, meditation seats, even baby rockers.
They also heard from parents that there's no better chair for keeping restless kids at the kitchen table. We may need to try that!
I thought I would use the Tic Toc Chair more – maybe for meditation or mindfulness, exercises (yes, I'm one of those weirdos, but I actually practice the Wim Hof Breathing Method). However, I find myself using the Moon Pod more often for that sort of thing. It's just more comfortable (full Moon Pod Review Coming Soon, too!).
There's nothing wrong at all with the Tic Toc Chair, I just don't have a great use for it, except when I want to sit at my desk. It's the only way I can sit at my desk right now, with the furniture that I have. That is, without sitting on the floor (which is actually possible, too!).
Jarvis Desks: Assembly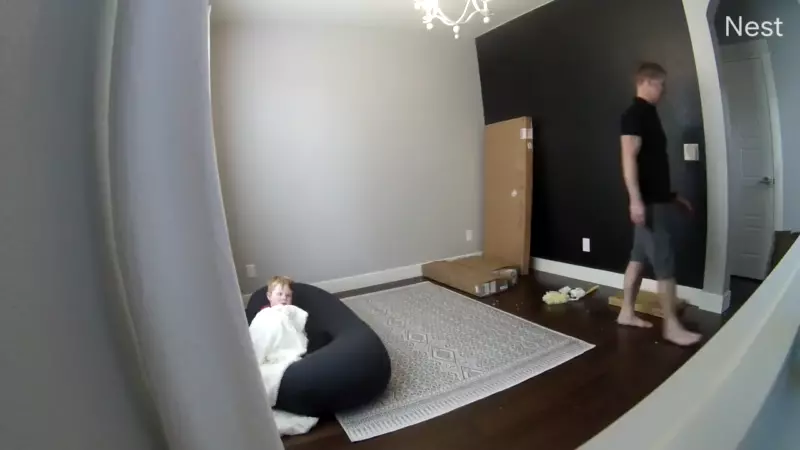 I was pleasantly surprised with how easy the Standing Desks are to install, especially with all of the available options available.
You can tell that Fully really thought out their design process and wanted to make sure that you could assemble the desks all by yourself. And you can, too.
While some assembly is required, Fully has designed their Standing Desk with the intention that you can set up and install it all by yourself – there's really nothing too complicated about it. There is even a fun video they put together on their website that shows you a bit more details on how to assemble the product yourself.
It took me about 45 minutes (with a big helper, AKA our daughter) who was not helpful at all. But without distractions, I think it would only take you 15-20 minutes.
Standing Desk: Other considerations
As you'll see in just a minute, the only real issue we had with the Jarvis desk was the cord management. But that's more an indication of the times than a problem with Jarvis. A couple of quick tips we'd recommend with any standing desk:
Take some time to consider how you are going to use the desk – do you need to sit AND stand? Do you want to lean or sit on the floor? All of those make for important things to consider.
Make sure your office has a ton of hidden storage. I tend to need about 20 things about 1% of the time. There are studies that show a messy desk leads to less productivity. Keep the essential items out (AirPods, Blue Light Blocking Glasses, etc) but keep the "as needed" items somewhere else (random charger for random item needs to be out of sight, out of mind).
Wait to do any cord management until you have settled on your set up. Wait a couple of weeks to see what works and what doesn't for you and your office before doing any cable management.
Make your office comfortable. Do you like to have cold drinks? Get a mini fridge. Do you like your office to smell great? Get something like a Pura Smart Diffuser. Little luxuries go a long way with a home office.
Sound-proof it. If you have hardwood floors (or tile), there's a good chance that your room will be very echo-y. Make sure to grab some soundproof tiles, like mine to deaden the space.
A couple of small tweaks can lead to a much better experience in your home office. Also, check out our best gifts for someone working from home.
Jarvis Desk Review: What we love
We love so much about the Jarvis Standing Desk. It's sleek, easy to assemble, looks great and will last a long time.
We also just love having a desk that can be easily adjusted. If I want to switch from standing to leaning and want to adjust the desk a smidge (technical term, I know), I can do so with the touch of a button.
If I need the desk even higher to use with a balance board, I can do that, too.
Make the desk yours
The best part about the Fully Standing Desks is that you can truly make them EXACTLY the way you want them to be. That's awesome. Fully offers a wide variety of quality accessories that are easy to use and easy to understand.
The desk are also just incredibly well made. You won't find any wobble (in any direction). The only thing you'll find is a well-made, solid, wobble free desk.
Other Reviews
And honestly, look at the reviews on Fully's website. They are full of people that had a great experience just like me. Also – look at the reviews on IKEA's website. Not surprisingly, their most glowing reviews are first – but if you go back a couple of pages, you will see the quality was not very good and the desks were really wobbly.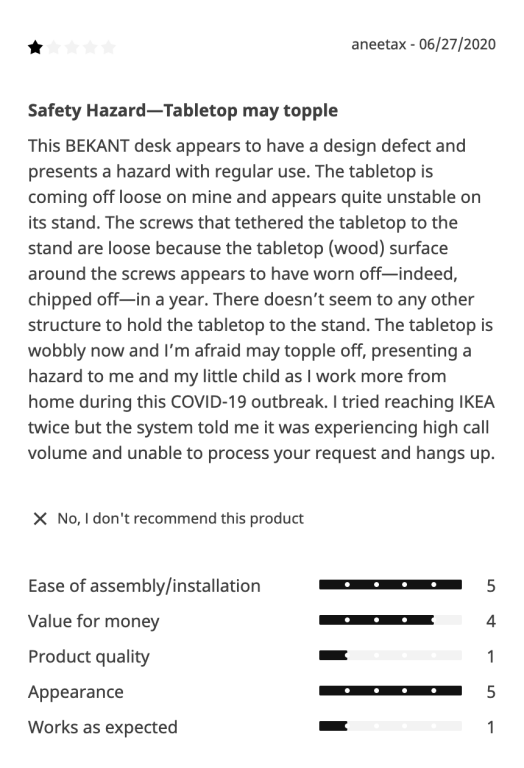 If you want stability in your desk. You'll find it with the Jarvis Desk.
After I read a ton of reviews talking about IKEA's stability – I tried to move around my Jarvis desk and it barely moved at all. I was super surprised about the overall stability. It's one of those things you would never notice unless your desk was NOT stable at all.
But after reading other reviews, I'm glad I have the Jarvis – especially with kids around who have tried to hang on this desk. I don't recommend it – but my 2 year old did hang from the desk and the desk didn't budge.
What we didn't love
What we didn't love about Jarvis is more a function of today's modern times: cords! SO. MANY. CORDS.
Jarvis does offer some cable management solutions, like this tray, but we didn't care for it.
We'd love if Fully offered some better cord management options that were integrated into the bottom of the desk, so you didn't need to take away from the clean look.
It's complicated, we get it
We simply have a lot of cords and adaptors to use in our everyday life (and curse you, Apple, for making the new MacBook Pro only have 2 USB-C slots). I was able to mount the USB-C hub that I use every day to the bottom of the desk without a problem.
It's not the cleanest solution, but it works.
Also, we wish Fully could integrate the cord into the desk leg, somehow. It seems silly to have all this cord management stuff and then the cord just hangs off the side. I know this is a bit more complicated because the cord needs to have some slack when you adjust to a standing height vs. sitting height – but there has to be a better option.
There is also a lot of slack in some of the cords (I'm assuming due to different sizes of desks) that would be better suited for each desk.
Nothing is a deal killer here
Nothing here is a deal killer by any stretch of the imagination, but cord management is a big deal for everyone. I don't think there is a perfect solution because everyone's needs are different (like, who else needs a podcast microphone, speaker phone AND big monitor?).
Another great reason to love Jarvis: the Fully company
David Kahl is the founder of Fully. He founded Ergo Depot in 2005, which was rebranded as Fully in 2016. The name Fully is a nod to the now-familiar concept of "bringing your full self to work." 
For decades, the company has been committed to running a better business and they are now leading with mindfulness in every decision. Fully is an award-winning Certified B Corp., which means that responsible practices take priority over everything else on their journey. The team at Fully believes in not only sustaining healthy supply chains but also mindful sourcing of materials for manufacturing as well as promoting paternity leave policies across all levels of employees.
Focused on the people
Fully has over 100 employees and a manageable catalog of products that it sources from other makers or designs. The company is vertically integrated, meaning they are direct-to-consumer e-retailers with social responsibility commitments to the environment and people as well.
Fully takes their whole company on retreats where no one talks about work for an entire week; instead, time will be spent talking about things like personal development through mindfulness practices in addition to topics such as sustainability or self-awarness. On top of that, each employee is given an extra two weeks off to do non-political volunteer work in the community. 
Fully is the type of company that makes you want to get behind them. They have a strong commitment to their employees and the community.
Cheers to you, Fully!
Incredible Customer Service
The Fully website is full of customer reviews that say many of the same thing we discuss here. The even better part is that Fully reads these review and responds to almost every one. For example, take this customer review of the Jarvis Desk:
Shipping was prompt and the desk looks well-constructed, but I'm concerned with the color of the surface. I ordered Stone (laminate) color choice, expecting to get a darker, richer finish, but it is much lighter than pictured here in photos.
Fully responded to this review of the Jarvis Desk with this awesome response:
Our warehouse team is dedicated to fulfilling and shipping out orders as quickly as possible, so it's nice for their hard work to be recognized! In addition to filling orders, they can also send samples or swatches of our various desktop materials and frame finishes. We apologize that the color was not what you expected– we'd love it if we could correspond about some of our different laminate options. Thank you so much for reaching out; we'll try to get in touch as soon as possible!
Almost every single "negative" issue could have been solved by reaching out to customer support. They really are amazing. If you have ANY questions at all, I'd encourage you to reach out to customer support before making a purchase. They will help you along the way.
What about Price?
Sure, you can get a standing desk for cheaper. But it's kinda like with mattresses, why do people refuse to spend money on a quality item (like a desk) that they spend 8+ hours a day at? If you are going to be standing at a desk all day, I'd encourage you chose a desk you like and a desk that works best for you.
The desk, as we configured it, was $749 – but the desk stars at $549. Fully offers free shipping in the continental US and the products arrived very quickly.
A Cheaper Jarvis Desk Alternative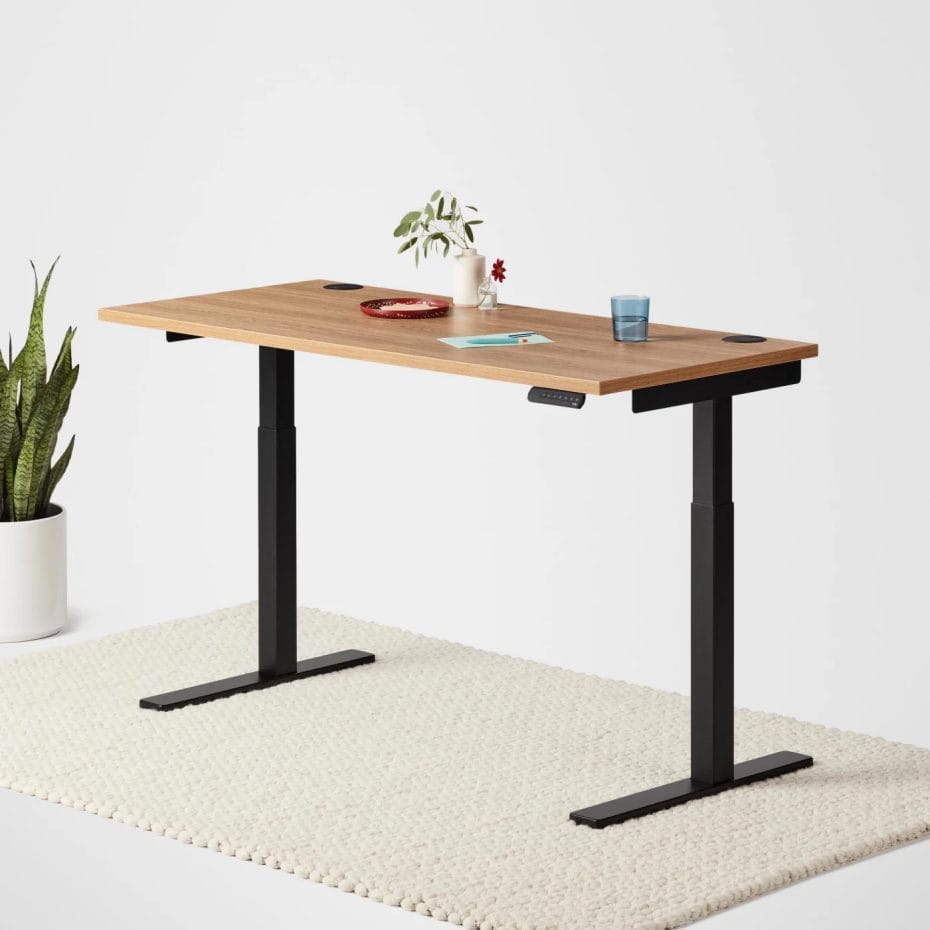 If budget is your biggest issue – have no fear: Fully now has the Remi Standing Desk. Starting at $459, if you don't need all the extra options, then check our the Remi Standing Desk.
You get what you pay for
We don't like to buy furniture that we replace every year. We believe in spending in quality products that will last you a long time.
I encourage you to get a desk that is super-adjustable, quiet and electric. This way you can adjust the height of your frame exactly how you want it! 
Nowadays desks are more than just an office item; they're part of our routine for many hours awake every day. That's why I recommend finding high quality products from companies who stand by their work with warranties or guarantees so if something goes wrong, you won't be left with a junky product – or another trip to IKEA.
For a product like a standing desk, don't go cheap.
Fully Jarvis Standing Desk Review: The final Verdict
Top Pick
Meet the Jarvis Standing Desk
The best-designed standing desk on the market.
If you are looking for an incredibly high-quality desk that will not only look good but will last you for years to come: look no further than the Jarvis Standing Desk.

There's a lot to love: it's incredibly sturdy, well made, and customizable to fit your every need. The Jarvis Desk is the best desk we've ever tried.
Fully has thought about it all: from how you assemble your desk to how you use it. Sure, you could get a cheaper standing desk from somewhere else – but I'd encourage you to not overlook where you spend a large part of your day: at your desk.
While the Jarvis Desk isn't the cheapest desk we think it is one of the best standing desks on the market. From the easily adjustable desk height, to the wide variety of sizes to the incredible warranty to the quality of the product. You can't go wrong with supporting a company that really belives in what they are creating for customers and stands behind it.
We're happy to give Fully's Jarvis Standing Desk our We Tried It Seal of approval. If you have any questions or comments about our Jarvis Standing Desk Review please let us know in the comments below!