Ruggable Review: Can a washable rug look good and be washable?! Read on to see our full and honest Ruggable Review.
Ok, real talk here… when we moved into our house we didn't have children. I bought a gorgeous white rug that cost over $1k for the living room and I was obsessed with it. 
Fast forward a couple of months: we had our son and the $1,000 rug looked so rough after a few weeks of having a baby. We are clean people, we don't wear our shoes inside and I make sure to yell at anyone who looks like they might spill. 🙂
Still things happen, in fact, my daughter spilled my Venti Pumpkin Spice Latte on my new living room rug last week. Do you know how hard it is to get pumpkin coloring out of a rug? Ha! Enter Ruggable! 
The founder of Ruggable, Jeneva Bell, invented this washable rug system after her dog had an accident on her rug. She thought why can't we wash our rugs like we can wash our bedding, pillows, and window treatments? I'm with Jeneva and I will never buy a traditional rug again! I am going to work towards replacing all of our rugs with Ruggables! 
What we love about Ruggable:
They look like traditional rugs!  No one even knows my Ruggable rug is not a traditional rug. I have to show people that is a Ruggable and I frequently do because I think it is so cool!
They wash and thus you can live life with pets and children without worrying about the rugs in your house!
Ruggable has so many amazing designs! 
They stay put on the floor- they don't peel up or slip and slide and the rug pad is included!
The PRICE!!! These rugs are a fraction of the price you pay at West Elm or Pottery Barn for a rug.
What we don't love about Ruggable
Honestly, I have thought long and hard about this and the only thing I don't love is that I just have one Ruggable rug! 
You can probably find cheaper rugs at IKEA or Target, but the prices are very fair.
It also can take a little longer for the rugs to be shipped. With current supply chain issues, it is taking about 2- 3 weeks to get rugs to your home.
Ruggable Review: Who is Ruggable product for?
I think anyone with pets or children would particularly love Ruggable, but honestly anyone with a rug could switch it out for a Ruggable. 
I love to entertain at our house, but I like people to feel comfortable and not feel like they have to be overly careful. Ruggable allows you to feel relaxed about entertaining because you don't need to worry about guests staining thousands of dollars in rugs. It also allows you to not worry about your kids or pets and their messes!
Pottery Barn Rugs vs. Ruggable: How do they compare?
Just to put into comparison: this Pottery Barn 8 x 10 rug is on sale for $679 (typically $799).
It is designed to be easy to clean, but it is not washable.
Compare it to this Ruggable rug:
This similar 8 x 10 rug is only $399 with free shipping.
Ruggable Review: What's included in each rug
When you purchase a Ruggable System you get both the rug and the rug pad.
The rug is almost like the weight of a towel but it sticks to the rug pad making it nice and thick. When the rug is connected to the rug pad the Ruggable feels and looks the exact same as a traditional rug.  When the rug is dirty you just peel it off the rug pad and throw it in the washing machine!
We'll post full instructions on How to Wash Ruggable soon.
Ruggable Review: The styles
Ruggable has a surprising amount of styles: ranging from traditional to even Disney and Star Wars-inspired styles. Yes, you read that correctly. See this Star Wars style:
Of course, Ruggable has more traditional and modern styles, too:
We wish Ruggable was around earlier, because we had a rug almost exactly like this one, but we had to throw it away because it got so stained. 😢
They even have very traditional style rugs, like this one below, that look great (if that is your style):
You can't go wrong with the Ruggable Styles. The only thing they do NOT have are super shaggy carpets, but those would be impossible to clean. Check out Ruggable Best Sellers to get a great idea of their most popular rugs.
We, personally love our rug at our home and will be getting more!
Ruggable Review: The Final Verdict.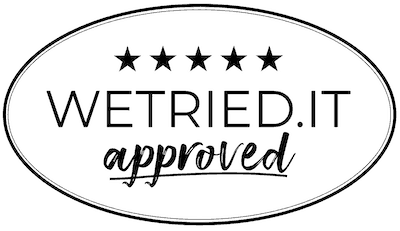 Calling all rug owners!!! Surrender your stained, dirty, gross rugs and replace them with Ruggable! I seriously wish I had known about Ruggable 5 years ago because it would have saved me so much money! I can't wait to replace all of my traditional rugs with Ruggables!