Outer Furniture Review: we put the well-made, durable brand of high-quality furniture to the ultimate test – our home.
Why Outer? Our Quick Outer Furniture Review
Our #1 Pick for Outdoor Furniture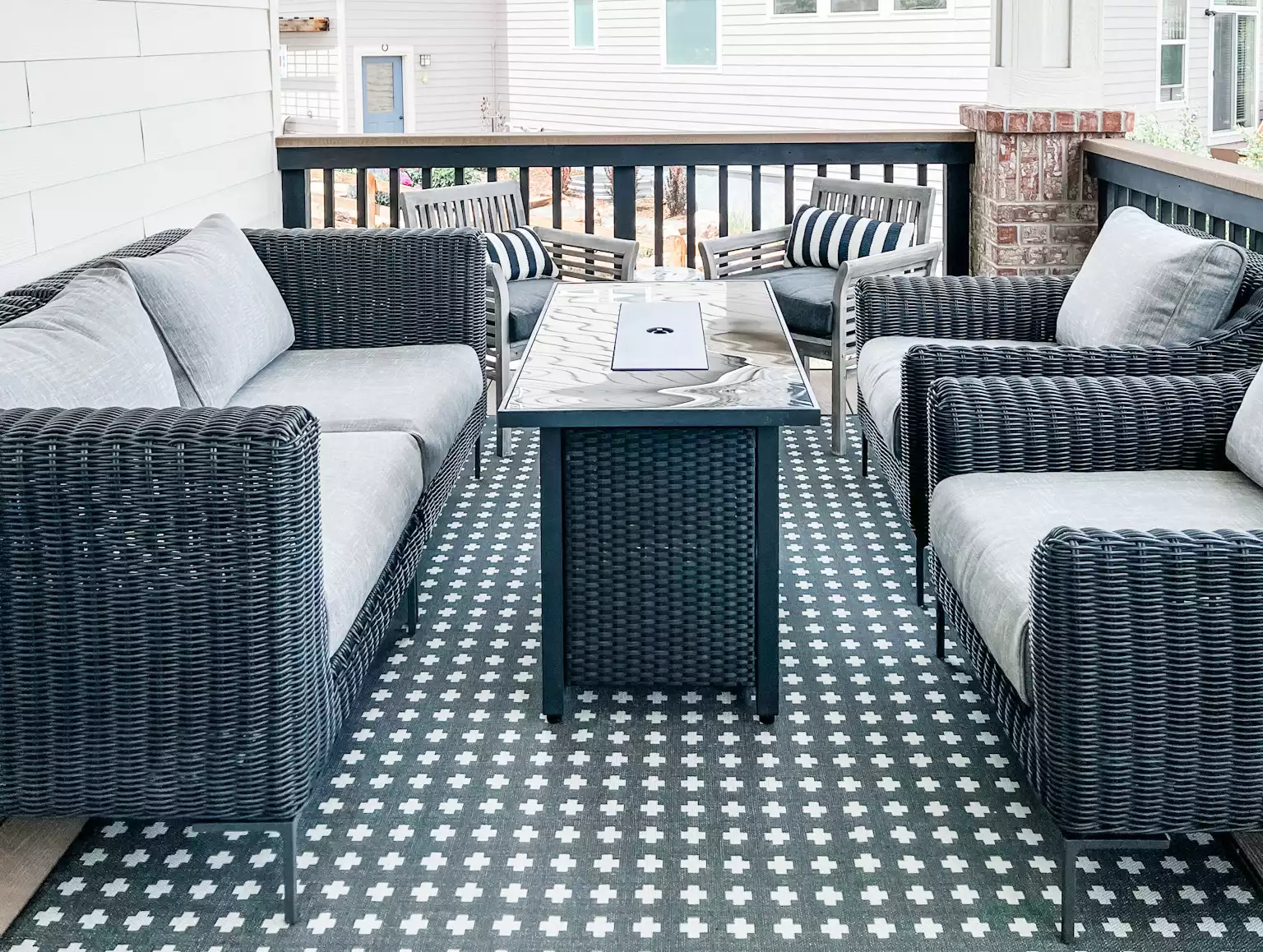 Out with the old, in with the Outer.
Outer Furniture is changing the game when it comes to furniture outside. With its integrated OuterShell cover, Outer is protected from dirt, dew, and debris, and doubles as a convenient carrying case for storage.
The furniture is also designed to be outside, so you don't have to worry about it filling up your garage with covers for your furniture. Seriously… why hasn't someone thought of the OuterShell before?
Of course, Outer Furniture isn't cheap. But good things seldom are. So if you're looking for high-quality, stylish outdoor furniture that will last for years, Outer Furniture is the way to go.
Outer: What we were looking for
This past year we have wrapped up so many indoor home projects! We were feeling really good about the inside of our house, but we still had to conquer the outside of our house.
We wrote a post about all the different outdoor projects we decided to take on here. One of the things we knew we needed to do was purchase new furniture for our back deck. We had a couple of sad chairs out on the deck, but we hadn't really sat out there much because we still had little kids that needed constant supervision.
Since both of our kids have fall birthdays we suffered through two summers of mobile babies who could not walk, which is so tough!
Hallelujah, this summer, our kids are finally big enough to play in the yard and I can sit on the deck now instead of having to be right next to them! This means Mama can lounge on a couch and read a book for a few minutes this summer!
High Quality Outdoor Furniture: What changed my mind
In the past, I have always put money into indoor furniture but gotten cheaper furniture for outside. With that mindset, I think I have always thought outside furniture was really crummy quality.
Our last set was two chairs, a coffee table, and a couch from One Kings Lane.
We currently have two of the chairs from that set after the couch and table broke over the last five years of owning it. This time, I wanted to make an investment that was going to last more than a few summers on our outside furniture because I hate replacing things again and again.
The cost and environmental impact of buying cheap furniture and replacing it doesn't make sense long term.
How we heard about Outer
I had seen ads for Outer Outside Furniture for years and I was obsessed with the clean aesthetic so that immediately came to mind when we started searching.
After looking at lots of different options, I just kept coming back to Outer and their Black Wicker Outdoor line. We ended up going with the Outer Black Wicker Outdoor Loveseat and two of the Outer Black Wicker Outdoor Armchairs.
What we love about Outer
There are many things to love about Outer, but here are our favorite features. Let's dive deep into what we love about this brand
First, and foremost, the quality
The first thing I have to say about my new Outer furniture is that the quality is unmatched.
I have sofas and chairs inside my house from Pottery Barn, Restoration Hardware, Crate and Barrel and CB2 and the quality of the Outer furniture is way higher. The pieces are heavy and substantial without being unwieldy.
Outer: Also super comfortable
Comfort! We have seven sofas inside our house and I have been napping on the Outer Black Wicker Loveseat…. outside.
As Jim Gaffigan says, "I'm indoorsy," so napping outside is a big deal.
The cushions are firm but have just the right amount of give. Their cushions are like sitting on a cloud. They are constructed from three layers, including the same memory foam found in luxury mattresses, which gently form to your body for tailored support.
Outer's furniture is not only the most comfortable around, but it is also stylish and will make any patio look amazing.
The pillows are moveable, so you can really get comfortable! I like to put one of the back rest pillows under my head and one under my knees!
The Game-Changing Feature: OuterShell
Cleanliness is next to godliness and one of the best features of Outer is that their furniture has an OuterShell.
The OuterShell is a zippered, removable, machine-washable cover. That protects your furniture cushions from being covered in dirt. Let me explain.
In Northern Colorado, we get a good amount of wind so everything outside has a layer of dirt on it. The coolest thing about the Outer furniture is the built-in covers. I keep the covers over the cushions at all times when we aren't using them.
It only takes a couple of seconds to detach the velcro covers underneath the front of the cushions and you can either drop them over the back of the furniture or roll them down and stick them behind the back cushions.
Then you have a perfectly clean cushion to sit on! No layer of dirt!! Honestly, this feature makes me so much more comfortable sitting outside.
I would have never taken a nap on our old patio furniture because I wouldn't want my hair and face in a layer of dirt. In the words of Alexis- EWWWW DAVID!
Cushions are made from Stain Resistant Material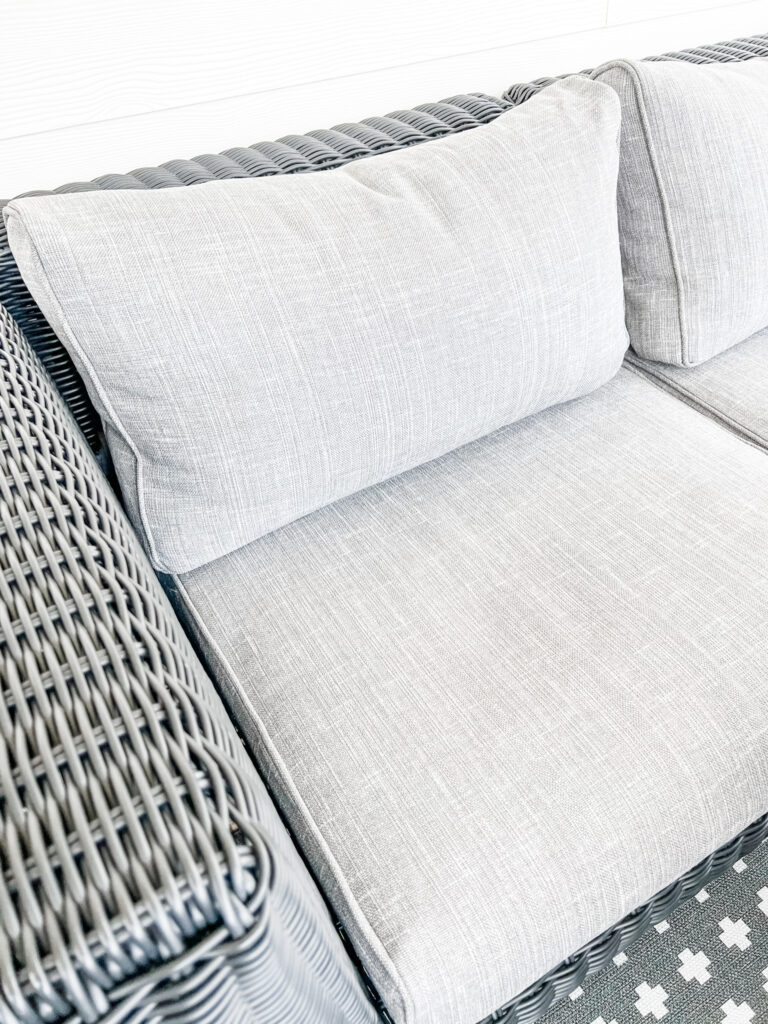 Outer's cushions are also made of an Olefin material that is stain resistant. A couple of days after we set up our furniture my daughter had a blister from the pool and got blood all over the sofa.
I grabbed a paper towel with Dawn dish soap and it came right off! Let's be honest, furniture (especially outside) must be stain-proof and this material is incredible! If you have kids or animals (or even if you are just a bit clumsy), you need Stain resistant fabric on your furniture!
Wicker… but high quality Wicker
The Outer material is a black wicker that has a powder coating made up of aluminum and magnesium.
It looks and feels so luxe! We actually have a black wicker fire pit from Amazon next to our Outer set and the Outer furniture makes the fire pit wicker material look so cheap!
Set-up was a Breeze
Outer knocked it out of the park again with how easy their furniture is to assemble.
We've all been there. You wait patiently for your Outer furniture to be delivered and then when it finally arrives, you open up the box to find a million tiny pieces and an instruction manual that might as well be written in a different language (or worse, faxed and scanned 2,129 times).
But Outer has always made assembly a breeze and their latest outdoor furniture is no exception.
In fact, it might be the easiest furniture yet. We only needed to put the legs on and voila! Furniture heaven.
And thank goodness because it came the same week as the new trampoline and that was horrible to put together, so we were all "assembly required" out.
Tons of Design Options
Options- there are so many different seat configurations and color and material options available.
They have options in teak, aluminum and wicker and different color variations for those materials as well as color variations for their cushions. I went with the gray cushions to hide any stains, but now knowing how stain resistant the fabric is, I would not hesitate to go with the white cushions.
What we don't love about Outer
Nothing can be perfect, right? Well, Outer is no exception. Here are a couple small issues we had with Outer.
Delivery issues
The delivery was a little complicated. We received our chairs and our loveseat on different days even though they were part of the same order and the loveseat was a couple days late in arriving from when we were told it would be delivered.
I think this is pretty standard right now due to supply chain issues after Covid-19 and furniture delivery in general.
As I mentioned above, we just finished a ton of house projects and that included quite a bit of new furniture and we had a problem with almost every single thing that was delivered.
Companies saying they were coming and they didn't. Things being back ordered that weren't originally. Things coming broken.
All in all the delivery process, although not exactly perfect, was one of the smoothest for any of the furniture we ordered.
I did think I would mention this though because I think the delivery is part of the overall experience. Thankfully, nothing came broken and everything was wrapped really really really well to insure that it arrived in PERFECT condition.
I guess this is one of those areas where we are all going to have to have more patience over the next couple of years as we work out the kinks following the pandemic.
Let's talk about the price – and why it's not terrible
Our most used outdoor chair
Outer's price is on the higher end for outdoor furniture, but I believe that it is worth the cost.
A lot of times, these companies are trying to do things better by being more sustainable. Outer is saying no to fast furniture and yes to furniture that won't end up in the landfill in five years.
I would much rather spend more money on a better quality product than have to replace my furniture every few years.
If you want to save some money, we've created a resource of all the best Outer Promo Codes we've found and some more ways to save, too!
Our pick for best outdoor furniture
That means increasing the quality of their products to last for years and generations to come and this comes at a price.
Having had our last set for about five summers and having to replace it, I would prefer to spend more money upfront and keep it longer.
Also, looking at websites like Pottery Barn and West Elm, Outer is on par with their outdoor furniture and Outer is definitely much higher quality. So is it worth it? Yes, I think Outer furniture is absolutely worth the price and I think the quality is amazing and will last for years and years to come.
Who is Outer for?
Outer Furniture is the perfect choice for anyone who wants high-quality, stylish outdoor furniture that will last for years. The materials and construction are top-notch, and the built-in covers and stain-resistant fabrics make Outer furniture the perfect choice for anyone who wants their outdoor furniture to look great and last for years.
I would absolutely recommend this over any of the other big furniture companies out there. I think the materials and construction are superior and the built in covers and stain resistant fabric are really the chef's kiss to an amazing product overall.
Overview of features
The biggest features of the Outer Outdoor Black Wicker Furniture set, including the Outer Sofa, that we have are:
The OuterShell built-in covers that keep the Outer cushions clean in between uses.
The stain and fade-resistant Olefin fabric that is really very stain resistant!
The black wicker material made out of aluminum and magnesium has a very high end look and feel to it.
Alternatives to Outer
There are so many outdoor options for furniture, like Yardbird, but I could not find a single option with built-in covers for the cushions besides Outer! Having the option to sit on clean furniture outside, I never want to go back to sitting on furniture outside with dirt all over it!
I really couldn't find a comparable alternative to Outer outdoor furniture though.
I really like Restoration Hardware's wicker outdoor furniture and I think the quality is comparable to Outer, but you have those bulky separate covers that you would need to use.
I have a whole wooden box full of those and I never get them out because they are such a pain!
Other things to know about Outer
Yes, this is the same company that featured the Outer Sofa on Shark Tank. It's the same Outdoor Furniture Brand with the amazing outdoor furniture cushions you saw on Shark Tank.
It wasn't until we did more research on the Outdoor Space that we found Outer's patio furniture and realized it was on Shark Tank.
Want to make some extra money?
If you're a happy Outer customer, you can make some money being an exclusive neighborhood showroom host. What does that mean? You allow folks experience the awesome sofa cushions and cushion covers firsthand on your own outer sofas in your home.
In fact, you can unlock 10% off your first purchase when you apply with no obligation to host. That's right, save money on the outdoor sofa you've got your eyes on with no commitment. Sweet!
Outer Review: The Final Verdict
Our #1 Pick for Outdoor Furniture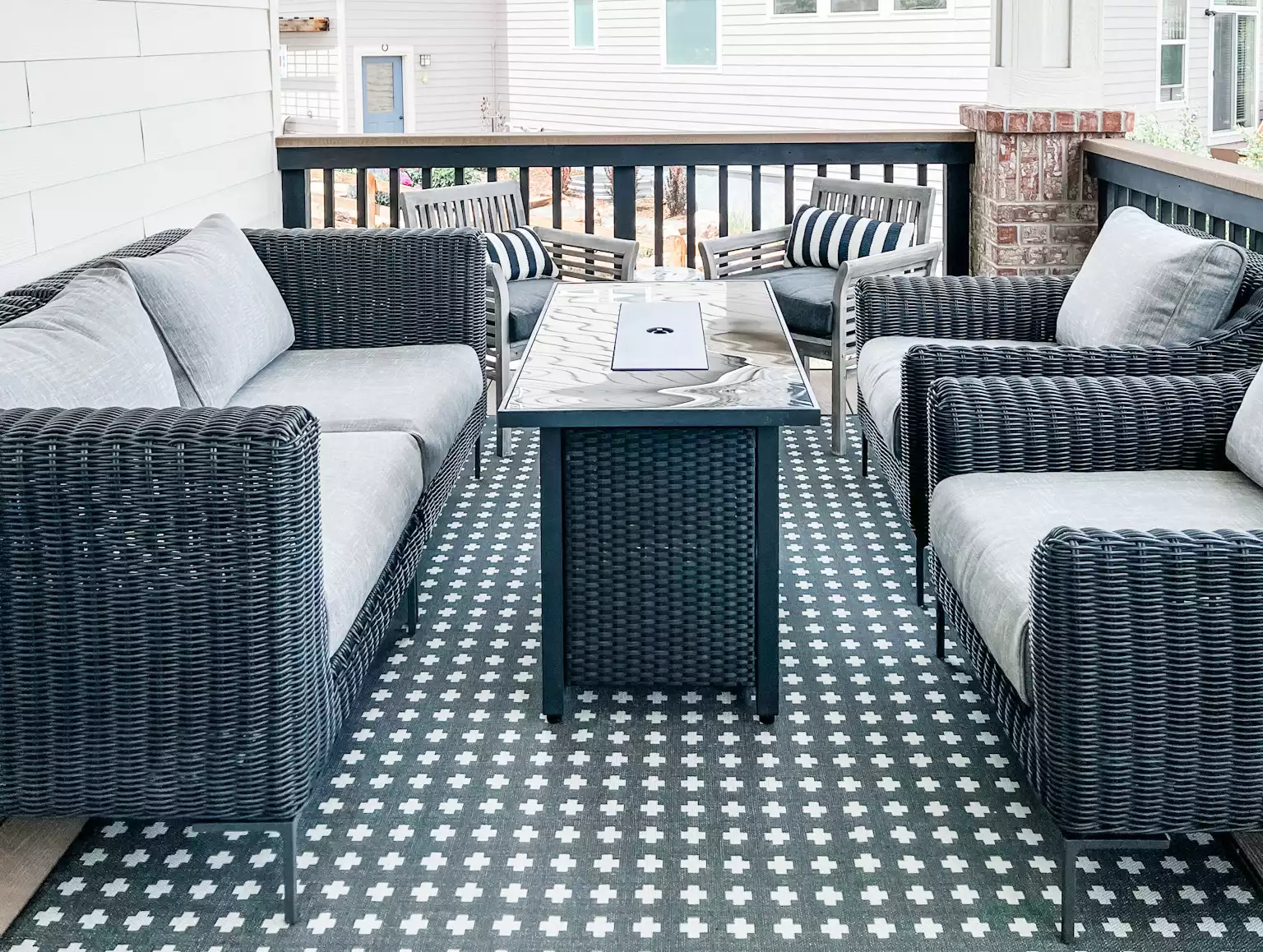 After what feels like exhaustive research in the subject of outdoor furniture, I really think Outer is the best available.
Outer is just really well thought out and executed perfectly. If you are in the market for higher-end outdoor furniture, look no further than Outer. The best selling point really is the integrated cushion covers, the high-end materials used for the construction of the base and cushions, and the overall luxe feel of the furniture.
I couldn't be happier with our Outer Black Wicker Outdoor Loveseat and Armchairs! The company is also expanding to make fire pits, outdoor dining options, and blankets with insect shield that I would love to try in the future. This company absolutely receives the We Tried It stamp of approval!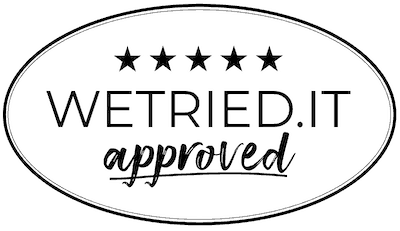 Outer Furniture is the perfect choice for anyone who wants high-quality, stylish outdoor furniture that will last for years. The materials and construction are top-notch, and the built-in covers and stain-resistant fabrics make Outer furniture the perfect choice for anyone who wants their outdoor furniture to look great and last for years.
I would absolutely recommend this over any of the other big furniture companies out there.