Laundress Review: Tired of paying for Tide Pods that don't work? We Tried The Laundress to give you our honest The Laundress Review. Read on the find out if The Laundress is worth it – and if it is actually cheaper than Tide Pods.

The Laundress Review: what is The Laundress?
The Laundress is a line of laundry and home cleaning products that are eco-friendly and highly-efficient. The creators worked in luxury fashion and were tired of paying for dry cleaning. So they created The Laundress. The Laundress brand allows you to clean almost everything at home.
The Laundress has a wide variety of products ranging from a baby detergent to scented vinegar to home spray. If you can think of something that needs to be cleaned in your homes, there's a great chance that The Laundress makes a product to clean it.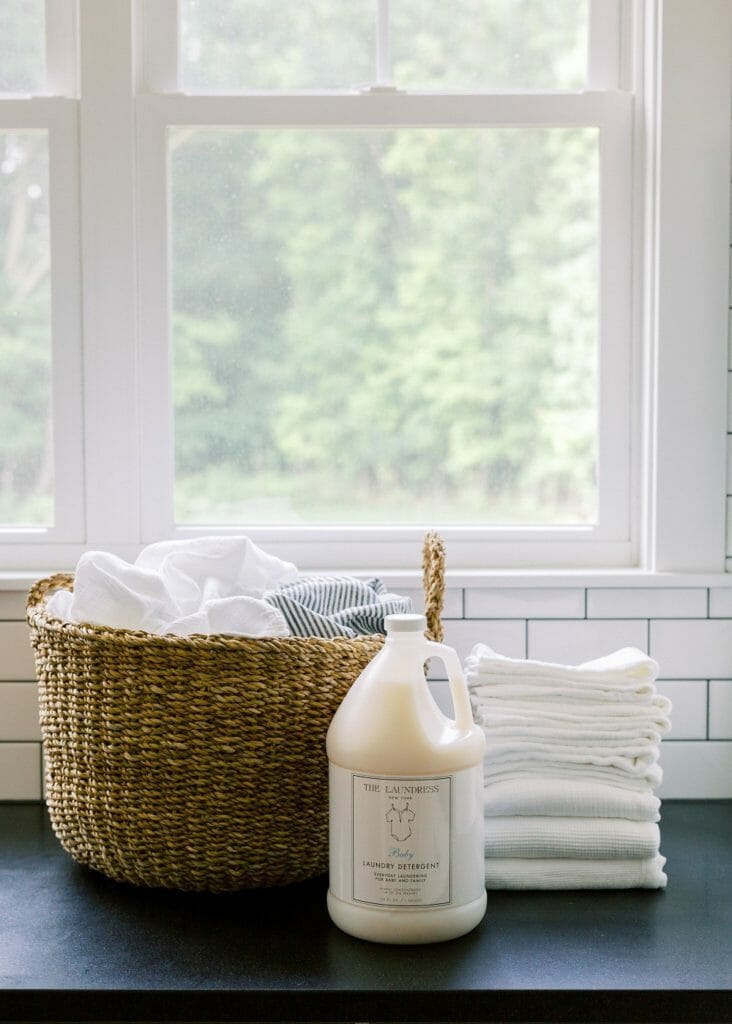 The Laundress Review: What we tried
We tried The Laundress Signature Detergent, The Laundress Wool and Cashmere Shampoo, The Laundress Delicate Wash and The Laundress Whites Detergent.
I was drawn to this product because I don't dry clean anything (as a stay at home mom it seems like a waste!). However, I am obsessed with getting my clothes really clean.
I do not like wearing clothing that has stains (who does?). But the bigger problems is: I don't like putting the kids in clothing that has stains. I end up using a ton of detergent and stain spray and then occasionally still having to throw clothing away.
Mr We Tried It was anxious for me to find a cheaper alternative to my Tide Habit so we decided to give this a try.
The results have been stellar. The Laundress detergents get our clothes so much cleaner while using less product (therefore less money) and also allows me to run just a normal cycle instead of the extended wash cycles (also saves money on water and electricity).
Laundress Review: What we love about The Laundress
Even if the product didn't work I would want it in my laundry room purely for their gorgeous bottles – haha!
The packaging is so beautiful!
I love that I can use less product and less energy through shorter wash cycles and still get clean clothes!
I think it is so smart that there are different types of detergents for different types of fabric: this just makes sense as to what would clean it best!
Any company that focuses on green practices and efficiency is one I want to investigate!
We have absolutely saved money using The Laundress! We have had the same initial bottles for months and typically I have a bottle of a well known detergent on my shopping list every week.
The Laundress Review: What we don't love about The Laundress
I don't love that you have to buy it online. Obviously that makes it cheaper by cutting out the middleman, but it also means you have to plan ahead.
Thankfully, they have an auto replenish available! As soon as I figure out how many months it takes me to go through my initial bottles, I will be signing up to have it automatically sent to me.
Is the Laundress actually cheaper for cleaning clothes?
Let me tell you a dirty little secret (no pun intended): I use way more detergent than I'm supposed to. If Tide says the bottle is for 32 loads, like the bottle above, there is a good chance I'm only going to get 20-ish. At almost $20, that makes it about $1/load.
However, The Laundress signature detergent is $20.50 and provides enough for 64 loads. I actually get closer to 50 loads from this detergent. That makes it about $0.41/load.
Of course – you can find cheaper detergent than the Tide Bottle listed here, but I also hate to switch detergents regularly, too.
Another way The Laundress saves money: not having to dry clean clothes that were previously dry-clean only. Thankfully, we don't have a lot of dry-clean only clothes anymore – thanks to great products like the Ministry of Supply Suit and Mizzen + Main Shirts.
Another way that it saves money is by simply making your clothes last longer. How often have you had to throw away a shirt, especially kids clothes, that get a random stain on it that you can't get out. Our daughter is SUPER messy and it seems like we have to throw away items all the time because we couldn't get them clean.
That's until we found The Laundress…
The Laundress also has a lot of great tips on how to wash clothes and get stains out of clothes.
Who is The Laundress for?
Anyone who does laundry… Moms who do lots of laundry… Women and men who wear high quality clothing and don't want to pay for dry cleaning! I think especially people who take the time to stain treat each item, wash them with like items and try to keep their clothing looking like new.
The Laundress Alternatives
The alternative to this product is to buy your detergent at the grocery store. This is not a bad alternative, but in my option it is more expensive than The Laundress, doesn't work as well and doesn't look nearly as chic!
You can also check out other Direct-to-Consumer detergent brands like Frey. Mr. We Tried It uses Frey for his clothes. It even made it on our Best Men's Gift Guide.
Frey is an interesting alternative to The Laundress. Frey is slightly more masculine but is similar in their approach to making great, eco-friendly detergent that smells amazing.
The Laundress Review: The Final Verdict.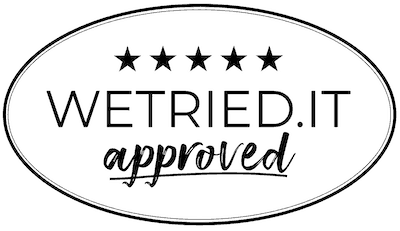 Worth the hype!
Laundry detergent is one of those things that I really don't stop to consider that often, but doing the laundry for our family does take a lot of my time. The Laundress has made this household chore more efficient, less expensive and a little more posh for me and what more can you ask for?
Do you have any questions or comments about our The Laundress Review? Please let us know in the comments below!
PS: This product was also featured in our best gifts for the woman that has everything.