Are you looking for a delicious and nutritious way to enjoy your favorite ramen dish? Look no further than immi Ramen! This revolutionary semi-instant ramen (it takes a little longer than the cheap stuff) is the world's first low-carb, high-protein, and plant-based version of the classic comfort food. With 6g of net carbs, 21g of protein, 18g of fiber, and being keto-friendly and entirely plant-based – this product has something for (almost) everyone.
Keto Friendly Ramen that actually tastes good!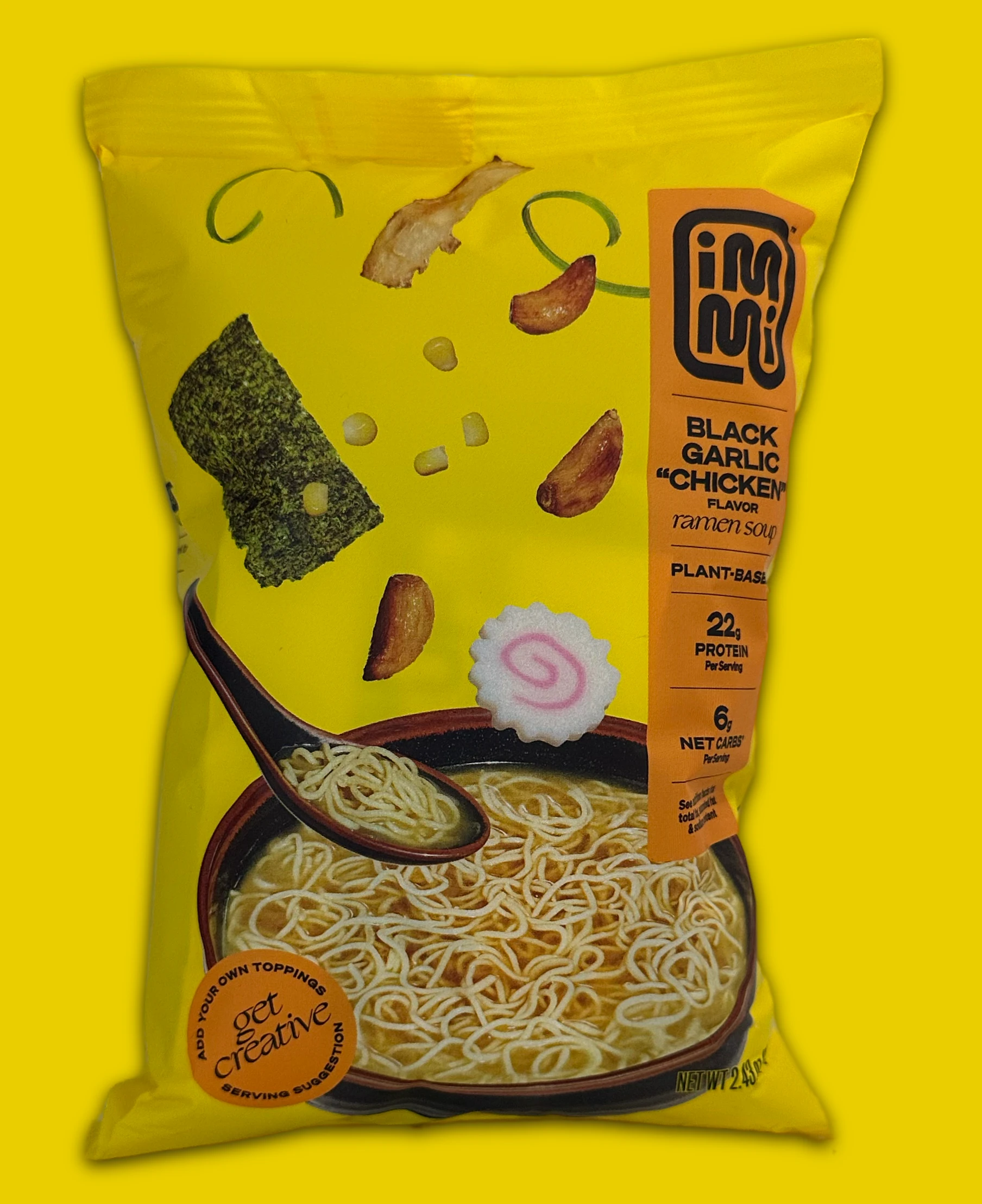 immi ramen
Yes, it's true. We've found the holy grail: keto-friendly noodles that don't taste like unflavored jello.
Buy Now
We might earn a commission if you make a purchase, at no additional cost to you.
Not only is it healthy, but immi ramen reviews led this brand to sell out 6 times at launch. Plus with its variety pack flavors: Black Garlic "Chicken", Tom Yum "Shrimp", and Spicy "Beef" – we guarantee that you'll love at least one – if not all three flavors or immi Ramen! So if you're looking to switch up your usual dinner plans or just want something different – try out this amazing new ramen today!
Meet immi Ramen
immi Ramen is revolutionizing the instant ramen industry with their low-carb, high-protein, plant-based ramen.
Two guys, ironically named Kevin and Kevin, founded immi because they both grew up eating and making noodles from the markets of Taiwan and Thailand. As a way to pay homage to their favorite foods, they decided to create this special product that tastes just as good as traditional instant ramen, with all the added benefits of being entirely plant-based, low carb and high in protein!
At the heart of immi Ramen lies its all-natural ingredients: pumpkin seed protein, wheat gluten, among others.
As immi says on its website, "we're paying homage to our favorite foods, while reimagining them for our modern diets—with high-quality ingredients that taste just as good as we remember."
We have to agree!
All about Pumpkin Seed Protein
Pumpkin seed protein is an excellent source of plant-based protein and amino acids – making it an ideal choice for those following a vegan or vegetarian diet (it doesn't taste bad, either). immi Ramen is made from pressed pumpkin seeds, which are packed with essential fatty acids and nutrients, and has a slightly sweet and nutty flavor.
Pumpkin seed protein is an excellent source of protein, a good source of fiber.
The Flavors of immi Ramen
Immami Ramen comes in three flavors: Spicy "Beef", Black Garlic "Chicken and Tom Yum "Shrimp."
To be honest, I was a bit scared of the Tom Yum Shrimp flavor, but given that all of these flavors plant-based, it let me put my guard down and try something new.
Being plant-based is also why the animal protein is in quotations. The ramen is supposed to taste like beef or chicken, kind of like the Vegan Chicken Salt we love.
Spicy "Beef" Flavor
Since it's plant-based, the BEEF is in quotations. But this 100% plant-based ramen is packed with flavor and spices that will take your tastebuds on an adventure. The broth is hearty and rich, with notes of Sichuan peppercorns, anise, and fennel. It's sure to be a hit with everyone in the family!
I typically love spicy beef with noodles, and this one didn't disappoint.
We didn't find this flavor to be too spicy, just more "beefy." This was easily our second-favorite flavor.
Black Garlic "Chicken" Flavor
This was, hands-down, our favorite flavor.
If you're looking for a classic, savory, and comforting meal that will make you feel right at home, then immi Ramen's Black Garlic "Chicken" flavor is a perfect choice. This delicious ramen is overflowing with notes of garlic, scallions, and umami that will tantalize your taste buds.
This, in short, tasted like an elevated version of the classic instant noodles Chicken Ramen we've also known and loved since our college years.
It's perfect for cold days and reminding you of your college years.
Tom Yum "Shrimp"
Once again, there is no actual shrimp in this flavoring, but it was probably our least favorite. That's kind of like saying you have a "least favorite" kid, because all the flavors are so good.
I'm not a huge seafood fan, in general, but I don't think I've had any seafood-based soup, outside of Lobster Bisque – which this is not at all!
immi Ramen describes the flavor as "Fresh, bright and zesty" – and that's exactly what it is. The broth has a hint of lemongrass, citrus, and chili, giving it a vibrant bowl to slurp under the cool shade on a warm afternoon.
I almost felt this had a curry or milk-like flavor to it, and when I looked at the ingredients, I saw coconut milk. This gives the "Shrimp" flavor a bit of a milky taste, but the part I like the least about this flavor was the strong citrus flavor.
If you like Citrus, then this flavor is probably a winner for you, but if it's not your favorite – then try the variety pack. It's a great way to test the flavors without committing to a case of just one.
How to prepare immi Ramen
Making immi Ramen is a quick and easy way to enjoy a delicious, keto-friendly meal. All you need is a package of immi Ramen and some water! Start by bringing the water to a boil in a stovetop pot.
Check out our Caraway Cookware Review for the pot we use!
Once boiling, add in the noodles from the Immi Ramen package and cook for 7-9 minutes based on how firm you want the noodles. Then, remove from heat and add in the seasoning packet that comes with the ramen and stir until it's fully dissolved. Finally, serve your ramen hot and enjoy!
Microwave options
To make Immi ramen in a microwave. The instructions are pretty simple:
Add 1.5 cups of water and ramen to a microwave-safe bowl
Microwave on high for 4 minutes
Stir and separate. Microwave on high for 4 more minutes.
Add soup base and stir.
Frankly, this is how I made immi Ramen the most since it required 1 less dish to clean. After cooking and letting the soup sit for about a minute, I added an ice cube or two if I wanted to cool down the ramen faster.
immi ramen is particularly high in fiber, which unfortunately results in it taking somewhat longer to cook than I'd like, but not something that's a deal-breaker by any stretch of the imagination.
How to add some pizzaz to your ramen
There are many ways to spice up your immi Ramen and make it even more delicious, beyond regular ramen – a way to get the satisfying ramen feeling that typically only comes from eating ramen at a restaurant.
It's not that eating ramen in a restaurant is better, they just add all the fine toppings that make it amazing.
Add Veggies and spices
One way is to add some fresh vegetables like bok choy, shiitake mushrooms, sliced radish chopped scallions, onions, roasted corn or peppers to the soup after cooking. You could also try adding extra spices such as dried red chili flakes or chili oil for an extra kick of flavor. Adding a protein such as marinated eggs or shredded chicken is another great way to give your ramen some depth.
Signature Pairing Suggestions
If you're feeling adventurous and like trying new flavors, you might want to try some of Immi's signature suggestions in your ramen. For instance, their Black Garlic "Chicken" Ramen suggests adding marinated bamboo shoots and roasted garlic – both of which add complexity and depth of flavor that can transform your dish into something truly unique.
Similarly, their Tom Yum "Shrimp" Ramen recommends pairing with fried tofu and sliced red chillis – both of which can deliver a burst of heat that will certainly tantalize the taste buds!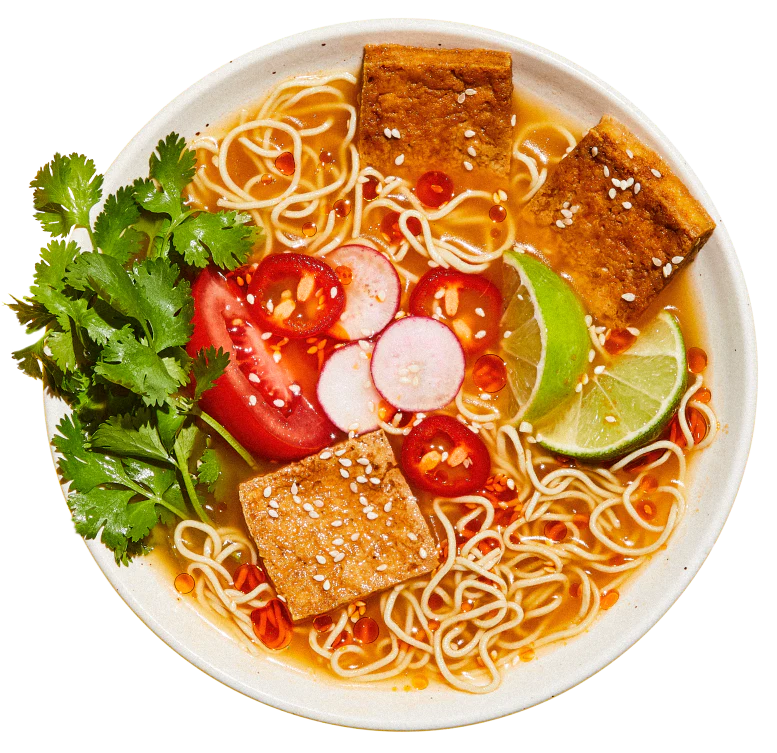 Another great way to spice up your ramen is by adding sauces or condiments such as soy sauce, sesame oil, fish sauce, hoisin sauce, oyster sauce, vinegar or hot sauce. All these ingredients can help bring out the flavors within your ramen and create an incredibly delicious meal.
Of course, you can also add "real" protein like chicken or beef if you want – there's nothing wrong with that! 
Finally, don't forget to garnish your bowl with some fresh cilantro leaves and/or lime wedges for added brightness and acidity!
What about Shirataki Noodles? Shirataki vs. immi
There is a huge difference between Shirataki Noodles and the immi Ramen noodles.
No fishy smell or flavor
The first, and most important, is that Shirataki noodles can sometimes have a "fishy" taste that no one loves.
Why do they have a fishy taste? This is because the noodles are typically made from konjac root, which contains a compound called glucomannan. This compound gives the noodles their unique texture, but it also leaves behind a slightly fishy smell.
To reduce the fishy smell, it's important to rinse the noodles before cooking them. Swishing them around in water for a few seconds and then rinsing them off quickly can help to get rid of the smell. Additionally, cooking them with sweet soy-based sauces can help to mask the smell and give them more flavor.
I'm happy to report there is ZERO fishy smell or taste to the immi Ramen noodles!
Overall Texture
The second difference between Immi Ramen and shirataki noodles is texture: the pumpkin seed protein gives immi ramen a chewy texture similar to traditional ramen, while shirataki noodles are almost gelatinous in comparison.
I prefer the immi ramen texture over shirataki noodles texture, too.
Taste
Most noddles are designed not to have a ton of flavor in and of themselves, but are designed to absorb the flavors of whatever you pair them with.
I will say the immi ramen does have a very slight taste to it that I can only describe as about 1% earthy. I'm sure this is from the pumpkin seed, but it's barely noticeable. Even with the slight taste, I prefer it over Shirataki Noodles.
One whiff of the fishy smell just turns my taste buds off.
The winner here is clearly immi ramen.
Cost of immi ramen
The one thing that immi won't remind you of, is how cheap ramen used to be. I remember my parents getting Top Ramen on sale for 25 cents a package. This will be a bit more than that.
You can buy immi ramen for as cheap as about $5.40 a serving – that's if you buy the 12 pack AND subscribe and save.
I'd recommend that, if you are interested in this, you buy the small variety pack and see if it's worth it – and what flavors you like.
Of course, $5.40 isn't the cheapest keto meal options you'll find – but it's not a terrible price. This ramen fills one of the true voids in a lot of keto foods – noodles and soup!
Final Thoughts on immi Ramen?
How many times have you craved soup in a week? Well, my new record is 5 – and it's all thanks to immi. I ate my almost whole variety pack in a week. That's how good these noodles are. Seriously. I immediately ordered the 12 pack this time, of just the "chicken" flavor.
Keto Friendly Ramen that actually tastes good!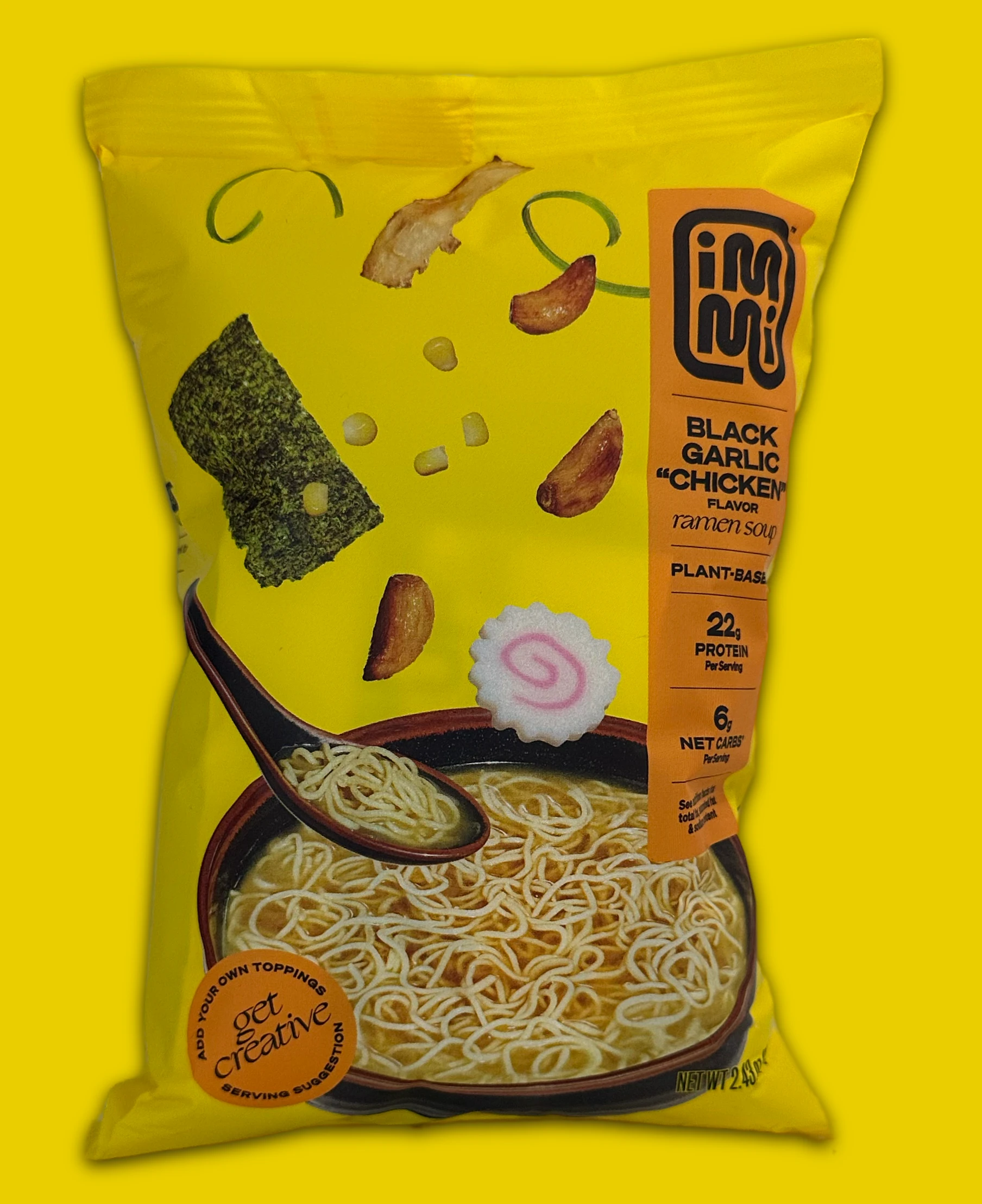 immi ramen
Yes, it's true. We've found the holy grail: keto-friendly noodles that don't taste like unflavored jello.
Buy Now
We might earn a commission if you make a purchase, at no additional cost to you.
If you're looking for a keto-friendly alternative to your classic ramen fix but want to stick with those traditional flavors, Immi Ramen is definitely worth checking out! It's packed with flavor, nutritious ingredients, and convenience all in one package. Plus, it's vegan-friendly so everyone can enjoy it.
I was really impressed with immi Ramen – the texture and flavor is spot on, and it's definitely a great alternative to traditional ramen.
So if you're looking for a keto-friendly, gluten-free, and vegan-friendly ramen that won't leave you with a fishy taste in your mouth, iƒmmi Ramen is definitely worth a try! Go ahead and give it a go – I promise you won't regret it!
Want some more great keto food? Check out our Genius Gourmet Review.