Are you tired of eating the same old, bland keto snacks? Genius Gourmet has a wide variety of delicious keto snacks that will keep you feeling full and satisfied – all while keeping you on your Keto Diet.
We've, of course, tried all the "big name" bars like Quest, but was really intrigued when we came across Genius Gourmet. In fact, I didn't even remember how we came across them, but I'm always looking for a great keto snack full of amazing flavor.
Low carb snacks are a must for anyone on the keto diet. You want something that has great taste and just easy low carb snacking options.
A top keto pick
Genius Gourmet
An awesome keto-friendly snack brand. Their keto snack bars and keto chips are simply amazing!
Pros:
Great flavors
Low sugar alcohols
No artificial aftertaste
Great texture
Cons:
Not the cheapest option (but not terrible)

Protein bars are on the smaller side
Buy Direct
Buy on Amazon
We might earn a commission if you make a purchase, at no additional cost to you.
What we love the most about Genius Gourmet
Will go right to the point here. We love genius gourmet. But we like it for a bit of an interesting reason. You see, I was trying all sorts of different keto snacks, and — TMI warning — I noticed I would get gassy. Even worse, my stomach would ache.
Long story short, I found the culprit to be sugar alcohol.
Sugar alcohols, also known as polyols, and often derived from sugar are not the same. They're sweet carbohydrates with a different chemical structure that your body cannot break down these sugars in digestion.
But the reason they are in so many keto foods is: they have less sugar AND less carbs per serving.
Nothing is without side effects, however. Too much sugar alcohol can cause gas, bloating and an upset stomach. If you ever need a good laugh read this post about sugar-free gummy bears on Amazon.
Genius Gourmet does use a sugar alcohol, Erythritol, in some of their keto snacks. However, they are at very low amounts. For example, their chocolate keto bar has only 1 gram of Sugar alcohols. That's nothing.
Compare that to another favorite of ours, the Keto Gummies from Kiss My Keto, have 7 grams. That's just enough to make my stomach start to rumble.
On top of that, there's 29 grams of fiber in each bag. To put that into perspective, a serving of Metamucil is only 23 grams of fiber.
That's a lot of fiber!
So, we were pretty thrilled to find a bar with great macros and no digestive problems.
Another bonus to low sugar alcohol – no funny aftertaste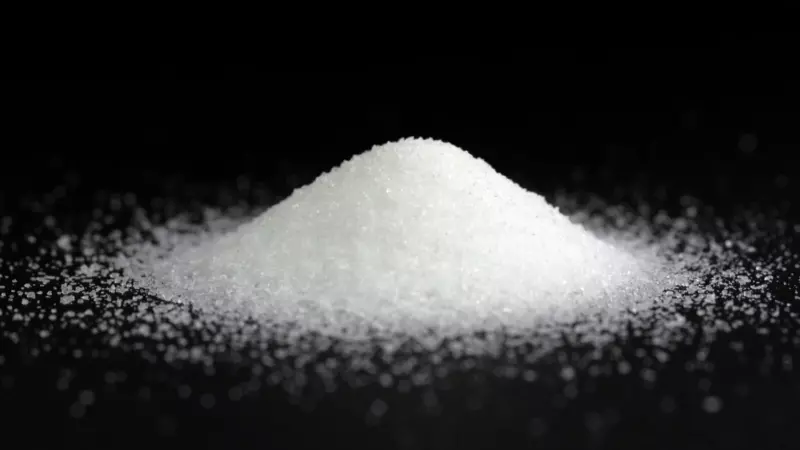 Don't all artificial sweetness seem to have a funky aftertaste? I sure think so.
Since this keto bar doesn't have artificial sweeteners, there isn't the funny weird aftertaste of most bars – it just tastes great.
Genius Gourmet Review: What we tried
We had the chance to try several genius gourmet keto items, in fact, the day before Christmas, they came and we made a giant Keto tree out of it all!
Genius Gourmet Protein Keto Bars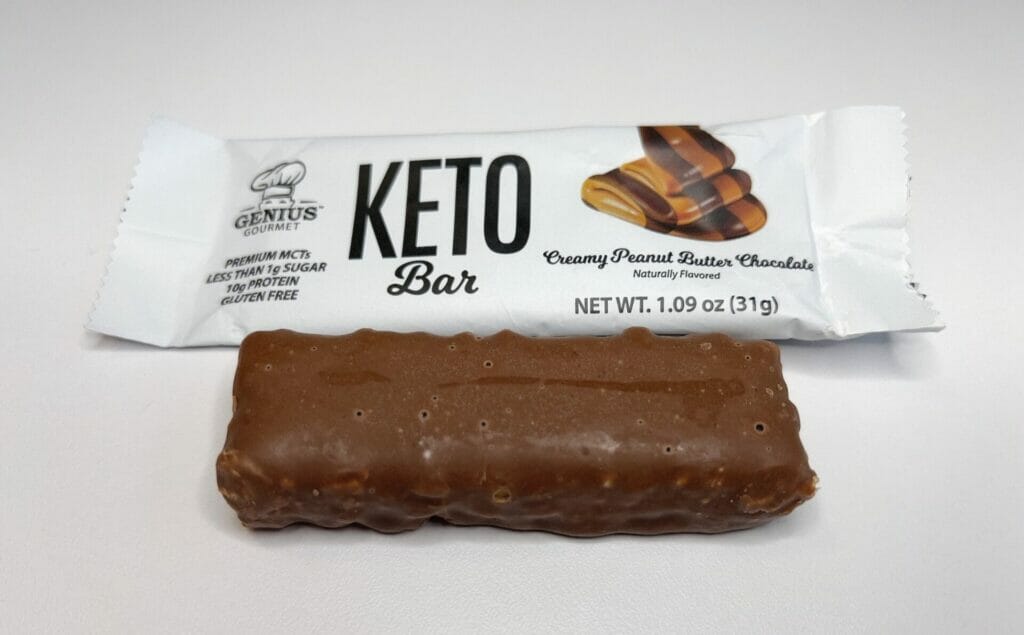 The Genius Gourmet keto bars are the perfect snack for any health-conscious individual. Each bar has only 3 grams net carbs, 10g protein, and MCT oils to help keep you in ketosis all day.
There is no such thing as "the best keto bar," since everyone is going to think something different, but these come pretty close – they are low in sugar, don't contain many sugar alcohols and a decent amount of fat (to keep you full).
Flavors include Creamy Peanut Butter Chocolate, Birthday Cake, Chocolate Dream and Salted Carmel. Let's dive into how they each taste quickly.
Creamy Peanut Butter Chocolate Keto Bar
The creamy peanut butter chocolate bar tastes exactly like you think it would taste, the perfect ratio of creamy peanut butter dipped in chocolate. If you've ever tasted a Reese's peanut butter cup, this keto bar tastes pretty much the same.
The outer layer of chocolate is thick and creamy, with a tasty hint of dark chocolate – not unsweetened cocoa powder, but pure dark chocolate. Then you've got the peanut butter center that has just enough of saltiness to trick your brain into thinking it's real candy bar. Genius Gourmet hits the creamy peanut butter chocolate flavor right on the mark!
Birthday Cake Keto Bars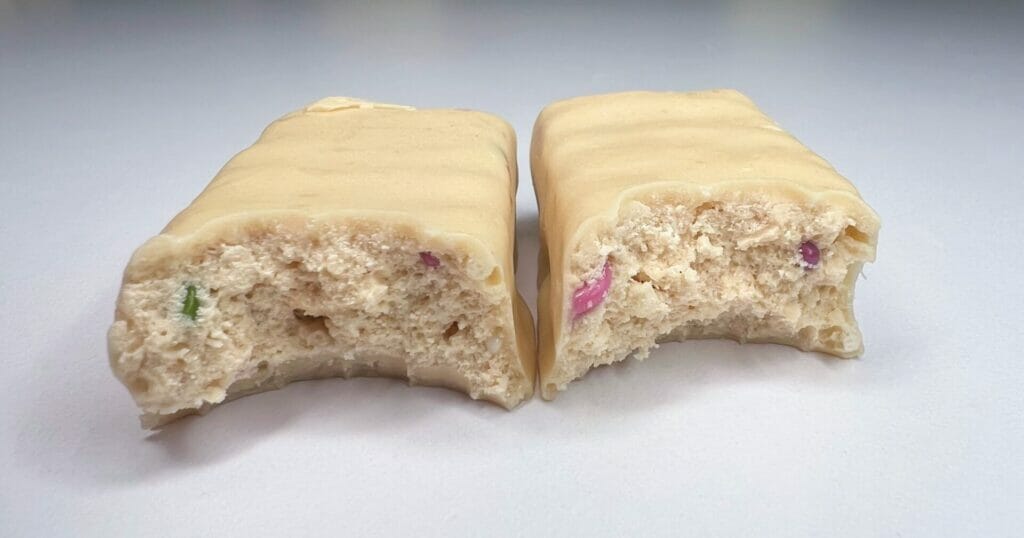 This bar tastes exactly like a funfetti cake from a box mix with sprinkles mixed in throughout!
Birthday cake is typically one of my favorite flavors, but I was surprised that this wasn't a home run for me. I can't quite put my finger on it, but it wasn't my favorite flavor. Usually birthday cake flavors satisfy my sweet tooth, but this one just didn't quite hit the mark.
There was a hint of some artificial flavors in here, but I couldn't put my finger on it.
Salted Caramel Keto Protein Bars
Wow. I was surprised by the Salted Caramel one.
Mostly, I expected it to taste almost exactly like the creamy peanut butter ones. But this had a fun twist: the bar was coated in white chocolate, not dark chocolate. It was delicious.
Chocolate Dream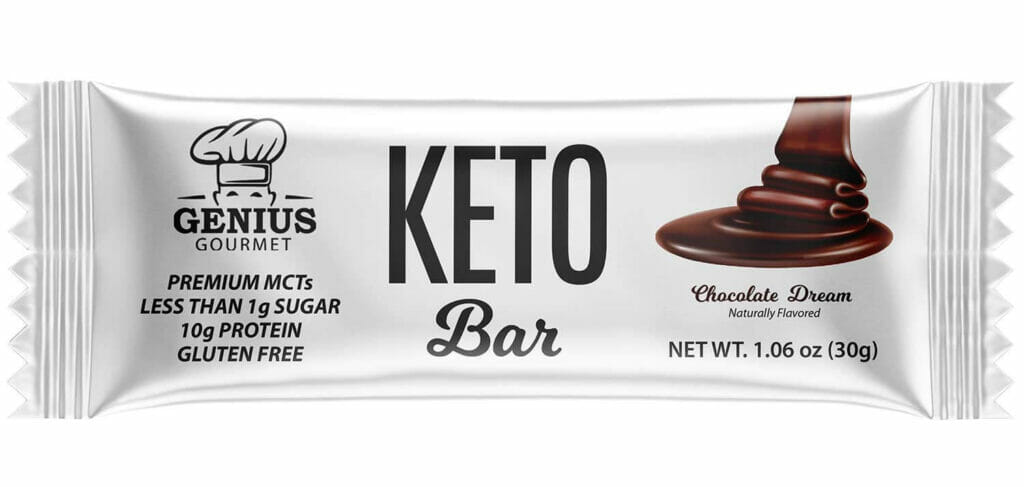 I'll admit. I'm not a huge chocolate fan. I know, that means that something is wrong with me as a person. But this was actually one of my favorite flavors. It almost tasted like devil's food cake. It wasn't too dark of chocolate that it was bitter.
The inside was super soft and it even makes my mouth water a little just thinking about it! I was super impressed with the chocolate flavor in the chocolate dream.
A quick note on shipping during the warmer months
Genius Gourmet is always thinking about how to get their keto snack bars delivered in optimal condition. When you order a box in warmer months, they ship it using Insulated Genius Soft Coolers so that way your snacks will arrive at peak freshness and taste delicious no matter what!
However, if the temperature gets too high (Above 80 degrees), then don't worry—you can just refrigerate them for 1-2 hours before eating again.
The Genius Gourmet Keto Chips
One of the key textures I miss in the keto diet (something I never thought I'd type), is the crunchiness of a Chip. There's something about the crunch that you miss in so many low carb diets.
I've tried other Keto Snack Chips before when I wanted that little extra boost in staying on track, but there was always something weird about the texture that never matched up.
Bonus tip: pork rinds, I know they sound gross, but are pretty good at satisfying the crunch part of a healthy low carb snack in the keto diet. I sometimes like them on road trips or when I need to bump up my fat macros.
Genius Gourmet's keto snack chips are sugar-free, with just 2g of net carbs per bag. Their savory keto chips have 8g of protein, premium MCTs, and up to 2g of fiber to keep you going throughout the day. Get a nutritional lift without sacrificing taste and eat healthy with their keto chips.
We tried several flavors to give you our honest take on this healthy snack.
Overall Chip Consistency
Overall, the chips had a much better consistency than other chips, like Quest's Chips.
They are super crunchy, which is awesome. They are also fairly coated with the flavor. The flavor coating is almost like Cheetos, but doesn't stick to your fingers as much as Cheetos. It's not as "dry" either. The Chips aren't "wet" – but they are just a little more coated. I, honestly, don't know how else to describe them.
I promise they are good – just a little different than other Chips that I've seen.
As far as the flavors go: we really liked Barbecue and Nacho (it was a little spicy) the most. We also tried Ranch. It wasn't bad, it just wasn't our favorite.
What we didn't love about Genius Gourmet
We really loved the keto food we tried from Genius Gourmet. It's an almost impossible task to do what they've done: make high-quality keto snacks without a lot of sugar alcohols that actually taste good. However, there are just a couple of small things we didn't like.
The size of the bars
While the size of the keto chips we tried was fine, the Genius Keto Protein Bars were just a little on the small side.
For comparison, Atkins and Quest bars around about 2 Oz. The Genius Gourmet bars are just over 1 ounce – about half the size.
Sure, they have 170 calories and 13 grams of fat, which is a good chunk – but they just seems to be small in the grand scheme of low carb protein bars. I can finish them in about two bites.
Once again, they pack a lot into this keto snack bar, but it's not very large in size.
The price is OK
You get a lot of bang for your buck and there are several ways to save with Genius Gourmet, but the base price is about $30 for 12 snack bars. $2.50 puts it about on par with other key bars and it's a small price to pay for bars that won't upset your stomach.
Final Thoughts on Genius Gourmet
A top keto pick
Genius Gourmet
An awesome keto-friendly snack brand. Their keto snack bars and keto chips are simply amazing!
Pros:
Great flavors
Low sugar alcohols
No artificial aftertaste
Great texture
Cons:
Not the cheapest option (but not terrible)

Protein bars are on the smaller side
Buy Direct
Buy on Amazon
We might earn a commission if you make a purchase, at no additional cost to you.
We really love what this company is doing – from making low sugar products with healthy MCT oils – they offer an incredible range of products.
We only had the chance to try their Protein Bars and Chips, but they also offer Shakes, Gums, Electrolytes and even baking mixes.
We were pleasantly surprised with how good the Chips and Protein Bars tasted. We will definitely be ordering more because we see keto living as a lifestyle, not a short-term diet.
If you're looking for a variety of delicious and healthy keto snacks, Genius Gourmet is definitely worth checking out. They have everything from keto chips to protein bars, and all of their snacks are sugar-free and low in carbs. Plus, they're affordable and easy to order online. So what are you waiting for? Start snacking smart today!