Red Aspen Nail Dashes Review: Are these glue-on nails any good? We compare them to our old staple, Kiss Kiss Nails, and see if they stand up to the test.
Red Aspen Nails Review
Great glue-on-nails alternative.
Easy to use.
Great price.
Fun color options.
Fast Shipping.
Red Aspen Nail Dashes Full Review
Nail Dashes Review: What are Nail Dashes?
Red Asspen is a newer multi-level marketing company that sells beauty products (don't worry, this isn't a pitch to get you to "sign up" under us). Red Aspen's core values include being playful, courageous, curious, and fulfilled.
Red Aspen sells many different products from the beauty space including makeup, false lashes and glue on nails.  I have not yet tried all of their products, but I did give the nail dashes a spin for you! Read on to see our full and honest Red Aspen Nail Dashes Review! 
Nail Dashes Review: What we love about Red Aspen Nail Dashes
The Convenience! I have worn glue-on nails for the last several years since having children and not having the time (or money!) to go to the salon every two weeks to refresh my gel manicure.  But I still love having my nails done! In fact, a few months ago I saw a girlfriend and she gave me the weirdest look and said, "I don't think I have ever seen you without your nails done."  I guess I had taken a break for a couple of days between sets, but that's how consistent I am with my glue-on nails. I have been using the Kiss Kiss brand for years, but recently tried out the Red Aspen Nail Dashes.  I just love the convenience of glue on nails: You can have them at the ready at your house and put them on in 5 minutes! They are great for events or for everyday wear.  
The Quality! I like to have my manicure last for two weeks, which is the main reason regular polish has never worked for me. Being a busy mom to two toddlers, I just don't have the time to do my nails more frequently. Red Aspen nails definitely pass the two-week test! I haven't had to replace a single one before the end of two weeks—which is really remarkable!  See how I apply them in this video (coming soon).
The Options! This brand has SO MANY OPTIONS!  But not just a lot of options, a lot of GOOD options. I like more neutral nails typically unless it's for a special event and I love that the Red Aspen Nail Dashes has so many different options both in colors and in lengths.  To learn more about the different lengths, see here!
The Price! At $10-16 per set, they are WAY cheaper than getting a gel manicure every two weeks, which is now like $50 where I live.  (When did it get so expensive??? Back in my day… haha!)
Nail Dashes Review: What we don't love about Red Aspen Nail Dashes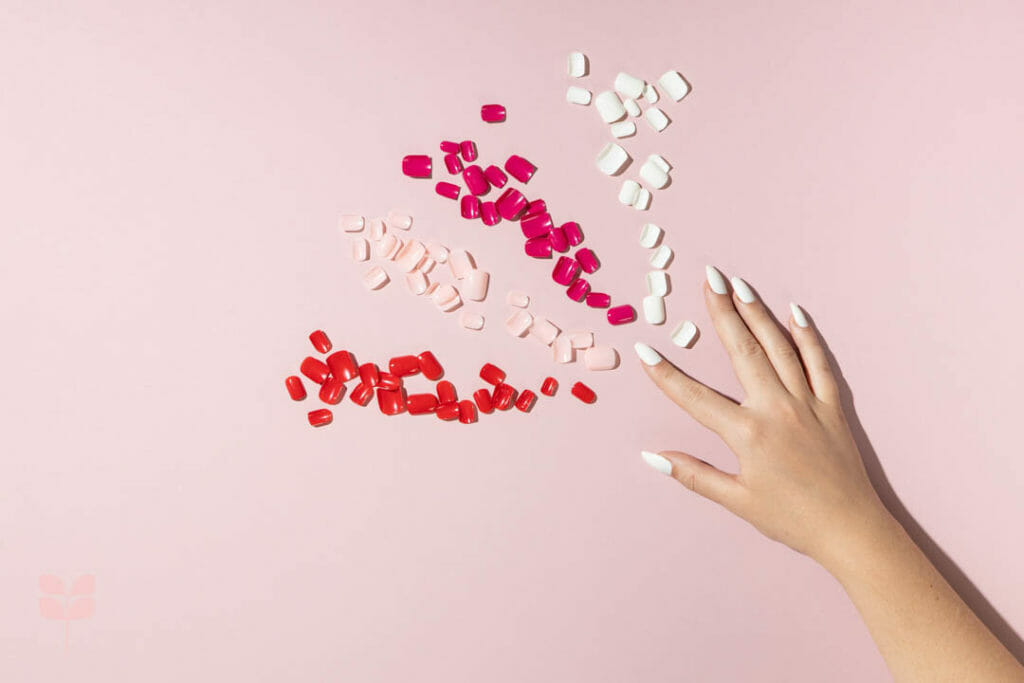 You can't buy them at a store. I really like to LOOK at my beauty products before I buy them and you can't do that with these. It makes it more difficult to guess about the colors and lengths.  See my post about the different lengths here. 
They are a multi-level marketing company. Some multi-level marketing companies take advantage of people by making their money simply by having people sign up, but I don't think Red Aspen is one of these companies because you can sign up for about $50 so you aren't out a HUGE initial investment.  Still, I know this will bother some people, so if you aren't interested in supporting a multi-level marketing company then this is not the product for you. The nice thing is you don't need to order through a friend or attend an event to buy them, either. You can simply buy online.
The price. Isn't it funny when something is a pro and a con?  While at $10-16 per set, they are certainly cheaper than getting a gel manicure, they are more than other drugstore brands. I do find their quality and options to outweigh the slightly higher price, but still, something to consider. 
Nail Dashes Review: Who is this product for?
I think this is a great product for anyone who likes their nails done (whether all the time or just for special occasions) and wants to do them cheaper!
They are great for people who need convenience and flexibility within their schedule.  Also, Red Aspen Nail Dashes are fantastic for people who struggle with nail polish! Lastly, during COVID-19 it may not be the best idea to spend an hour in a nail salon anyway, so right now they really are for everyone!
Although, they probably aren't for people in the medical field! HA! Mine did not come off at all for the two weeks I wore them, but can you imagine if your doctor lost a nail during a procedure!?
Red Aspen Nail Dashes: What's included
Inside the box, you will find an array of nails in different sizes to ensure that you get a great fit on every nail and that you also have extras should one fall off. 
Additionally, you receive a small nail file, an orange stick for pushing cuticles, and a small bottle of glue. See this post here (coming soon!) to see what I use and how I apply them to maximize their wear time!
Red Aspen Nail Dashes FAQs
How long to Red Aspen Nail Dashes Last and how long do Nail Dashes stay on?
Using our Red Aspen Application Instructions, we get about two weeks of wear from the Red Aspen Nails. This including wearing them working out and being a mom for two kiddos – but wouldn't last as long in situations in more demanding situations (especially where they would be wet for long periods of time).
How long do Red Aspen Nails take to ship?
Typically they take about a week from the day you order them to the day they arrive at your house. During the busy holiday season, it took 10 days for the Red Aspen nails to arrive at our house (we ordered late on a Saturday night).
How many times can you use Red Aspen Nails?
If you apply the Red Aspen Nails Correctly, you can get about 2 weeks of wear out of them and won't be able to re-apply them. Especially if you use our Nail Dashes application instructions, you won't be able to re-use the Nail Dashes.
Where do you buy Red Aspen Nail Dashes?
Red Aspen Nail Dashes are available only at their online store and through "reps" at different events. Technically, Red Aspen is a multi-level marketing company, but you can buy the Red Aspen Nail Dashes directly on their website as we did.
Alternatives to Red Aspen Nail Dashes
There are other glue-on nail companies on the market: they are actually quite popular lately. As I mentioned, I've been wearing Kiss Kiss for years! You can find other options even in the drugstore, but I have been very impressed with the quality and options Red Aspen Nail Dashes offer!
Red Aspen Nail Dashes Review: The Final Verdict.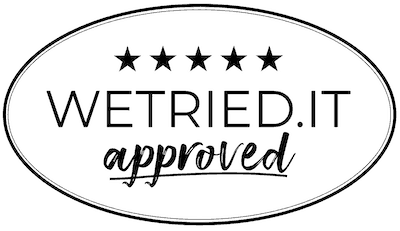 We Tried It approved for sure! 
I have been loving these new Red Aspen Nail Dashes and I know I will be ordering more!  I don't think you can go wrong with the quality, options and price.  Your nails will be looking fabulous, darling! 
Have any questions or comments about our Red Aspen Nail Dashes Review? Let us know in the comments below. Also, be sure to check out our We Tried It YouTube Channel where you can win a free set of Red Aspen Nails!