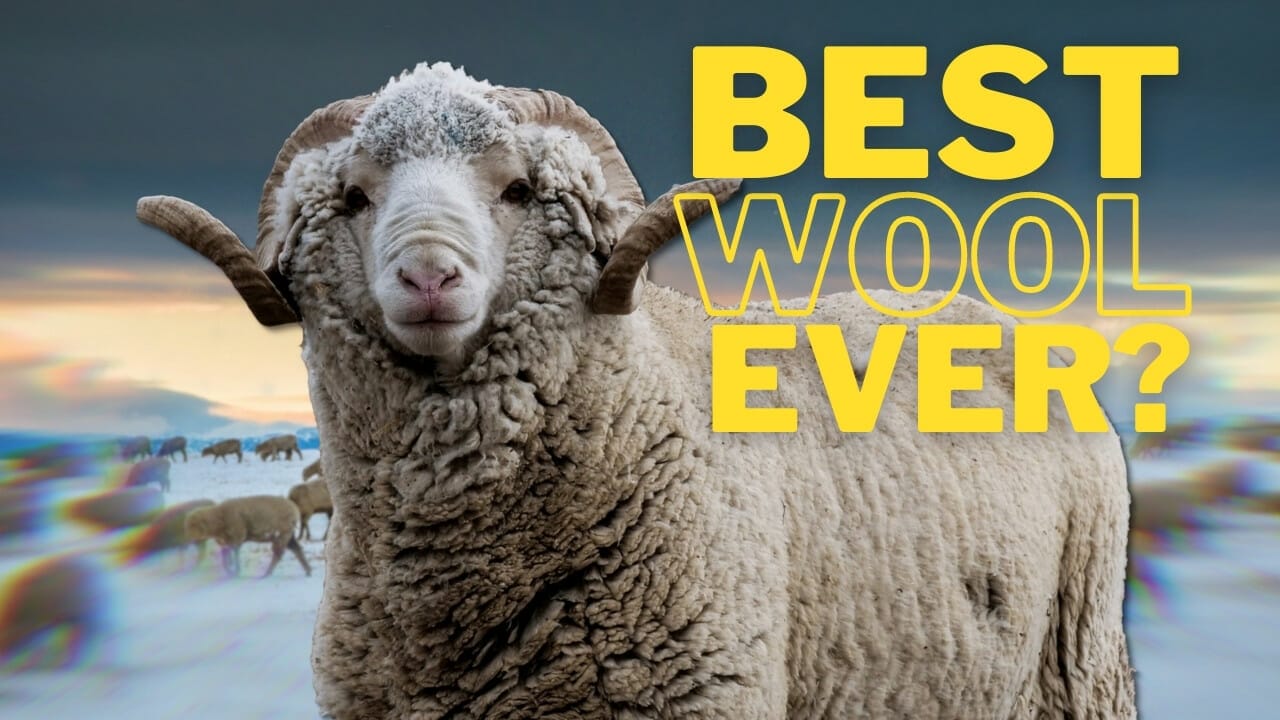 Our honest Duckworth wool review: does this premium brand really have better merino wool? Keep reading our honest review to find out!
Top Pick
Duckworth Clothing
The best merino wool. Period.
If you are looking for the best Merino Wool in the world, look no further than Duckworth. Their Sheep to Shelf supply chain is one of its kind. But what does that mean for you?

Incredibly well-designed wool clothes from some of the softest Merino Wool.
What Duckworth says
In Dillon, Montana, the Helle Rambouillet Ranch is home to thousands of Rambouillet Sheep. 
These Rambouillet Sheep are responsible for the wool in Duckworth Clothes.
Duckworth is the world's only source-verified, single-origin Merino Wool clothing company – or as they like to call it: sheep to shelf. Everything is 100% US grown and made, from the fleece to the finished garment. They carefully manage the whole process of their breakthrough wool products.
It's pretty incredible.
Not only do you know exactly where your merino wool comes from, but it's also more sustainable and better for the environment (not to mention more natural).
Forget everything you've heard about wool

Now, when you think of wool, you probably think of an itchy sweater, right? Well, itchy wool equals bad wall.
When you think of wool, you may even think of this baby sheep, but I'm not talking about him at all.
I'm talking about one of these amazing Rambouillet Sheep.
It turns out, the extreme winters and summers in Montana is actually the perfect place to make wool for you.
Tougher Conditions = Better Duckworth Wool
Let me explain at their ranch in Dillon Montana, the open range Merino sheep live between 5,000 feet and 9,500 feet of elevation. They experience temperatures ranging from negative 40 degrees to over 90 degrees Fahrenheit.
These sheep graze on natural grasses and Montana wildflowers. This rugged and unpredictable condition in the Northern Rockies results in a rare Merino wall. It's incredibly soft, durable, and the fiber is exceptionally breathable.
Duckworth calls this an unparalleled degree of "crimp" within the fleece. All I know is that it makes for an awesome product.
How I use Merino Wool
Let me be honest: I don't do camping in negative 20 degrees or anything like that, but I love wool. Especially Merino Wool.
We've tried other Merino Wool products before, like Allbirds or Giesswein shoes, and we love them.
We also love Merino Wool Socks (see our Best Wool Socks Roundup).
So we put a couple of Duckworth products to the test
Duckworth Vapor Tee Review
I always run hot. So, when I saw the Vapor Tee, I had to try it out. It's uniquely designed to keep you cool. It's a blend of 38% Montana Merino Wool, 50% recycled Polyester, and 12% Modal (bamboo pulp).
Duckworth claims that not only will this shirt keep you cool, but it is also odor resistant.
Duckworth Vapor Tee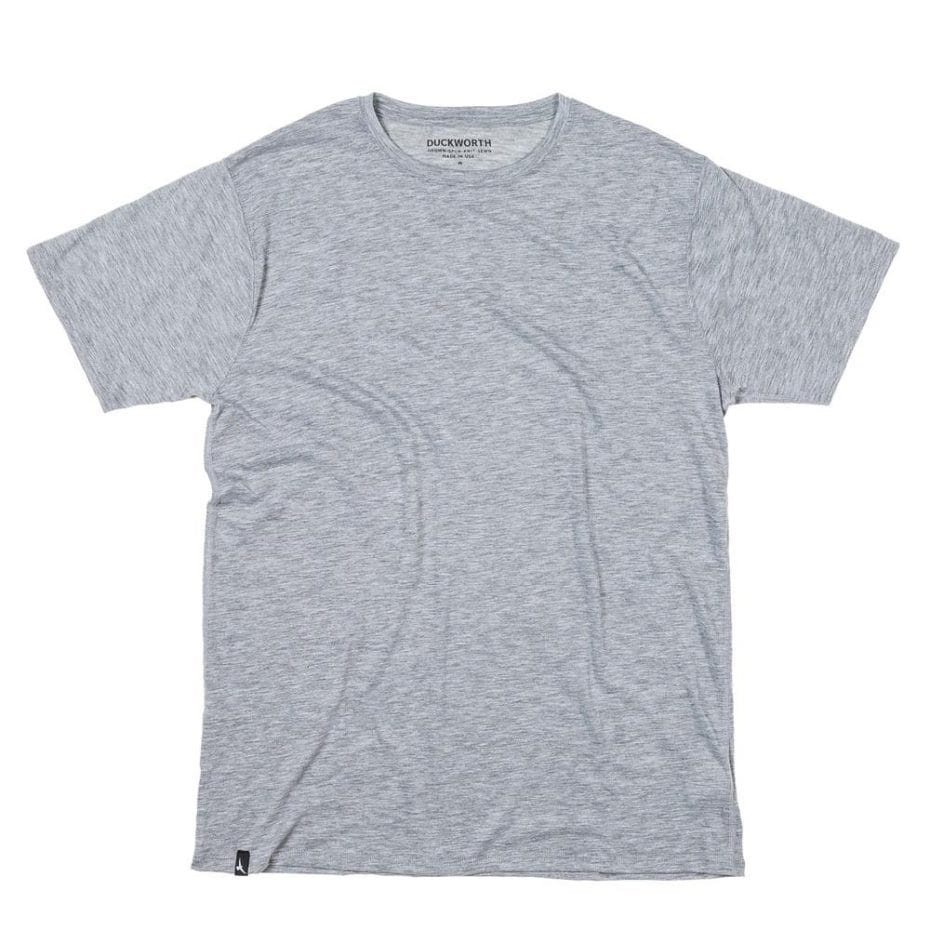 $65
Lightweight
Super breathable
Odor resistant
Moisture-wicking
Quick drying
I put the Vapor Tee to the test in as serious of a way that I could (as a working dad with 2 kiddos).
I actually wore this shirt for three days straight to see if I would notice the smell. I wore the shirt to:
Take the kids to the playground.
Film this Charge eBike Review
Go on walks with the Kids
Run errands.
Did it stink?
Surprisingly, it didn't stink… until I took it off.
I could smell the "outside.":
Does that ever happen to you? This happens a lot to me when I go to Mexican restaurants. I don't smell the smell on my clothes until I take off the shirt.
How to Clean…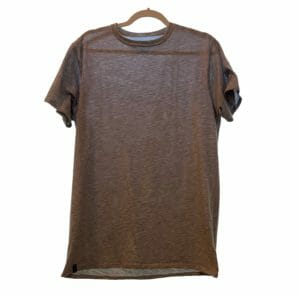 My wife initially rolled her eyes when she saw this shirt because she saw the instructions.
The washing instructions said to only wash this shirt if it gets dirt on it. There wasn't any dirt on the shirt, so I followed the instructions.
The instructions said to let this shirt air dry.
I just put it in my closet and let it dry out. Here's what happened:
After the first day? It still smelled like outside.
On the second day? It STILL smelled like outside.
But the third day? It actually didn't smell like anything. It actually worked as advertised. I was pleasantly surprised.
I actually have an incredibly strong sense of smell, so if there was any hint of an outside smell, I would smell it right away.
Vapor Tee Review: Final Verdict – Ultralight Vapor Wool Fabric is amazing!
This is one of my new favorite shirts. I always run super hot. I love that the Vapor Tee is designed to keep me cool.
On top of that, I don't have to wash it after every single time that I wear it, which is even better. Just wear it once, hanging up.
This fabric is also very durable.
It's the fabric that Duckworth recommends you start with.
Pro Tip: Just maybe don't wear it for 3 days straight. Wear it once, let it air out for a day and then wear it again. I was just pushing the limits of this gear.
Duckworth Comet Hoody Review
The Comet Hoody is an awesome base layer. It's designed to wick away moisture but still keep you warm.
Duckworth Comet Hoody
$150
A great baselayer
Moisture-wicking inside
Merino exterior
Wicks away moisture but still keeps you warm
One thing we love about Duckworth Wool is how they have simply thought of everything.
Seriously, check out their YouTube Channel where they explain EXACTLY how each one of their fabrics is designed (not kinda sorta how things work, but exactly how they are designed to work).
I really appreciate their no-hype approach in an industry that is a lot of hype. The only thing magical is the sheep's fleece.
Comet Hoody: What makes it different
The Comet Fabrics has Merino Wool on the outside and polyester on the inside. What does that mean?
Polyester wicks away moisture (any product that you have that says it is "moisture wicking" is probably polyester – like Mizzen + Main Dress Shirts).
When the moisture is wicked away, it encounters the Merino Wool, which heats up when wet. Pretty cool combo!
The Hoody is also incredibly soft. It's a great piece of gear that has a great feel to the fabric. Once again, Duckworth has thought of everything
Duckworth Socks Review
Last, but definitely not least, is the Duckworth Merino wool hiking socks that we tried. These are some of our new favorite socks. We've tried several pairs from some other brands that we love too, but these are great socks.
Duckworth Socks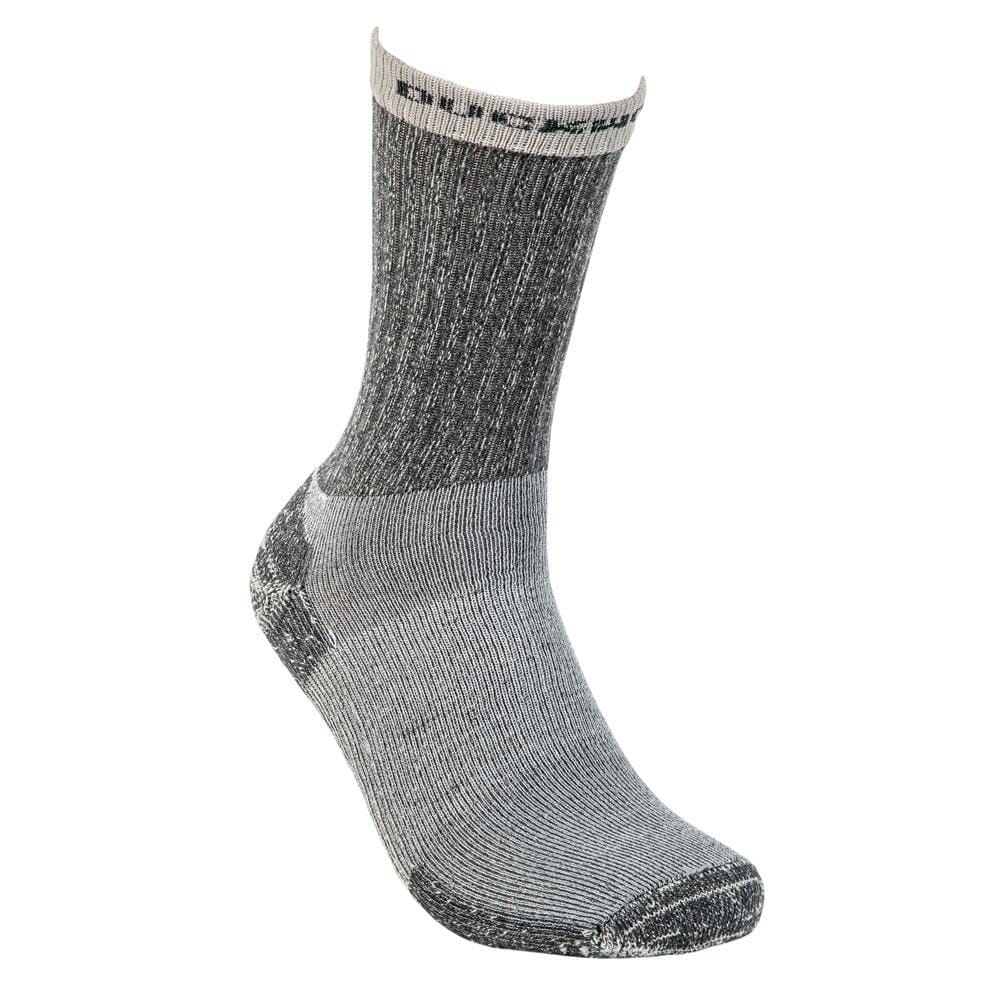 $24
Simply awesome socks
Moisture-wicking
Quick-drying
Super versatile
They are slightly thicker than other socks we've tried from Bombas, for example, but that's what makes these socks perfect for hiking – or anytime you're going to be outdoors.
They're perfect for any time you're going to be outside and don't know if it's gonna be too hot or too cold. They honestly keep your feet just right.
Additionally, they're odor-resistant, which is even better on your feet, especially if it's hot out or you get some sweaty feet.
Duckworth Wool Review: The Final Verdict
I had no idea there was different types of wool – let alone Merino Wool – before trying out Duckworth,. I thought all Merino Wool was the same.
However, you can really tell the difference between Duckworth and other Merino brands that we've tried.
As we mentioned earlier: the tougher it is for these sheep, the better it is for their wool.
And don't worry: the sheep are treated amazingly well. They are LITERALLY designed to handle rugged conditions.
If you want to get some of the best Merino Wool products that money can buy, check out Duckworth.
The only downside to Duckworth
The only downside to Duckworth is the price. They are more expensive than other brands but they are also much higher quality.
After trying Duckworth, you're going to want more of their amazing clothes for your outdoor adventures, so it's going to end up costing you even more! 😃
But we believe that high-quality clothes from people that believe in their product are worth it.
We're excited to give the whole Duckworth Team (including you – sheep) the coveted We Tried It Seal of Approval.
Do you have any questions or comments about our review of Duckworth? Please leave them in the comments below and we hope to see you again real soon!