Meet the Propella 7S: If you're looking for a lightweight, good-looking electric bike that won't break the bank, then the Propella 7S is the one for you. It's got all the features you need to get around town safely and efficiently, without any of the bells and whistles of more expensive models. And it looks great too!
The Propella 7S has a 250-watt rear hub motor that gives it enough power to get up hills and over obstacles with ease. The saddle is cushioned so you can ride in regular pants, no padded shorts required. Plus, at only 37lb, this ebike is one of the lightest on the market.
A fun, lightweight road bike
Propella S7
Designed with the minimalist in mind. If you don't want to go offroading or go super-fast, this is an awesome road bike at a great price.
Buy Now
We might earn a commission if you make a purchase, at no additional cost to you.
What you need to know about the S7
In fact, it's almost as light as the lightest eBike we've ever tested, the Urtopia Carbon Fiber eBike – but it costs about half as much. That's a pretty good trade off.
The Good
250W motor with 400W peak power for good performance
Upright riding position for comfortable travel
Lightweight at 37lb makes it easy to transport
20-40 mi (32-64 km) Battery range is enough for most journey
Sleek design with nimble agility makes it look great
The Bad
Not suitable for use on rugged terrain
Limited range for very long journeys
Not as powerful as other electric bikes on the market
No front suspension
No fenders included
Limited branded accessories available compared to more expensive models
Warning, this is Propella S7 Review is a long review, so feel free to use the table of context if there's a certain area you want to dive deeper into. Or, you can just watch the video review of the Propella eBike here:
Why should you trust us?
I've, personally, tested and assembled over 50 eBikes in the past two years. I'm sure it's not a world-record, but to say that I have plenty of experience with the technology, design and components of eBikes is an understatement.
Let me shoot it to you straight: there is no perfect eBike. However, there is the perfect eBike for you. You won't see me shilling for eBike brands that give me a great comission or anything like that. It's been our promise to you since day one to give you our honest opinion on EVERYTHING we test.
It's no different with the Propella S7. It's not the perfect bike for everyone, but it is the perfect bike for some people. If you're looking for an affordable electric bike with enough power to get around town, then the Propella S7 should be on your list.
How I use my eBike
I've always wanted an eBike. I really don't have a logical reason for them, except for living in one of the country's most cycle-friendly cities. Shoot, we even have a famous beer made here called Fat Tire.
Fort Collins, CO, is full of trails to explore, and most of the time, the weather is pretty enjoyable, too. There are some snow showers, but the sun is out around 300 days out of the year.
Living in Fort Collins, Colorado is a cyclist's paradise. With more than 300 days of sunshine each year and countless trails to explore, it's easy to understand why I wanted an eBike. The city even boasts Fat Tire beer – a tribute to the cycling culture.
I either work from home or on an airplane, so I don't need a commuter. My little ones are 4 and 6 when writing this – so the little ones aren't avid bikers… yet. I just wanted a fun bike that would force me to get outside more.
Who am I and why am I writing this Propella S7 Review?
I'm not a "bike snob" or a bike expert. I just wanted a reliable eBike, simple eBike. I've tried all the fancier eBikes, like the RadRover 6+ and many, many more eBikes. But after a lot of research, I decided to purchase the Propella S7.
The Propella S7 is an affordable, lightweight electric bike complete with 7-speed Shimano gear shifting and dual disc brakes. It's a no-frills bike, that is still a ton of fun to ride.
What is an eBike?
A silly question, I know: but it's important.
eBikes are an interesting combination of the best of bicycles, motorcycles, and mopeds. They come in a variety of shapes, sizes, and even prices. They range from $300 – $5,000+ and come from brands you've heard of, like Trek, to cheap Chinese knockoffs.
E-bikes come in three different classifications – Class 1, Class 2 and Class 3 – that each have their own unique features and benefits.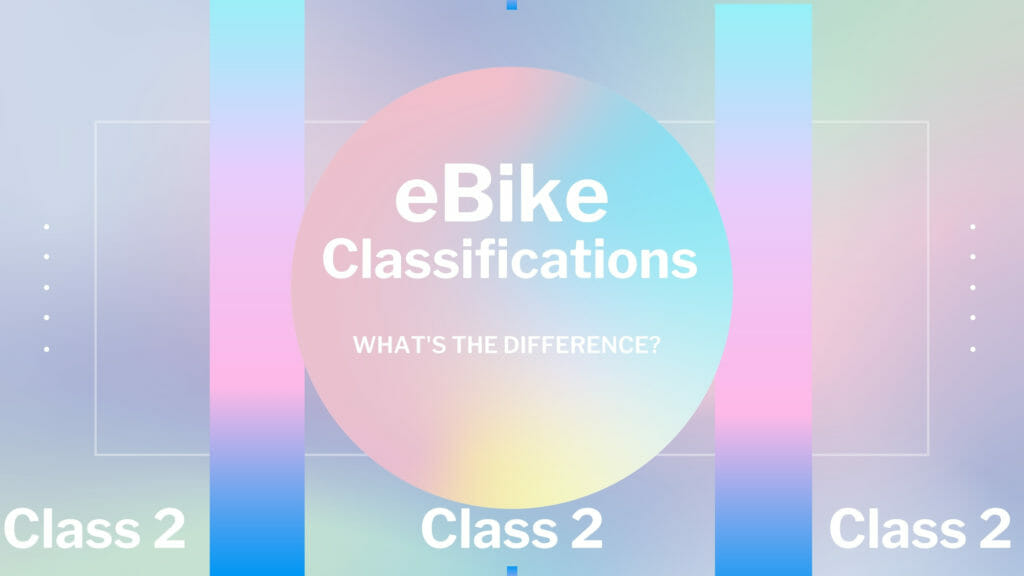 Class 1 e-bikes are pedal-assist bikes that provide power when the rider is pedaling. The motor will assist the rider up to 20 mph, but it will not propel the bike on its own. This type of e-bike is great for those who want a little extra help while riding, but don't need a lot of power.
Class 2 e-bikes are also pedal-assist bikes, but they offer more power than Class 1 e-bikes. The motor can assist up to 20 mph and can be used without pedaling. This type of e-bike is great for those who want more speed and power while riding, but don't need the full capabilities of a Class 3 e-bike.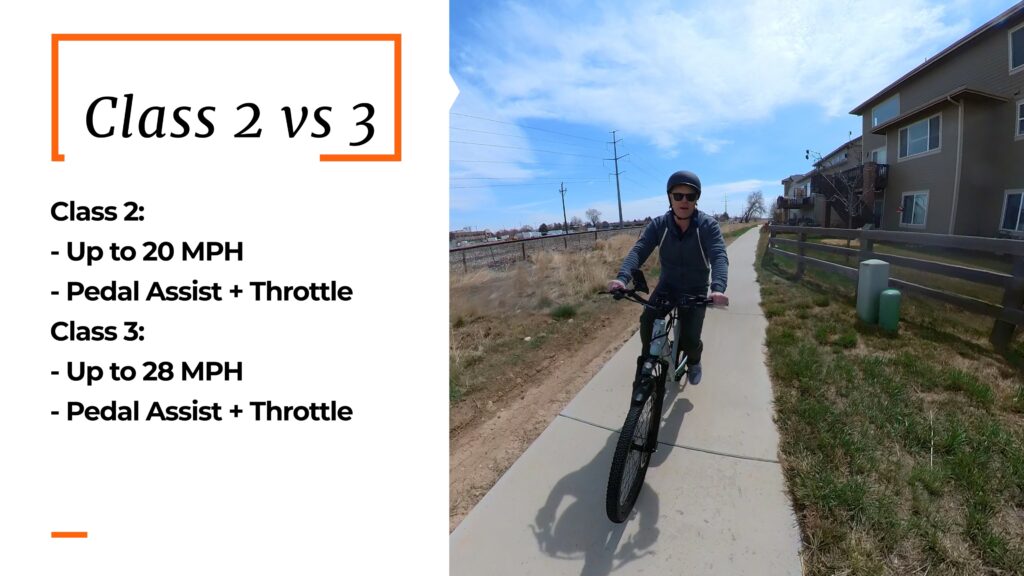 Finally, there are Class 3 e-bikes which offer the most power out of all three classes. These bikes have motors that can assist up to 28 mph and can be used without pedaling as well. This type of e-bike is perfect for those who want maximum speed and power while riding, such as commuters or mountain bikers who need more assistance on steep hills or long rides.
Meet Propella eBikes
Propella Electric Bikes makes lightweight Class-1 E-Bikes that have been designed with reliability and affordability in mind. Whether you're looking for a bike to take on your daily commute or just want to explore the outdoors, Propella eBikes are sure to meet your needs.
The Propella 7S electric bike is one of the most popular models. It features a 250 W (400 W peak) Bafang rear geared hub motor and can reach speeds up to 30 km/h (18.5 mph). The range of this model is 32-64 km (20-40 mi), making it perfect for those long rides. Plus, its sleek design makes it stand out from other electric bikes on the market.
If you're looking for something more powerful, check out the Propella 9S Pro – review coming very soon. This model features an upgraded 350W motor and a top speed of about 20 miles per hour. It also has a longer range of about 25-45 Miles, making it ideal for those who want more range. They also have hydraulic disc brakes, where the 7S has mechanical disc brakes (read about the difference: Mechanical Disc brakes vs. Hydraulic Disc Brakes).
I was pleasently surprised at just how affordable, not to mention beautiful, these eBikes are. I love that they are so lightweight and compact, making them perfect for taking in the car or on the bus.
The power delivery is smooth and consistent, allowing me to tackle challenging terrain without being left winded after a few miles – even uphill.
Want a great helmet? See our Thousand Helmet Review, too – and the best eBike Accessories.
Propella S7 Review: The Basics
The Propella S7 is a 7-speed electric bike that's light, sleek, and next to maintenance-free. It's designed to provide an enjoyable ride with excellent performance on moderate hills, but mostly focused on city streets.
If you're in the market for an electric street bike, this e-bike is the perfect balance between modern and classic, offering traditional cycling with a motorized boost.
It has all the features of a Class 1 e-bike – no throttle, pedal assist only – but with five levels of assistance to choose from, covering everything from minimal assistance to full support. With this e-bike, you can easily tackle any terrain (as long it is paved) with less effort and more speed. Let the motor do all the work – just give that petal a light spin and let it take you to your destination.
This isn't a fat tire eBike (read about the best Fat Tire eBikes we've tested), it's narrow tires are more akin to a road bike than anything you'd want to take offroad.
The removable 36V, 250Wh battery features Samsung Lithium-Ion cells and offers a range of 20-40 miles depending on the assist level you choose.
The Propella 7S also has an adequate Bafang rear geared hub motor that can reach speeds up to 19 mph. It comes with a 7-speed Shimano Altus drivetrain and mechanical disc brakes for both front and rear wheels. The Propella 7S 4.0 is an affordable ebike that's perfect for those looking for an easy way to get around town or take on paved trails.
In short, this is a classic road bike – with super-powers. It's lightweight and easy to ride, making it an ideal choice for commuters and casual riders alike.
Let's talk power
As I mentioned, this bike is powered by a smaller 250W Motor, but is capable of putting out 400W when you really need it.
Riding a Class 1 eBike feels more like your legs have super powers than pulling the throttle on a super-powered Class 3 eBike like the Himiway Zebra. The Zebra feels like a rocketship, the Propella S7 feels more like you're gliding across the pavement. It's a great balance between modern electric-assist and classic cycling.
The neighborhood I live in had some brand new asphalt laid down. Riding the S7 was a match made in heaven. I was able to easily hit speeds of 18.5 mph and it felt like a hot knife running through butter. It was a complete opposite feeling of riding something like the Zebra, which feels like it's tryig to kill you and entertain you at the very same time.
Pedal Assist Levels
I typically test a review unit eBike, like this one, at all kinds of different levels. Level 1-2 didn't really feel like I was going higher speeds at all. Level 3-4 were pretty good, but I felt an extra little kick in my ride when bumping up to Pedal Assist Level 5 on the Propella 7S.
Level 5 Pedal Assist got my up to speed quickly and was incredibly helpful on a steep hill in my neighborhood. I was able to go full speed up-hill, thanks to the bafang motor on this bike.
The top speed
Technically, Class 1 eBikes go up to 20 MPH. The Propella S7 tops out at 18.5.
Honetly, you can't tell the difference when you're pedaling between 18.5 MPH and 20, so it's not that big of a deal. It probably gives you a couple miles of extra range, but my best guess for why 18.5 MPH instead of 20 is that 18.5 MPH equates to 20 km/h.
All in all, you won't notice the difference in 1.5 MPH, but you will notice the difference if you are expecting a Class 3-type experience (going 28MPH with a throttle).
It's also worth noting the S7 does not have a throttle. It's pedal assist only (but does come with 5 levels of pedal asssit).
The Looks
I love a bike with subtle, but not obnxious looks. The Propella S7 electric bike is a sight to behold.
With its sleek, lightweight design, it's the perfect combination of form and function. Plus, with its unique battery design and eye-catching blue accents, you'll be sure to turn heads wherever you go!
I simply love the subtle blue tints on the seat and bright blue wheel rims. It's a super classy touch on an already lightweight and beautiful bike.
The battery design
I don't think I've ever touched on battery design before in an eBike Review. To be honest, the battery looks more like a water bottle than a battery. That's a VERY good thing.
Here's why: it simply fits in your hand better than a normal, oddly-shaped battery. While this may seem like a small thing, it's a nice, ergonomical touch.
The only thing I didn't like about the battery design was that it was a bit difficult to remove the battery and re-attach it. Not a deal-killer, but something to note.
The Size + Weight
Looking at this bike, it's hard to believe that it weighs only 37 pounds. The lightest "real" eBike we've tested is about 33 pounds – but it cost almost $3,000. Read our full Urtopia Review.
Let's pretend you only cared about having a lightweight eBike. Sure, the Urtopia Carbon Fiber eBike is 4 pounds lighter, but almost 3x more expensive.
Even if the quality of the Propella S7 was junk (which it is not), you could almost buy 3 of the S7s for the same price as the Urtopia eBike.
That's pretty crazy. It's a no-brainer to chose the S7 over the Urtopia.
What this eBike is missing
I could be super unhelpful here and say that the eBike isn't missing anything – but it's designed to be the way it is to keep the cost down. Obviously, that's not helpful at all, but I was a bit surprised by two key missing features of this eBike.
No Fenders
I know not all road bikes have fenders, but living in Colorado, I'd love fenders. You can buy fenders for only $70 from Propella, which isn't a bit deal, but something I wish was included.
No Lights or Rack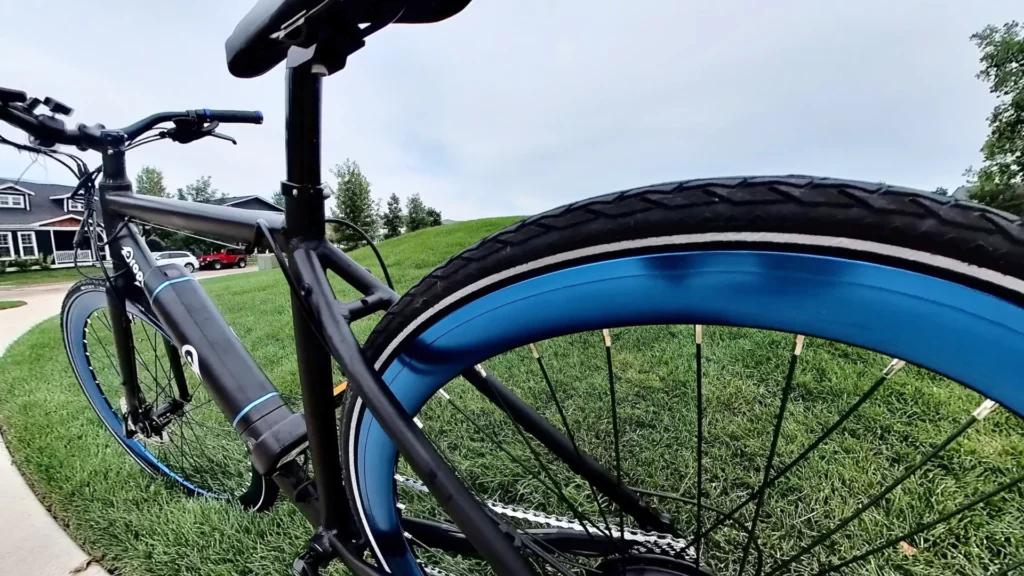 Once again, I know Propella was trying to take it's cues from a traditional bicycle to make an overall great bike. They've succeeded in so many ways, but almost every other eBike we've reviewed has included at least a front light – if not a back light, too.
If you want to get a cool helmet with front and back lights, check our XNITO and our XNITO Review.
There also isn't a rear rack, which does add some weight to the equation, but not much. The battery, just an FYI, is the heaviest item on most bikes (that's why sometimes you see a low weight on eBikes – it doesn't include the battery).
How does this bike compare to others?
The biggest different between this lightweight eBike and others we've tested, come down to who the bike is designed for.
This eBike was designed for riders looking for fun, but complete control. That doesn't mean this bike is NOT fun to ride, it just means you get to use the 250 watt motor AND your legs to have some fun.
This eBike is all about two things: lighweight and moderatly powered. Lightweight bikes, in general, aren't designed to go offroad. Most of the slightly wider tire eBikes are designed to be more of a cross-over, straddling the street bike, cruiser bike and fat tire bike market.
I was impressed by the quality components, with the afforable price. Sometimes, cheaper eBikes are made with less quality, but they didn't skimp with the Propella 7S.
Who is this bike not for?
I usually explain who the bike is best for and who it is not designed for. But the best way to explain who this bike is for, is to explain who it's not for.
This eBike is not for two types of people: the ones that want to go fast and the ones that want to go offroad. That's it.
If you want a bike that can handle offroad, look at one of these bikes with fat tires. If you want one that goes fast, look for something that is at least a Class 2 eBike.
Final Thoughts: Propella S7 Review
A fun, lightweight road bike
Propella S7
Designed with the minimalist in mind. If you don't want to go offroading or go super-fast, this is an awesome road bike at a great price.
Buy Now
We might earn a commission if you make a purchase, at no additional cost to you.
To sum it up, the Propella S7 is a sleek and stylish e-bike that also happens to be well priced. It has some impressive features like Shimano brakes and shifter, CST tires and a Bafang motor that make it especially appealing. The varied gear range ensures riders can get up those hills easily, but speed fanatics should look elsewhere.
All in all, if simplicity, affordability, minimalism and good looks are what you're after in an e-bike, then the Propella S7 could be just what you're looking for. So why not take the plunge and give it a go? Become the proud owner of this slick black urban commuter bike today – get the best deal on the Propella S7 here!