Stitch Fix Freestyle Review: If you're like me, you hate having to go clothes shopping. It's always a hassle, and I never know what to buy. Plus, I usually end up spending too much money on things that I don't even wear.
A great way to shop
Stitch Fix Freestyle™
Stitch Fix has always been a great way to buy clothes - but it just got even better with Stitch Fix Freestyle. The same curated looks, but select only the clothes you want with the assistance of their fabulous stylists.
Pros:
Custom curated styles
Your favorite designer brands
Super smart styling advice
Updated frequently with new style choices
Stitch Fix Freestyle offers more flexibility than before
Cons:
Some products sell out quickly

Not the cheapest price
Try Now
We might earn a commission if you make a purchase, at no additional cost to you.
Recently, I discovered Stitch Fix Freestyle, and it has completely changed the way I shop for clothes! In this blog post, we will discuss what stitch fix freestyle is, and how it works. Then we will give our honest Stitch Fix (and Stitch Fix's newest offering: Freestyle) review.
I'm no stranger to Stitch Fix
When Stitch Fix first came out in 2011, I immediately signed up for their $20 styling service and received my first "Fix" or curated box from them.
A personal stylist reviewed my style profile, preferences, and Pinterest boards in order to pick items that they thought I would love. It was so much fun to receive a Stitch Fix "Fix" in the mail because it was like getting a Christmas present from a best friend. I always felt like my personal stylist put a lot of thought into the items that she picked for me.
A not so surprising revelation
I discovered after a few months though that I am EXTREMELY difficult to shop for! All of my family and friends probably could have already told you that, but I realized it by receiving my monthly Stitch Fix "Fix".
I had to start sending back a lot of the items that my stylist picked for me because they just didn't fit my style or I already owned something similar.
The $20 styling fee Stitch Fix Charges also started to add up, so I eventually canceled my subscription.
Why the original Stitch Fix wasn't for me
I only wear a couple of colors – white, grey, black and camel. I am also extremely particular about fabric- synthetic fabrics rarely work for me.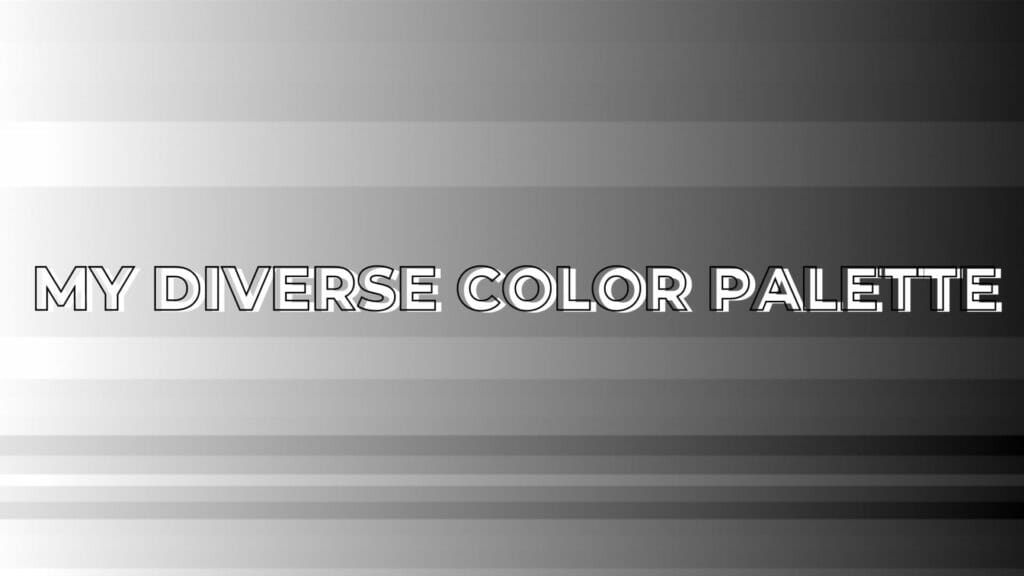 What I like to wear
I like cotton, cashmere, leather, wool, alpaca, silk, etc., but not polyester or synthetic blends. I also don't wear patterns unless they are classic like black/white stripes or leopard print.
Well, you can see what a pain I am and so my personal shoppers did their very best, but it was difficult and I was tired of being a high maintenance pain! There's only so many times you can turn down your personalized styling.
Why I stopped my monthly Stitch Fix "Fix"
So, I stopped receiving monthly fixes – the automated deliveries. It was just too hard to keep up with what worked for my style and what didn't.
Also, it was really limited the number of new clothes that I actually needed. If you do a great job curating your style profile in general, you don't need to buy clothes all that often – especially if you buy clothes that last – not just the new styles you see on Instagram all the time.
Why I didn't give up on Stitch Fix
Since I was originally a Stitch Fix "Fix" customer, I still received their marketing emails and I absolutely loved them and looked forward to them. They usually had several different flat lay outfit ideas. These flat layouts are mood boards of the best Stitch Fix clothing.
I loved looking at their ideas and taking what I had from my closet and trying to replicate them. The problem was, sometimes I had most of the outfit, but not all of it. Tracking down the missing pieces was difficult.
Meet Stitch Fix Freestyle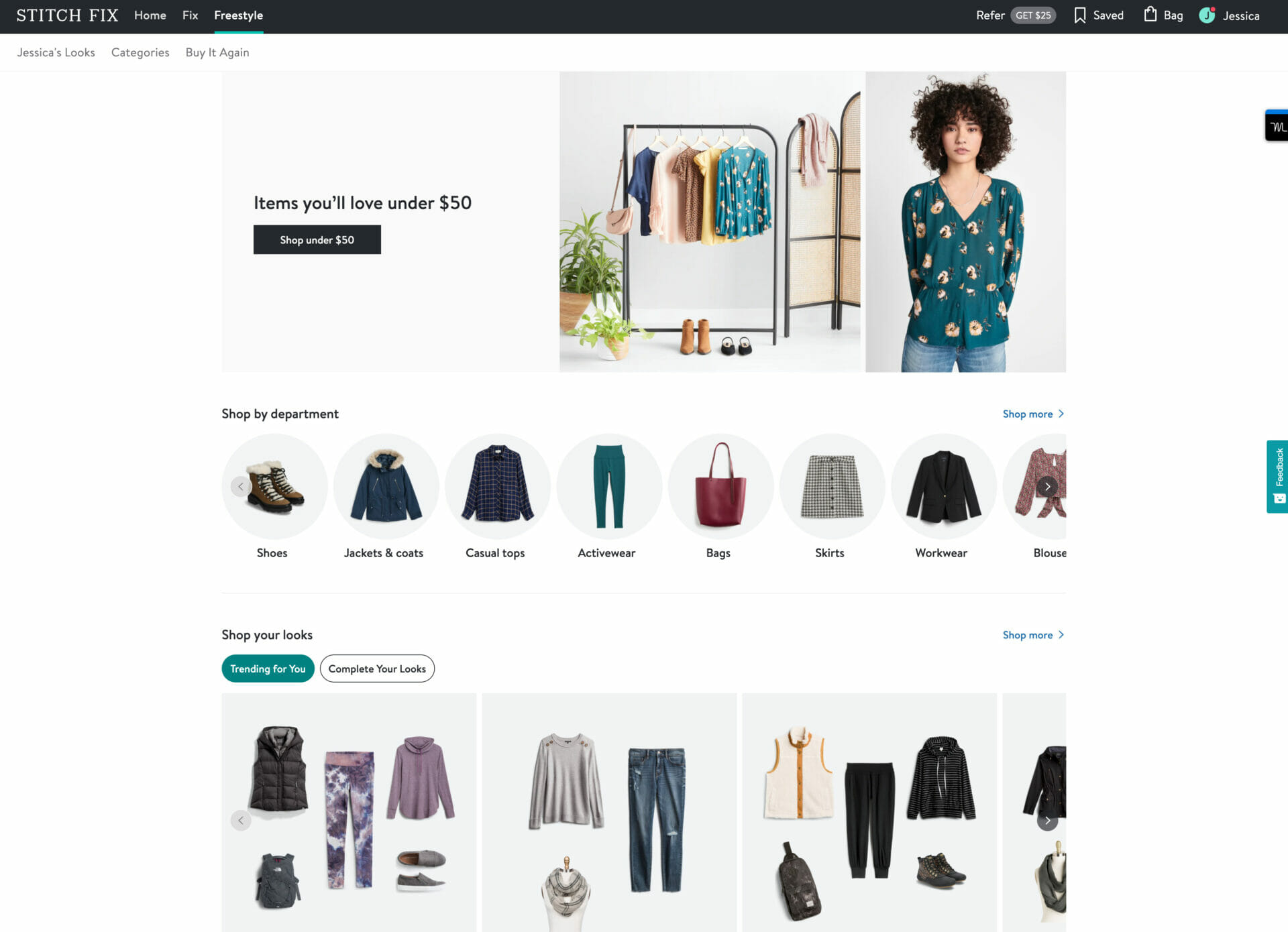 Enter Stitch Fix Freestyle! Stitch Fix Freestyle is all of the things I loved about Stitch Fix personal styling and their outfit ideas, but with an option to buy one or all of the pieces in the outfit. I just gave Stitch Fix Freestyle a try for the first time and ordered two pieces – this is how it turned out!
No funny business here, I just wanted to give this new offering from Stitch Fix a try. What you see is what I ordered based upon my previous experiences with Stitch Fix.
What we love about Stitch Fix Freestyle
You still take a style quiz and receive curated outfit ideas. You can shop these flat lay outfit ideas by clicking on the individual pieces and it takes you to a spot to add the item to your cart. That's awesome because you don't have to worry about missing pieces!
If you like the outfit, but don't want everything, you can buy one or all of the items. You're not limited to buying just what's in the box like with monthly shipments.
You get free shipping and returns because it's a stitch fix style purchase- no need for an extra stitch fix box!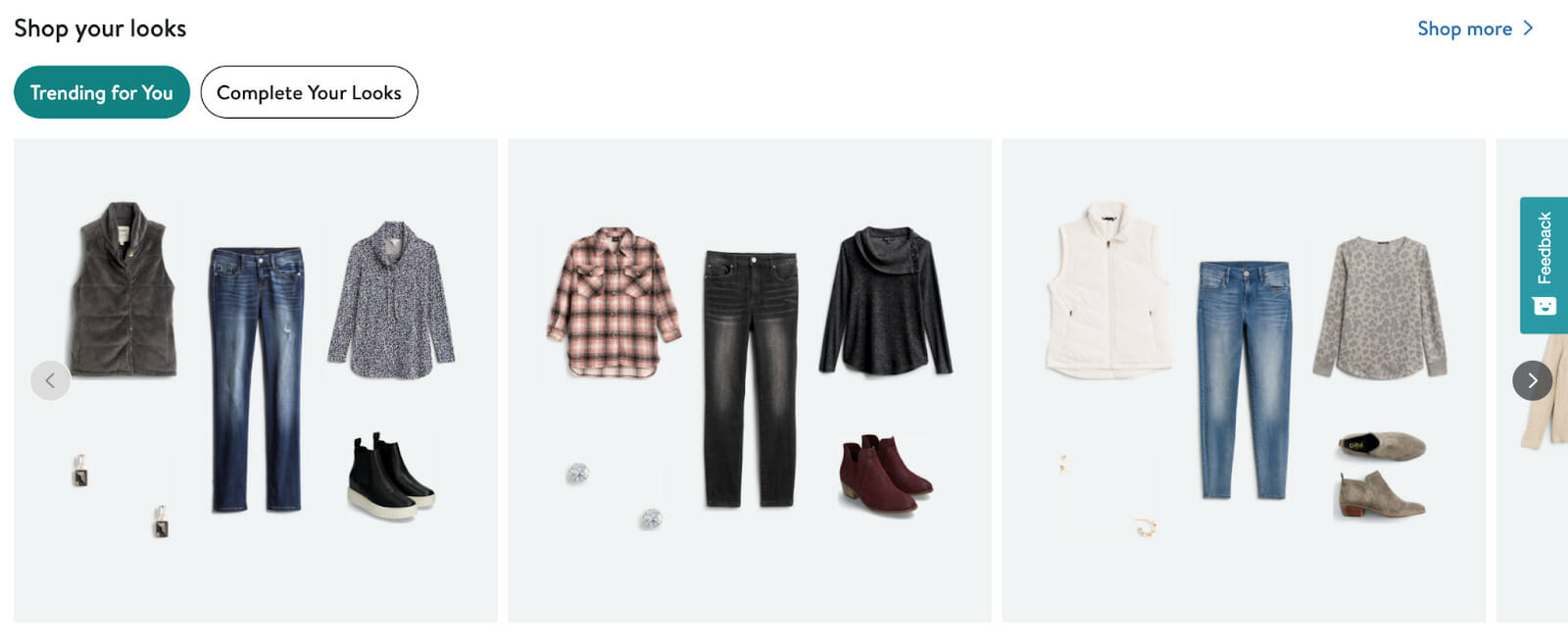 They also keep track of exactly what you bought and give you ideas on how to style it and complete your look with additional pieces.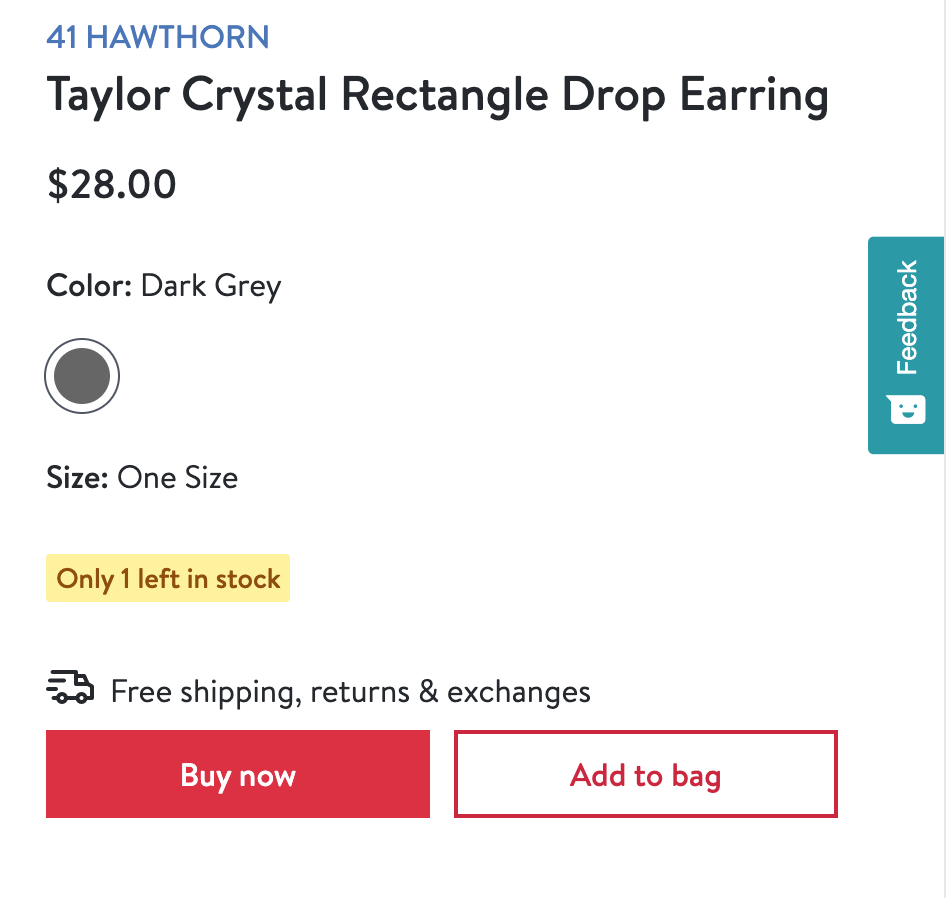 I purchased this Kenneth Cole Drape Collar Coat in black in a size small.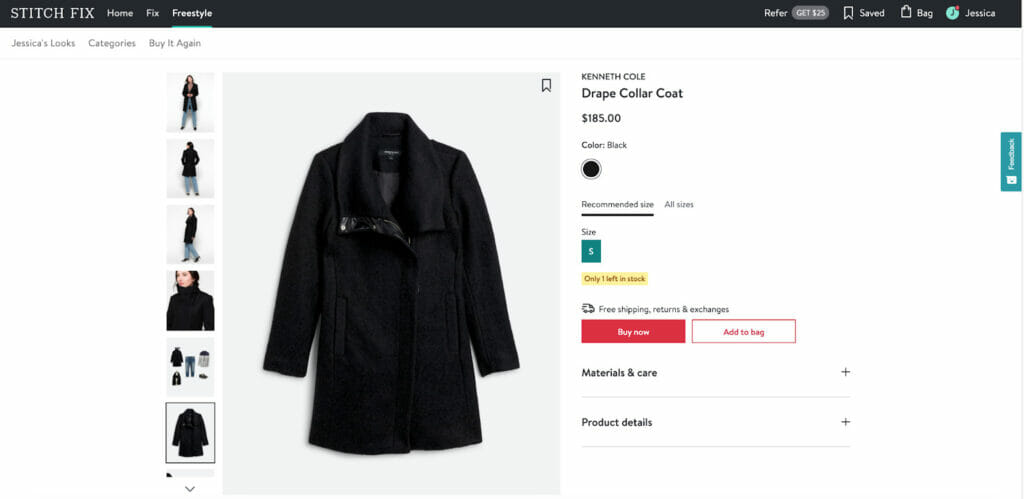 I also purchased this Michael Michael Kors Faux Leather Midi Skirt in black in a size small.
Ironically these are both polyester or synthetic blends, so see I'm already being annoying and breaking my own fabric rules.
But I LOVED both of these items and it is so helpful to scroll through all of the outfit options and look for outfit ideas that incorporate other pieces I already own or might want to purchase. I loved the coat because can wear it as a blazer or coat- so versatile.
Notice how it suggests the right size based upon your previous items
Stitch Fix Freestyle Review: Shop by category
You can also shop by category, which is how I originally found both of these items because I was looking for a good leather skirt and a dressy coat option when I first started looking at the Stitch Fix Website.
For example, if you click on coats, it pulls up lots of different options that they have in stock.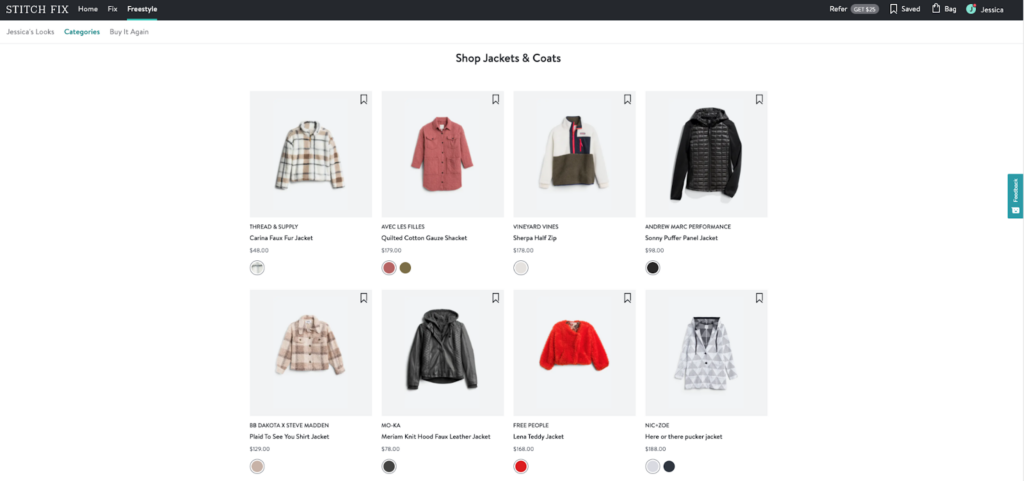 You can also search specific brands if you find luck with the same brand again and again, this is a great way to sort through things.
The whole process from looking at the outfit inspiration flat lays to receiving the items was easy and enjoyable. My favorite part though is how I can keep going back to the site and seeing new outfit inspiration options.
If you purchased a good number of items from them, you would almost have a personal stylist creating all of your outfits for you- how cool?
But wait… isn't this just like Amazon?
No way. Stitch Fix Freestyle is a highly-personalized shopping experience that allows you to find inspiration & discovery across a wide range of trending shops and expert picks.
When you know exactly what you want, you may search for specific brands and departments to meet all of your shopping demands.
But that's not all…no 2 Stitch Fix Freestyle pages are the same
No two Stitch Fix Freestyle shops are identical! Every single shop is personalized to you and only you. What's more? Your selections will continually refresh throughout the day. Yes, you read that correctly… the DAY.
Compare his Stitch Fix's homepage to mine:
Stitch Fix provides a large selection of styles and brands so that you can shop for all of your apparel and styling needs from one place.
What else is great about Stitch Fix Freestyle
Shipping, returns and exchanges are always free with Stitch Fix. There's no minimum spend, no styling fee, and better yet–no searching or filtering to find the pieces that will suit you best!
Since everything is automatically curated for you – by combining technology with your own unique style – this gives you a truly personalized experience right out of the box.
What we don't love about Stitch Fix Freestyle:
Stitch Fix Freestyle is a different shopping experience because it makes you focus more on looks, categories of pieces, or specific brands.
When I am shopping for something, I typically go to a retailer's (or google or even Pinterest) and type in "black leather skirt" and look at options that way. This is not an option with Stitch Fix Freestyle because there is no search box.
It makes you search in a more intentional way, but this might be frustrating for people who like to shop online as they always do.
But it's really a better way to shop. It combines your own personal styling service with looks that are curated by seasoned style experts. If you aren't that sure about what goes and what doesn't, that's where Stitch Fix – and a person Stitch Fix Stylist can really help you shine.
You have to shop fast… sometimes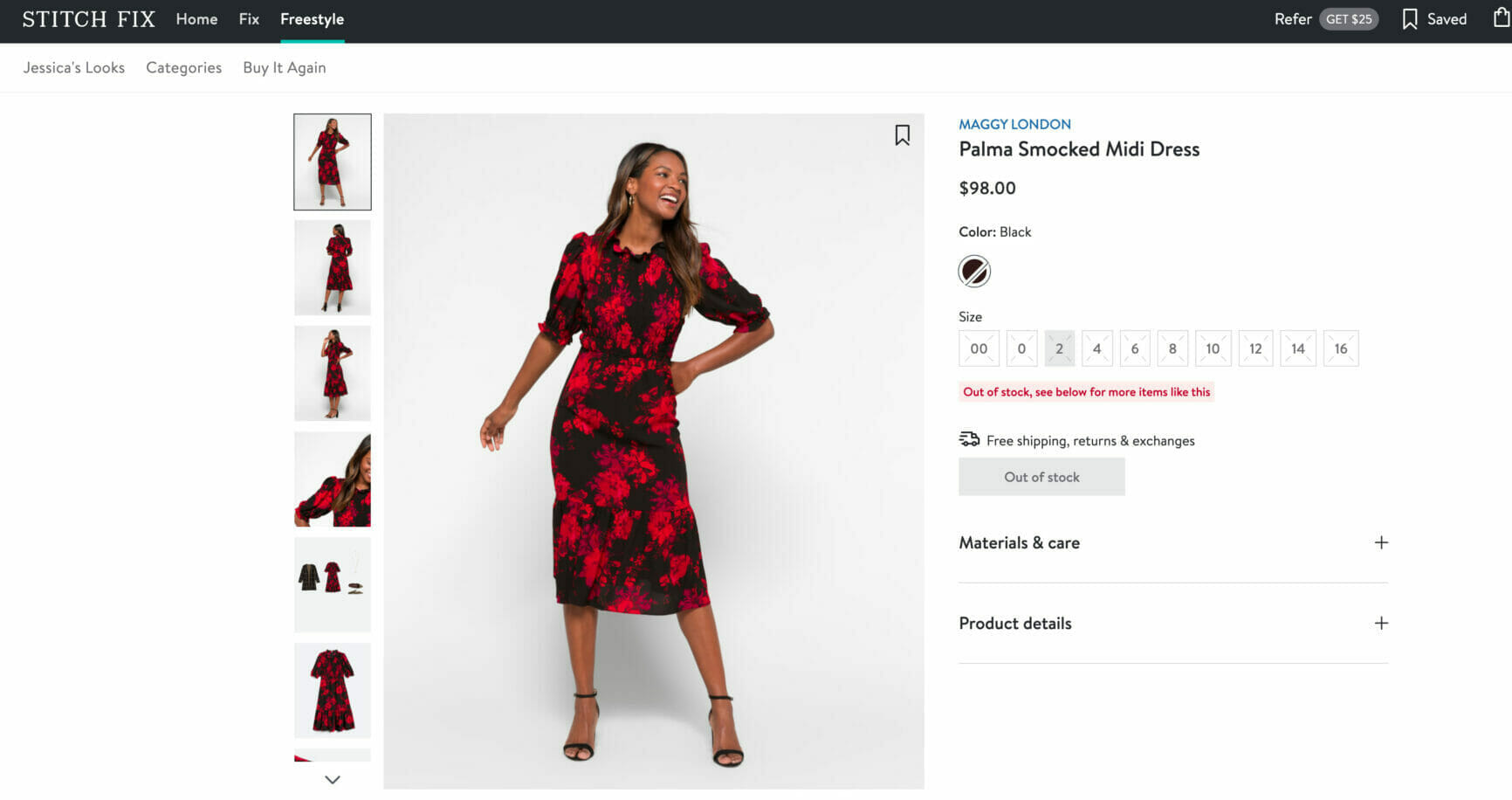 If you like something in your size, you better buy it right away. I haven't acted quick enough on a couple of items and they were sold out quickly. The good news is that Stitch Fix won't show you products that are out of stock when browsing.
Not the cheapest
Also, if you want the cheapest price, or looking for the best "deal" – this site might not be for you.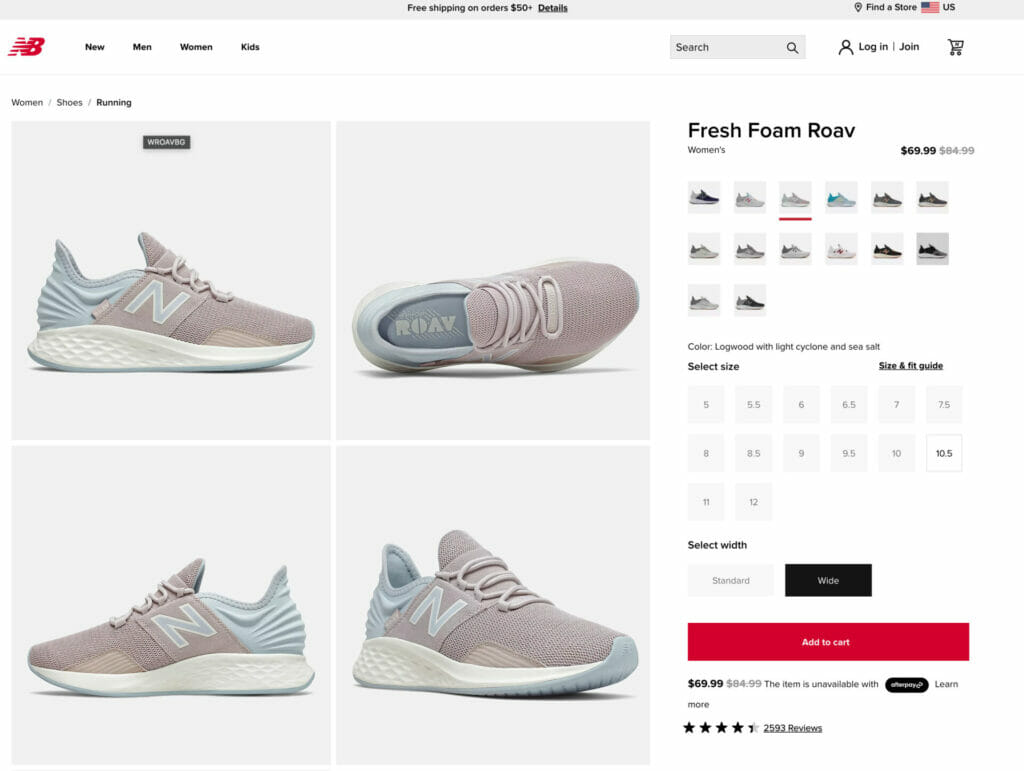 Who is Stitch Fix Freestyle for?
I was just watching Tik Tok before I wrote this review and someone was saying how they wanted to discover their personal style. Stitch Fix in general is a great way to do that because you take a style quiz in the beginning. It gives you options and you select your preference.
From there you can order a Stitch Fix "Fix" which I think is great for people who are really starting from scratch on curating their wardrobe.
Already have a great collection
Or, if you have spent your entire adult life curating your wardrobe and you are very particular, the Stitch Fix Freestyle program allows you to fill in the holes in your wardrobe with some great outfit inspiration thrown into the mix.
In short, Fix Freestyle is a great way to shop for clothes, especially if you want outfit inspiration and don't mind investing in items that might be outside of your comfort zone.
Also, Stitch Fix will only show you products that are in your size. For example, with the shoes above, Stitch Fix will only show sizes that are available (and fit your colors).
Stitch Fix Freestyle Alternatives
The obvious alternative to Stitch Fix Freestyle is shopping online using a search tool and looking up outfit inspiration on Pinterest.
But seriously…
Stitch Fix Freestyle combines all of this for you and makes shopping super easy and obtainable to everyone, even if you are still trying to figure out what things to pair together. Stitch Fix also helps you identify your personal style preferences, which is something most retailers don't do for you.
Curious? Try without commitment
Here's the best thing about Stitch Fix. You can try without any commitment. If you've never tried Stitch Fix at all, I'd encourage you to sign up for your first "Fix" – AKA your first Stitch Fix Box. What is that?
Just simply fill out the online questionnaire about your own personal style.
It takes a couple of minutes and you'll be shocked at how accurate it can be (we'll post Mr. We Tried it's first Stitch Fix Box here shortly).
You get your first box, risk free (no styling fee, even) sent directly to your home to check out the clothes.
Send it back in a couple of days if you don't like the online personal styling service recommendations
Or… love what they picked for you based on your fit preferences, body type, latest styles and more, and save
Stitch Fix Freestyle Review: The Final Verdict
Try Risk Free Today
Stitch Fix Freestyle Review: We Tried It Approved
A great way to expand your wardrobe by getting curated looks. Try risk free today. It doesn't matter if you want to expand your current wardrobe or start from scratch, you can find your very own style with Stitch Fix and Stitch Fix Freestyle.
Try Now
We might earn a commission if you make a purchase, at no additional cost to you.
This was such a fun review for me to do! I loved seeing how much Stitch Fix has grown and evolved since I received the Stitch Fix "Fixes" when they first launched.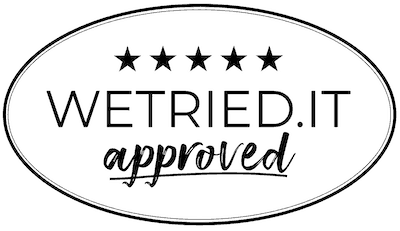 I will definitely be recommending the Stitch Fix Freestyle program and the Stitch Fix Fixes to people. I absolutely loved how they continue to create outfits for me based on my purchases- I think this is such a neat value add that is really specific to their service!
We're happy to give Stitch Fix our We Tried It Seal of Approval in this Stitch Fix Review.
What is freestyle Stitch Fix?
Think of Stitch Fix Freestyle as all the great parts of Stitch Fix without the monthly shipments. No more hassle to return items you don't like – get the same curated styles sent directly to you without the hassle of a monthly box.
Is Stitch Fix High Quality?
Yes! All the clothes from Stitch Fix are incredibly high quality clothes from name brands you already know like and trust.