Any fellow stomach sleepers out there? Keep reading about my mission to find the best pillow for stomach sleepers in our full Belly Sleeper Pillow Review.
Belly Sleeper Pillow Review
Top Pick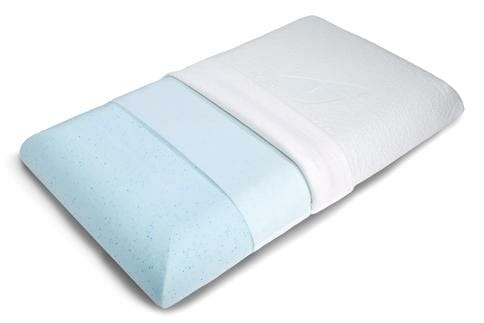 Belly Sleepers: UNITE!
The BEST Pillow for Belly Sleepers
Belly Sleeper Pillow Review: It's simply perfect for anyone that sleeps on their belly.

It's slim design works incredibly well if you're a belly sleeper. Finally, we've found the best Pillow for Stomach Sleepers!
A quick background on Belly Sleepinng
I always read about how celebrities like J. Lo prop themselves up with pillows to ensure they sleep on their back throughout the night to prevent face wrinkles.
And I have tried it… We have tried it all! But I just love to sleep on my stomach. It's how I feel I get my best sleep.
Combine stomach sleeping with the Gravity Blanket (read our full Gravity Blanket Review) and the Gravity Ice Hybrid Mattress (don't miss our Gravity Mattress Review, either), and it's sweet dreams every night.
Oh, and don't forget the adjustable bed frame.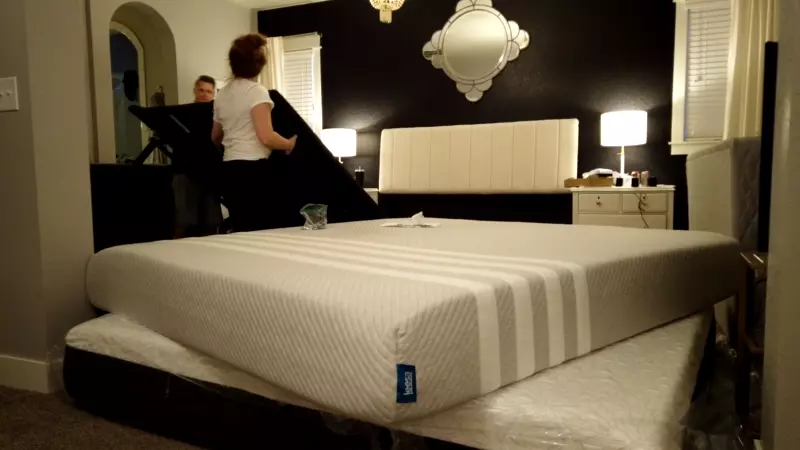 As you can probably tell, sleep is a science around here. All the pressures and angles and temperatures have got to be just right, and I just can't do the back or side sleep thing regularly.
The problem with stomach sleeping is that traditional pillows are usually too thick. Sometimes I opt for no pillow. While this may seem like a good idea initially, I don't quite end up with the result I expected the next morning.
So when I saw the Belly Sleeper Pillow, I just had to test out Belly Sleep's 30 Night trial.
As I said, sleep is a priority around here!
Stomach Sleeper or not: sleep should be a priority
Sleep is healthy because it allows your body to repair and regenerate itself as you rest. Also, when we sleep, our muscles relax, which helps prevent injuries.
We all need sleep for cognitive function and creativity. The ability to think and problem-solve becomes difficult if we are tired. Sleep also aids in memory consolidation. Studies show that without sleep, it becomes harder for us to remember what we have learned or focus on what's happening around us – especially in a fast-paced environment like school or work.
If your job requires you to be alert and responsible for the safety of yourself and others, then you want to be sure to get your Z's.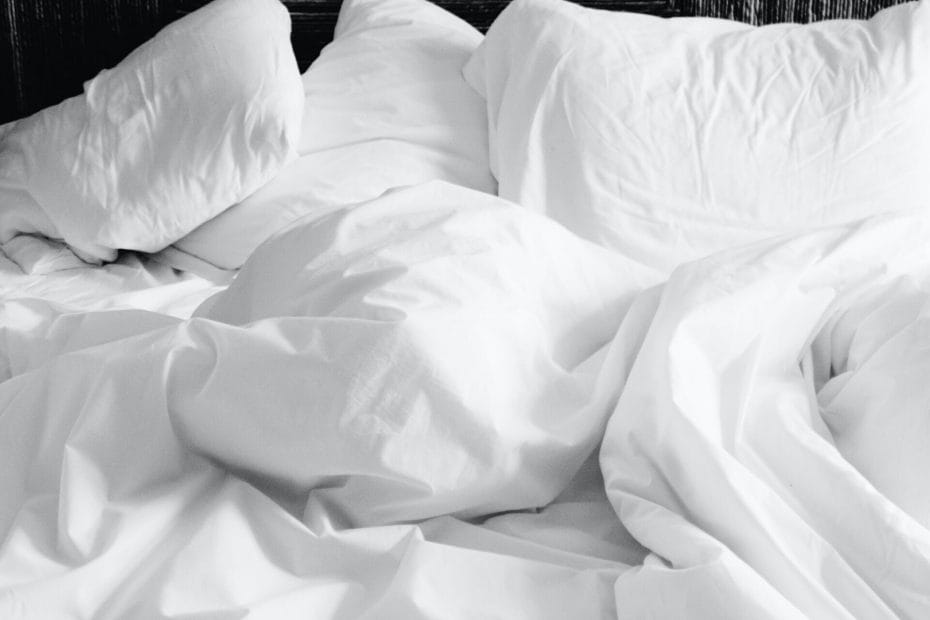 And this may surprise you… Losing REM sleep can make you more depressed than losing hours of non-REM sleep! It's true. Sometimes you're so sad because you're simply exhausted. And I've been there!
Have you ever been so beat that you just start crying for seemingly no reason at all?
Yeah… Mere fatigue may be the case. Luckily, there are simple solutions for that.
What's Your Sleeping Position (and why does it matter)?
Do you sleep on your back, side, or belly?
Everybody has a favorite sleeping position. You might switch things up now and then, but there's always that one particular arrangement that you may feel works for you best—your best sleep.
Some things that can change your sleeping position are pregnancy, medical conditions, or chronic pain.
It's no secret that the way you begin your slumber can make a huge impact on the way you feel when you wake up. And it becomes even less of a secret when you can't turn your head left or right. Ouch!
Sleeping improperly can cause chronic neck or back pain. If you're consistently waking up in a world of hurt, it may be time to re-evaluate how much of a priority your sleeping position is.
And some research shows that the wrong sleeping position may cause toxins to filter out of your brain more slowly than what's recommended.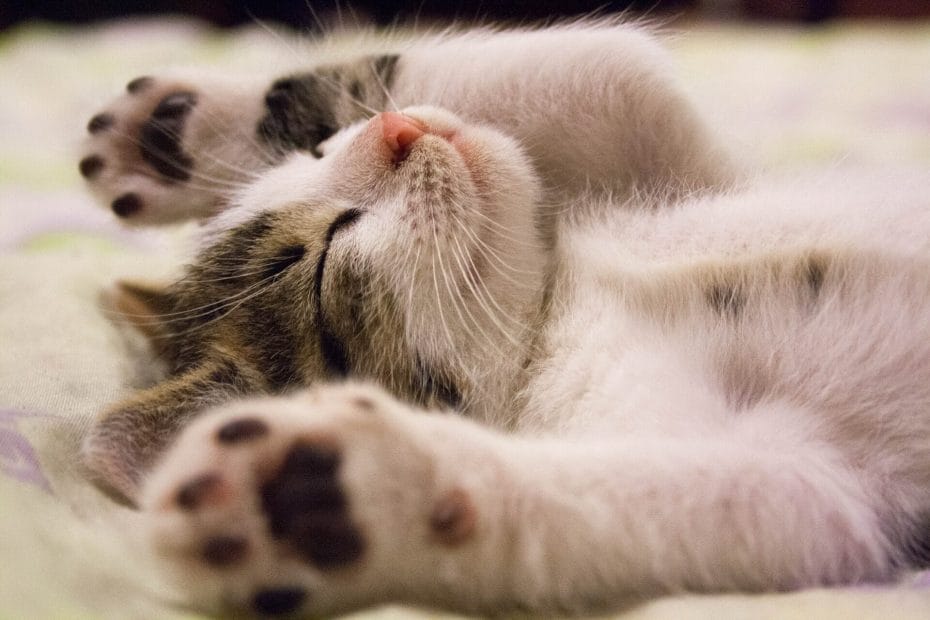 Here are 9 Common Sleeping Positions:
Back sleeping
Soldier (sleeping on your back, arms by side)
Starfish (arms above head)
Side sleeping
Log (the solider, turned to one side)
Fetal
Yearner (sleep on their side with both arms out in front)
Stomach sleeping
Freefall (on your stomach, with head to the side)
Which slumber form is your forte? Which one helps you feel the most rested and be the most productive all day long?
I'm a stomach sleeper, my husband is a side sleeper (more on his favorite pillow, the Cushion Lab Neck Relief Ergonomic Cervical Pillow.
We'd love for you to share what your favorite sleeping positions are!
Meet the Belly Sleeper Products
Belly Sleep's core product, the Belly Sleeper Pillow, is made from polyurethane foam with a cooling gel particles that prevent overheating. The Belly Sleeper Pillow is covered in a 40% bamboo/60% polyester blend pillow cover
Bamboo is a genius fabric quite comparable to Eucalyptus Lyocell fabrics and is used in similar types of products because of the beneficial properties they share. Bamboo fabric is often compared to organic cotton fabric, but bamboo stands apart in many ways.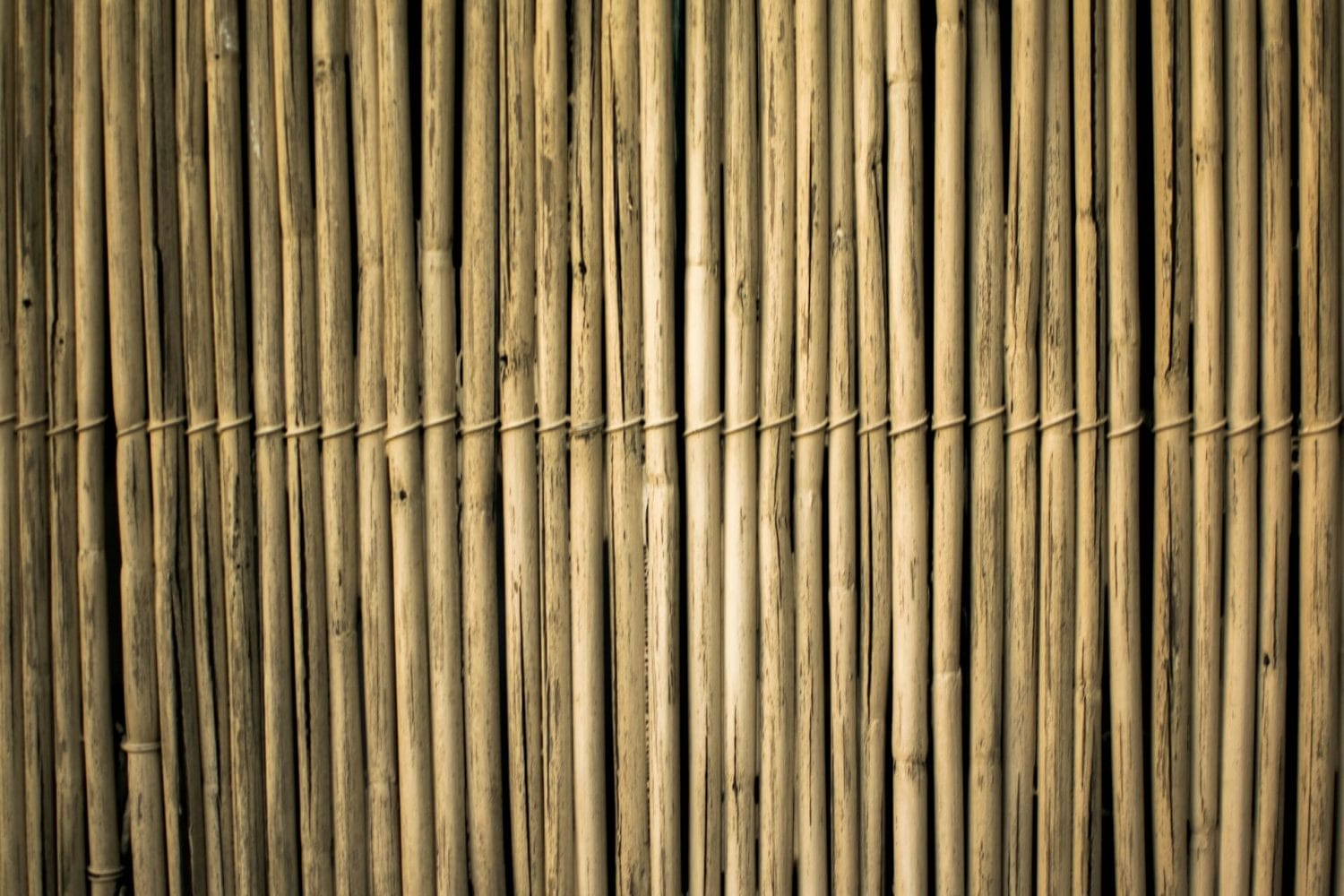 Here are 12 interesting facts about bamboo and bamboo fabrics:
Bamboo is a grass and not a tree
Bamboo fabric is safe for babies
Bamboo fabric repels viruses and disease
Bamboo fabric keeps bugs and dust mites at bay
Bamboo fabric is practically safe for anyone
Bamboo fabrics are pesticide-free
Bamboo is easier to cultivate and more environmentally friendly than cotton
Bamboo requires significantly less water to grow, and it doesn't need harmful pesticides to thrive
Bamboo fabrics beat the feeling of high thread-count cotton sheets effectively and affordably
Bamboo fabric wicks moisture better than cotton — it's 40% more absorbent and draws excess moisture away from the skin, keeping you dreaming comfortably
Bamboo fabric stays cool in the summer and warm in the winter
Bamboo fabric is hypoallergenic
Check out the Best Eucalyptus Sheets in our Sijo Sheet Review.
What's Included With The Belly Sleeper?
The standard Belly Sleeper Pillow and Bamboo Blend Cover.
The Belly Sleeper Pillow's bamboo blend cover is removable and washable in a machine or by hand.
This premium stomach sleeper pillow also features a thin profile with cooling memory foam support. It's infused with temperature-regulating cooling gel particles that prevent overheating and provide a level of comfort unmatched by pillows made of other popular materials.
The most important feature in our Belly Sleeper Pillow Review: spinal support
The most important feature of the Belly Sleeper Pillow is its spinal support. The way you sleep can be dangerous over time if your spine isn't cradled properly. Belly Sleeper gets the job done with innovative design and materials you can trust.
This pillow evenly supports your spine, providing uniform pressure on all areas of your head, neck, and back. It's an invaluable therapeutic feature that reduces joint pressure and keeps you from starting your day in pain. One of the worst feelings is sleeping all night just to wake up feeling like you've been run over.
And then there's the removable cover. You can only roll around on the same pillowcase for so long. And it isn't hard to tell when it's time for a change.
Grab an extra bamboo blend pillow cover to throw on your Belly Sleeper while the other one is in the wash. You never know — you might want to grab a nap while you're doing chores.
Other Cover Options for the Belly Sleeper Pillow
There are a variety of protective covers available for your Belly Sleeper. They couldn't possibly have made a pillow with such a unique shape and not have different sleeping surfaces to choose from.
If you prefer cotton, grab a 2-pack of Belly Sleep 150 Thread Count 100% Cotton pillowcases for only $34.99. Or pair your Belly Sleeper Pillow with the Belly Sleeper Age Delay 600 Thread Count 100% Mulberry silk pillowcase to maintain a more youthful appearance.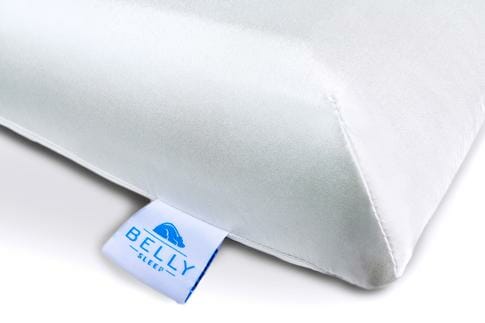 Silk feels so great against your skin because of its uniform, slippery surface. Silk's softness and slipperiness are derived from the proteins from which its filaments are made. The unique properties of silk make it ideal for wearing for long periods since many people are allergic to wool. Silk is also hypoallergenic, and it's durable enough to withstand everyday use.
Unlike microfiber or polyester materials (both synthetic), silk clothing and bedding are made from natural fibers that promote better airflow, which helps keep skin fresh and moisturized. Silk fabric locks in moisture and provides a barrier to prevent drying, helping the skin retain its elasticity and smoothness. And it also provides a natural cooling sensation when the temperature rises.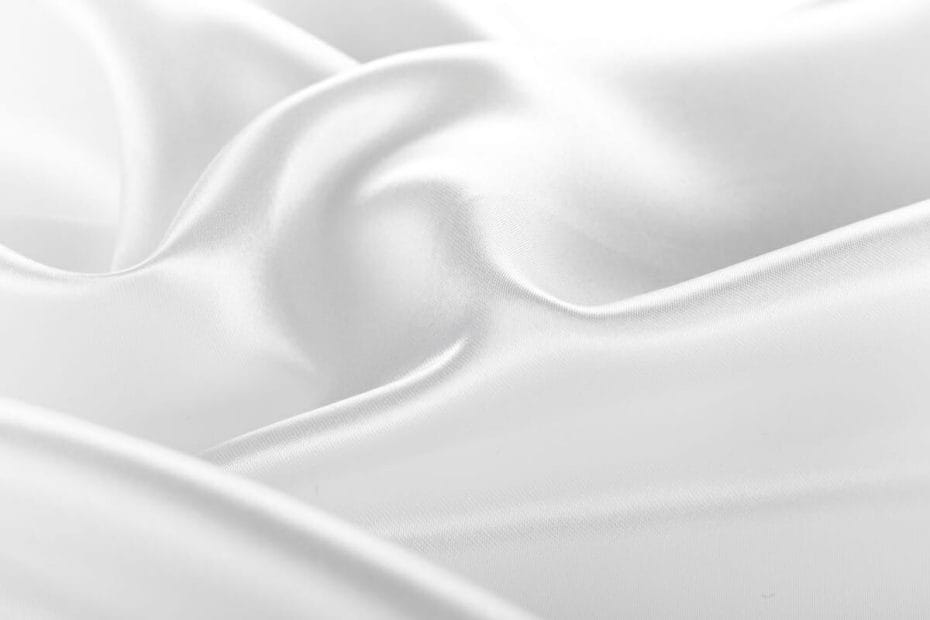 Dermatologists recommend natural silk pillowcases for their proven hair and skin benefits. Here are a few benefits of using a silk pillowcase:
Silk doesn't strip your skin of its oils, helping you maintain clear skin over time
Silk helps your skin retain moisture and keeps you from developing creases as you sleep
Silk prevents damage to your hair at night, blocking frizz and allowing your hair to shine at its best
Silk is hypoallergenic like bamboo and prevents any form of allergic irritation throughout the night
You deserve to feel pampered, and you don't have to break your bank account to do that. Treat yourself to the best Belly Sleep experience your hard-earned money can buy.
Belly Sleeper also provides some awesome perks on all orders. All purchases are eligible for free shipping, a 30-night risk-free trial, and their forever warranty. Belly Sleeper guarantees a premium, life-changing product. It's not hard to tell from all the glowing 5-Star reviews.
Belly Sleeper Review: What we love
The Belly Sleeper Pillow is specifically made for stomach sleepers, so they were created with a slim profile design of 2.5″. This height feels perfect when sleeping on my stomach.
The Belly Sleeper Pillow is made out of memory foam, which keeps its original shape while contouring to the unique shape of my head and neck. Memory foam is also hypoallergenic and has antibacterial qualities, which is important for a pillow.
The Belly Sleeper Pillow is infused with cooling gel particles that help me sleep cool. This also prevents the memory foam from overheating while you dream.
The Belly Sleeper Pillow has a removable cover that is made from a bamboo and polyester blend. And the super soft cover is hand or machine-washable!
The Belly Sleeper Pillow is better than stomach sleeping without a pillow because it helps keep your spine from becoming misaligned.
What We Don't Love About The Belly Sleeper Pillow
If you frequently change positions while you sleep, you may find The Belly Sleeper Pillow is too slim to support you comfortably in the side and back positions. I would recommend only getting the Belly Sleeper Pillow if you are a hard-core stomach sleeper.
The Belly Sleeper Pillow is VERY thin – but that is by design. When Mr We Tried It say it on the bed, he was confused as to why it was so thin.
Who is the Belly Sleeper Pillow for?
The Belly Sleeper Pillow is the ideal pillow for people who primarily sleep on their stomachs. If you are a stomach sleeper, you know most pillows can be quite uncomfortable. They are either too soft, too firm, or too thick.
The Belly Sleeper Pillow was perfectly created for the sleeper that can't help but roll over in the middle of the night.
All purchases come with a risk-free trial, so despite what you learn here, you'll have plenty of time to determine if the Belly Sleeper Pillow is perfect for you.
The Belly Sleeper Pillow Review: The Final Verdict
The Best Pillow for Stomach Sleepers
Meet the Belly Sleeper Pillow
Incredibly comfortable
The best pillow for stomach sleepers
Surprisingly thin – but it works!
A great, novel concept!
Stomach sleepers (like me) are largely left out of the sleep market. Our position is not a common one, but we do exist! Most pillows are marketed to side sleepers or back sleepers, but the Belly Sleeper Pillow is the perfect pillow for people who primarily sleep on their stomachs. As Belly Sleeper's name probably implies, the company doesn't sell any other types of pillows or accessories for other pillows.
Belly Sleeper goes all-in for stomach sleepers.
The Belly Sleeper Pillow provides the perfect amount of support for the spine while laying on your stomach.
And the memory foam and cooling gel combination are perfect for a truly comfortable pillow and a restorative sleep.
Overall, as a stomach sleeper, the Belly Sleeper Pillow is the perfect pillow for the ultimate sleeping experience! Let us know if you have any questions or comments about our Belly Sleeper Pillow Review or why we picked this the best pillow for stomach sleepers!