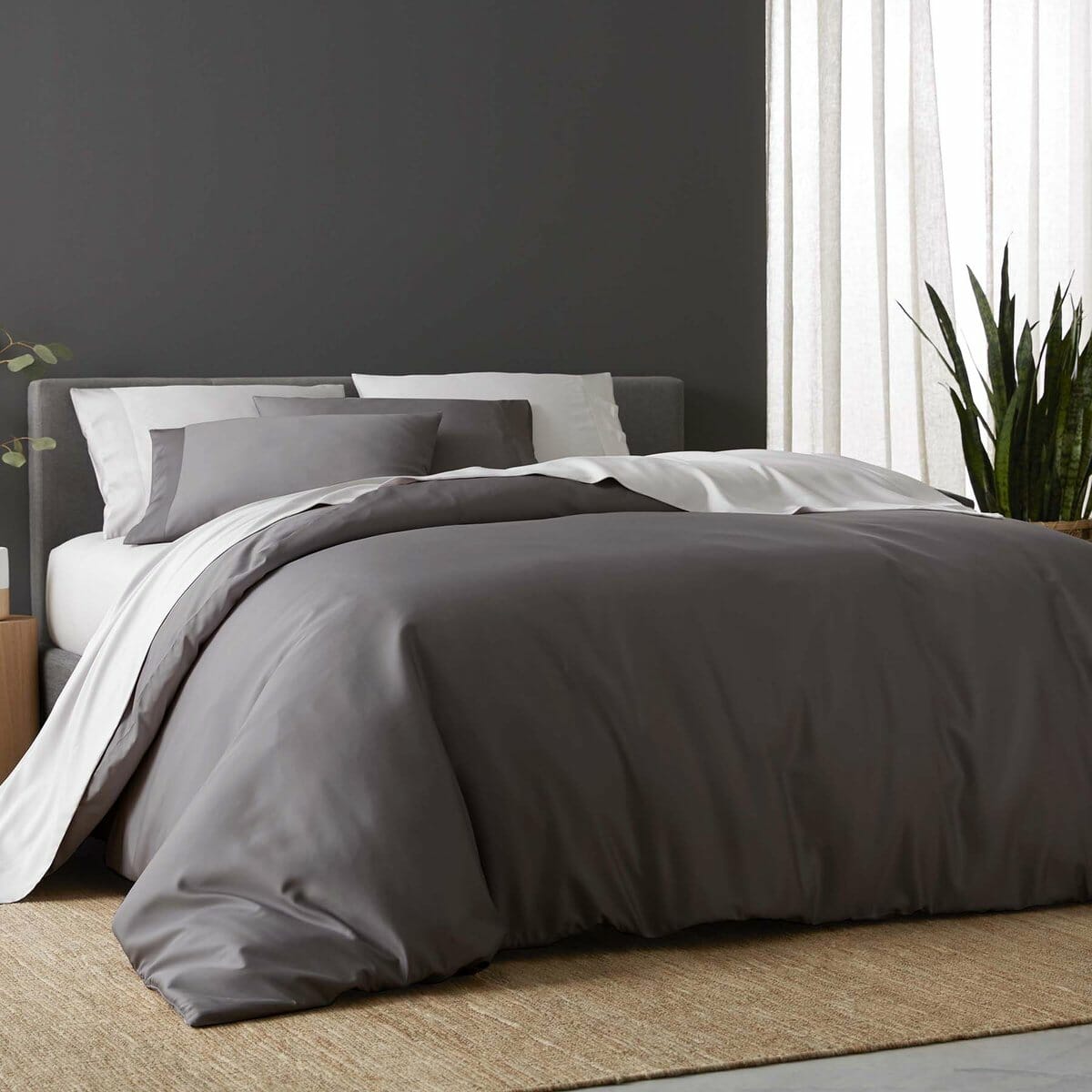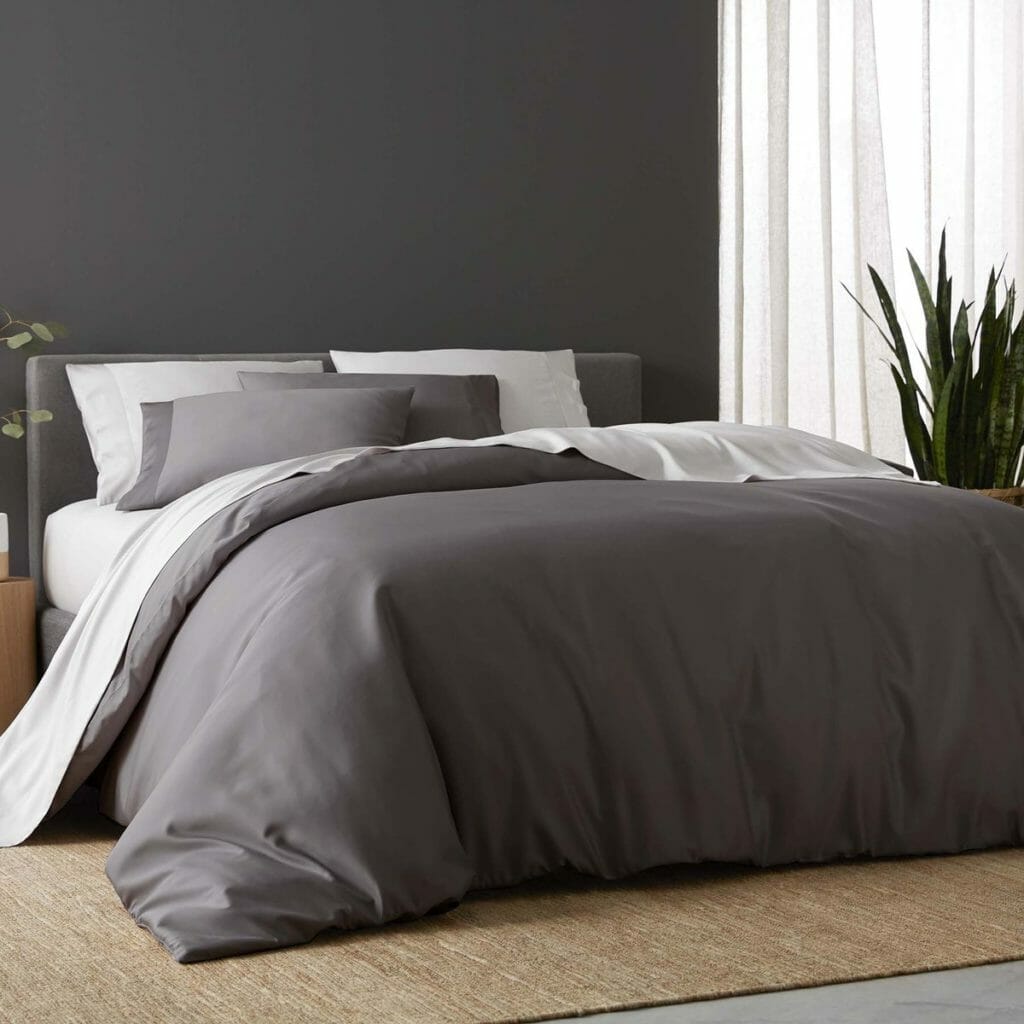 Sijo Sheets Review: don't miss our honest review of the Sijo Sheets. Are they any good? Are they wrinkle-resistant… or even super soft? What the heck are Tencel sheets? Even crazier: what is oeko tex certified? All that and a lot more in our Honest Review!
We'll cover all the different kinds of sheets in the Sijo Home Sheets Review, but let's first highlight our favorite:
One of our favorite sheets
What Sijo Sheet Set is Right for Me?
Sijo Home nailed it with this graphic:
That will tell you everything you need to know about what sheets are right for you. Let's talk about our favorite sheets first, the hipply-named AiryWeight Eucalyptus Sheet Set.
The first pair of Sijo Sheets we've reviewed in their Eucalyptus sheets.
Does it feel like eucalyptus is the new kale?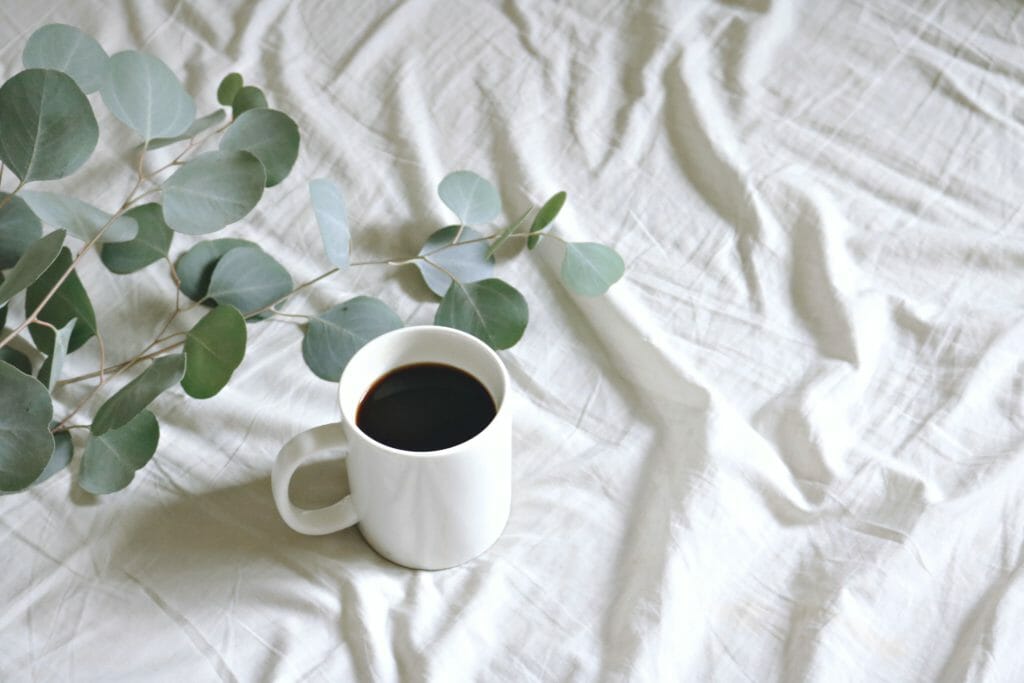 I have been seeing Eucalyptus everywhere! From people buying it from Trader Joe's to hang in their showers to the luxury fabric. 
Around the end of 2016, we started hearing about eucalyptus. People were mentioning that it seemed to be the new "thing" and I wanted to know why.
Eucalyptus is popular for a variety of reasons. There is a history of using it in medicine for a variety of respiratory issues. It's also used by some people as their daily essential oil, while others use it as an air freshener or scent for clothing or pillows.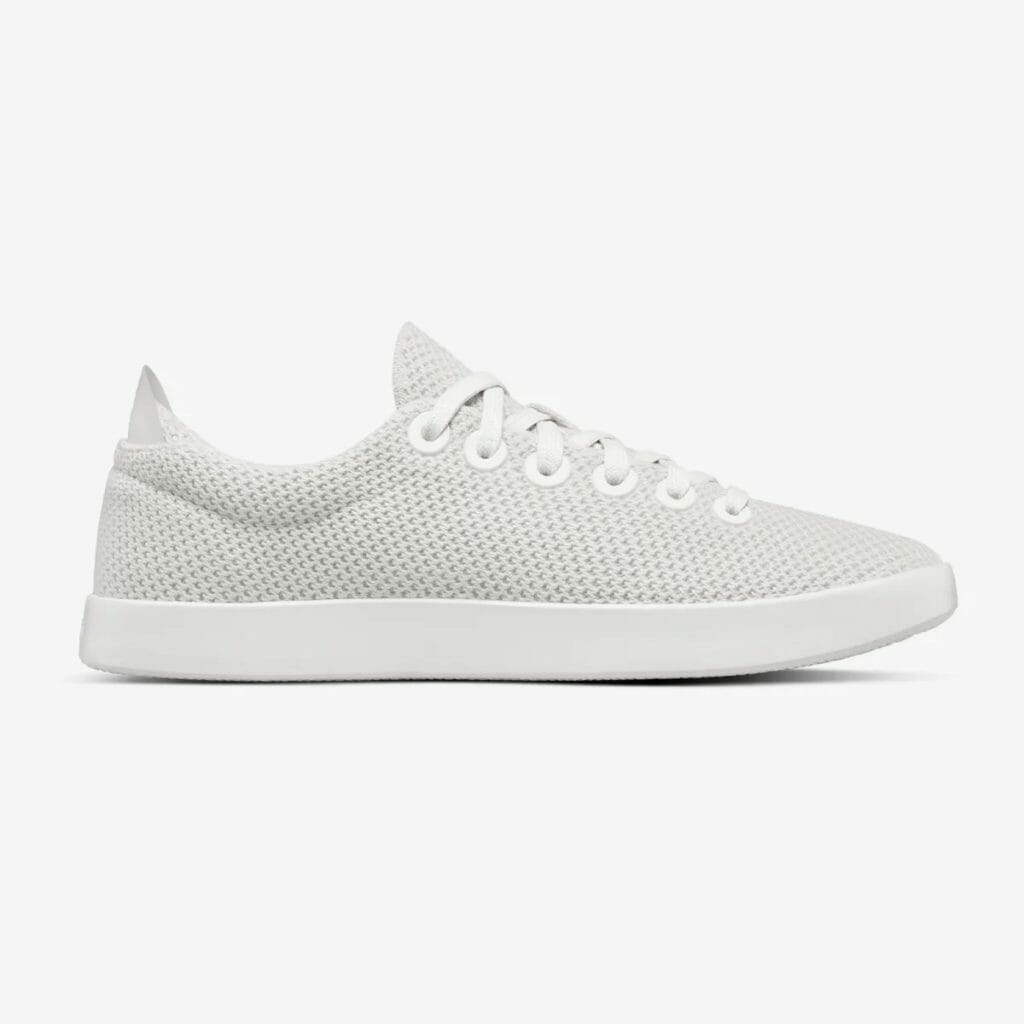 Now, people are using Eucalyptus a ton in clothing and textiles. We love Allbirds Tree Shoes (read about the differences between Allbirds Tree and Allbirds Wool) and they happen to also be made with sustainably sourced eucalyptus! I love my Allbirds Tree shoes!
Why eucalyptus is the new "it" thing
Most varieties of eucalyptus are native to Australia. The main benefits of Eucalyptus for clothing and overall textiles are that it has antibacterial properties and moisture wicking built in.
That means you can wear your clothes (or in this case, sheets) every day and it won't smell musty or bad because the antimicrobial properties prevent bacteria from growing in the fabric.
This makes it easy to change out your wardrobe without having to worry about whether or not something is still clean. It's even better when you think about sheets. Let's be honest, we'd all like to think we change our sheets every week – but that doesn't always happen, does it?
Eucalyptus: A natural way to stay cool
Technically, the sheets are made from what is called eucalyptus lyocell.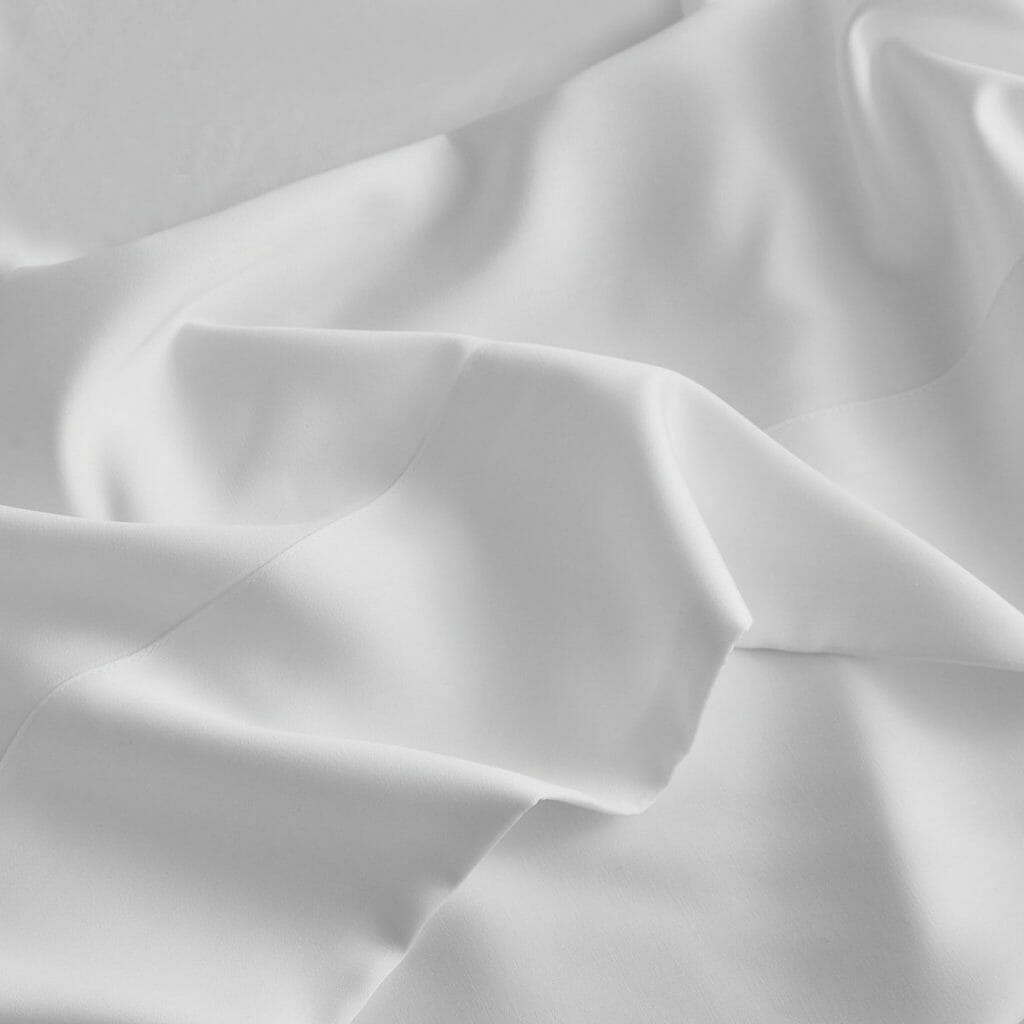 What is Lyocell?
It's a fabric that all starts with wood. Mostly, it's eucalyptus wood, though oak and birch will also do. After being harvested, the wood is cut into penny-sized pieces and ground into a pulp by amine oxide chemicals before producing a sticky liquid that is pushed out through spinnerets to produce bright white fibers used to make lyocell fabric.
You can then use the lyocell fibers to make almost anything you can make with natural fibers.
Wait… is this a Lyocell or Tenecel Sheet?
This gets a little more confusing… sorry!
Lyocell is the generic name for Eucalyptus Fibers. Tencel is the brand name of the type of Lyocell. Think of Tencel like the "KLEENEX" of sheets.
All of Sijo's products are made with Oeko-Tex Standard 100 certified materials, ensuring that no harmful chemicals or dyes were used in the process. They use eucalyptus lyocell fabric which is manufactured using a closed-loop process so they recycle water and solvents used to create it.
How eco-friendly is it?
Eucalyptus trees can grow quickly in relatively poor soil without the need for pesticides or irrigation; this makes them environmentally friendly when compared to conventional cotton production. Traditional cotton uses about 50% more water in comarparison
So let's jump into what we thought about Sijo's Eucalyptus Sheet Set. Enough talk about trees and manufacturing! Keep reading to read more about their french linen sheets and cotton sheets, too.
What is Sijo?
Sijo was founded by Anni & Jacob.
Anni started Sijo with the vision of creating a global home brand that inspires mindful living by providing beautifully designed modern home essentials created with integrity.
Jacob is passionate about creating products that are beautiful and meaningful. Previously, Jacob founded Scopearound, a smart camera company. Beginning his career as a marketing consultant, Jacob has over 10 years of experience creating marketing strategies for global technology companies. Jacob and Anni have known each other since middle school.
Jacob Xi has a passion for creating products that are beautiful and meaningful. He previously founded Scopearound, an innovative camera company with over 10 years of marketing experience in the field and has known Annie since middle school.
They stand for two powerful causes: empowerment and a sustainable supply chain.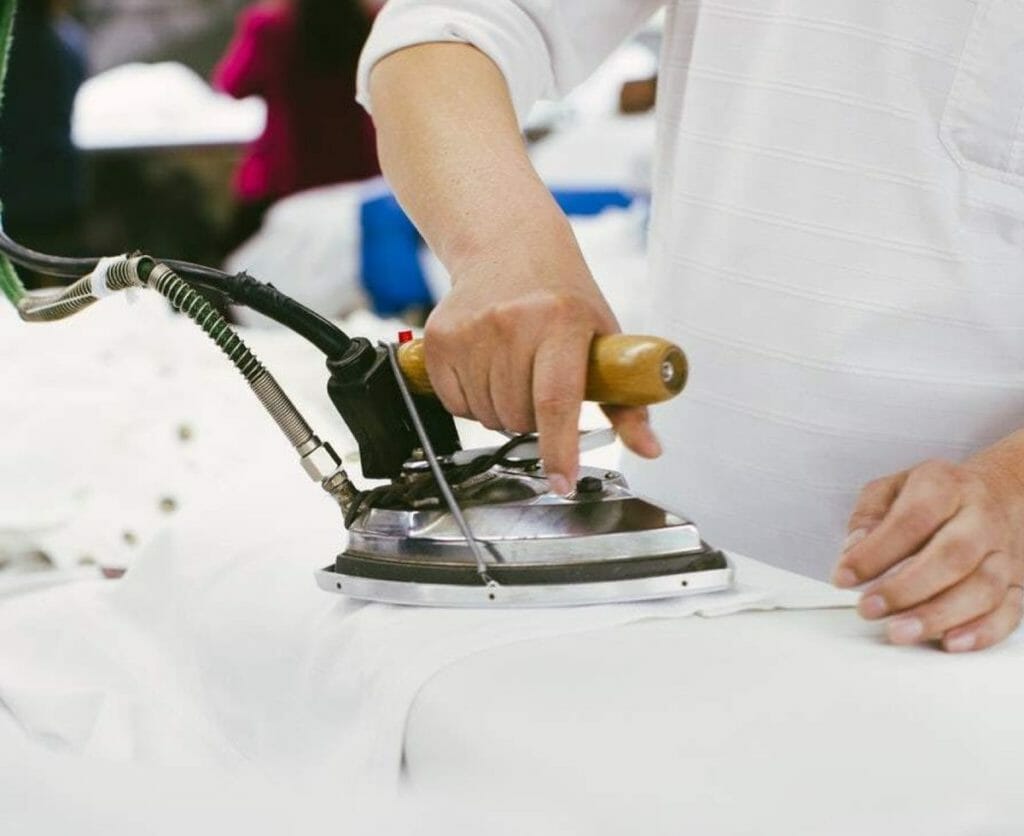 Sijo partners with the Joyful Heart Foundation on its mission for a mindful and modern home. For every purchase, Sijo donates to help sexual assault and domestic violence survivors heal on the path to joyfulness.
The team at Sijo prides themselves on partnering with factories that produce for the luxury bedding brands, and each piece of their fabric is carefully sourced. Their fabrics are also Oeko-Tex Standard 100 certified, which means they surpasses industry's highest standard of testing for harmful chemicals and synthetics.
What Sijo says about their Eucalyptus Sheets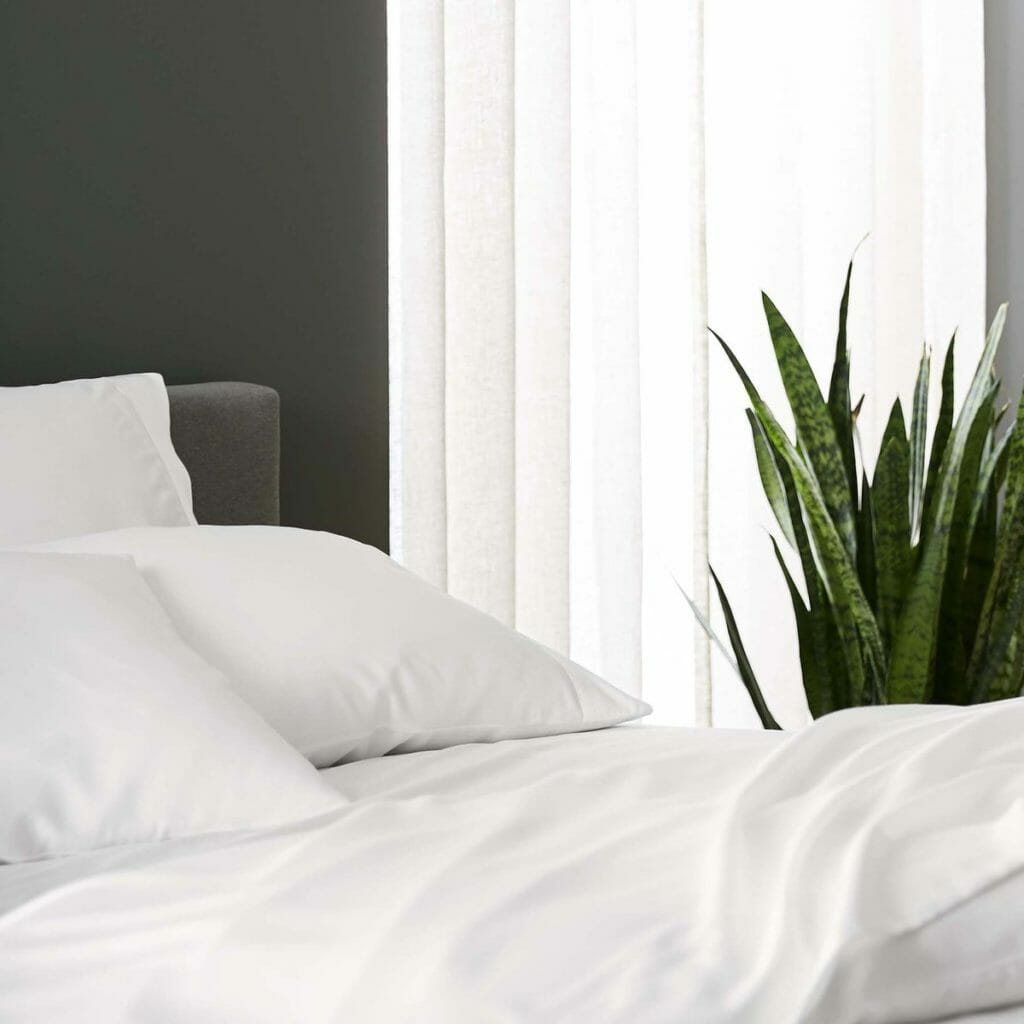 "Our TENCEL™ Lyocell Flat Sheets are ultra cooling & soft. All of our flatbed sheets are sustainably made and certified Oeko-Tex, meaning there are no harmful chemicals used and that all components meet strict guidelines."
Other Facts about the Sijo Eucalyptus Sheets
The Sijo Eucalyptus Sheets start at $116 for a Twin Sheet set and go up to $148 for a Cal King size. We, personally have the king size sheets ($148) in the color Slate. Don't miss our Sijo Promo Code to save even more!
Each sheet set includes 1 Fitted TENCEL™ lyocell Sheet.
A continuous elastic hem hugs the mattress securely.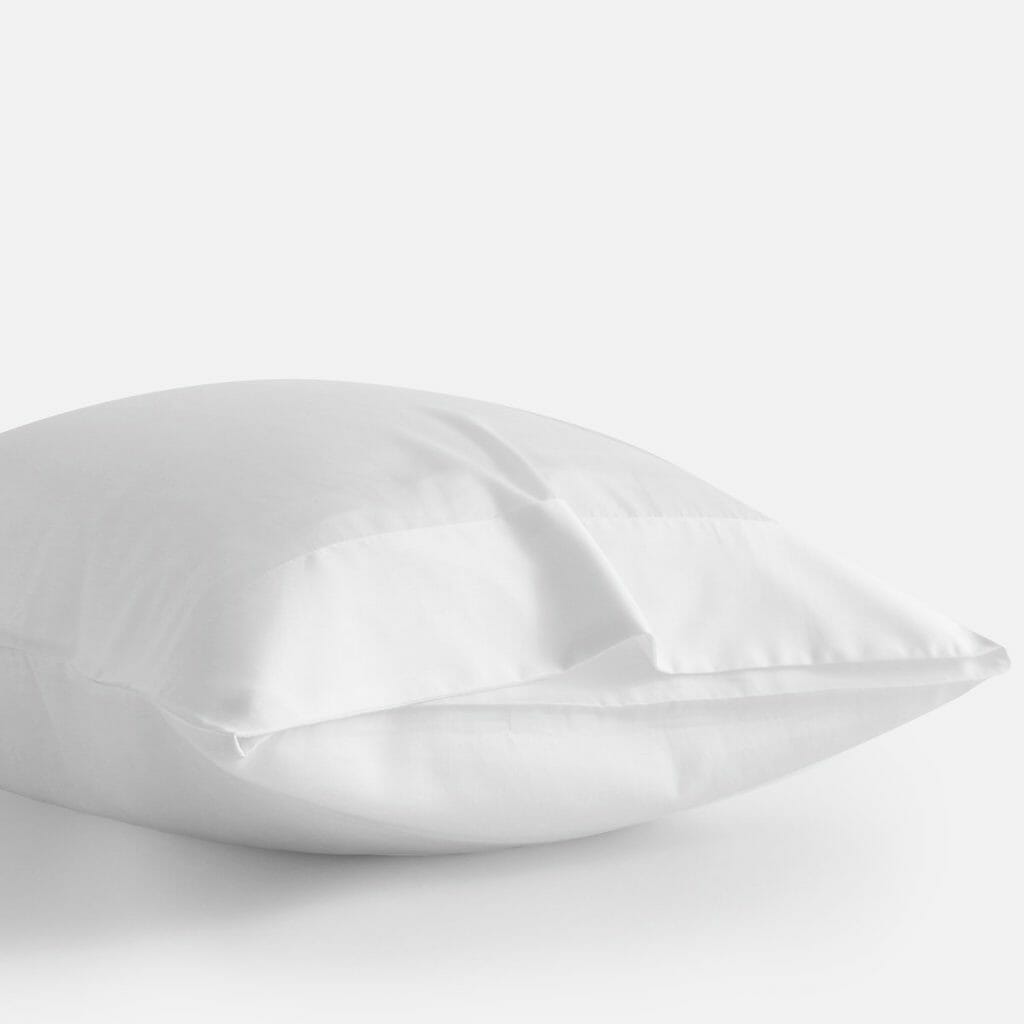 Pocket size 15″ and fits standard mattress up to 15″ deep. Their Twin, Twin XL, Full and Queen size sheet sets come with Standard pillowcases (29″x20″).
The Sijo Sheets in King and Cal King sizes come with a fitted king-sized pillowcase for the perfect fit around any sized or shaped bedding – no more pillows slipping out of their cases!
TENCEL™ lyocell Flat Sheet Optional and you can save a couple of bucks if you don't want it.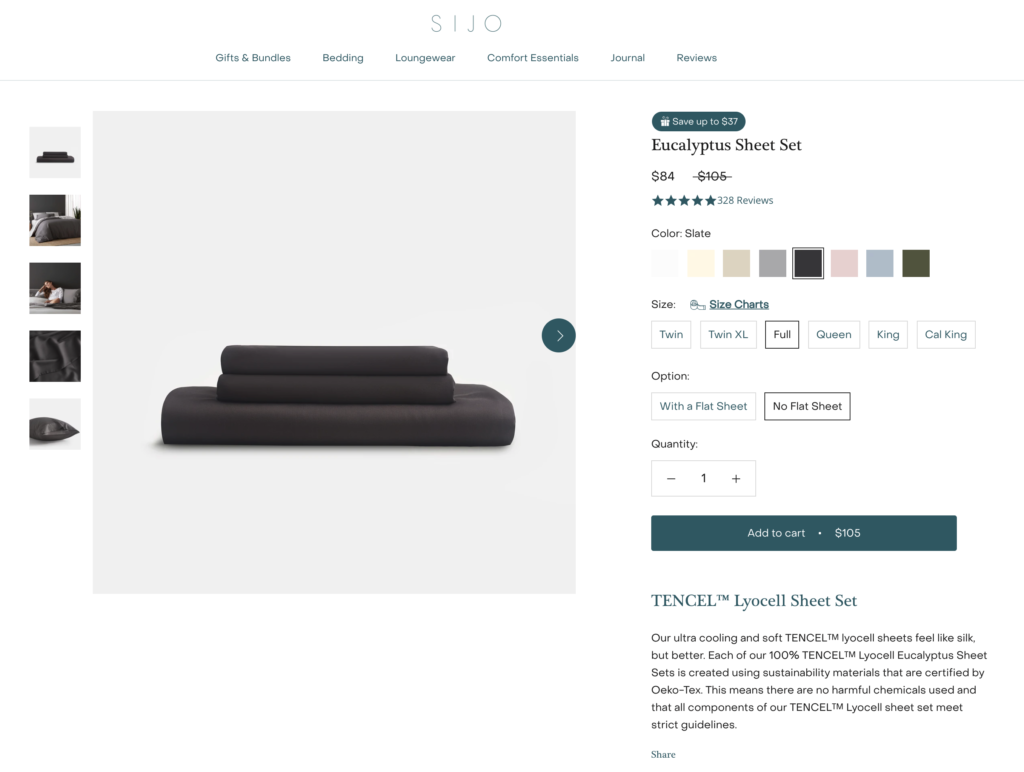 The sheets are made from 100% Tencel.
Want to make sure your sheets stay on the bed? Then check out our Bed Scrunchie Review to find a perfect solution to fitted sheets not staying on the mattress.
What SIJO Says about the Flat TENCEL Sheets
TENCEL™ Lyocell Flat Sheets are ultra cooling and soft. They promote healthier sleep with their antimicrobial, hypoallergenic fabric that is smooth to the touch. TENET's sheets have a natural feel of silkiness because they are made from organic material- lyocell fiber derived from wood pulp in an environmentally conscious way. You can count on these flat sheet sets for many years' use as they will not pill or shrink after washing as cotton bedding does!
You can also now get an awesome duvet cover now. We actually use different Gravity Blankets (read more in our Gravity Blanket Review), so we didn't have the need to get the eucalyptus duvet cover.
However, it is available to purchase and features the same temperature regulating features that keep you cool throughout the night (unlike most cotton sheets).
My Review of Sijo Home Eucalyptus Sheet Set
Let me start off by saying the Sijo Home Eucalyptus Flat Sheet comes in a variety of colors and patterns. The color I got is Slate and it has a lovely soft texture.
What we love about Sijo's Eucalyptus Sheet Set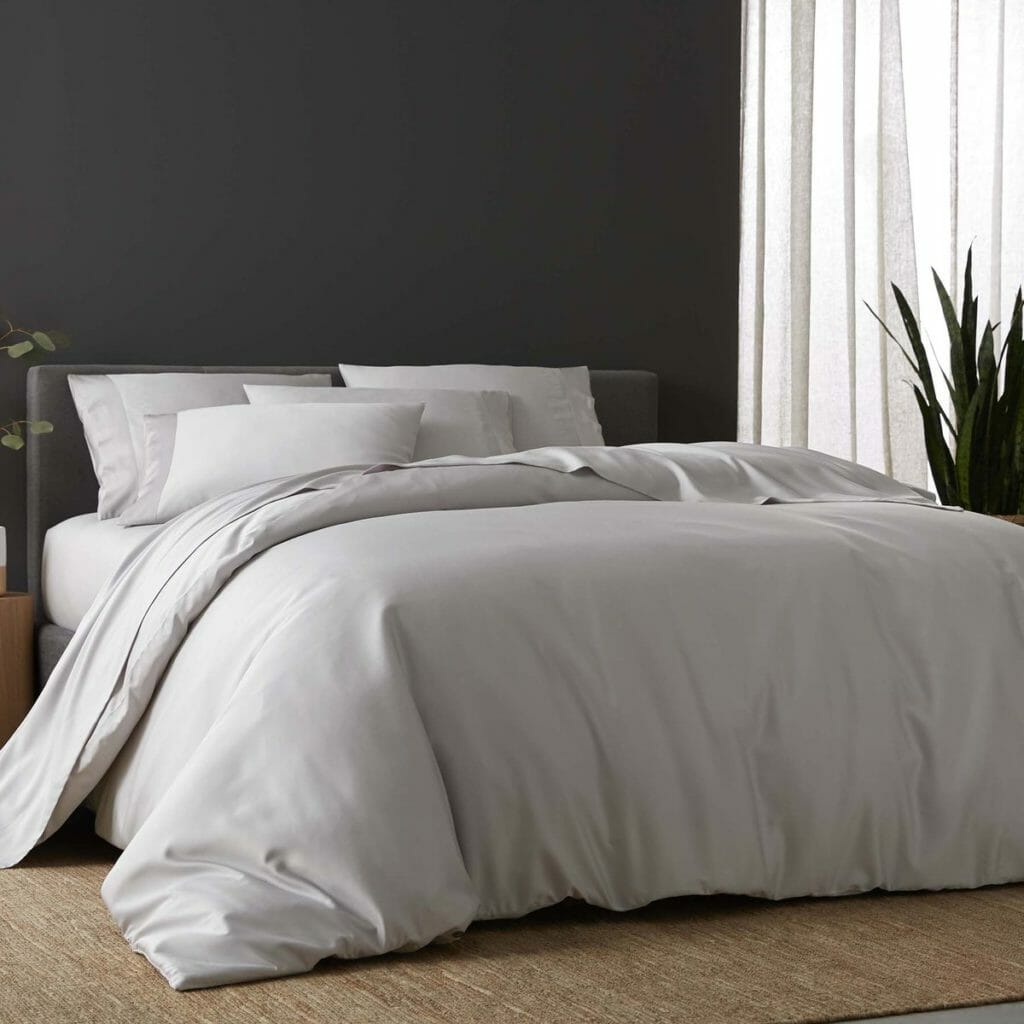 These sheets are soooooooo soft! I was blown away by the softness of them!  We also have bamboo sheets and I expected them to be similar, but the Sijo Eucalyptus Sheet Set was silkier! These sheets are nothing short of amazing throughout the night!
The color is dark and rich and doesn't fade or bleach.  I use benzoyl peroxide face wash and oftentimes it ruins the dye on my sheets.  This sheet set did not change color at all: no weird pink benzoyl peroxide bleach splotches!!! Also, after washing they kept their dark rich charcoal color! We have the Sijo Eucalyptus Sheet Set in Slate for reference. 
The Sijo Eucalyptus Sheet Set is created from sustainable materials and has no harmful chemicals. This is always important to us, but it is even more important for a material that will be touching your face and body for 8 hours a day! Its like silk… but way better.
The Sijo Eucalyptus Sheet Set is also very cooling. Colorado summers (and our dog sleeping on top of us) can get toasty and these sheets help you moderate your temperature while you sleep and keep you cool! This is great news for hot sleepers!
We also found the sheets to be very breathable. The naturally cool eucalyptus is pretty incredible.
The Sijo Eucalyptus Sheet Set has an elastic band around the bottom of it and stays in place!  We have had trouble with some other sheet sets that come undone at the corners when you sleep on them. This was not an issue for us with Sijo's Eucalyptus Sheet Set Our fitted sheet stayed right where it was supposed to be. It didn't move or slide off our bed! So congruent folks, this is HUGE!
The Sijo Eucalyptus Sheet Set held up well through multiple washes.
We love the Sijo Eucalyptus Sheet set because it's a really nice, simple, and affordable addition to our bedroom and makes for a good night's sleep. In addition, they are sustainably sourced – something we love.
The first time we snuggled into these sheets, we were taken aback by how soft they are- our other sheets feel scratchy in comparison. For something that will be touching your face every day, this is important.
What we don't love about Sijo's Eucalyptus Sheet Set
The Sijo Eucalyptus Sheet Set was quite wrinkled after washing when we went to put it on our bed. Since the material is really soft, the wrinkles do release when you put them on the bed.
If you like "stiff" sheets like the kind that you find on a hotel bed, the SIJO Eucalyptus Sheet Set will not be your preference. These sheets feel incredibly soft and almost like a mix between silk and jersey-  they won't give you crisp corners on your bed. 
There's not much we don't love about the Sijo Eucalyptus Sheet Set. We do like them a lot and they're a nice addition to our bedroom that makes for a good night's sleep.
We felt they were a good value, too. Sheets can be expensive. For about $148 (save more with one of our Sijo Promo Codes), you can get the same sheets we did – which is expensive. However, we think it's funny when people won't spend money on their bed – it's where you spend such a large amount of your tie!
The first time we snuggled into these sheets, we were taken aback by how soft they are- our other sheets feel scratchy in comparison. For something that will be touching your face every day, this is important.
Worried about buying sheets on the internet?

Have no fear! Sijo has your back (and actually your whole body). If you order their Eucalyptus or French Linen bedding, you have 30 days to decide if you like them. No hassle at all!
Sijo Eucalyptus Sheets Review: Who is this product for?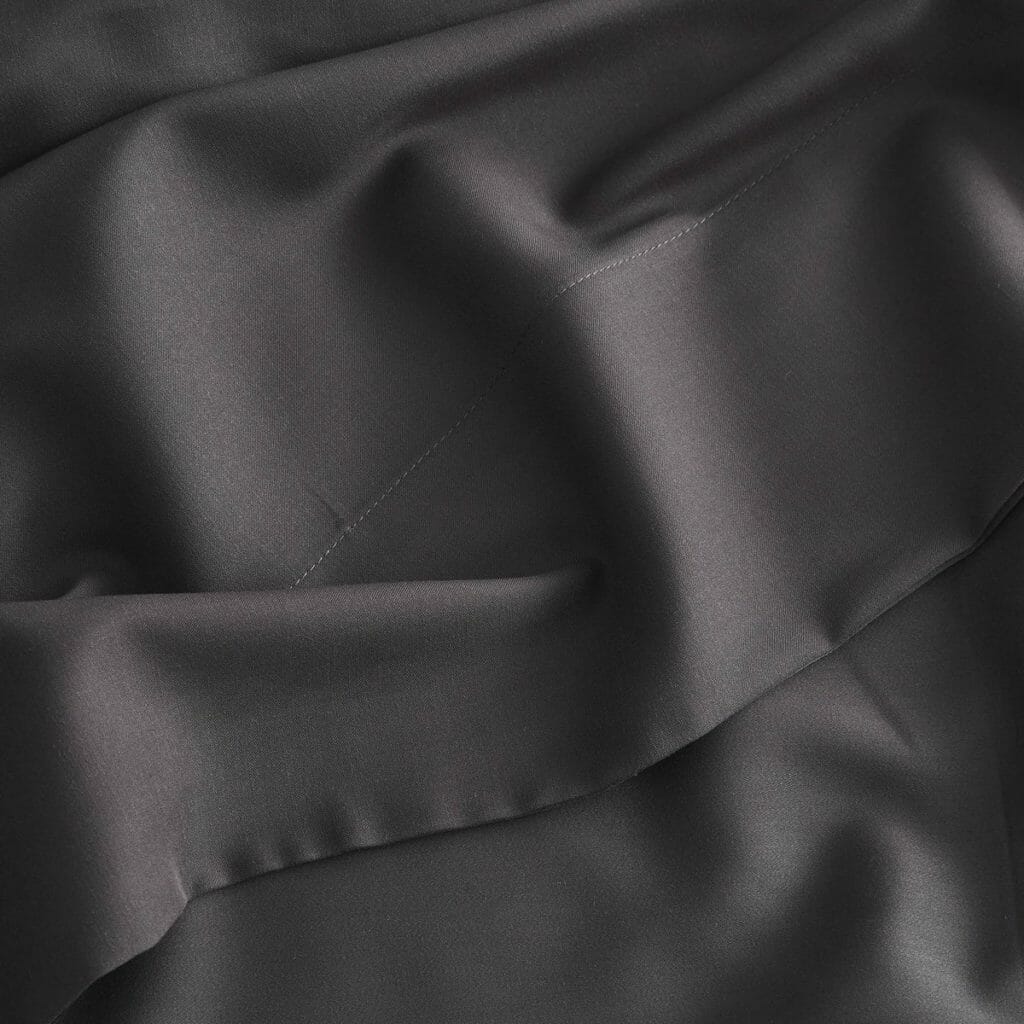 The SIJO Eucalyptus Sheet Set is fantastic for people who like luxury linens, people who enjoy soft sheets, sustainably-minded people, and hot sleepers!
It's also great for anyone looking to wick moisture in the night. You'll also sleep well knowing you are sleeping on a sustainably made and sustainably sourced product.
Be sure to check out this product if you're looking for a nice addition to your bedroom! The Sijo Eucalyptus Sheet Set is an affordable luxury and will make you feel indulged.
Alternatives to the Sijo Eucalyptus Sheets
A material similar to eucalyptus is bamboo.  It has similar properties to eucalyptus.  We are looking for a good bamboo sheet set to review soon!
To be honest, we never had a tencel sheet before… or even know what a Tencel sheet even was, but we're glad that we had the chance to try it!
We also really want to try out French Linen. Sijo has a great-looking french linen sheet set, too.
Sijo Linen Sheets
A luxe option
Sijo Linen Sheets
Looking for the ultimate luxury? Then check out the Sijo French Linen Sheets.
Buy Now
We might earn a commission if you make a purchase, at no additional cost to you.
Sijo's 100% french linen sheet set is stonewashed for lived-in softness, and it only gets more comfortable with time! It comes soft and remains incredibly soft (and gets even better) over time!
Sourced in small batches directly from France (unlike most other linen brands), Sijo's linen sheets are mindfully designed and created. They work to ensure that their process is environmentally friendly.
Even better… Sijo offers a variety of colors to choose from, so you can find the perfect fit for your bedroom! Sijo's linen sheets are the perfect way to add a touch of luxury to your everyday life.
Sijo's Cotton Sheets – CLIMA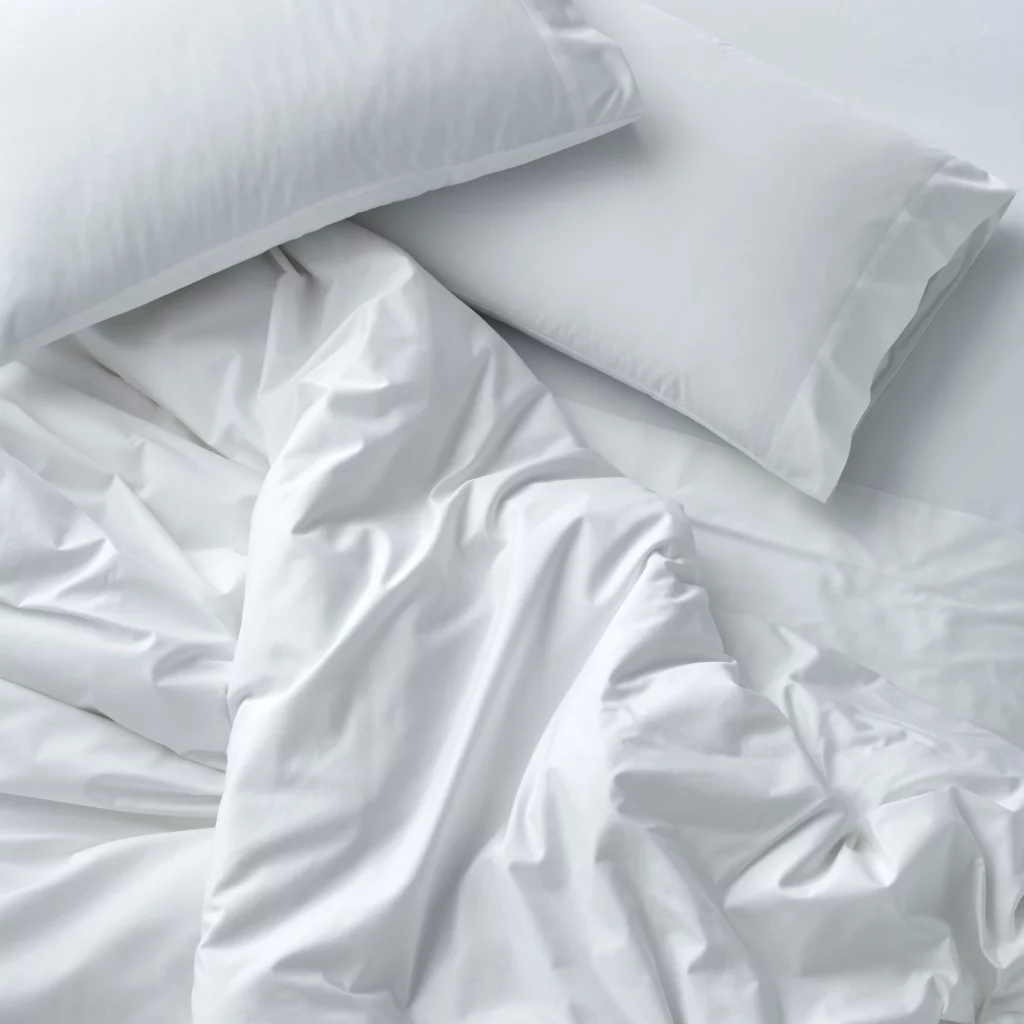 Sijo CLIMA Cotton Sheets are made from a Phase Changing Material (PCM), which means it adapts to your body for a comfortable, personalized sleep experience. The material is designed to absorb and store heat when it's cold, and release it when it's hot, so you can stay at the perfect temperature all night long. PCM is also highly breathable and moisture-wicking, so you'll stay dry and comfortable regardless of the temperature.
Sijo Sheets are available in a variety of colors and styles to suit your personal taste, and they're backed by a 30 night trial so you can sleep soundly knowing you made the perfect choice. improve your sleep quality tonight with Sijo Sheets.
Sijo Sheets Review: The Final Verdict
Our favorite Sijo sheets are the Eucalyptus Sheets. They are an ultimate luxury and incredibly sustainable.
Whoa! these eucalyptus sheets are soft- maybe eucalyptus really IS the new kale (although I wouldn't like to eat it!).
One of our favorite sheets
We are totally in love with all the natural characteristics of the Sijo Eucalyptus Sheet Set- especially that they don't contain chemicals, are naturally cooling, hygienic and great for hair and skin. We give them the We Tried It seal of approval!
The first time we snuggled into these sheets, we were taken aback by how soft they are- our other sheets feel scratchy in comparison.
For something that will be touching your face every day, this is important. We love the Sijo Eucalyptus Sheet set because it's a really nice, simple, and affordable addition to our bedroom and makes for a good night's sleep (and… have we mentioned, it's silky soft?!).
The Sijo Eucalyptus Sheet Set is an affordable luxury and will make you feel indulged. If you're looking for some new luxurious linens to add to your bedding collection or want something different from what everyone else has then look no further than the SIJO Eucalyptus Sheets!
Have any questions about this Sijo Home Review? Let us know in the comments below!
Also, make sure your home smells as good as a hotel.