Looking for the Best Aera Scents? Keep reading our honest guide after trying 19+ different scents for the Aera Smart Diffuser.
Scent
Main Features
Score

1

The BEST!

The BEST!

Aera Laundress Classic Scent

Clean
Fresh
Like laundry day

Check it out

2

Citrus

Citrus

Aera Citrus Scent

Bright cirtus notes
Smells clean
Energizing

Get it now

3

A good blend

A good blend

Tropical Sunrise

Slightly sweet
Citrus
Mango + Pineapple

Buy now

4

Simplicity

Simplicity

Vanilla

Super simple
Nothing fancy
Smells like sugar cookies

Get from Aera
Why finding the Best Aera Scent is so hard
Let me be honest: finding the right fragrance for your Aera Smart Diffuser can be tough. That's because, until very recently, all the scents for Aera were their own design.
That's not a bad thing, but we all know what a Capri Blue Volcano candle smells like (find out our best Volcano Candle Dupes) – but what does "Poetry" smell like.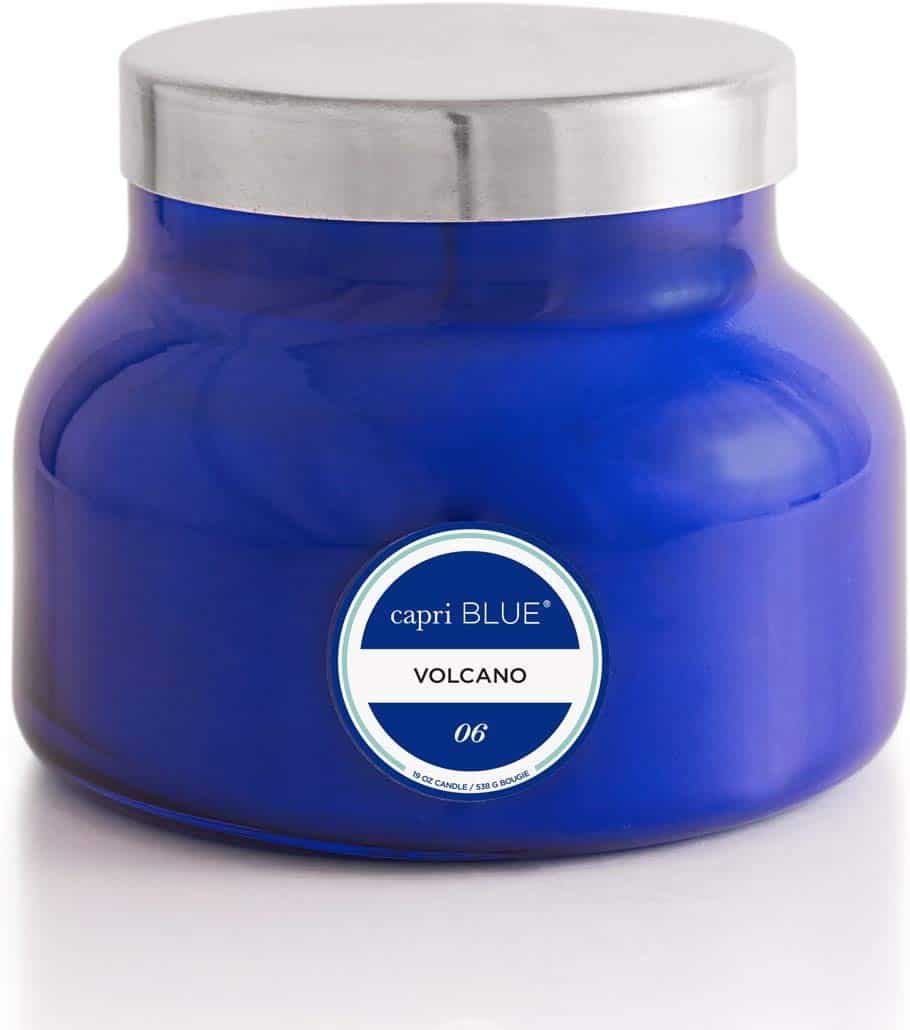 Sure, Aera gives the description on their website (As smooth and sensual as suede. Woody notes of eucalyptus, vetiver, and guaiac awaken an air of mystery.), but that's not even super helpful. I have no idea what vetiver and guaiac even are.
Do you?
We've tried 19+ different Aera Scents for the Aera Fragrance Diffuser to give you the very best (and the very worst) ones. Keep reading our ultimate guide to the best Aera Fragrances to find out more.
Looking for our Aera Smart Diffuser Review? Also, check out our Best Pura Scents, too.
Aera Scents: How do they work?
Scents are hard. We get it. A Home Fragrance that someone loves will be another one that someone hates. It's very personal.
As you can read in our Aera Review (and even our Aera vs. Pura Review), Aera uses what are called "Fragrance Capsules" to diffuse the scent. You can put one Fragrance Capsule at a time in the Aera Smart Diffuser.
Each Fragrance Capsule costs about $50 and lasts about 800 hours. It also covers more square feet than Pura.
Aera is the only diffuser with Microdroplet Technology that creates a cleaner, safer, and more immersive scent experience – in short, it spreads the scent out very well from the Aera unit.
100% Transparent
Aera's mission is to make home fragrance a joy, not a worry. The company strives to post complete ingredient lists on their website so that consumers know exactly what they are getting into and feel safe using the product around family members with allergies or respiratory sensitivities.
What do Aera Scents Smell Like?
Obviously, there are different scents that we will dive into in detail. However, I would describe Aera's scents as more floral and perfume-like than other diffusers we've tried (like Pura).
Some people like the scents, others don't. Some of the scents have also given me a headache for whatever reason.
One of our biggest criticisms of Aera, in the past, is that you had no way of knowing what the scents smelled like BEFORE you got them (except for the sample pack).
One of our new favorite scents from Aera is a scent we already knew – from The Laundress (read our Laundress Review and get our Laundress Promo Code). It seems like they are branching out into new scents and partnering with other brands – which is AWESOME!
Aera Scents – Get a sample
You can also get a fragrance sample from Aera. And it's actually a pretty good deal, especially if you don't want to deal with returns. You can sample any 5 scents for $20 AND you get $20 off your next order of $75 or more.
If you don't want to deal with the returns, or want to try 5 scents – even before you buy the Aera Smart Diffuser, it's a great way to sample multiple fragrances for only $20.
Have to no fear: Free Returns
Don't worry, if you don't like one of the Aera scents (or even worse, it give you a headache), you can return it for free.
Aera offers a 60-day money-back guarantee from the date of delivery, so you don't have to worry about spending $50 on a scent that is terrible.
The Best Aera Scents
We have a new Aera favorite scent, and we'll update this page as they release more Aera Smart Diffuser Fragrances (just like we did with our Best Pura Scents Guide).
#1 Favorite Scent: The Laundress Classic
Here's how the Aera explains The Laundress Classic Scent:
The ultimate "clean laundry scent," blending lily of the valley and jasmine with sweet musk, sandalwood, and a touch of citrus.
The way I would explain The Laundress Classic scent is: I know that sounds weird, but I love the way my sheets smell after laundry day: The Laundress Classic is just like that. If you like the smell of clean laundry and a fresh home – this is the perfect scent for you.
It does have a very slight floral smell, but not too overly floral. That's been one of my biggest complaints about Aera's scents. However, this scent hits the perfect balance.
It's subtle, clean, and fresh.
#2 Favorite Scent: Citrus
Who doesn't love the smell of Citrus, right?
Here's how Aera describes the Citrus scent:
A blissful day at the spa. Sparkling lemon and orange with cooling clary sage and mellow cedarwood. Bright and uplifting.
Doesn't that just sound wonderful? The nice blend of Lemon and Orange is a great, energizing scent. Paired with the cedarwood mellows out the citrus a little bit and just smells great.
#3 Favorite Scent: Tropical Sunrise
Here's how Aera describes their Tropical Sunrise Scent:
Your tropical vacation is calling! The morning sun rises to illuminate a paradise of juicy mango, fresh pineapple and frangipani blossoms. Bright and fruity.
Somehow, this smells a little like a fruitier version of the Laundress Classic Scent. It must have the rose scent in it, which creates a nice blend of citrus and floral.
Other scents that people love, but we didn't care for
Once again, scents are incredibly personal. A lot of people love some of the other Aera scents that we didn't care for that much.
White Tea Scent
Here's what Aera says about their White Tea Scent:
Serene country hills. A refreshing infusion of white tea, jasmine, and wild rose brightened by citrus and aromatic thyme. An elegant embrace.
This is is the same scent you will find in Westin hotels around the world. It does smell very royal and nice. However, it does give me a headache.
Here's what some other folks say about this fragrance:
I chose this scent because I read reviews about how it smelled like a high-end hotel, and I agree. The scent is light but noticeable when you enter the room. I plan on trying other scents soon!
Or this review of this Aera Scent:
Who doesn't want to experience this perfect scent? It's subtle and elegant, and it is a must-have for every room in my home!
This is probably the fragrance that most people liked, that we did not.
It didn't smell bad, like I mentioned, it just gave me a headache.
Other Great Fragrances for the Aera Smart Diffuser
There is a wide variety of scents from Aera that are continualty changing. That's a good thing!
Another great scent that we love is simply Vanilla.
Aera also has a whole line of fragrances called Home Hygiene, which we love the idea of, but don't love the scents as much.
The idea is great: and it the odor-fighting actually works REALLY well.
We had a stinky garage due to a trash can that didn't get out in time to be picked up and it made out whole garage smell great!
The Final Verdict: The Best Aera Diffuser Scents
In this blog post, we've gone through the best Aera Smart Diffuser scents. We have a new favorite scent and will update this post they release more fragrances.
The Laundress Classic is our top pick for its clean and fresh fragrance that's perfect if you love laundry day or want to experience what it would be like to stay in a high-end hotel room!
If you're not into floral smells, then Citrus might be your go-to scent because of how energizing it is with hints of cedarwood mixed in for balance.
You should also try Tropical Sunrise if you prefer fruity scents over citrus ones. Still can't make up your mind? Check out the Aera Samples.
But remember: if you don't like any of the Aera fragrances you buy, you can simply return them within 60 days of receiving them. So, smell away! Fragrance away?! Whatever the right saying is.
Have any questions about the Aera Home Diffuser or the best Fragrances for Aera? Let us know in the comments below!
Also, interested in Pura? Check out our Pura Review and get our Pura Promo Code, too.