Lululemon ABC pants are some of the most popular pants on the market. But what if you can't afford or don't want to spend the money on them? Is there a decent lululemon ABC Pant alternative? In this article, we will explore some better and cheaper options for Lululemon ABC pants. We'll also take a look at why we still like the original ABC pants despite their high price tag.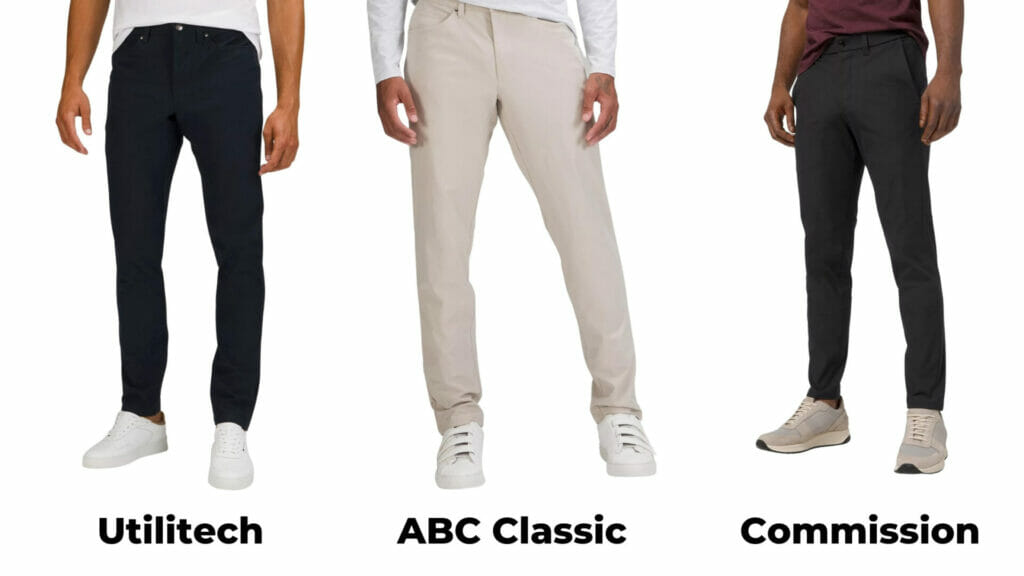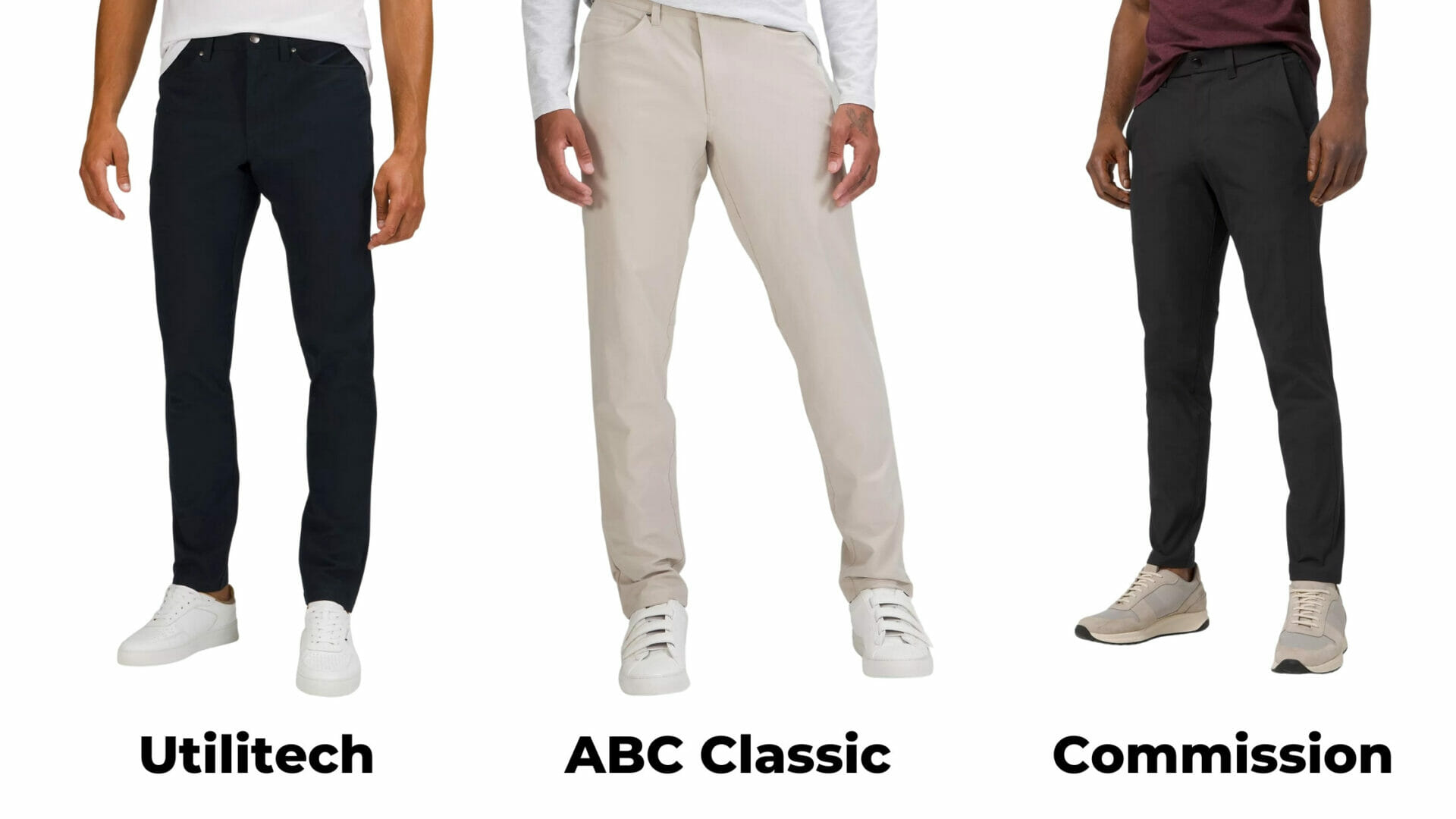 To be honest, we'll shoot it with you straight here: there are even lululemon dupes that we've tried that we didn't like at all. So, let's keep reading – don't worry, we have all the options for you: alternatives that are cheaper, alternatives that are better, alternatives that don't have the seam on the back of the leg and much, much more!
What are ABC Pants and why does everyone love them?
A Top Pants Pick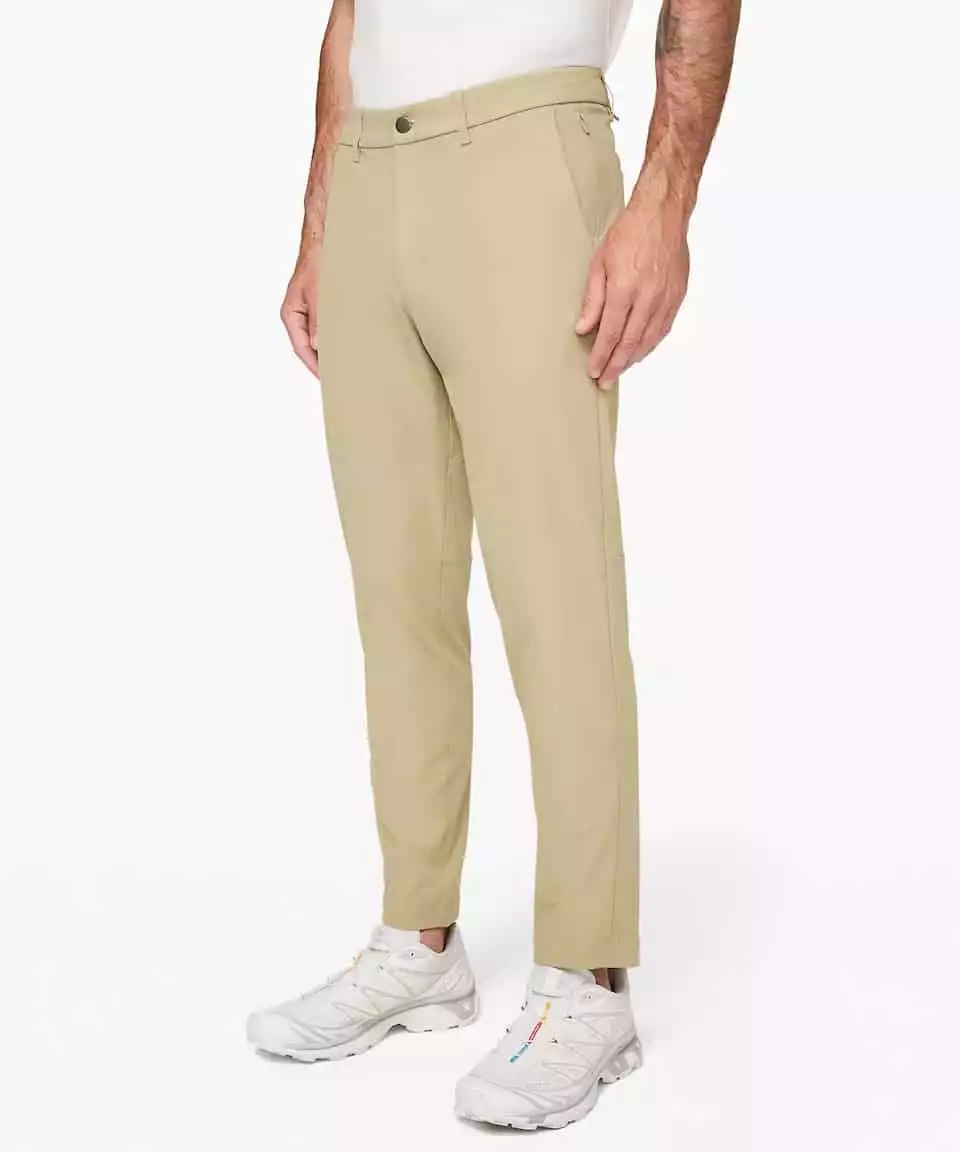 The 1, the only... lululemon ABC Pants
Super comfortable ABC Technology (Anti-Ball Crushing), yes, you read that correctly.
Comes in a variety of styles, colors and fabrics
A great all-around pair of pants
The only thing we don't like? The seam behind the knees and some inconsistent sizing (but lululemon has SUPER easy returns).
Buy Now
We might earn a commission if you make a purchase, at no additional cost to you.
Well, if you've arrived at this page, you probably know at least a little bit about ABC Pants. They are lululemon's most popular pant and have been for years. They are designed for men and come in a variety of colors, sizes, and even names (from the comission pant to ABC pant classic, the list goes on and on). Read our lululemon ABC Pant Review.
What does ABC Stand for?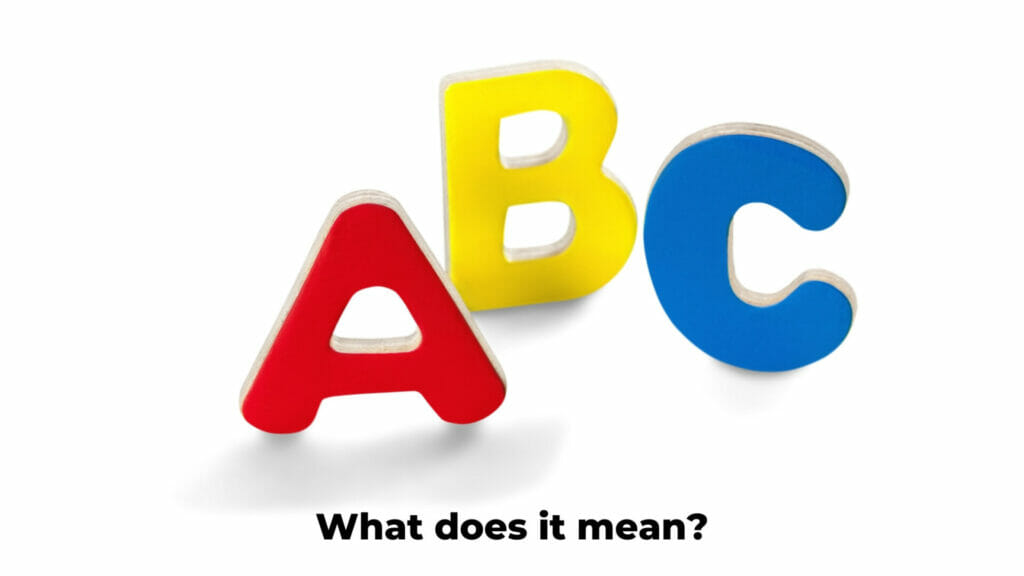 But everyone knows (or at least SHOULD know) that ABC stands for Anti-Ball Crushing. Yup, that's exactly what it stands for. It's crude, but it's true. The main selling point of these pants is that they don't crush your YOU KNOW WHAT – and believe us, that's a big selling point.
Why are they so popular?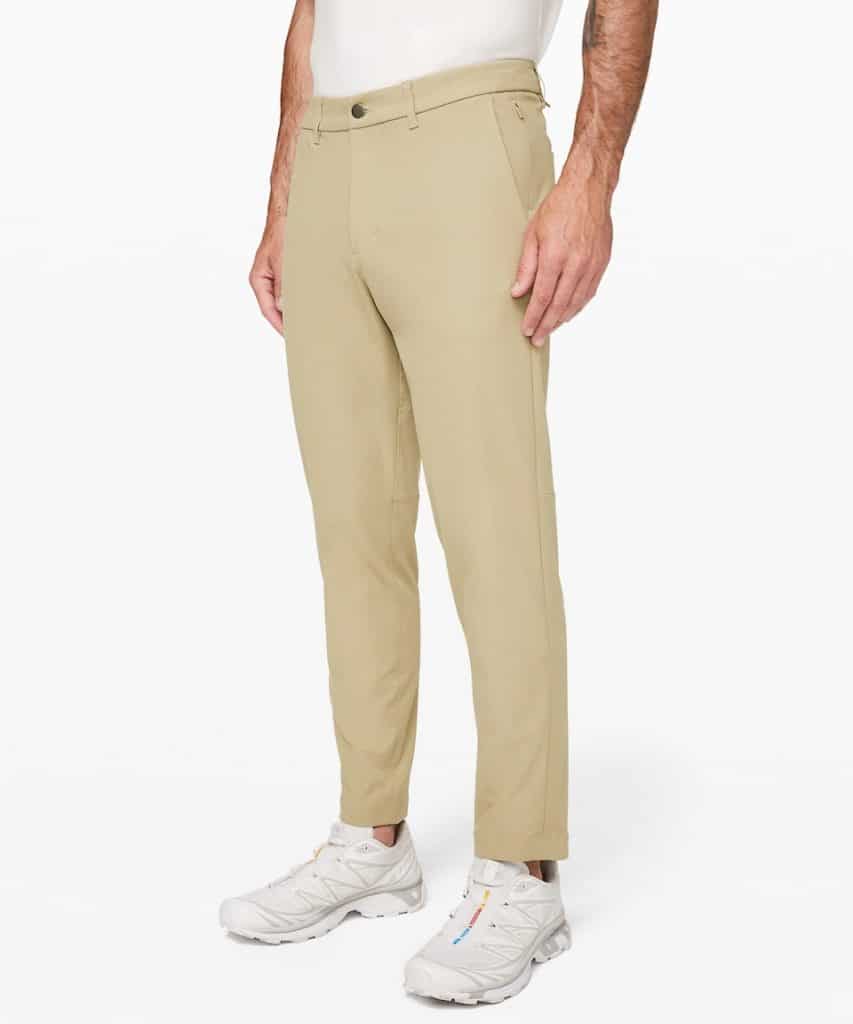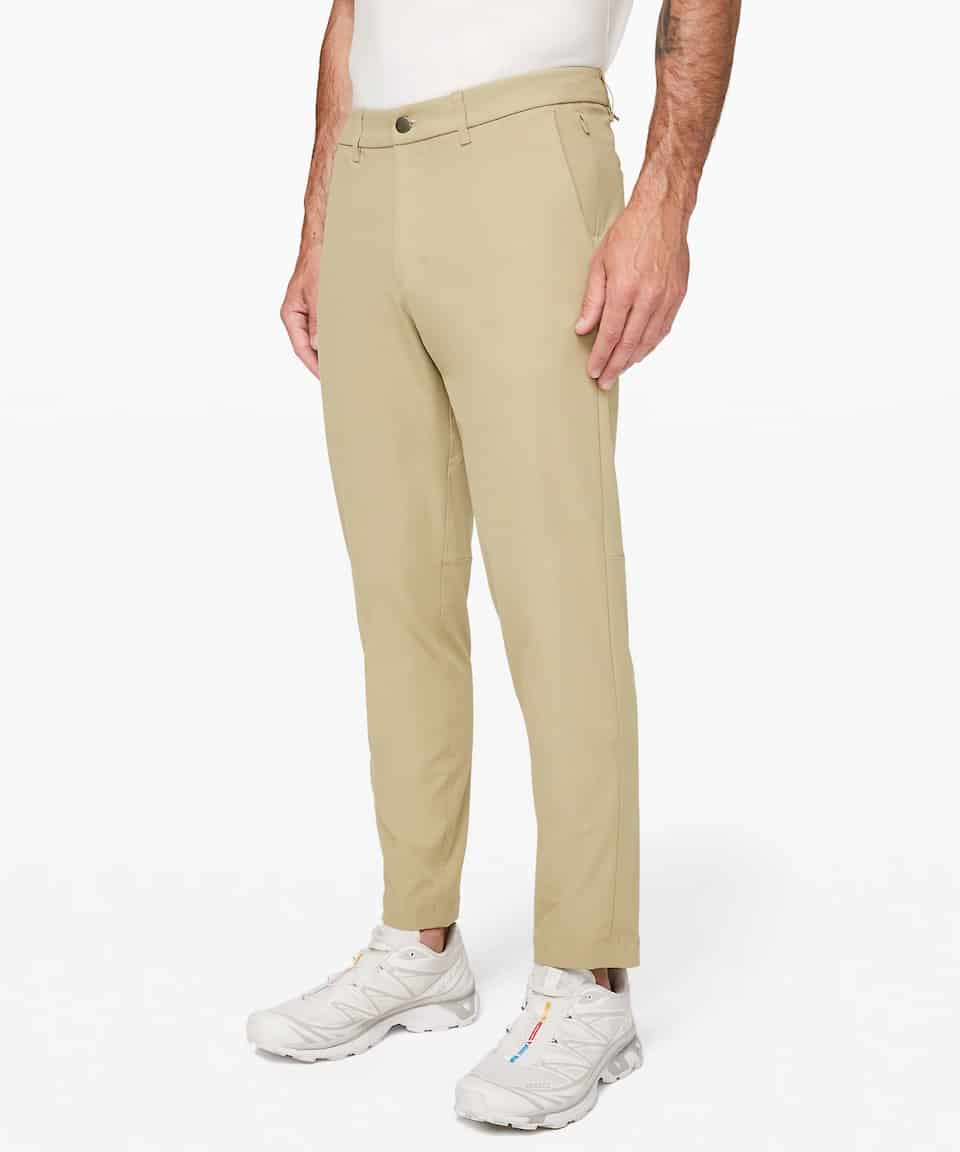 There are a few other things that make them popular: they're comfortable, they look good, they have pockets and they last forever. Seriously, we've had pairs that have lasted us years of regular wear and tear. They feature secure pockets, are very lightweight and just a good alternative to jeans.
But the main reason people love them so much is because they don't crush your balls. And trust us, that's a big deal.
Why are they so expensive?
Lululemon ABC pants are expensive for a few reasons. The first is that they are from lululemon. Do they even have anything under $68 dollars in that whole store? I swear, if you were to buy a water bottle, they would say, "That'll be $68 dollars please."
They created a new category
Second, they created a whole new category: dress pants that looked like dress pants, but didn't feel like dress pants. No one would mistake them for the comfort of sweat pants but they weren't as stiff and uncomfortable as other dress pants on the market.
The pants are 100% polyester but not your dad's polyester. In their infinite wisdom, they coined the term "warpstreme fabric" – their proprietary polyester fabric used in each pair.
They are also popular because they have a higher price tag. And when something is popular and has a higher price tag, that usually means that it's in high demand and people are willing to pay more for it.
The classic version isn't great for colder weather, but check out our Utilitech Review for a good replacement.
They look good

Lastly, they are just really good pants. They last forever, they don't crush your balls, and they look good.
So, there you have it. Those are the main reasons why Lululemon ABC pants are so expensive.
Why even look for alternatives to these magical pants?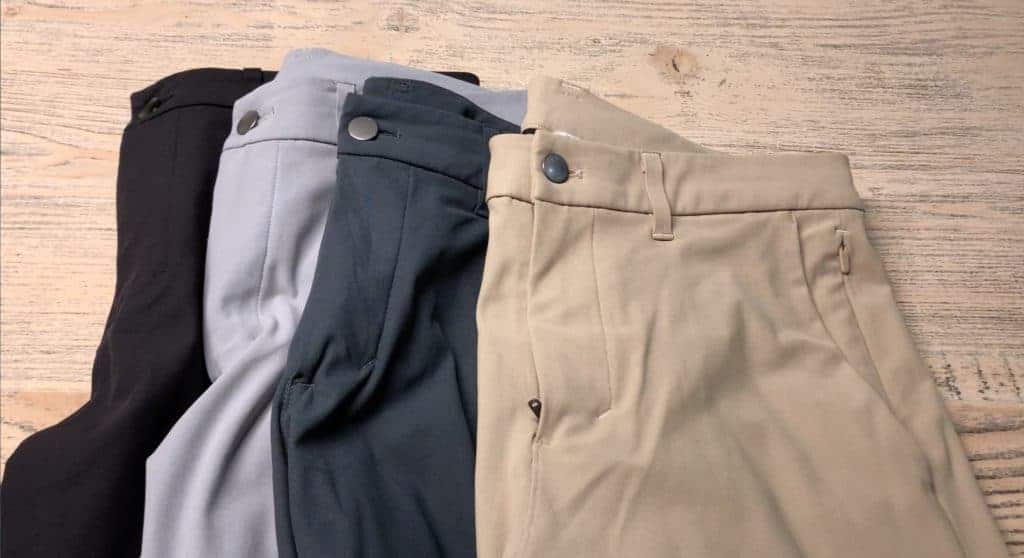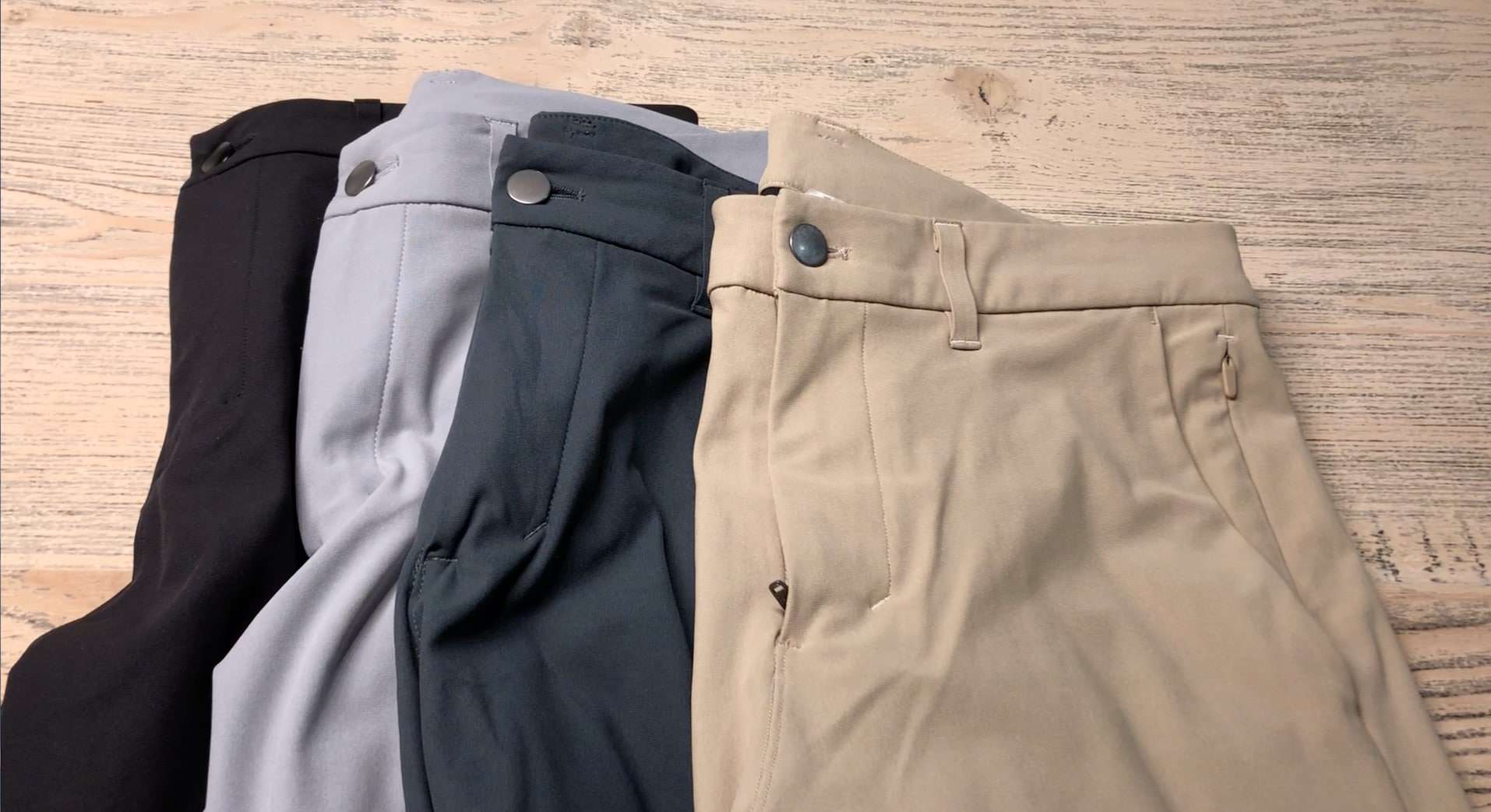 The easy one is the price (we have an alternative that is less than half the price). I'll cover that in a second. But the other truth is that competition brings about better products.
When Lululemon first came out with the ABC pant, there wasn't anything like it on the market. But now, there are a lot of companies that have come out with similar pants. And while some of them aren't as good as the original, some of them are actually better. Also, check out our guide to the best men's pants.
There are three other pet peeves of the ABC Pant that I wanted to solve for:
No seam behind the knee. The tale-tale sign that a pant is ABC Pants. I know they do this so the fabric can lay correctly, but it drives my bonkers.
Fit inconsistencies. I wear the same 32 inch waist in all pants and 30 inch length. Luckily, lululemon offers free length hemming but I've found the waist sizes to be incredible variable based on the product.
Look nicer. The Warpstreme fabric literally changed the game – but what's next? There has to be a nicer looking pant for around the same price.
So, now that you know all about ABC pants, what are some good alternatives?
The better alternative to ABC Pants: The Myles Tour Pants
Can you call something the best men's lululemon dupes if they are more expensive? Well, these are about the same price, but better than ABC Pants.
Slightly better than the ABC Pants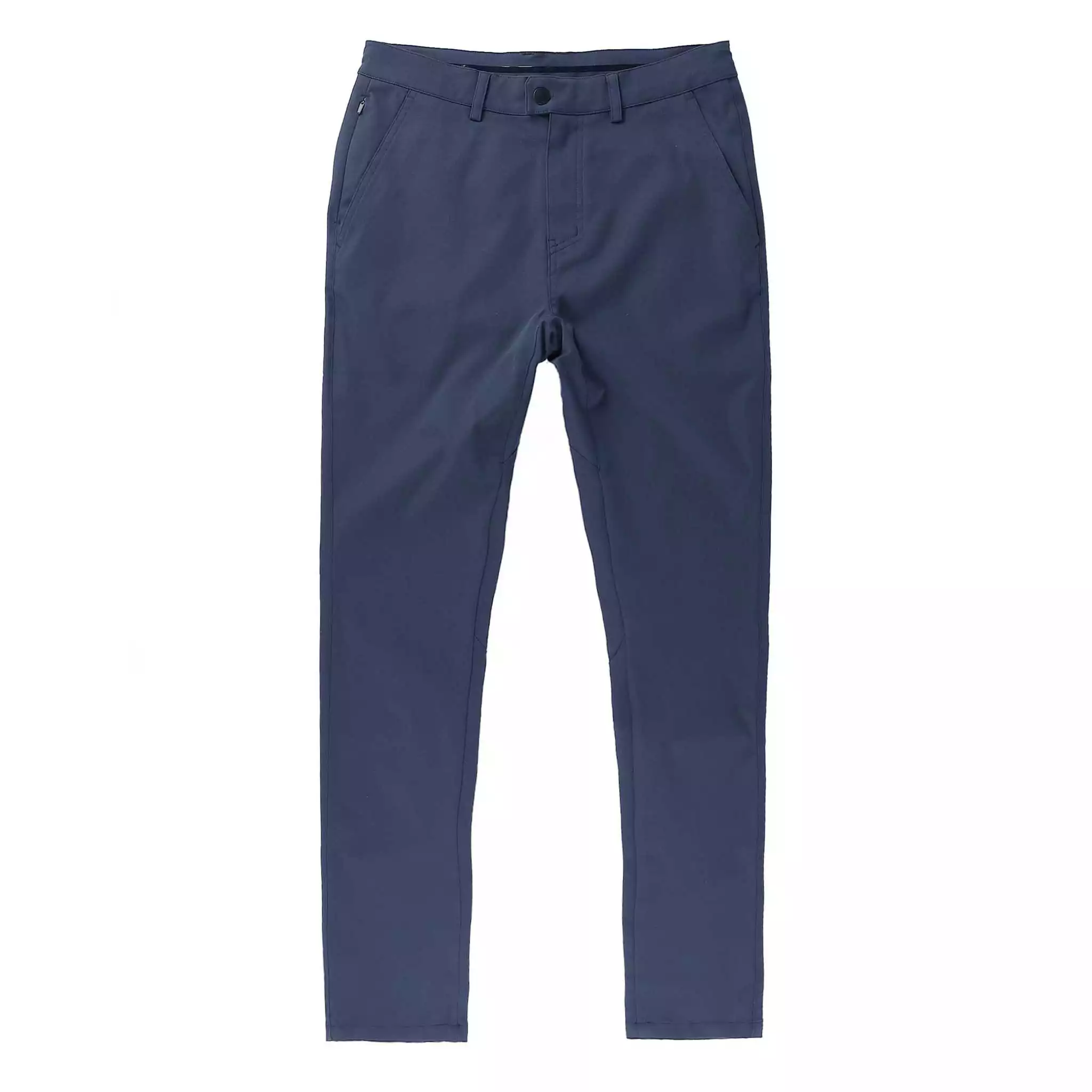 Myles Tour Pants
A simply awesome pant that is slightly better than the lululemon ABC pants, mostly for one single reason - there is not awkward seam behind the knee.
Buy Now
Our Review
We might earn a commission if you make a purchase, at no additional cost to you.
Let's not start with the cheaper ABC Pants Dupe, let's start with the better version of the ABC Pants: the Myles Tour Pants.
I wrote extensively about these pants in our Myles Tour Review and over Myles Review. Simply put: ABC Pants were my go-to pants before I discovered Myles Tour Pants. I have these pants in the Chino style and the 5-pocket style (unfortunately, Myles only produces the five-pocket styles currently). Honestly, I have one in each style and I wear them both more than I wear my 5 pairs of ABC Pants.
The Tour Pant is simply a tech pant that doesn't look like a Tech Pant. It doesn't have the hem behind the knee and frankly, I think the chinos look more like real chinos than the ABC Pant version (the ABC Chino pant is called the Commission pant at the moment).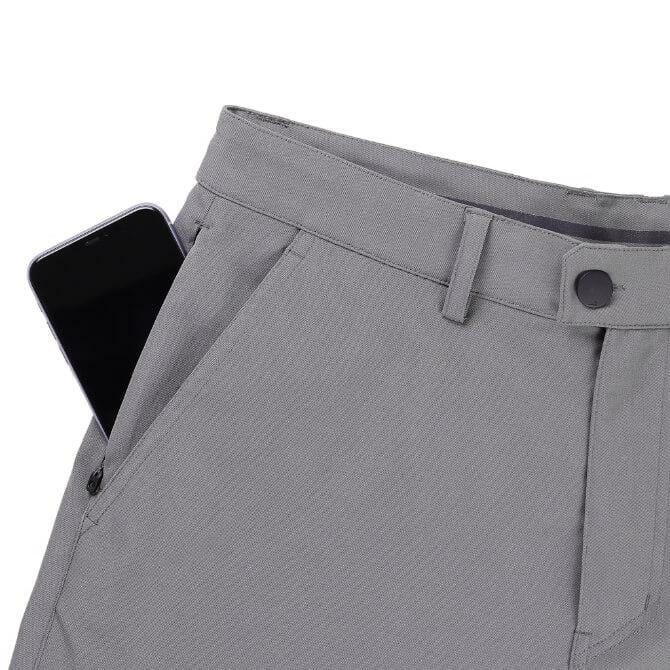 It also features moisture-wicking and will look great everywhere from business casual functions to a replacement for jeans.
The Tour Pants come in a variety of colors. They have a more straight fit (vs. slim fit).
The best part? No one will know they are super comfortable, breathable, and super stretchy.
If you're looking for the best alternative to the ABC Pants, the Myles Tour Pants are it.
The Cheaper ABC Alternative: Quince Chinos
Meet the REAL best men's lululemon dupes – they are about 1/3 of the price and REALLY close in features and comfort.
An amazing ABC Pants Dupe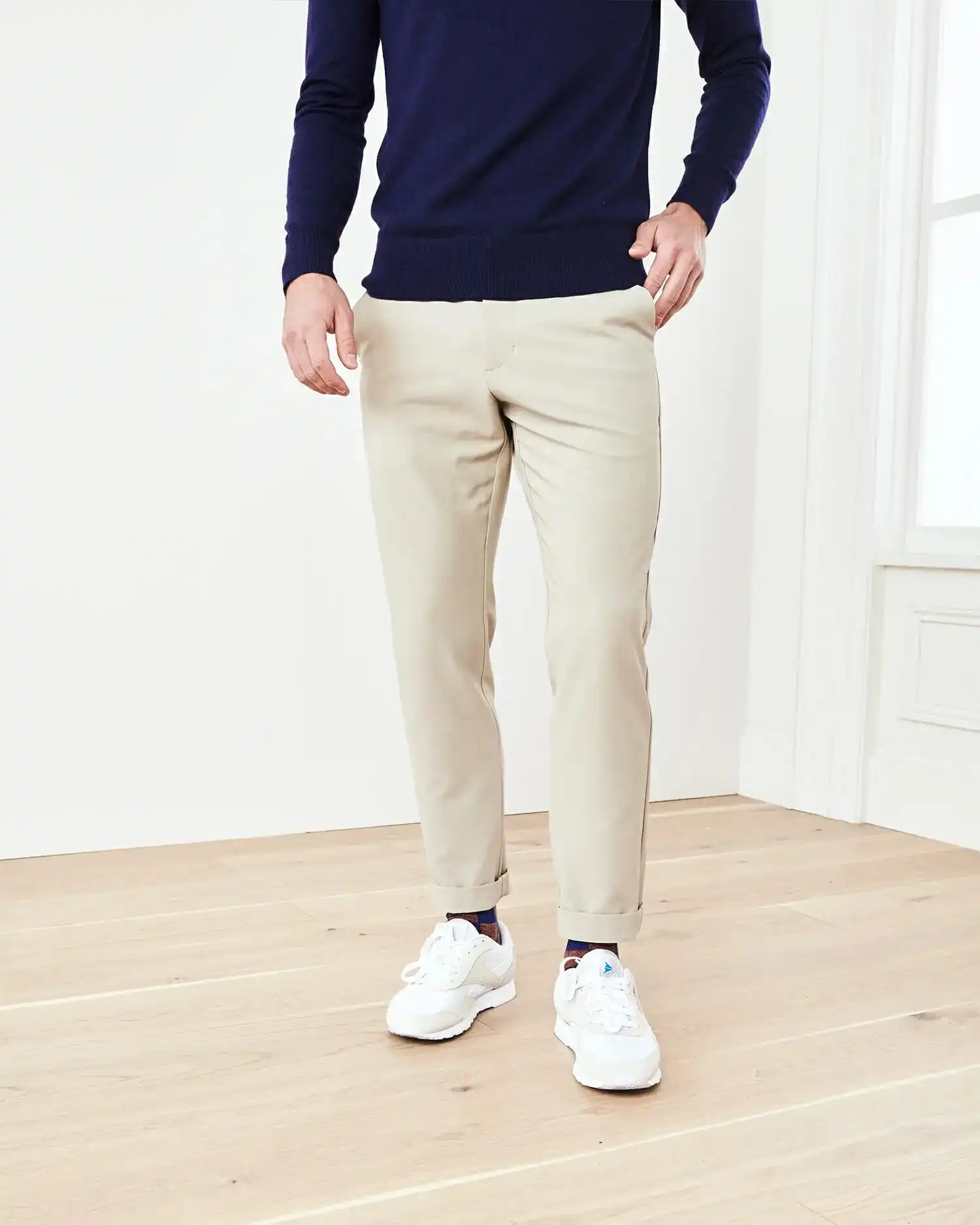 Quince Chinos
We've found a great, cheaper alternative to Lululemon ABC Pants. We've searched before and came up short... until now. They are comfortable, lightweight and about half the price as ABC pants.
The only downside? The colors are a little unique.
Buy Now
We might earn a commission if you make a purchase, at no additional cost to you.
I started my journey to find the cheaper ABC Pants with some terrible options (like GAP Fit pants that looked more like hiking pants or "dad" pants). You know, the ones that have the drawstring waist and look like they should come with a fanny pack.
But then I found the Quince Chinos, technically the "Recycled Comfort Tech Chino (Slim Fit)," but I just call them the Quince Chinos. Read our full Quince Review.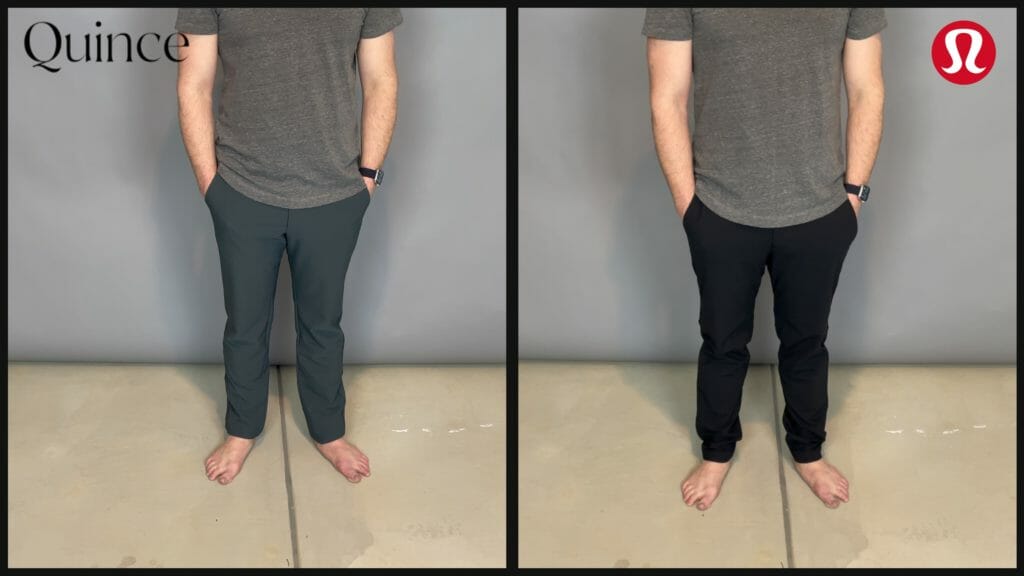 These are simply a cheaper ABC Pant. They vary in a couple of different ways (both good and bad, you can read more in our Quince Chino Review). Here are the main differences:
They are stretchier than ABC Pants
The colors are interesting – the blue is a very bold blue, for example.
The Quince Chinos are a little bit of a looser fit.
The Quince version also doesn't have a gusset.
But these pants excel in many of the ways the lululemon pants do: they have a great athletic fit, secure storage pockets, are super lightweight, are stretchy (thanks to spandex stretch) and don't look like tech pants.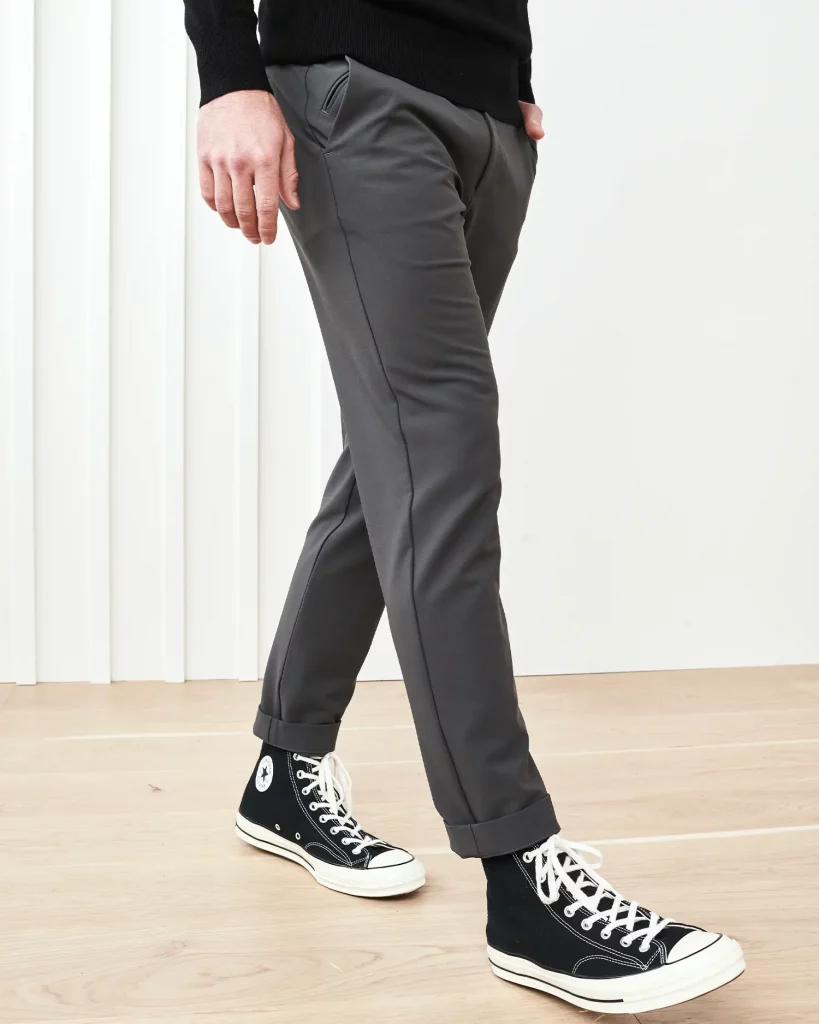 But best of all: the price. At only $49, you could buy almost 3 pairs of these pants for the price of the ABC Pants. That's an easy way to save money.
The Thicker ABC Pant Alternative: Western Rise
A super high-quality pant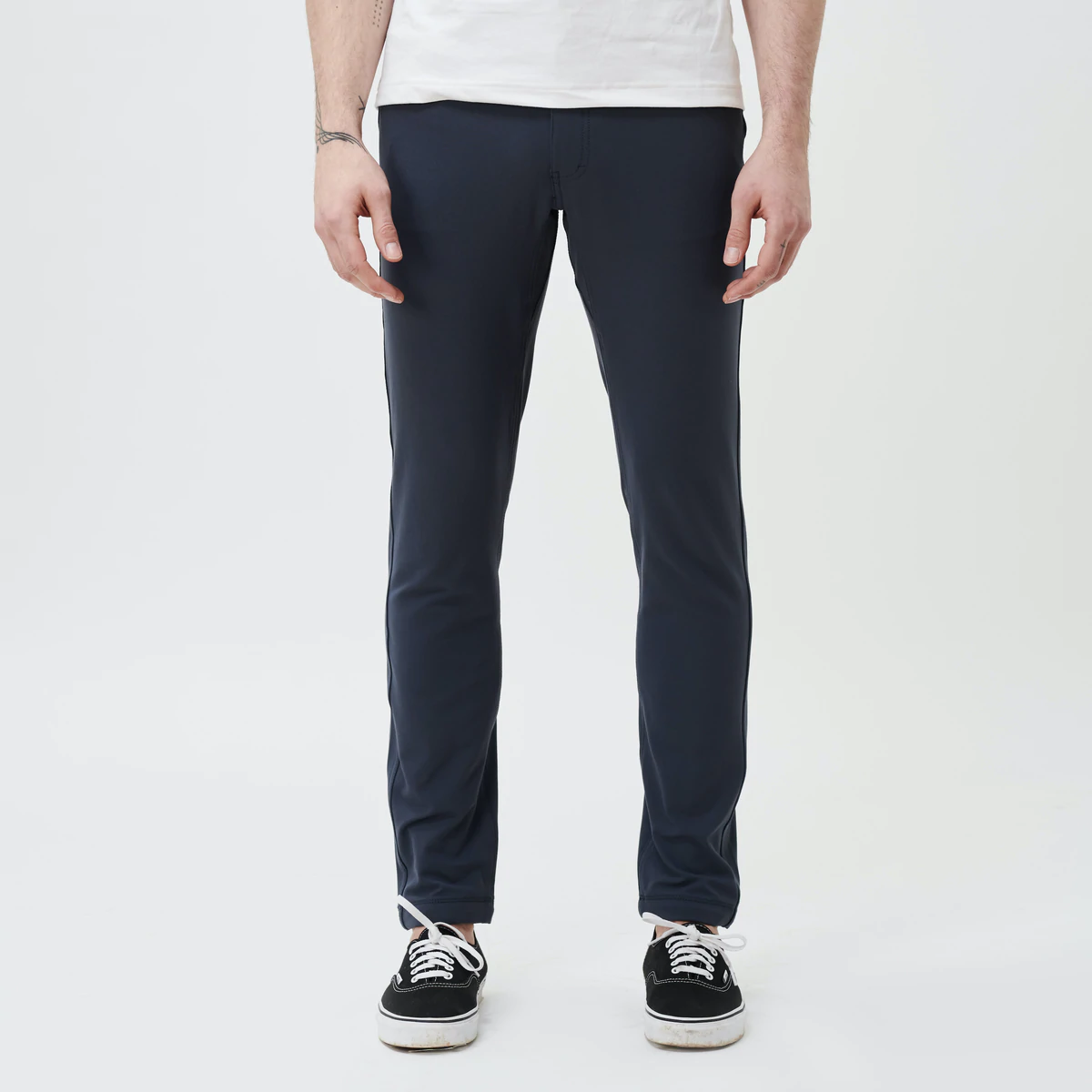 Diversion Pant | Western Rise
Replace your stiff, limiting work pants with ultimate comfort and freedom. We liked these pants, just wish they were more stretchy.
Buy Now
We might earn a commission if you make a purchase, at no additional cost to you.
One of the criticisms of the ABC Pants is how thin the warpstreme material (read what is warpstreme?) is. That makes it not as comfortable to wear on colder days.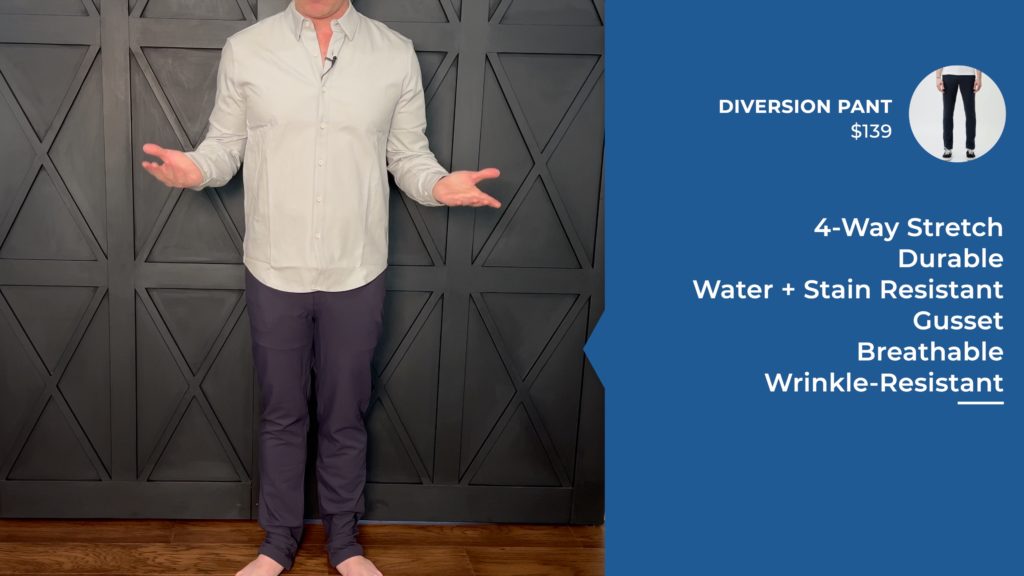 Of course, lululemon also makes the Utilitech ABC Pants (Read our Utilitech Review) there is another ABC-esque Pant we like more: the Western Rise Diversion Pants. Read our full Western Rise Review.
These pants are more workhorse, less quarterhorse but are much thicker than ABC Pants or anything else on this list.
Another, Cheaper Version of the ABC Pants: Fabletics Only Pant
A great, lightweight pant
Only Pants | Fabletics
Don't ever pay full price (read why in our Fabletics Review), but you can typically get these pants for about $40.
Buy Now
We might earn a commission if you make a purchase, at no additional cost to you.
We'll post our full review of the Fabletics Only Pant shortly, but we really liked this pair of pants. Read everything you need to know about Fabletics to find out their weird pricing structure.
Case in point: they are listed as $69, but you can easily get them for $40 or sometimes even less. Don't ever pay full price for anything at Fabletics.
The Public Rec Workday Pant is another option and alternative, but it's a bit more expensive. Read our Public Rec Workday Pant Review.
A lighter-weight ABC Pant Alternative: Mizzen + Main Helmsman Pant
Super stretchy and lightweight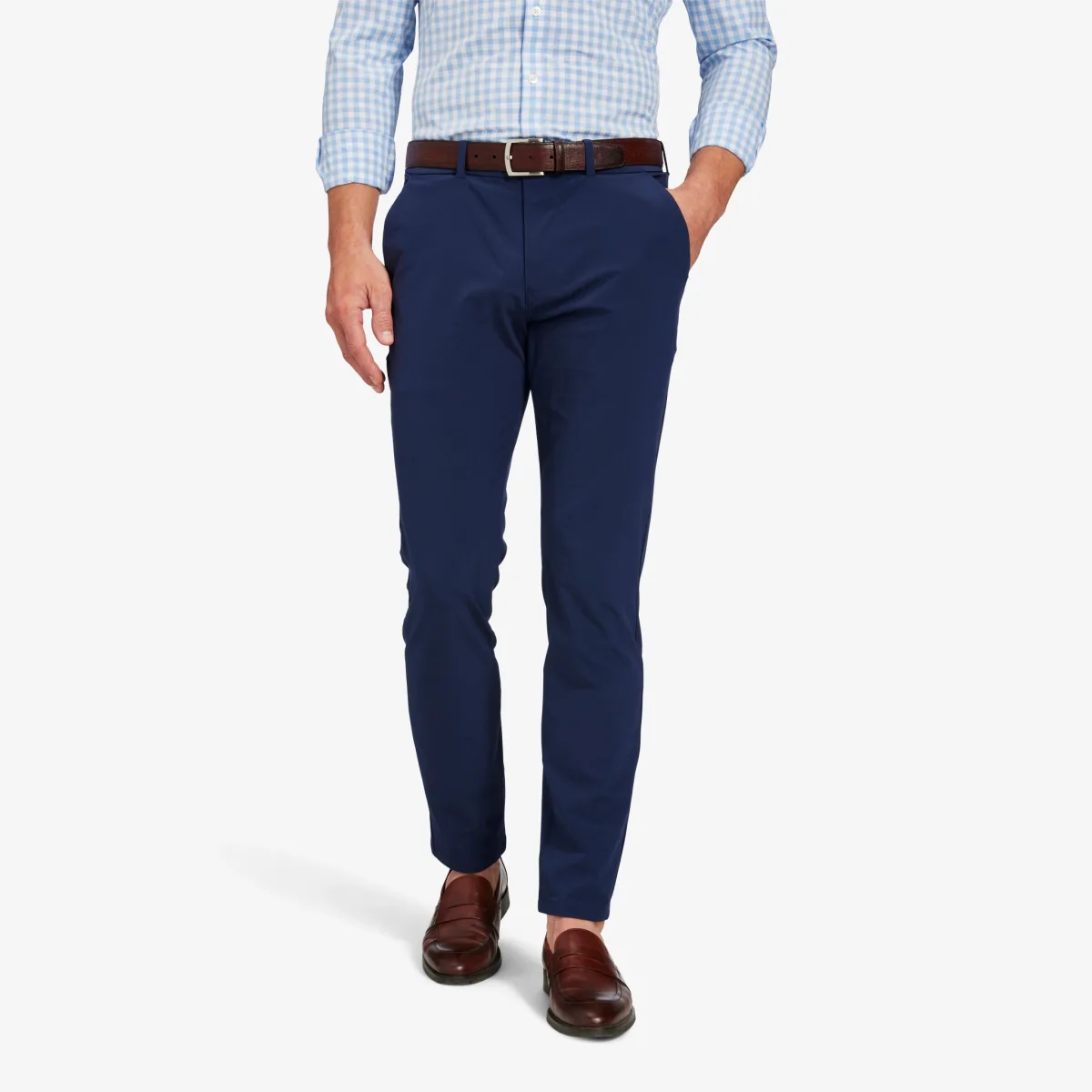 Want a lighter-weight version of the ABC Commission Pants? Then check out a pair of Mizzen + Main Helmsman Pants. They have more stretch and are incredibly lightweight.
I tried out the five-pocket pair of these pants and really loved it! I got the light grey and it was a little light, for my style – but check out one of their other colors or styles.
Want to know about Mizzen + Main? Read our Mizzen and Main Review and Helmsman Review.
Fabletics vs Lululemon mens pants
We love Fabletics, as you can read in our Fabletics Review. We recently got our hands on the Only Pant and we'll do our full review shortly!
What can I saw at first glance, as far as fabletics vs lululemon mens pants? They are similar, but the quince pants and myles pants are dressier.
ABC Pant Alternatives We Did NOT Like
Trust us, we've tried them all from Old Navy to GAP to even Costco styles.
But one of the brands that kept coming up was CRZ Yoga. I'll admit, they looked very similar to the ABC Pants, but the fit was VERY off (they were REALLY small).
A cheap knockoff
CRZ Yoga Men's Pants
We really HOPED these pants would be better. But they aren't. They kinda, sorta look like ABC Pants, but are not as durable and the sizing was all off. Check out Quince Chinos for a cheaper ABC Dupe.
Buy Now
We might earn a commission if you make a purchase, at no additional cost to you.
The material was fairly close to warpsteme, but the pockets were just off, too.
Final Thoughts: lululemon abc pant alternatives
We still love the lululemon ABC pants, but love the Myles Tour Pants more. You can't go wrong with either one! We even love the Quince Chinos.
Have any questions or comments about our lululemon abc pant alternative options? Let us know below!