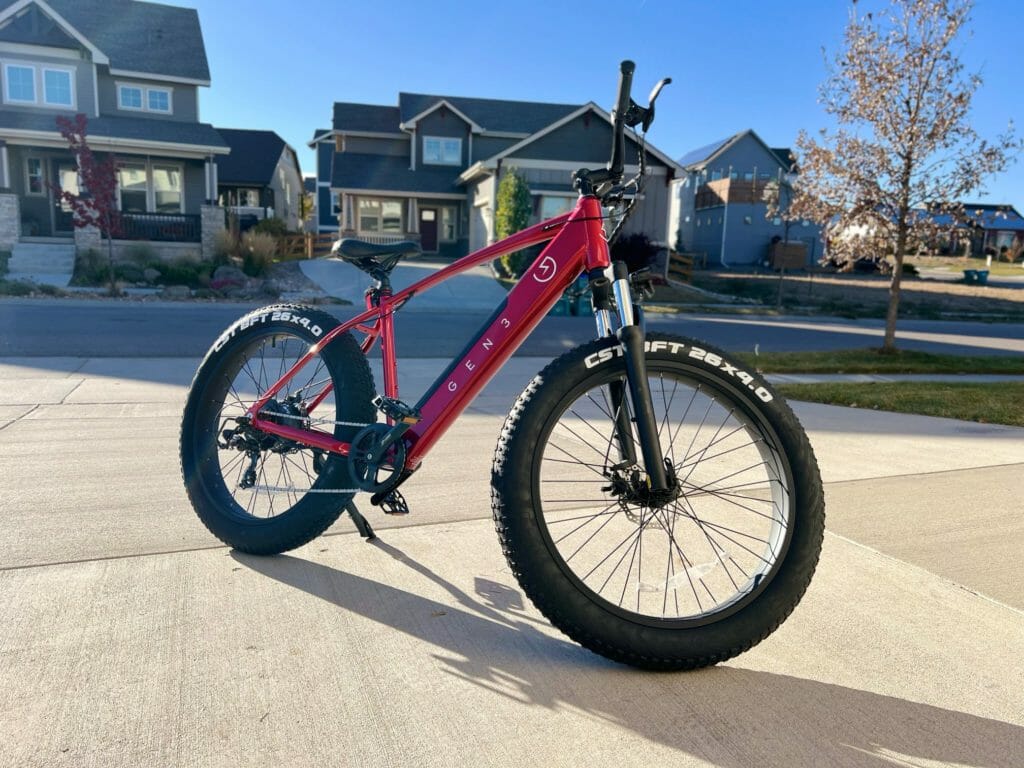 The Gen 3 Outcross is an interesting bike: it's candy apple red but as rugged as an eBike as we've ever tested. As you'll see in our Gen 3 Outcross Review, it's packed full of features but also is surprisingly missing a couple, too. Keep reading our Outcross eBike Review to find out more.
Gen 3 Outcross – The basics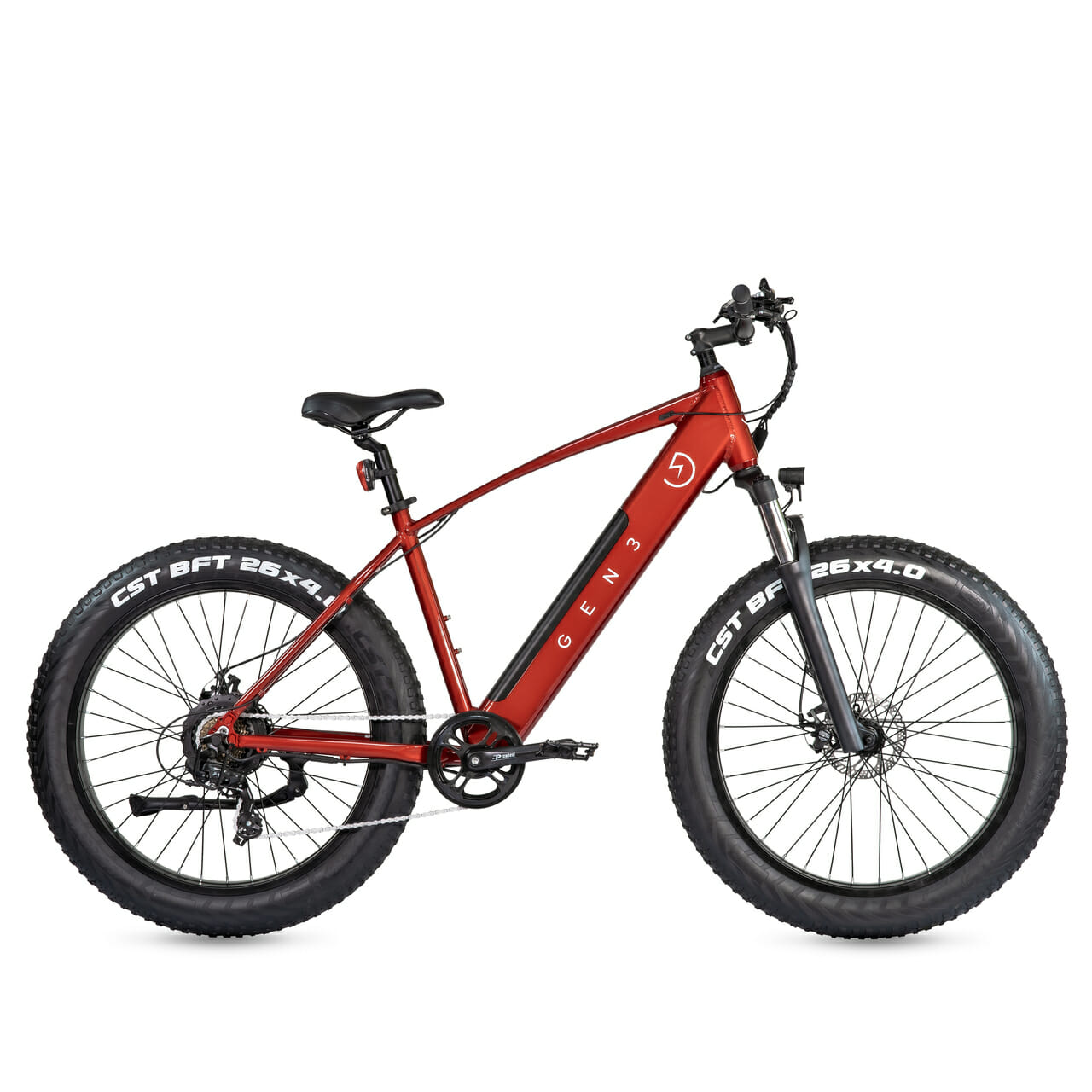 Solid. Dependable. Rugged. Beautiful.
Fat Tires
Easy to assemble
30+ Mile Range
20 MPH Speed
Highly Tuned BAFANG Motor
Beautiful Red Color
Gen 3 Outcross – The Quick Review
The Gen 3 Outcross eBike is the perfect blend of form and function. It's an eBike that will turn heads and also preform in a wide variety of circumstances. The eBike is packed with name-brand components, like the BAFANG Motor – that is incredibly tuned with this particular bike. If you want a solid, reputable eBike that stands out from the crowd, check out the Outcross.
eBikes: Where and I use eBikes
I've always wanted an eBike, but I don't have a compelling reason for it. Except for living in one of the country's most cycle-friendly cities. We also have a famous beer called Fat Tire (for the bicycle) that was created here. Fort Collins is home to numerous trails to explore and tremendous weather throughout the year with more than 300 days of sunshine. So it's a great place to ride an eBike, but do I actually need one?
Learn how the Outcross lands in our ultimate best fat tire electric bike guide.
How I use my eBike

I've always wanted an eBike, but I don't have a compelling reason for it – besides living in one of the country's most cycle-friendly cities.
We also have a famous beer called Fat Tire (named after Fat Tire Bicycles) that was created here at New Belgium Brewery. Fort Collins is home to numerous trails to explore and tremendous weather throughout the year with more than 300 days of sunshine.
I simply like to get outside sometimes and enjoy the weather. My son sometimes uses a UrRider (or I'll put both kids on the RadWagon 4) to come with me.
My wife and I only have 1 car, so I use the eBike to get me to meetings and run some light errands. I'm not driving to the airport anything crazy – just a couple miles here and there.
Why you should trust us
We got into the world of eBikes after starting this website.
We started reviewing new things people were asking us about and we always wanted to try out ebikes ourselves.
After one ride on our first eBike ever, the RadRover 5 (read our RadRover 5 Review) I was hooked. Not only because they're fun as heck but also how easy they are to use.
What is Gen 3 Bikes?
Gen3 is a newer direct-to-consumer eBike brand. Much like Rad Power Bikes, they cut out the middle man by shipping the bike directly to you.
They are based in Bellevue, Washington and produce several electric bikes and electric scooters. Their eBikes range from the foldable "The Groove" eBike to "The Stride" to "The Outcross."
Other Gen 3 eBikes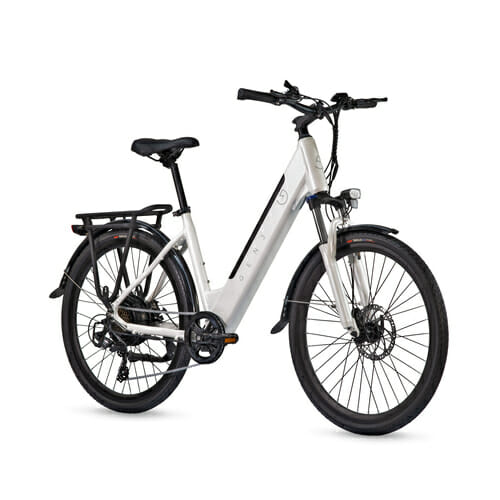 Gen 3 has partnered with mobile bike shop velofix to offer at-home assembly and maintenance of your bike.
If you'd prefer professional assembly of your new electric bike by a trained bike mechanic, you can just select "Add assembly" on the product page to add this service to your bike order. When you order bike assembly, Gen 3 will give you a call to help you schedule your assembly appointment.
The Gen 3 Outcross – All The Details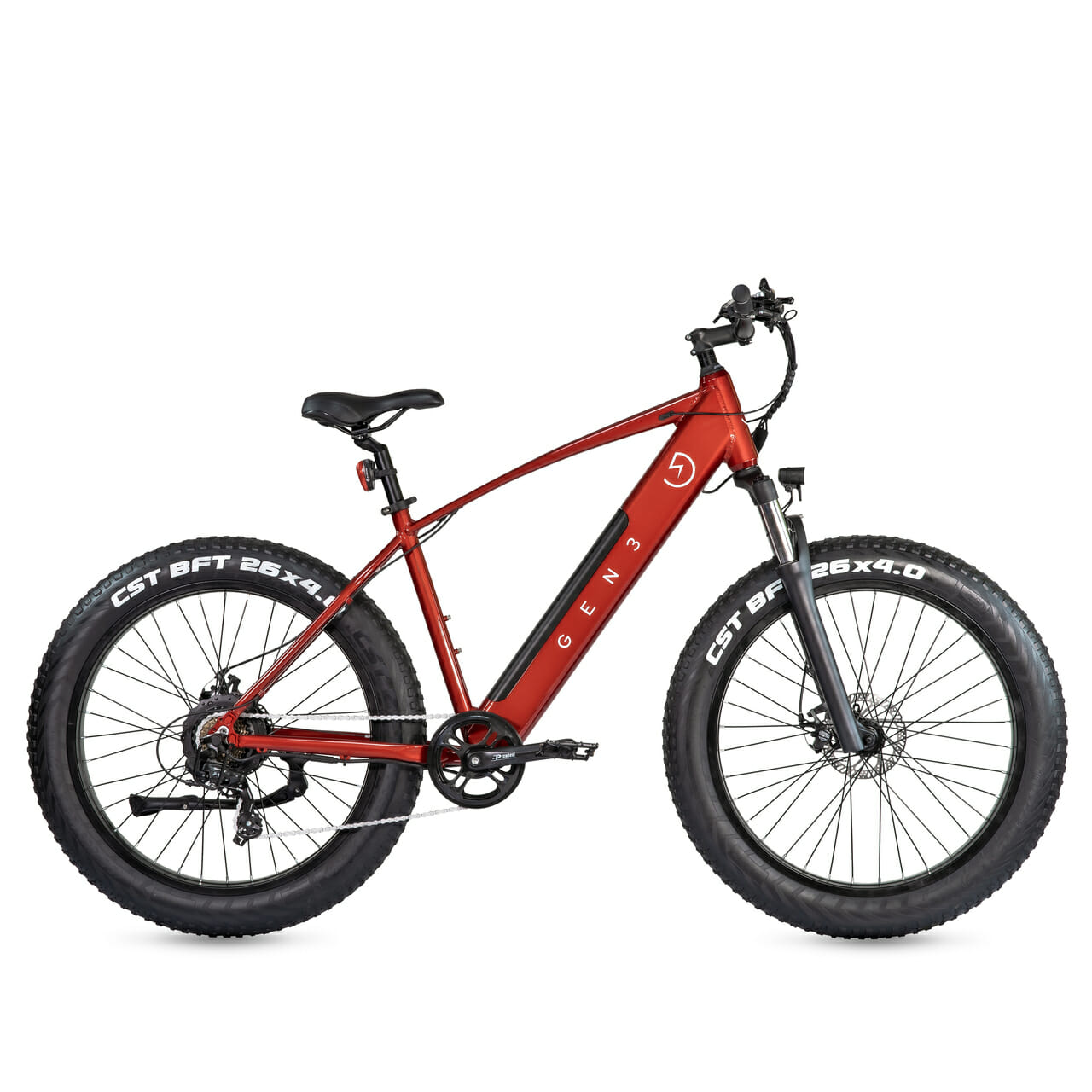 The Gen 3 Outcross features everything you'd expect from a modern eBike (except for a rear rack integrated – read about the best ebike accessories in our guide.
Class 2 eBike: Both Throttle and Pedal Assist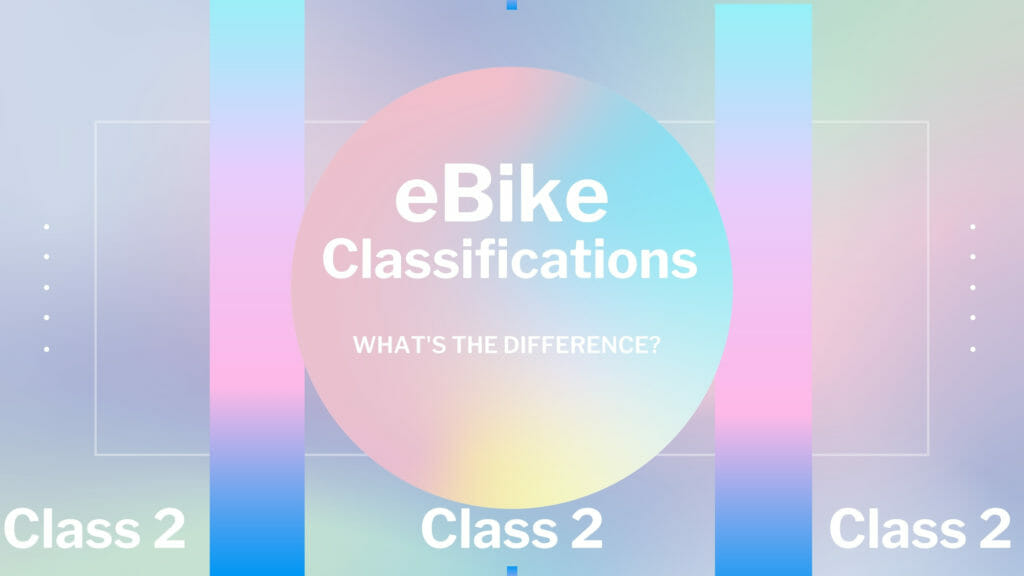 The Gen 3 Outcross eBike has both a throttle and pedal assist, capable of reaching a max speed of 20 MPH unassisted. Of course, gravity or physics isn't going to change, so if you're going down a hill with the throttle on, the speed is going to be much faster.
Read more about the different classes of eBikes.
Range of the Outcross eBike
The Gen 3 Outcross has a slightly lower listed range than other eBikes we've tested. At a range of about 35 Miles, which is plenty for most folks. However, this isn't like an electric car. If you run out of battery, you can simply pedal.
Obviously, range depends on so many things: weight of the rider, overall wind, terrain, hills, etc.
The "light" weight
The Gen 3 Outcross checks in at about 65 pounds. While that might not seem llightweight it is almost 10 pounds lighter than the RadRover 5 and RadRover 6 Plus.
This helps keep the Outcross with a pretty decent range with a smaller battery.
500W Rated/1000W Peak Power Bafang Motor
Let's face it, there are only a couple of companies that make motors for eBikes. I'm always confused why ebike companies don't list who actually makes their motor.
One of the most respected brands is Bafang. This motor is tried and true. It features 500W continuous riding bliss and 1000W peak ratings deliver hill-climbing torque.
I like big tires… and I can not lie
The Outcross features 26×4 four inch wide fat tires. In fact, they are the exact same Fat Tires (down to the branding on the sidewalls) that are on the HJM Toury we just reviewed (I actually didn't realize it until reviewing the footage for our YouTube Channel).
Also, check out a great fat tire electric bike rack for your car.
The fat tire is all the rage these days. It's not just for rough terrain like sand or snow, you can ride your bike over concrete and even mountain roads with a fat tire!
But why do so many people love them? The answer is simple- they provide more stability than other types of bicycle tires in a variety of conditions.
The front LED light automatically senses when it's getting dark and will turn on, keeping you safe while biking at night.
Simple LCD Display
Nothing fancy here. And that's OK. This simple display has three buttons and displays all the most relevant information: odometer, speed, trip, battery level and pedal assist level.
A super small complaint of almost all displays on Ebikes: why do none of the electric bikes these days have a clock on the LCD display… seriously?!
Front Suspension Fork
Like almost any trail bike, The Outcross has a great front suspension. This allows you to hit the bike trails, while also taming bike lines with the need to barely break a sweat (like most other e bikes).
Gen 3 Outcross Review – What we loved
There's a lot to love about the Gen 3 Outcross fat tire electric bike.
Overall Ride Experience – including pedal assist perfection
I will say that the Outcross is one of the most finely tuned ebikes that I've ever tested. In the video Gen 3 Outcross Review, I kept on saying, "this bike just feels more solid and I don't know why."
It wasn't just the beefy frame or four inch fat tires. I reached out to Gen 3 electric bikes to ask them and they said they really worked to fine-tune the motor and pedal assist to make it feel like pedaling was natural.
They succeeded in this, 100%!
Pedal Assist Perfection
You barely notice the pedal assist at all. Honestly.
The only eBikes that I've tested that are more fine-tuned are mid-drive eBikes. However, those typically do not have a thumb throttle, they are just pedal assist. This makes the Gen 3 Outcross well suited for everything from daily commutes to running errands to an awesome trail bike.
What we didn't love about the Gen 3 Outcross
While we loved this eBike, there are a couple of small things we didn't care for with this eBike.
The case of the missing fenders
Every single fat tire eBike that we've tested has included a rear rack. From the RadRover 5 and RadRover 6 to the HJM Toury and many more – they all included rear and front fenders?
Why? Fenders are incredibly important on eBikes because they keep you clean, even when it's raining.
The Gen-X Outcross does not include front or rear fenders.
While this might seem like a small thing, we really think that Gen 3 should have included them on what is otherwise an incredibly high quality eBike.
Missing Rear Rack
There are many 3rd party eBike Racks you can buy (in fact a rear rack is one of our top eBike accessories you need).
But what's more surprising is that Gen 3 doesn't offer a rear rack on their website. We'd love to be able to buy a rear rack from Gen 3 that we know would work with the product.
Assembly – easy, but could have been easier
I'm being really picky here, mostly because I've put SOOOO many eBikes together. However, the Outcross could have better instructions.
They weren't bad. But the assembly instructions were a little confusing. They had mixed in different eBike assembly instructions for Gen 3 mixed in with the Outcross Instructions.
Most people are intimidated enough to put together an eBike, having clear and concise assembly instructions is key. No need to make it more confusing with several models sharing the same assembly instructions.
Also, I missed the fact that there was a spacer in the brake pads. This made the most difficult part of assembling a eBike, getting the wheel and brake aligned, even more difficult.
That's not the fault of Gen 3, that's my fault. But I was getting confused by the different models and they could have done a better job highlighting that.
I wouldn't let this deter you from buying this eBike, but just something to be aware of and pay extra attention to when putting together the bicycle
Outcross by Gen 3 Review: The final verdict
The Gen 3 Outcross is a beautiful, head-turning eBike that is packed with functionality. If you want to ride on the trails or simply on the streets, this bike has you covered.
While it may not have all the features of other eBikes, it does feature reliable components from well-known brands like Bafang Motors and much more. If you are looking for a super reliable, high-quality, sturdy, beautiful and functional eBike, this one could be for you.
Just be sure to buy some fenders first!
The only reason that I would not recommend this eBike to is someone that is super tight on budget or doesn't want their eBike to stand out from the crowd.
Other Gen 3 EBikes to Check out
If you don't need serious off-roading capability, you could also check out the Gen 3 Flex eBike. This eBike does have a fenders AND a rear rack. It also has a suspension, just like the Outcross, but it doesn't have as thick of tires.
This would be good for light trails and commuting.
Gen3 Outcross Review – The Final Verdict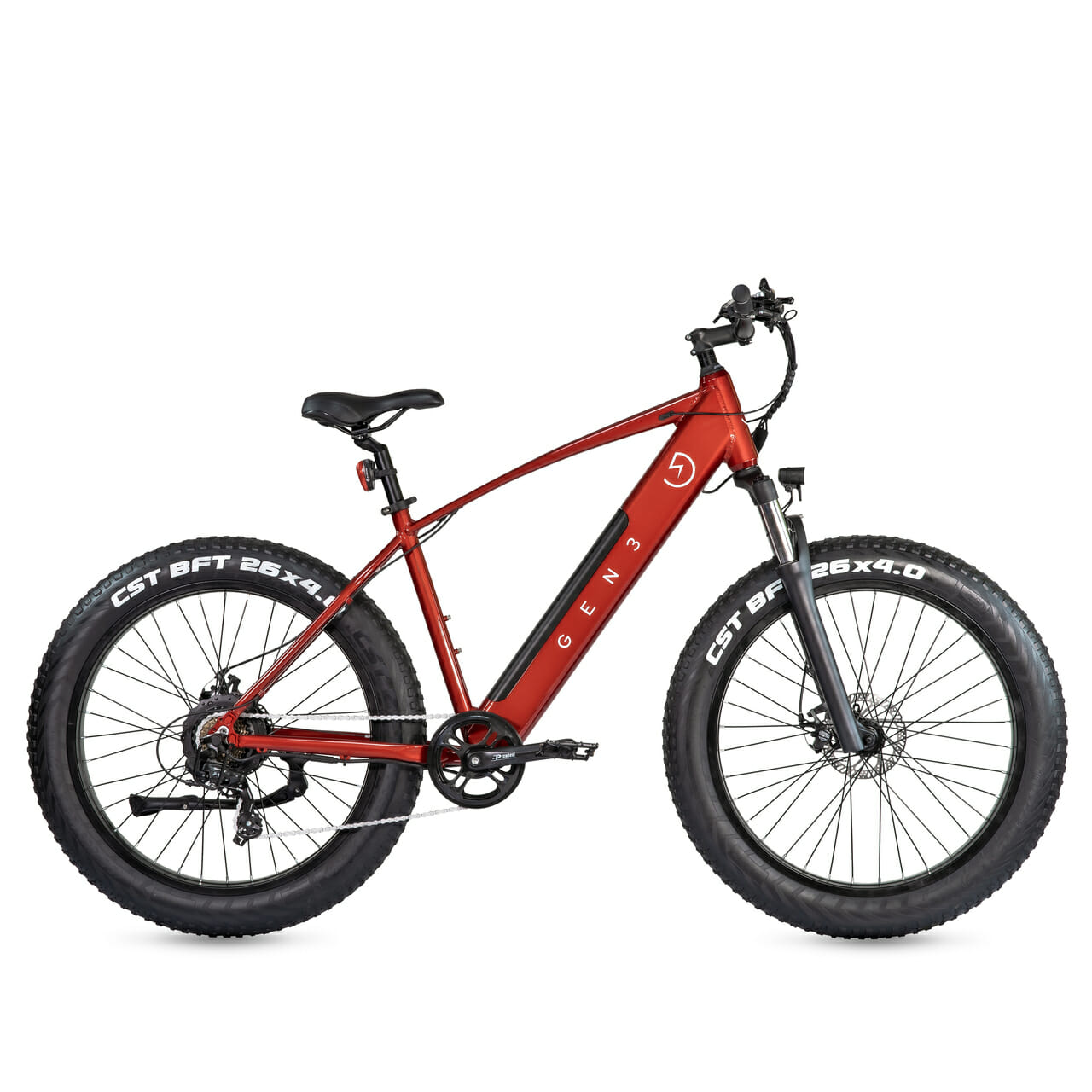 The Good
Incredibly tuned
Super sturdy
Beautiful red color
Semi-integrated battery
Clean design
High-quality, name-brand components
The Bad
No fenders included
No rear rack
Slightly more expensive than other eBikes
Someone brought it to our attention you can find Gen 3 eBikes at Costco, too. Check them out if you ever see them there!
Be sure to check out the most up-to-date Gen3 Promo Codes, our ultimate eBike guide and the best eBike accessories.