686 Everywhere Pant Review: I've been seeing more and more technical pants pop up recently and I was thrilled to get the chance to review one of 686's best-sellers. release.
The 686 Everywhere Pant is the perfect go-everywhere, do-everything traveler's pant – with 10 pockets, it has everything you need for your next trip! Read on for my full 686 everywhere pant review.
686 Everywhere Pant: Our Verdict
Super Vesatile
686 Men's Everywhere Pant
A super lightweight, super functional pant that doesn't look super techy. With over 10 pockets, it doesn't look like your typical "dad" pant.
Buy Now
We might earn a commission if you make a purchase, at no additional cost to you.
To be honest, I didn't know what to expect when first trying on the everywhere pant. Just by looking at the materials, I expected these pants to have a lot of "swish" – AKA terrible, loud swishy noises when walking. I was pleasantly surprised.
Not only are these pants quiet, but they are also extremely comfortable, easy-to-wear pants that go with almost anything. The best part about this versatile pant is that it doesn't look like a versatile pant: it's very low-key and doesn't look techy at all. That's a very good thing.
If you're looking for a high-tech pant that is incredibly versatile, but looks like normal chinos – check out the 686 Everywhere Pants.
What is 686?
Since 1992, Michael Akira West has been bringing his skiing and snowboarding-clad designs to life. What began as a college project has evolved into a California-based brand that sells technical clothing, accessories, and denim.
What is 686 known for?
686 Clothing is known for their technical designs, mostly in winter clothing. Since they originally started with ski and snowboard gear, you'll see that influences a lot of their products.
Most of their best-sellers, besides the Everywhere pant, are filled with GORE-TEX to keep you warm and dry on the mountain.
The best selling do-it-all packable 10 pocket pant, perfect for the go-everywhere, do-everything traveler who doesn't want to sacrifice style.
686 Everywhere Pant Review: Let's talk style
Granted these can't be worn to the Academy Awards, but 686's Everywhere Pant is a great option to wear on the plane, out at night, or even just around town with friends.
The 686 everywhere pant looks good dressed up and down. I've worn mine almost for several days in a row, without a problem. They are refined and minimalistic. 686 did a great job at not branding these pants too much – it's there, but subtle and doesn't take away from the look.
Available in a variety of colors (including black, navy, khaki, and grey), 686 offers an everyday pant that also looks good for more relaxed office settings or a night out. The fit is true-to-size and you can wear them with nearly anything.
These pants don't look like ugly "hiking" pants, they look more like lululemon ABC Pants. 686 has taken a very versatile pant and refined it to make it an everyday, go-to choice for anyone.
In short, no one will mistake these for hiking pants on first examination. In fact, no one will probably notice anything special about them at all. That's exactly what you want from a technical pant. I hate techy pants, but 686 has found the perfect medium between tech and style.
686 Everywhere Pants Review: How do they fit?
The 686 pant fits fairly true-to-size. I wear a size 32 waist size and 30 length in most of my jeans and chinos, but with the Everywhere Pants I wear a 32 length. I could have gone for the 30 inch length, but I really need like a 31-inch length, somewhere in-between.
There is a cool drawstring that goes all the way around the pants, which helps if you need to bring them in a little bit to fit perfectly. They've literally thought of almost everything with these do it all pants.
The cool part is you can make the drawstring inside the pants or outside. You'll see I have the innie + outie waist drawcord system outside, just so you can see them.
Some people online complained these pants may be a little too slim. I sure didn't think so. I thought the leg opening and slim fit was perfect. If you don't want a slim fit, you can always try their relaxed fit.
I appreciate when clothing brands offer pants in width and length – so many businesses don't these days. Kudos!
Let's talk features in our 686 Everywhere Pant Review
Holy moly. There are a ton here. I've never had pants that came with an instruction manual, but these pretty much need to!
The pockets… 10 of them!
Yes, there are surprisingly 10 pockets in these pants – and they aren't even cargo pants (thank goodness!).
Most of the pockets can be found in the photo below, but I want to highlight a couple unique ones. =
RFID Pocket: Yes, the everywhere travel pants have an RFID Blocking Pocket to Protect Your Credit Cards. This unique design keeps your information secure and doesn't allow RFID technology to get into your pants, literally. Pretty stinking cool!
Side Zipper Vent Pocket + Packable Mesh Bag: What if I told you that you could pack this pair of pants into a bag… built into the pants? Yes, that's possible with this awesome pair of pants.
Water and Stain Resistant
These pants are treated with the latest and greatest DWR Stain and Water Resistance.
Let's talk about the fabric
The fabric on these pants is a little more textured than something like the Myles Workday Pants. In other words, it's not super smooth.
In my opinion, this gives it a bit more of a sophisticated look and looks less like, "I'm a dad wearing convertible hiking pants and pretending they are khakis" vibe to them.
The downside with any textured materials, like a pique polo is a good example, is that "stuff" sticks to it easily. It doesn't even have to be dirty to look dirty since fuzz and such can attach to it easier.
I'm not sure what kind of witchcraft they did to these pants to make them not so loud, but I imagine it has something to do with the texture.
Gusset!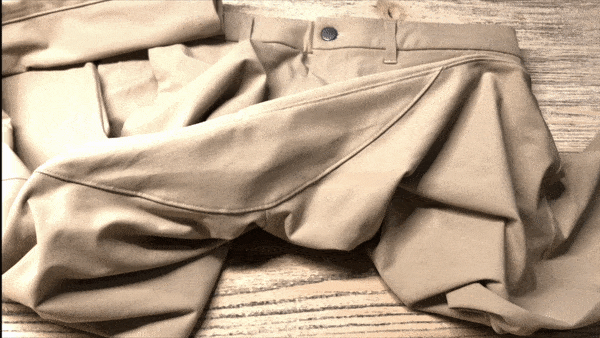 I could write poems about my love for gussets, and I'm stoked that the 686 pants have a gusset!
A gusset is a piece of fabric that makes the crotch area of your pants more comfortable. This is especially important for active people who need more mobility. 686's Everywhere Pant has a gusset, which makes them extra comfortable to wear and makes them last even longer.
What we don't love about the everywhere pants
No pants are perfect, and there's just a couple of small things we didn't care about with these pants.
Not 100% Wrinkle-Resistant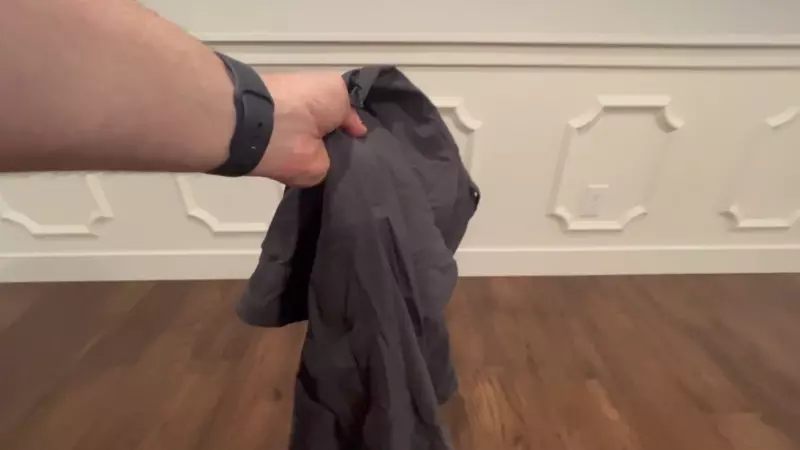 While nowhere near as bad as a traditional chino, these pants are not as wrinkle-free as something like the Myles Tour Pants, for example.
Especially if you use something like the bag that the pants come with (actually built into the pocket), the pants will come out looking very wrinkled. You can always put them on for a bit and they will naturally de-wrinkle.
Frequent travelers will want to keep that in mind. You won't be able to simply put these on and they are 100% wrinkle-free. Not terrible, but not amazing, either.
Textured materials shows a lot
Even with our hypo-allergenic dog, we somehow end up with dog hair and the like in places. These pants have the tendency to pick up some of that pretty easily, due to the texture. It isn't terrible, by any stretch of the imagination, but it's also what makes these pants not look like tech pants.
What we love about the 686 everywhere pants
At just under $100 bucks, these are a great value. I can see using these as good, lightweight travel pants or even just playing outside with the kids.
Dad tip: wear a pair of pants like these taking your kids to the playground, especially in the early morning. I always tend to be the first person down a slide and I end up getting my legs all wet.
Not only are these pants stretchy, but they are also Water Repellent.
The thing we like the most about these pants is that they have all the features of the hiking pants dads have come to know and love, but they look more like ABC Pants. They have a ton more features than ABC Pants but also cost about $30 less.
686 Everywhere pants vs. ABC Pants and more
Super Vesatile
686 Men's Everywhere Pant
A super lightweight, super functional pant that doesn't look super techy. With over 10 pockets, it doesn't look like your typical "dad" pant.
Buy Now
We might earn a commission if you make a purchase, at no additional cost to you.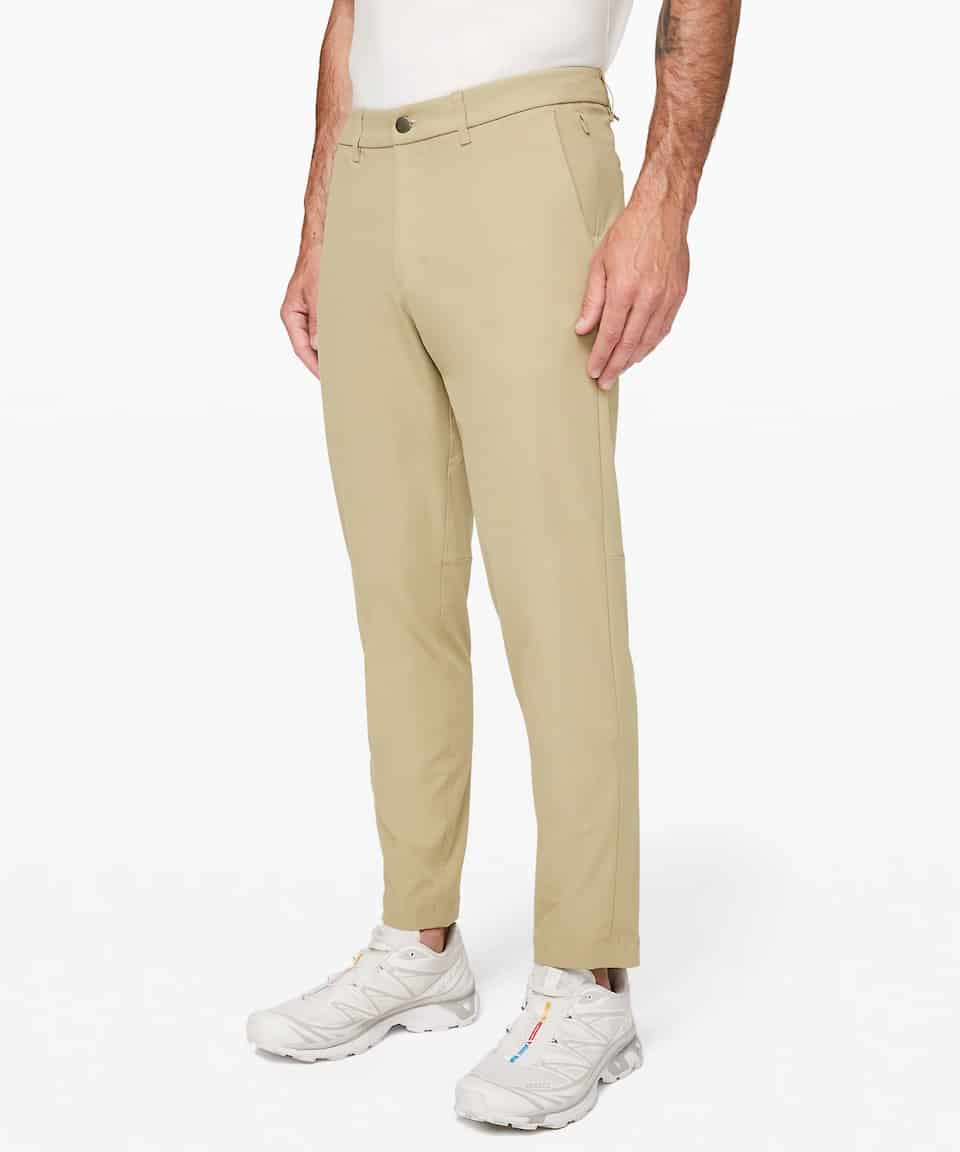 lululemon ABC pants commission slim
The best ABC Pant, at least in our opinion. Styled more like a classic chino, these pants provide a more sophisticated look than other tech chinos.
Buy Now
Our Review
We might earn a commission if you make a purchase, at no additional cost to you.
Slightly better than the ABC Pants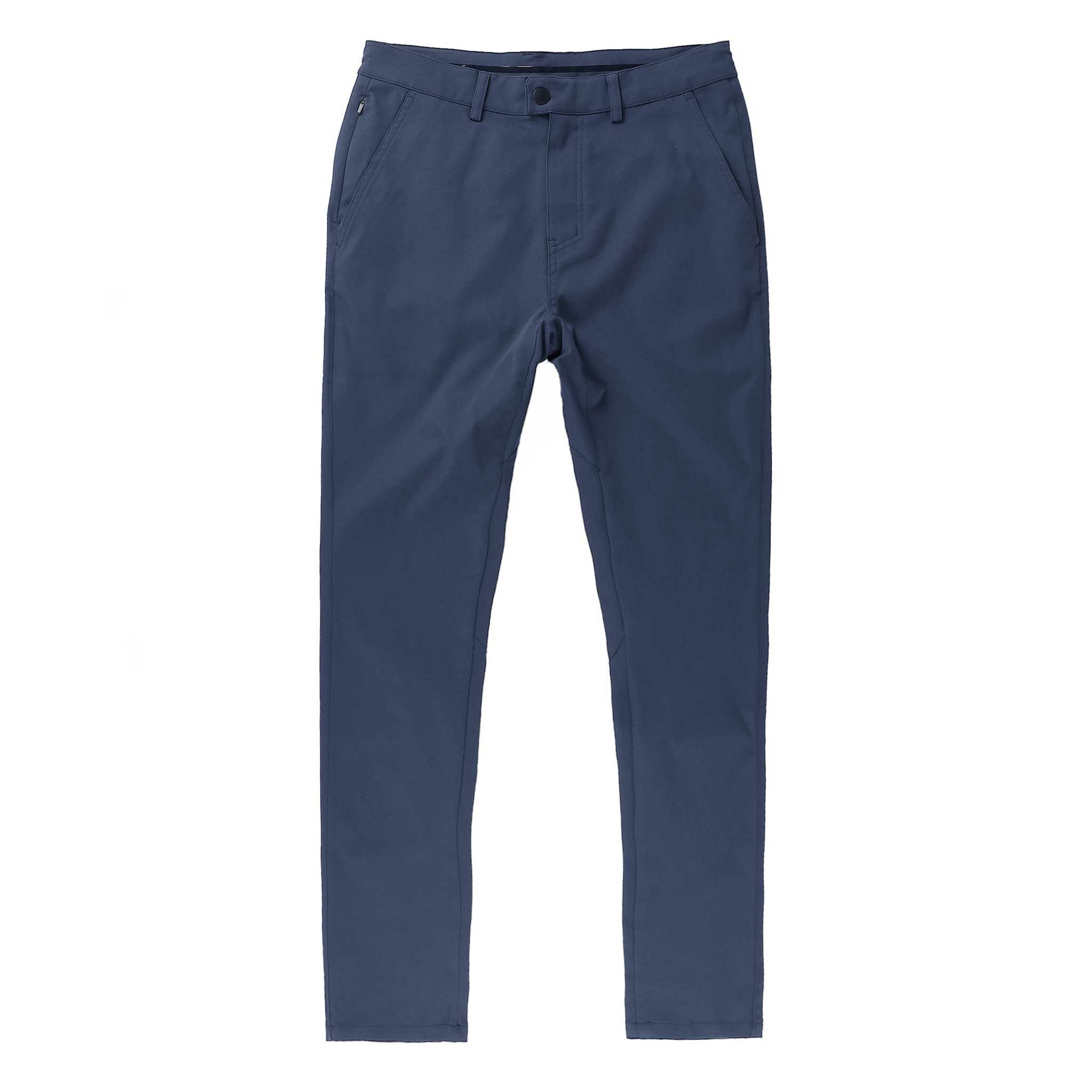 Myles Tour Chino
A simply awesome pant that is slightly better than the lululemon ABC pants, mostly for one single reason - there is not awkward seam behind the knee.
Buy Now
Our Review
We might earn a commission if you make a purchase, at no additional cost to you.
The thicker, tougher ABC Pants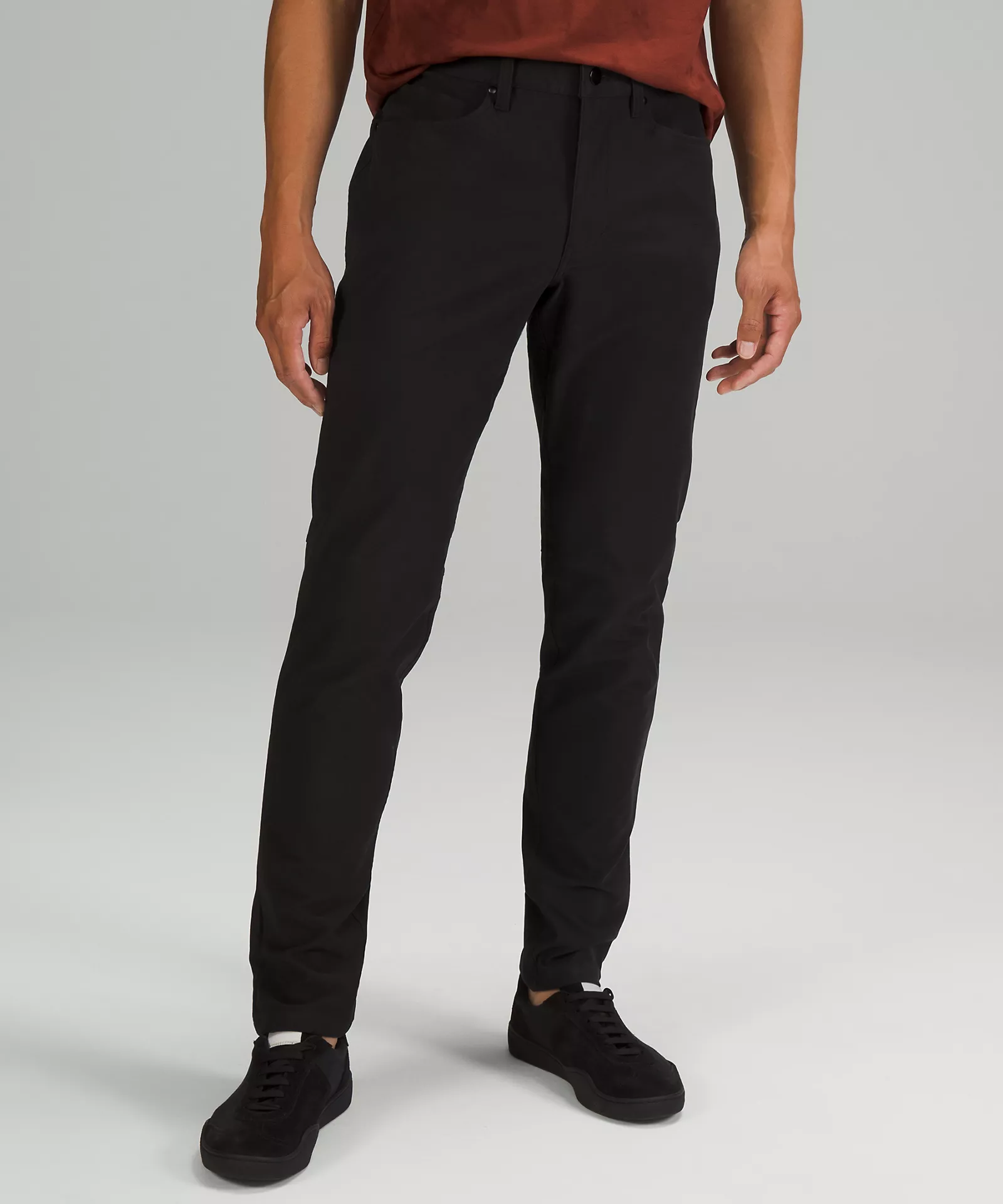 686 Everywhere Pant vs. ABC Pants
It's true, the 686 everywhere pant has more features than ABC pants – by a mile.
However, I'd give the slight edge to the ABC Pants in terms of looks over the 686 everywhere pants. Although, another great feature of the everywhere pants is that it does not have the infamous ABC pant seam behind the knee. That's a major positive!
The everywhere pant is about $30 cheaper. It does look slightly more casual than the ABC Commission Pants (the only other kind of ABC pants I wear is the Tech Canvas Pants, read our Tech Canvas review, too).
When it comes to comparing lululemon ABC pants vs 686 everywhere pants, it all comes down to features and style. What more features? Go with the 686 pants. Want more style? Go with the ABC Commission Slim pants, or, the next comparison: Myles Tour Pants.
Myles Tour Pants vs. 686 Everywhere Pants
I love my Myles Tour Pants. In fact, I call them the better alternative to ABC Pants in our Myles Tour Review. They are one of the best pants, in my opinion.
Why? They don't look like tech pants and they are incredibly comfortable. The only thing I have against them is that they can be a little constrictive (they are also water resistant with a DWR coating) and they are more expensive.
If price is your biggest factor on these three pants, then go with the 686 pants. Also, check out the Quince Comfort Tech Chinos as a better cheaper ABC Pant Alternative. It doesn't come close to the number of features as these pants, but is literally half the price.