Finding a comfortable chair for your standing desk is crucial, especially when you spend hours of your day on it. Unfortunately, finding a chair that offers both comfort and functional support can be hard. With so many different options available on the market, it can be difficult to know which one is right for you.
Our #1 Pick for Standing Desks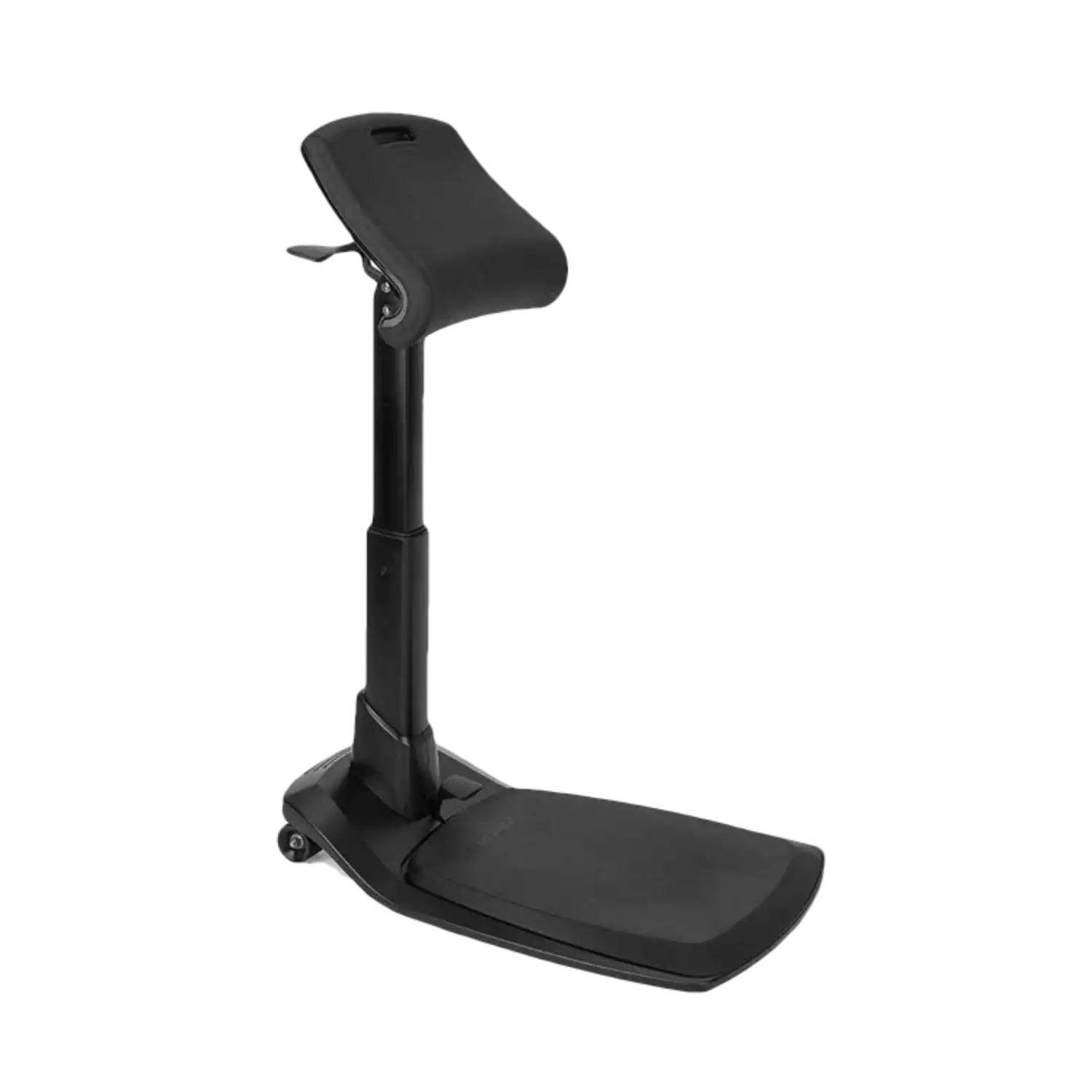 LeanRite Elite
While more expensive than the other options, this LeanRite is PERFECT for anyone with a standing desk. Unless you're Superman and can stand all day without a break, you need this standing desk companion.
Buy Now
We might earn a commission if you make a purchase, at no additional cost to you.
Don't worry, we've done the dirty work, spending 1,000s of hours testing all the different options for a standing desk chair. That's why we were excited to find the LeanRite, the best sit stand chair we've tested.
Why a standing desk in the first place?
Standing desks are an incredibly beneficial investment for anyone who spends a lot of time in front of a computer or desk. Not only can they help reduce the negative effects of "sitting disease" such as chronic back pain, fatigue and poor posture, but they can also help boost focus and productivity.
Standing regularly throughout the day helps keep your body in motion, reduces strain on muscles that can be caused by prolonged sitting, and increases metabolism, which can help with weight management. Additionally, regular breaks from sitting improve alertness and promotes clearer thinking. Investing in a standing desk is an excellent way to ensure your physical and mental health while still being productive!
If you're searching for a top-notch standing desk, look no further than the Fully Jarvis Standing Desk. It has everything you require and more. To learn more about why it's such an amazing choice, make sure to read our comprehensive Jarvis Standing Desk Review today!
The one problem with standing desks: how to rest
While everyone agrees that we probably shouldn't sit for 8+ hours a day, it's pretty unrealistic to expect someone to stand for that same amount of time.
This is where LeanRite comes in – LeanRite provides the perfect balance between standing and sitting, allowing you to find your ideal posture while still reaping the benefits of a standing desk.
As we discussed in our Round-Up of the Best Standing Desk Chairs, we discussed this issue in much more detail.
Other options we've tested have many of the same features, albeit not all-in-one, like the LeanRite. This sit-stand chair is simply the only standing desk chair you'll need.
LeanRite's main selling point is adaptability. That's what I love the most about this product.
It doesn't force you to sit, stand, or lean a certain way. You can use many combinations and settings to find the perfect posture for your body.
What is the LeanRite?
The LeanRite is a chair unlike any other. As a hybrid between a standing chair, stool, and leaning seat, LeanRite offers an impressive range of posture-supporting positions from leaning (or "perching"), to sitting, and standing. The LeanRite also comes with an anti-fatigue mat for extra comfort and stability so your feet don't get tired over time.
The best part of the base is that it's meant to stand on, and allows you to lean properly against the chair.
Using LeanRite also makes it easy to adjust the height settings with just the press of a button – allowing you to find your perfect position in seconds. And these ergonomic benefits don't just stop there; LeanRite also helps improve posture, which decreases fatigue and helps prevent common musculoskeletal issues like back pain.
LeanRite's combination of features makes it one of the most versatile chairs on the market today – perfect for anyone who wants to stay comfortable while they work from home – or in the office.
How LeanRite Started
Before we dive into more details of this awesome product, I think it's great to know exactly how the product was invented.
The LeanRite was created by Ergo Impact founder Jonathan Sheinkop, whose epiphany came on a family fly-fishing trip in Mexico. Jonathan had recently acquired a standing desk in the hopes of improving his posture and productivity, but soon found that standing for long periods of time was tiring and uncomfortable.
The humble beginnings – a fishing boat
While on the fishing boat, he noticed that the aluminum lean bar built into it allowed him to stand longer without tiring. This inspired Jonathan to devise an elegant solution for his office setting: LeanRite.
Jonathan enlisted his father, Dr. Mitchell Sheinkop, an orthopedic surgeon and Professor Emeritus at Rush University Medical Center, to help design LeanRite. With their combined expertise in ergonomics, physical therapy, and office design, as well as input from standing desk users and key stakeholders in the office-furniture design landscape like the head ergonomist at Google (who knew that was even a job?!). 
LeanRite was developed to provide leaning support which helps mitigate fatigue and promote better posture for standing desk users. Its perching capability makes it even more comfortable for its users – something Jonathan knows all too well, having suffered from years of back pain he suffered while playing LaCrosse in College. 
Think of perching as a "desk chair for leaning" – something that allows a neutral posture. Something that isn't sitting OR standing.
What's included with the LeanRite Elite?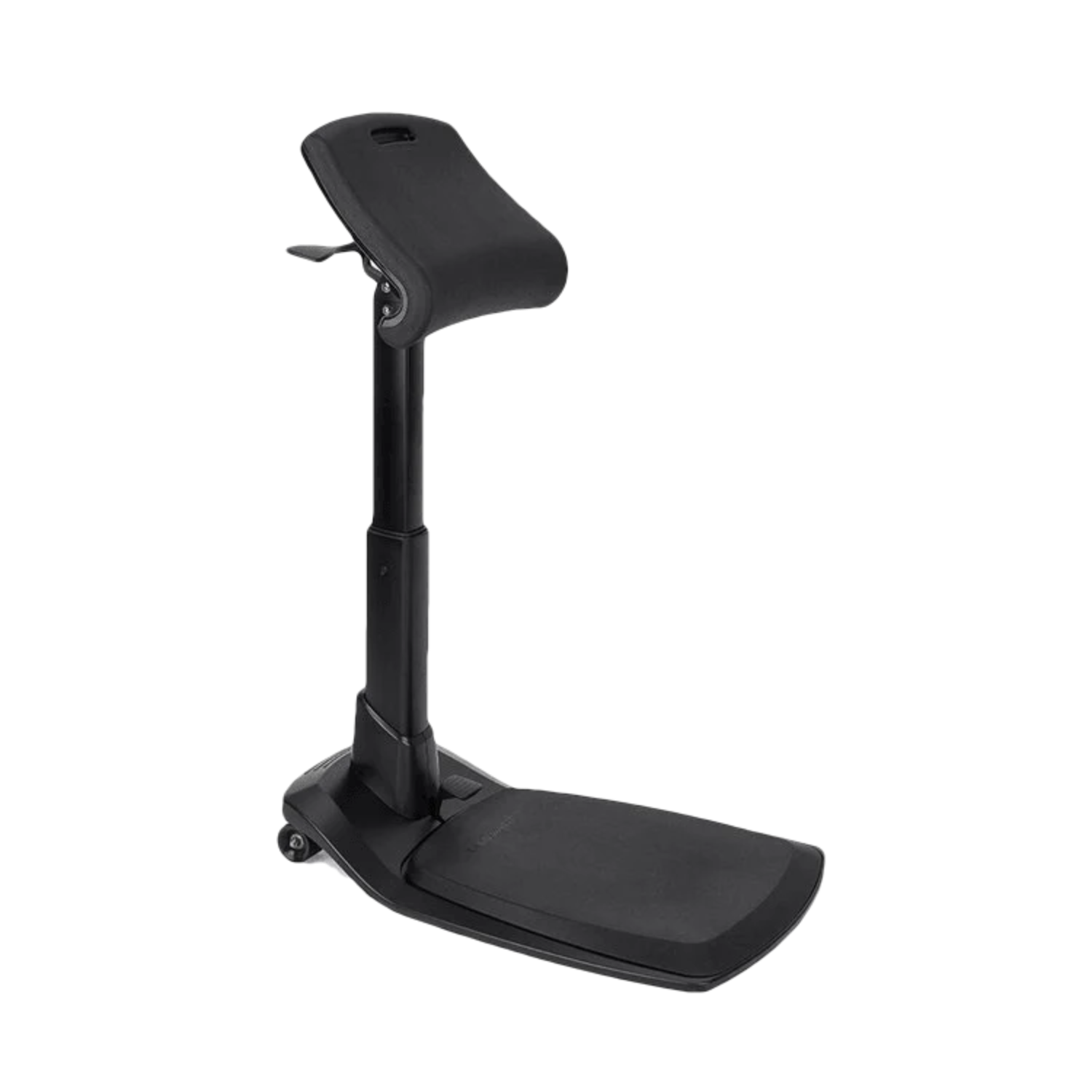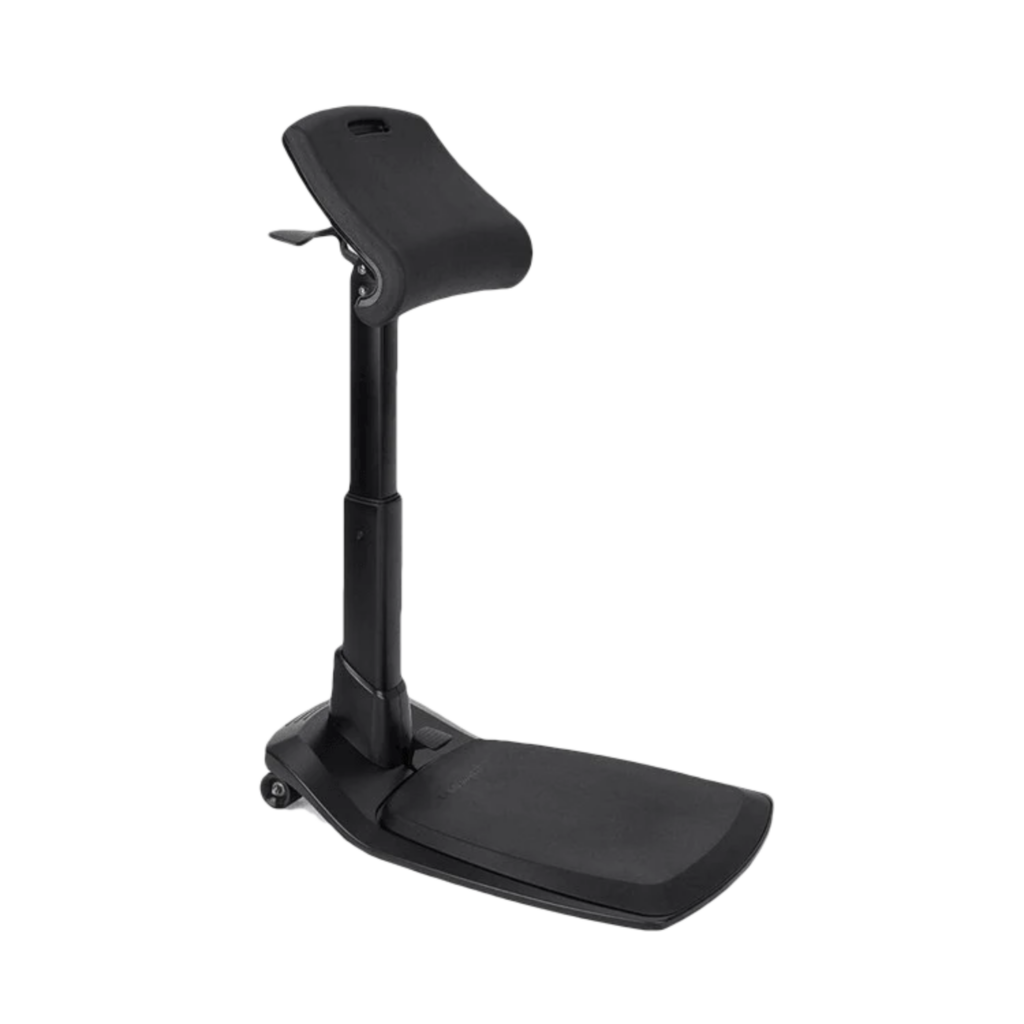 The LeanRite includes everything you need to assemble this amazing tilting seat! The only thing you need is a standard Philips screwdriver for one small part.
The LeanRite includes:
Easy-to-follow instructions
The stable base and chair/stool
Optional seat cushion (more on that in a moment)
A foam foot rest
It takes about 10 minutes to put together and can be done by one person, no problem at all.
What's so great about the LeanRite Elite?
The LeanRite Elite has solved all of the problems other chairs and stools suffer from: adaptability.
Every other stool or chair we've tested only gives you one way to use it – maybe two if you're lucky.
LeanRite's user manual has 6 different ways to use the LeanRite, however, I only really use 4.
How I use the LeanRite Chair
The best way to understand the LeanRite Chair is to see it in action. It has five main ways to be used.
1: As an anti-fatigue mat
The easiest way to use the LeanRite is simply to use it as an anti-fatigue mat. Obviously, you can get much cheaper options for a Fatigue mat, but the other ways to use the chair is where it really shines.
2: Full Sitting Stool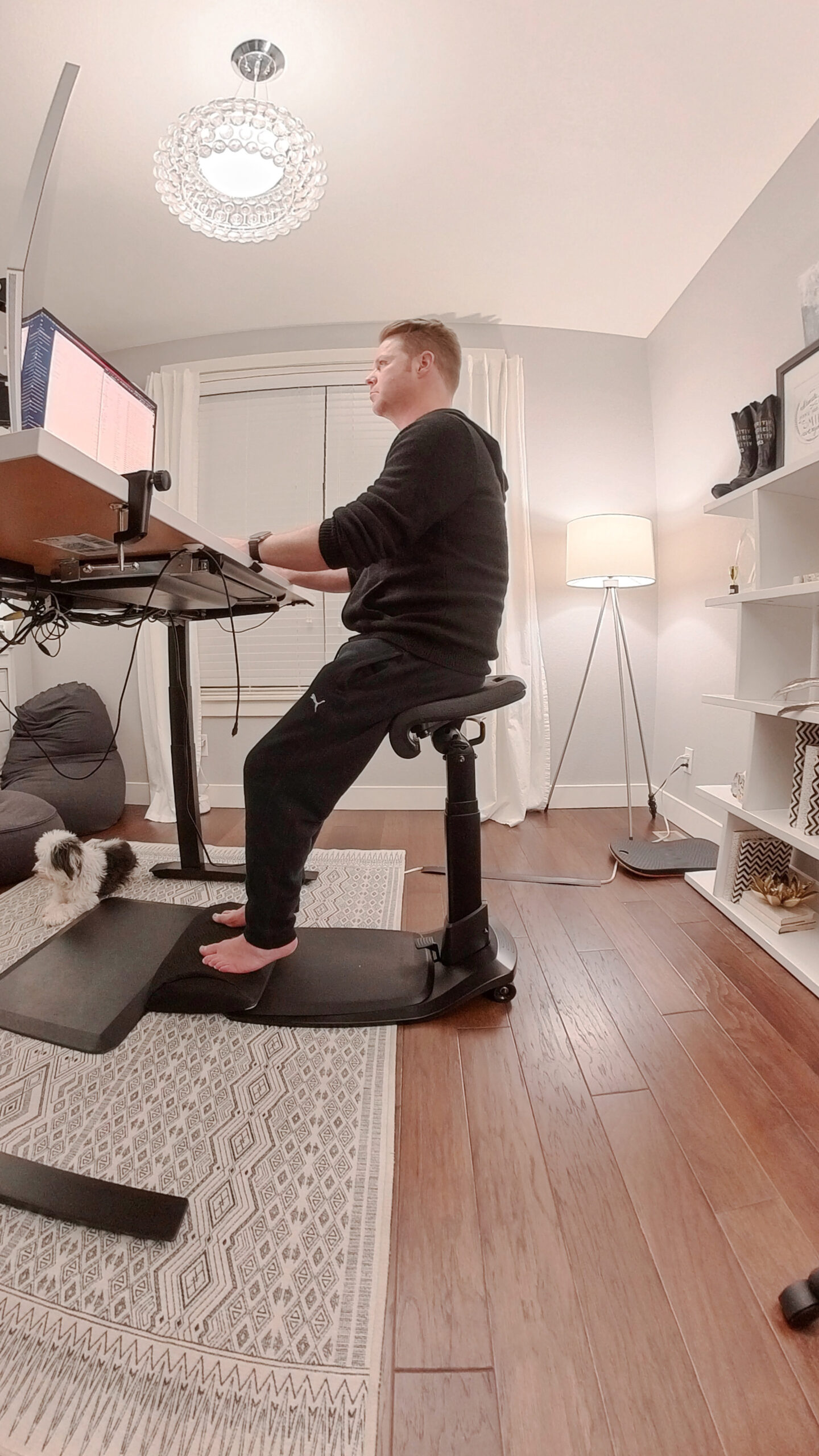 You can also use the LeanRite as a standard sitting stool for your standing desk. This is also pretty straightforward.
3: As a Perching Stool
This is one of my favorite ways to use the LeanRite: perching. Otherwise known as leaning, perching is supposed to be really good for your back.
4: Leaning against it
This is another game-changing feature. Not because it's the only "leaning" stool you can get, but this one simply works! You can find another desk chair for leaning or another standing chair, but not one that can do all of the above.
On top of that, if you want extra support, simply fold the seat down and lean against it. If you want less support, make the seat parallel to the ground and rest your back against it.
The best news is there is simply no wrong way to use the LeanRite.
Not only does LeanRite provide unparalleled posture support, but it also encourages you to move around while working. LeanRite allows you to alternate between sitting and standing as needed, providing precious relief for your spine and lower back muscles.
A standing desk chair with a variety of positions
Not only does the LeanRite have different posture-supporting positions, it offers a ton of seat adjustment – not just seat height adjustment, but seat angle, too.
The actual combinations are limitless and can be finely tuned to the perfect standing position for you.
Unlike Wobbly chairs, the LeanRight Standing Desk Chair is sturdy in all sitting and leaning positions. The Anti-fatigue mat also replaces the anti-fatigue map I had to use with other standing chair options.
Active when you want, lazy when you need
As I mentioned, being able to use multiple positions and multiple seat angles really makes this a game-changer for standing desk chairs.
Honestly, I've had my sitting office chair in my office, thinking I may feel tired – or sick – one day and need it to rest. But in over a month, I haven't used the sitting office chair one time.
That's what makes the LeanRite Standing Desk Chair the best standing desk chair we've tested (read about other standing desk chairs we've tested).
However, nothing is perfect, right?
What we didn't love about the LeanRite
The first and obvious thing is the price.
The Price
It retails for $699, which sounds expensive, I know.
However, what are the two spots you spend the most time at? If you're like most people, it's your desk and your bed.
Doesn't it make sense to invest in something you spend so much time with? I wish I had discovered LeanRite a long time ago, because it would have easily saved me money – from not buying all the solutions that claimed to work, but didn't. LeanRite has held up to its promises and is simply worth the investment.
It really can be the only chair you need.
The Seat Cushion on the Stool
This might be the most nit-picky non-issue ever, because you don't have to use the supplied seat cushion at all.
The LeanRite standing desk chairs come with a foam seat cushion that some "older" customers requested. However, I don't think it's needed at all. It easily attaches (and detaches) with two clips. The founder says that the next generation of the product will have a softer seat, too.
I thought the seat was fine, 100%, the way it was. But I do like they give you options for their standing chairs.
Also, it comes with a foam footrest, which is nice to rest your feet on when using it as a perch stool. This sits nicely on the anti-fatigue mat and has grippers at the bottom of the foam footrest, and can be used in a variety of sitting positions.
Has anyone validated the claims?
While I won't pretend to be an expert in the world of ergonomic validation, but their website says this standing chair is "A multi-award-winning chair, (UL) Tested Compliant with BIFMA Seating Durability and Stability Standards."
They enlisted the brightest minds in ergonomics, orthopedic medicine, physical therapy, manufacturing, research, furniture design, and industrial product design to create the LeanRite.
Some new, ground-breaking research points to how beneficial a perching position is on an adjustable-height desk.
The LeanRite Standing Desk Chair is an innovative and multi-award winning chair, making it a great choice for those looking to get the most out of their workday through ergonomic support and a variety of seating positions.
LeanRite Review: Final Thoughts
Our #1 Pick for Standing Desks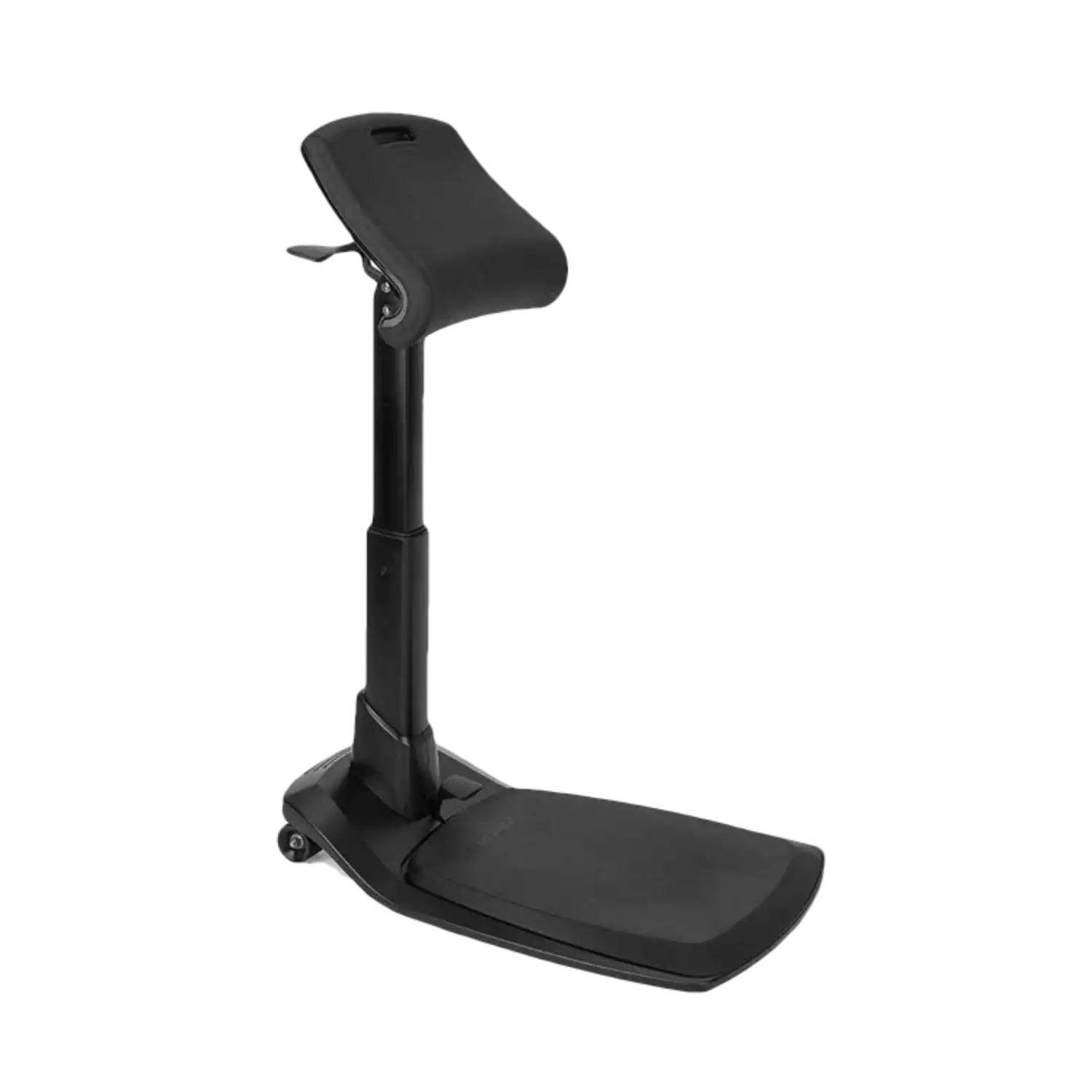 LeanRite Elite
While more expensive than the other options, this LeanRite is PERFECT for anyone with a standing desk. Unless you're Superman and can stand all day without a break, you need this standing desk companion.
Buy Now
We might earn a commission if you make a purchase, at no additional cost to you.
In addition to its ergonomic design, LeanRite is constructed from durable materials built to last for years. The sturdy frame supports up to 250 lbs and will securely stay in place whether you're leaning heavily against it or lightly perching. As an added bonus, LeanRite is easy to assemble without any tools (except a standard screwdriver), so you can enjoy its benefits immediately!
Overall, LeanRite offers an impressive range of features that are designed with user comfort in mind – making it the perfect option for those looking for a versatile standing desk stool that will stand up (pun intended) to daily use.
If you want the best standing desk chair, look no further than the LeanRite. It's the best we've tested – and we've tested a lot of standing chairs!
Also, check out our best standing desk boards.