Marine Layer Women Review: Is this a "lifestyle" brand worth buying? Read our honest Marine Layer Women's Review (also, don't miss our Marine Layer Men's Review)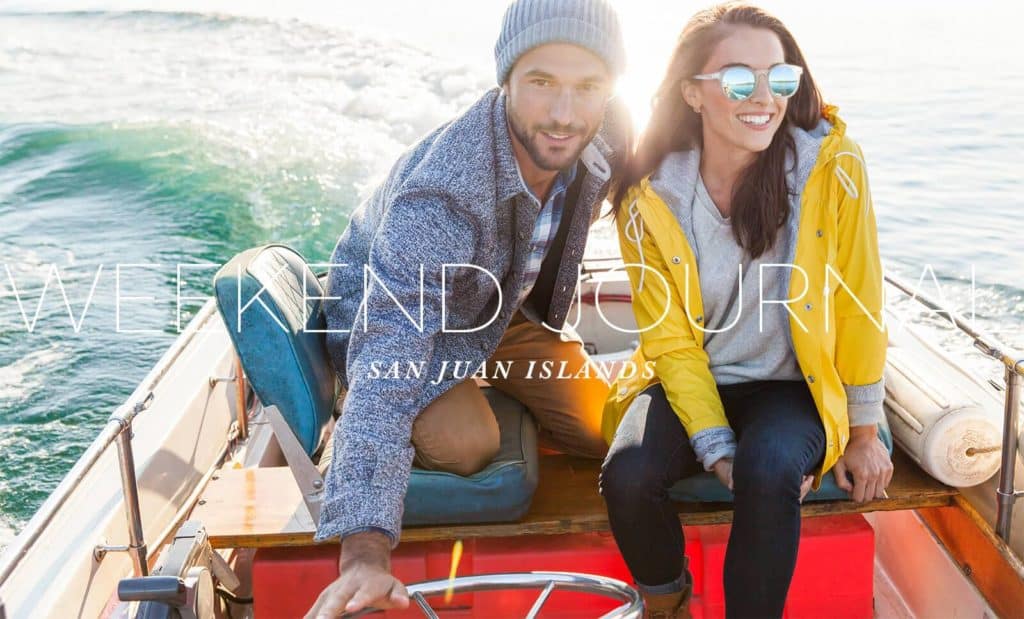 I am always amazed that I still get print catalogs in the mail. It just doesn't seem like "the times" when everything is digital these days. There are a few catalogs that I really enjoy receiving and totally drool over. One of those is Marine Layer. 
Marine Layer is one of those brands that really is a "lifestyle" brand in that their clothes make me think of a particular lifestyle. Marine Layer is casual, yet polished, comfortable, yet quality to me. It makes me think of being on the beach or in the mountains and being "outdoorsy" all while looking really chic. Marine Layer says their clothing is "perfect for a seven day weekend" and yes – that is exactly what it is. 
Marine Layer also utilizes sustainable practices for both their materials and their labor and that is the kind of company that we love to support at We Tried It!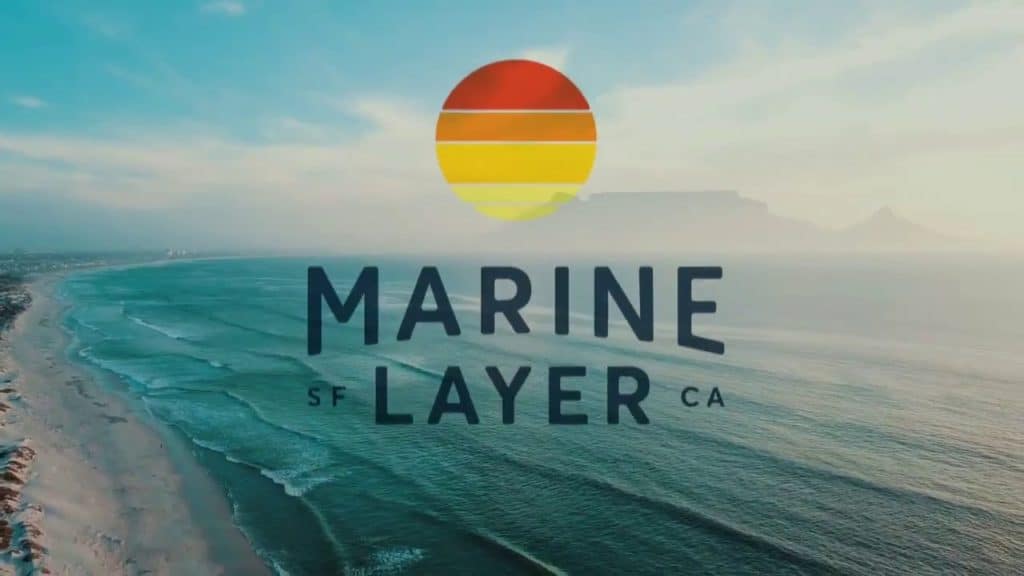 I tried a few pieces from Marine Layer to test the quality for y'all. While their selections change with the seasons, I'll talk to the things I tried and their quality and give some more updated selections that are similar. 
Marine Layer Women's Review: What we love about Marine Layer

They have womens, mens and kids clothing. It is a one-stop-shop for your whole family.
The fabric is what they are known for and it is AMAZING!!! They want you to think their clothing is so soft that you never want to take it off and that is absolutely how I feel!
The style- everything has this casual yet polished feel.  Lots of brands go after this look, but often times they fall more into the casual (think Lululemon) or polished but with lots of ironing effort (think J.Crew).  While those brands and styles have a place, Marine Layer meets in the middle in a way few brands do and we are loving it. 
What we don't love about Marine Layer
I feel like we say the price is something we aren't fond of a lot on We Tried It. I think that's because we like to focus on sustainable companies that are making quality products and the fact of the matter is that just costs more. Marine Layer is on the pricier side for casual clothing.  Do we think their quality and sustainable practices make that worth it? Absolutely!
Another quick warning about the price. We recently got this quote on our YouTube Review of Marine Layer:
We, honestly, haven't seen any issues with our Marine Layer clothes, but we will keep this post updated if we do have any issues. It could just be sour grapes from someone who no longer works there, but we have no way of knowing.
Marine Layer: Who is this product for?
As I mentioned above, Marine Layer has clothing for men, women and children. They have amazing quality clothing for the whole family. You will really enjoy this brand if you enjoy having fewer, higher-quality pieces in your closet. I think the style is perfect for people who enjoy being outside but still looking nice!
Women Marine Layer Products: Our Review
I tried the following three items and here are my reviews and similar items currently on their website. 
Brielle Front Twist Top in Black – $35
This t-shirt is made from TENCEL Modal fabric, which if you know anything about fabric, it is a very high quality, very soft fabric. 
They call this specific blend the "lightweight Lexi" because it is similar to their ribbed and slimming Lexi fabric, but a little bit more lightweight. I love the length on this top – not too short, not too long. I also love that it has a "knotted" look without being super bulky. 
I typically knot every t-shirt I wear and it is nice not to stretch it out to achieve that look. This shirt is made out of the same yummy fabric and is perfect for cooler temps:
Mya Quilted Swing Bomber in Antique White – $95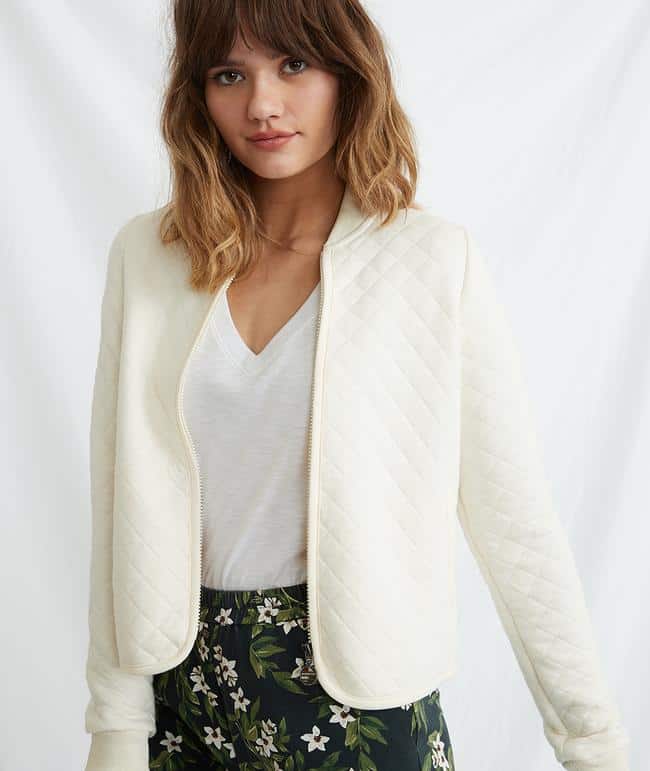 This jacket is the softest jacket I own. It quickly has become one of my most favorite pieces of clothing ever! 
With the jacquard quilt and vegan polyfill, you would think it would be a little stiff or bulky but that is not the case at all. I could sleep in this jacket it is so soft!
It is also thin, yet warm which is a fantastic combo because living in Colorado I look like I gained 15 pounds all winter with my winter wardrobe! I wore this out to a girl's night and one of my girlfriends said "oh that's cute," and I told her to feel it and she literally bought it while we were out – that's how good it is!
This style also really makes me think of Marine Layer and its aesthetic in general! They have so many similar styles for you to check out: 
Drift Jogger – $98
Oh man joggers. I have a closet full of black joggers and I'll be honest, they don't do a lot to get me excited. 
But there are some items in my closet that I know I can throw on and they fit perfectly and are appropriate for almost every occasion and the Marine Layer Drift Joggers are one of those items.
One of my staple outfits has become the Marine Layer Drift Joggers with an Everlane Cashmere Sweater and a pair of mules (check out my top women's everlane products!) 
It is so easy and I look put together without any effort for a multitude of occasions. These joggers may not excite you because they are another pair of black (or navy) joggers, but they are perfectly tailored and made out of incredibly flattering thick yet stretchy fabric. These will be one of your most worn items you own! These are still available in black and navy!
Women's Marine Layer Review: The Final Verdict.
Oh man, what a good brand. 
I just love when I come across great comfy polished clothing and the fact that they actually do business sustainably is next level. Marine Layer would be a fantastic Christmas, birthday, Mother's Day or just because present for someone who has "everything." These pieces are truly beautiful and the quality will allow the recipient to get lots of use out of them! Or just go ahead and treat yourself!