Allbirds Clothing Review: Have you seen the latest Allbirds Apparel? Well, we got our hands on some of the new Allbirds Clothing, be sure to read our full Allbirds Clothing Review – we dive into their new Allbirds Sweaters, Allbirds Jackets and Allbirds Shirts!
Curious more about Allbirds? Read our full and honest Allbirds Review and even find out what are the best Allbirds Shoes are for you!
Allbirds Clothing Review: What you need to know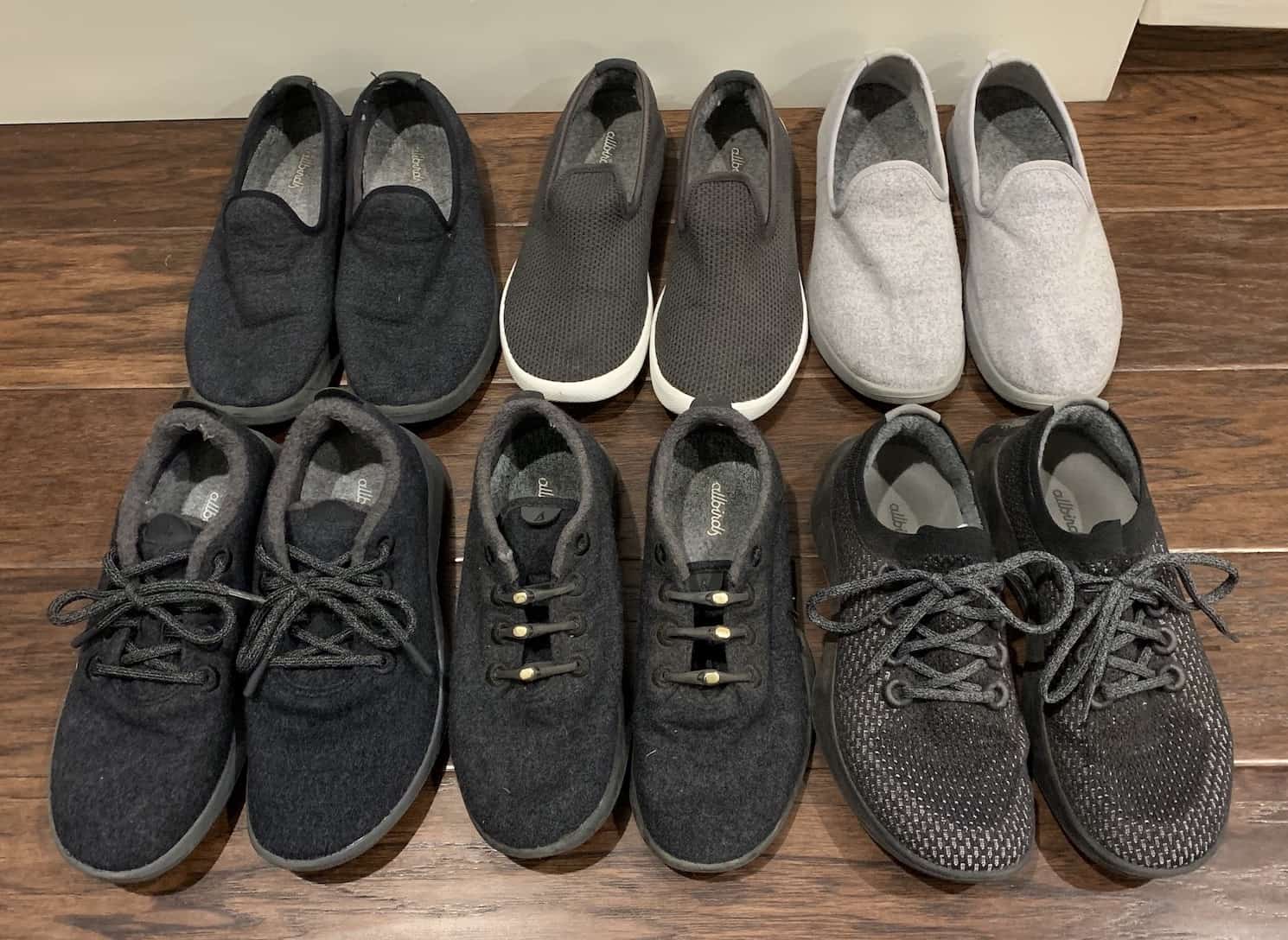 As you know, we are HUGE Allbirds fans. We've got tons of their shoes and were excited when they burst on the stage. It's actually one of the reasons we decided to start We Tried It – to tell more folks, like you, about amazing new products they probably hadn't heard of.
A couple of weeks ago, Allbirds announced their new clothing line. They said their new clothes are "four heritage pieces which combine iconic silhouettes with cutting edge material science and subtle detailing." In other words, 4 new pieces of clothing (for both Men + Women) that will stand the test of time, but also full of technology.
Interested in more? Read all about Allbirds in our Allbirds Review and the best Allbirds.
The four pieces are: a shirt, a sweater, a cardigan and a puffer jacket – slightly different for Men and Women.
As you can see, the Allbirds styles are the same for Men and Women, but they are cut very differently. In general, the women's size are cut a little shorter and the men's clothes are a little more baggy. We'll touch on sizing here in a little bit in our Allbirds Apparel Review.
Allbirds say that their clothes are a "natural evolution," but are they any good? Let's keep going on our Allbirds Clothes Review.
Allbirds Clothing Review: The feel + comfort
When Allbirds came out with their clothes, we knew they would have to be comfortable. Every pair of Allbirds is incredibly comfortable. So, did the Allbirds Clothes stand the test? Of course!
The sweater we tried was incredibly comfortable. It was, seriously, one of the softest sweaters that we've ever felt. If you have ever felt Allbirds Shoes, imagine something 8x fluffier and softer and you've got the Allbirds Sweater.
Forget your itchy picture of a wool sweater. This isn't itchy at all. In fact, it feels more like a sweatshirt (like the Marine Layer Signature Hoodie) than a wool sweater.
The clothes are a nice weight. The sweat (AKA the Wool Jumper) is slightly thicker than "normal" – but is also breathable because of the fabric.
Allbirds Clothing Review: The fabric
If you know anything about Allbirds, you know about their love for Wool. Specifically, Merino Wool. In fact, Allbirds uses ZQ Merino Wool – an ethical and sustainable wool from New Zealand.
We didn't know much about ZQ Merino Wool before this review, but a ton of other brands use ZQ Wool, too. Brands like arcteryx and Hugo Boss.
Fun, useless fact: In New Zealand, sheep outnumber humans about six to one.
As for the actual wool on the Allbirds Sweater. Here are the features it provides:
Natural Materials
Double Knit Structure
Thicker Gauge Yarn
Expressive Stitching Pattern
Allbirds Apparel Review: Overall fit and look
Overall, the Allbirds clothes look great – they have some simple designs that are incredibly versatile.
For example, you can easily wear the Allbirds Men's Sweater with Boots (shown are Hari Mari Boots – read our full Hari Mari Boots Review), Jeans (shown are Perfect Jeans – read our full Perfect Jean Review) and a Mizzen + Main Dress Shirt (read our full Mizzen + Main Review, too).
If you want to dress down the Allbirds Sweater you can wear it without an undershirt (although I'd recommend a least a little something underneath in case you sweat). It pairs really well with Jeans and the White Allbirds Wool Runners: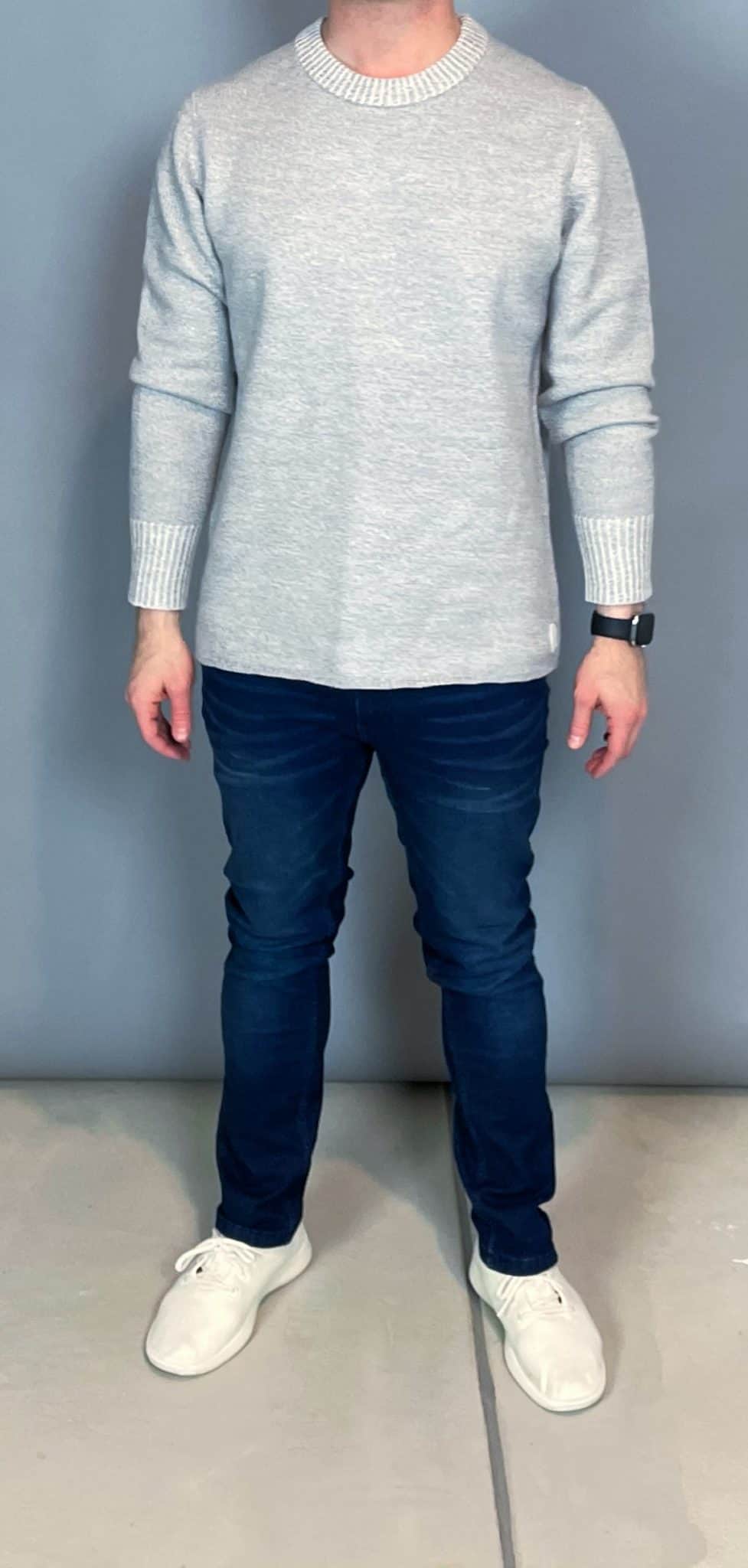 The second looks makes it look a lot less formal. The first look shows you how you can dress it up.
We don't typically wear clothes with huge logos on it, but there is a rather large Allbirds logo patch on the sweater.
We think it would look better if just the little logo was embroidered on the sweater – instead of the full patch. But that's a very small thing.
Allbirds Clothes: The Fit
Mr. We Tried It wears a medium in almost every shirt/sweater. However, the Medium Allbirds Shirt was just a LITTLE too big. Small may be too small, but you can see the bagginess in this photo better:
However, a Small would probably be too small. Mr. We Tried It also has a longer torso and shorter legs, if that makes a difference.
It appears that the woman's clothes are cut much shorter than the men's, which is something to take into consideration.
Allbirds Clothing: How to clean Allbirds Clothes
You should not wash Allbirds Sweaters in the washer – the instructions clearly say to hand wash: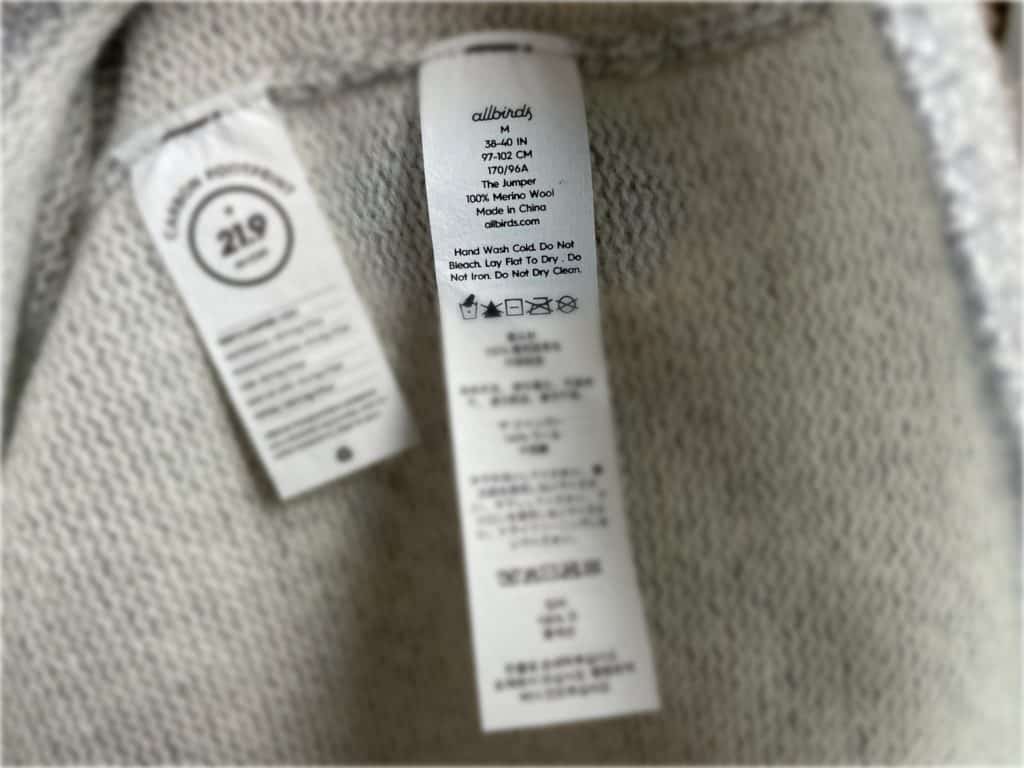 The Allbirds Sweater says to "Hand Wash Cold. Do not Bleach. Lay Flat To Dry. Do Not Iron. Do Not Dry Clean."
However, you can wash the T-Shirts in the washing machine. The T-Shirt says, "Machine wash cold. Do not bleach. Tumble dry low. Do not iron. Dryclean-able."
See our instructions on how to Wash Allbirds Shoes. It's ironic that their shoes are machine washable but some of their clothes are not. But that's ok!
Allbirds Clothing Review: The Final Verdict
Allbirds continues to amaze us. We love their clothes just as much as we thought they would. They are well-made, look good and are extremely comfortable.
We're happy to give the new Allbirds Clothes our We Tried It seal of approval.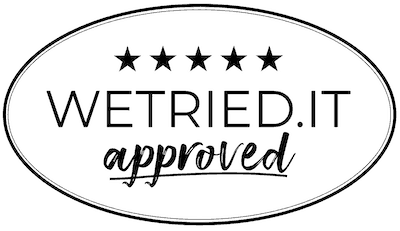 You can get Allbirds directly from the Allbirds Website.