SUAVS Shoes Review: if you've read any of our reviews, you know we love innovative brands like Allbirds, Rothy's, and Giesswein. We love innovative, new takes on shoes that try and do something different. When we had the chance to try SUAVS Shoes – they almost seemed too good to be true.
A great, all around shoe
Suavs Shoes
Super comfortable, machine washable, breathanle. and made from sustainable materials. Seriously, it doesn't get much better than this.
Buy Now
Best Summer Shoes
We might earn a commission if you make a purchase, at no additional cost to you.
Could a shoe really be stylish, comfortable, breathable, moisture-wicking, washable, AND sustainable? When you put those together on paper, they really don't seem to go together at all. Let's dive deep into our SUAVS shoes review to see how this pair of shoes stand up to the test.
Why SUAVS Shoes?
The weather is heating up, and we all know what that means. Hot weather, sandals, flip-flops, tank tops–and if you're like me–a whole lot of sweaty feet. But have no fear! SUAVS Shoes has a pair of shoes just for you! And not just any old pair: these shoes are sustainable, machine washable (yes!), sweat-wicking, and made from breathable fabric. I put them to the ultimate test just for you.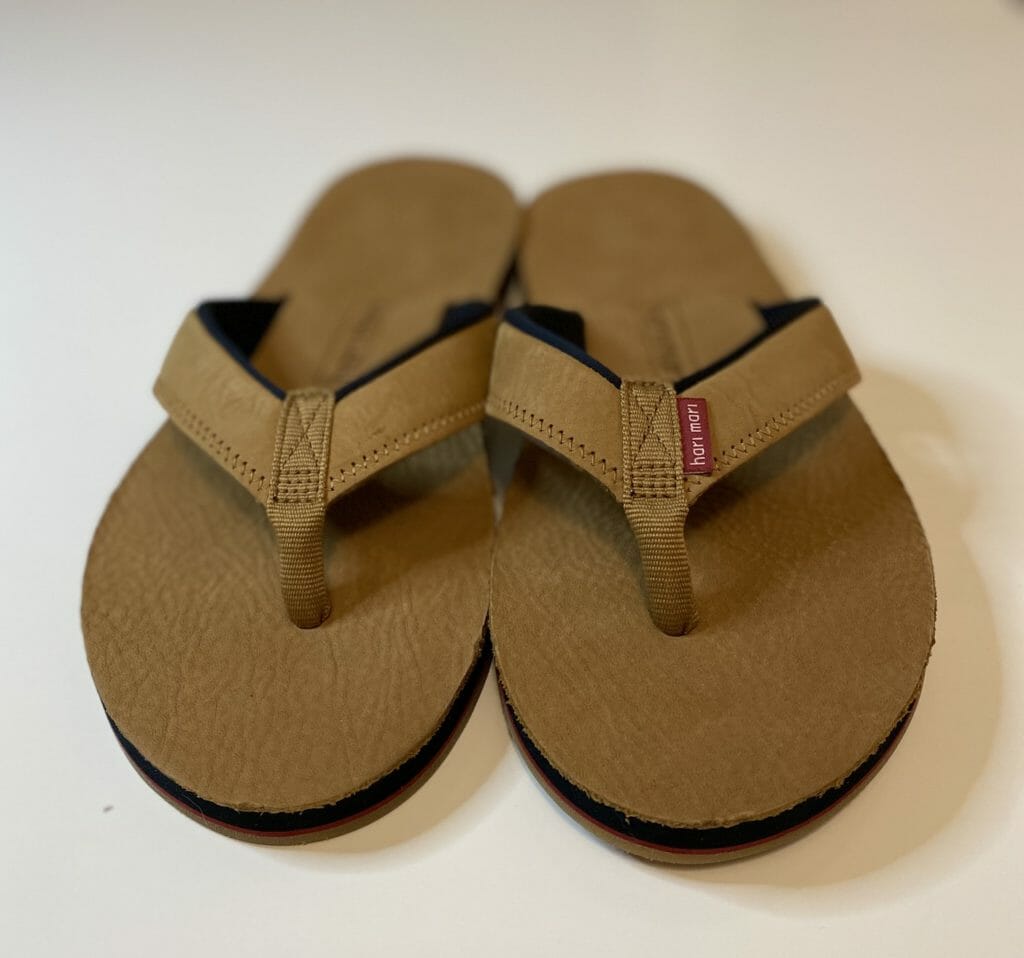 As you know, we're huge fans of Allbirds at We Tried It – so, when we came across SUAVS – we were super excited to put them to the test.
They claim many of the same things that Allbirds does about their shoes: sustainable, washable, breathable, and sweat-wicking. Do these shoes do all of that? Let's dive into our SUAVS Review to find out!
SUAVS Shoes – The Basics
SUAVS is like the love-child of Rothy's, Allbirds, and Nike Killshots. And that's a very good thing. They are super comfortable, moisture-wicking, lightweight, feel great the moment you put them on and the best news is that you can wash them!
Put them together, and what do you get? Something like this pair!
Available for Men + Women in a variety of styles, they are even made from recycled material. You really can't do any better than that, can you?
The 30 Second SUAVS Shoes Review
SUAVS SHOES
The best of all worlds?
Breathable
Moisture-wicking
Made from recycled material
Lightweight
$95
At a price comparable to Allbirds and Rothy's ($95), this a great addition to your minimalist wardrobe.
SUAVS Shoes Review – What SUAVS Says
Here's what the SUAVS Shoe Brand has to say about their shoes:
Here's some of the higlights of what SUAVS says about their shoes:
Totally flexible and easy fitting, allowing for all-day wear.
SUAVS uppers are digitally knitted out piece by piece with post-consumer Recycled Water Bottles, reducing material waste in production.
All SUAVS materials are carefully tested each production to ensure they are the safest for you and the environment.
SUAVS Shoes donates all extra footwear to organizations such as Soles4Souls and LifeWorks.
SUAVS free your feet, your mind, and your spirit so you can live out your true destinies.
Sure, there's a bit of hyperbole (like allowing you to live out your true destinies…), but we found that their shoes live up to their claims. They've made a quality pair of comfortable shoes.
What we tried: the Zilker Gum Shoes + Zilker Shoes
You can tell a lot from a shoe brand by their signature shoe. Allbirds has the Wool Runner, Rothy's has their Flat. We've reviewed both, and they are all great shoes.
The Zilker and Zilker Gum are like SUAVS take on the classic Nike Killshot that Reddit is fascinated with for some odd reason.
What's the difference between Zilker and Zilker Gum?
The difference is the sole. The Zilker Gum has an ultra-soft & grippy gum sole. I really liked the contrast between the white Marshmallow and the gum sole the most.
The SUAVS Zilker and the Zilker Gum are shoes that you can wear all day long, even on your longest travel days, and they will still feel great!
The Zilker shoes have some unique color options that we would recommend, like the Marshmallow Gum and Black Gum, and some that are looking to make a more bold style statement, like the Grey and Red Version.
Want a more stylish (but not washable version) of this shoe? Check out our Oliver Cabell Review.
How to style SUAVS Shoes
Overall, these shoes are more casual than dressy. In short, these would pair well with anything that you'd wear a pair of Nikes or Allbirds with.
SUAVS Shoes Review: The Comfort
I didn't know what to think of SUAVS shoes before I put them on. Online, the photos make them look a little more like "regular" shoes. However, in person, they look a little more sock-like when they are taken off.
In fact, they were a little difficult to take photos of because they didn't hold their shape well when they were off the foot. Have no fear; that's because the shoes are made from a super flexible knit that really does conform to your feet.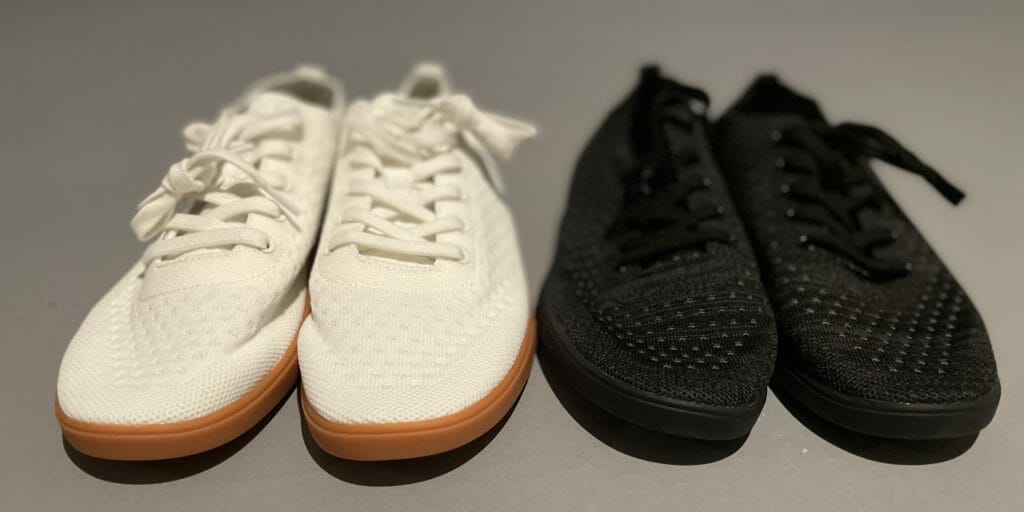 When you put the shoes on, however, they magically look like real shoes. And the comfort is amazing. They are incredibly comfortable.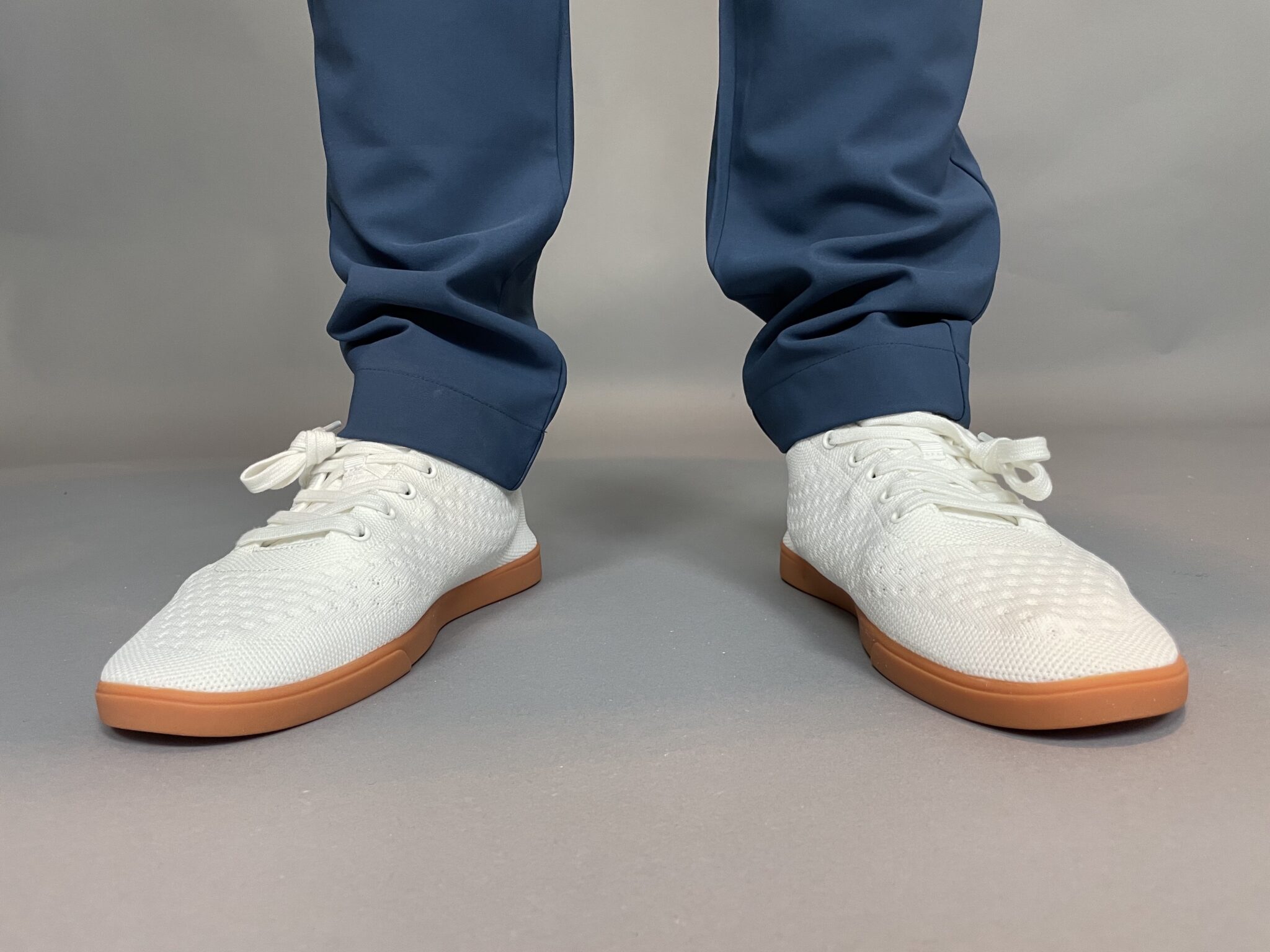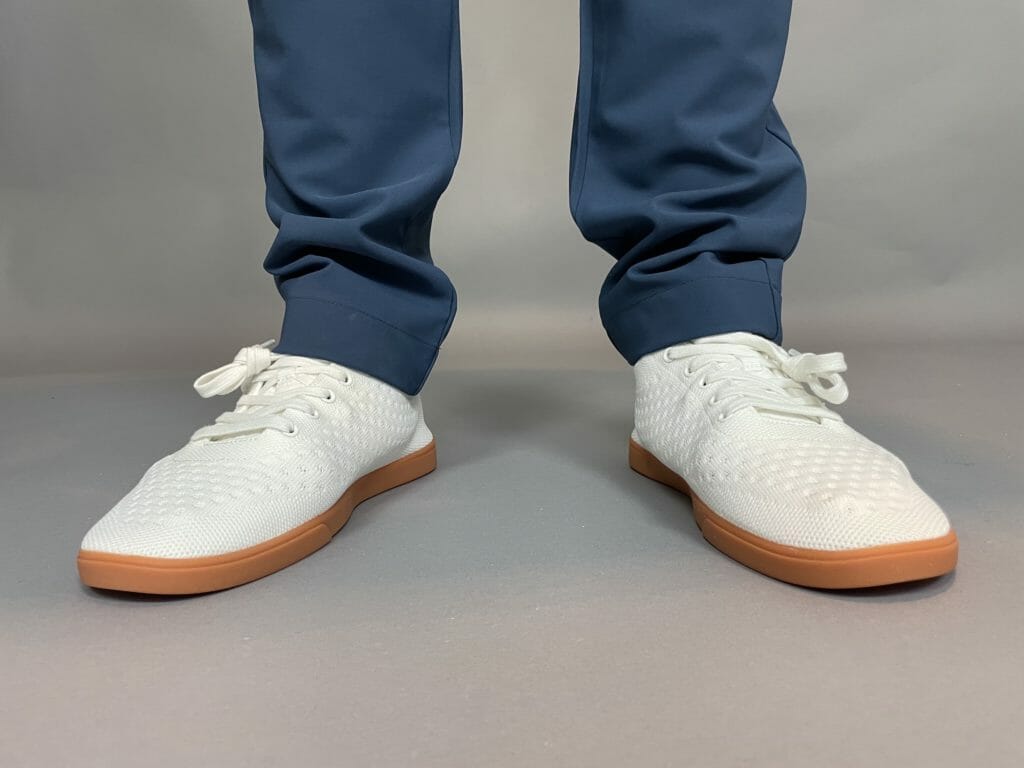 It's like walking on a cloud. And if you think about that – it's a really poor metaphor. Clouds are wet and not very secure.
It's more like walking on the best memory foam pillow you've ever had. It conforms to your foot but still feels comfortable when you walk.
SUAVS Really Conform
These shoes conform so much to your feet, I noticed some odd protrusions on the Marshmallow (aka white) style of the Zilker shoe. This didn't bother me at all, but after many people that watched my Youtube Review of Allbirds, I misspoke about the Toe-box and got a ton of comments about it.
If that's something that you are self-conscious about, honestly, you won't notice it when your feet are moving. If you still think you'll be self-conscious about it – get a darker color. You won't notice it at all.
The best time to wear SUAVS Shoes: Active, but not working out
This is an odd one, I know. But these shoes will be great for instances where you've got to be moving a lot but not working out. Think: traveling and packing to wear on trips.
I can easily see myself packing a pair of SUAVS (they take up no space at all to pack) on a trip where I will be doing a lot of walking – in the airport or just sightseeing. They are comfortable enough to be worn for long periods of time, but stylish enough that they look better than a pair of athletic shoes.
On top of that, since they are breathable, they will be perfect for those hot, stinky foot situations.
I wore a pair of white Allbirds all over Disneyland, not because I was confident in my ability to keep them clean, but I was confident in my ability to put them through the washing machine – just like these shoes.
These shoes are also just great for running errands in everyday life. They are soft, comfortable and the sole is perfect for running errands. Since they are super lightweight, you'll barely notice them on.
A great shoe to get in white
I love wearing white shoes, but there's a reason I can never bring myself to wear this beautiful pair of Oliver Cabell Low 1s (read our full Oliver Cabell Review) – it's because I'm nervous that I won't be able to get them clean!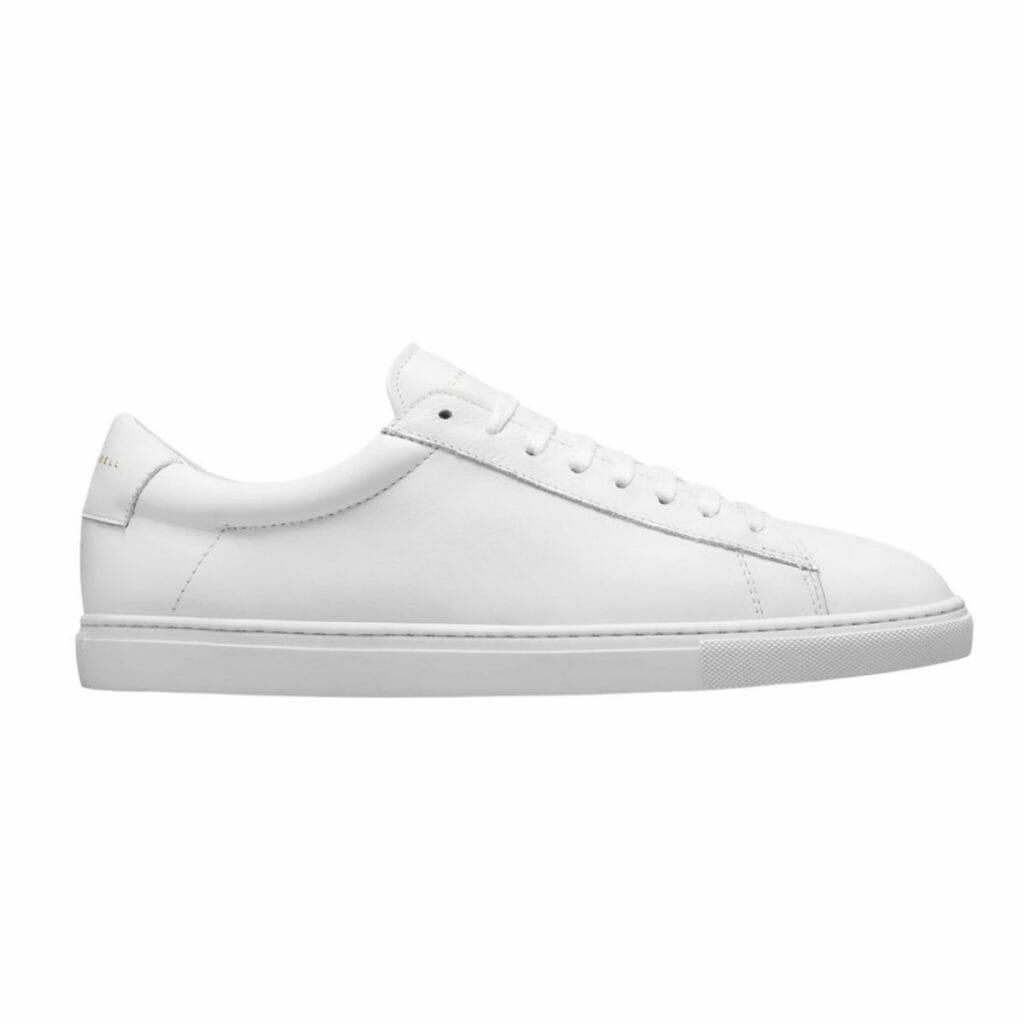 That's the whole reason I was able to wear my white Allbirds in Disneyland (and I've actually worn them to the local theme park in Denver, Colorado). I don't have to worry about them getting dirty – because I can clean them.
Just don't bleach white shoes, especially these or Allbirds. Read our instructions on how to clean Allbirds, which apply to SUAVS shoes, too.
SUAVS Shoe Review: Let's talk support
Shoe support is a funny thing. We get all sorts of comments and questions about the "support" of shoes like Allbirds. Like, what are you talking about?
What I think about when I hear "support"
Do you think you are going to walk in a walking boot, where your ankles can't move at all?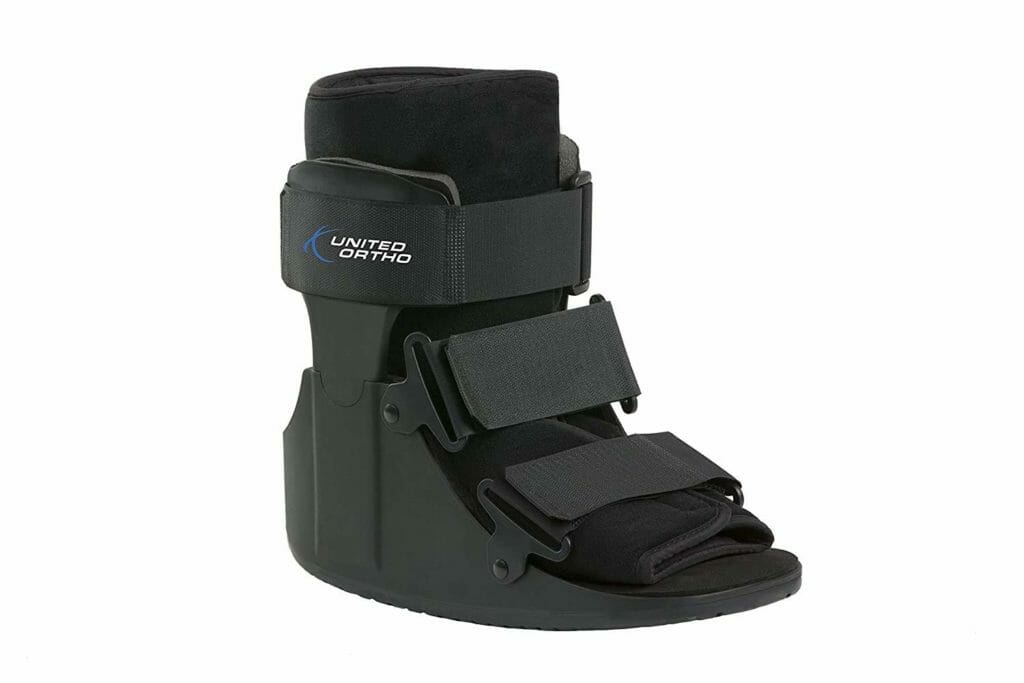 From what I can gather on the internets (I know, that makes me an expert). Shoe "support" refers to how the shoes do NOT allow your foot to pronate (ankle role in) or keep your foot in place when walking.
Some other folks think that support means they "support" your feet when walking – which I think that's just the definition of a shoe, right?
Here's what I can tell you about SUAVS shoes: they are more minimalist and make you feel "free" than they do provide support. We've tried a couple of other minimalist shoe brands – like Lems (read our Lems Review) and Birchbury (read our Birchbury Review) – and a SUAVS pair of shoes falls more in line with a casual shoe, like Allbirds, than a super technical shoe.
The sole of these shoes was fine and had a minimal drop.
Your feet will simply feel free and comfortable in these shoes. That's about all I can say about that.
Look, Mom, no socks!
Another great thing about SUAVS shoes is that they can be worn with or without socks.
We hate wearing socks; in fact, most of our shoes are Allbirds or flip-flops (read our Hari Mari Review for a great pair) because we don't have to wear socks at all. It's just one more thing to worry about, and frankly, we don't have time for that.
Of course, in the winter months here in Colorado, we do tend to wear socks (read our best Wool Socks Review to find out which ones!).
These shoes are not great for super cold temperatures. Because the shoes are so breathable, in cold temperatures, your feet will feel like they are in a freezer (breathability goes both ways, Einstein).
The Shoe for Summer
But for summer, SUAVS shoes are perfect! See some of our other great mens shoes for the summer.
You don't have to worry about your toes feeling too hot or sweaty either. So as long as the wind is blowing fresh air across your soles, it'll be just fine.
If you're looking for something more substantial than flip-flops but still want that unique style, these might be what you need!
The best part? They can be washed if they go get super sweaty. These are not made from Merino Wool, like Allbirds, which have some odor-resistant qualities, but even Allbirds are not magic.
The knit cloth of the shoe is also incredibly soft. The Rothy's knit is not nearly as soft as the knit of the SUAVS shoe. I was incredibly impressed at how soft these shoes felt. Somehow they were soft but still let my feet feel free!
What are SUAVS made of?
Beginning in 2020, SUAVS made it a mission to go green. All SUAVS knits are made with 100% recycled knits made from post-consumer plastics. Additionally, SUAVS is committed to further expanding sustainable practices which currently include:
Sustainable production using digital knitting to reduce material waste during manufacturing.
100% vegan materials, even down to the glue used.
Donating all unsold SUAVS footwear to organizations such as Soles4Souls and LifeWorks.
SUAVS shoes feature dual-purpose shipping and return packaging. There is no "box within a box."
Suavs shoes are machine washable and come with removable insoles to provide less waste. These can be cleaned vs. thrown out.
Suavs outsoles use a low-density rubber, which gives your feet increased mobility.
SUAVS – How do they fit?
SUAVS runs true to size. I wear a size 9.5 in every shoe and wear a size 9.5 in SUAVS, too.
If your feet are a little wide, maybe size up a half of a size. That's because of the protrusions that I mentioned earlier. If that bothers you, then size up or get a darker color. It didn't bother me and you barely notice it when you are moving around.
SUAVS Shoe Review: The final verdict
SUAVS the perfect active summer shoe. It's incredibly lightweight, breathable, comfortable, and even washable. That makes it perfect for summer – and sweaty feet.
Especially if you get tired of wearing flip-flops, or just want a change of pace, we highly recommend SUAVS.
SUAVS SHOE REVIEW – Final Verdict
Have any questions or comments about our SUAVS Shoes Review? Let us know in the comments below.