Meebike's Gallop eBike is one of the coolest moped-style electric bikes on the market. With its unique design and impressive performance, it's no wonder that this bike is becoming a popular eBike Brand. If you're looking for an eBike that looks great and rides even better, the Meebike Gallop should definitely be on your radar. Keep reading to find out more about what makes this bike so special in our 100% honest Meebike Review.
Meebike Gallop Review: The Quick Lowdown
Save with our Meebike Promo Code
The Meebike Gallop is a moped-style electric bike that is perfect for anyone looking for a fun and stylish way to get around town. This bike features upgraded features like hydraulic disc brakes and a torque sensor for pedal assist. The only thing wrong with it? It's tough to pedal if you taller than about 5'9″ because the seat is not adjustable. That can leave your legs having to bend a bit more than you'd like.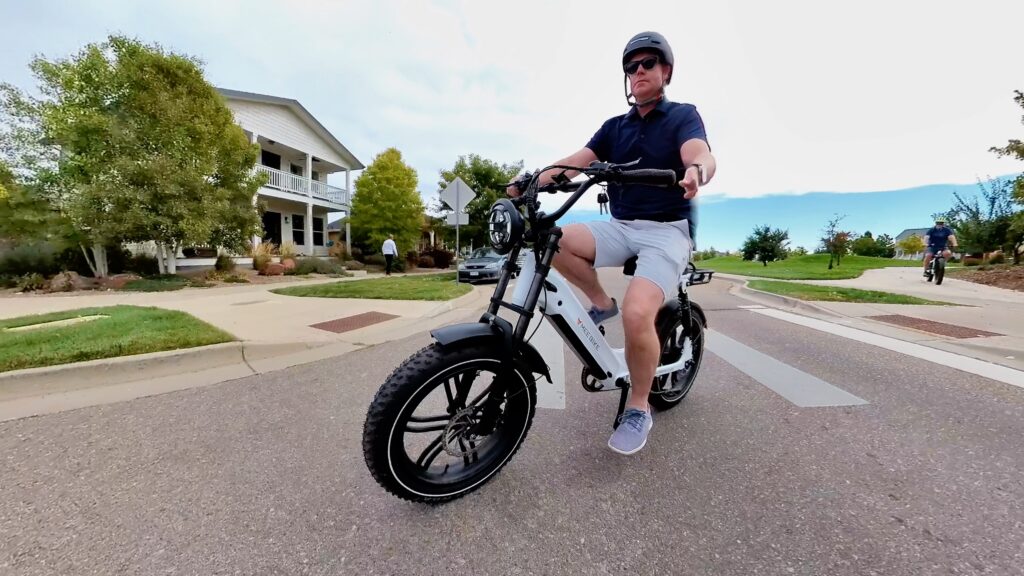 If making sure the pedal level is at EXACTLY the right level for your leg extension, then you may want to look elsewhere. Otherwise, it's a great bike for those who want to enjoy the thrill of riding an electric bike without having to worry about too much pedaling.
Save more with our Meebike Promo Code.
Meet the Meebike Gallop Electric Bike: What's the big idea?
The Meebike is made for exploring and full of premium features like a torque sensing pedal assist function, hydraulic disc brakes and a unique frame design. This ebike stands out from the crowd while being super fun to ride.
With the Meebike Gallop, you can zip around town running errands or take it offroad for some fun. The torque sensing pedal assist makes it easy to get up hills and the hydraulic disc brakes give you confident stopping power. The unique frame design is made for stability and comfort, so you can enjoy your ride no matter where you go.
Torque Sensing: What does it mean?
Torque-sensing pedal assist is another premium feature you'll find on the Meebike Gallop.
In fact, Meebike highlights it as one of the top features. What is it? A Torque Sensor is a device that measures the amount of force you're applying to the pedals and then sends a signal to the motor to provide assistance.
This is different from traditional pedal assist systems that use speed or cadence sensors. Those can often be jerky and unresponsive, but with a torque sensor, you'll get a smooth and natural riding experience.
The motor will kick in to match your effort into pedaling and cut out when you don't, so you can enjoy a relaxed ride without having to worry about pedaling too hard – or even worse, feeling out of control.
Hydraulic Disc Brakes: Another Premium Feature
As we mentioned, the Meebike Gallop comes equipped with hydraulic disc brakes. This is another premium feature that you'll typically find on more expensive bikes.
Hydraulic disc brakes are more powerful and responsive than traditional rim brakes. They're also low maintenance and less susceptible to problems in wet or muddy conditions. So, if you're looking for a bike that can handle any terrain or weather conditions, the Meebike Gallop is a great option.
A Unique Frame Design for Stability and Comfort
The Meebike Gallop has a unique frame design that is made for stability and comfort. The low center of gravity provides confidence-inspiring handling, while the front and rear suspension help smooth out bumps in the road. Additionally, the ergonomic seat and handlebars provide a comfortable riding position, so you can enjoy your ride no matter how long it is.
A bright light
One of the first things you'll notice about the unique Meebike Gallop is the big, round light on the front. The LED light is bright enough to be seen from up to 500 feet away, so you can feel confident riding at night or in low-light conditions.
The light is also IPX6 weatherproof rated, so you don't have to worry about it getting damaged in the rain or snow. Whether you're commuting to work or exploring the great outdoors, the Meebike Gallop will let you, literally, see more.
Dual Suspension
What's better than a front suspension? A front AND rear suspension! The Meebike Gallop comes with both to give you a super smooth ride, no matter what the terrain.
The high-quality hydraulic fork and spring suspension at the back work together to absorb bumps and provide a comfortable ride. And, the 21-inch diameter wheel up front gives your machine an aggressive look.
Other Basic Specifications: Battery, Range and more
There are a ton basic features on the Meebike, that you've grown to expect in other eBikes. Let's quickly look at some of the basics like range and more.
Meebike Range + Battery
The Meebike features a 48V 20Ah Lithium-ion battery with Samsung/LG cells.
This allows the Meebike Gallop to have a range of up to 80 miles. Of course, the range will vary depending on factors like terrain, rider weight, and how much throttle or pedal assist is used. But for the average rider, you can expect to get around 30-40 miles on a single charge. Of course, the range is technically unlimited – as long as you don't mind using your legs. But the battery life and motor will only help for about 40 miles or so. After that, it's up to you!
Half-twist throttle AND Pedal Assist
The Gallop is a Class 2 eBike, meaning it goes up to 20 MPH using either the throttle or pedal assist.
The throttle is a half-twist design that is easy to use and we prefer a half-twist throttle over thumb throttles, and the Meebike's throttle is just right. It gives you all the boost you need without being too sensitive.
Meebike Motor
The Meebike Gallop is powered by a 48V – 750W High Torque Motor.
What we loved about the Meebike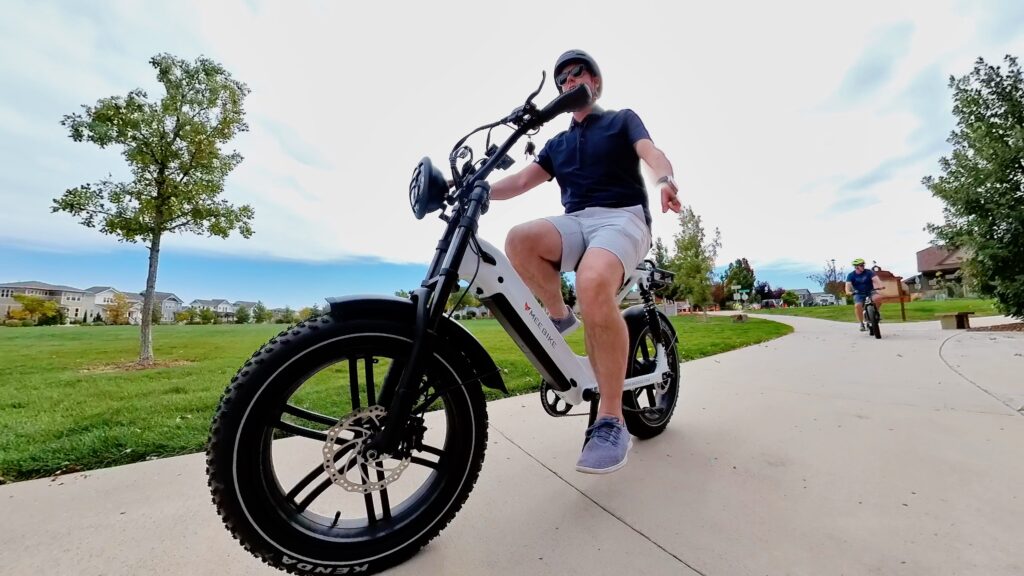 First of all, we loved that this eBike just felt solid. We tested the Meebike head-to-head vs. the brand-new Himiway Zebra and we preferred the way the Meebike "felt" much more than the Himiway Zebra.
In direct comparison, the Meebike felt more sturdy and sure on any surface. We felt like the Zebra felts less predictable, mostly due to the aggressive cadence sensors (instead of torque sensors in the Gallop). My dad described the Zebra as "a monster."
What we didn't love about the Meebike
Standing at 5'9″, I had no real complaints about the Meebike. I was able to easily pedal with a very close to natural leg extension at the bottom of my pedaling.
However, my dad, at over 6'2″ – was not able to pedal comfortably. Since the height of the seat is set, you can't adjust it, it makes pedaling with longer (or shorter) legs more difficult.
The Meebike is also a bit on the heavy side, at 75 lbs. It's not the heaviest eBike we've ever tested, but the weight is noticeable and not light be any stretch of the imagination.
The Ride Experience: Super fun – with minimal pedaling
Because the bike is designed to be more of a moped and less of a mountain bike, the experience is a bit different than what you might expect.
I expected to pedal more and my dad, who tested the eBike, too, really expected to pedal more.
However, due to his height, it really wasn't super comfortable to pedal. That didn't mean that he had any less fun. In fact, he said that it reminded him of a Honda dirt bike he used to have – without the noise.
He really liked the Meebike and loved the way he didn't have to pedal at all.
How the bike LOOKS
The bike looks awesome. It has a unique handlebar design that I haven't seen on any other eBike. Pair that with the large circular LED light and this bike begs attention and looks great doing it.
Pair that with rear shocks to make this one of the best-looking electric bikes on the market.
Easy to Assemble
This eBike is like others we've talked about, in that it is direct-to-consumer. It took me about 30 minutes to put together – about on par with other eBikes that I've tested.
As I've mentioned in our ultimate eBike Guide, we recommend having a professional mechanic look over any bike you've put together. Because you'll be riding at a lot higher speeds, it's important to make sure everything is tight and secure.
Who is the Meebike Gallop Made For?
The Meebike Gallop is best for:
Riders who want an eBike that feels more like a moped than a mountain bike
Riders who want an easy-to-use throttle
Riders who prefer Class 2 eBikes (bike lanes, paved surfaces) over Class 3 (dirt trails)
Riders under 6'1″ – anyone taller might have difficulty pedaling
Who is the Meebike NOT For?
Who the Meebike Gallop is NOT Made For:
Riders who want to be able to pedal comfortably – my dad, at 6'2″, had a hard time
Riders who are looking for a mountain bike experience (this is more of a moped)
Riders on a tight budget – this bike is currently priced at $2,299, but save using our exclusive Meebike Promo Code.
Meebike eBike Review: Final Verdict
An awesome eBike
Meebike - Seriously fun eBikes
This eBike is seriously fun and great... as long as you are under 5'9 or so. The non-adjustable seat may be a deal killer, but it's still an incredibly fun eBike.
Buy Now
We might earn a commission if you make a purchase, at no additional cost to you.
Overall, we really enjoyed the Meebike Gallop.
It's a great option for riders who want an eBike that feels more like a moped than a mountain bike and don't mind spending a bit extra to get it. The throttle is easy to use and the bike looks great, too. Our only complaints are that taller riders might have difficulty pedaling and the bike is on the heavier side. If you're looking for a stylish electric bike that doesn't require much effort to ride, the Meebike Gallop is definitely worth considering!