As you'll read in our Ministry of Supply Kinetic Twill Pants Review, you'll see that Ministry of Supply (or MoS, as the cool kids say), has made our new favorite pair of jean alternative pants.
The ultimate jean alternative
They are lightweight, resist fading, are made from incredibly stretchy fabric, are super comfortable and just look and feel great. This isn't your dad's athleisure wear, this is a full, bonafide alternative to jeans that you'll ask yourself, "How come I ever owned any other pair of pants?!" Yes, they are that good.
However, they do have 1 small flaw. Keep reading our Ministry of Supply Kinetic Twill Pants Review to find out more!
Video Review of the Kinetic Twill 5-Pocket Pants
Ministry of Supply Review: Quick Version
We love MoS. You can read our ultimate Ministry of Supply Review, where we talk about their alternative option to the traditional suit, the original Kinetic Pant, their dress shirts, and a whole lot more.
Meet "Workleisure" Wear
Ministry of Supply Clothes
All Ministry of Supply Clothes are sustainable, comfortable, stylish and easy to maintain and wear. That's seriously EVERYTHING we look for in a clothing brand.
Shop Now
Full Brand Review
We might earn a commission if you make a purchase, at no additional cost to you.
We really like Ministry of Supply products, and this pair of pants is no exception.
Ministry of Supply's mission is pretty awesome and simple: Our mission is to create a new category of apparel (Workleisure) to unlock your full potential—all achieved through science.
They don't call their clothes athlesiure, they call it "Workleisure" – which I really like. Their clothing is all high-tech and low maintenance. It's also comfortable and made with style in mind, too.
What is Workleisure?
During the pandemic, Ministry of Supply learned two things:
1) Comfort drives joy and productivity
2) Science is an infinitely powerful tool to create that comfort
So, they pivoted a ton of their clothes to have more comfortable features and be less formal. We have to say: they've done an incredible job.
Sustainable, too
Ministry of Supply is committed to being a sustainable and environmentally responsible company. They are Climate Neutral Certified, meaning they have measured, reduced, offset and certified their entire carbon footprint (aka Carbon Neutral). Ministry of Supply undergoes a rigorous analysis of the lifecycle of their products and operations, and it guides how they design their products.
Some of their reductions include solar-powered mills, recycled materials and maximizing sea-freight shipping. In short, they really care about being sustainable and their actions back it up. It's not just something they say on their website.
By being Zero Emissions & Climate Neutral Certified, Ministry of Supply is doing their part to help reduce apparel's carbon footprint. Ministry of Supply's commitment to sustainability helps create a better future for us all.
Kinetic Pants: Everything you need to know
The Kinetic pant fabric is the fabric that ran a record-shattering half-marathon (it was a bit of a marketing stunt, we know – but still to see someone able to run a marathon in a Kinetic Suit). Read our full Ministry of Supply Suit Review, too.
Kinetic Pants are made from Japanese Primeflex polyester which offers incredible 4-way stretch.
This warp knit japanese polyester Kinetic fabric has the structure of a woven, but with an immense capacity for omnidirectional motion thanks to spring-like fibers that stretch without wearing out or breaking down.
These pants look like woven pants (think something like your favorite pair of Chinos, but they act more like a pair of sweatpants or yoga pants. Stretchy + dress + breathable = awesome.
If it was possible to have a whole wardrobe of JUST Kinetic products, that would be pretty awesome.
Where do these pants fit with jeans and chinos?
The Kinetic Twill Pants are a good in-between jeans and chinos. Let me explain.
First of all, these pants look more like a pair of chinos with a jean-like wash. Compare that to something like the lululemon ABC Pants "Jeans" which look like they are trying to be jeans but you're not fooling anyone with those pants.
What do they REALLY look like?
These pants actually look a little nicer than most jeans and I've got a lot of compliments wearing them. They don't look like something else that is trying to be jeans – they almost look more like a nice chino-like fabric that is uniquely colored.
There is a variation of the color, which is the part that is the most jean-like – and frankly we like it like that!
While you can't really wear these as true dress pants because of the 5-pocket design, you can dress them up with a nice polo or a Mizzen + Main Dress Shirt (read our Mizzen + Main Review). If you want true dress pants, get something like the Ministry of Supply Kinetic Pants (read our MoS Suit Review for more information).
Do they look like jeans or chinos?
Here are some up close pictures of how the Kinetic Twill Pants compare to a real pair of Jeans (Mott & Bow is featured in these photos – part of our best jeans review) and the lululemon tech canvas abc pants (read our full ABC Pant Jean review and our ABC pants review, too).
You can see the ABC Tech Canvas pants have a lot of texture – more so than a traditional pair of jeans, actually.
You can clearly see, up-close that these don't look exactly like jeans – but they aren't trying to be jeans either.
Frankly, I like the classic timeless look of these pants over the abc tech canvas pants.
How do they feel?
In one word: amazing. In two words: super amazing.
Our first impressions, the first time we wore these pants, we immediately prefer them over other similar products.
How lightweight are they?
They are SUPER lightweight (more so than other brands) and very breathable.
On top of that these bad boys are stretchy – just like their cousin, the kinetic pant (suit pants) and the Pace chinos (formerly called the ministry of supply momentum chino).
The pant is so stretchy and comfy, you will be surprised by it, actually.
Another brilliant feature: drawstrings!
Even more brilliant: the pant has a hidden comfort waistband that stretches AND a hidden drawstring in the waistband. What purpose does that hold?
Why the drawstring matters
Have you ever had stretchy pants that weren't so stretchy by the end of the day? Sure they were more comfy, but you might have caught yourself pulling them up after several hours of wear.
That's there the waist and drawstring come into play.
Can you see the drawstring?
Nope – it's 100% hidden, something we were pleasantly surprised by in our review. Hidden inside the fabric is a drawstring that you can use to easily tighten the pants.
I hate when I feel like my pants have lost some stretch after wearing them all day. This is the perfect solution – it also helps if you have a tucked in shirt, too.
Classic Design
The Twill version of the kinetic pants also feature a classic 5 pocket design. 5 Pocket design is the traditional jean design with 2 pockets in front and two in back (with a small pocket inside the right pocket). Fun fact: The tiny pockets on jeans and other pants were created to house pocket watches. They were initially utilized with the original Levi's "waist overalls" in 1890. People no longer use pocket watches, but the pockets live on.
The jeans also have a hidden zip compartment inside the back right pocket. This is perfect for travel if you are worried about pick-pockets.
No nonsense care
These pants are also super easy to care for, like other ministry of supply kinetic pants are, too. Simply put your pair in the washing machine, and machine wash cold with a gentle detergent. . Then hang dry or tumble dry low.
It's that easy.
Do you need to iron?
It's also wrinkle-resistant, so you can wear the kinetic pants right out of the suitcase without any issues whatsoever. You can use a cool iron if needed, but I've never had that issue since they are pretty wrinkle-resistant, like other Ministry of Supply products.
It's a lab-tested, high-performance, high-tech pant that feels comfier than high tech. The Ministry of Supply Kinetic fabric is also tested to be long lasting like-new that doesn't fade.
That's the truth.
The one problem with the Ministry of Supply Kinetic Pant Twill
The only downside? These pants only come in waist sizes, not length sizes.
How they fit
I'm a 32 waist and 30 length in about every pair of pants (including other kinetic pant styles) and this kinetic pant ran a little long on me.
They probably fit more like a 32 x 32 – which is a more typical size. But I've got an odd-shaped body (long torso, shorter legs) and most of my pants have to be tailored to be flattering, anyway.
Not a deal killer at all for this version of the kinetic pant, but I would rather save a trip to the tailor, but not that big of a deal in the grand scale of things.
How to style the Ministry of Supply Kinetic Twill Pants
There are many ways to style these awesome stretch-friendly pants – let's dive in.
Dress shirt, polo shirt or even a t-shirt
Styling this pant is pretty easy: dress it up with something like a dress shirt or polo (like the Apollo Polo). You could also pair it with a t-shirt. We like the Buck Mason T-shirts (read our Buck Mason T-Shirt Review) and Fresh Clean Tees Review, too.
The Ministry of Supply Kinetic Pant would also pair well with other t-shirts we've tested like True Classic (read about our True Classic Review and True Classic vs. Fresh Clean Tees).
In short, the Ministry of Supply Kinetic Pant goes with so many different types of style. Even though their clothes are high-tech they don't look like it.
How not to style
Just don't go too overboard with this fantastic stretch. I wouldn't wear them with a shirt and tie, for example. An untucked dress shirt, sure – but tucked in shirt with dress shoes would just be pushing the style way to much – at least for our simple style in this review.
Are they a dress pant?
Nope. But they aren't trying to be, either.
Once again, people are going to confuse these with dress pants, but they are nice.
I would also wear these with a pair of white sneakers for a super clean look.
Ministry of Supply Kinetic Pants Twill vs. lululemon tech canvas
The main difference between the Ministry of Supply Kinetic Twill Pants and the lululemon tech canvas pants is simple the overall look and feel. They are very similar in terms of overall technology but we greatly prefer the Kinetic Twill 5-Pockets pants over the tech canvas pants.
Final Verdict: Ministry of Supply Kinetic Twill Pants Review
We could go on and on about how this is a nice pair of pants filled with high-tech features. However, there's only one way for you to experience it yourself: buy a pair today.
The ultimate jean alternative
If you're looking for a high-quality, comfortable pair of pants that you can wear to work or dress up for a night out, the Ministry of Supply Kinetic Twill Pants are a great option. Made with kinetic fabric that is wrinkle-resistant and long-lasting, these pants are perfect for anyone who wants versatile pants they can wear for any occasion.
We're also happy to give these Ministry of Supply Pants our coveted We Tried It seal of approval.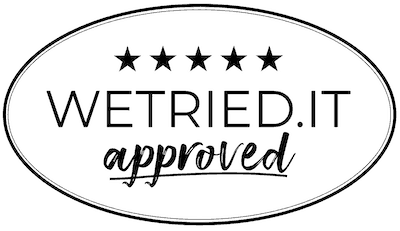 So, what are you waiting for? Get yourself a pair of these pants and see how they can help you look and feel your best. Order yours today!