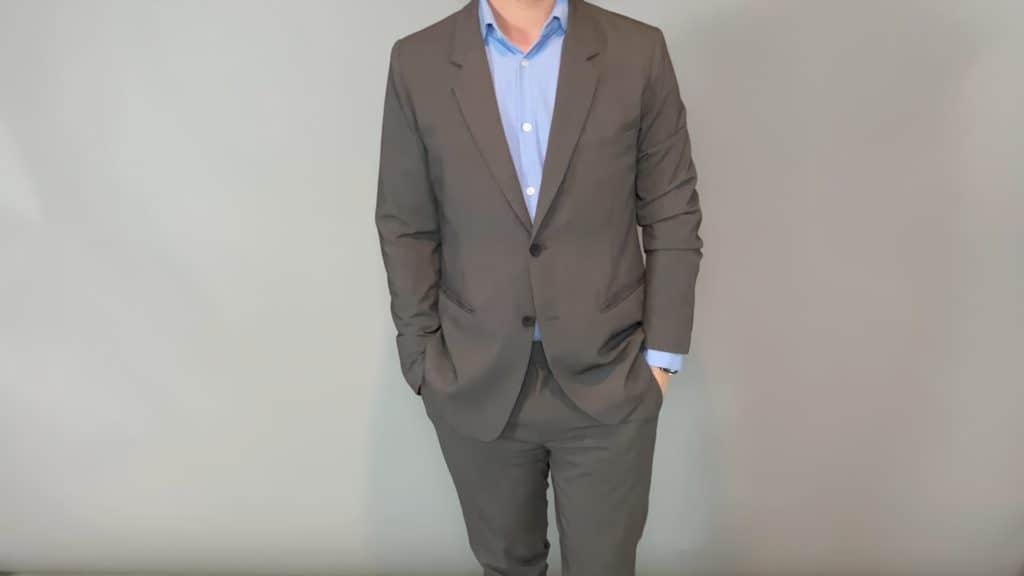 Is it really possible to make a comfortable suit? Is it possible to make a suit that's lightweight, wrinkle-resistant, stretchy, AND still look like a real suit? Today give you our honest Ministry of Supply Suit Review: specifically, we'll dive deep into the Ministry of Supply Velocity Suit Review. 
👍🏻What We Love
👎🏻What We Don't Love
– Incredibly Comfortable
– Very soft
– Doesn't look like technical wear
– Lightweight
– Stretchy!
– Machine Washable
– More expensive, but worth it!
– I don't dress up enough to wear it more.
A quick forward about Ministry of Supply Suits and We Tried It…
We didn't create the We Tried It website and YouTube Channel to get rich or become an influencer. It wasn't to find the cheapest deals. Or cover high fashion. 
We simply were looking for the best products at the right price. We were always trying the "new" thing and our friends would ask for our opinion. We are willing to pay a little more for something that gives more – that could be in features or even in how they give back or have a more sustainable business model.
Today's brand, Ministry of Supply, fits that mold incredibly. They have incredibly innovative products and are also Climate Neutral. They call it going Zero°.
Ministry of Supply was created in the most unlikely of places – MIT – the Massachusetts Institute of Technology. 
Here's what Ministry Of Supply says about their humble beginnings:
While our peers hacked code, we hacked clothing. Our first prototypes were Frankenstein creations: socks and dress shirts built by sewing fabric from our favorite athletic clothes into business-appropriate attire. Introduced by a professor, we showed up to our first meeting carrying our cobbled-together garments. When we discovered our shared passion, we knew we had something truly special to share.
They made their mark with the Apollo line of dress shirts. These dress shirts were made with the same Phase Change Materials NASA invented to control an astronauts' body temperature in space.
But can these "nerds" actually make actual clothe that look good?
We have to say 100%: yes.
Ministry of Supply Suit Review: The looks
Meet the Ministry of Supply Suit, specifically, the Ministry of Supply Velocity Suit.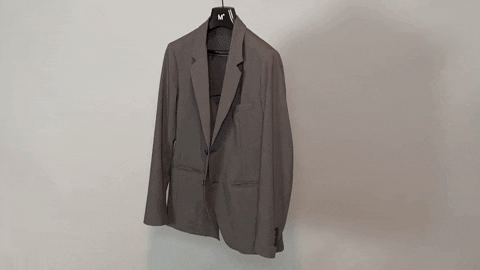 The worst thing about technical clothing is when it looks like technical clothes – they look like an imitation of the real thing (even though I love you, I'm looking at you lululemon ABC Pants). 
The Ministry of Supply Velocity Suit is beautiful. It's well made, classic slim style and nothing screams "I'm really technical wear!" That's exactly what you want from a suit. You never want it to look like you are wearing sweatpants to a wedding (or a funeral).
One thing you can't tell from the video or photos is how lightweight and soft the suit is. It's really comfortable. I wouldn't mistake them for wearing sweat pants but they are very comfortable. I'd say the slacks ARE more comfortable than lululemon ABC pants. And that's pretty amazing!
Pro tip: always get a suit tailored. You are seeing the suit the way it came from ministry of supply here. The pants come long (designed for tailoring but are still finished). And sleeves always need to be tailored to get that finished, clean look. 
Ministry of supply suit review: the features
Besides being a more comfortable suit – what makes this suit so amazing?
The thing that always drives me crazy about suits is: how the heck do you travel with them? I feel like an idiot bringing a garment bag on the plane but have you ever tried to fold a suit jacket? It's practically impossible. The Ministry of Supply suit is wrinkle-resistant for this very reason!
One small difference between Ministry of Supply's suit is that it may look slightly wrinkled when you try on the suit, but is designed to release wrinkles with your body temperature. Here's what Ministry of Supply says:
High-poly fiber releases wrinkles in normal body-temperature range, so a few minutes of wear will restore the original wrinkle-free drape.
I stuffed the Ministry of Supply Suit in my backpack for 48 hours, pulled it out, and it wasn't wrinkled at all. Try doing that with your wool suit.
On top of that, it's machine washable – you read that right: you can wash your Ministry of Supply Suit in the washing machine. Don't worry: you can also dry clean if you want. 
Ministry of Supply Suit Review: We test the claims
Ministry of Supply says their high-tech suiting is designed to outperform classic wool in every situation. We have to agree. It's more comfortable, lightweight, stretchy, and machine washable –  all things you can't say about Wool. 
The suit is also incredibly stretchy. This could come in very handy on the dance floor – or just traveling in general. I really enjoyed that the waistband had a lot of stretch. 
Ministry of supply suit: Velocity or Kinetic?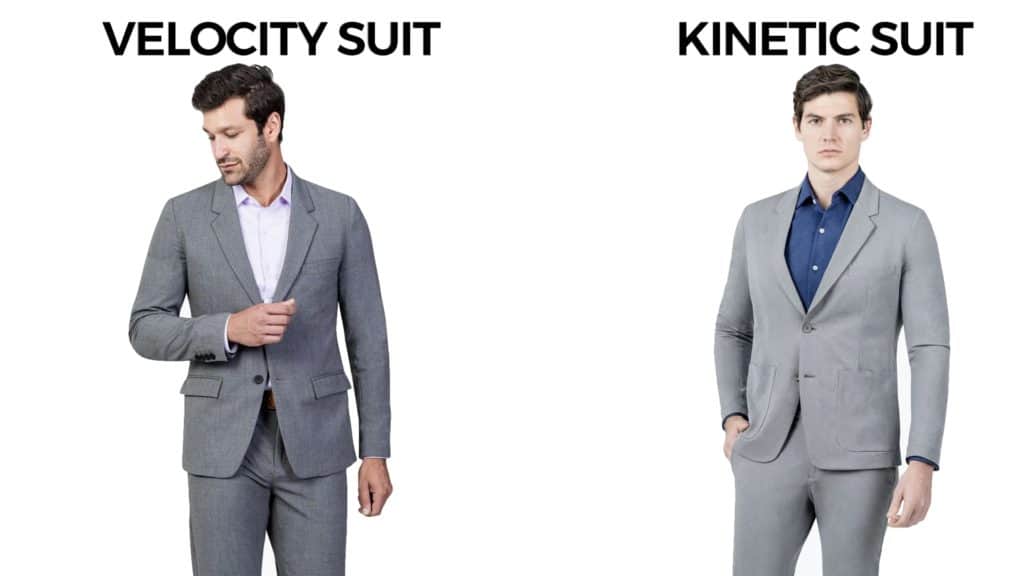 I tried out the Velocity Suit from Ministry of Supply. Ministry of Supply also has the Kinetic Suit. Ministry of Supply has a great comparison between their two variations of the suit. The way I see it: the Velocity Suit is a bit more formal but I'd venture to say that the Kinetic is a bit more comfortable but also looks a bit more technical. The biggest deal killer to me on the Kinetic Suit was the pockets. I didn't care for the pocket design and that was a deal killer for me.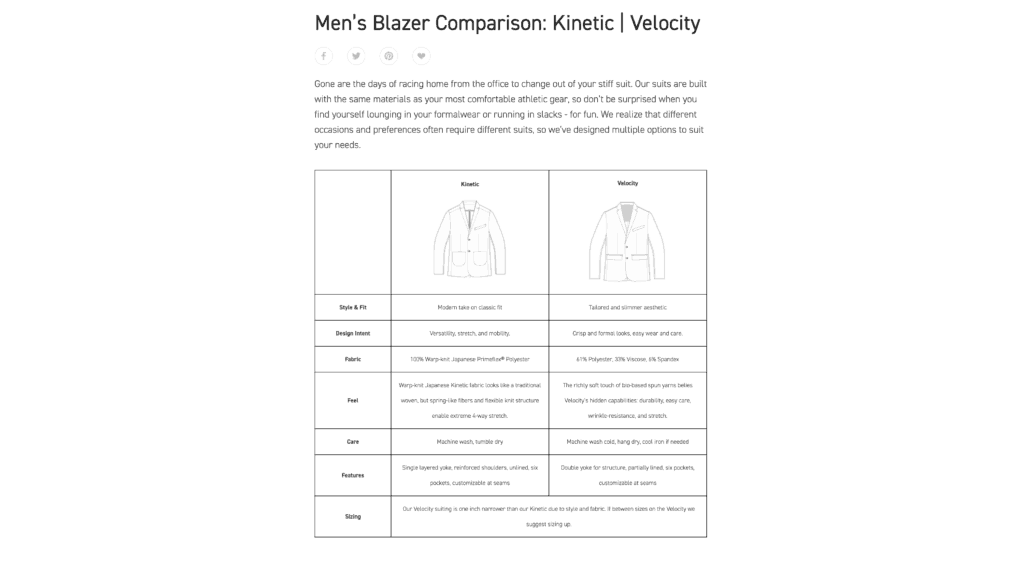 The Velocity Suit simply looks more like a suit, but more comfortable and easier to clean. 
Ministry of Supply Suit Review: How to wear
Wear your Velocity Suit just like you would wear any other suit. I love Mizzen + Main Shirts (read our full Mizzen + Main Review – also great travel shirts!) and Cole Haan shoes (don't miss our Zerogrand Review) You will look good but won't feel like you are crammed into an uncomfortable suit. 
We shot the photos without a belt to showcase the product better, but we'd recommend wearing with a belt that matches your shoes. 
Ministry of Supply Suits: What are they made of?
Ministry of Supply's Velocity Suit is made from 61% Polyester, 33% Rayon, 6% Elastane
This is an interesting mix for a couple off different reasons. 
First of all, Elastane is basically generic Spandex. Rayon is a manufactured fiber made from natural sources (like wood) that are regenerated as cellulose fiber. The many types and grades of rayon can imitate the feel and texture of natural fibers such as silk, wool, cotton, and linen. That's exactly what Ministry of Supply was going for here: they were trying to manufacture something more closely resemble Wool. 
Velocity Suit: What else should I know?
Overall, the Velocity suit is amazing.
The Ministry of Supply Velocity Suit is a great value. You can spend as much (or as little) on a suit as you want. You really can. The key to making a suit look expensive is making sure that it fits well. Also, Wool Suits look more expensive (at least to me) than ones that are Polyester. Wool Suits are also warmer (Wool runs pretty hot!).
The Ministry of Supply Velocity Blazer is $495 and the Ministry of Supply Velocity Dress Pants are $185. 
The Ministry of Supply Kinetic Suit is slightly cheaper: The Kinetic Blazer is $325 and the Kinetic dress pants are $145.
We'd recommend the Ministry of Supply Velocity Suit over the Kinetic Suit.
Ministry of Supply Blazer Review: Can I just get the blazer?
Depending upon the occasion, I'll wear jeans, a nice button up and a Blazer. Could you do that with the Ministry of Supply Blazer? Of course! In fact, I think this is the way that I will wear the blazer most often: with jeans instead of the dress pants.
Ministry of Supply Suit Review: The Final Verdict
As we mentioned at the beginning, the Ministry of Supply Suit is the exact reason we created We Tried It. We are always searching for new products that do more and are worth your hard-earned dollar.
We are happy to give the Ministry of Supply Suit the We Tried It Seal of Approval.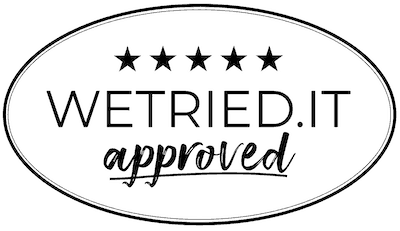 The Ministry of Supply Velocity Suit improves on the classic wool suit in every way: it's more comfortable, lightweight, wrinkle resistant and machine washable – all while still looking like a great wool suit.
You can get the Ministry of Supply Velocity Suit directly from Ministry of Supply here.
Do you have any questions or comments about our Ministry of Supply Suit Review, particularly our Ministry of Supply Velocity Suit Review? Let us know in the comments below!