We've searched long and hard for the best performance dress shirts. If you are just starting the journey, then you may have wondered, "What's better?"
Mizzen + Main vs. Ministry of Supply vs. Twillory or something altogether. Keep reading to find out why we love performance dress shirts, what makes them "performance" and the very best brands that we've gotten our hands on!
What is a Performance Dress Shirt and why I'll never buy a traditional dress shirt again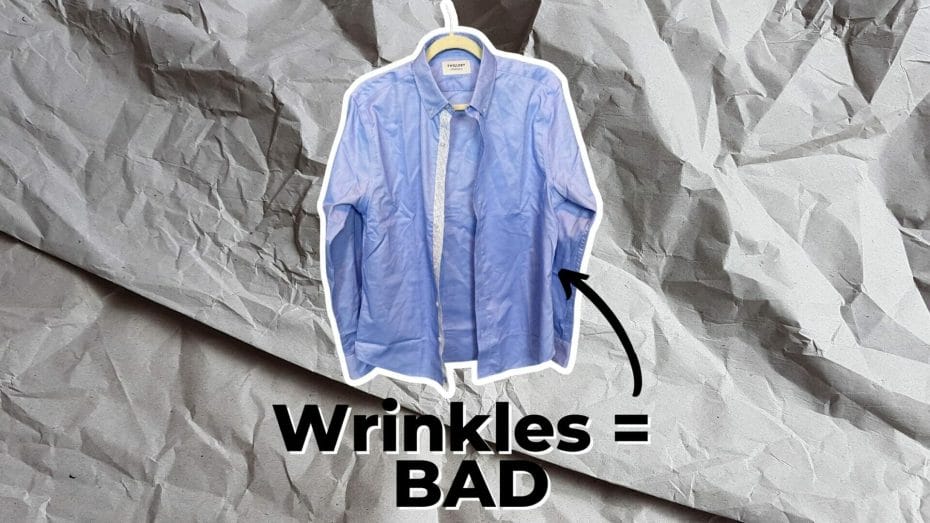 Performance shirts are a great alternative to traditional cotton dress shirts. They have all the same professional appearance, but they do much more for you. These shirts resist wrinkles so you don't have to iron them before wearing and won't get wrinkled throughout the day. 
Traditional Cotton Dress Shirts Suck
Traditional dress shirts wrinkle. They need to be dry cleaned. They need to be ironed. And frankly, they just aren't comfortable.
I remember when I was a kid, I would see shirts with "Wrinkle Guard" or something that made it imply my shirts had superpowers to get rid of wrinkles. Well, they never worked out. However, there is a new breed of dress shirts designed from cutting-edge fabric inspired by athleisure clothes like lululemon and others.
These shirts look like regular dress shirts but perform closer to your favorite pair of joggers or ABC Pants.
These shirts are moisture-wicking, wrinkle-free and are generally no hassle whatsoever.
What are traditional dress shirts made of?
Don't ever pick
The AmazonBasics Crappy Cotton Dress Shirt
Sure, it's like $20, but it's 100% cotton and will wrinkle if you look at it wrong. Avoid this shirt at all costs, unless you like wrinkles... and looking like a box. Then you'll love this shirt.
We might earn a commission if you make a purchase, at no additional cost to you.
01/19/2022 12:14 pm GMT
Traditional dress shirts are 100% cotton.
Cotton tends to wrinkle very easily and needs to be ironed to get get the wrinkles out. The even more frustrating thing is: even after they are ironed, they can look wrinkled again after just a couple of minutes (the seatbelt always wrinkled my dress shirts!)
What about shirts with wrinkle resistance built-in?
"Non-iron" shirts are saturated with a formaldehyde solution to achieve their wrinkle-free surface. The shirts then get baked so that the chemical binding agents can bond cotton fibers together, maximizing how they crease less.
However, I've found that this just doesn't work very well…
And I don't want formaldehyde on my skin.
The two killer features: no ironing and no dry cleaning

Dress shirts that don't wrinkle or need dry cleaning? Sign me up! These miracle workers exist and they're called "performance" dress shirts. Basically, the two killer features of these bad boys are that you never have to iron them (yay!) and you never have to take them to the dry cleaners (double yay!). So whether you're busy at work or out on the town, your shirt will always look sharp.
You won't have to worry about ironing your clothes and you'll actually save money at the same time – dry cleaning is super expensive!
Most performance dress shirts these days only require you to wash in your washing machine on delicate and then hang dry.
Since they are moisture-wicking by design, they come out of the washing machine almost dry when you hang them up. Pretty incredible!
No Iron is beyond game changing
Have you ever been traveling for work with a non performance shirt and needed to iron it? I have.
I've had a cotton shirt that I was going to wear (it may have even been a Ralph Lauren Oxford Shirt) and I went to the hotel's closet to get the iron. I let it warm up, and put it on my shirt. The iron spit up all kinds of gunk and junk and ruined the cotton shirt (I'm guessing it was rust… yikes!).
In any business casual wardrobe, you're going to need flexibility – especially when traveling.
Two Common Complains about Performance Dress shirts
We hear two common complaints with performance dress shirts: they don't look "right" and overall style.
How to avoid performance dress shirts that look like athletic wear.. or bed sheets
As you can read in our full Mizzen + Main Review, our first attempt to try performance dress shirts was an epic fail. It's because we were trying the first generation of Mizzen + Main shirts, called the Spinnaker.
Stay away from this fabric at all costs. This shirt looks more like a polyester bed sheet than a dress shirt at all. It's the only performance dress shirt we've tested that looked "fake" – but as we try more, we'll update this full comparison.
This shirt was made from high quality fabric, it just was a more technical fabric vs. something that was good for a business casual wardrobe.
Overall style has greatly improved
The overall look and number of choices of these hybrid dress shirts have improved greatly over the years.
It used to be, there were only a couple of colors and fits. Now, you have everything from State + Liberty – built for the buff guys to more "ample" fitting options with Mizzen + Main (in addition to traditional and trim fit) and everything in between.
This used to be a problem at first but now there are so many options that you're bound to find one that looks great on your body type.
For the color choices, as you dive into these dress shirts, you will notice one interesting tidbit: hardly any are solid colors. That's because solid colors show wrinkles a lot more than non-solid colors.
In a way, the patterns hide wrinkles from the naked eye. As I mentioned, the overall style has improved so much, there a ton of options – but it's one of the first thing we noticed when looking at these shirts: there are a ton of patterns.
Might be see through
Some of these technical fabrics are see thru and may be a little thin. It's another reason why you don't see many white dress shirts in this category.
A little bit of TMI here, it's worth noting that some of the lighter colors may show your chest a bit more than you want to, with them being see through. If you have chest hair, you might find that lighter color shirts show your check hair very easily.
Just something to consider when looking for the best fabric for you!
What we are looking for in performance dress shirts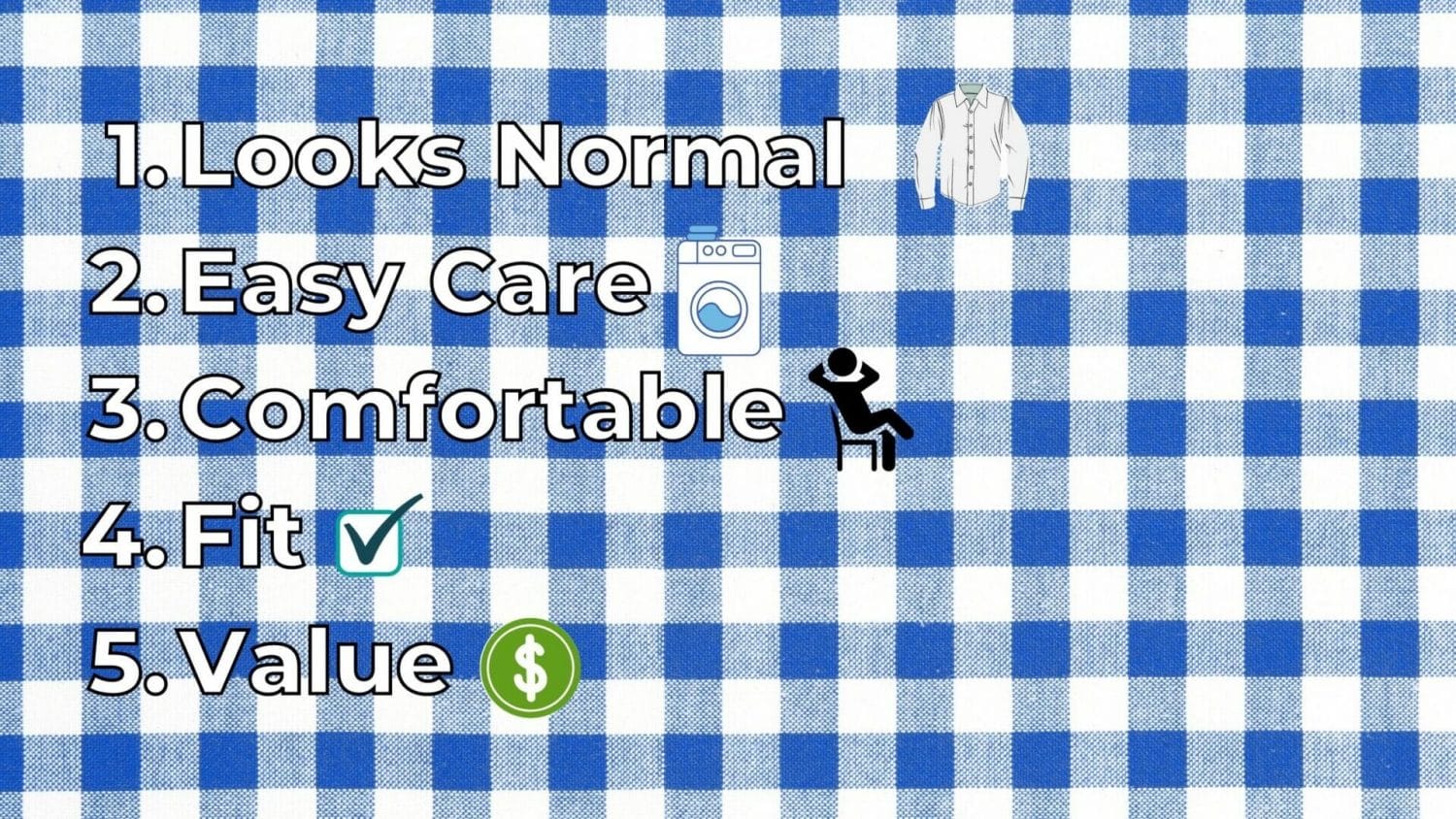 There are a couple of key items we are looking for when trying out a high-performance dress shirt:
It doesn't look like a high-performance dress shirt. In fact, it needs to look just like a normal dress shirt to the uninformed eye.
Easy to care for: no dry cleaning and no ironing needed. That is a must!
Comfortable: self-explanatory – these need to be comfortable and easy to wear.
Fits well: shouldn't look like a converted polyester bed sheet, should be flattering.
Value: Most of these dress shirts will cost about $100 – some more, some less. While that is expensive compared to a $20 AmazonBasics shirt, it's not that expensive when you consider your time saved ironing and money saved dry cleaning.
#1 is incredibly important. We're not saying that these should look like something you could wear to the Academy Awards, but these shirts should pass as normal button-up dress shirts like a high-quality banana republic shirt you would wear in a business/business casual environment. The shirts we recommend below all meet that requirement.
Let's dive into our picks to give you the very best performance dress shirt, some other picks and much, much more!
#1 Best Performance Dress Shirt: Mizzen + Main
#1 Best Performance Dress Shirt
Mizzen+Main Dress Shirts
The performance dress shirt that started it all. Available in a wide variety of designs and fits, you can find the perfect button-up shirt for you.
We might earn a commission if you make a purchase, at no additional cost to you.
The dress shirt that started it all. Mizzen and Main claims to make the best damn dress shirt – and we have to 100% agree.
You seriously can't wrong with any of their styles, with the exception of the Spinnaker Collection, which looks like it is being phased out. You will find their shirts to be incredibly comfortable, available in a wide variety of styles AND are wrinkle-free and easy to care for.
Seriously, this is (almost) the only button-up shirt I wear. They've even branched out into flannels (which are awesome – read our Mizzen + Main Flannel Review), vests and pants.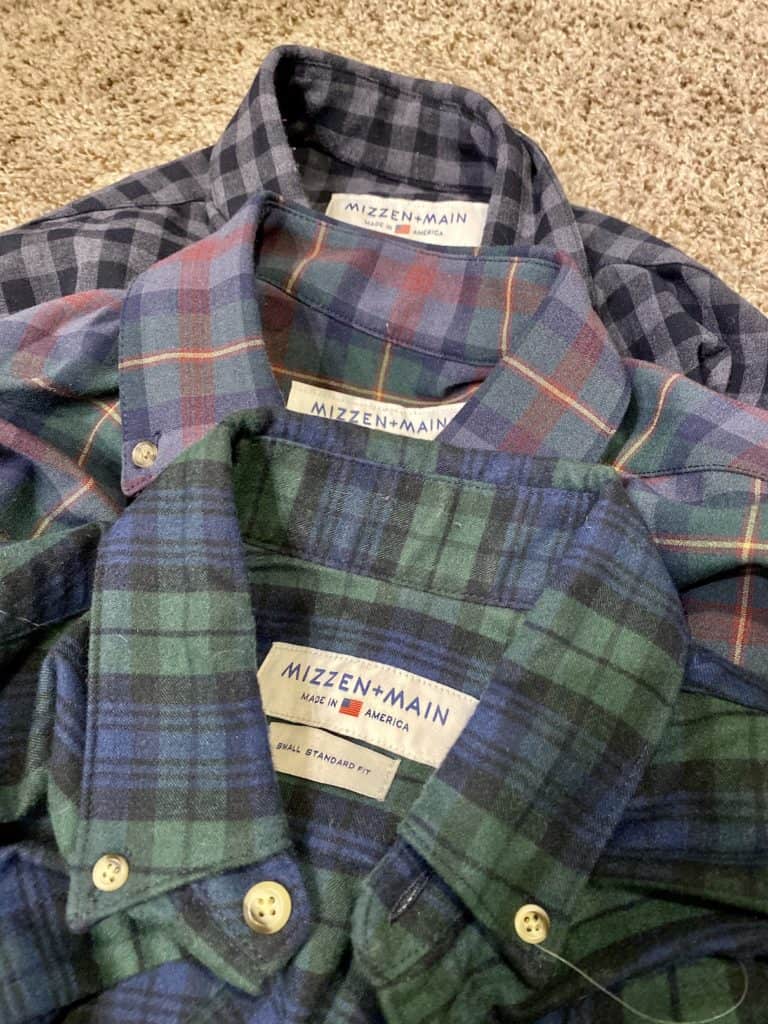 Why it's the best performance dress shirt
Gather 'round for a quick story. A couple of years ago, I was in New York City. It was the hottest summer in decades.
In the summer, the concrete jungle of Manhattan just bakes. There's something about the concrete and asphalt that doesn't allow for the city to cool down at all.
Even in the middle of the night, it was close to 100 degrees… and super humid.
I had booked a Marriott Hotel and went to go check-in. Turns out, I went to go check in at the wrong hotel. They informed me the correct hotel was almost 2 miles away.
Thinking I would enjoy a nice evening walk in the city, I decided to not take an Uber or the Subway, but walk.
Armed with my suitcase, super heavy backpack and – of course – my Mizzen + Main Dress Shirt, I walked.
And walked. And walked.
And I sweated. A ton. I had no idea how hot a humid NYC could be at night. But the best news? My Mizzen + Main dress shirt handled it like a champ. Not only did it wick away moisture from my skin (there was a TON of it), it also didn't leave any sweat stains or marks.
The shirt was incredible breathable and lasted the whole 2+ miles (I got lost and had to get back on track) like a champ.
Can you believe it? Has there ever been another dress shirt that does all this? NEVER!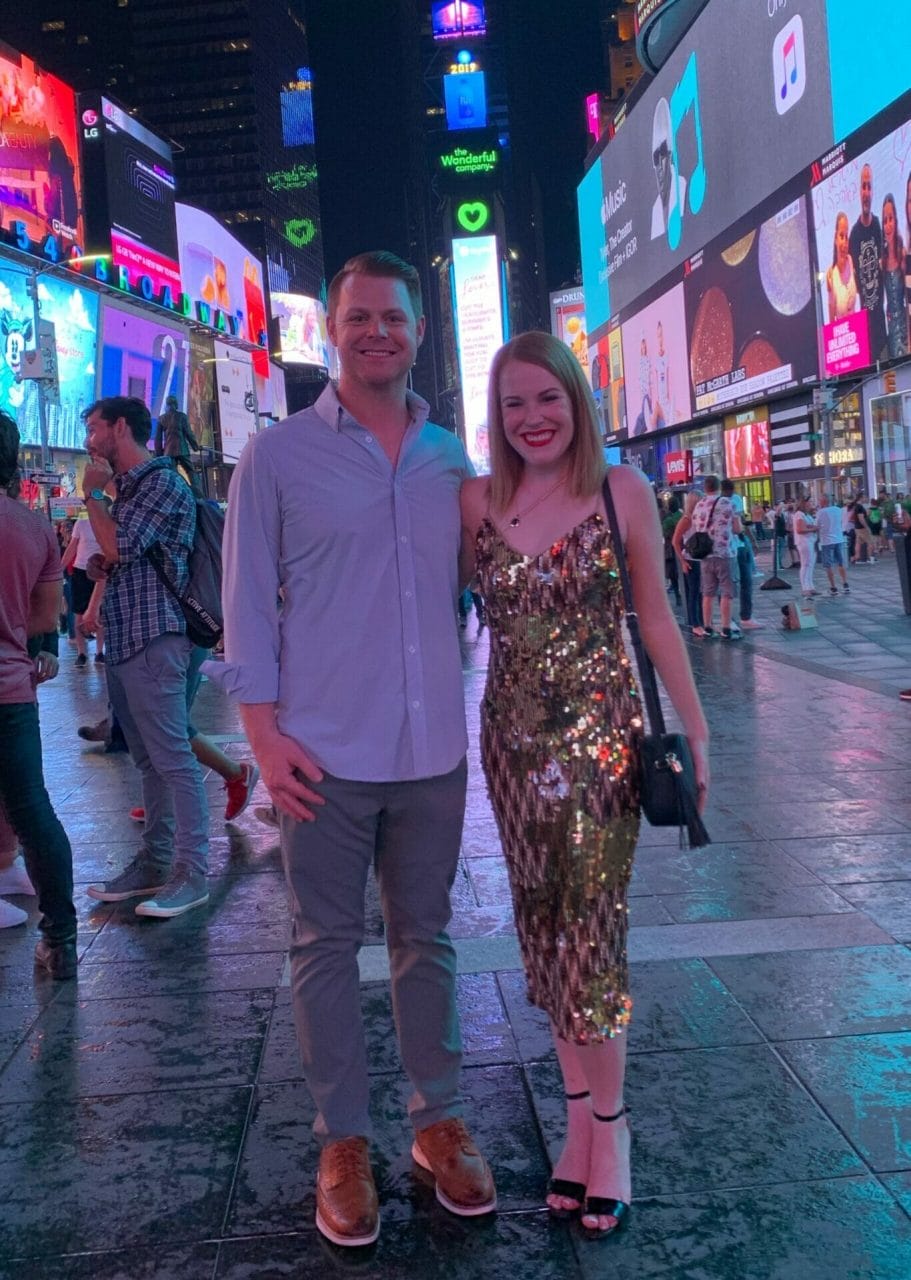 I seriously can't recommend Mizzen + Main dress shirts enough – they are comfortable, wrinkle-free and they look great. If I had to pick one shirt, the best shirt to wear all the time – it would be this one.
No, I'm not getting paid to review them (but I wish).
I've had Mizzen + Main Shirts for 5+ years that have shown no sign of wear and tear. That's perfect when you wear a shirt like this a lot. Talk about being durable! I'm incredibly impressed with this brand and they have great customer service.
Bonus tip: get these Mizzen + Main magnetic collar stays – I love them and use them with almost every single shirt (that doesn't have button-down collars). Simply put the collar stay in each collar and use the super-strong magnetic on the inside. No one will ever know about how you keep your collar looking perfect all the time.
#2 Bluffworks Dress Shirts
#2 Performance Dress Shirt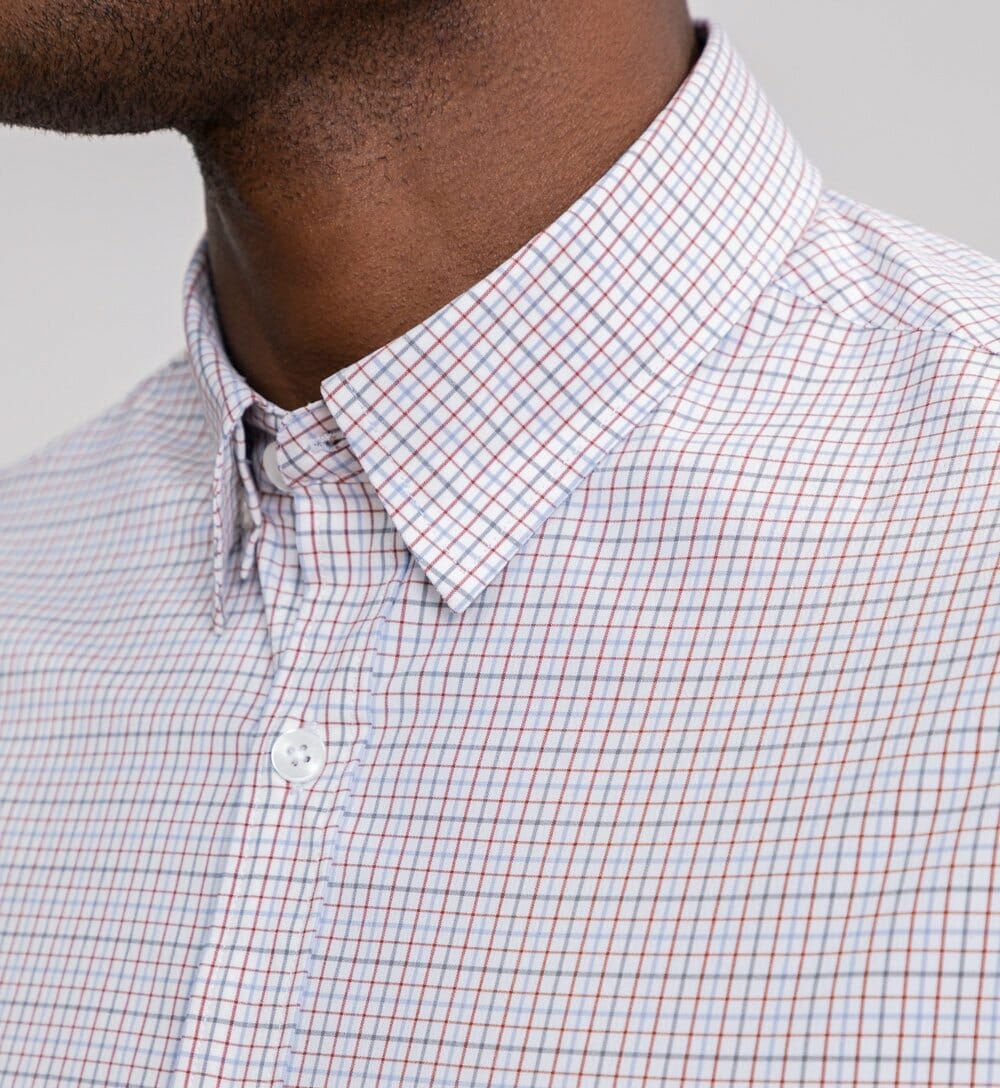 Bluffworks Dress Shirts
Designed for travel and super comfortable. The only downside to Bluffworks Dress Shirts? Limited options.
We might earn a commission if you make a purchase, at no additional cost to you.
We really love all things Bluffworks. From their suit (read our Bluffworks Suit Review) to some of their other clothes – they make some high-quality closed, designed for travel.
I got this shirt on sale and didn't know what to think about it before I got it. I was pleasantly surprised!
This shirt was incredibly soft, almost cotton-like and featured all the great features your would expect: anti-wrinkle, easy to care for, lightweight and stretchy.
The only downside of this shirt: they only have a handful of styles to choose from.
#3 Ministry of Supply Button-up Shirts
#3 Pick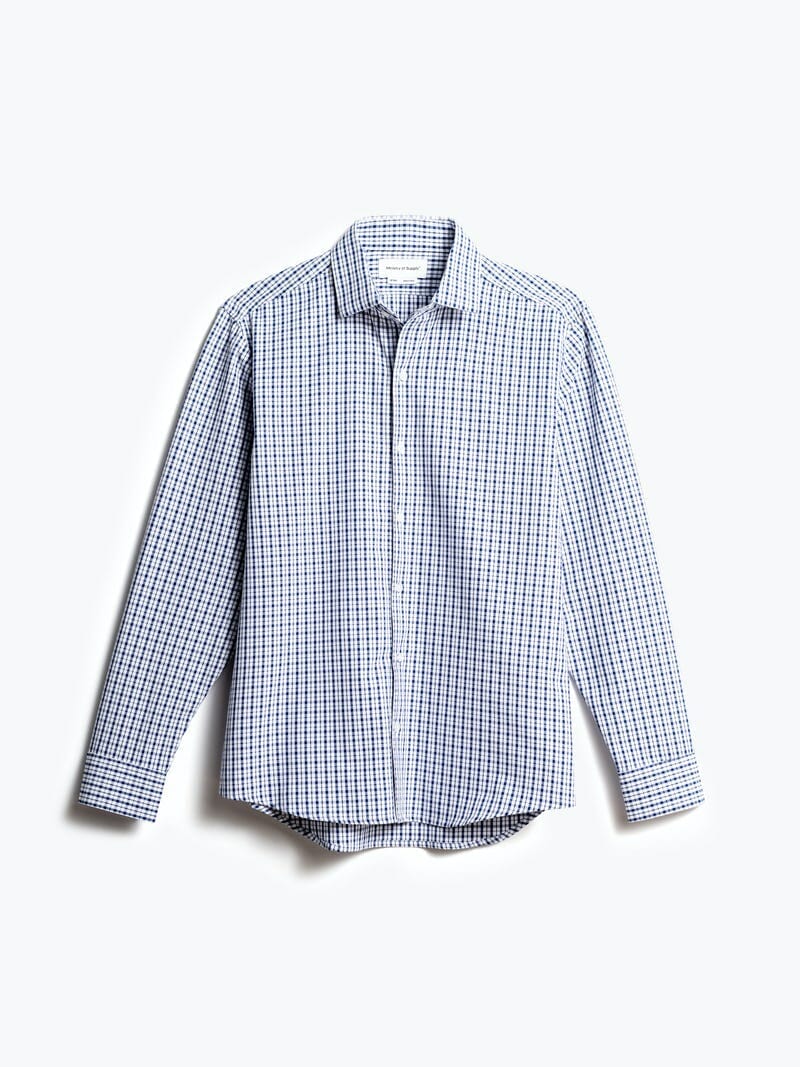 Ministry of Supply Shirts
Filled with tech (even perforated vents under your pits!), just stick with the Aero line of dress shirts and skip the Apollo line (too shiny).
We might earn a commission if you make a purchase, at no additional cost to you.
The shirt that started it all for Ministry of Supply (or "MoS," as the kids say), was the Apollo Shirt. And frankly, I didn't care for it. That's because it had a bit of a shine to it that made it look a bit cheesy, in my opinon. However, there is a Ministry of Supply Shirt I do love!
The Aero Zero is my favorite Button-up in MoS clothing.
It's 100% recycled and milled under solar power, their Aero Zero° fabric is incredibly soft, light, and coiled for comfortable everyday stretch.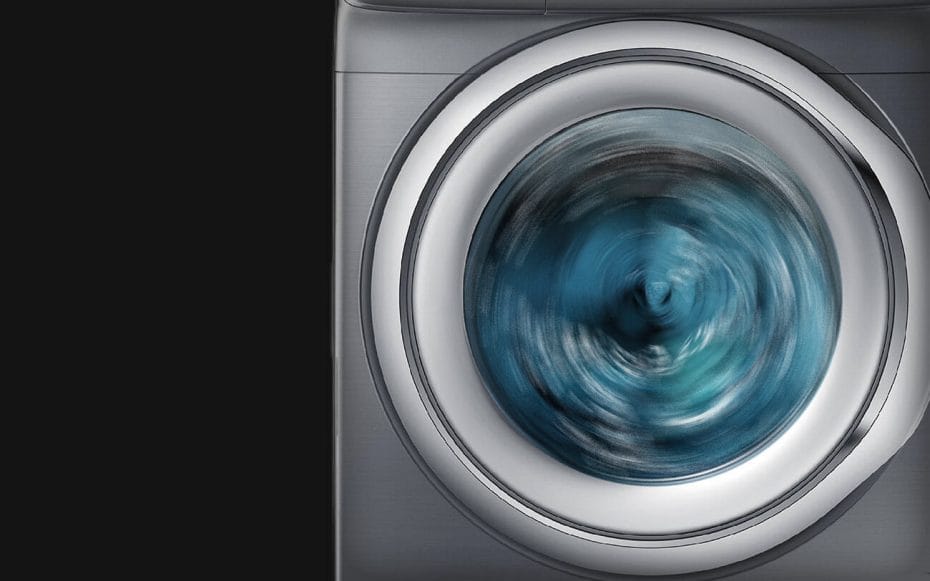 While it's not as stretchy as Mizzen + Main Shirt (read our full Mizzen + Main Shirt Review), it is a great-looking button-up shirt. Added Bonus feature: it does have laser perforated holes in the "pits" to help with ventilation. Talk about preventing pit stains at the source!
Other Great Performance Dress Shirts
We've also tried the State + Liberty Dress Shirts and they are very well-made, comfortable shirts.
However, they are made for someone with a lot more muscles than I have! These shirts are very "V" shaped and for the VERY trim. I wouldn't consider myself a large person at all, but these shirts are tight on me. If you look like the people in the photos on the State and Liberty website, then you would probably like their clothes.
We've also heard great things, but haven't tried these brands:
Performance Dress Shirts we do NOT recommend
There are a variety of performance button-ups that we've tried that we did not like. Beyond the Spinnaker Collection at Mizzen + Main, there are some brands that we tried and did not care for.
Twillory Dress Shirts: Why we didn't care for them
While we really did like the Twillory Henley Shirt, we didn't care for their dress shirts. Here's why: even though you can get them for much cheaper than some of the button-ups on this list, they aren't as wrinkle-resistant as we would like. Read our full Twillory Review.
For comparison, here is me trying on a Twillory Dress Shirt right out of the box:
You can see it's incredibly wrinkled, right away. Compare that to the Bluffworks Dress Shirt right out of the box:
A pretty incredible difference, isn't it?!
Who Twillory Dress Shirts are best for
One thing Twillory Dress Shirts have over the competition is the sheer number of styles available. They have all kinds of unique prints with zany sleeve cuffs and a lot of different options.
If you want a semi-performance dress shirt and more care about a unique design, then check out Twillory.
Another quick item we didn't care for: the UNTUCK(ABLE)  products. I have a fairly long torso, so I've rarely had a problem with my clothes, especially performance menswear, to be too short. These were way too short and boarderline showed my belly button. If you have a shorter torso, then this may be the perfect fit for you.
Quince Dress Shirts: Why we didn't care for them
We LOVE Quince. We really do. We just didn't care for their Dress Shirts.
Read our Quince Review for the styles we do like and make sure you check out their better, cheaper ABC Pant Alternative, too.
Even their shirt with WrinkleGuard, was super wrinkled when we got it. Not a bad company, just not their best product.
The shirt was super wrinkled out of the box.
Performance Fabrics: What else you need to know
Most performance fabrics will have some combination of polyester and something stretchy: like spandex or elastane. Quick fun fact: The generic name is "spandex", which is an anagram of the word "expands," which is what these performance fabrics are typically called in the US.
It is typically called Elastane in other parts of the world. Lycra is simply a brand name version of Elastane/spandex.
Spandex's strength and elasticity, as well as its capacity to return to its original form after stretching and faster drying than conventional cloths, make it a desirable material for performance shirts. Spandex is often used with cotton or polyester in clothing, accounting for a tiny fraction of the finished product but nevertheless retaining most of the appearance and still being a performance fabric.
Final Thoughts
In short, you can't go wrong with any of our top three choices. Don't buy more cotton shirts, buy one of these three instead.
The performance dress shirt that started it all. Available in a wide variety of designs and fits, you can find the perfect button-up shirt for you.

Buy Now Our Review

Filled with tech (even perforated vents under your pits!), just stick with the Aero line of dress shirts and skip the Apollo line (too shiny).

Buy Now Our Review

Designed for travel and super comfortable. The only downside to Bluffworks Dress Shirts? Limited options.

Buy Now Our Review
Did we miss one of your favorite performance materials or shirts? Let us know in the comments below. Also, check out our guide to the Best Men's Clothing.
Mizzen + Main vs. Twillory
The main difference between Mizzen + Main and Twillory, besides price, is wrinkle resistance. What's better? Mizzen + Main hands down. While you can get Twillory shirts for about $50 with a promo, the retail price is still $99 each. With Mizzen + Main, the biggest difference is how wrinkle free they are. Our Twillory Shirts were super wrinkled out of the box (we even washed them to see if that would help… and it didn't!).
If you want a fuss-free shirt, go with Mizzen + Main.
Mizzen + Main vs. Ministry of Supply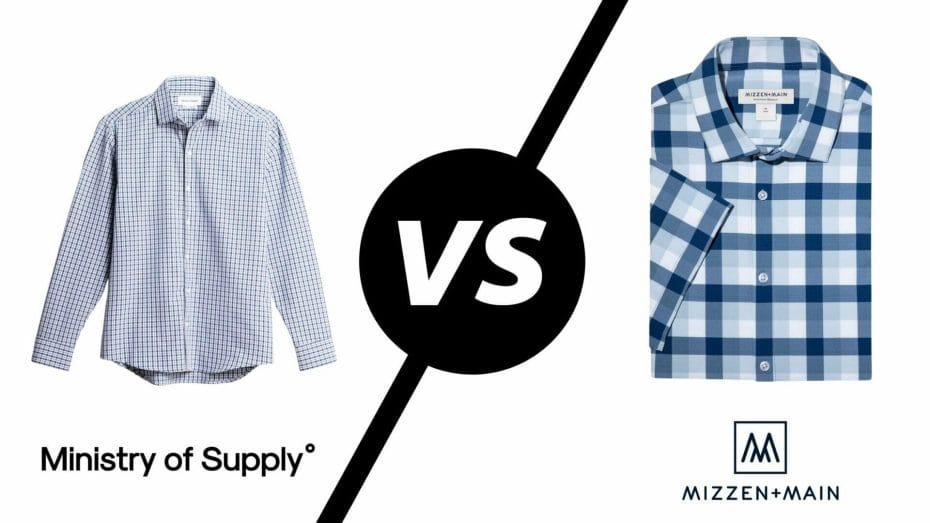 The main difference between Ministry of Supply and Mizzen + Main dress shirts is the stretchiness. This is a little bit of a closer fight. Both brands offer a wide variety of prints, fits and features. They are both no-fuss (wrinkle-free and machine washable). However, the slight edge goes to Mizzen + Main for one simple reason: their shirts just have more stretch.
While Ministry of Supply's shirts may look a bit more like cotton, they are very stretchy. That's nothing something I knew that I needed until I tried out Mizzen and Main! The stretch is much better in the Mizzen and Main shirts and that makes for a more comfortable, forgiving shirt.
Mizzen + Main vs. Bluffworks
The main difference between Bluffworks and Mizzen + Main is the overall selection. These two were closer than I expected! Bluffworks shirts are a little thicker and feel a bit more like cotton (but still aren't wrinkled out of the box). However, Bluffworks doesn't offer very many styles. That easily makes Mizzen + Main a better option here.
However, do what I do: pair a Mizzen + Main Shirt with the Bluffworks Suit (read our Bluffworks Suit review).