We've been searching for a cheaper version of the Lululemon ABC Pants, but have we finally found it? The Quince Recycled Comfort Tech Chino high-tech chinos have all the features of much more expensive pants, but are they any good? We provide you our honest Quince Chino Review.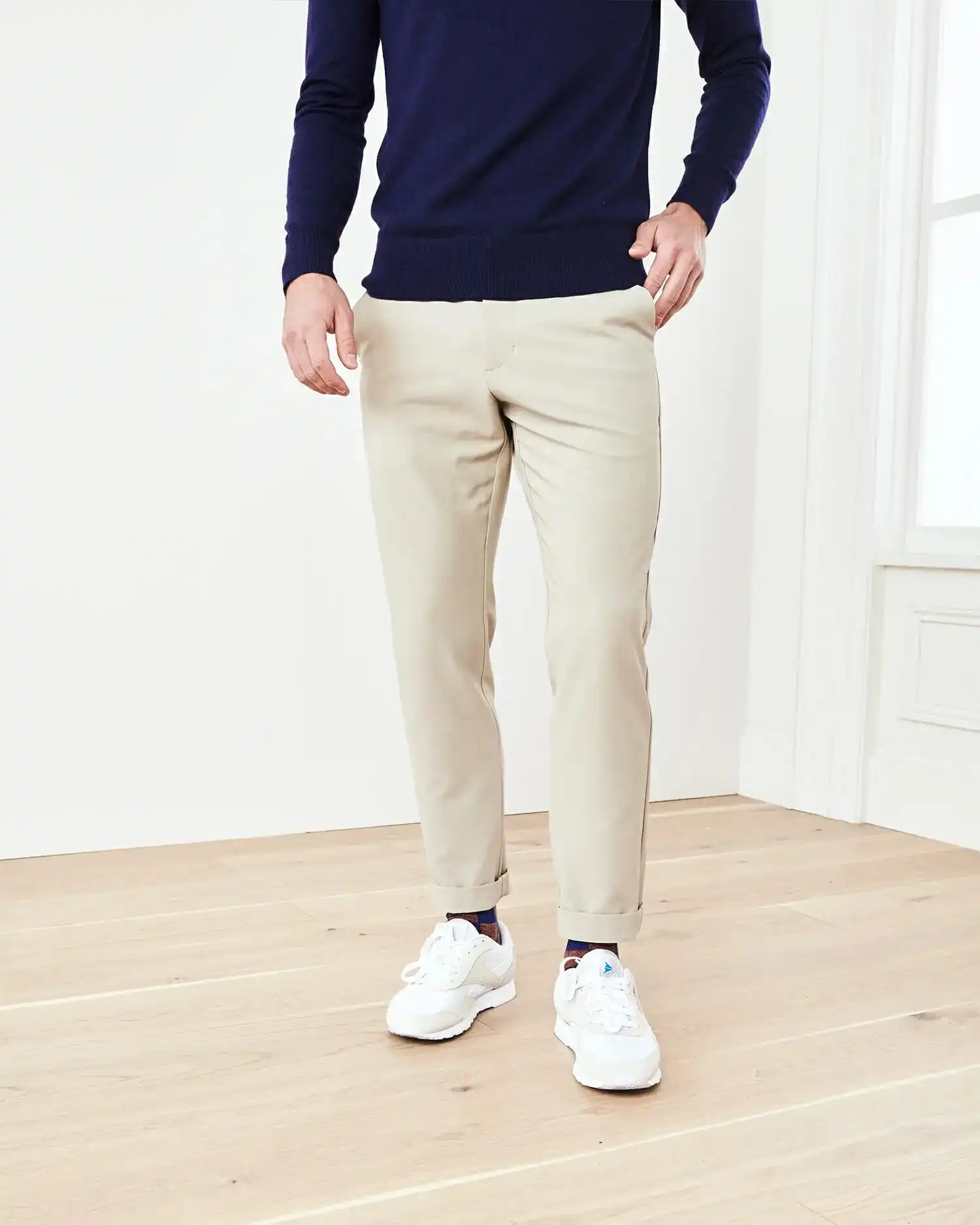 Quince Chinos
Buy Now
We might earn a commission if you make a purchase, at no additional cost to you.
The last time we tried to find some cheaper ABC Pants, we came across the GAP Fit Khakis, they were NOT a cheaper version of ABC Pants – they were a more expensive version of the ugly dad pants. Yikes! We've even come across a better version of lululemon ABC Pants (in many ways) in the Myles Tour Pants (see our Myles Tour Review) – but they were not cheaper than lululemon ABC pants (also, read our ABC Pants Review, too).
So, did we finally find it? The cheaper version of ABC Pants? Keep reading our Quince Chino Review to find out!
What is Quince?
This is directly from the Quince Website:
Quince made headlines when they announced $50 Cashmere late last year. Since then, they've raise the price to $59, but you get the point. I've actually got some Quince $59 Cashmere to review that I'll post my full Quince $59 Cashmere Review shortly!
But you get the idea, Quince is all about radically transparency and sustainable practices. We love that!
Be sure to check out our ultimate Quince Review – we give you our perspective on the over 21+ Quince products we've had the chance to review.
Quince Chino Review: What makes these chinos different?
Quince doesn't pretend that it's trying to make a cheaper ABC pant at all. In fact, this is right on their website: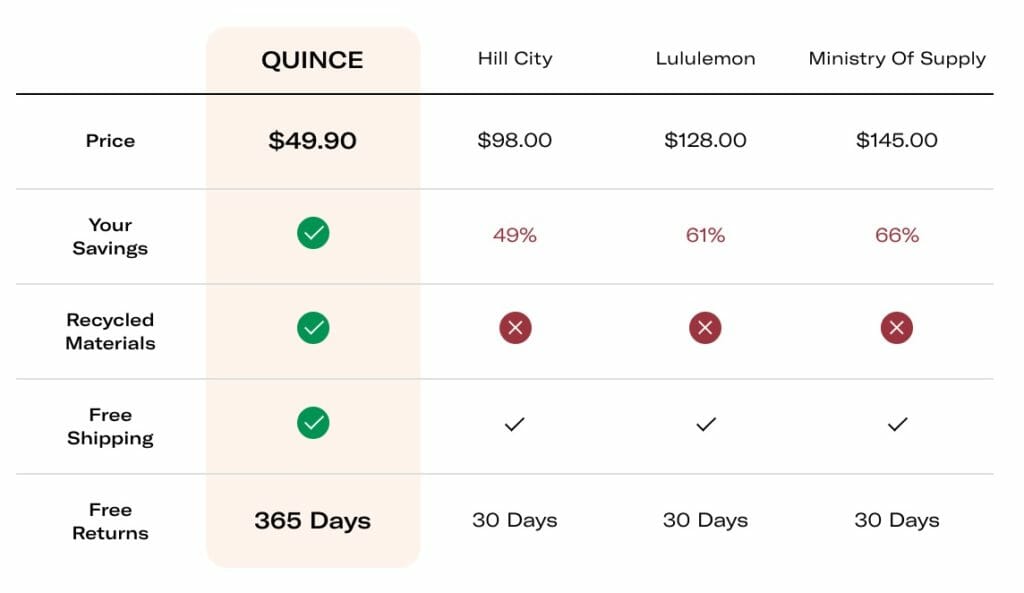 According to their own chart, they are cheaper, have recycled materials, offer free shipping and free 365 Day Returns. So, let's dive in and see how Quince Chinos compare to Lululemon ABC Pants.
Quince Chinos Review: How are they similar to ABC Pants?
Both Lululemon ABC Pants and Quince Recycled Comfort Tech Chinos are made from polyester. Quince says they are made from 90% Polyester, 10% Spandex and ABC Pants say they are made from 100% Polyester. However, they've coined their polyester Warmstreme (read more: What is Warpstreme?). But both are essentially 100% Polyester.
First of all, Quince Chinos are made from recycled Polyester. Do you know what Polyester is made from? Plastic – so it's a great way to recycle!
Quince Chinos vs. ABC Pants: The similarities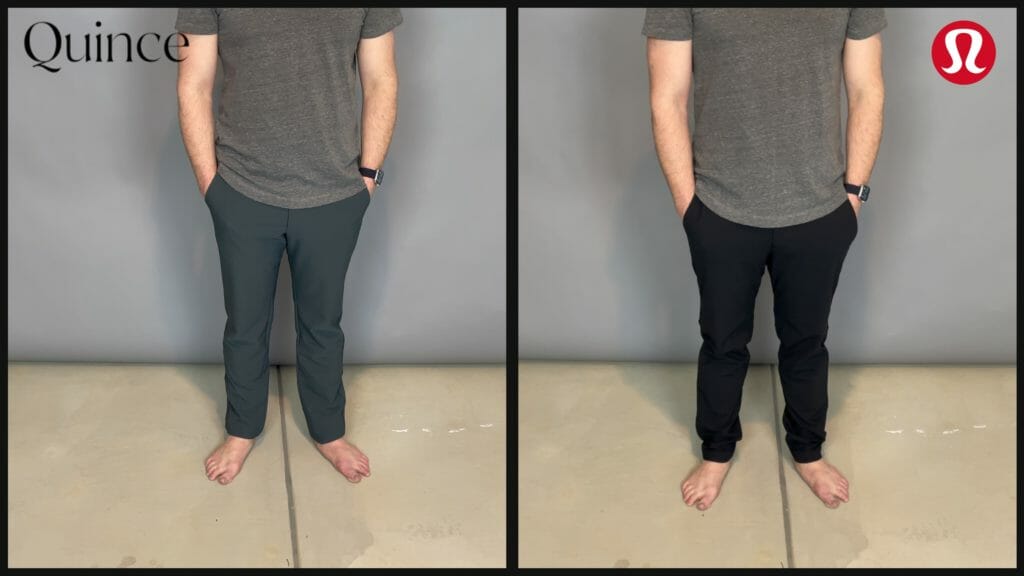 Thes first thing you'll notice is simply how similar the pants look next to each other, but you need to dive a little deeper if you want to really know if these are a cheaper version of ABC Pants.
There are many similarities between the two pairs of pants (for comparison purposes, when I mention ABC Pants, I'm specifically talking about lululemon commission warpstreme pants in this review)
✅ Four-way stretch
✅ Similar material
✅ Chino Style
✅ Reflective Cuffs
✅ Stretch Waist Band
✅ Sweat-wicking
✅ Won't crush your man-hood
It's incredibly obvious that Quince was trying to go right after the ABC pants in making this pair of pants – that's OK! However, there are a couple of key differences, too.
Quince Chino Review: How it's different than ABC Pants
Quince Recycled Comfort Chinos
❌ Sewn-on button
❌ No gusset (read: what's a gusset)
✅ Printed, brighter reflective cuffs
✅ Recycled Materials
✅ No seam behind knee
✅ $49.90
Lululemon ABC Pants
✅ Integrated button
✅ Gusset
✅ Fabric reflective cuffs
❌ Not recycled materials
❌ Seam behind knee
❌ $128
Overall, you simply can't be the price of the Quince Chinos – you can buy 2.56 pairs of the Quince Chinos for the price of ONE pair of ABC Pants. That's nuts!
Let's dive into the differences and, perhaps, how Quince was able to make a cheaper ABC Pant.
Quince Chinos: Sewn-on button
I know, it's easy to replace a sewn-on button, but it's a giant pet-peave of mine to do it.
This isn't a deal-killer, but one easy way to cut down on costs, for sure. Compare that to lululemon's ABC Pant button which is built-into the pants.
Quince Chinos: No Gusset
Once again, this isn't a deal killer, but I'm sure a gusset makes pants more expensive. It also makes them stretchier and less like to wear out so quickly. Read more about what is a gusset. The lululemon ABC pants all have a gusset (even do some jeans like Duer Jeans).
Reflective Cuffs
Two main differences here between the ABC Pants and Quince Chinos. The reflective cuffs on the Quince Chinos are actually on the back the of the leg:
I actually think this is preferable to the ABC Pants, which are on the side of the leg.
I also feel like the Quince Chinos are MORE reflective. However, they are more "printed" on the pants whereas the ABC Pants are a piece of reflective fabric built-in.
The Quince Chinos are printed fairly thick and I doubt they would wash off any time soon, but I'd also guess it was more expensive for lululemon to put fabric in the pants that was reflective vs. just printing it on the side of the pants.
Quince Chino Review the final verdict: They are cheaper ABC Pants
I'll put it to you as straightforward as I possibly can: I still love lululemon ABC Pants and Myles Tour Pants. They are great pants. But are they more than 2x better than the Quince Recycled Comfort Chinos? NO.
While I still think the ABC Pants and Tour Pants are slightly higher quality – I think the tweaks Quince made to make this Comfort Tech Chino work are fair trade-offs. Once again, I don't think that ABC Pants are twice as good as the Quince Chinos.
Final Verdict: If I gave the lululemon ABC Pants 4.9 Stars ignoring price, I'd give the Quince a 4.8. Add price into the equation and they are a lot closer!
An amazing ABC Pants Dupe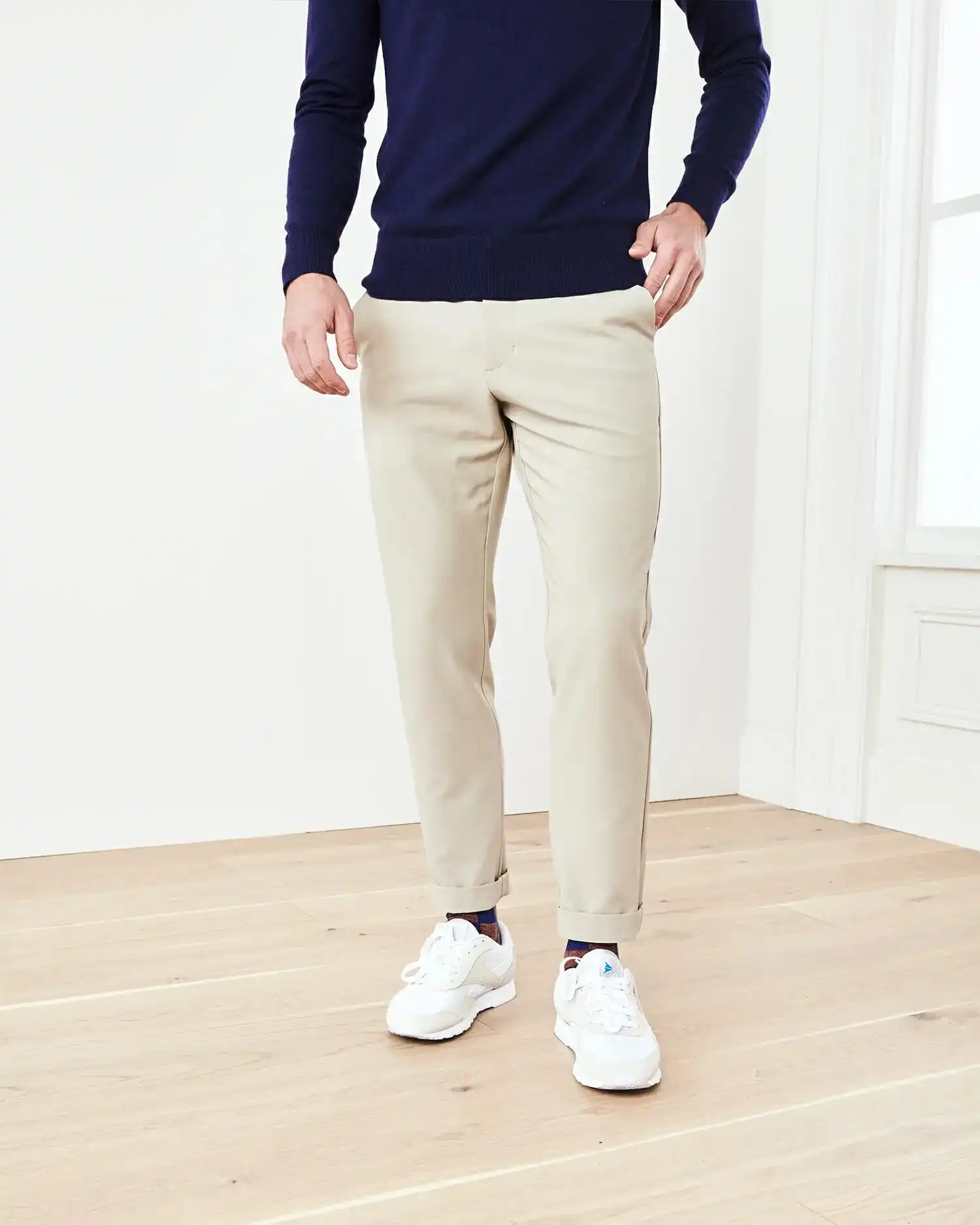 Have more questions about Quince? Check out our full Quince Review to see our honest Quince Reviews.