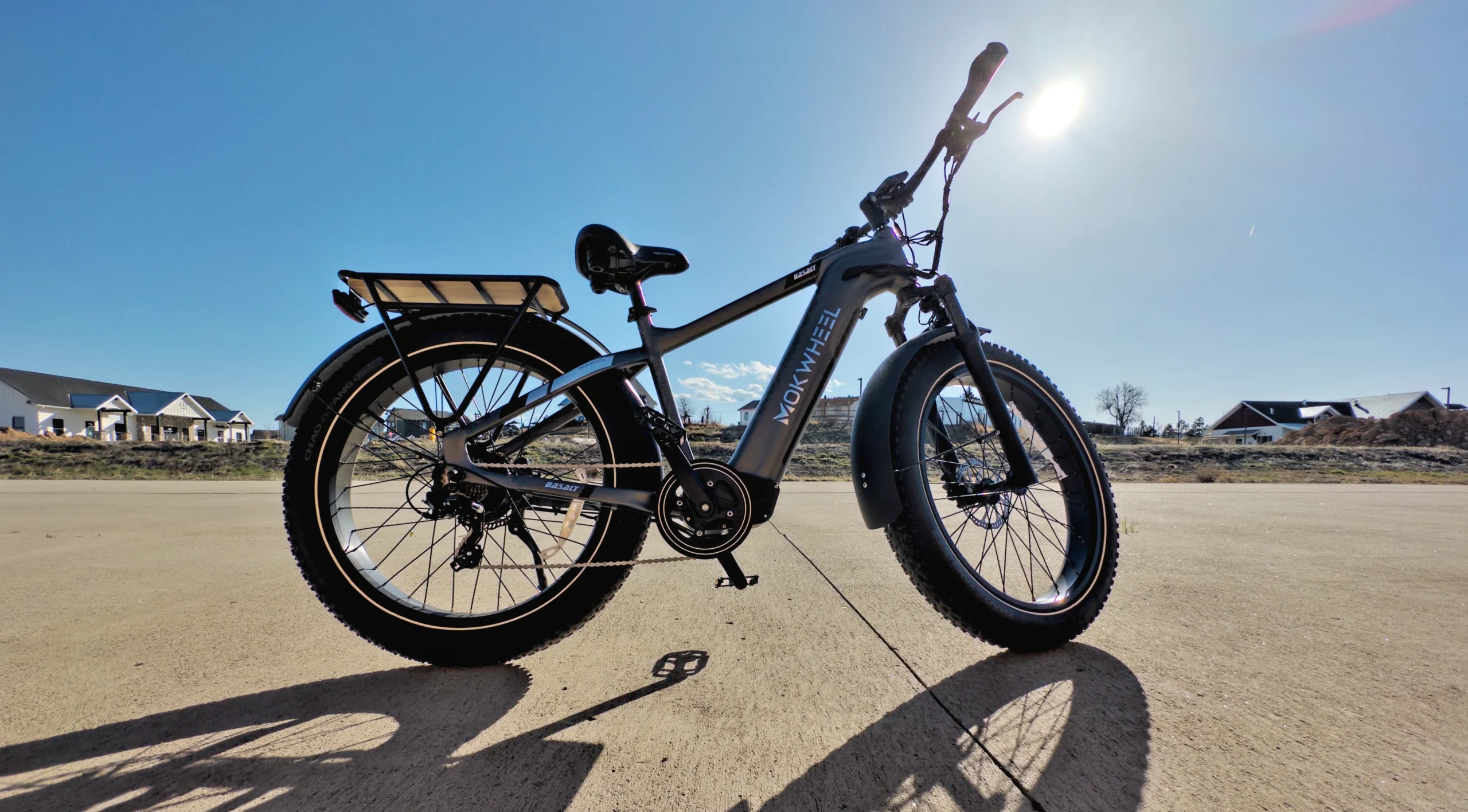 Mokwheel Basalt Review: When we first came across the Basalt, we had no idea what to expect. Do you really need, "the world's first all-terrain electric bike with integrated power station technology that allows you to charge your devices whenever you want?"
It turns out to be pretty awesome, and gives more expensive bikes a run for their money.
Mokwheel Basalt Review: The Fast Review
To shoot it to you straight and quick, we were pleasantly surprised with almost everything about the Mokwheel Basalt. From the torque sensor pedal assist to the hydraulic disc brakes and the great design, this eBike is one of the best we've tested. You can get the best price on the Mokwheel Basalt here.
"You'd be hard pressed to convince me to spend more on the RadRover 6+ over this eBike."
An awesome eBike!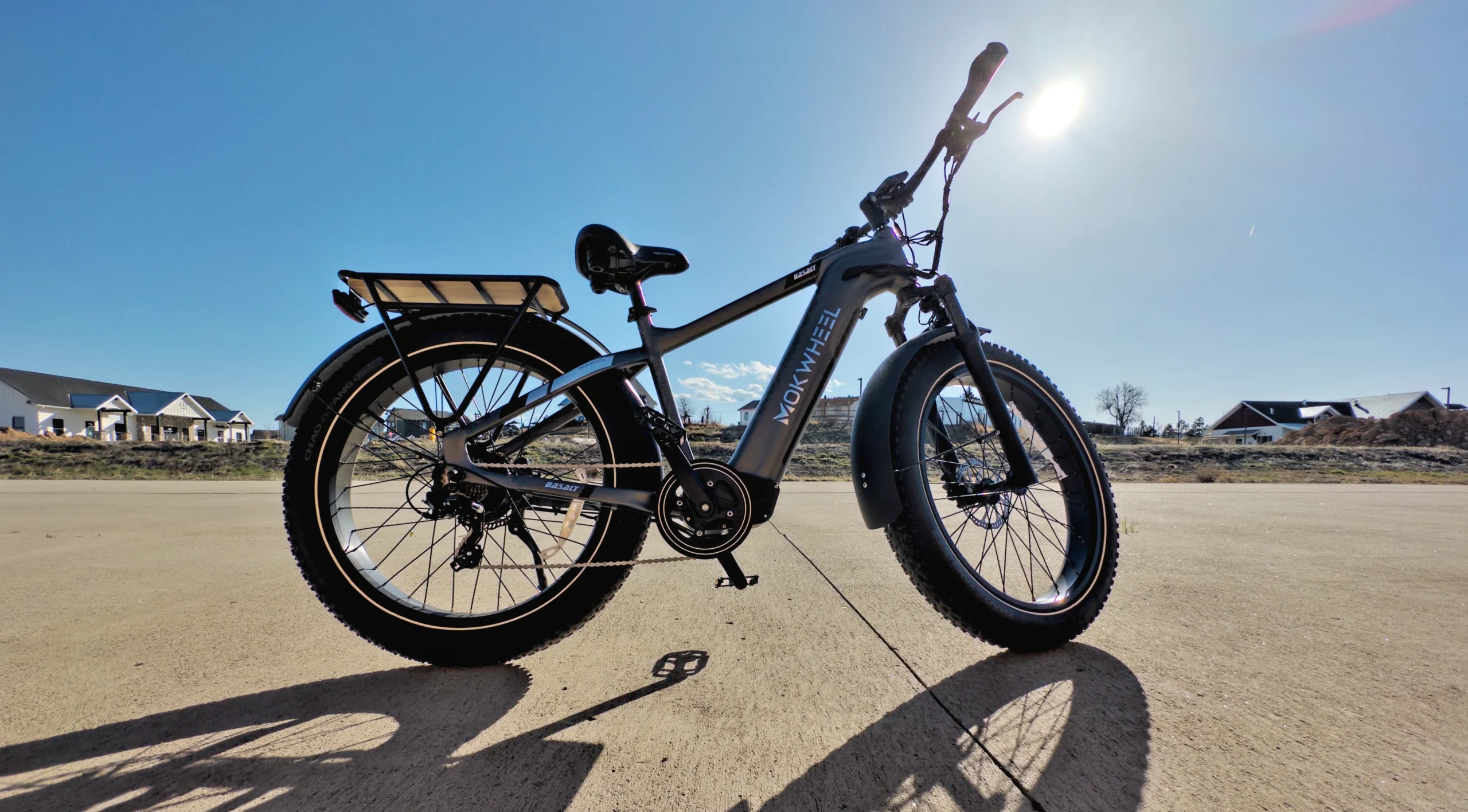 Mokwheel Basalt Review: Meet the Fat Tire eBike
This electric bike most unique feature is the "integrated power station." We got our hands on the inverter (required to power other devices), too – which will cover in a moment.
However, the Mokwheel Basalt is much more than an integrated power station on wheels. In fact, it's one of our favorite eBikes we've recently tested. Why? Keep on reading to fid out more!
If you're new to eBikes, check out our Guide to the Best eBikes (2023) and our best eBike Accessories.
Basalt Specs
750W Motor
A range of up to 60-80 miles on a single charge, with a 48V 19.6Ah lithium battery
Hydraulic disc brakes
Fat tires that provide excellent grip and stability on all types of terrain, including mud, sand, snow, and gravel
Responsive Throttle and Torque Sensors for Pedal Assist
7 Speed Shimano Gears
400 LBS Payload capacity
Front suspension for handling bumps and trails
Adjustable handlebars for added comfort
Sleek frame for a stylish looks
Giant front LED headlight
What we love about the Mokwheel Basalt
There's a ton to love about the Basalt, but let's start with what we love most: the ride.
While you make think it was the power system, it's not. It's just how stinkin' fun the Basalt is to ride.
The ride
The ride of the Mokwheel Basalt was surprisingly smooth.
Granted, I had just tested the KBO Tornado (read our KBO Tornado Review), which is about half the price of the Mokwheel Basalt.
This bike is super-refined. From the Torque Sensors to the suspension, this electric bike is just super-well designed and tuned.
Great Torque
Not to be confused with the Torque Sensor, which I'll talk about next, but this bike was able to handle everything that I threw at it.
The Basalt handled every hill with ease. Like I mentioned, the previous eBike I tested was about the same weight, but had less overall torque. The Mokwheel Basalt has a great 90 nM of Torque, which puts it on par with other high-end electric bikes we've tested.
Torque Sensor
While almost all electric bikes have pedal assist, few have what is called a Torque Sensor.
What is it?
Most ebikes use an inferior pedal assist assist called a cadence sensor. The cadence sensor just gives the bike the same amount of power, no matter how hard you are pedaling yourself.
Hydraulic Disc Brakes
We're spoiled. We get it. After testing so many electric bikes with Mechanical Disc Brakes, we shocked by how much of a difference Hydraulic Disc brakes are. The brakes that come with the Basalt are top notch and you can stop on a dime.
Pair that with the front shock and fat tires and you've got an awesome riding experience – even in crappy weather conditions or uneven terrain.
I tried this e-bike out in some wet and muddy conditions, without any issues at all. The full fenders also helped!
Upgradeable to a Class 3 eBike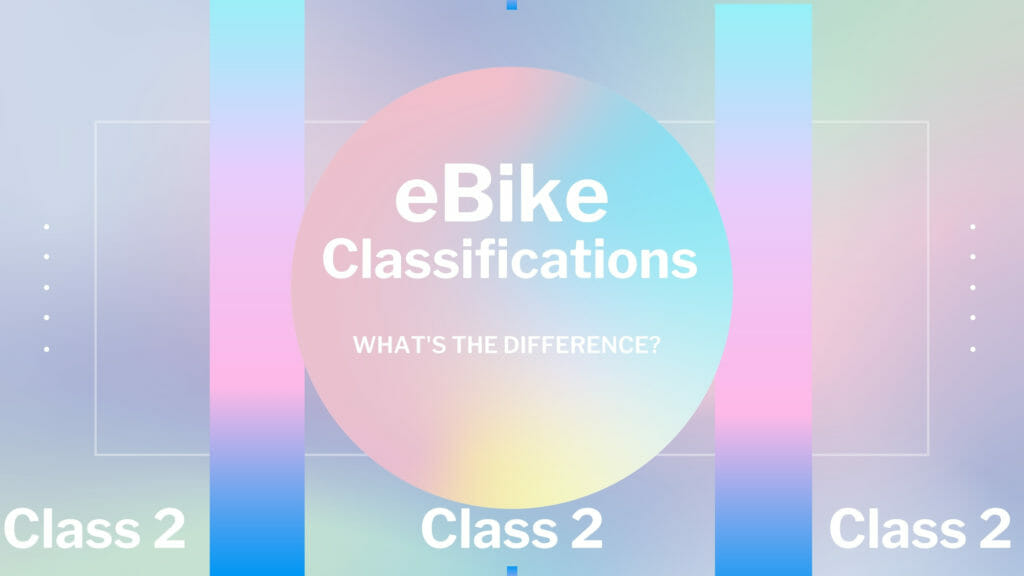 The Basalt actually comes with a Class 2 eBike Sticker on the bike seat stem.
However, you can follow some easy instructions to upgrade the bike to a Class 3 eBike. This allows you to reach a top speed of 30 MPH, with pedals. Technically, Class 3 eBikes are designed to only go 28 MPH, but we had no problem going 30 MPH.
A Class 3 eBike is designed to travel at a top speed of up to 28 mph. While the Basalt isn't a class 3 eBike out of the box, it's upgradeable by following the instructions to reach up to 28 MPH with just throttle.
28 MPH (and 30!) is fast on an electric bike, so just be careful.
The Range
The Range, which Mokwheel lists as 60 – 90 miles, is huge! The unique battery design allows there to be more cells than a traditional bike battery. The 48v battery is simply a beast.
A great LCD Display
I found this display to be a good between the old-school, not-so-advanced LCD displays and the iPhone-like screens on other ebikes we've tested.
This display was bright enough to see in direct sunlight, with polarized sunglasses. That's not something I can say about most displays I've used, so it's a big plus.
The Unique Power Inverter
One of the key selling points of the Basalt is the "power station," which is really just a power inverter that can use the large battery on the e-bike.
That isn't a dig on the Basalt, but it's really just a power inverter.
I'm not a huge camper or outdoorsman, but I can really see this being helpful to use when camping – or just as an emergency backup.
The inverter has 2 traditional 3-pronged power plugs in addition to two USB-C inputs and a standard USB input.
I was able to power my entire desktop set up (laptop, 2 big monitors, lights, etc), by simply plugging the power strip into the inverter. Pretty darn cool!
What we didn't love about the Basalt
There's not much to not love about the Basalt. But there are a couple of small things we didn't care for.
The Thumb Throttle
OK, this is nit-picky, I know. But I don't care all that much for thumb throttles.
Lack of accessories
Of course, you can always pick up items from our list of best eBike accessories, but there aren't a ton of accessories available directly from Mokwheel. Not a huge deal, but something to note.
The Power Inverter
There isn't anything wrong with the Power Inverter, we just didn't have a need for it. It's a really cool idea, but only if you need it.
Who is the Mokwheel Basalt for?
The Basalt is best for someone that wants a fat-tire electric bike that can do it all.
From trails to hauling cargo to tackling hills, this fat tire bicycle can do it all. And it will do it all with a giant smile on your face.
Who is the Basalt is NOT for?
If you are looking for something light, pass on the Basalt. Or, if you're looking for more of a traditional street bike, this might not be right for you.
At 79 Pounds, it's about the same size as other fat tire electric bikes, so just make sure that you can handle the weight and you fit the height listed (5'8″ to 6'4″).
If you can handle this large of a bike, it may just be the right one for you!
Let's talk about the $$$
This eBike retails for $2,199, but is on sale right now for $17899.
It comes with free accessories right now (the full fenders and rear rack). Mokwheel offers 15-day returns and a 2-year warranty. All of this, plus free shipping.
The Power Inverter is an additional $399, which may be worth it for you – but it wasn't worth it for us. We simply don't have a need for it.
In my opinion, this electric bicycle is a solid investment for its price range. As I've noted in previous eBike reviews, there's no such thing as a flawless electric bike, but there could be one that's perfect for you..
It all depends on what you are looking to get from your bikes.
Mokwheel Basalt Review: Final Thoughts
To sum up, the Mokwheel Basalt eBike is an amazing option for those who are looking for a bike that looks good, is fun to ride, and can handle anything you throw at it – including power your electronics.
An awesome eBike!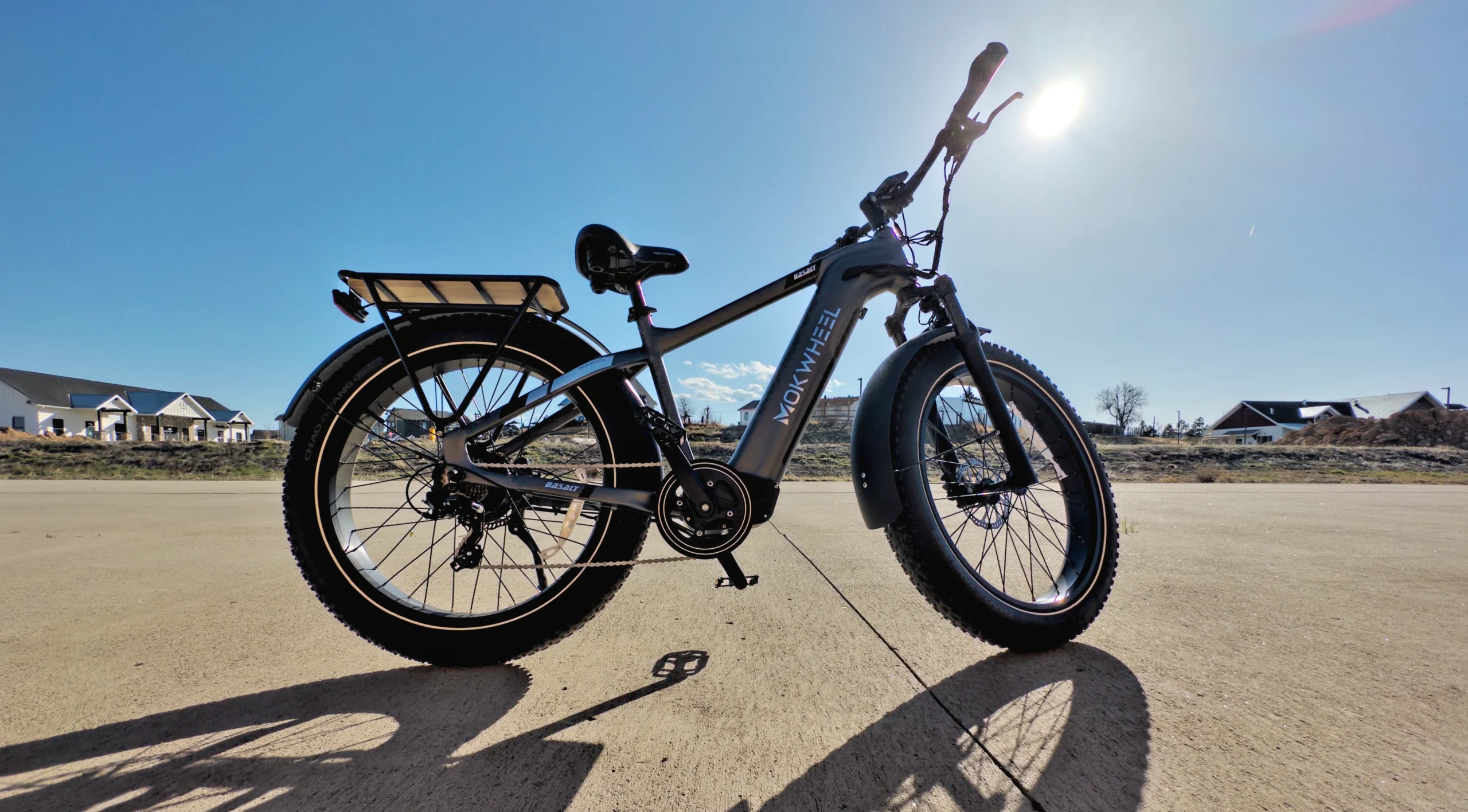 While we were excited to test out the "integrated power station," but it wasn't even the best part of the electric bike.
The best part is simply how fun it is to ride. As I said in the video review, you'd be hard pressed to convince me to recommend the more expensive RadRover 6+ over this.
The only thing we'd caution is that this bike brand isn't as well-known as other electric bikes. While brands like Aventon, Rad Power Bikes and Ride1Up have been around longer, we really don't anticipate you'd have many issues with this bike.
Also, be sure to check out our best eBikes of 2023.