;tldr Rothy's review

Amazingly comfortable shoes - even if they are made out of plastic.

Her Rothy's Review

Great, stylish shoes. The Rothy's sneakers are incredibly comfortable.

His Rothy's Review

I was really curious about these shoes - how could they be made from water bottles? They ended up being pretty cool.
What's the big deal with Rothy's?
Rothy's shoes are interesting for a variety of reasons. The biggest is: they are made from recycled water bottles. How does that actually work? Really well actually. The shoes are made out of strong fiber-like material that is the recycled water bottles. But Rothy's didn't just want to create a shoe from water bottles. Here's what they have to say about their mission:
At Rothy's, our mission is to create a new kind of shoe for women: one that is versatile, chic and durable. And we want to do it right, with as little waste and impact to the environment as possible.
-
That all sounds good, but what about the shoes? Do Rothy's Shoes live up to the hype?
Rothy's Shoe Review: What did we try??
We tried several types of Rothy's Shoes: from the signature Point to their new Sneaker.
Rothy's Review: The Point
The first shoe Mrs. We Tried it wanted to review is the Point. It looks like a signature pointed flat.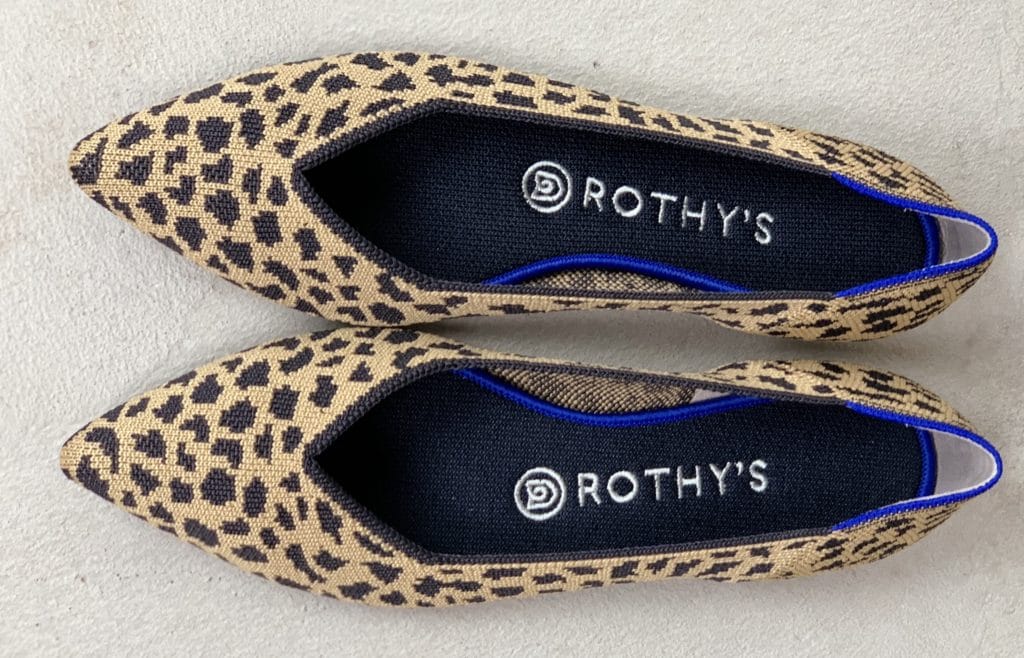 This shoe is one of the shoes that made Rothy's really popular. Mr. We Tried It was skeptical that the leopard print would look cheesy and forced. However, in person, these shoes look great! The signature blue outline on the heel gives it a nice, classy touch of branding without being too over-the-top.
The shoes are amazingly light - on par with Allbirds (read our Allbirds Review). They are also super comfortable.
In the next photo, you can see that the shoe is made up of a tight weave (that's the plastic bottles we mentioned earlier). You can tell that it is a weave of material but it looks very nice.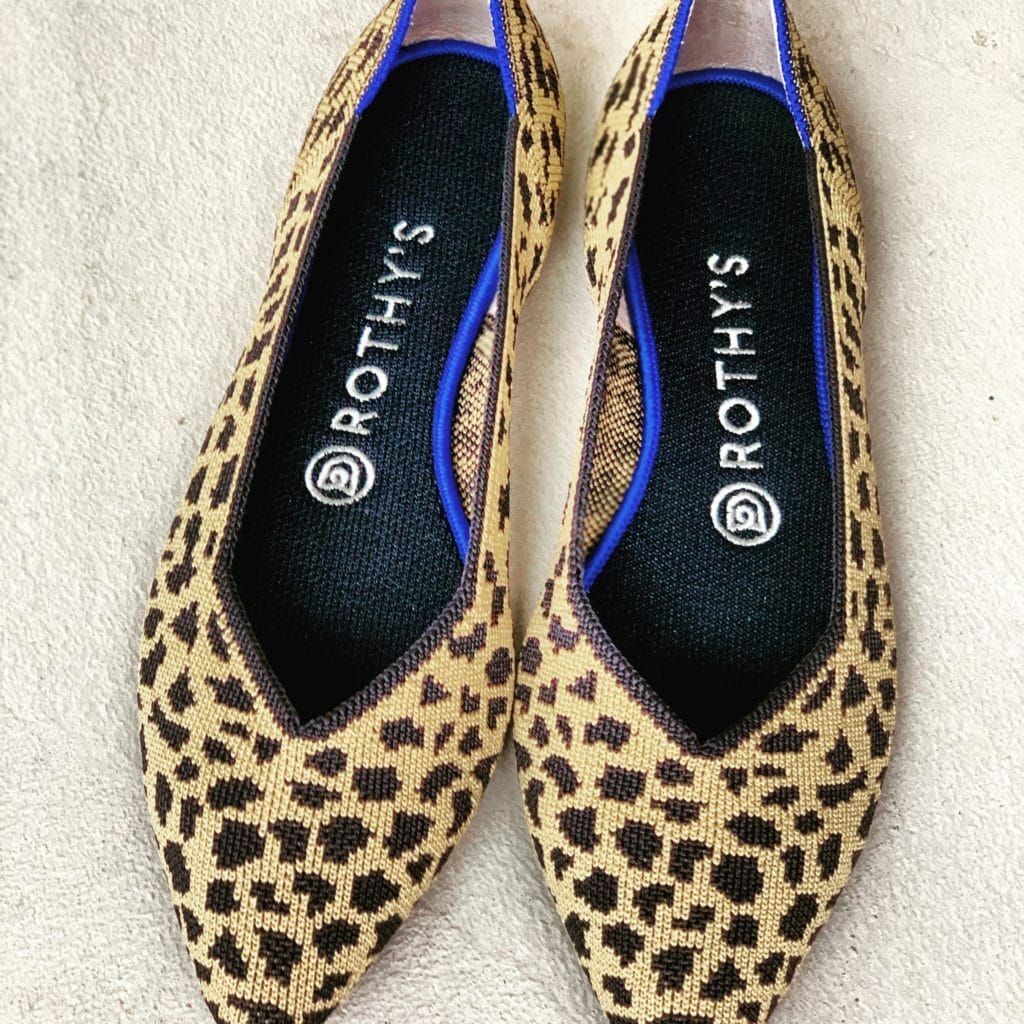 Rothy's Point: Fit + Comfort
Mrs. We Tried It typically wears a size 7.5 in almost every brand. She found that the point ran a little small and she needed to size up half a size to an 8 in the Rothy's Point. The 7.5 was simply too snug to be comfortable.
As already mentioned, the Rothy's Point is extremely lightweight. That makes it extremely comfortable and easy to wear. The plastic bottle weave pattern also makes the shoes slightly breathable. So - they would be very cold in cooler weather, but awesome if you have feet that run a little hot.
We recommend you size up a half size in the Rothy's Point styles.
Rothy's Point: Style
Overall, we really liked the style of the Rothy's Point Shoe. It's a great, classy twist on the classic flat. The leopard print is a lot of fun and looks great in person.
The Rothy's Point can we worn easily with jean or leggings.
The Rothy's Point also has a very deep "V" in the front. It was a little too deep for Mrs. We Tried It, but that's a personal preference. If you don't prefer to have "toe cleavage" you might want to look at another one of the Rothy's Styles.
---
Rothy's Review: The Sneaker
Since Mrs. We Tried It is such a big fan of the Allbirds Wool Lounger, we also wanted to try the brand new Rothy's Sneaker. The shoe has a thicker, cushier (is that a real word?!) sole for added comfort and stability.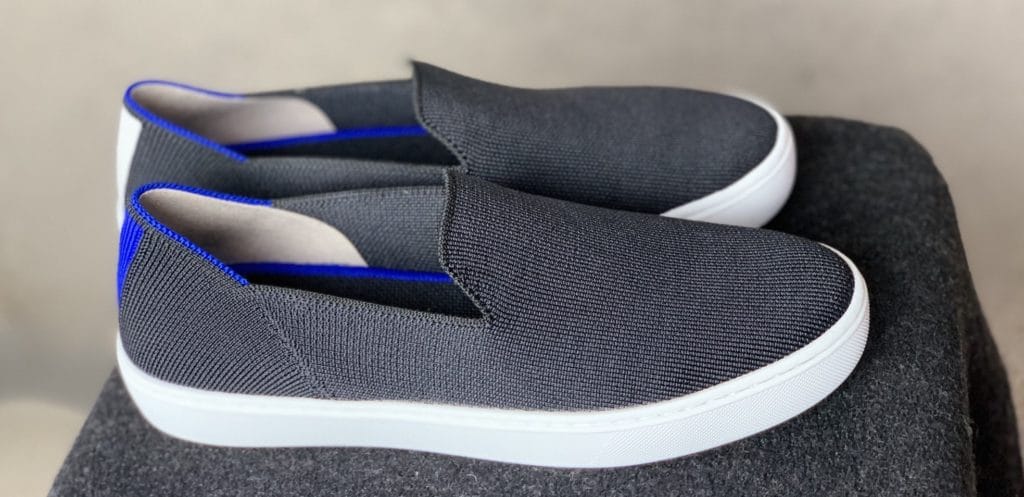 It is made of the same, comfortable recycled water bottles on the upper and also features the Rothy's Signature blue around the heel. There is also a nice blue touch on the back of the shoe. Some might not like the amount of color on the back, but we really liked it.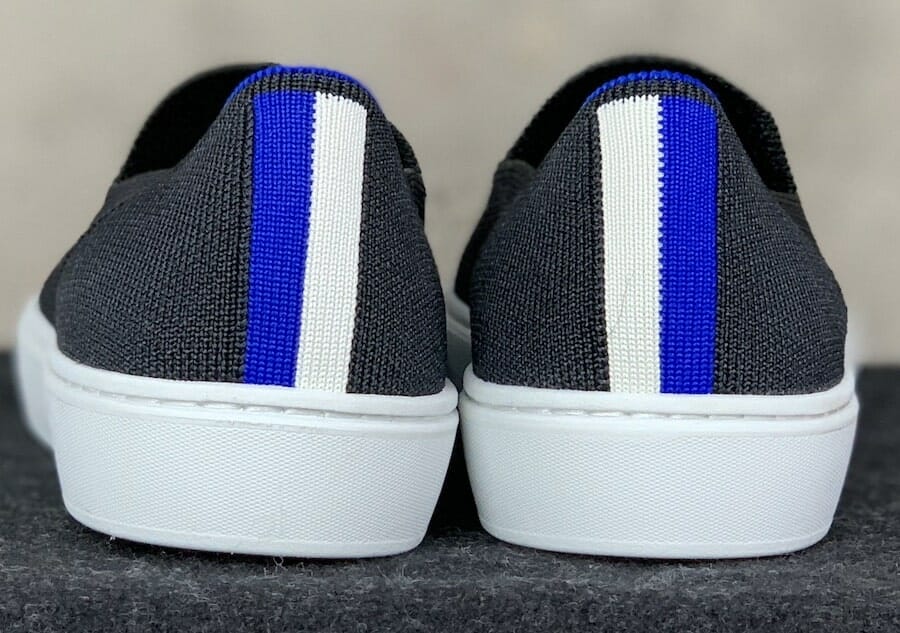 The shoes are not as light as the Rothy's Point but the Rothy's Sneakers are still very light.
Rothy's Sneaker: Fit + Comfort Review
As mentioned, Mrs. We Tried It typically wears a size 7.5 in almost every brand. The sneakers ran more true to size and wears a 7.5 in the Rothy's sneakers, too.
These sneakers are incredibly comfortable. Mrs. We Tried It called it the second most-comfortable shoes she owns (more on that in just a second). But the combination of a better looking shoe and comfort made the Rothy's Sneaker a must-have for a Mom of (newly) 2 kiddos.
We recommend you order the size your normally wear for Rothy's Sneakers.
Rothy's Sneaker: Style Review
The Rothy's Sneakers simply look like a classy variation of the classic sneaker. That's great. They've got a little touch of color, but it's not over the top.
The Rothy's Sneakers go well with Jeans or Tights.
As mentioned, the Rothy's Sneaker is the second most comfortable shoe that Mrs. We Tried It owns. The most comfortable? The Allbirds Wool Lounger. So, that begs the question...
Allbirds vs. Rothy's Shoes
It's natural to want to compare Allbirds to Rothy's. They are both direct-to-consumer new products. They both come from sustainable materials (Allbirds is made of sustainable Wool). They both are washable. They are both about the same price. They both have a cult-like following.
However, there's one big area where the Rothy's and Allbirds are very different: the Style.
Mrs. We Tried It loves her Allbirds Wool Loungers. But good friends have asked her if she's wearing her slippers around town - which is kinda true. The Allbirds Wool Loungers are incredibly comfortable and lightweight.
However, Rothy's actually look like Sneakers, not slippers. Granted there are different styles of Allbirds, but Mrs. We Tried It wouldn't wear anything but the loungers.
The Rothy's sneakers are simply a better style with many of the same features and benefits as Allbirds.
Winner: Rothy's for anything that takes you outside the home.
---
What else should I know about Rothy's Shoes?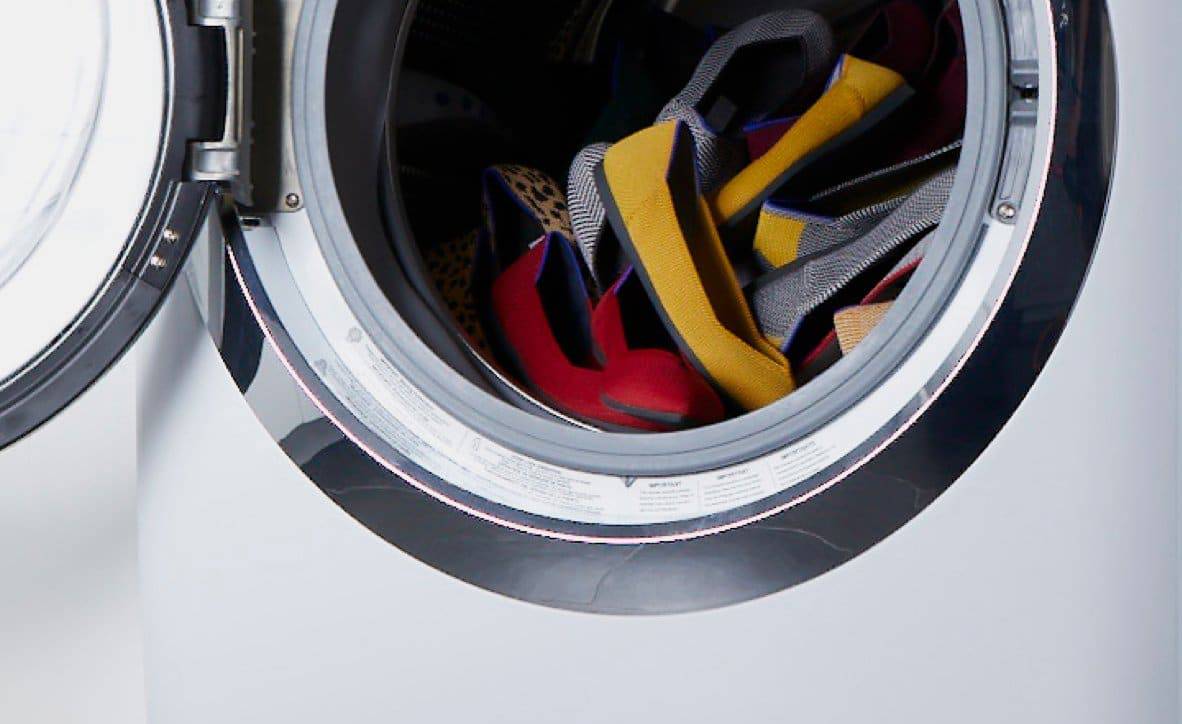 One area we haven't talked about is how Rothy's are washable! It's one of the great features that is very similar to Allbirds (see: How To Wash Allbirds). We haven't had a chance to test out washing the shoes, but we will very shortly.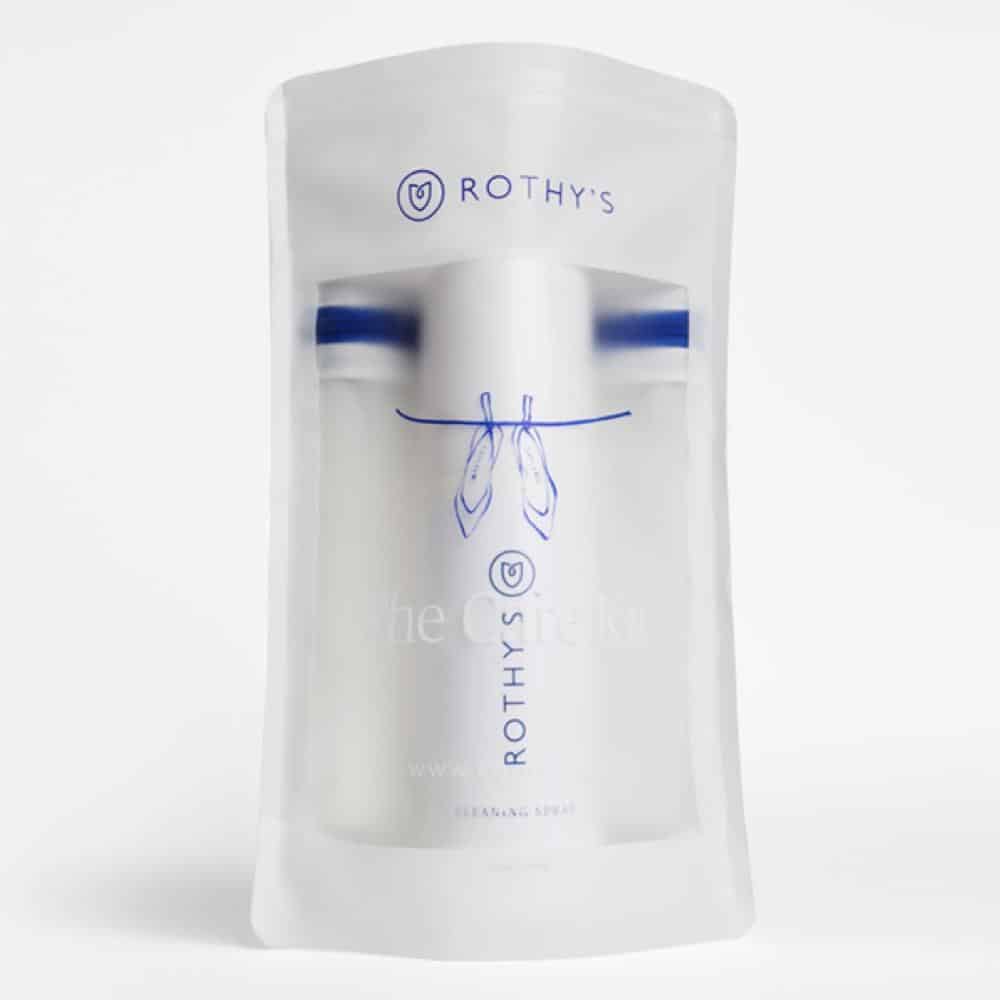 Rothy's does sell a "Care Kit" for washing the shoes. If washing the shoes with traditional detergent (we recommend Woolite Dark for most items like Allbirds and Mizzen + Main) doesn't work, we'll try the Rothy's Care Kit.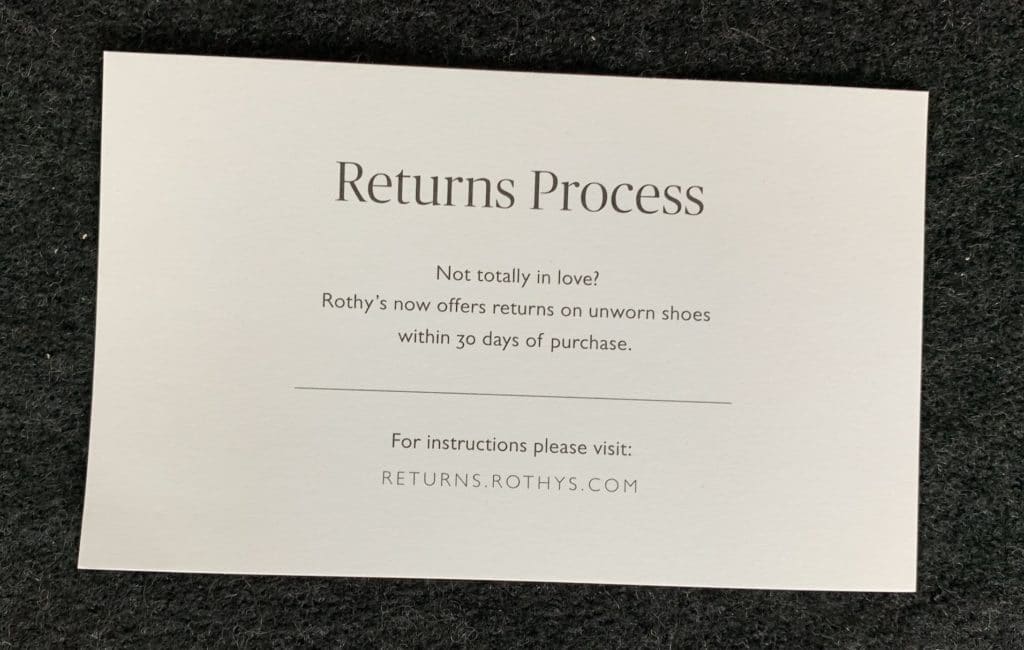 The Rothy's Return Policy is pretty simple: visit a webpage and start the process. It's pretty straightforward and easy to use.
The only downside is that the shoes have to be unworn (don't worry, you can obviously try them on, just don't take them out of your home!). We had to return a couple pairs (due to the sizing we talked about above) - so don't be afraid to order a couple more pairs and return the ones that don't fit or you don't like.
Are Rothy's Shoes Worth it?
The Too Long Didn't Read?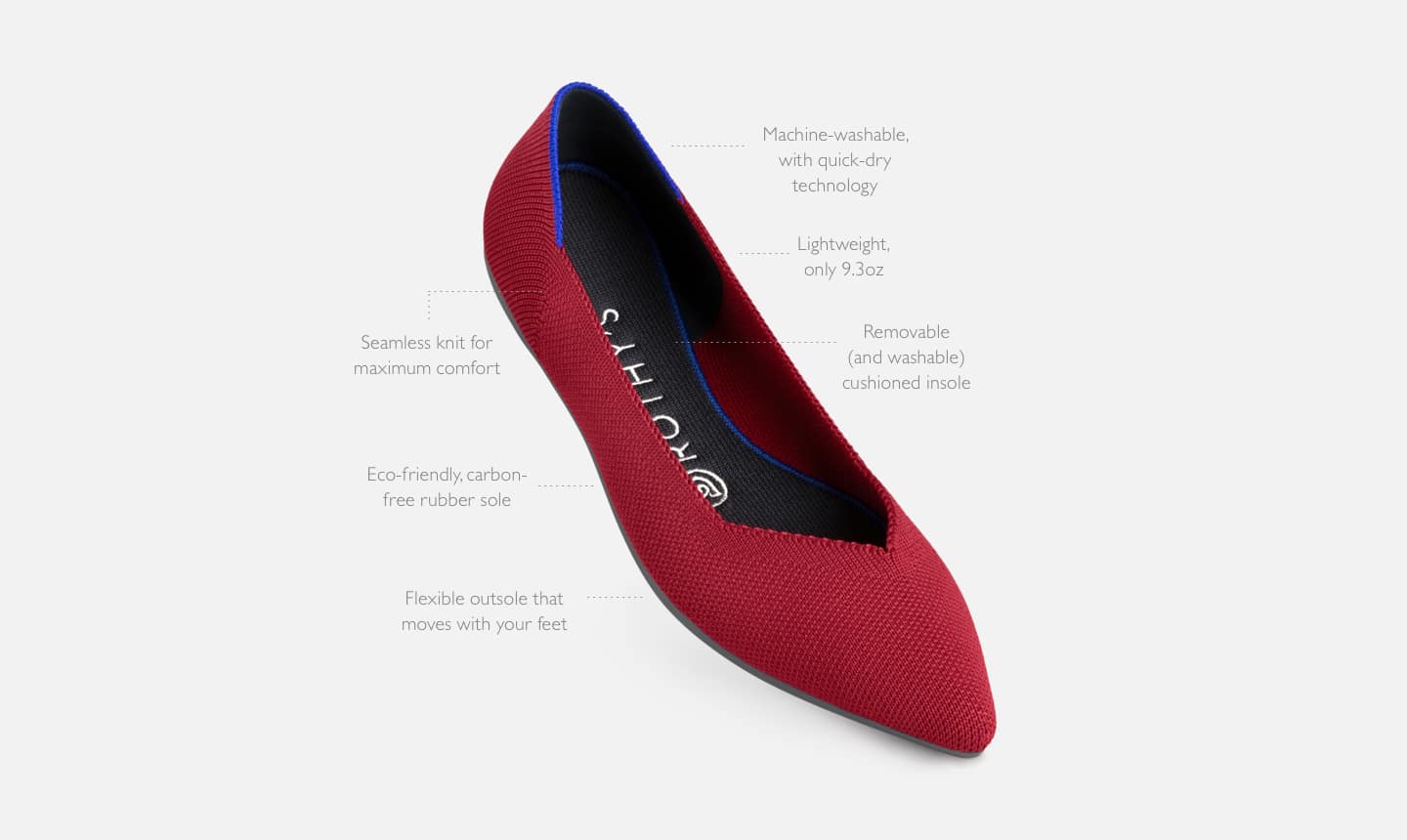 Rothy's actually live up to the hype. They are comfortable, stylish and washable.
Mrs. We Tried It REALLY recommends the Rothy's Sneaker. The other Rothy's are great, too, she just didn't care for the deep "V" in the Rothy's Point Shoe. But you may like the style better.
If you're looking for a fun, comfortable addition to your shoe collection, look no further than Rothy's!
Do you have any questions or comments? Please let us know in the comments below!
Be sure to check out the new Rothy's Handbags, too!